Finding the right yoga mat as a frequent traveler or digital nomad is no easy task. It's not just about comfort and grip; it's about portability, durability, and ease of care on the move.
That's where we come in. We've personally researched and reviewed the top 6 travel yoga mats, ensuring each pick stands up to the demands of life on the road.
In this guide, we're also sharing our firsthand tips on how to choose the perfect mat for your travel style and needs, plus our own advice on how to travel with a mat, from packing to cleaning, all learned from our own experiences as yogis on the go.
Dive in to find your next travel companion and keep your practice strong wherever your adventures take you!
Top 6 Travel Yoga Mats for 2023
We've conducted thorough research to present you with the best 7 travel yoga mats out there, including:
We'll delve into the specifics of each yoga mat, examining their features, advantages, and disadvantages.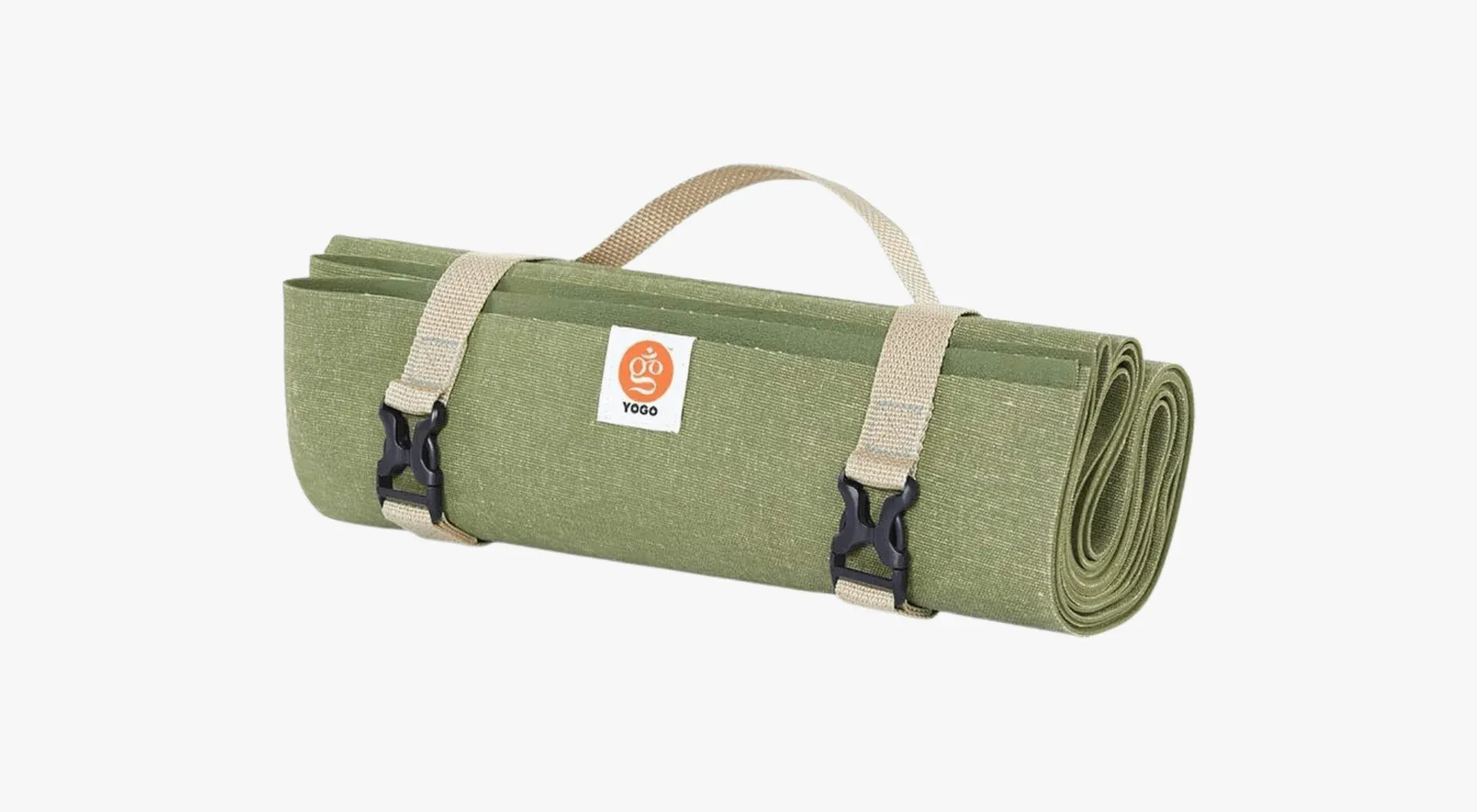 The Yogo Ultralight Folding Mat reigns supreme among the best yoga mats for travelers, thanks to its distinctive combination of compactness, lightweight design, and versatility. Weighing hardly more than a bag of apples at 1.8 lbs and boasting a slender profile at just 1.7 mm thick, this mat is a dream to transport. It folds up small enough to slip into any travel bag yet unfolds to provide ample space for yoga poses on a variety of surfaces. Whether stretching on the sandy beach, finding your Zen in a grassy park, or perfecting your balance on a wooden deck, the Yogo Ultralight has you covered.
What we love about this mat: One standout feature we love is its unique folding design that ensures the surface you practice on never comes into contact with the underside that touches the ground. This practicality maintains the cleanliness and hygiene of your mat, reducing your worries about where to lay it down.
Key Features:
Weight: 1.8 lbs / 0.8 kg
Thickness: 0.07" / 1.7 mm
Size: 68"L x 24"W / 173 (L) x 60 (W) cm
Material: Tree rubber and cotton
Price: $68.00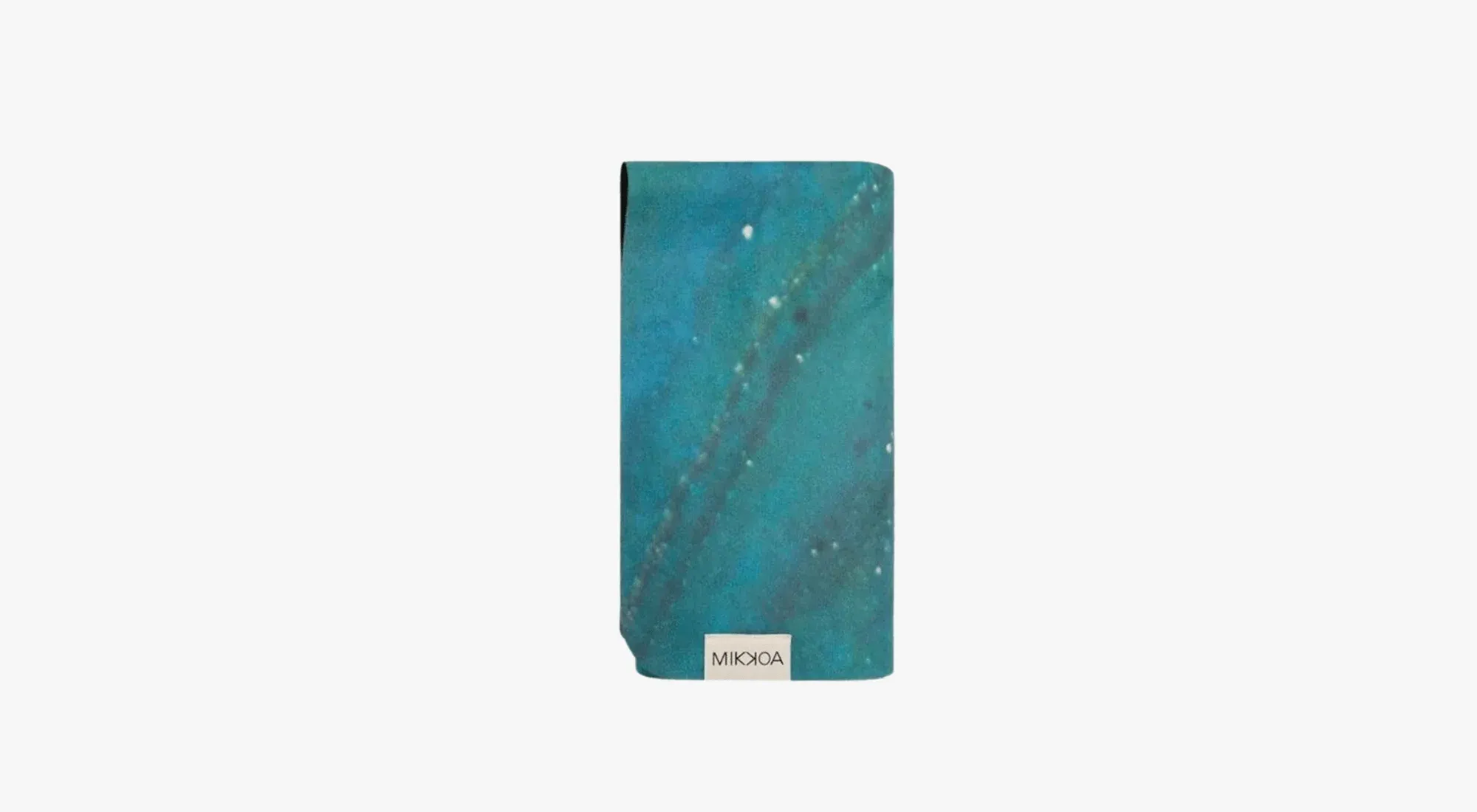 For those who often practice hot yoga while traveling, the MIKKOA Travel Yoga Mat is the obvious choice. This travel yoga mat is our go-to for intense, sweaty, hot yoga sessions. Its surface is made of microfiber, providing a smooth feel under your hands and feet. But here's the kicker - the grip of this mat actually improves as your practice gets sweatier, ensuring stability throughout your session!
What we love about this mat: This mat stands out for its phenomenal grip, especially during hot yoga sessions. It's also lightweight, foldable, and slips effortlessly into your luggage.
Key Features:
Weight: 2.2 lbs / 1kg
Thickness: 0.05" / 1.3 mm
Size: 72"L x 26.7"W / 183 (L) x 67 (W) cm
Material: Rubber
Price: $89.00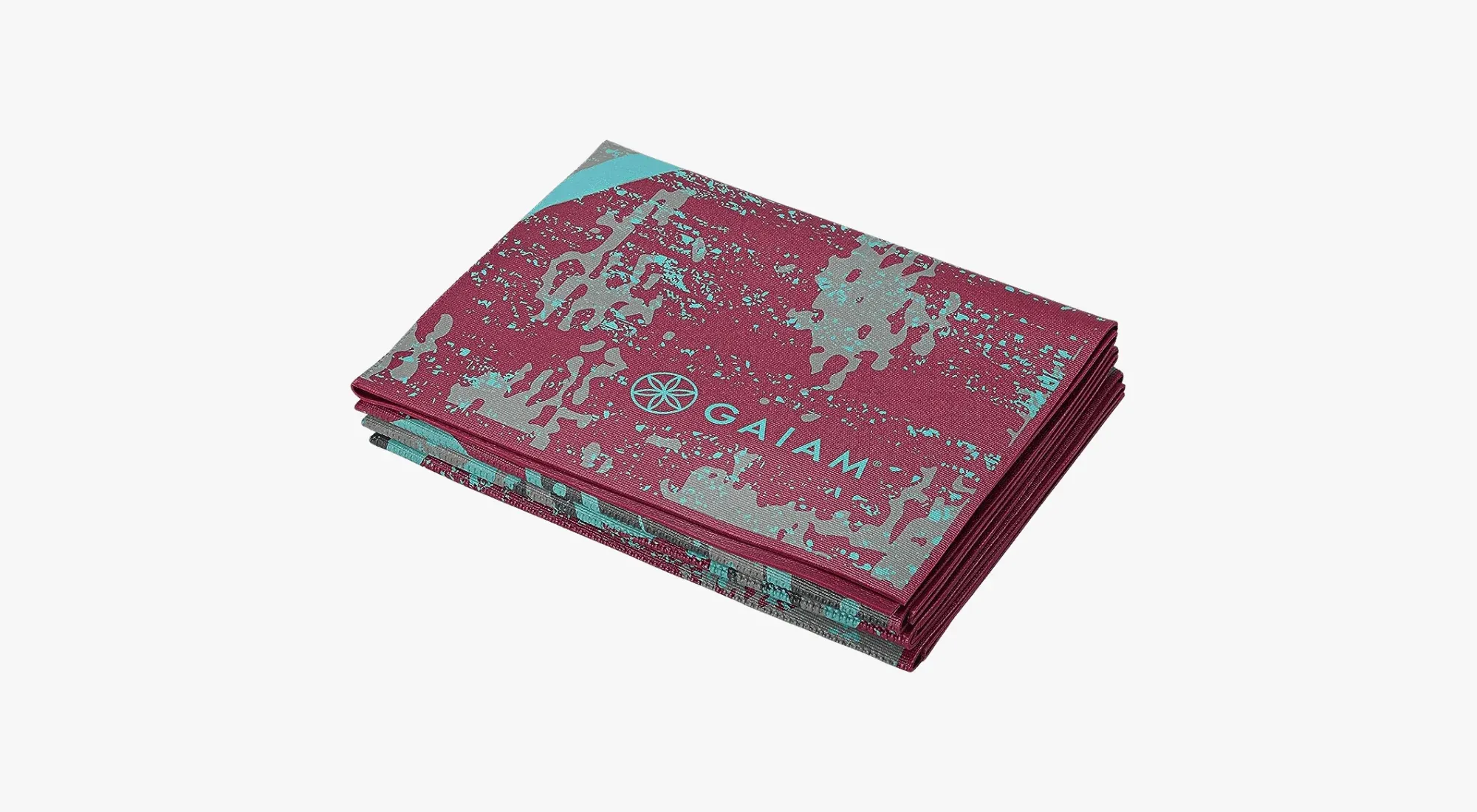 The Gaiam Travel Yoga Mat is a match made in heaven for yogis on a budget. Despite its lean price tag, it delivers a top-notch performance that rivals its more expensive counterparts. With a thickness of just 2mm, it folds into a compact 10" x 12" square, making it a cinch to stow away in various bags. From Vinyasa Flow to Yin Yoga, this mat caters to different styles and floor exercises with ease.
What we love about this mat: It is incredibly lightweight, making it an excellent option for those who prioritize minimalism in their travel gear. Plus, its price point makes it accessible to all yogis, regardless of budget constraints.
Key Features:
Weight: 1.8 lbs / 0.8 kg
Thickness: 0.08" / 2.00 mm
Size: 68"L x 24"W / 173 (L) x 60 (W) cm
Material: PVC
Price: $21.06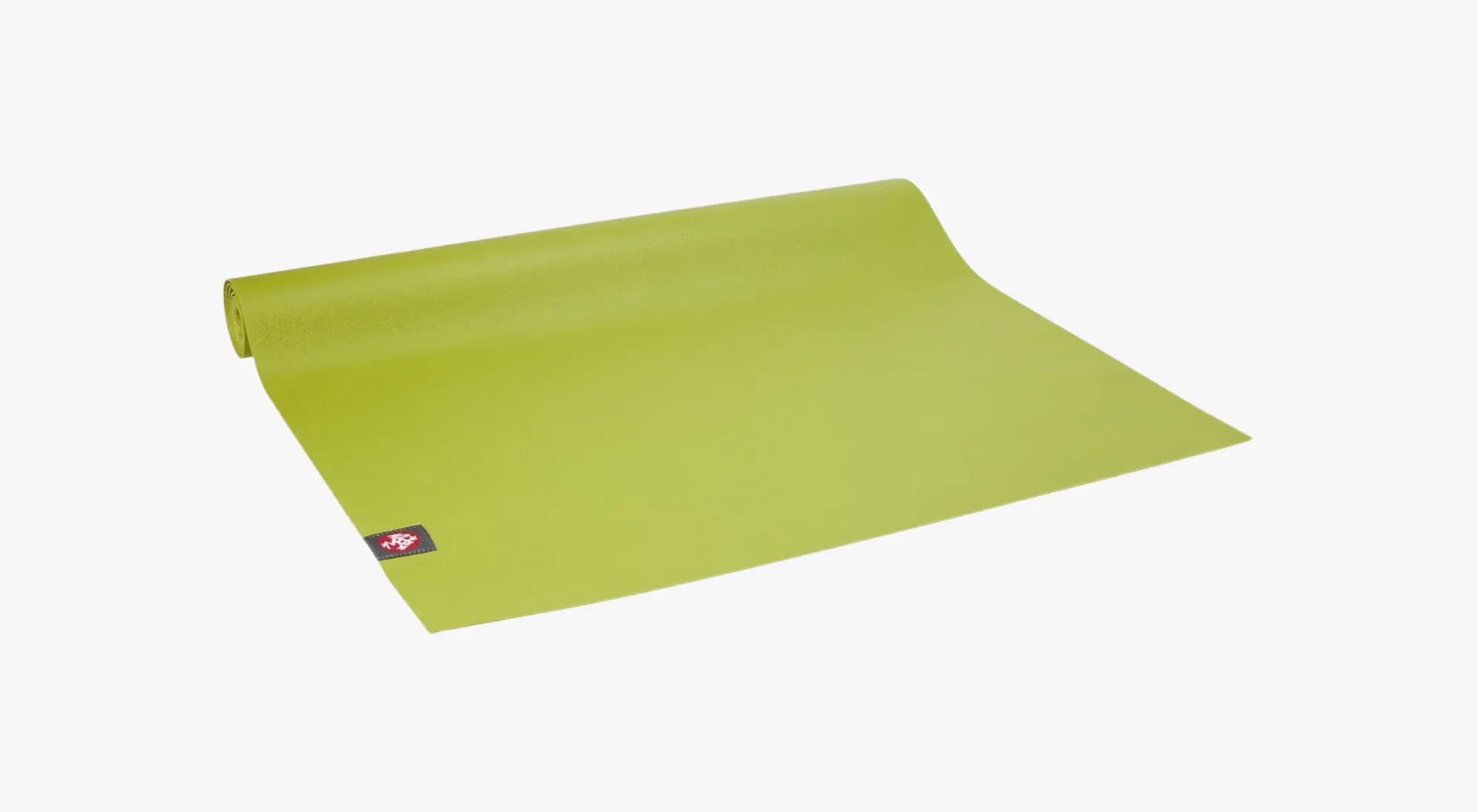 The Manduka eKO Superlite Travel Yoga Mat is a top-tier choice for the environmentally conscious yogi on the move. With its lightweight design and impressive sustainability credentials, this mat can accompany you on your travels without leaving a carbon footprint. Although its thinness (1.5mm) might require an additional towel for hot yoga sessions, it's a small price to pay for the convenience and sustainability it offers. Crafted from sustainably harvested tree rubber, it folds neatly into your luggage, making it a breeze to transport.
What we love about this mat: We appreciate the eco-conscious design of this mat and how it can withstand frequent use without deteriorating. Its lightness also makes it easy to bring anywhere without contributing to your luggage's overall weight.
Key Features:
Weight: 2.2 lbs / 1 kg
Thickness: 0.06" / 1.5 mm
Size: 71" (L) x 24" (W) / 180 (L) x 60 (W) cm
Material: Sustainably harvested tree rubber
Price: $52.00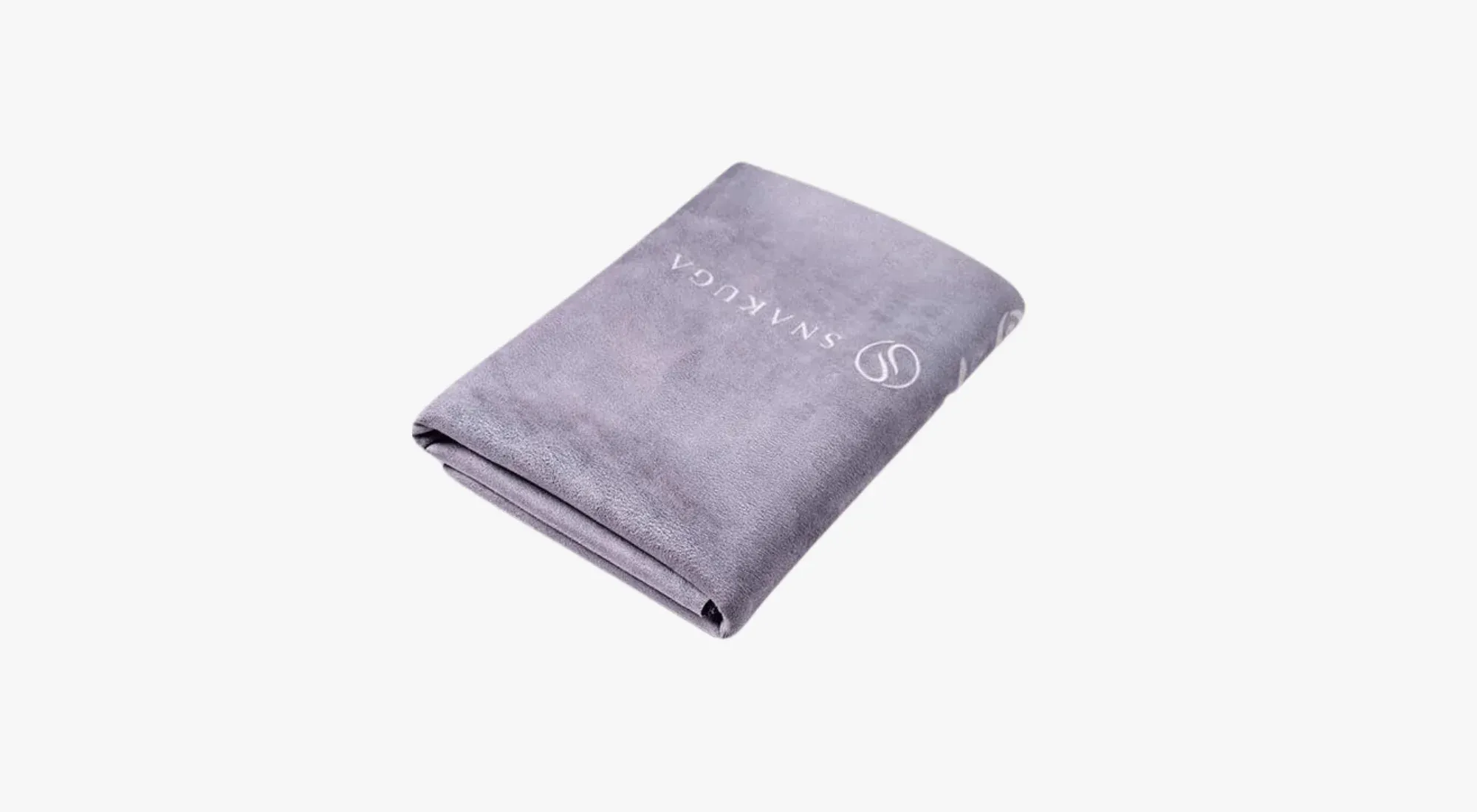 For yogis who value adaptability, the SNAKUGA Travel Yoga Mat is your go-to option. Designed with the traveling yogi in mind, this mat is foldable, lightweight, and eco-friendly. Crafted from a mix of natural rubber and suede, it delivers a soft yet non-slip surface that's perfect for any yoga session. Moreover, it includes a convenient carrying bag for easy storage and portability.
What we love about this mat: We like how this mat can be used for various types of yoga, from gentle flows to intense hot yoga sessions. Its non-slip surface provides stability and support, making it a perfect travel companion.
Key Features:
Weight: 2.6 lbs / 1.2 kg
Thickness: 0.06" / 1.5 mm
Size: 72"L x 26"W / 183 (L) x 66 (W) cm
Material: Natural rubber and suede
Price: $33.99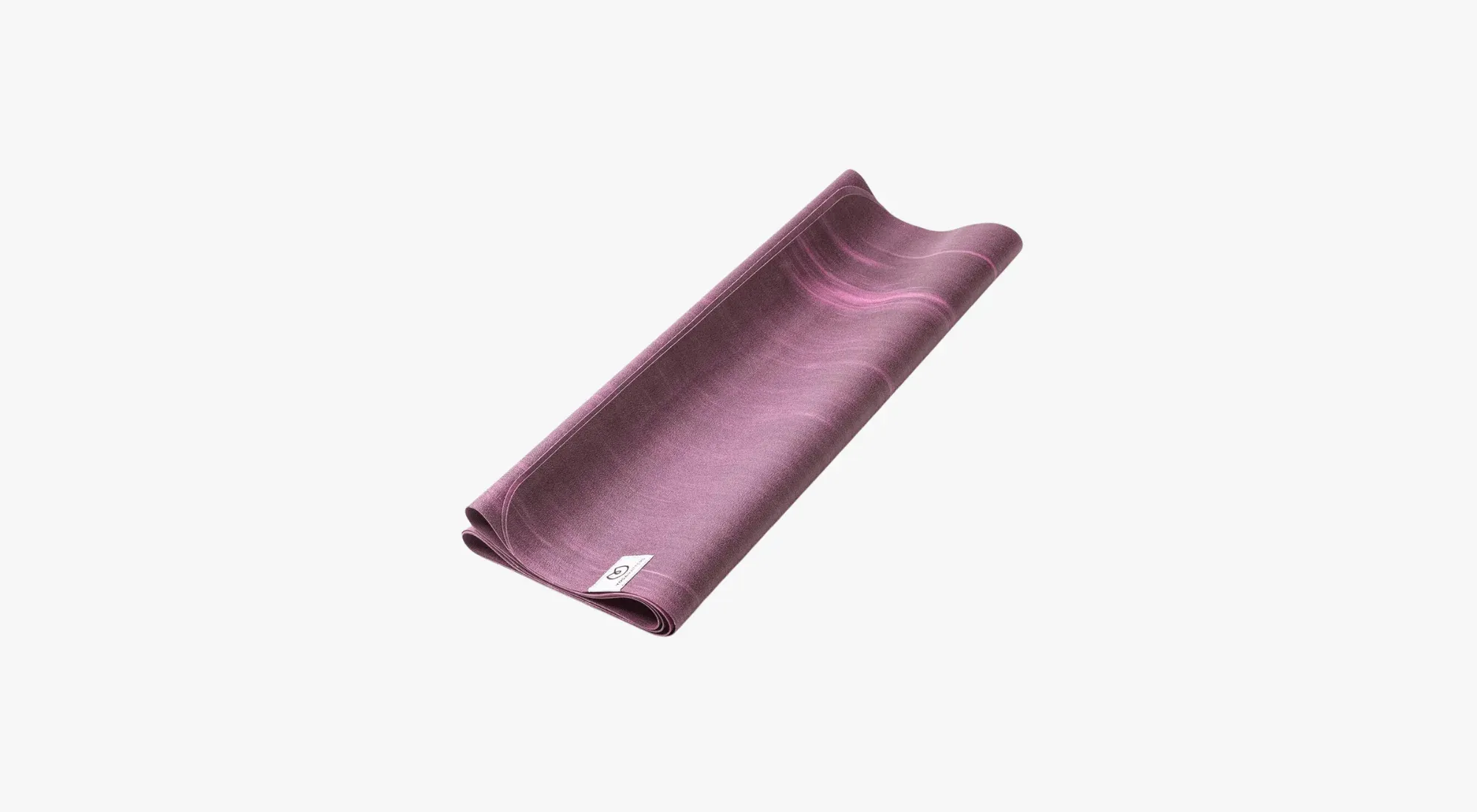 The Yogamatters Eco Travel Yoga Mat is our favorite for those sessions where you want to feel grounded and closely connected to the earth beneath you. Imagine practicing on the soft beaches of the Canary Islands and still being able to feel the nuances of the sand under your feet - this mat allows just that! Weighing just 700g and being only 1mm thick, it provides a protective layer between you and the ground while still allowing you to feel connected to your practice environment.
What we love about this mat: We're completely taken by the way this mat allows you to feel grounded and attuned to your surroundings. The thin layer provides adequate defense against the ground yet retains the organic feel of the earth under your feet. Simply awesome.
Key Features:
Weight: 1.6 lbs / 0.7 kg
Thickness: 0.03" / 1mm
Size: 72"L x 24"W / 183 (L) x 61 (W) cm
Material: Sustainably harvested natural tree rubber
Price: $58.32
How to Pick Your Yoga Mat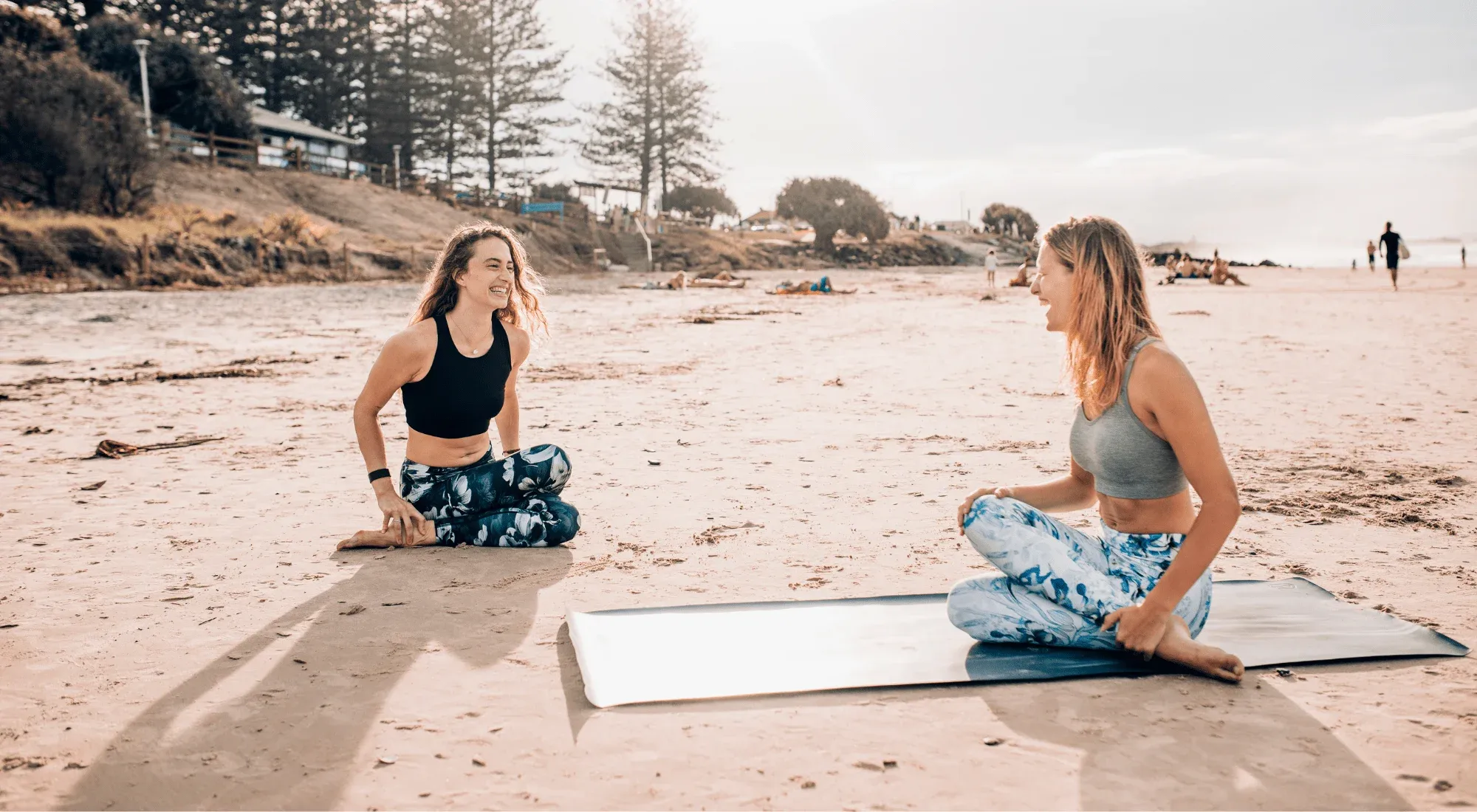 Choosing the right yoga mat will make a big difference in your yoga practice and travels.
Below are then some key features to consider when shopping for the best yoga mat for your needs:
Weight
You'll be carrying your mats through airports and to remote locations, so you will learn quickly that while light mats are easier to travel with, they must still offer the necessary comfort and support on different surfaces.
Texture & Grip
From humid beaches to cool mountains, the texture and grip of your mats are crucial for stability during yoga practices. We prefer mats made from materials like corkwood and jute, which naturally provide a good grip, keeping you stable in all your poses.
Material
We've used mats made from PVC to natural rubber. While PVC mats are often affordable and have good initial stickiness, we prefer natural rubber and other eco-friendly materials for their grip and sustainability.
Size
Making sure your mat is at least six inches taller than you is key to providing enough space during practices. The width and length of your mats must accommodate your body and the different types of yoga you will practice during your travels.
Style
While functionality is always our top priority, choosing mats with unique colors or designs will bring a personal touch to your practice, even if it sometimes means paying a bit more.
How to Travel With Your Yoga Mat (Our Tips)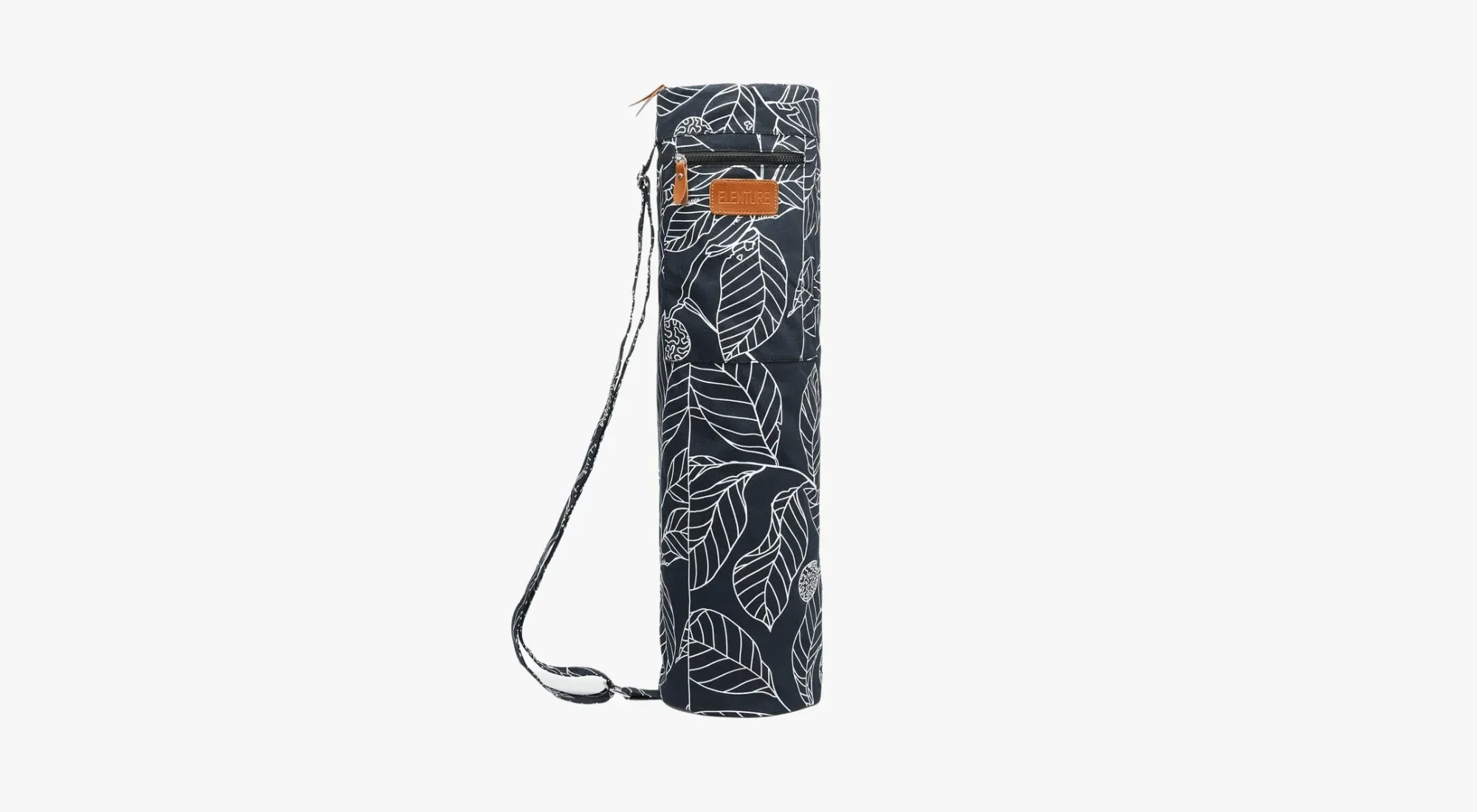 Traveling with a yoga mat has become second nature to us, even with the hustle of remote work and ever-changing locations.
Here's how we've managed to keep our mats rolled out, no matter where our work and wanderlust took us:
Packing Your Mat: We've always leaned towards a yoga mat bag or a carrying strap for easy transport. Some of our bags even have extra pockets, which have been perfect for stashing small essentials like our wallets or passports.
Air Travel with a Yoga Mat: We've found that most airlines are pretty accommodating when it comes to bringing our yoga mats as carry-on items. We usually attach our mats to our backpacks using compression straps or elastic bands, which frees up our hands for other luggage and keeps things compact.
Maintaining Your Mat: We make it a point to unroll our mats whenever possible, avoiding keeping them compressed for too long. When we've settled in one spot for a while, we always carve out a dedicated space for our yoga practice to maintain consistency.
Cleaning Your Mat: Our go-to mat cleaner is a simple mix of water and a few drops of mild soap or essential oils. After our sessions, a quick spritz and wipe down with a cloth keep our mats fresh. And we always ensure they're completely dry before rolling them up to avoid mold or funky smells developing.
---
You may also be interested in: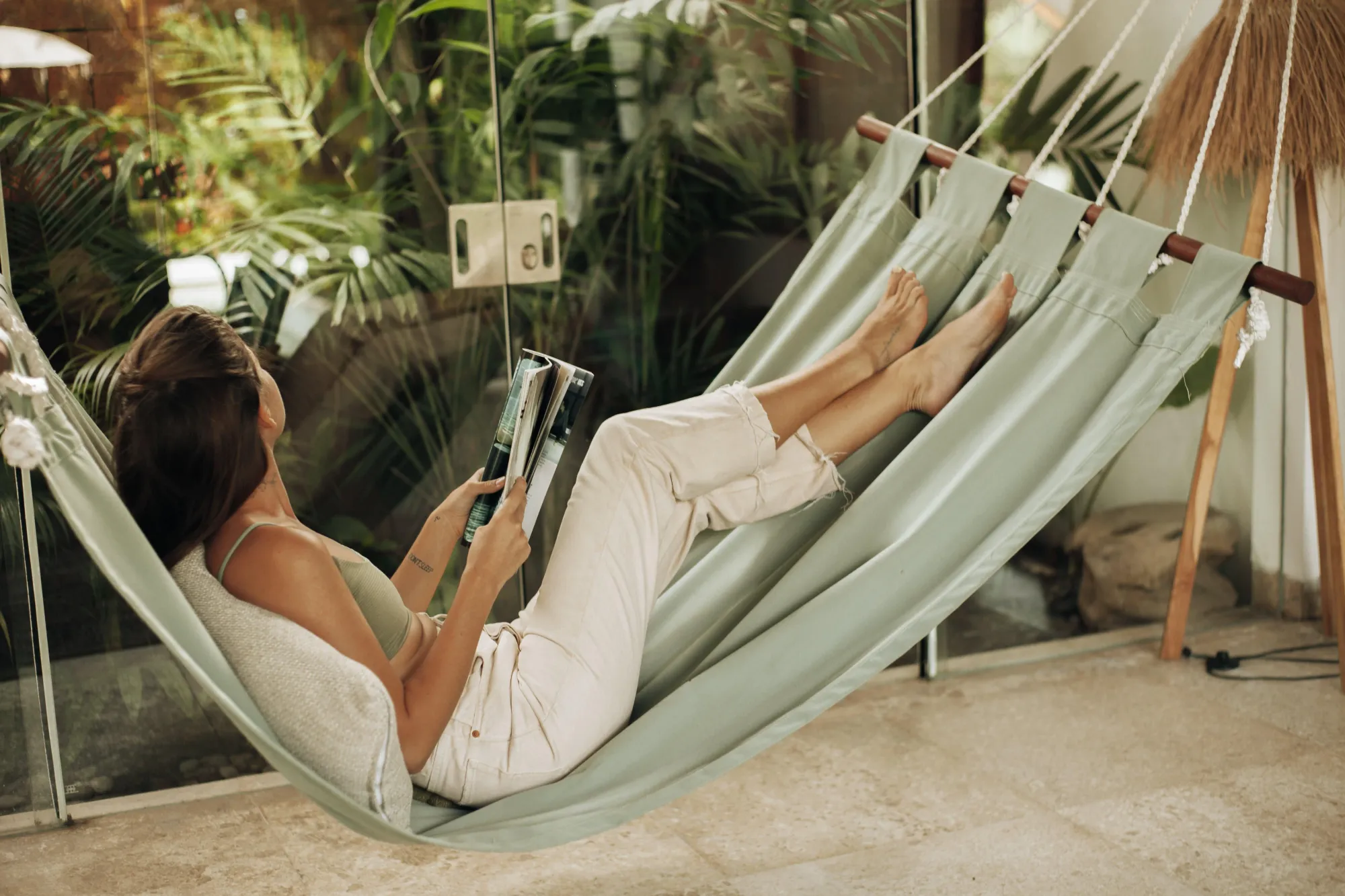 ---
How to Fold a Yoga Mat for Travel
Over the years, we've folded and packed our yoga mats more times than we can count, ensuring they always have a spot in our luggage.
Here's our tried-and-true method for folding and packing a yoga mat for travel, honed from our experiences on the road:
Lay it Flat: We always start by laying our mat flat on a clean surface, ensuring the side we practice faces inward. This helps protect it from any dirt and debris during our travels.
Fold or Roll: Depending on our mat and its flexibility, we either fold it into a compact square or roll it tightly.
Place in Luggage: Once folded or rolled, we place our mat in our luggage, ensuring it lays flat against the bottom or sides to avoid unnecessary space and prevent creases. If we use a backpack or tote bag, we always find a spot where the mat can remain flat.
Frequently Asked Questions (FAQs)
Can you bring a yoga mat on a plane?
Yes, you can bring a yoga mat on a plane. Most airlines allow yoga mats as carry-on items. You can attach the mat to your backpack using compression straps or elastic bands to save space and keep your hands free for other luggage.
Does travel yoga mat thickness matter?
Yes, the thickness of a travel yoga mat does matter, as it affects comfort and portability. Thicker mats provide more cushioning but may be bulkier to transport, while thinner mats are more compact and lightweight but offer less cushioning.
Are travel yoga mats toxic?
Some yoga mats can contain PVC, a material that has been criticized for its environmental impact and potential health risks. However, many travel yoga mats like the Manduka's eKO Superlite are made from eco-friendly, non-toxic materials like natural rubber or TPE.
Are travel yoga mats recyclable?
Yes, some travel yoga mats are recyclable, especially those made from natural rubber or TPE. Mats like the Manduka's eKO Superlite are recyclable yoga mats, and some brands even have recycling programs for their products.
Do travel yoga mats float?
While yoga mats are not designed as flotation devices, some lightweight and porous mats may float temporarily when placed on water. However, this is not a universal feature and can depend on the material and construction of the mat.
Do travel yoga mats absorb water?
Some yoga mats, especially those designed for hot yoga, are made to be absorbent to prevent slipping during sweaty sessions. However, typical PVC mats do not absorb water and can become slippery when wet.
Do travel yoga mats work on carpets?
Yes, most travel yoga mats can work on carpets, though the stability and grip might be affected by the soft and uneven surface. Thicker mats or those with a more rigid structure may perform better on carpeted surfaces.
Are travel yoga mats vegan?
Many travel yoga mats are vegan and do not use any animal products in their construction. However, it's always best to check with the manufacturer or look for certifications to ensure the mat adheres to vegan principles.
Ready To Practice Yoga On The Go?
If you want to receive digital nomad guides like these, sign up for our free newsletter and get upcoming articles straight to your inbox!
You can also follow us on Instagram and join our Facebook Group if you want to get in touch with other members of our growing digital nomad community!
We'll see you there, Freaking Nomads!
Disclosure: Hey, just a heads up that some of the links in this article are affiliate links. This means that, if you buy through our links, we may earn a small commission that helps us create helpful content for the community. We only recommend products if we think they will add value, so thanks for supporting us!