Ever been in the middle of a key online meeting, only to be interrupted by your neighbor's dog, the buzz of city noises, or even the playful shouts of your kids having a little too much fun in the next room? Or maybe you've faced the awkward "Can you repeat that?" during a vital Zoom presentation? Ah, the challenges of WFA (work-from-anywhere) and its unplanned noisy moments!
But don't stress dear remote workers, because today we're stepping into the world of clear-from-background-noice communication.
In this guide, we will be reviewing the 6 best noise-canceling microphones to make sure your voice is heard loud and clear, no matter where you are. Whether you're making a podcast from a busy city flat, taking work calls in a lively shared workspace, or recording while enjoying the outdoors, we've found the mic that will help your voice stand out, clear and crisp.
What is a Noise Canceling Microphone?
A noise-canceling microphone utilizes an advanced technology that only picks up your voice and leaves out all the background noise. It's like having a little bubble around your voice so that it comes through loud and clear, even if you're in a noisy spot or if the kids are playing just a room away.
It works by focusing on the sounds that are close up (like your voice) and ignoring all that distant noise (like traffic, or playful shouts and giggles).
Think about it - podcasters, live streamers, and remote workers, wouldn't it be a dream to record stuff without having to shush everyone around you or wait for a quiet moment?
The Top 6 Noise Canceling Microphones
We've conducted thorough research to present you with the best 6 noise canceling microphones out there, including:
These microphones offer a higher sound quality and effective noise cancellation, making them ideal for various purposes such as recording, streaming, and video conferencing.
We'll delve into the specifics of each microphone, examining their features, advantages, and disadvantages.
1. Blue Yeti: The Go-To Mic for Creators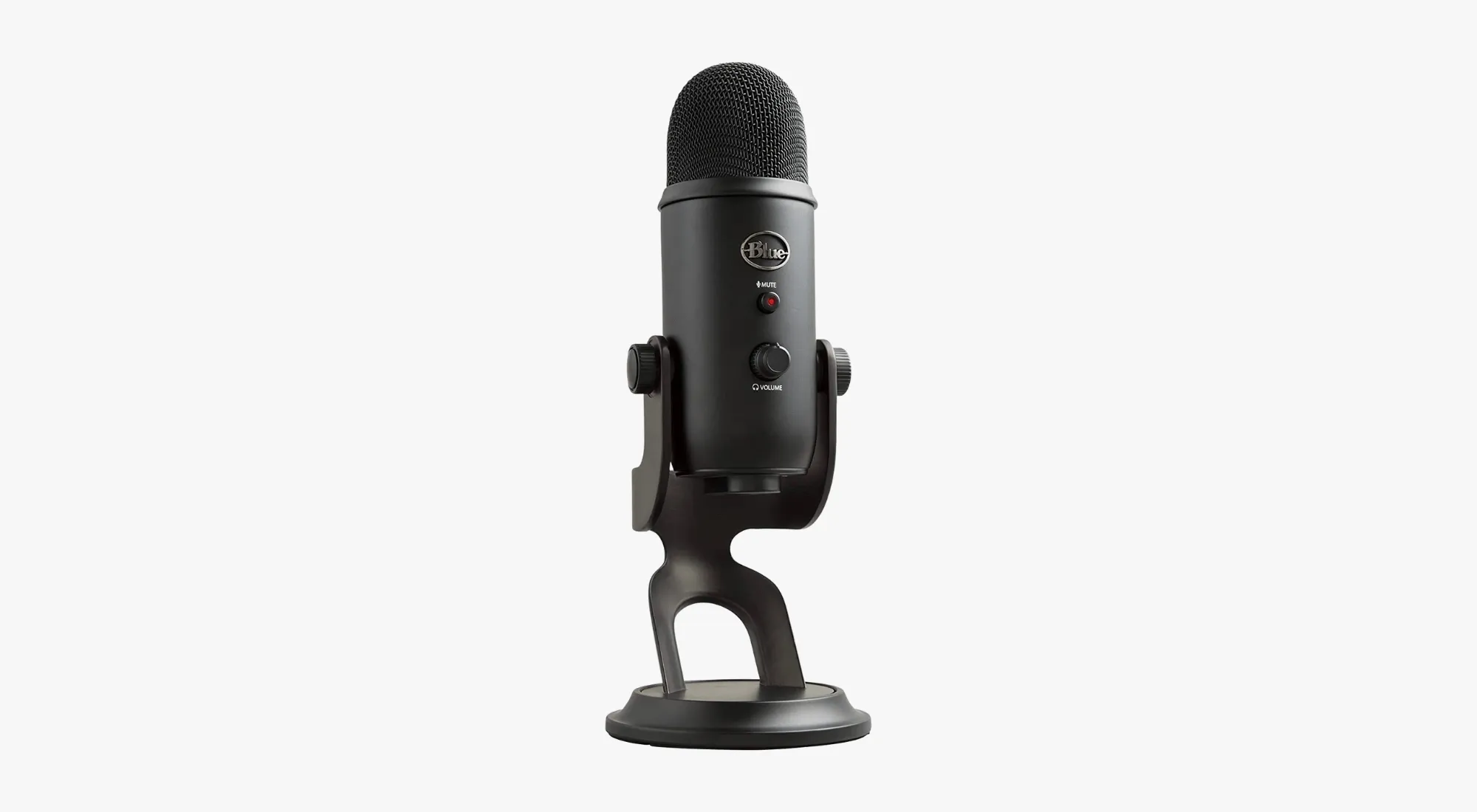 The Blue Yeti microphone has carved its niche as a favorite among the content creation community, offering a robust construction, multiple polar patterns, and a reputation for reliability and longevity. It's sturdy, dependable, and doesn't make your wallet cry. Whether you're recording a podcast, streaming, or creating music, the Yeti won't disappoint you.
Key Features:
Multiple pickup patterns
Blue VO!CE filters for versatile recording
Custom mic capsule and studio controls
Headphone output and internal shock mount
Plug and play, so you can get started without a hassle
Price: $129.99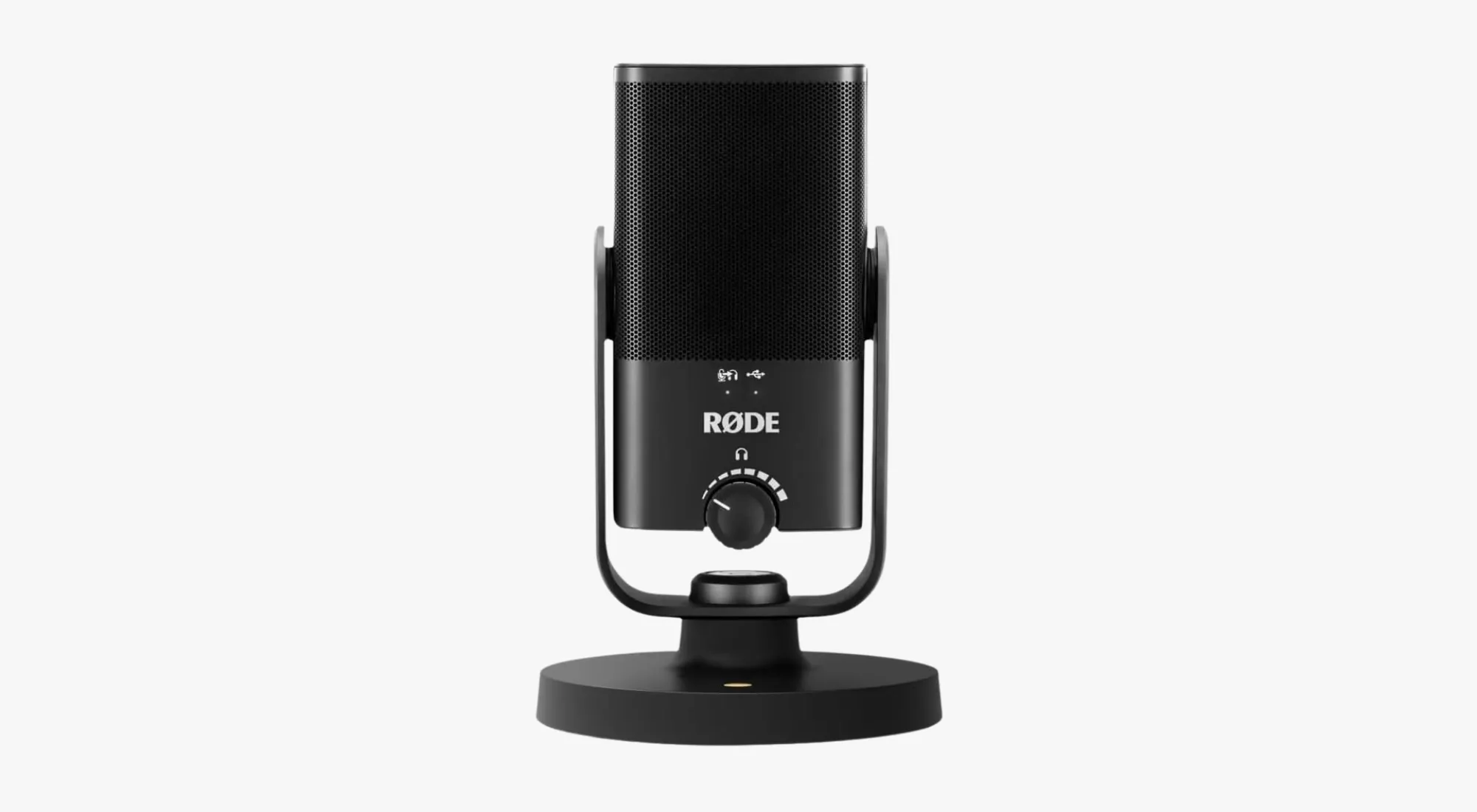 The Rode NT-USB is not merely a microphone. This microphone is like the secret weapon for anyone who are serious about sound. It's not just the professional-grade noise canceling that makes it stand out, but also its exceptional sound quality that makes your voice sound so smooth and clear. It's like having a tiny, professional recording studio right on your desk, which makes it a versatile and user-friendly option for content creators across both PC and Mac platforms.
Key Features:
USB-C Output
Studio-grade condenser capsule for crisp sound
Ultra-low noise and a High-gain Revolution Preamp™ to boost audio quality
Compatibility with Rode Connect software
High-power headphone output for zero-latency monitoring
Price: $99.00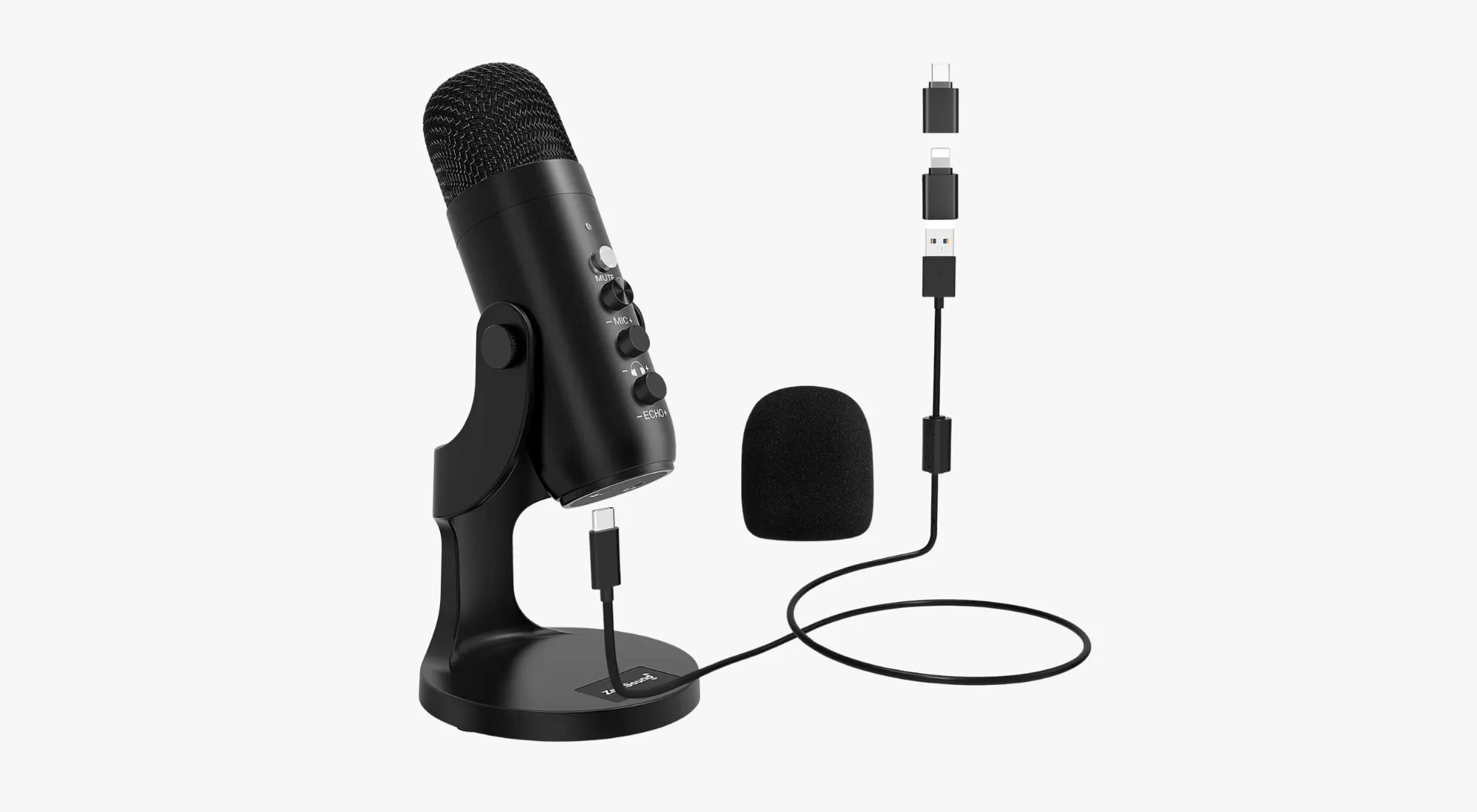 The ZealSound USB Microphone is a compact and convenient choice for those of us who need a reliable microphone without the bulk. It's not just its easy-to-use, plug-and-play design that wins users over but also its surprisingly robust functionality packed into such a compact form. Whether you're diving into podcasting, trying your hand at streaming, or simply wanting clear audio on your video calls, ZealSound has crafted something that's not only affordable but also pretty darn reliable.
Key Features:
USB-C output for smooth, reliable connectivity
Multiple pickup patterns including cardioid, omnidirectional, stereo, and bidirectional
High-quality audio with a 96k sample rate and 20Hz - 20kHz frequency response
User-friendly controls with volume, gain control, and a quick mute button
Plug & Play functionality for easy setup and use
Price: £32.95
4. Bietrun UMKF01: The Portable Sound for Travelers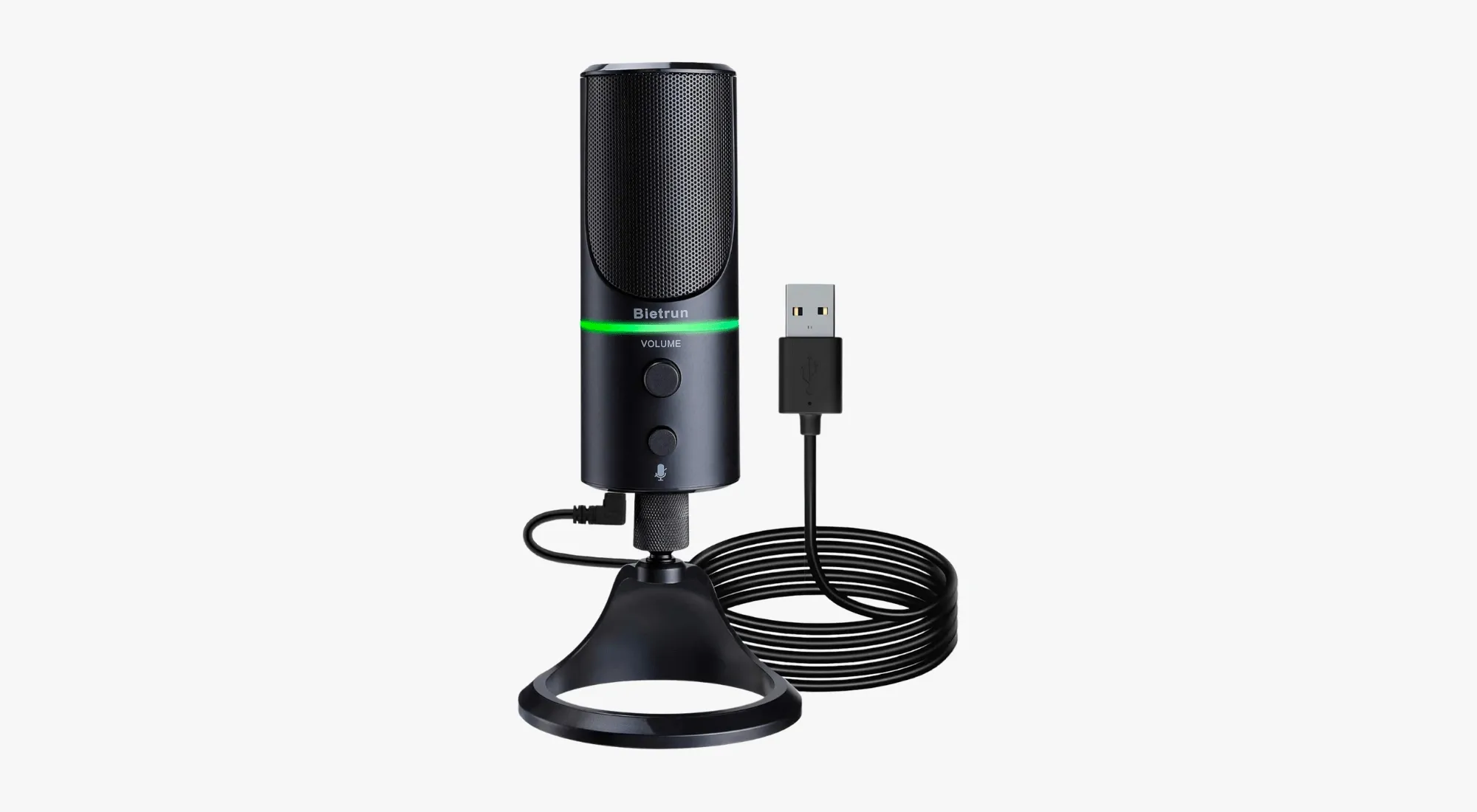 The Bietrun UMKF01 is a dynamic noise-canceling microphone that doesn't just work hard but looks good doing it. With its sleek design, it's not only a stylish accessory but also a portable companion for remote work or travel. It's got built-in noise canceling control, a handy mute button, and a supercardioid recording pattern, ensuring your voice is heard loud and clear, no matter where you are. Although it has limited noise cancellation capabilities and requires a wired connection to a computer, as digital nomads and remote workers, this is absolutely our favorite pick.
Key Features:
Built-in noise canceling control
Mute button for clear, uninterrupted audio
Supercardioid recording pattern to focus on your voice
Sleek and portable design
Price: $29.99
5. HyperX QuadCast: The Eye-Catching Sound for Streamers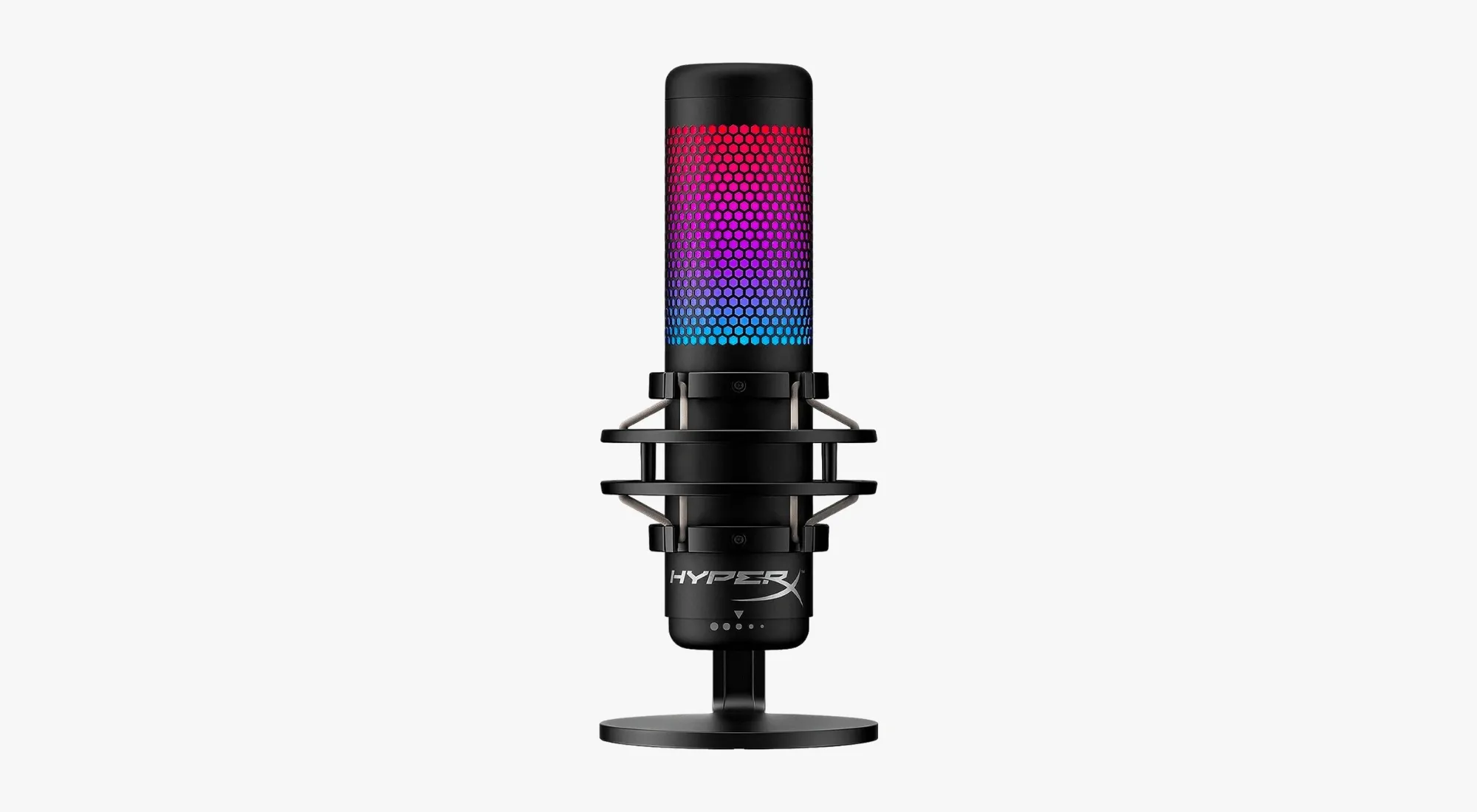 The HyperX QuadCast is a beacon of perfection for gaming, podcasting, streaming, and voice-over applications. It's sleek, it glows a cool red, and it's packed with features that gamers and streamers will absolutely love. But it's not all about looks - this mic ensures your voice is clear and prominent in every stream or recording. It's got a built-in anti-vibration shock mount, tap-to-mute sensor with LED status indicator, and four selectable polar patterns, making it a versatile and customizable beauty.
Key Features:
Anti-vibration shock mount
Tap-to-mute sensor with LED status indicator
Four selectable polar patterns: stereo, omnidirectional, cardioid, and bidirectional
A condenser microphone with a 20Hz to 20kHz frequency response
Price: $171.37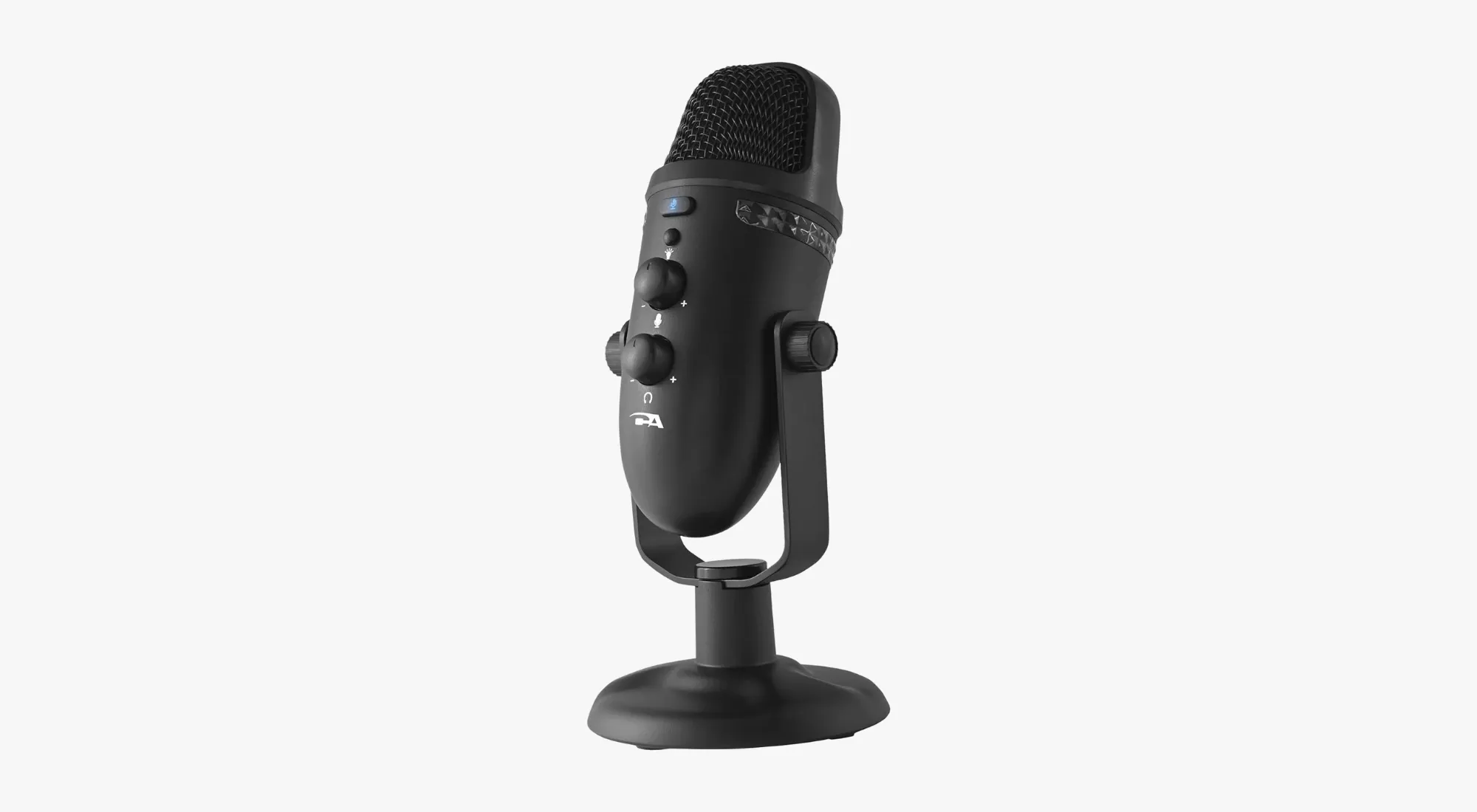 The Cyber Acoustics CVL-2230 is all about flexibility and reliability. With its flexible gooseneck design, you can easily position and adjust the microphone for optimal sound quality, making it suitable for gaming, live streaming, podcasting, video conferencing, and more. It's not just a microphone; it's a versatile and user-friendly audio solution with an adjustable stand and adaptor for various threaded stands. Although it's not the most durable noise-canceling mic out there, we couldn't help ourselves to include this versitile device!
Key Features:
Flexible gooseneck design and adjustable stand for optimal positioning
Adaptor for various threaded stands
1.5m Micro USB Power Cable
Dual recording patterns (directional and omnidirectional)
Mic mute and volume controls
Price: $39.99
---
Other remote work gear you may also be interested in: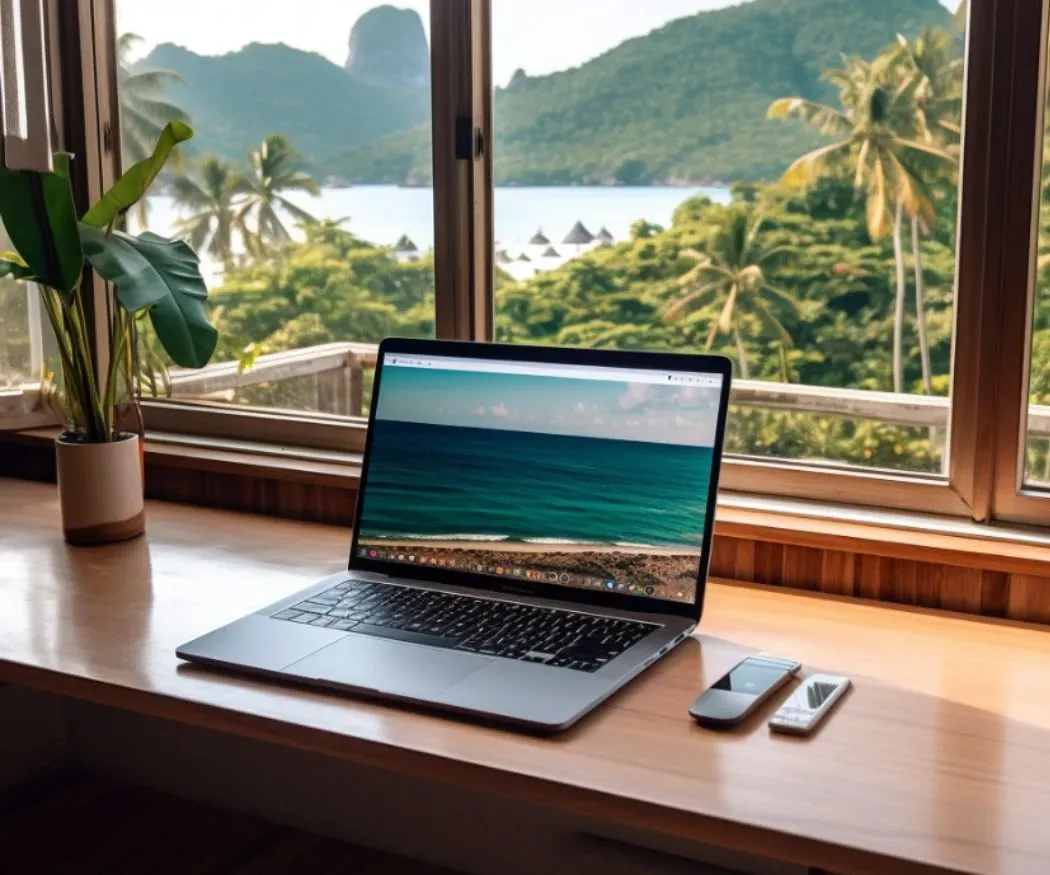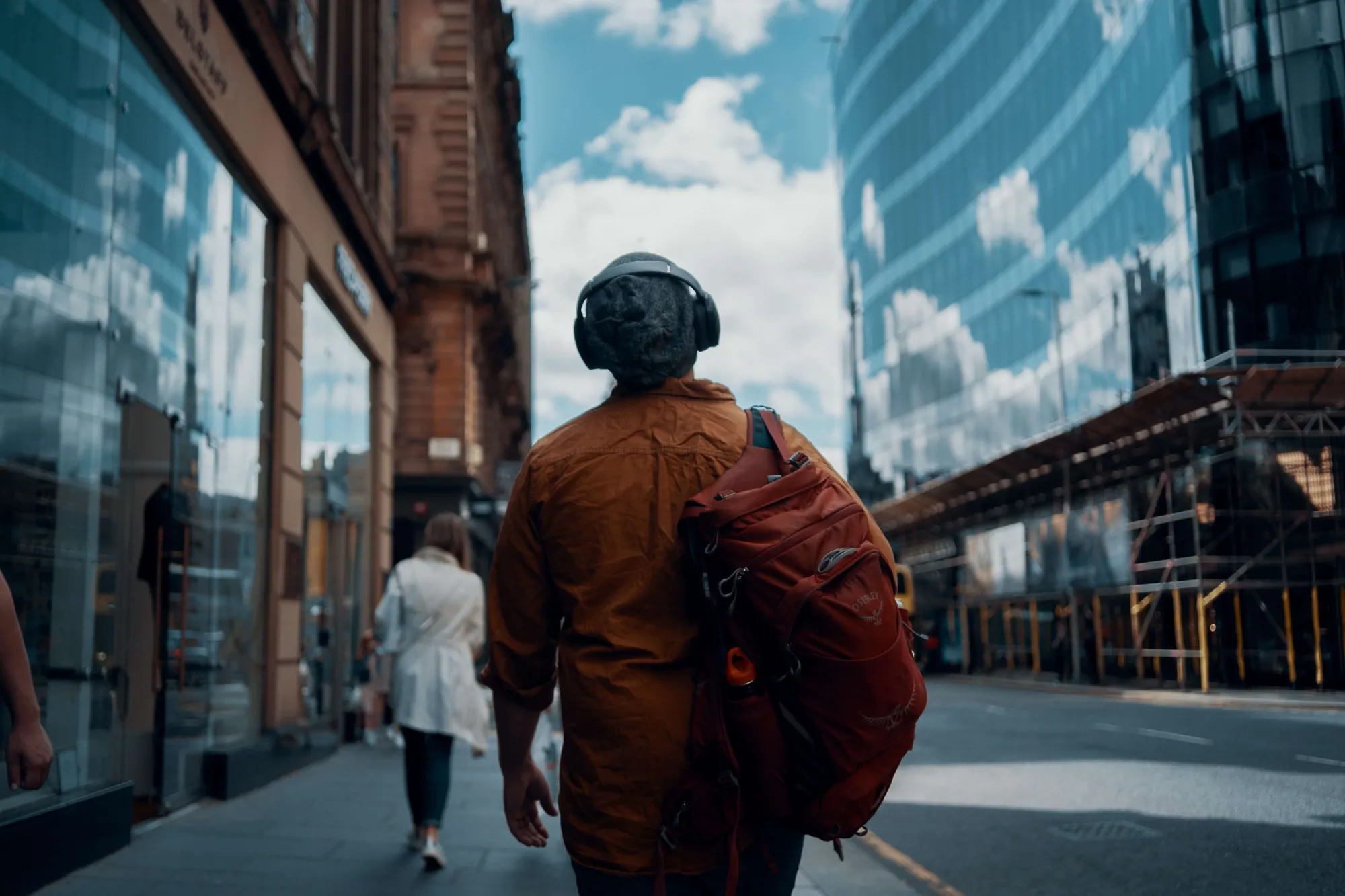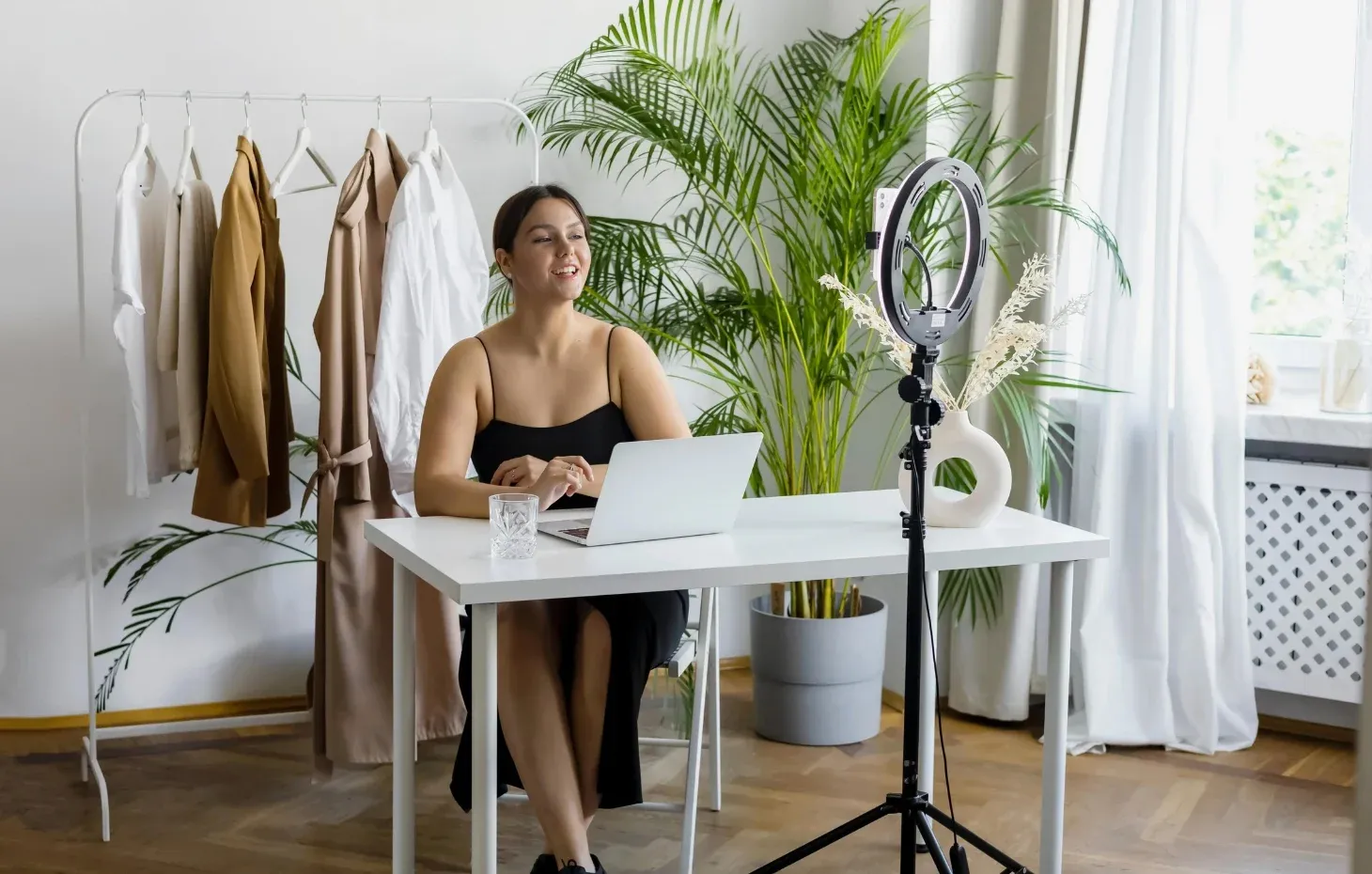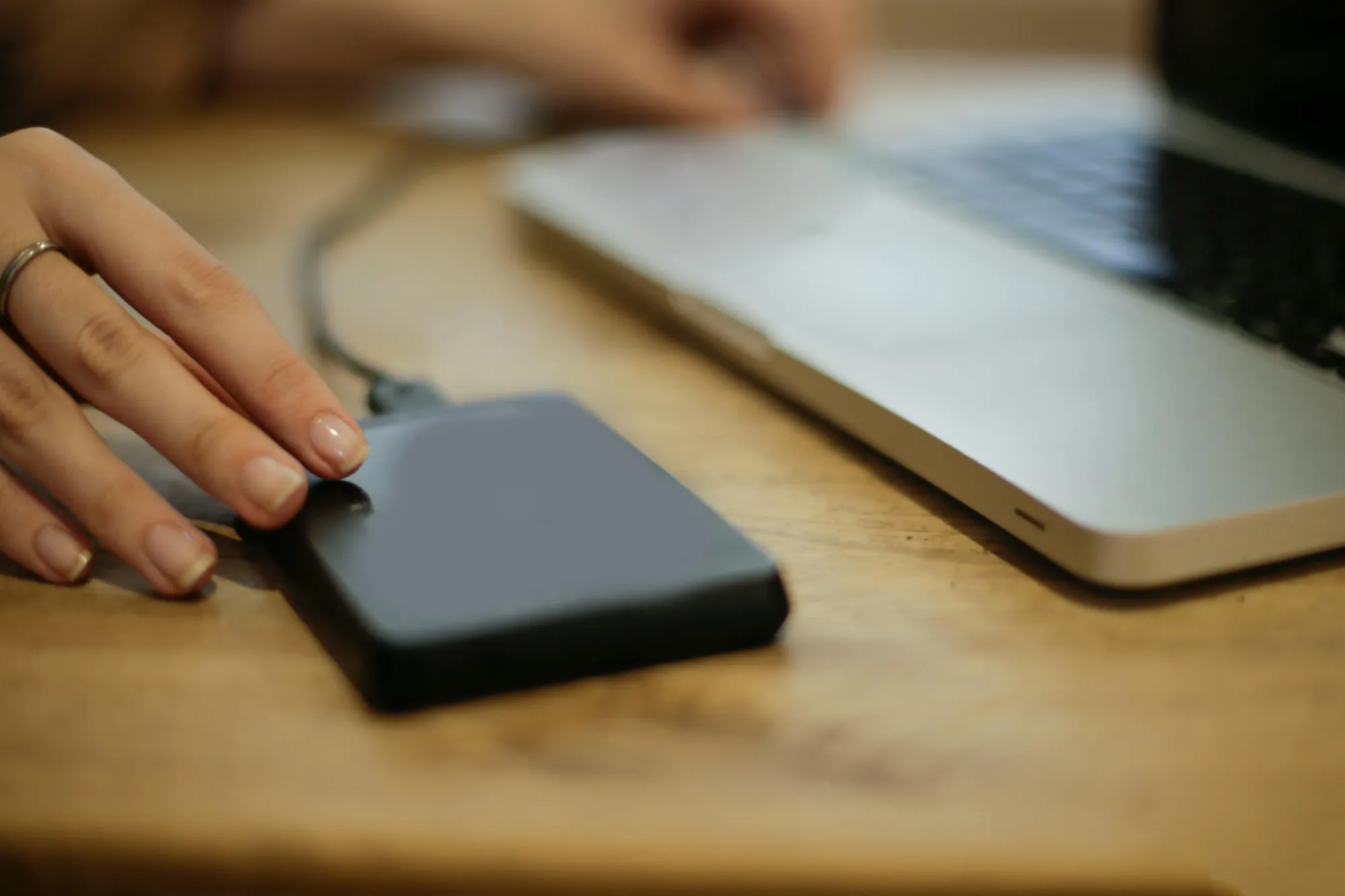 ---
Key Features to Consider in a High-Quality Noise Canceling Microphone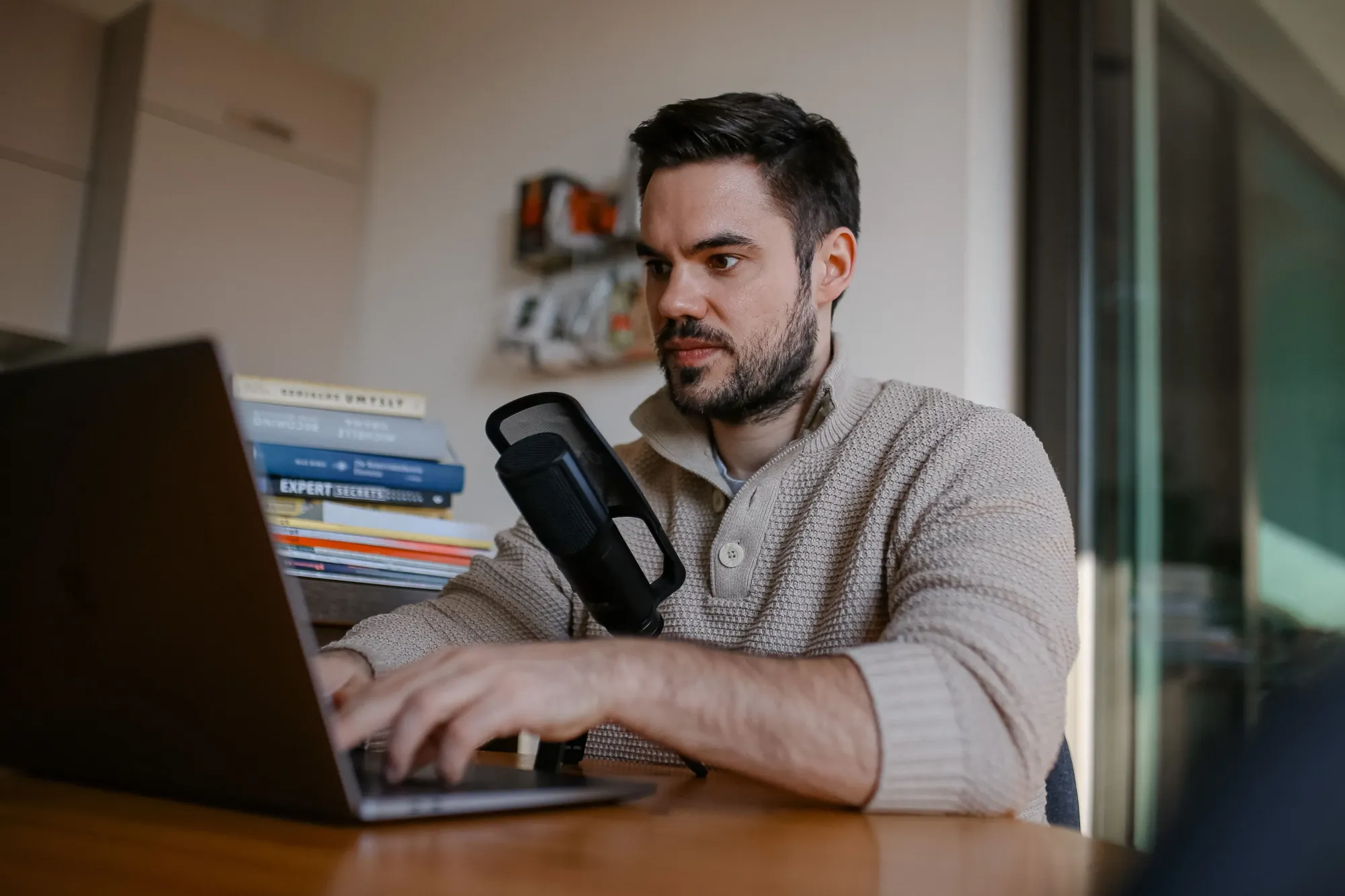 Now that you read all about the best noise-canceling mics, here are a few things to consider before making up your mind:
Type of Microphone: Is it dynamic or condenser?
Polar Pattern: Does it pick up sound from all around (omnidirectional), just from the front (cardioid), or from front and back (bidirectional)?
How it Connects: Does it use a USB or an XLR connector?
Extra Features: Does it come with any handy extras like headphone jacks, volume controls, shock mounts, and pop filters?
These are important factors that will influence your choice, so let's analyse them one by one to help you choose the best mic for your needs.
Microphone Type: Dynamic vs. Condenser
Dynamic microphones are more resilient and less prone to feedback, making them a suitable choice for live performances and environments with high ambient noise levels. Those are useful if you are working from home with your kids are around, if you are in a café or outdoor.
On the other hand, condenser microphones are more sensitive and provide superior sound quality, making them ideal for studio recordings and situations where high-quality audio capture is essential. These are ideals for content creators who need to stream or record podcasts.
Polar Pattern: Cardioid, Omnidirectional, and Bidirectional
By selecting the appropriate polar pattern for your recording needs, you can ensure optimal sound quality and noise cancellation.
A microphone's polar pattern indicates the areas in which it is most sensitive to sound. This can range from one direction of sound to many directions. Cardioid microphones are most sensitive to sound from the front and are ideal for capturing a single sound source while minimizing ambient noise.
Omnidirectional microphones capture sound from all directions. This makes them ideal for recording group conversations, such as video conference calls (talking to you remote workers!). Bidirectional microphones are sensitive to sound from the front and back while rejecting sound from the sides, making them a suitable option for interviews or duets.
Connectivity: USB vs. XLR
USB and XLR are the two primary connectivity options for noise canceling microphones out there. USB microphones are more practical and user-friendly, requiring less setup and offering plug-and-play functionality. They are great for beginners or those seeking a straightforward solution for recording or streaming.
If you are looking for enhanced sound quality and greater versatility, XLR microphones are the best choice. They require additional setup with an audio interface or adapter, making them suitable for more professional applications or those looking for the highest possible audio quality.
Additional Features: Headphone Jacks, Volume Controls, Shock Mounts, and Pop Filters
On top of the features, we described, you want to make sure you get a microphone that will get you some nice extra perks like the following:
Headphone jacks, which allow for real-time monitoring of audio
Volume controls, which enable easy adjustments
Shock mounts, which reduce vibrations and extraneous noise
Pop filters, which minimize plosive sounds and other unwanted noises
Making the Most of Noise-Canceling Microphones in Every Scenario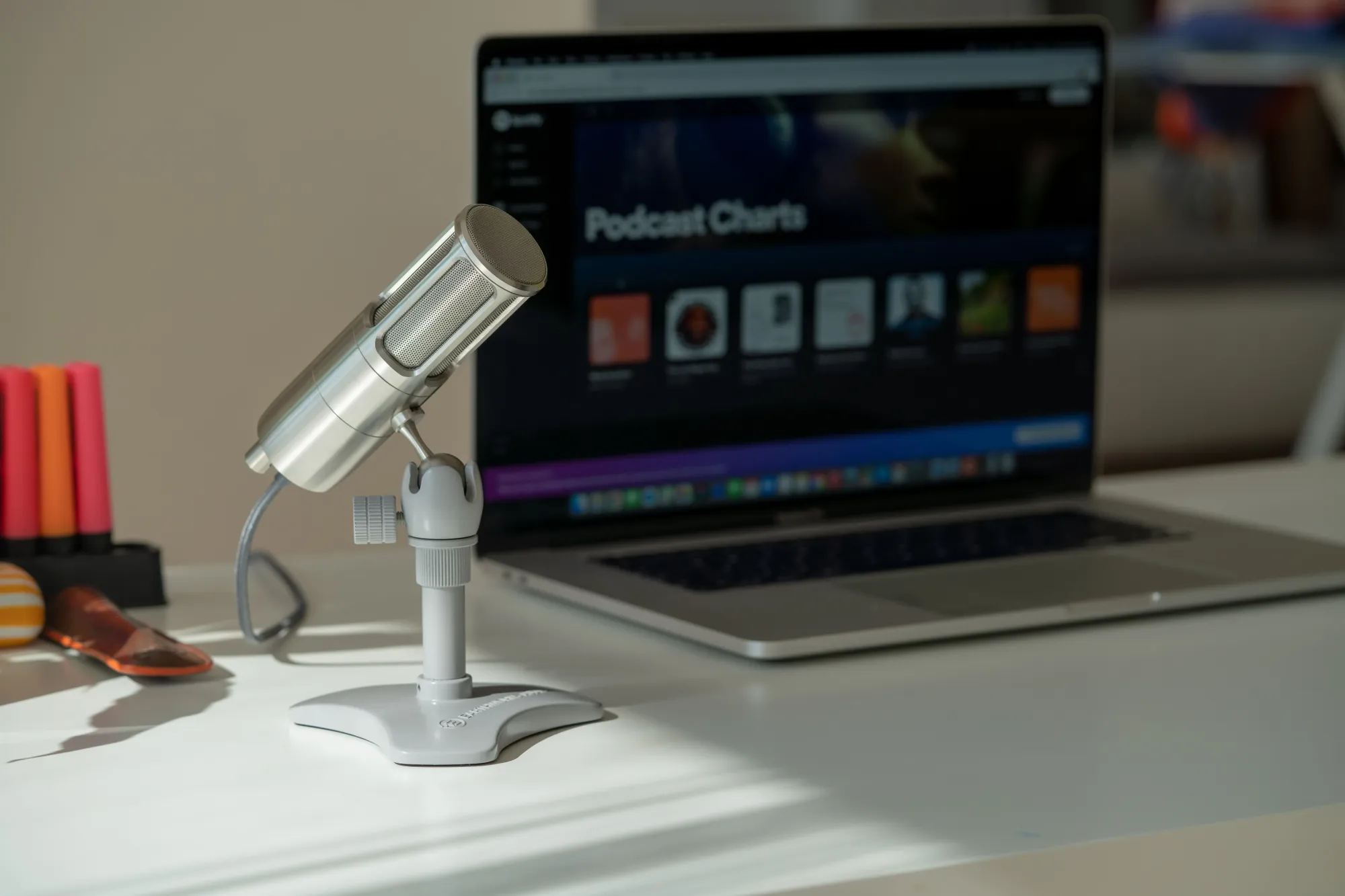 Imagine hitting the record button for your podcast, going live on your gaming stream, or jumping into a virtual meeting, and not having to worry about all those pesky background noises. That's the magic of using a noise-canceling microphone - it's all about letting your voice shine in every setting!
Let's see how these mics can play a crucial role in various scenarios.
Recording: Crisp, Clear, and No Unwanted Guests
When you're recording - be it your voice, an instrument, or a podcast episode - a noise-canceling microphone ensures that it's only your sound that gets the spotlight, not the random noises that might be happening around you. It's all about capturing your sound in its purest form, giving your recordings that professional edge and keeping listeners' focus right where you want it.
Streaming: Smooth, Uninterrupted Live Sessions
For the streamers out there, a noise-canceling microphone means your audience gets a VIP pass to your content without the unwanted background noise. Plus, with some sleek designs and customizable features out there, your streaming setup won't just sound good, it'll look good too!
Video Conferencing and Presentations: Your Voice, Front and Center
In the Zoom era, clear communication is king. Using a noise-canceling microphone in your online meetings and presentations means your voice comes through loud and clear, keeping everyone's attention on your words and ideas, and making collaborations smooth and productive.
5 Tips To Get The Best Out of Your Noise-Canceling Microphone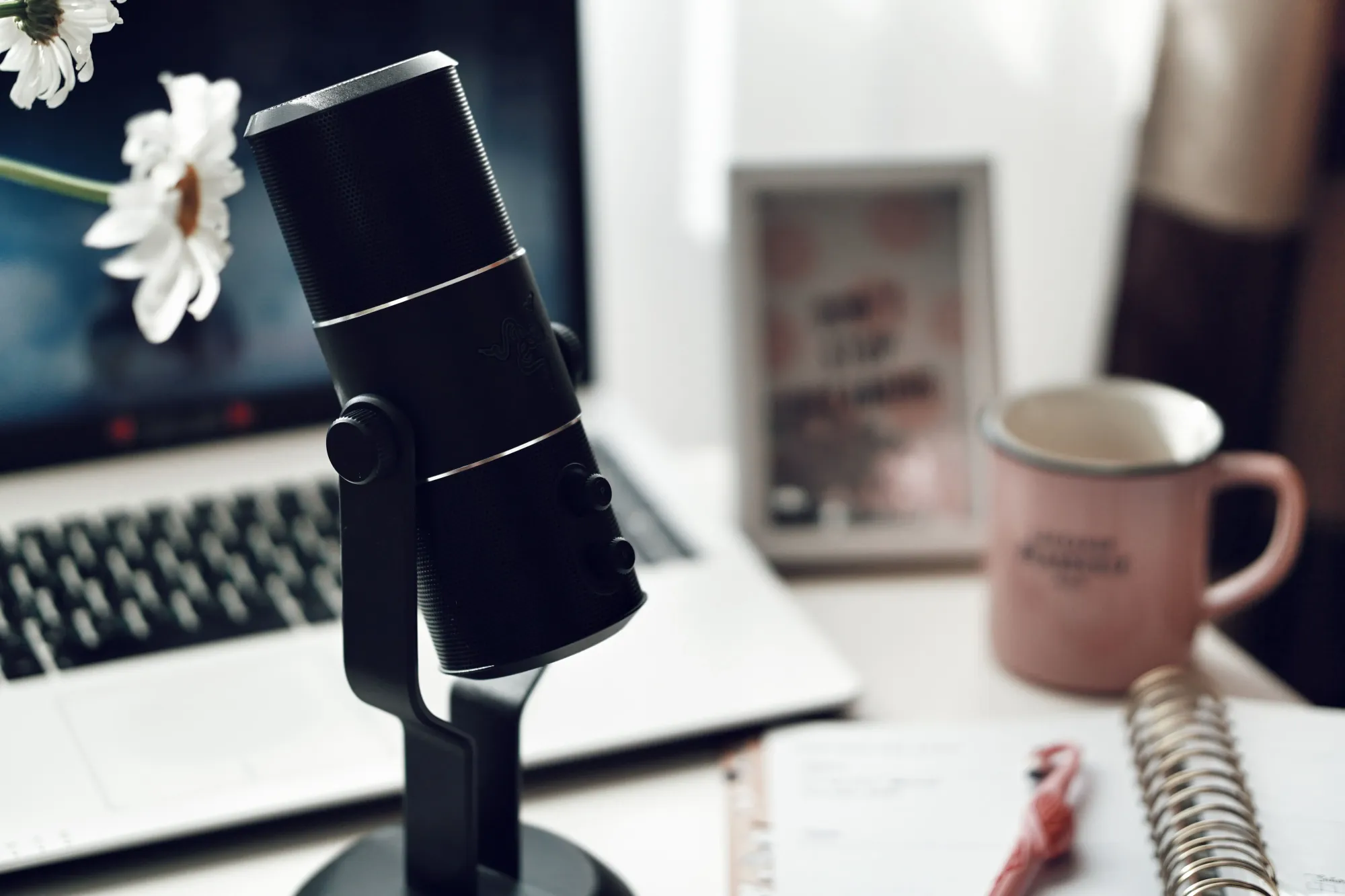 To make sure your microphone is always giving its best, it's not just about plugging it in and forgetting about it. Here are some tips to take full advantage of your noise cancellation mic:
Make sure it's positioned just right - with the main part of the microphone facing your mouth and at the end of the mic boom.
Play around with angles and distances to find that sweet spot of sound clarity
Keep your mic clean and dust-free
Give it a safe home in a protective case when it's not in use
Keep an eye (and an ear) out for any loose or damaged cables and connections, and get them sorted as soon as you can
By keeping these tips in mind, your noise-canceling microphone will keep delivering top-notch audio for all your recording, streaming, and meeting needs.
Frequently Asked Questions
How do I get noise canceling on my mic?
To get noise cancellation on your mic, turn the dial on the microphone boost all the way down and the microphone dial all the way up. Then, in the Enhancements tab, make sure that the acoustic echo cancellation and noise suppression boxes are checked.
Which mic reject background noise?
Dynamic microphones with a cardioid or hypercardioid polar pattern are the best at rejecting background noise, while sensitive microphones usually do not perform well in this regard.
What is the main advantage of using a noise canceling microphone?
The main advantage of using a noise canceling microphone is its ability to filter out background noise, delivering clear audio for various applications.
Are noise canceling microphones suitable for both recording and streaming?
Yes, noise canceling microphones are suitable for recording and streaming, offering clear audio and effective noise cancellation.
How do I position my noise canceling microphone for optimal sound quality?
Position the noise canceling microphone at the end of the mic boom, facing your mouth. Experiment with different placements to find the best angle and distance for optimal sound quality.
Ready to Get Your Voice Heard Sound and Clear?
If you want more digital nomad guides like these, sign up for our free newsletter and get upcoming articles straight to your inbox!
You can also follow us on Instagram and join our Facebook Group if you want to get in touch with other members of our growing digital nomad community!
We'll see you there, Freaking Nomads!
Disclosure: Hey, just a heads up that some of the links in this article are affiliate links. This means that, if you buy through our links, we may earn a small commission that helps us create helpful content for the community. We only recommend products if we think they will add value, so thanks for supporting us!