Ever found yourself struggling to focus on that important Zoom call because of the unbearable noise happening around you? Or perhaps you're trying to meet a deadline while at a bustling airport or café, and you need to jump on a quick call?
This is where a good pair of headphones come in to be your savior, creating a bubble of tranquility in the midst of chaos and getting you on that important call.
In this article, we're going to dive into our top pick of the best noise-canceling headphones for remote work and travel, exploring how they work, the different types available, and even any alternatives you might want to consider.
Without wasting your precious time, let's get started!
---
Best Headphones and Headsets For Remote Work & Travel
---
The 4 Types of Headphones for Remote Work
When it comes to headphones, there's literally no one-size-fits-all. There are 4 different types of headphones, each with their own pros and cons. Let's take a quick look at them:
On-Ear Headphones
These headphones sit directly on your ears. They're generally lighter and more compact than over-ear headphones, making them a good option for travel.
Over-Ear Headphones
These headphones cover your entire ear. They're known for their excellent sound quality and comfort, making them a great choice for long listening sessions.
Closed-Back Headphones
These headphones have a sealed back that prevents sound leakage. They're great for blocking out ambient noise, making them ideal for work.
Open-Back Headphones
These headphones have a perforated back that allows some sound to escape. They provide a more natural sound, but they're not the best at blocking out background noise.
Which Headphones Are Suitable for Remote Work?
Ready to dive into the world of headphones and find your perfect pair for remote work and travel? Hold your horses, nomad! Before you hit that 'buy now' button, let's talk about what you should be looking for in your ideal headphones:
Wireless is the Way to Go: You want headphones that can move with you, without any pesky cords getting in the way.
Battery Life is Key: Look for headphones that can last at least 8 hours on a single charge for a long work session or a long-haul flight!
Closed-Back Headphones are Your Best Bet: They provide noise isolation, which is great for focusing on your work, even if you decide to not opt for noise-canceling headphones.
Don't Compromise on Sound Quality: You want headphones that deliver clear, crisp audio. We can't stress this enough
Comfort is Crucial: You'll likely be wearing these headphones for long periods, so make sure they're comfortable!
The 9 Best Headphones For Remote Work and Travel
1. Sony WH-1000XM5: The Audiophile's Dream
The Sony WH-1000XM5 are a dream come true for remote workers who care about a great audio experience. With their sleek design and top-tier sound quality, these headphones are like a personal concert hall that you can take anywhere. Their exceptional noise cancellation feature ensures in fact you can enjoy your favorite tunes without the world's noise buzzing around. They are ideal for digital nomads who need to focus on their work or just unwind after a long day.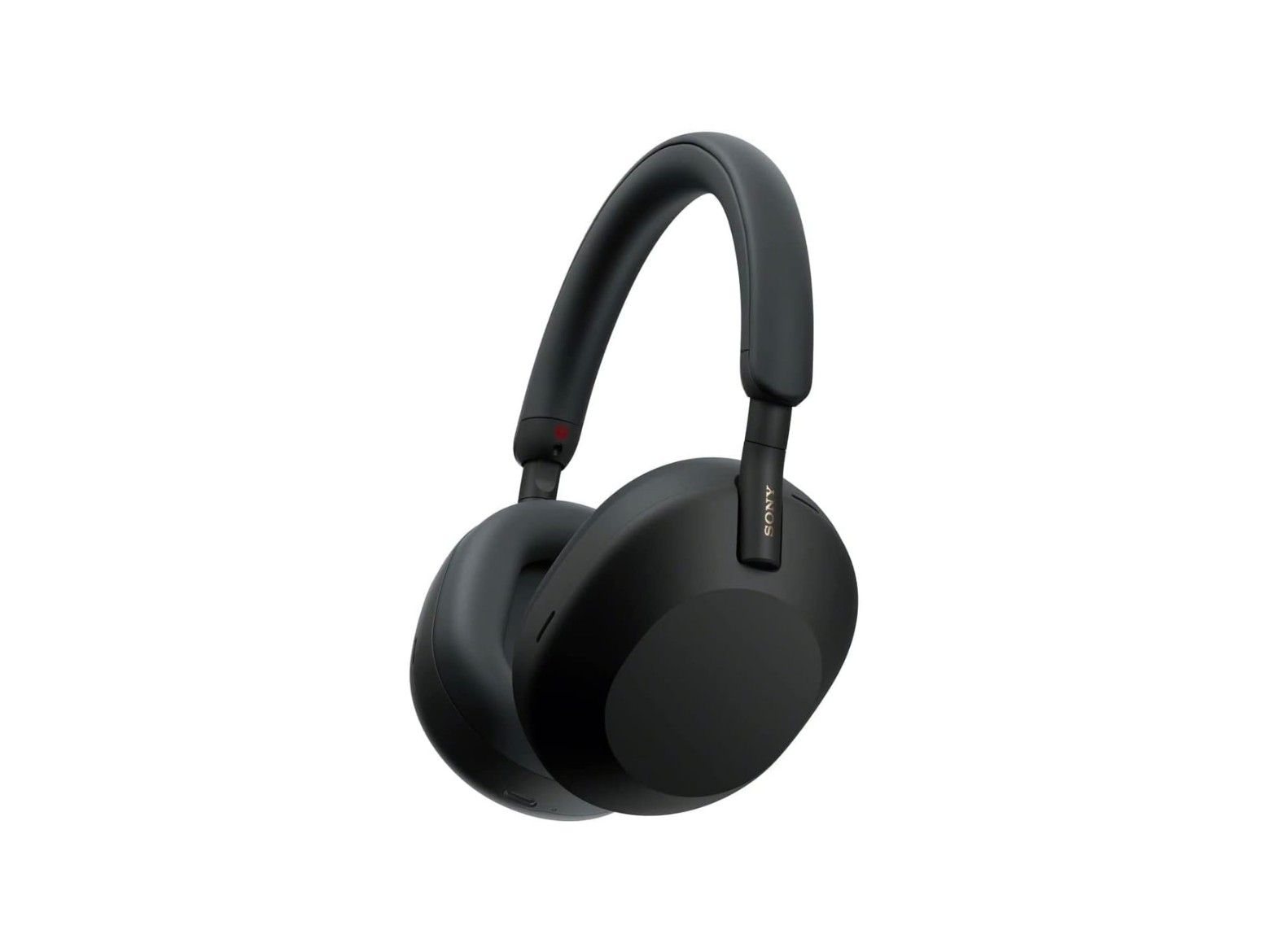 Key features:
Industry-leading noise cancellation
High-resolution audio support
Quick Attention Mode for easy conversation without removing the headphones
Personalized listening experience with the Sony Headphones Connect app
Price: $348.00
2. Apple AirPods Pro 2: The Compact Powerhouse
The Apple AirPods Pro 2 delivers clear and immersive sound as well as active noise cancellation. These little buds pack a punch, and their sleek design makes them barely noticeable when worn. Ideal for digital nomads who appreciate minimalism and efficiency, the Apple AirPods Pro 2 ensures they can work or relax with their favorite tunes, no matter where they are. They're the perfect choice for those remote workers who want the power of noise cancellation in a truly compact package.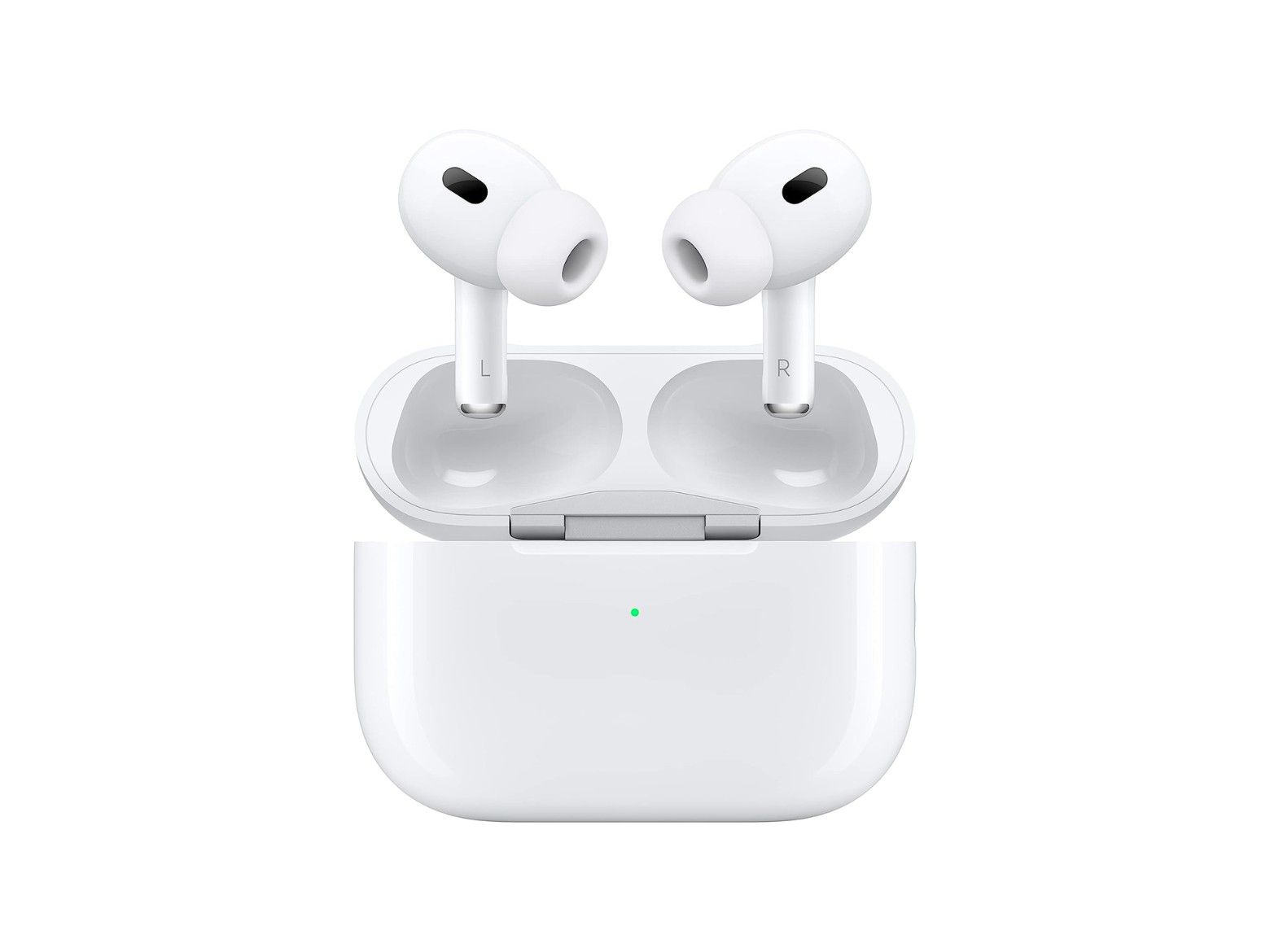 Key features:
Active noise cancellation
Transparency mode for hearing and connecting with the world around you
Adaptive EQ that tunes music to the shape of your ear
Sweat and water resistance
Super portable and lightweight
Price: $249.00
3. Bose Wireless Headphones 700: The Noise-Cancellation Champion
The Bose Noise Canceling Wireless Headphones 700 are your ticket to a world of peace and quiet. With their outstanding noise-cancellation quality, these headphones are perfect for those moments when you need to focus on your work or simply want to enjoy your music without any distractions. They're also ideal for voice and video calls, ensuring clear communication no matter where you are. So, whether you're working in a bustling city café or taking a call in a busy airport, the Bose Noise Canceling Wireless Headphones 700 have got you covered.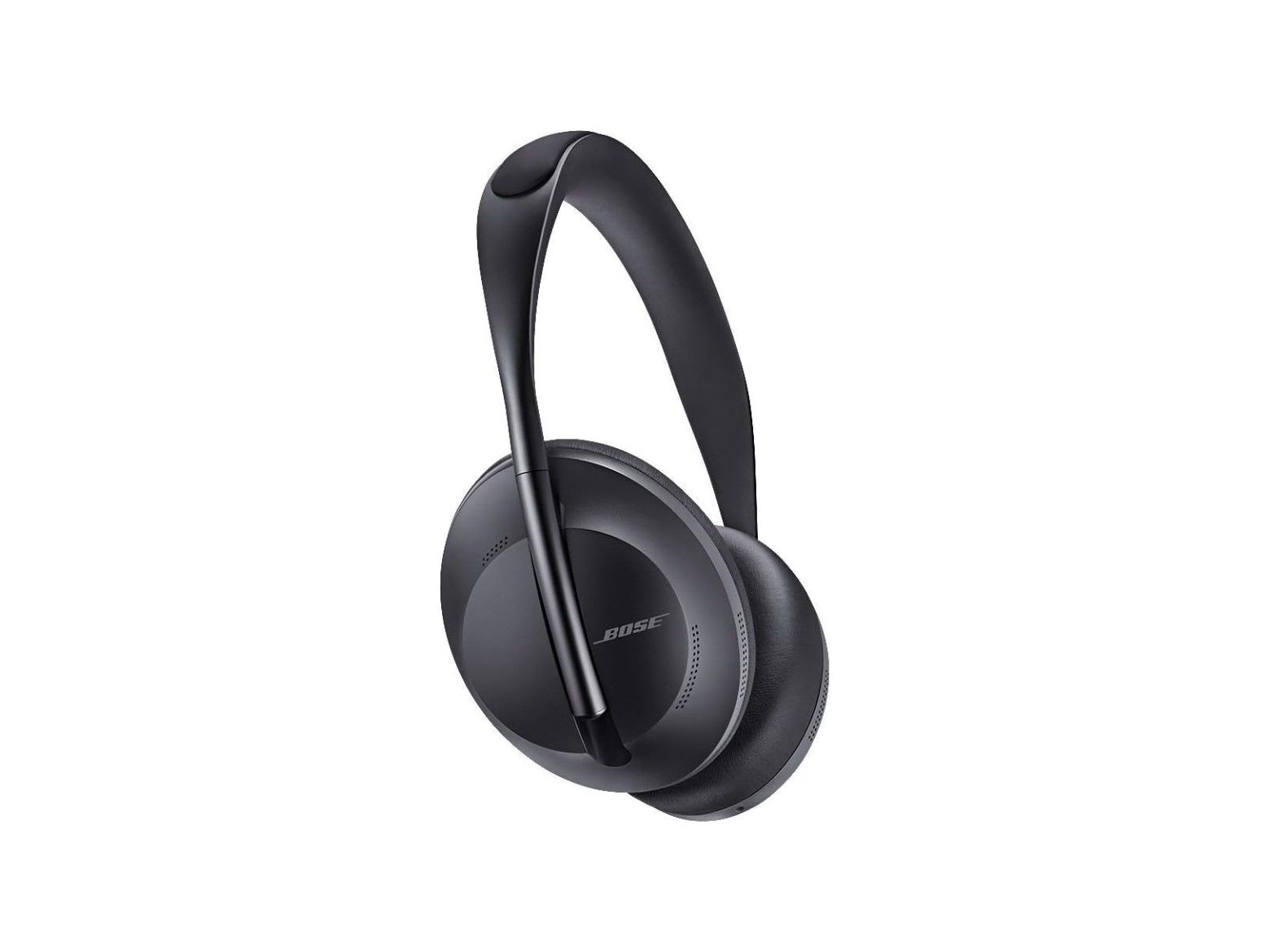 Key features:
World-class adjustable noise cancellation
Intuitive touch controls
Bose AR, an innovative audio-only version of augmented reality
Conversation mode to pause music and let surrounding noise in
Ideal for voice and video calls
Price: $379.00
4. Plantronics Voyager Focus UC: Perfect for Those Endless Zoom Calls
Zoom calls can be a drag, we know. But with the Plantronics Voyager Focus UC, you'll be sailing through those meetings like a pro. These headphones deliver clear communication with a noise-canceling microphone and high-definition stereo sound, so you can ensure your voice is heard clearly, no matter where your remote work takes you. Plus, they're so comfortable, you'll forget you're wearing them. They're the most suitable choice for remote workers who need to stay connected and communicate clearly.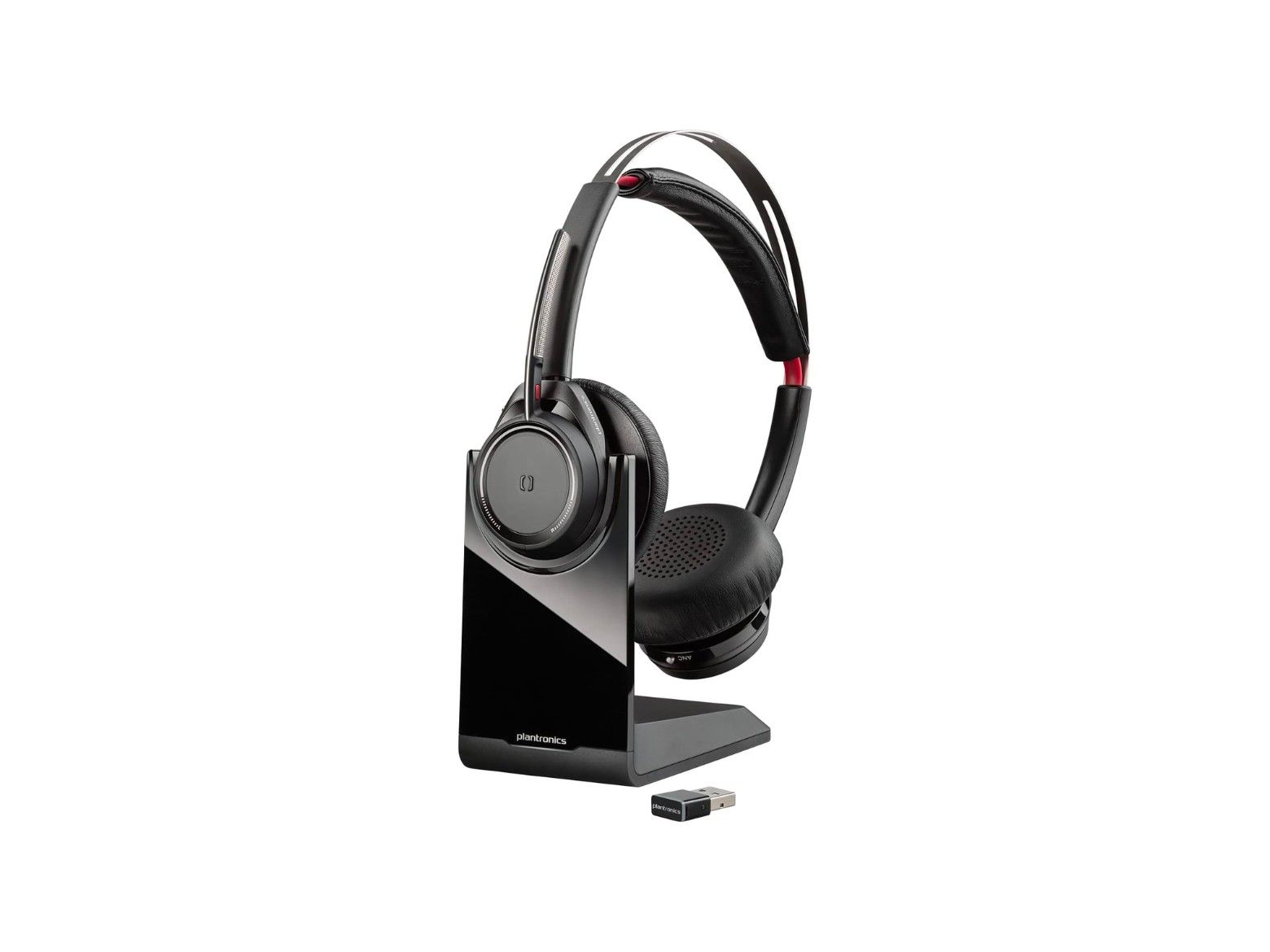 Key features:
Active noise-canceling technology
Smart sensor technology for intuitive call management
Up to 12 hours of talk time
Seamless connectivity with multiple devices
Price: $148.89
5. Bose QuietComfort 45: The Long-Haul Flight Hero
The Bose QuietComfort 45 is a true hero for those long-haul flights. These headphones deliver excellent noise cancellation and sound quality, making them the perfect companion for long journeys. They're designed to provide a world of peace and quiet to enjoy music or movies without any interruptions. For digital nomads who frequently travel, the Bose QuietComfort 45 ensures the journey is as comfortable as possible, to arrive at the destination refreshed and ready to catch up with some productive work.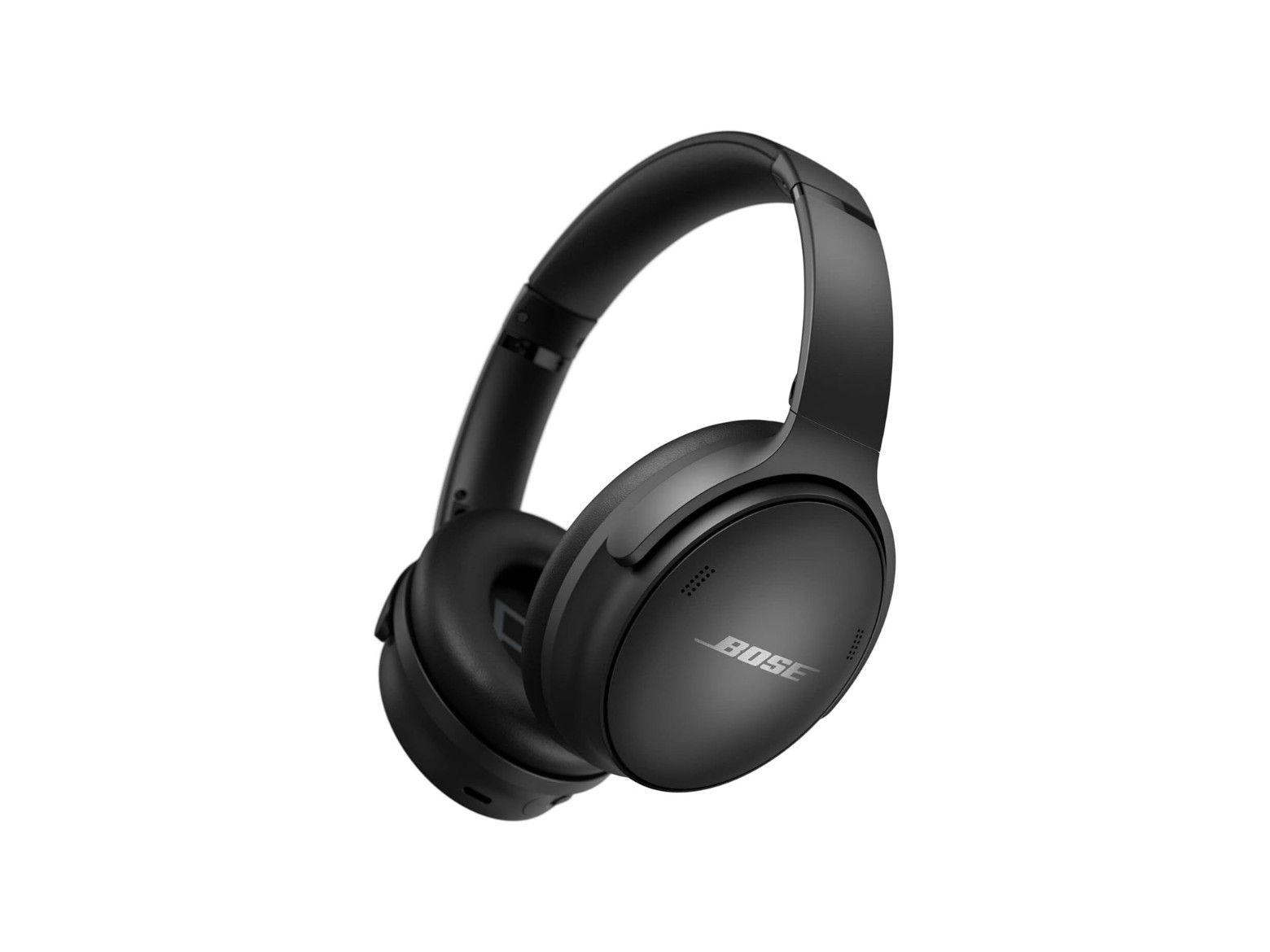 Key features:
World-class noise cancellation
Volume-optimized Active EQ for balanced audio performance
Up to 24 hours of battery life
Comfortable over-ear design
Price: $329.00
6. Apple AirPods Max: The Luxurious Sound Choice
For those who appreciate the finer things in life, the Apple AirPods Max are a must-have. These over-ear headphones deliver high-fidelity audio and adaptive EQ, tailoring the sound to the fit and seal of the ear cushions. It's like having a personal symphony orchestra playing just for you. With their luxurious design and superior sound quality, the Apple AirPods Max are perfect for digital nomads who won't compromise on their audio experience while on the go.
Key features:
High-fidelity audio
Adaptive EQ
Active Noise Cancellation and Transparency mode
Spatial audio with dynamic head tracking for a theater-like experience
Price: $549.00
7. Anker Soundcore Life Q20: The Budget Battery Beast
If you're working with a tight budget but still want great sound and battery life, the Anker Soundcore Life Q20 is a great choice. These headphones offer up to 60 hours of playtime and hybrid active noise cancellation, delivering great value for money. They're perfect for digital nomads who need reliable headphones that won't break the bank. With the Anker Soundcore Life Q20, you can work, travel, and enjoy your favorite tunes without worrying about your headphones running out of juice.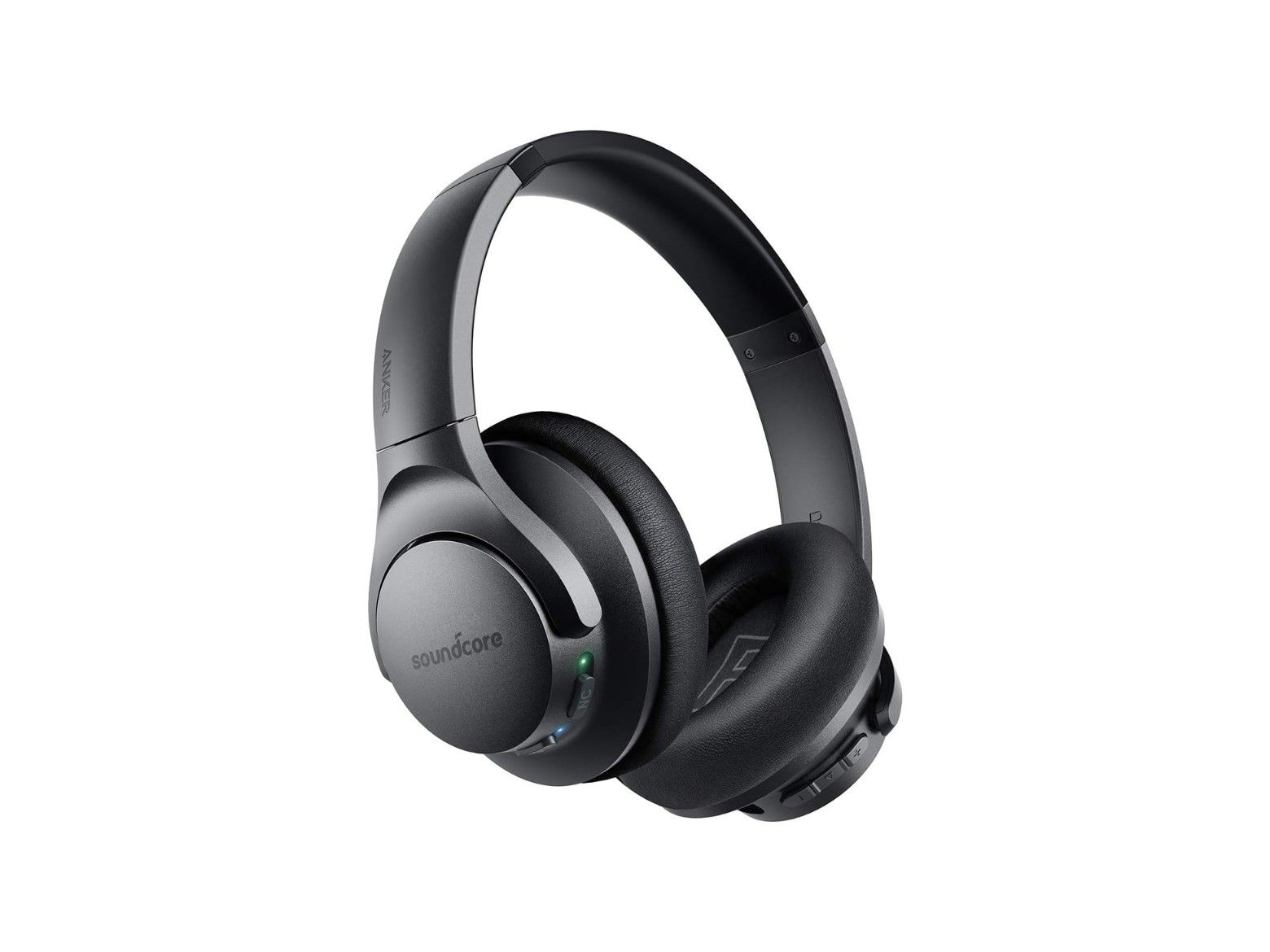 Key features:
Hybrid active noise cancellation
Up to 60 hours of playtime
BassUp technology for deep bass
Foldable design for easy portability
Price: $59.00
8. Jabra Elite 85H: The All-Day Comfort King
For those long workdays, you need headphones that won't start to feel uncomfortable after a few hours. The Jabra Elite 85H are the kings of all-day comfort, with plush ear cushions and an adjustable headband. They deliver great sound and effective noise cancellation, making them perfect for those marathon work sessions. Whether you're working from a co-working space or from the comfort of your Airbnb, the Jabra Elite 85H ensures you can work in comfort all day long.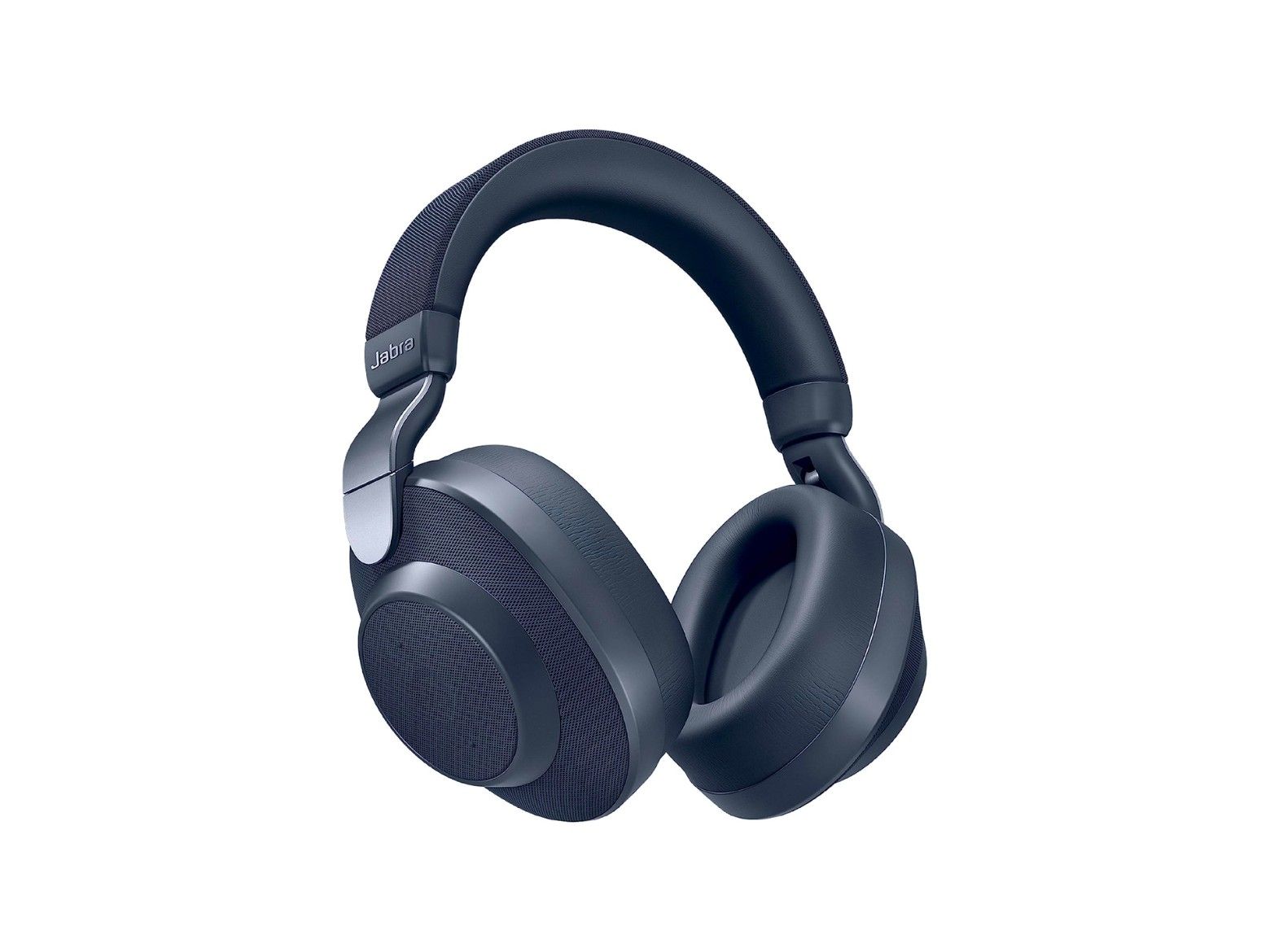 Key features:
SmartSound Audio that automatically adapts to your surroundings
On-ear detection for auto-play and pause
Rain-resistant design and 2-year warranty against water and dust
Up to 36 hours of battery life
Price: $429.99
9. Razer Kraken X: For the Gamer-Turned Remote Worker
Who says gamers can't be productive? The Razer Kraken X is perfect for those who've swapped their gaming chair for an office chair. These headphones deliver immersive sound and a comfortable design, keeping you in the zone whether you're working or gaming. They're perfect for location-independent remote workers who like to mix work with play. With the Razer Kraken X, you can seamlessly transition from a productive workday to a relaxing gaming session.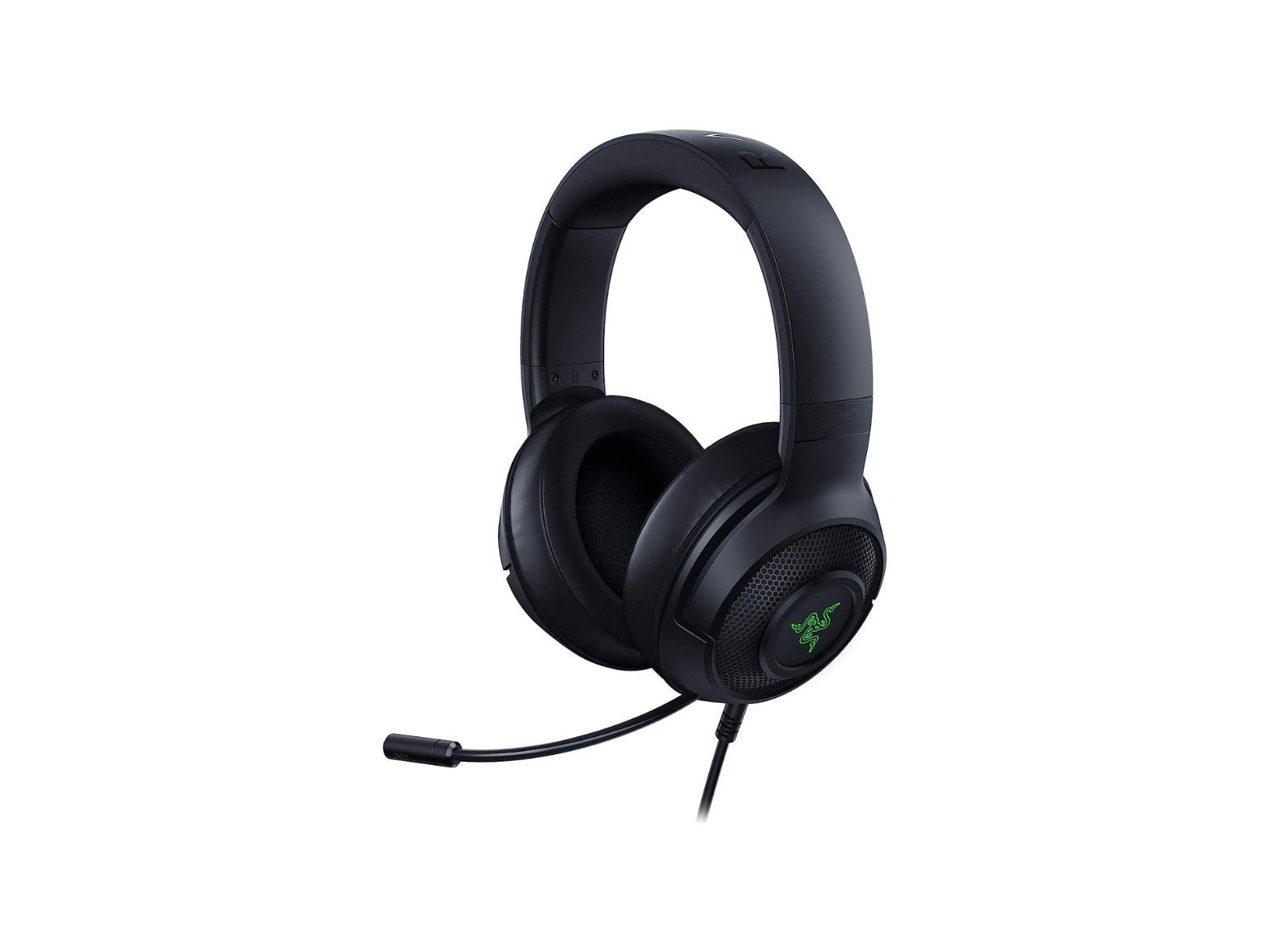 Key features:
Immersive, 7.1 surround sound for positional audio
Ultra-light design for all-day comfort
Bendable noise-canceling microphone
Custom-tuned 40 mm drivers
Pros and cons:
Price: $62.13
---
Other remote work gear you may also be interested in: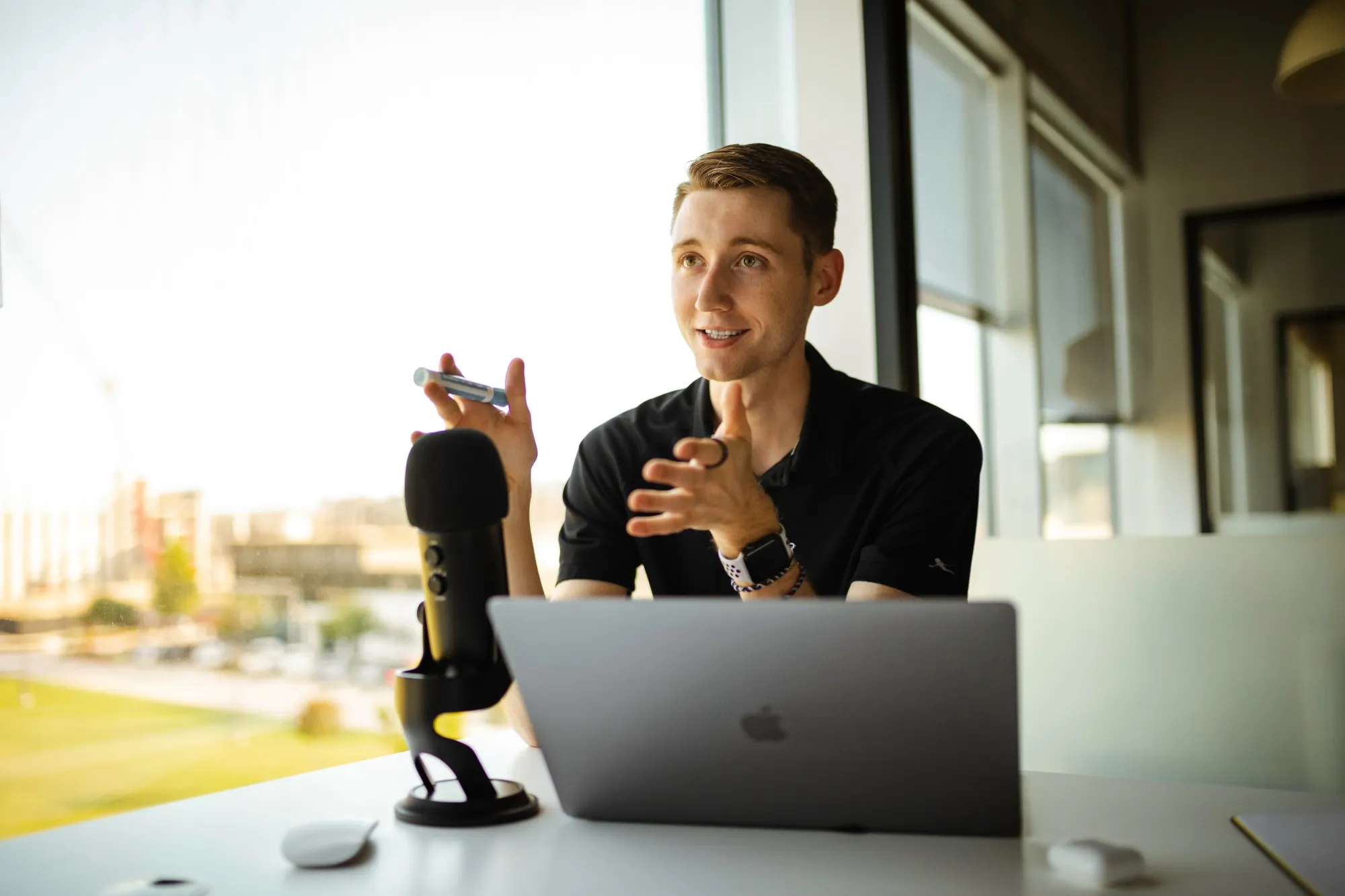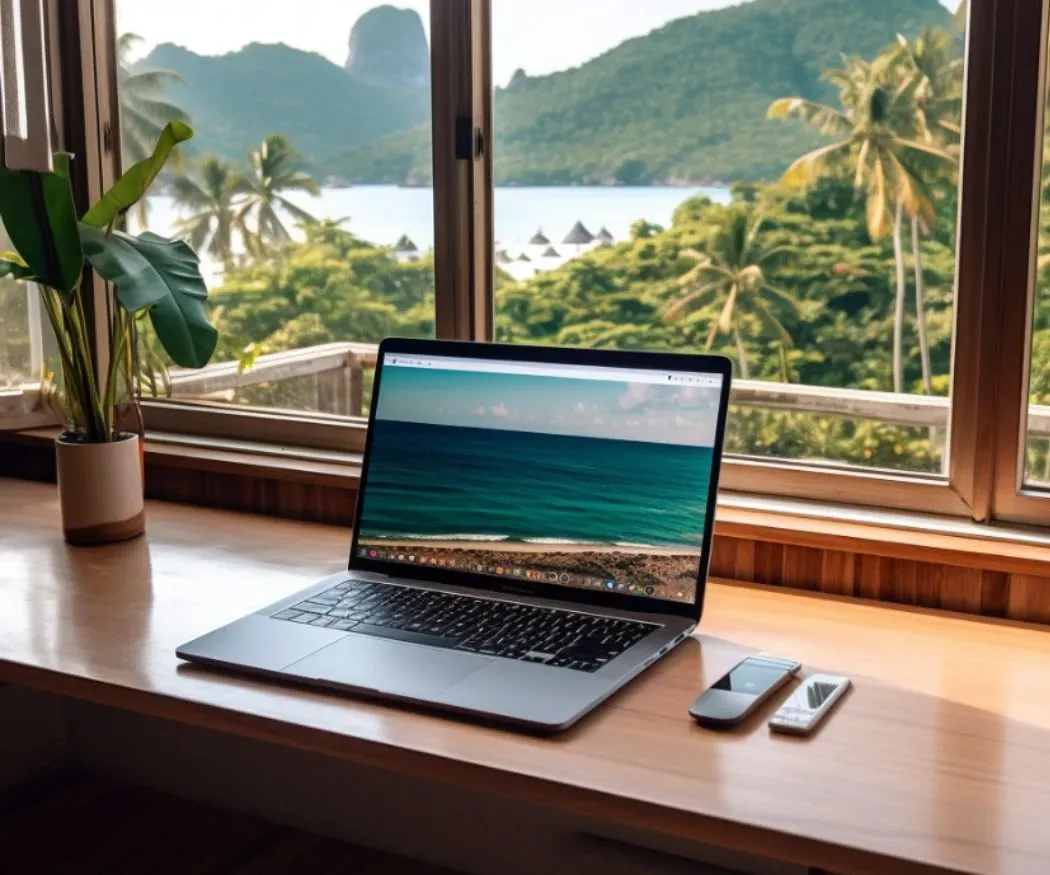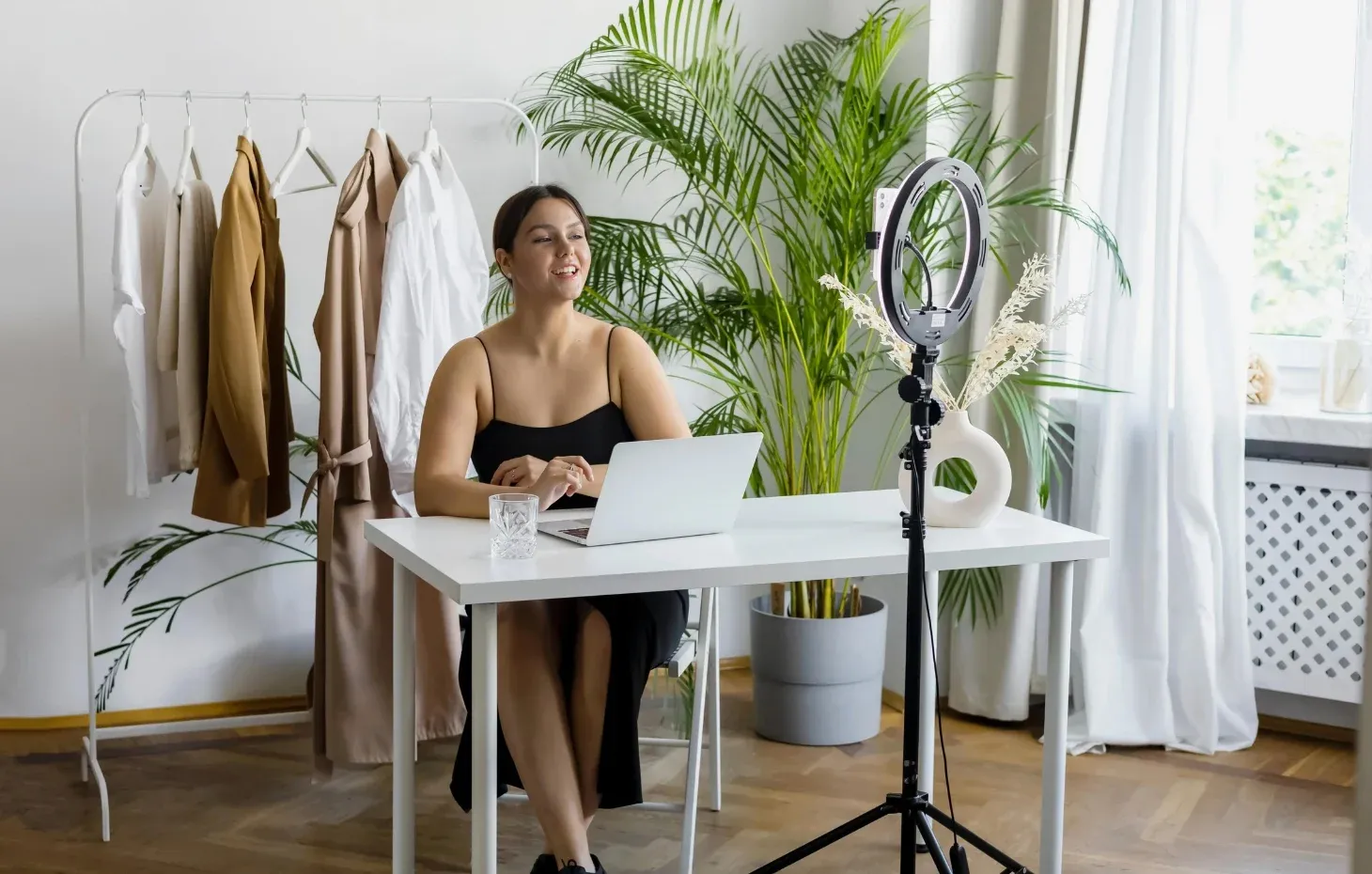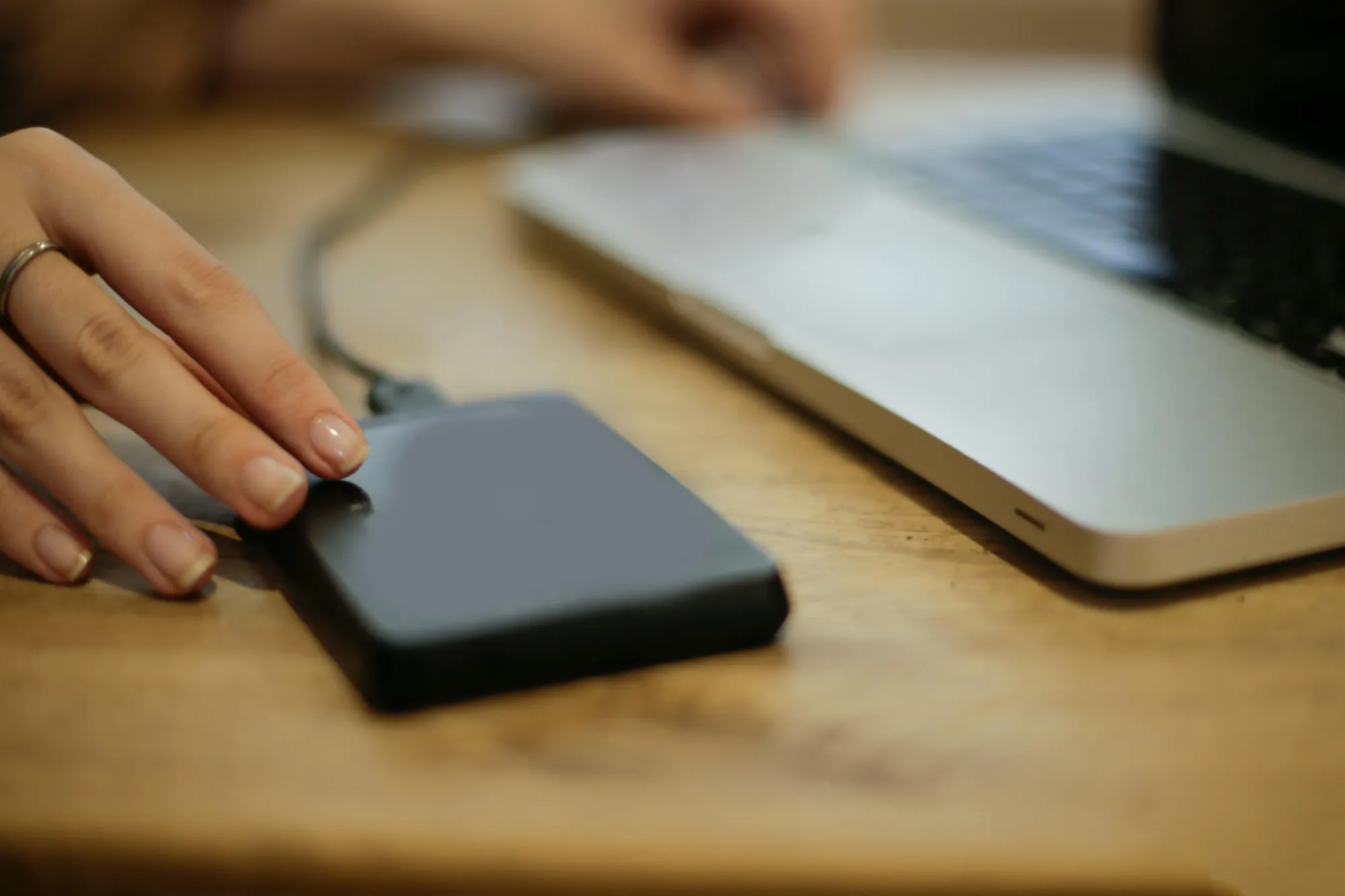 ---
Alternatives to Remote Work Headphones
Not everyone is a fan of headphones, and that's okay! If you're looking for alternatives to headphones for your remote work setup, there are plenty of other ways to create a distraction-free work environment.
Workspace Soundproofing
Soundproofing your workspace can be a great way to block out unwanted noise. This could involve finding rooms that have acoustic panels on your walls. For example, many coworking spaces around the world have meeting rooms with soundproofing solutions, from simple wall panels to full sound isolation rooms. Get your space booked if that sounds like a good solution to you.
Working During Quieter Hours
An alternative could be to consider adjusting your work schedule to quieter hours. This might mean starting your workday early in the morning or working late into the night when there's less noise around you. This approach requires some flexibility, but it can be a great way to ensure a peaceful work environment without the need for headphones!
So, What Are The Best Headphones For Remote Work and International Travel?
After reviewing a plethora of headphones, we've concluded that there isn't a one-size-fits-all solution for every digital nomad or remote worker. Each pair of headphones has unique strengths and weaknesses, catering to various needs and budgets.
For those seeking the ultimate audio experience, for example, the Sony WH-1000XM5 and Apple AirPods Max are hard to beat. The Apple AirPods Pro 2 is your best bet if you're after compact power. For those who prioritize comfort during long workdays, the Jabra Elite 85H is the undebated king. If you're on a budget but still want great sound and battery life, the Anker Soundcore Life Q20 is a fantastic choice. For the gamers turned remote workers, the Razer Kraken X is a perfect match.
In the end, the best headphones for remote work and international travel boil down to your personal preferences, work requirements, and travel plans. Weigh the pros and cons of each pair, and you'll find the perfect audio companion for your nomadic adventures!
Ready To Add Your New Headphones To Your Digital Nomad Gear?
If you want to receive digital nomad guides like these, sign up for our free newsletter and get upcoming articles straight to your inbox!
You can also follow us on Instagram and join our Facebook Group if you want to get in touch with other members of our growing digital nomad community!
We'll see you there, Freaking Nomads!
Disclosure: Hey, just a heads up that some of the links in this article are affiliate links. This means that, if you buy through our links, we may earn a small commission that helps us create helpful content for the community. We only recommend products if we think they will add value, so thanks for supporting us!