The idea of being a digital nomad is pretty darn appealing.
I mean, who wouldn't want to swap the 9-to-5 grind for a life of adventure, exploring new places while earning a living from your laptop? Well, that's not impossible, and this is actually the reality of 35 million digital nomads worldwide.
But let's be real, it's not all sunshine and rainbows. There's a lot to figure out, from finding remote work to dealing with the challenges of constant travel and, sometimes, loneliness.
That's where digital nomad blogs come in. They're like the ultimate guidebooks written by folks who've been there, done that, and got the passport stamps to prove it. These guys and gals are the real deal - they've turned their nomadic dreams into reality, and they're sharing their journeys, warts and all, to help the rest of us.
These blogs cover everything you could possibly need to know about life on the road. Need tips on how to land remote gigs? They've got you covered. Want to know the best places for digital nomad families? They've been there. Looking for advice on how to travel with a dog? They've got that figured out too.
But it's not just the practical stuff. These blogs are packed with personal stories and experiences that'll make you laugh, cry, and most importantly, inspire you to chase your digital nomad dreams. We personally curated this list of digital nomad bloggers from different backgrounds, cultures, and stages in life.
So, whether you're just starting to consider this lifestyle or you're a seasoned nomad looking for fresh ideas, these blogs are your new best friends. Go on, check the 'About Us' of these top digital nomad blogs, and get inspired by the stories of these awesome location-independent individuals.
And who knows? Maybe one day, you'll be the one sharing your own digital nomad adventures with the world!
🟡
Note that our list is not in order of importance, following base, or priority in which you should follow them. The blogs we mention below are all equally awesome, and we recommend you check out the ones that spark your curiosity the most!
1. Nomadic Matt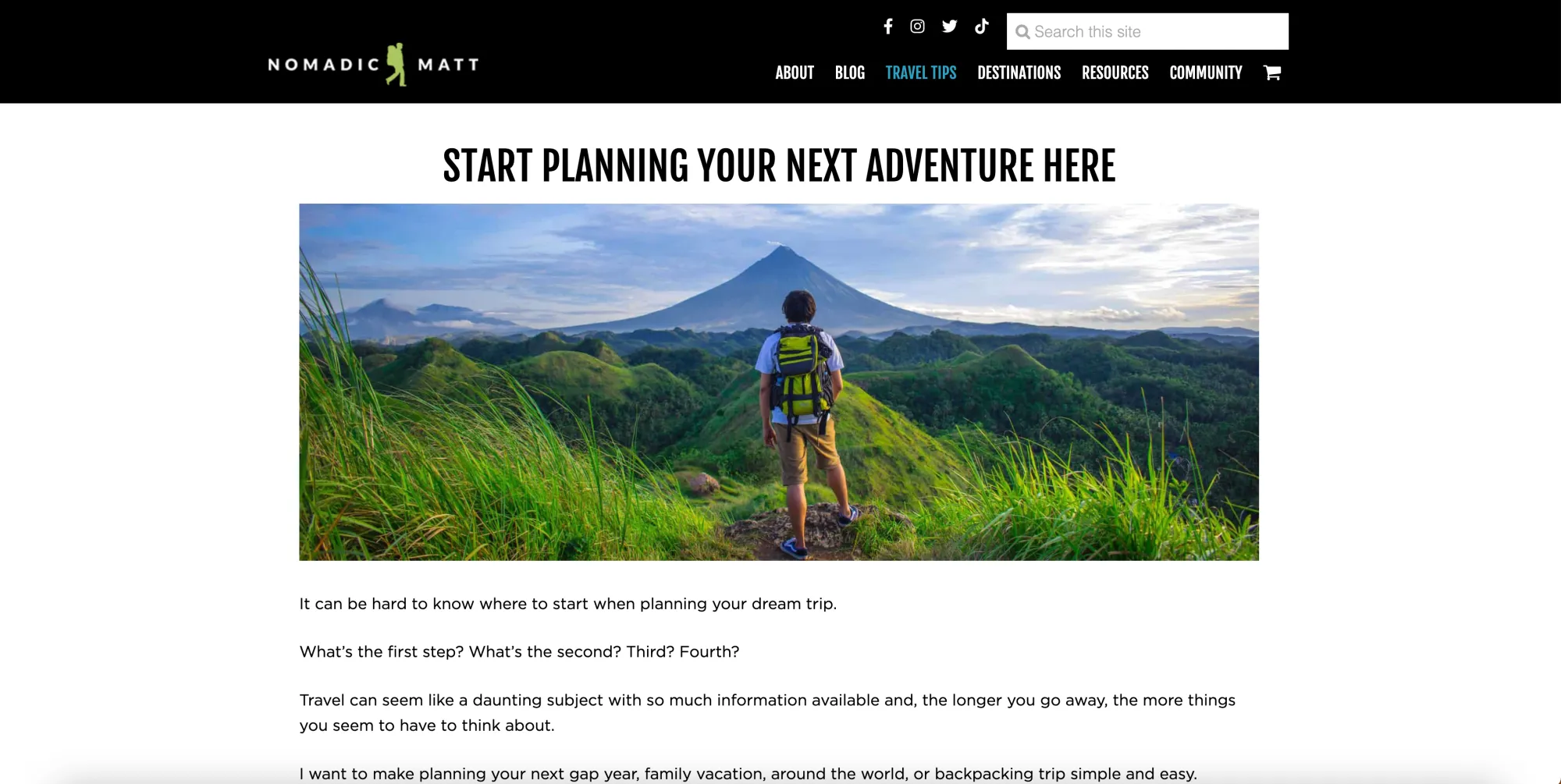 Matt Kepnes, the man behind Nomadic Matt, is a seasoned traveler who has been exploring the world for over a decade.
His blog is a treasure trove of travel tips, destination guides, and budgeting advice. Matt's personal journey from a cubicle dweller to a full-time traveler is truly inspiring. He's dedicated to helping others realize their travel dreams without breaking the bank.
His blog is a must-read for anyone looking to embrace the digital nomad lifestyle.
2. Andy Sto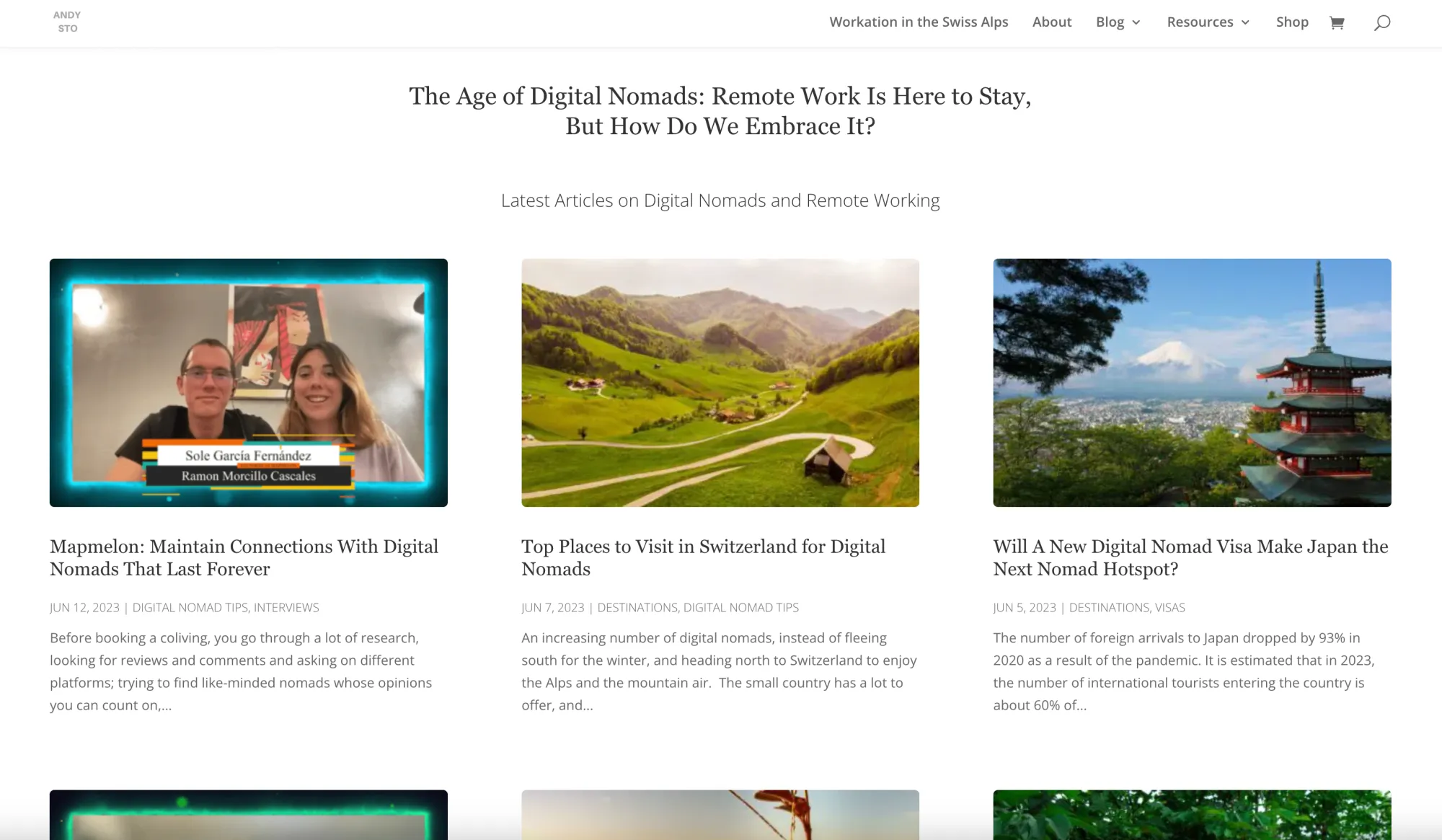 Andy Stofferis (aka Andy Sto) is a digital nomad from Belgium who has truly mastered the art of balancing work and travel. His journey from a traditional 9-to-5 job to a location-independent lifestyle offers valuable lessons for those looking to follow a similar path.
His blog is a mix of practical advice on remote work, travel guides, and personal experiences. And Andy's approachable writing style and insightful content make his blog a great resource for both aspiring and experienced digital nomads.
3. Nomad Girl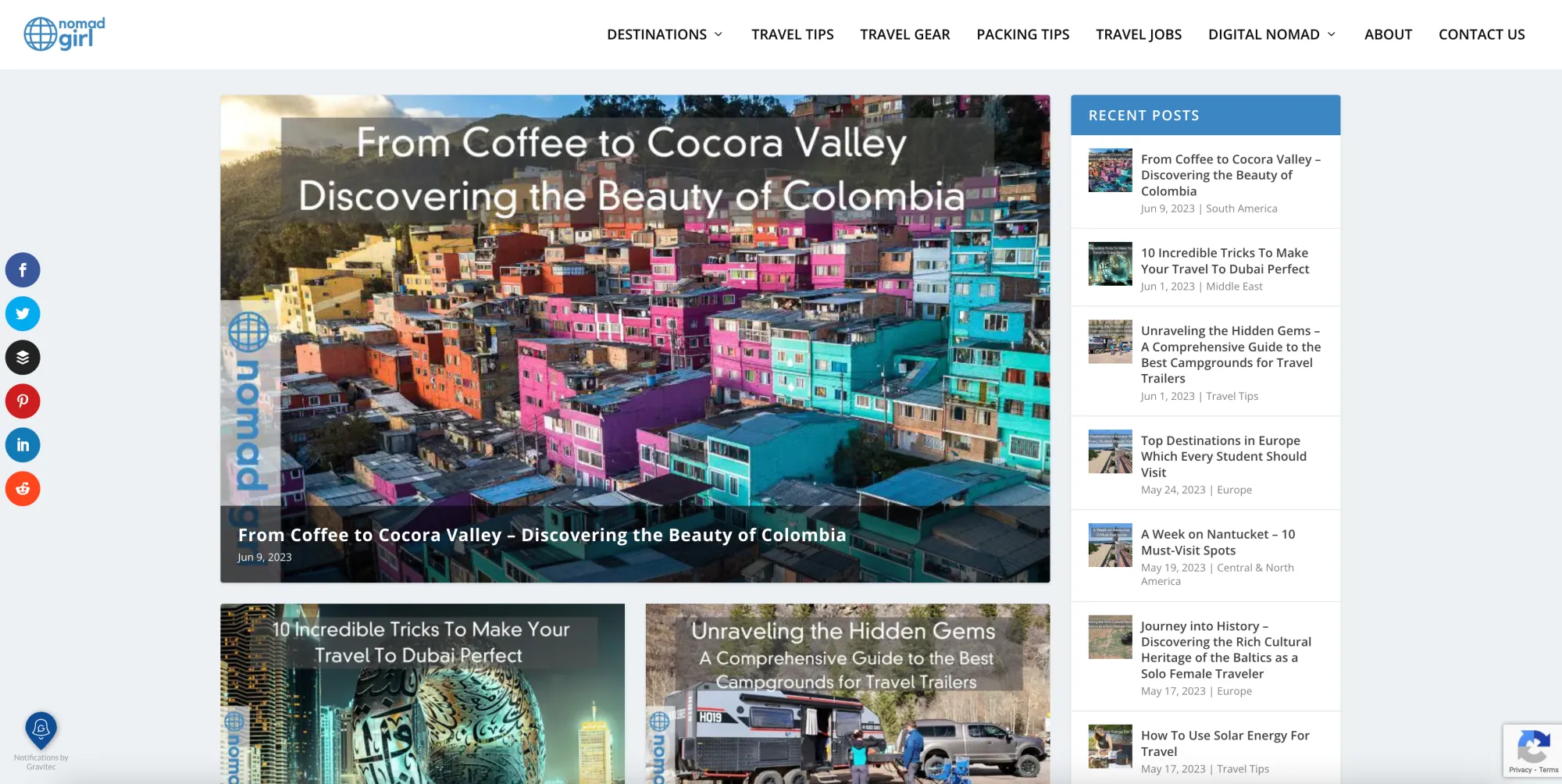 The Nomad Girl blog is a vibrant platform that offers a female perspective on the digital nomad lifestyle.
The blog covers a wide range of topics, from travel tips and destination guides to advice on solo travel and sustainable living.
The "Nomad Girl" behind the blog is Tracey Johnson, an entrepreneur who started the blog in 2014 as a single-person blog recording her travel adventures in Asia and Europe. Over the years, she expanded the blog to include multiple writers, also seasoned travelers, and digital nomads.
The website now provides travel-related content, tips, and jobs for nomad girls by nomad girls.
4. Chris The Freelancer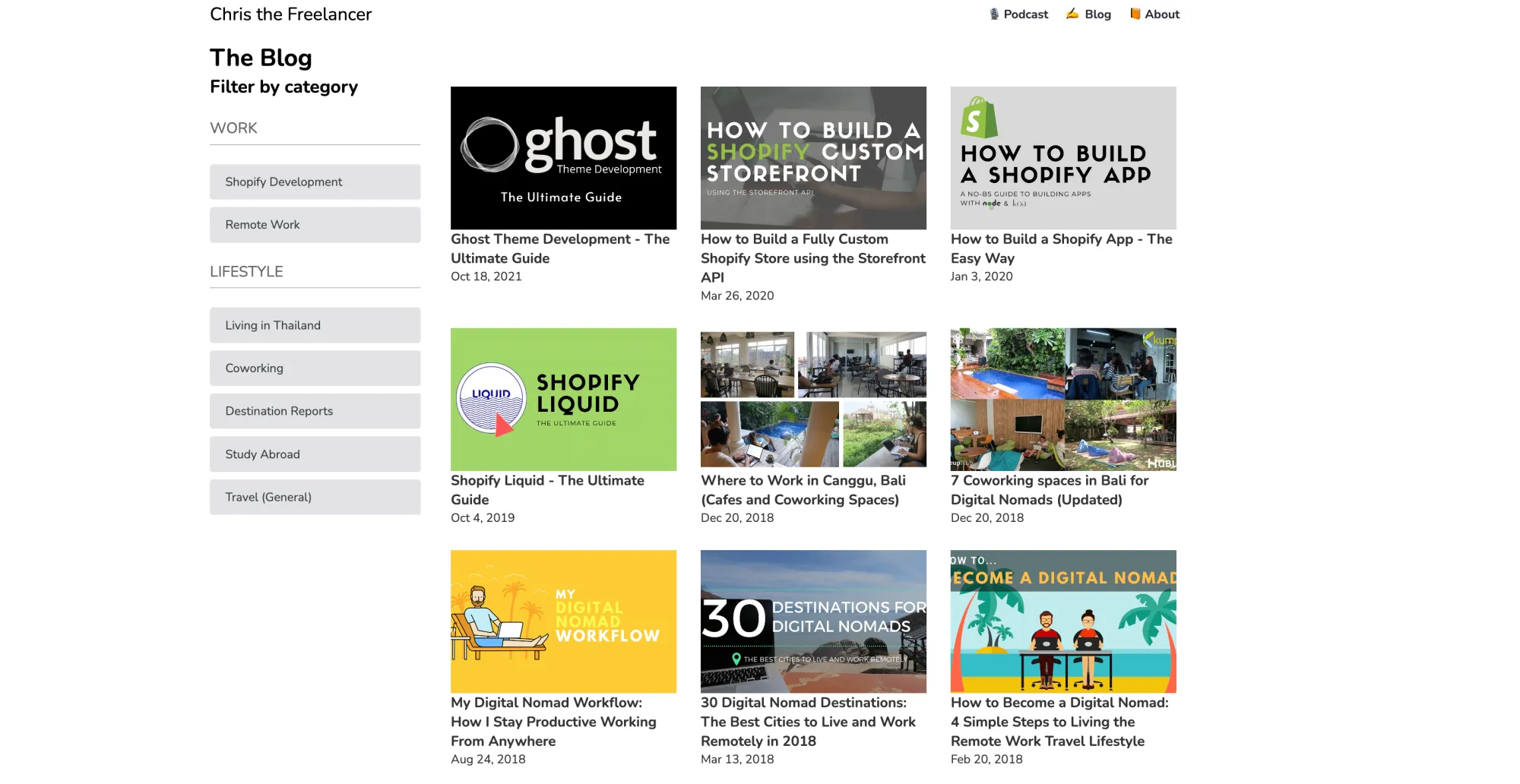 Christopher Dodd aka Chris the Freelancer is a location-independent web developer who shares his experiences and insights on his blog (although his Youtube videos are pretty popular too!).
His content ranges from detailed guides on remote work and digital nomad lifestyle to personal reviews of coworking spaces and digital nomad destinations.
Chris's technical background adds a unique perspective to his content, making his blog a valuable resource for digital nomads in the tech and IT industry.
5. Digital Nomad Soul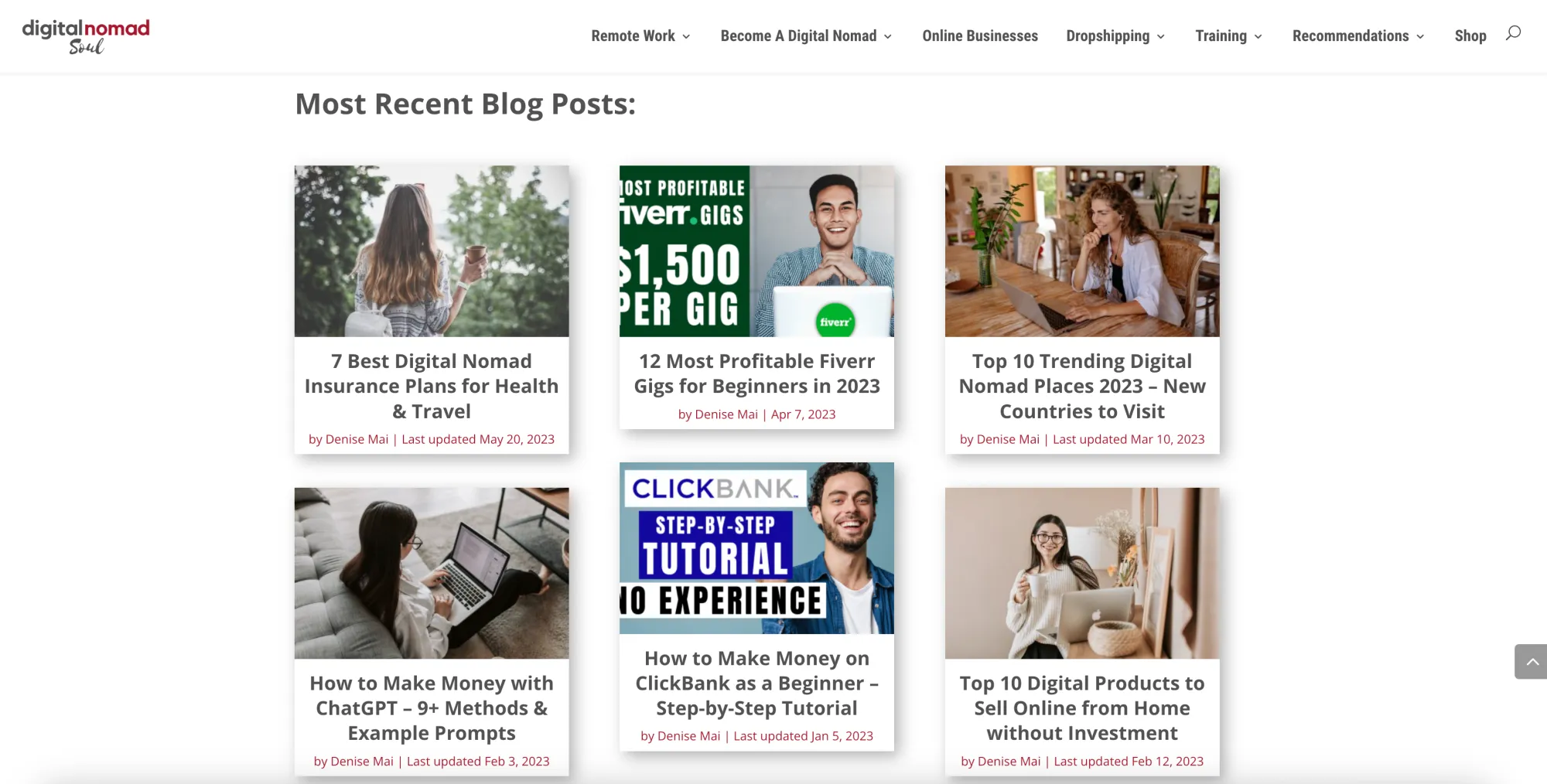 This blog is a very comprehensive resource for everything related to remote work and the digital nomad lifestyle.
The blog offers a wealth of free articles that cover a wide range of topics, from finding the right remote job to maximizing productivity while working remotely.
The person behind Digital Nomad Soul, Denise Mai, is an ex-corporate worker whose become passionate about helping others achieve the ultimate freedom of living and working wherever they choose.
6. Digital Nomad Girls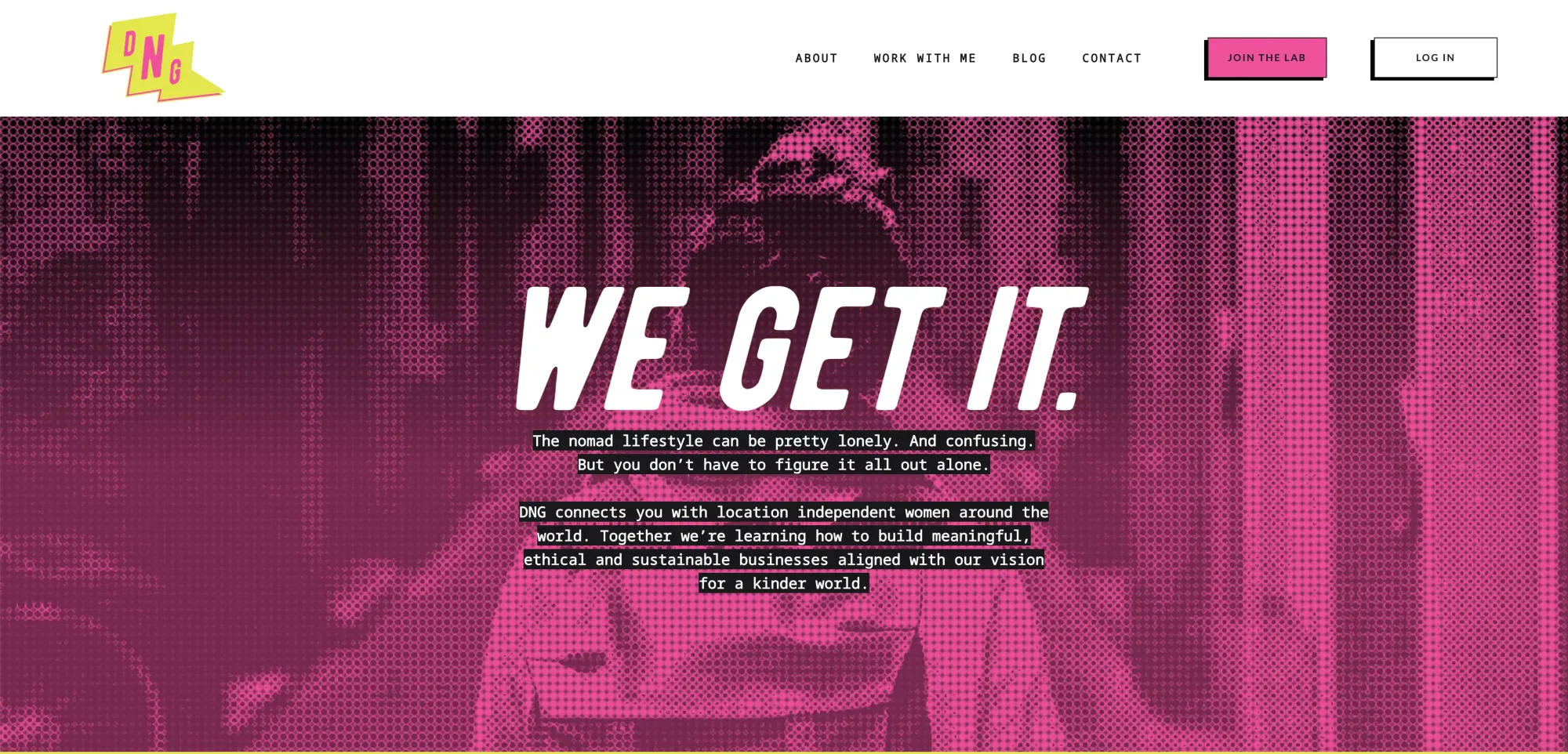 More than a blog, Digital Nomad Girls is a vibrant community for location-independent women around the world.
Founded by Jenny Lachs, it's a platform where women can learn how to build meaningful, ethical, and sustainable businesses.
The blog offers a virtual community called "The Lab" for collaboration and accountability, organizes retreats, and has a Facebook group with over 30k members. It's a supportive space for women who are embracing the digital nomad lifestyle.
7. The Nomad Mumpreneur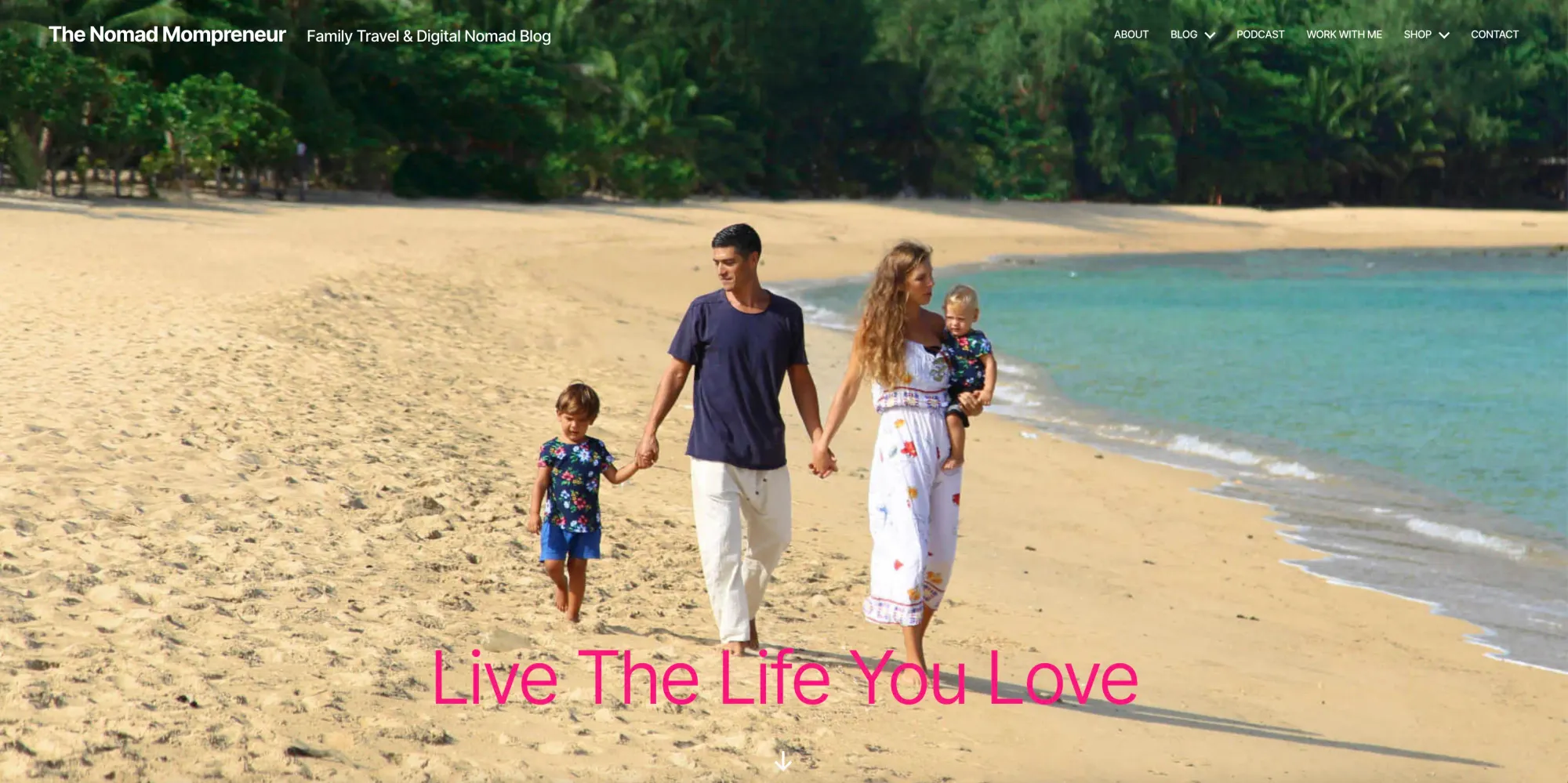 Julia Jerg, aka The Nomad Mompreneur, is a digital nomad coach, blogger, and podcast host.
She started her digital nomad journey in 2011 and is now a mother of two toddlers.
Her blog is a fantastic resource for aspiring digital nomads, especially those who plan to travel with their families. She shares her experiences, tips, and resources on everything from starting as a digital nomad to traveling with kids as a nomad family.
---
You may also be interested in: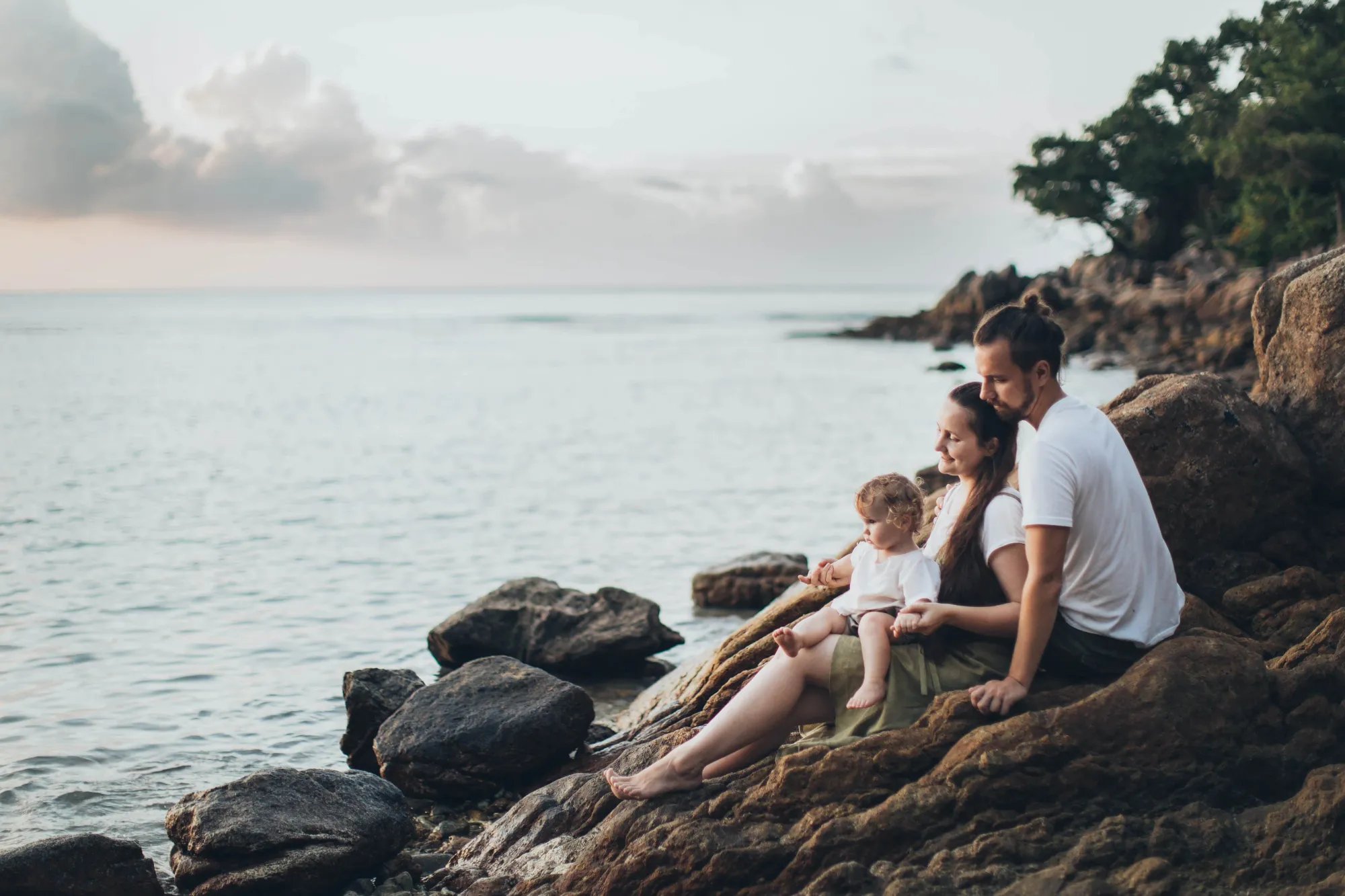 ---
8. The Senior Nomads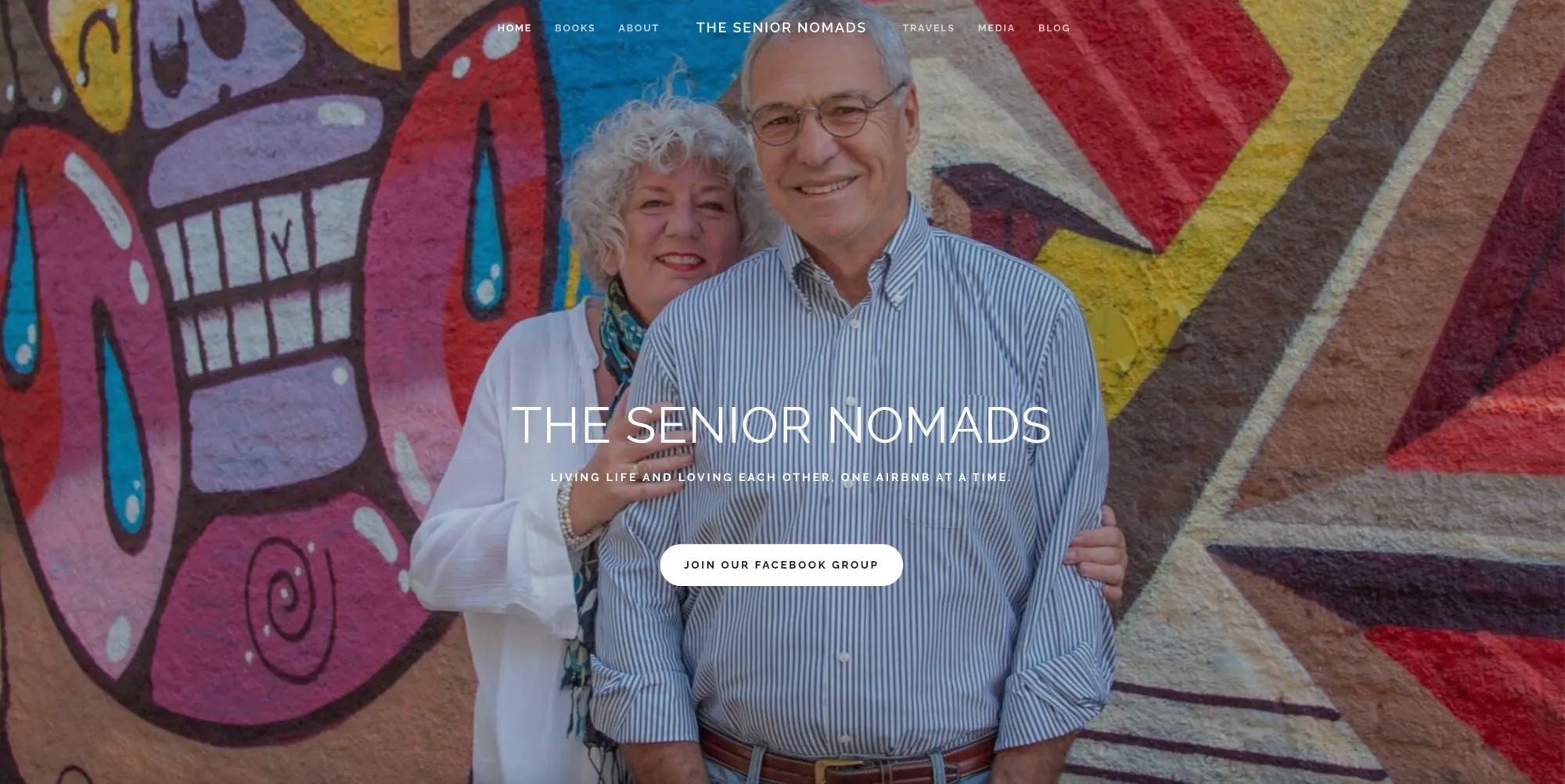 The Senior Nomads blog is a heartwarming chronicle of Debbie and Michael Campbell, a retired Seattle couple who decided to live their retirement years as global nomads.
They sold their house, reduced their belongings, and set off to explore the world, living in over 300 Airbnbs and visiting 87+ countries.
Their blog is a testament to the fact that adventure and exploration have no age limit. It's filled with their travel experiences, insights, and the joy of living life one Airbnb at a time.
9. Two Tickets Anywhere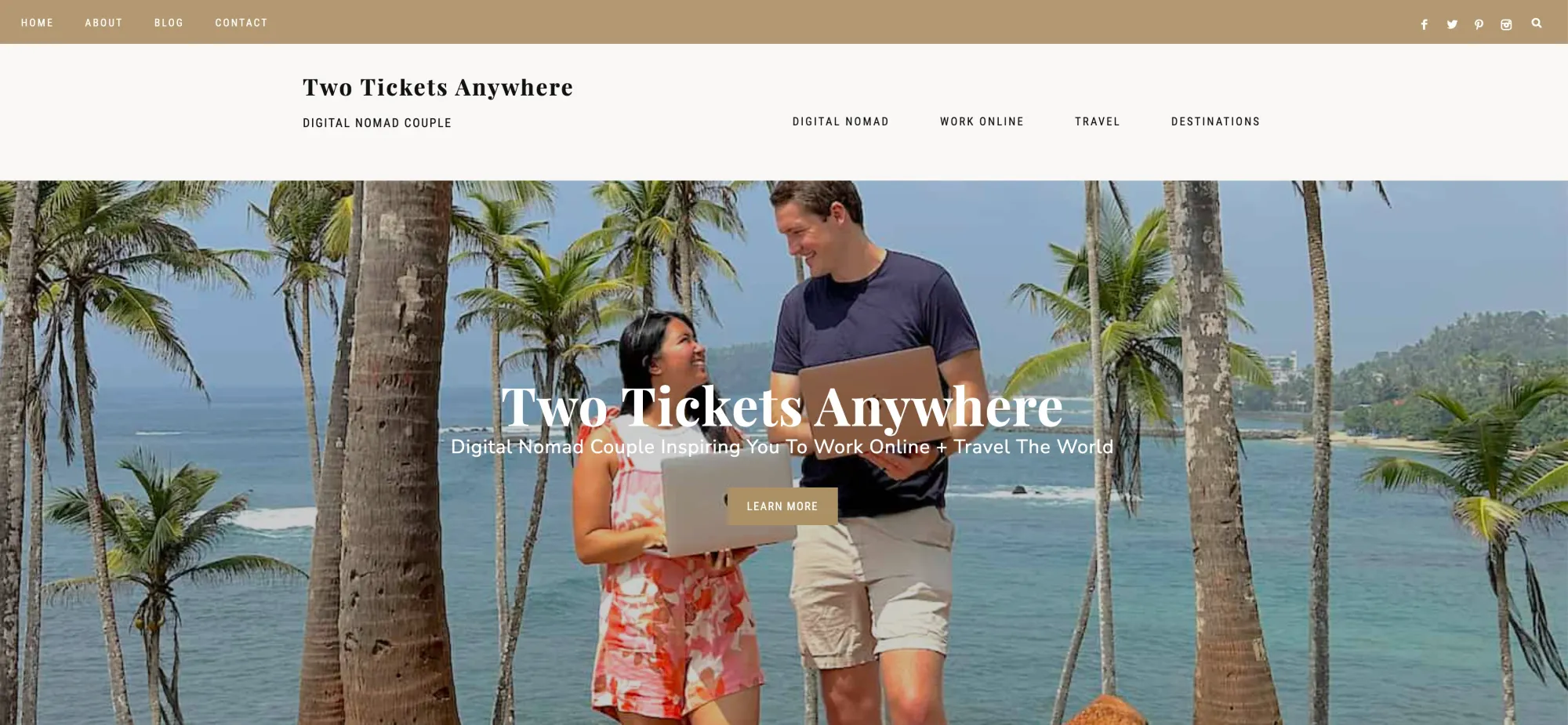 Run by Matthew and Ashley, the Two Tickets Anywhere blog is all about inspiring others to live differently.
They are a full-time digital nomad couple who share their experiences and all you need to know to live a digital nomad lifestyle.
They provide practical advice, inspiration, and expert resources to help you succeed on your digital nomad journey. A true gem to get a digital nomad perspective on many travel spots around the world.
10. Freaking Nomads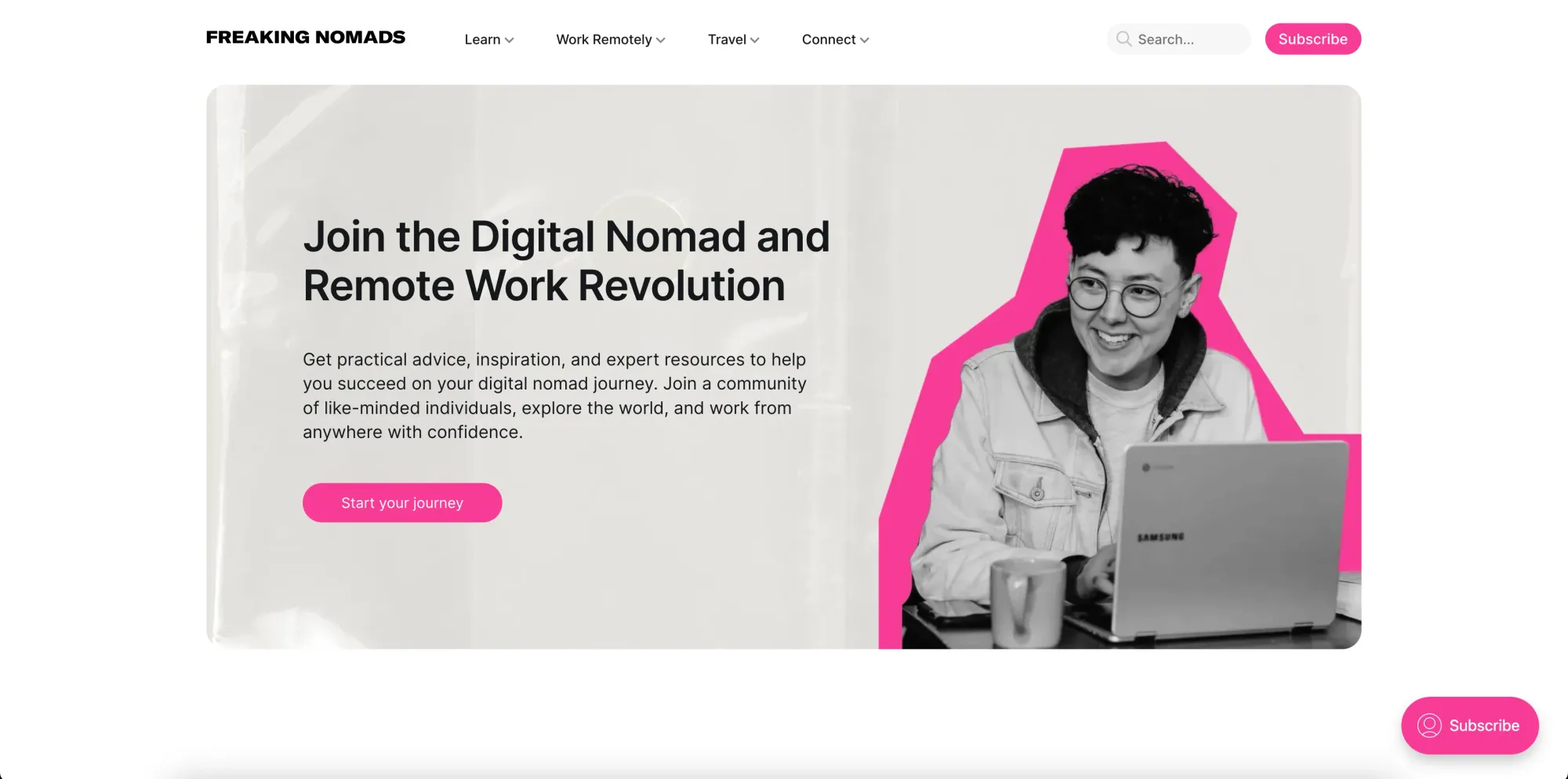 Let us be cheeky here and include ourselves in this comprehensive list of digital nomad blogs to follow.
We are Luca Mussari and Irene Lidia Wang, a digital nomad couple from Italy who decided to quit their jobs and travel the world to find their work-life balance after 8 years of living in cloudy and highly competitive London. We founded Freaking Nomads as we wanted a safe and supportive community of digital nomads who helped each other succeed on their digital nomad journey.
Freaking Nomads is made for digital nomads by digital nomads. Many of them constantly contribute to our blog and provide tips, practical advice, inspiration, and expert resources.
It aims to give you the most trustworthy and authentic perspective on the digital nomad lifestyle, without filters (no bs we promise!).
🟡
If you are a digital nomad and want to write your story or share any advice or tips with other digital nomads, feel free to check out our '
Contribute
' page!
---
You may also be interested in: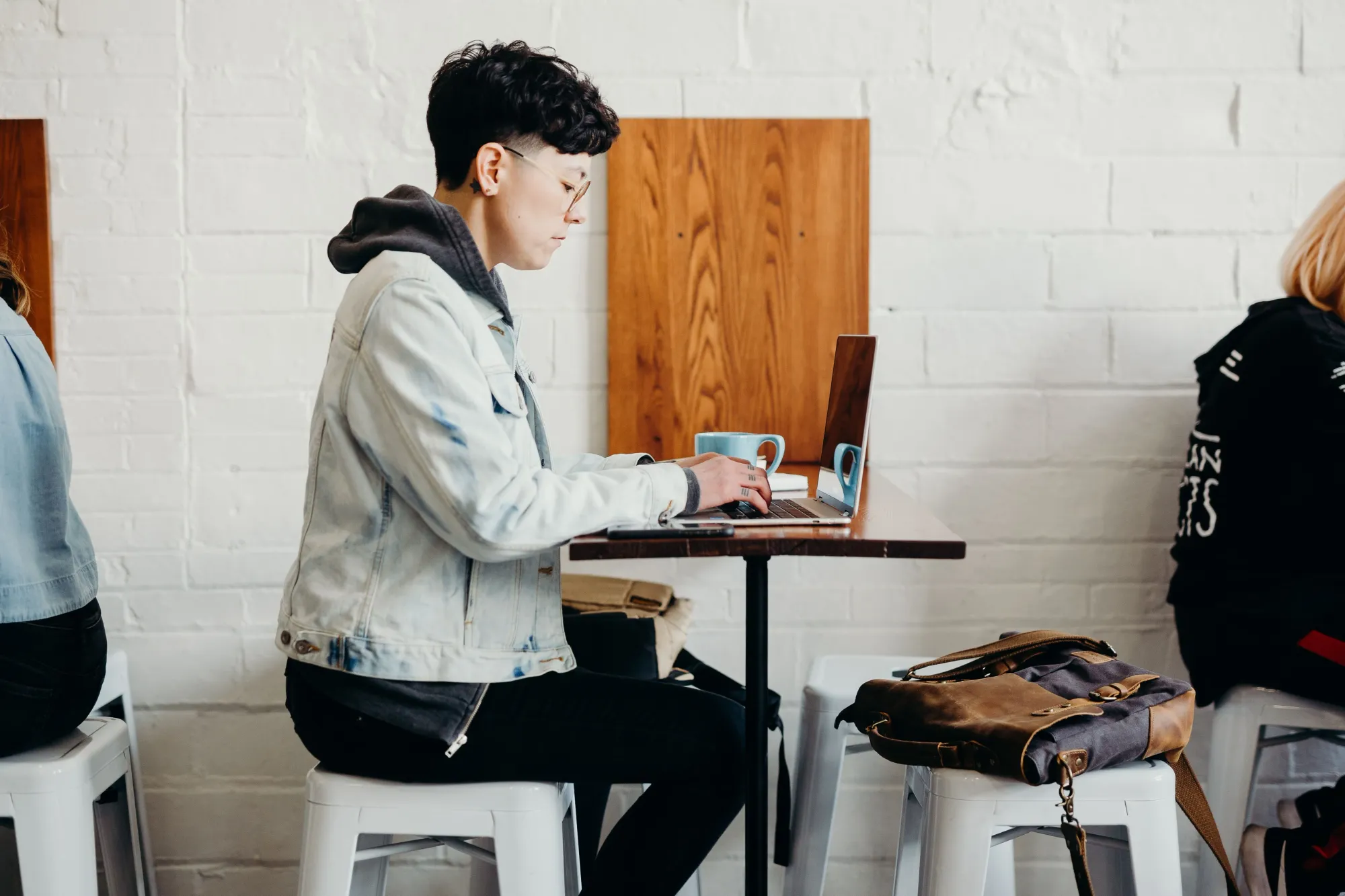 ---
11. Nomad Capitalist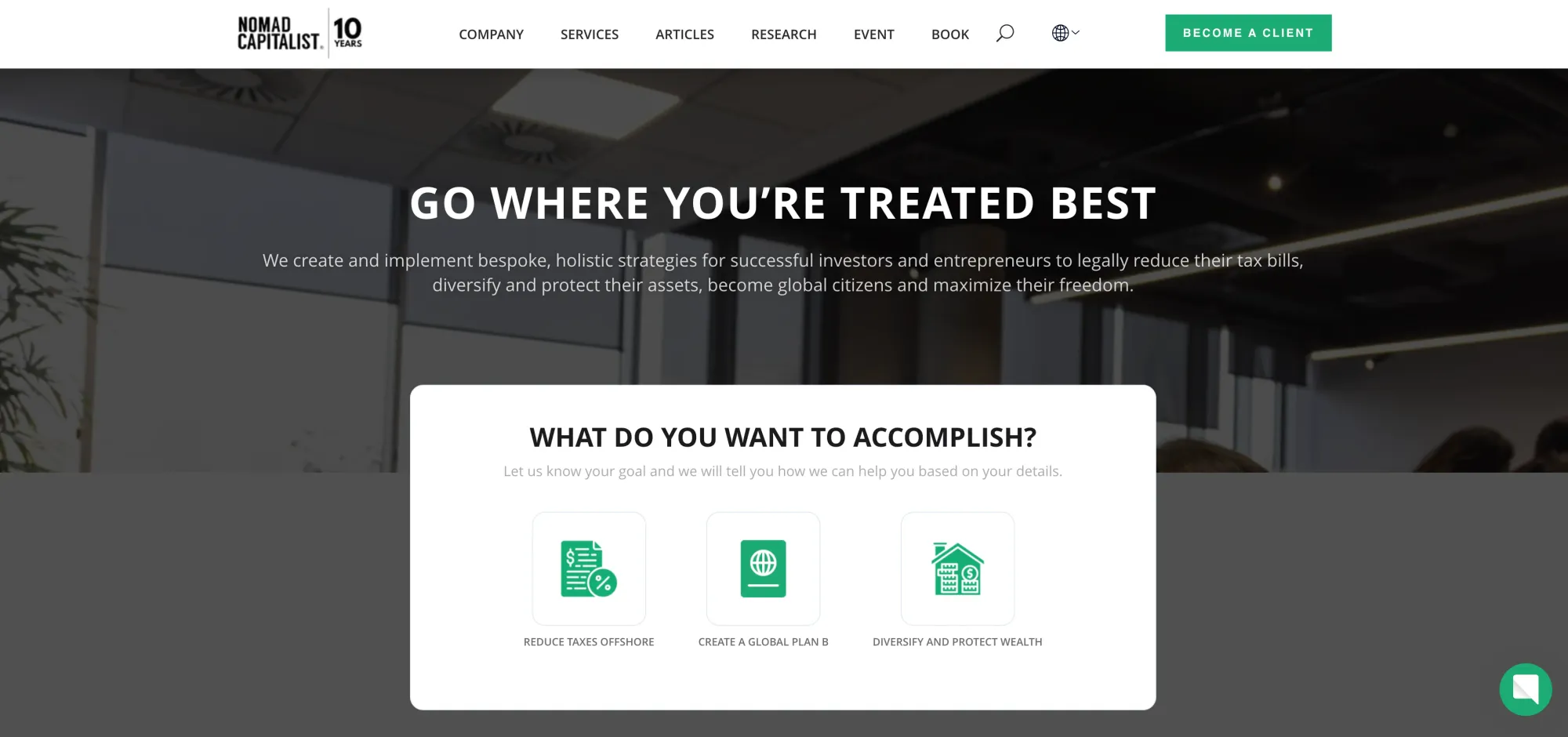 Andrew Henderson, the founder of Nomad Capitalist, helps successful entrepreneurs legally reduce taxes, grow their wealth, and build a lifestyle free from any one government.
His blog is a goldmine of information on international tax strategies, second residencies, and overseas investments. Worth checking out their Youtube channel as well where they constantly provide useful digital nomad tax advice there.
If you're a high-earning digital nomad looking for ways to maximize your wealth and freedom, this is the resource for you.
12. Bright Nomad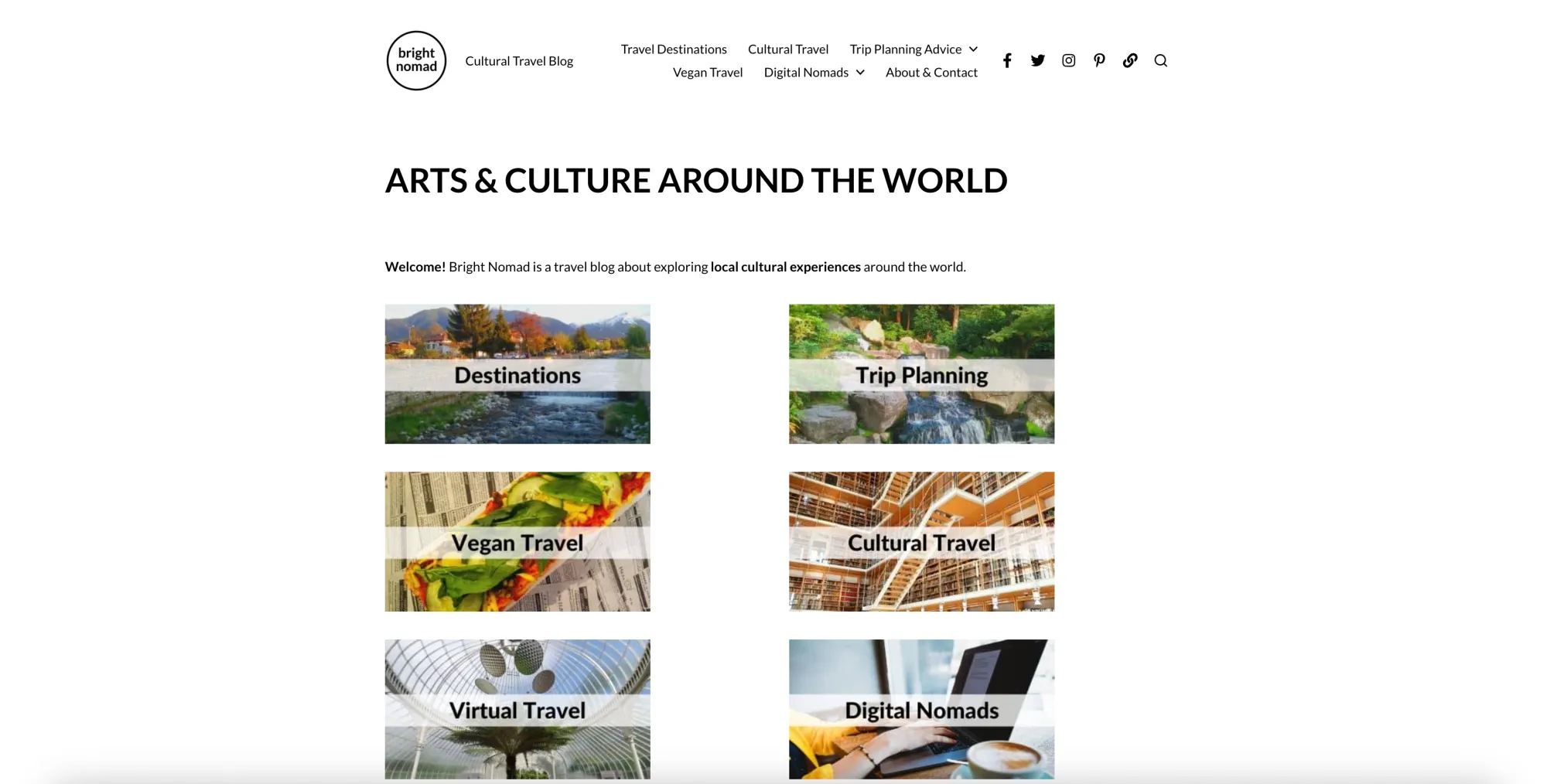 Run by Tal Bright, a digital nomad since 2009, Bright Nomad is a travel blog that focuses on exploring local cultural experiences around the world.
Tal has visited about 40 countries and is passionate about travel photography, architecture, and hidden gems.
This blog is a great resource for those interested in cultural travel and offers stylish city guides and clever trip-planning tips.
13. The Planet D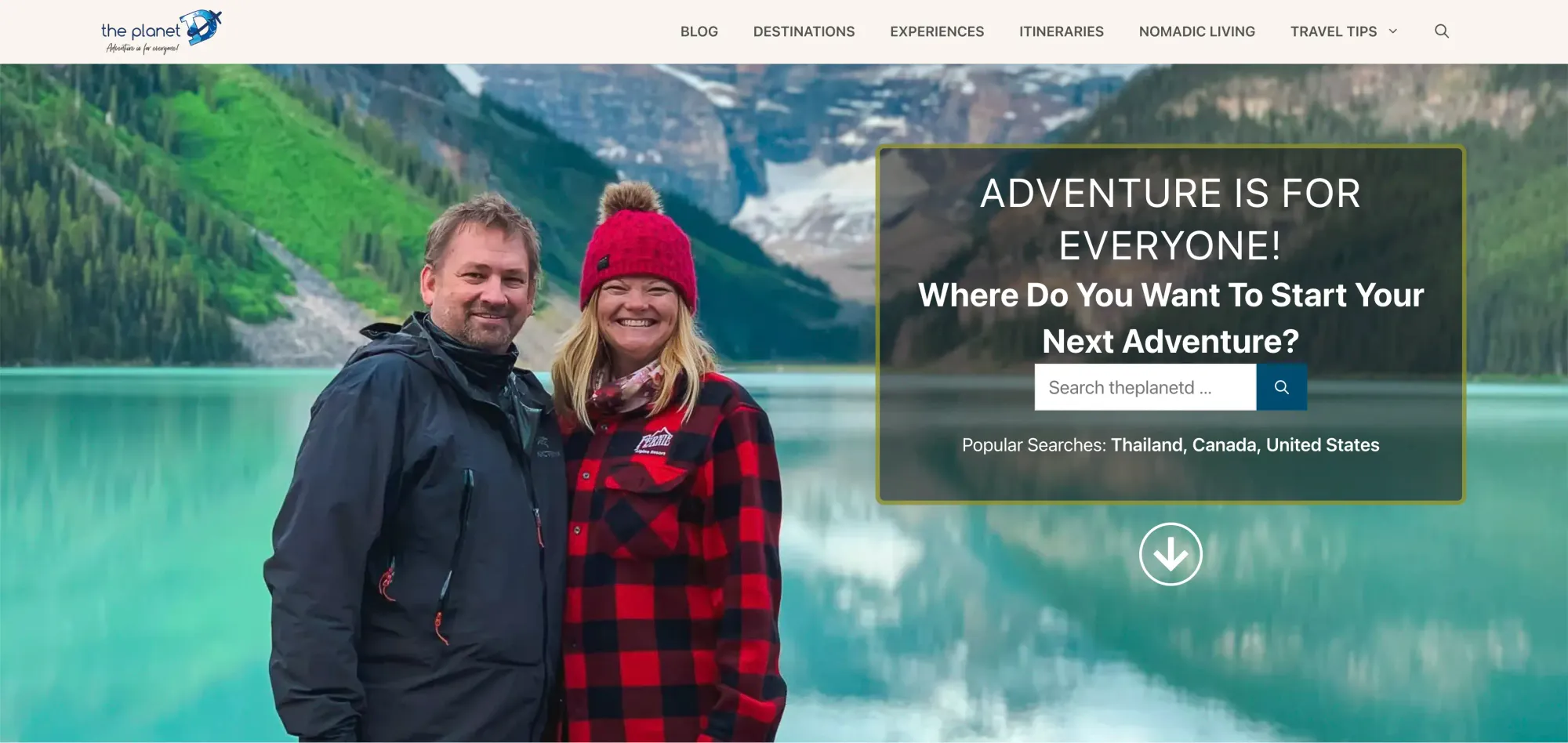 Dave and Deb, the dynamic duo behind The Planet D, are all about adventure and exploration.
They've traveled to over 115 countries and have a wealth of knowledge to share.
Their blog is a treasure trove of travel tips, destination guides, and inspirational stories that will make you want to pack your bags and hit the road. They believe that "Adventure is for Everyone" and their content certainly reflects this ethos.
Whether you're an experienced nomad traveler or just starting out, The Planet D has something for you.
14. Not a Nomad Blog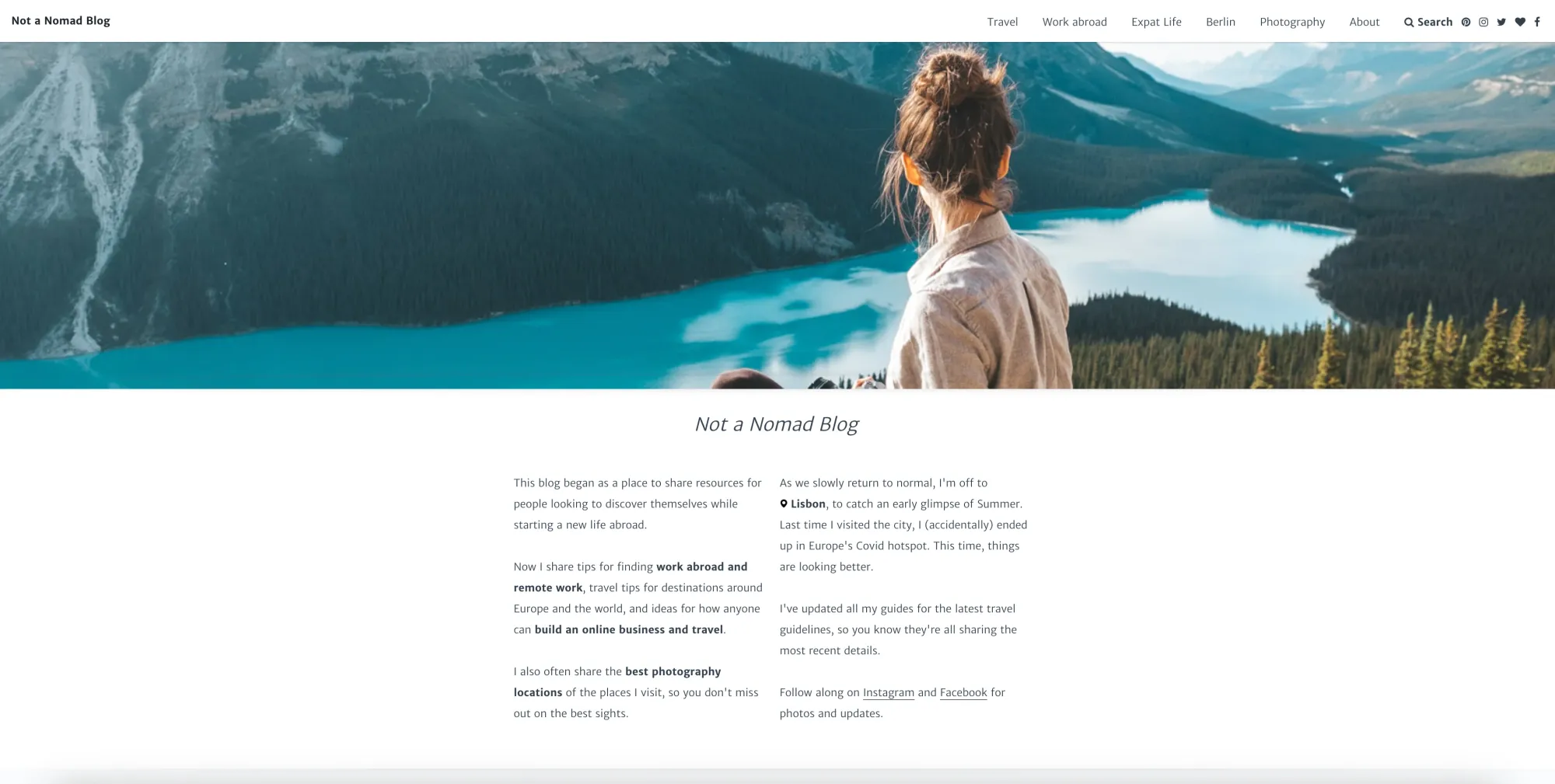 Despite the name saying otherwise, Not a Nomad Blog is a nomad travel photography blog run by Monica Lent, an American expat living in Germany who uses Berlin as a base to travel the world.
The blog shares tips for finding work abroad and remote work, travel tips for destinations worldwide, and ideas for building an online business and travel.
It also shares the best photography locations of the places visited, so nomad readers don't miss out on the best sights.
15. Become Nomad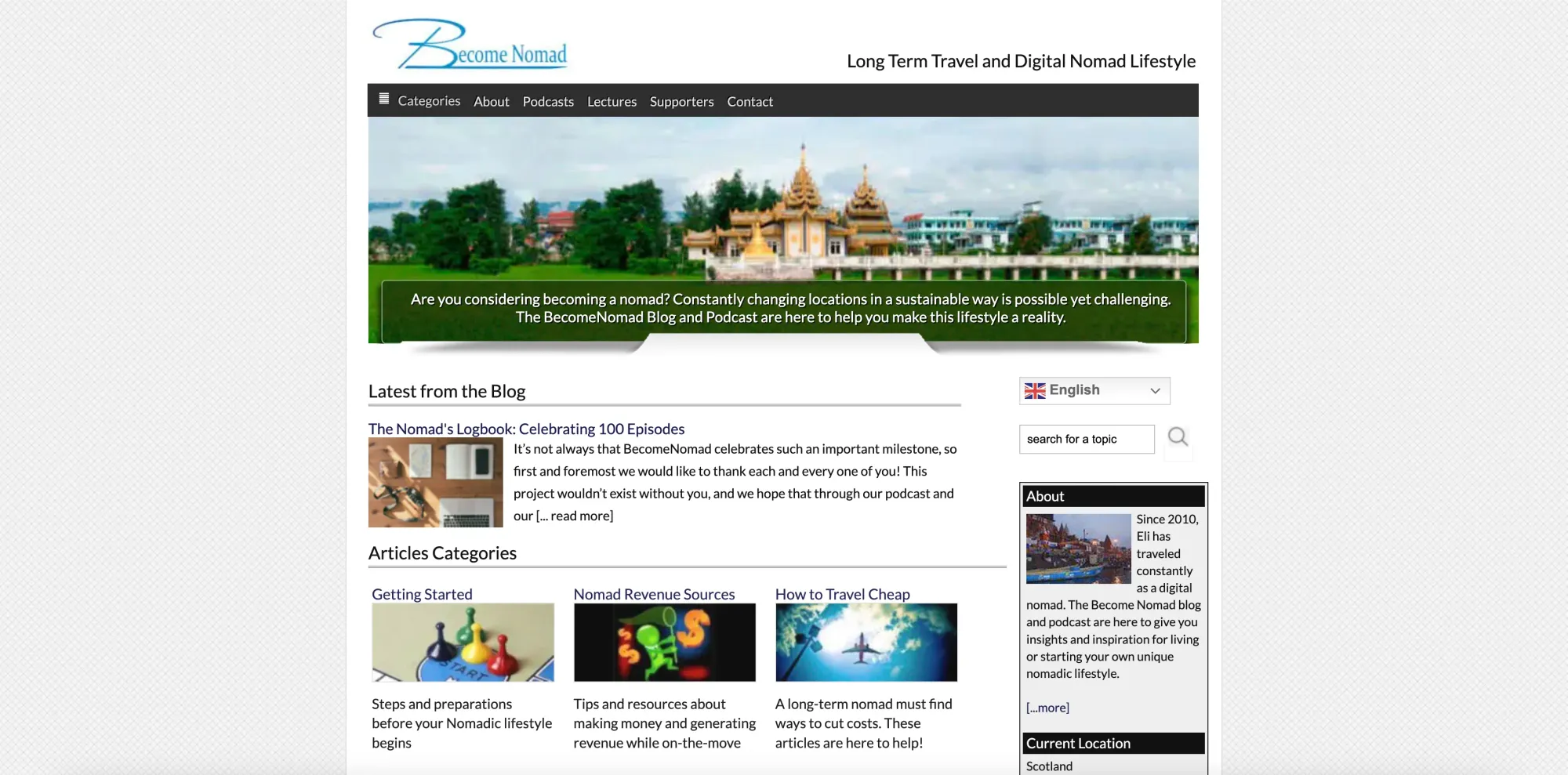 Become Nomad is a blog and podcast created by Eli David, an OG digital nomad since 2010.
The blog provides insights and inspiration for living or starting your own unique nomadic lifestyle. It covers a wide range of topics, from getting started as a nomad and generating income on the road, to tips for living cheaply and maintaining a social life while traveling.
Eli's extensive experience with the digital nomad lifestyle and her practical advice make this blog a must-read for aspiring nomads.
---
You may also be interested in: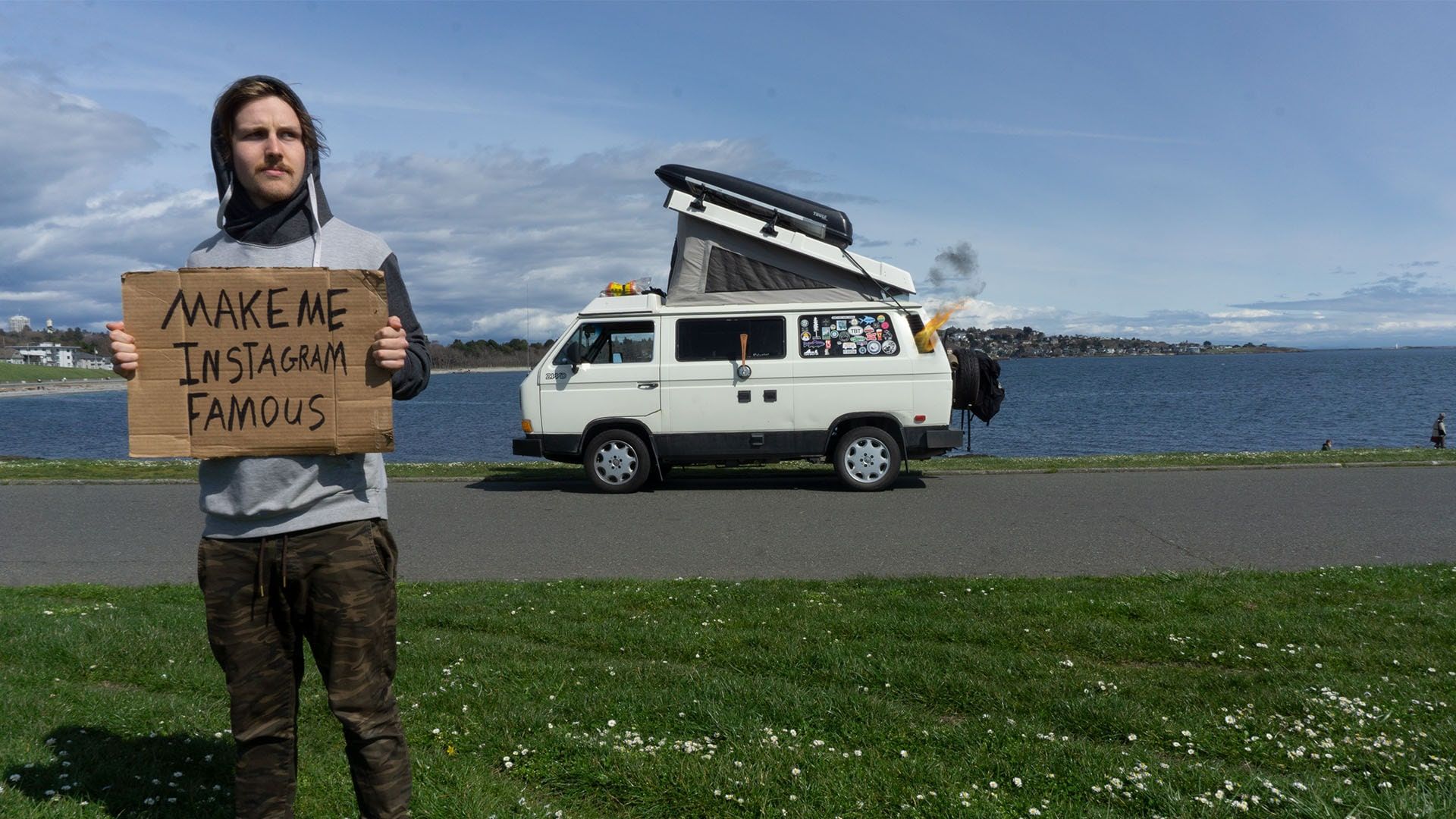 ---
16. 2BagNomad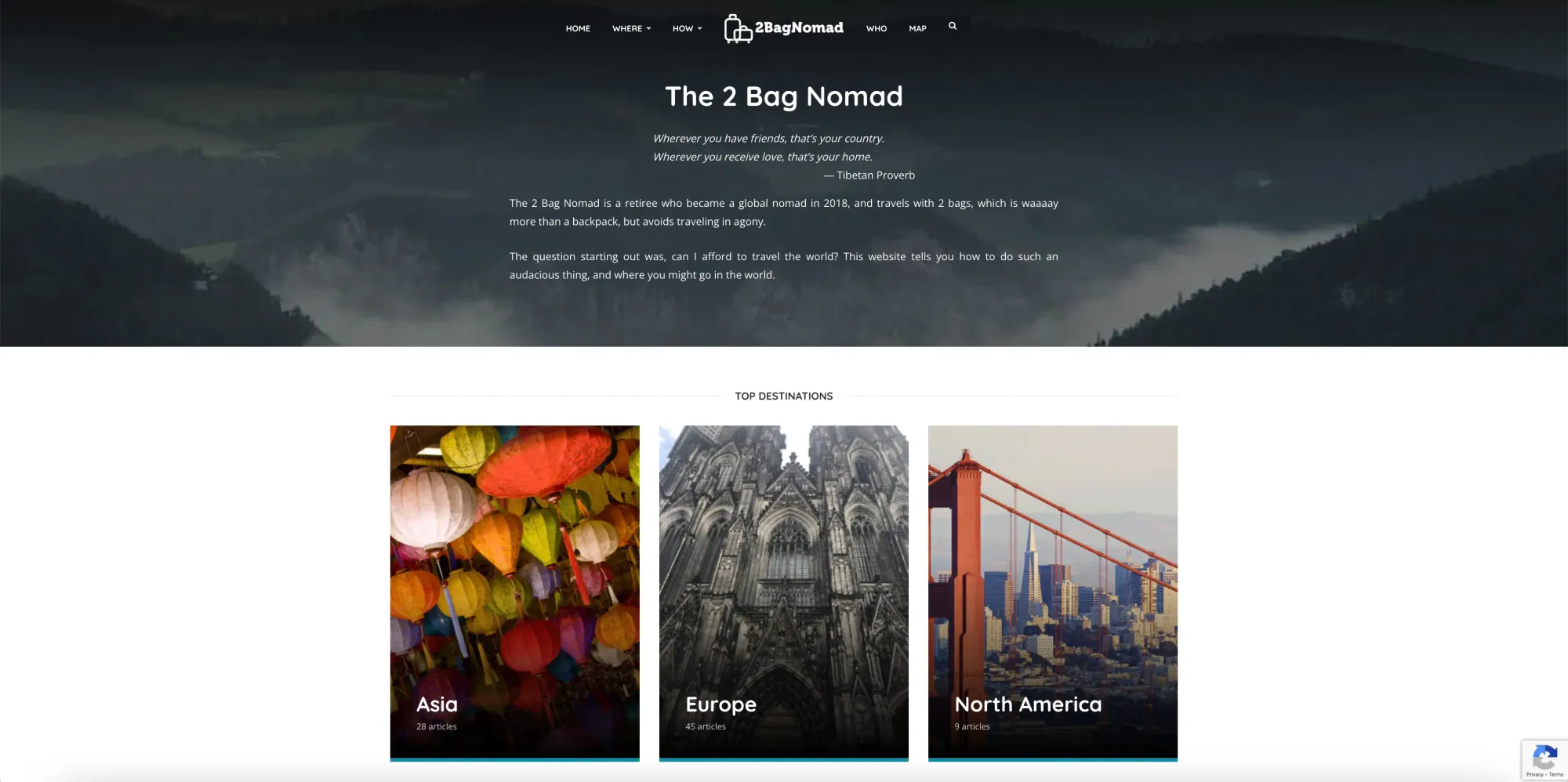 2BagNomad is a blog by Laura Ricci, a retiree who became a global nomad in 2018.
The blog shares the experiences of traveling the world on a budget with just two bags while avoiding the discomforts often associated with backpacking.
It's a great resource for those who are considering a nomadic lifestyle in their retirement years, offering practical tips and insights on how to make it work.
17. Digital Nomad Quest

Sharon Tseung is the creator of Digital Nomad Quest, a blog dedicated to teaching people how to build passive income, become financially free, and design their best life.
Sharon herself went from earning $30k/year to becoming a millionaire by 30, owning 32 rental units and several passive income businesses.
Her blog offers specific guides on making passive income through real estate, Etsy, and blogging. This blog is perfect if you want to learn how to make money online.
18. Half Half Travel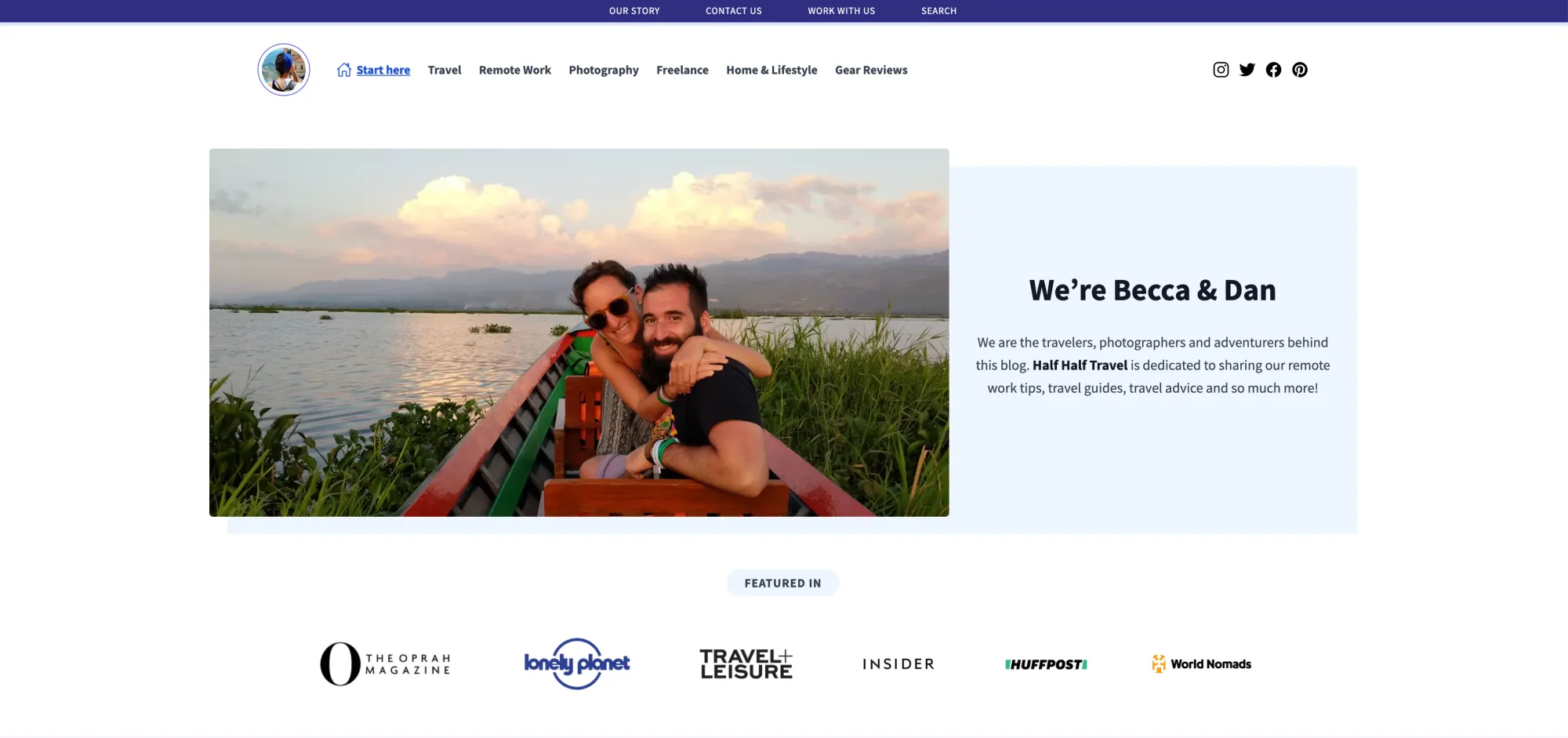 Becca and Dan, the creators behind Half Half Travel, have been exploring the world while working remotely.
Their blog is a mix of travel guides, remote work tips, and photography advice. They share their experiences of living abroad, offering insights into the digital nomad lifestyle.
Their photography advice is particularly noteworthy, making their blog a great resource for those looking to improve their travel photography skills.
19. Girl Gone Abroad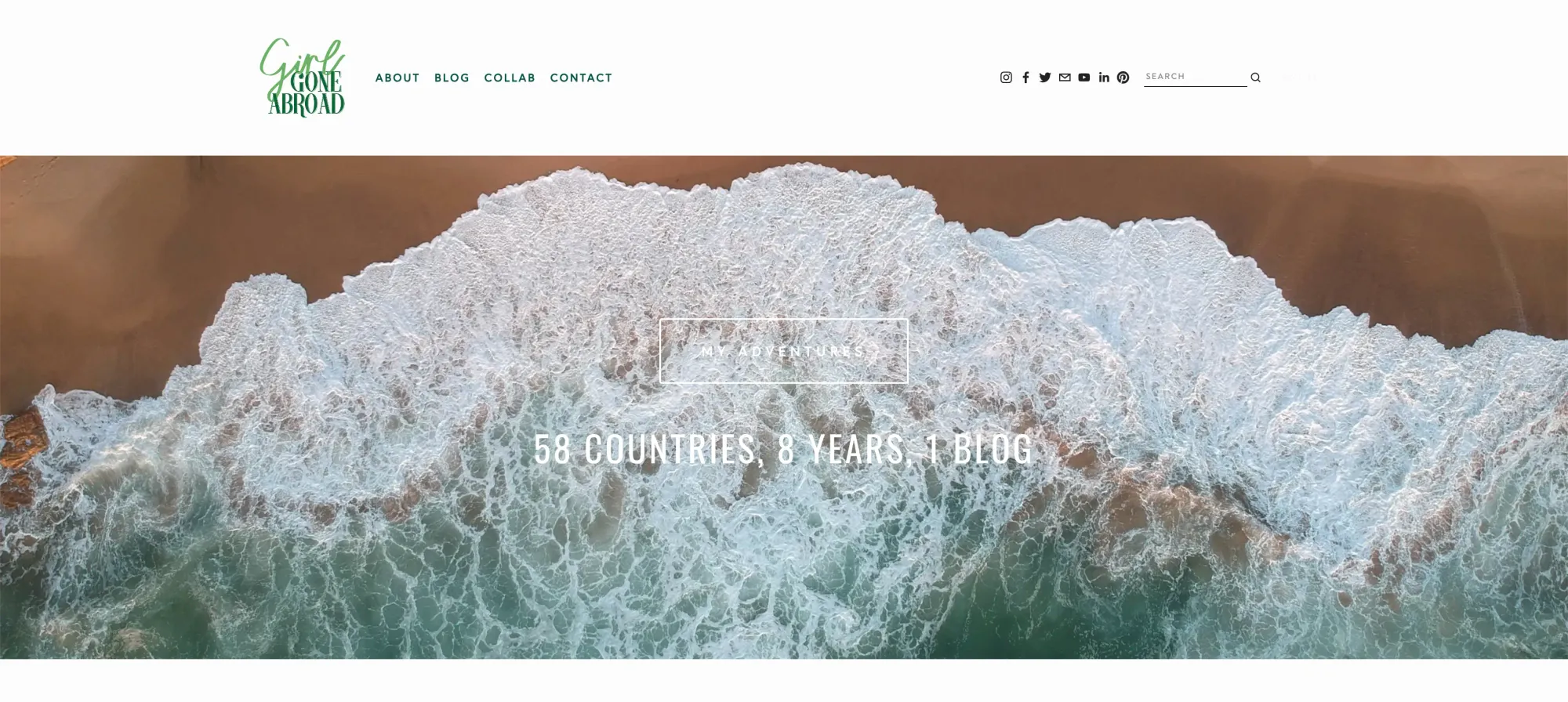 Lauren Carey, the Girl Gone Abroad, is a solo female traveler and digital nomad juggling a full-time job while exploring the world.
Her blog is a mix of travel guides, digital nomad tips, and personal stories.
She has a knack for finding unique and offbeat destinations, and her detailed guides are a great resource for those looking to follow in her footsteps. Her blog is proof that you can balance a career with a love for travel.
20. Very Hungry Nomads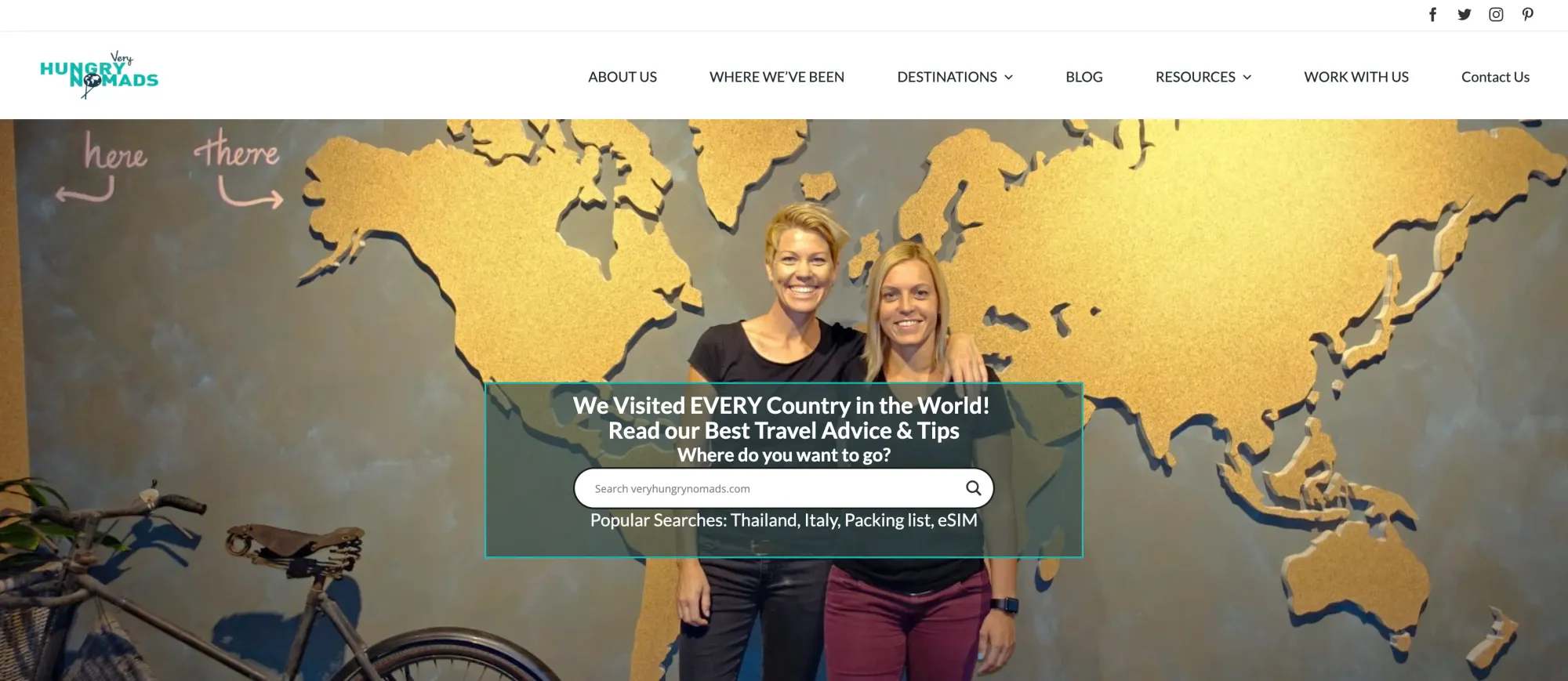 Rach and Marty, the Very Hungry Nomads, have achieved an impressive feat - visiting every country in the world!
Their blog is a gastronomic journey, sharing the best food experiences from their travels.
Their passion for food and travel is truly infectious, and their practical advice makes it easier for others to follow in their footsteps.
21. A Brother Abroad
A Brother Abroad is a blog founded by Carlos Grider, a former Marine that has traveled through and lived in over 55 countries over the last 4 years. His blog focuses on the digital nomad lifestyle, fitness without a gym, and backpacking around the world.
The blog is filled with practical advice, from managing finances to building side hustles and investing money.
The author's personal experiences and insights make this blog a must-read for anyone who loves fitness and is considering a nomadic lifestyle.
22. Packs Light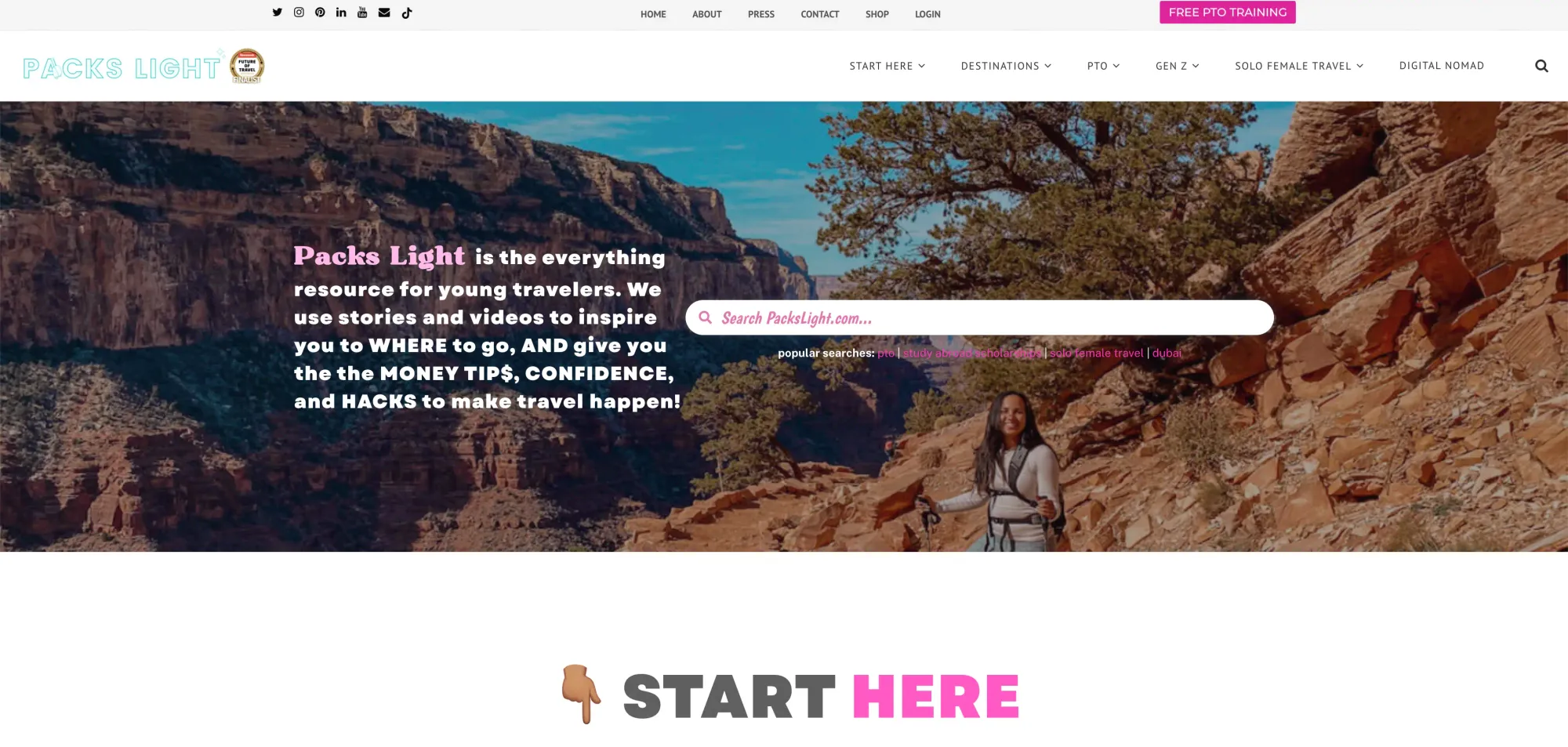 Gabby Beckford, the young and energetic force behind Packs Light, is on a mission to empower the Gen-Z generation to seek risk, seize opportunities, and see the world.
She started her solo travel journey at 17 (!) and has since won numerous travel scholarships and contests, making her an expert in finding travel opportunities.
Her blog is a great resource for young people looking to travel solo, study abroad, or work remotely as digital nomads without experience.
23. Goats on the Road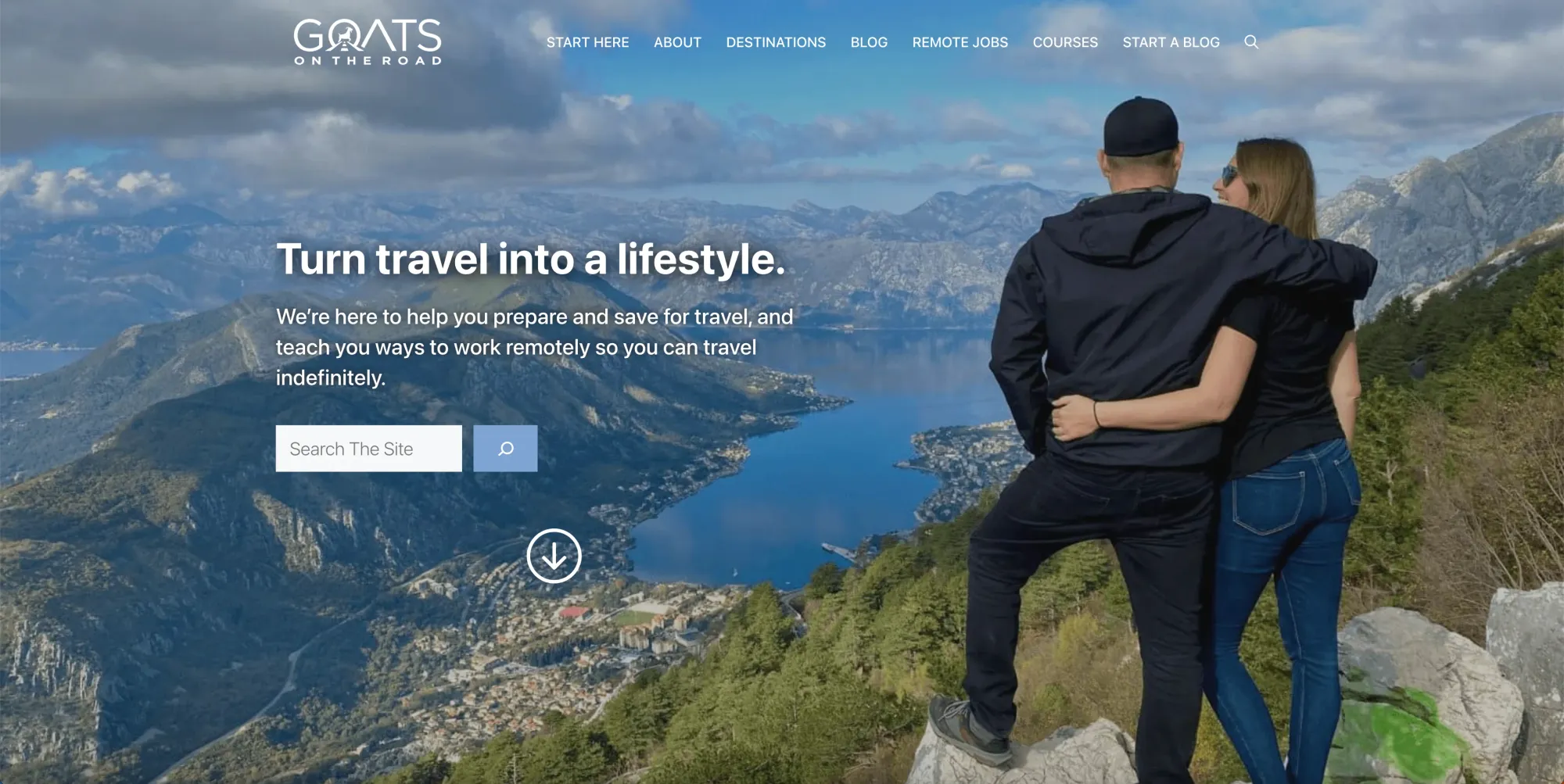 Goats on the Road is run by Nick Wharton and Dariece Swift, a couple who left Canada in 2008 to find ways to travel and live abroad indefinitely. They then started sharing their experiences and travel-supporting methods on their blog.
They offer advice on planning travels, being a digital nomad, working remotely, house-sitting, teaching English, and even starting a blog.
Their goal is to help you prepare and save for travel, and teach you ways to work remotely so you can travel indefinitely.
---
You may also be interested in: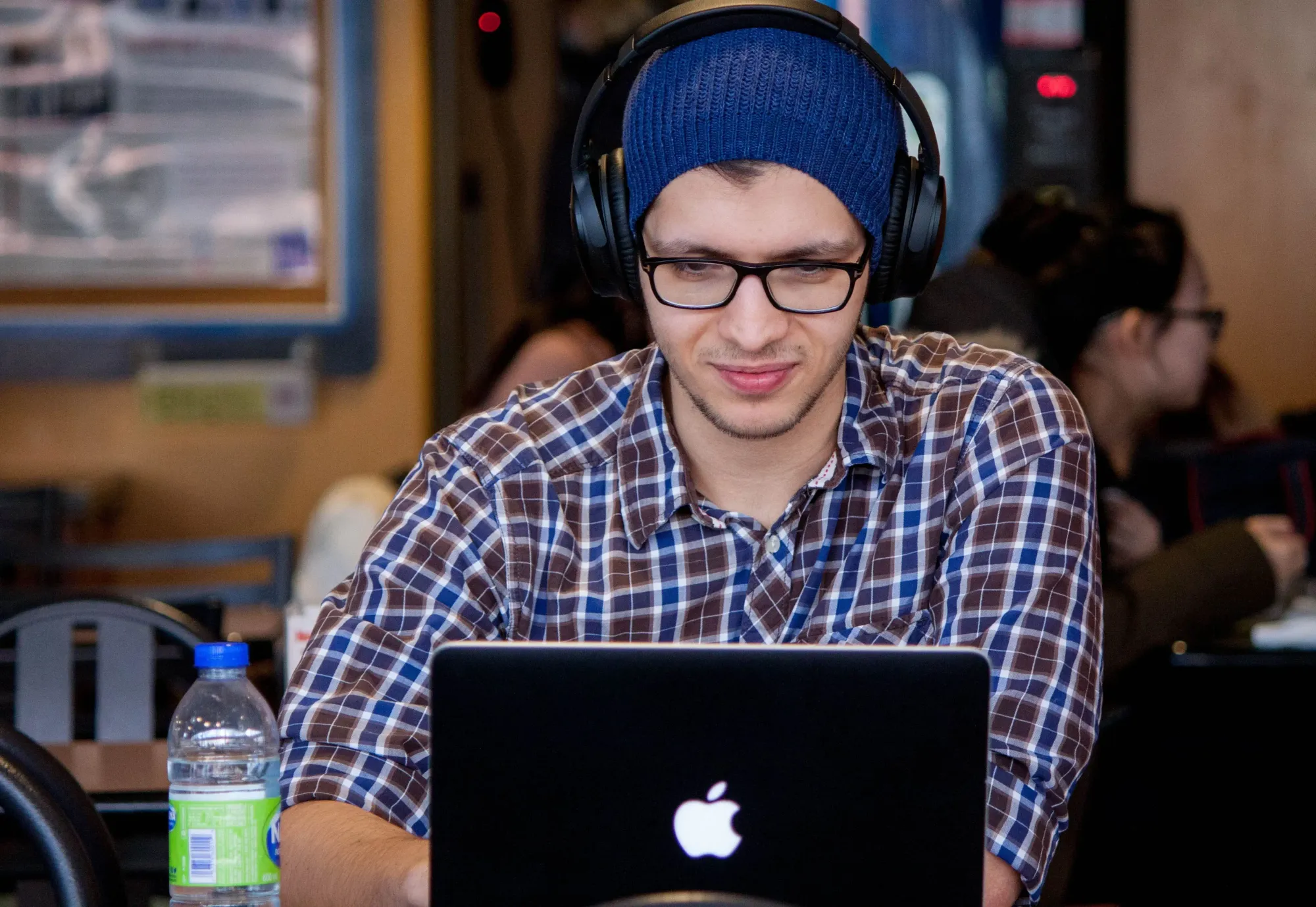 ---
24. Hobo with a Laptop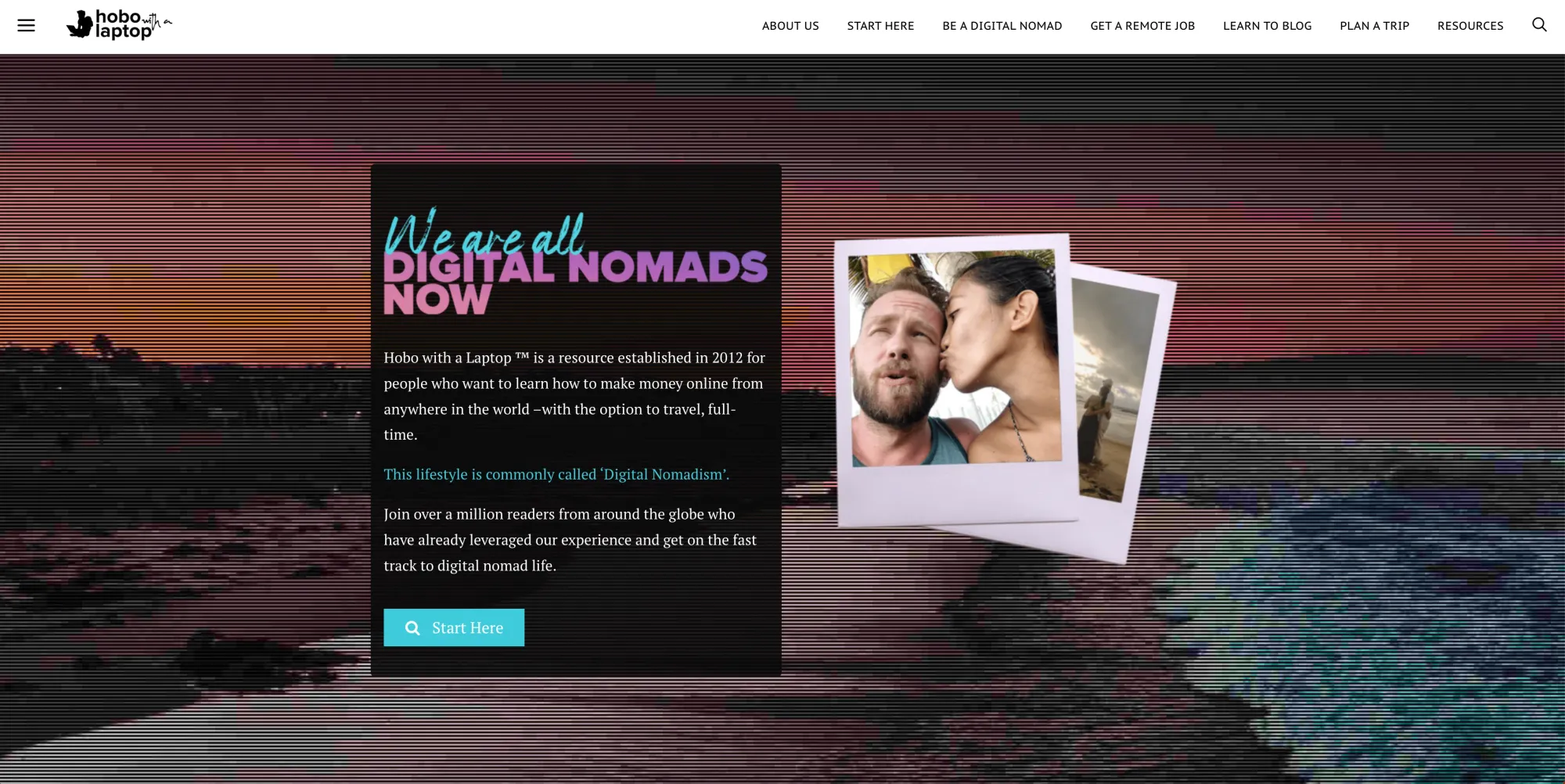 Hobo with a Laptop is the brainchild of Mike and Oshin, a couple who have been living the digital nomad lifestyle for over 8 years.
Mike, a semi-retired Canadian expat, and Oshin, a Filipina who refused to settle for a third-world pay grade, met after working together virtually for a few years. They eloped in the Philippines and have been exploring the art of living ever since.
Their blog is a comprehensive guide to achieving location independence, with detailed posts on making money online and maintaining a healthy savings account while traveling.
Their story is a testament to the fact that the digital nomad lifestyle is not just for solo travelers but can also be embraced by families.
25. Digital Nomad and a Dog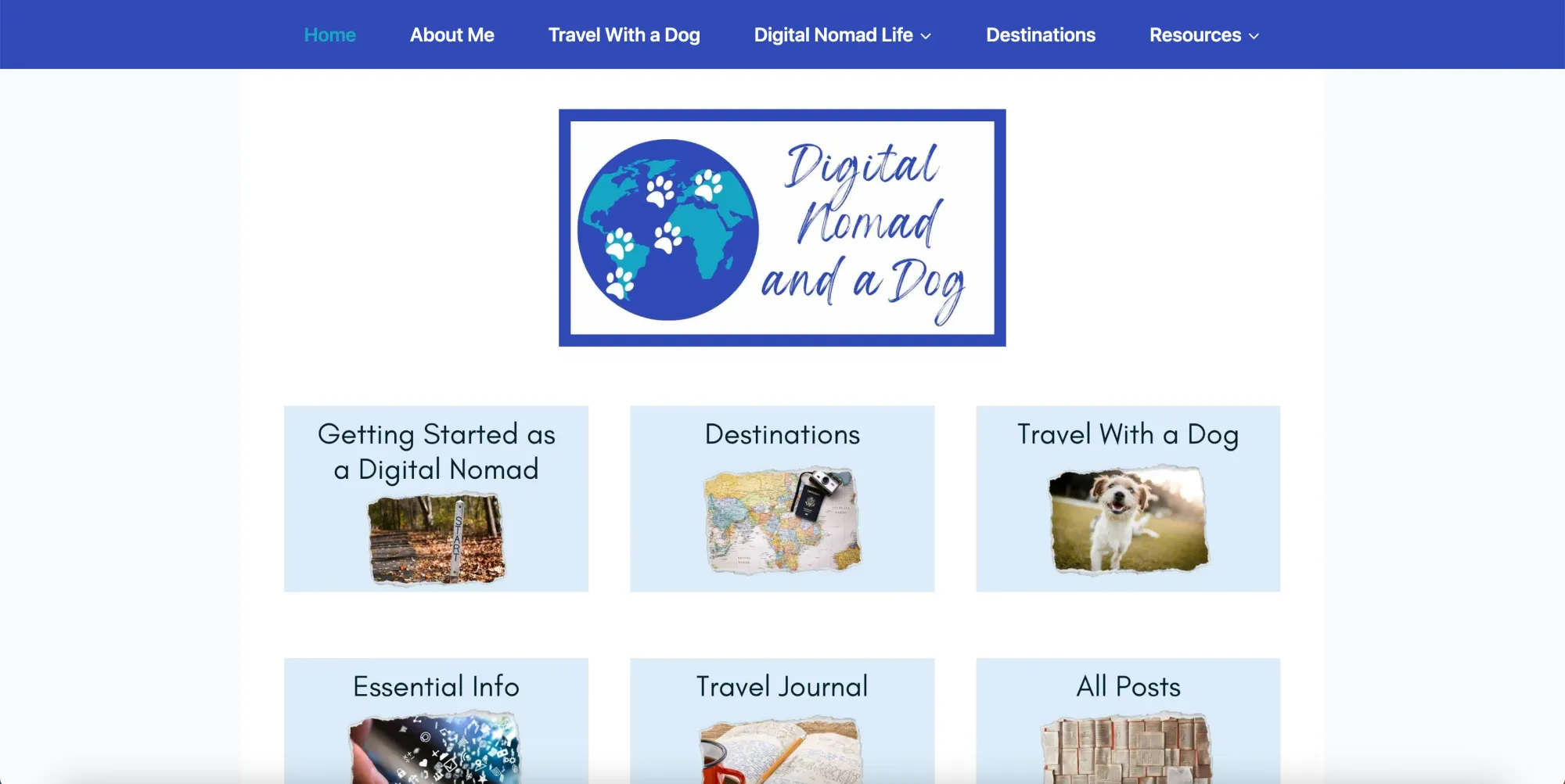 Digital Nomad and a Dog is a must-visit for digital nomads who love to travel with their furry friends.
The author, Sherry Arkfeld, shares practical tips and resources for navigating the challenges of traveling with a dog.
The blog also offers a free checklist for traveling with your dog, making it a valuable resource for pet-loving nomads.
26. Salt in Our Hair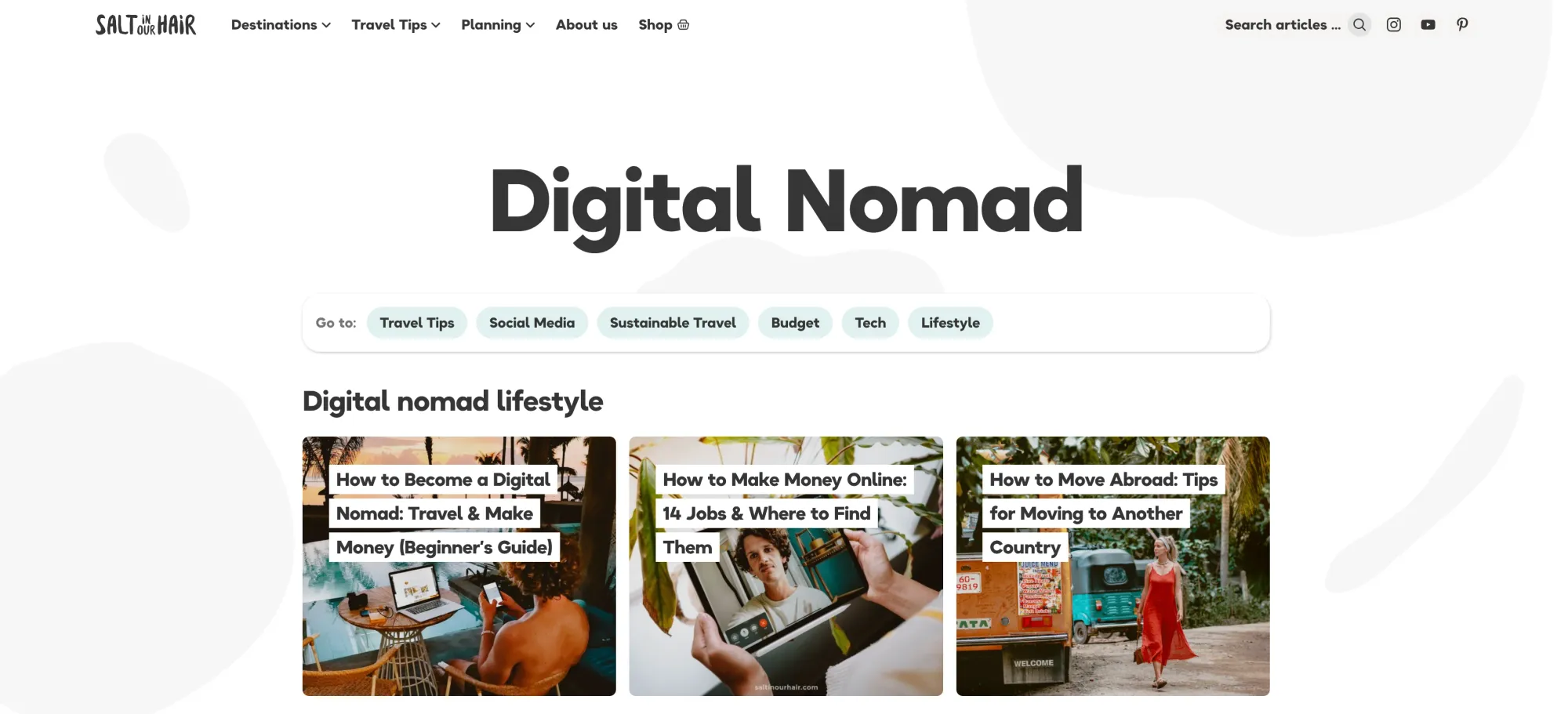 Salt in Our Hair is a nomad travel blog run by Hannah and Nick, two creatives who have turned their passion for travel into a full-time job.
They inspire people to travel through their detailed guides, stunning photography, and videography.
Their blog is not just about sharing their experiences but also about providing practical resources for digital nomads and promoting sustainable travel.
27. HeyCiara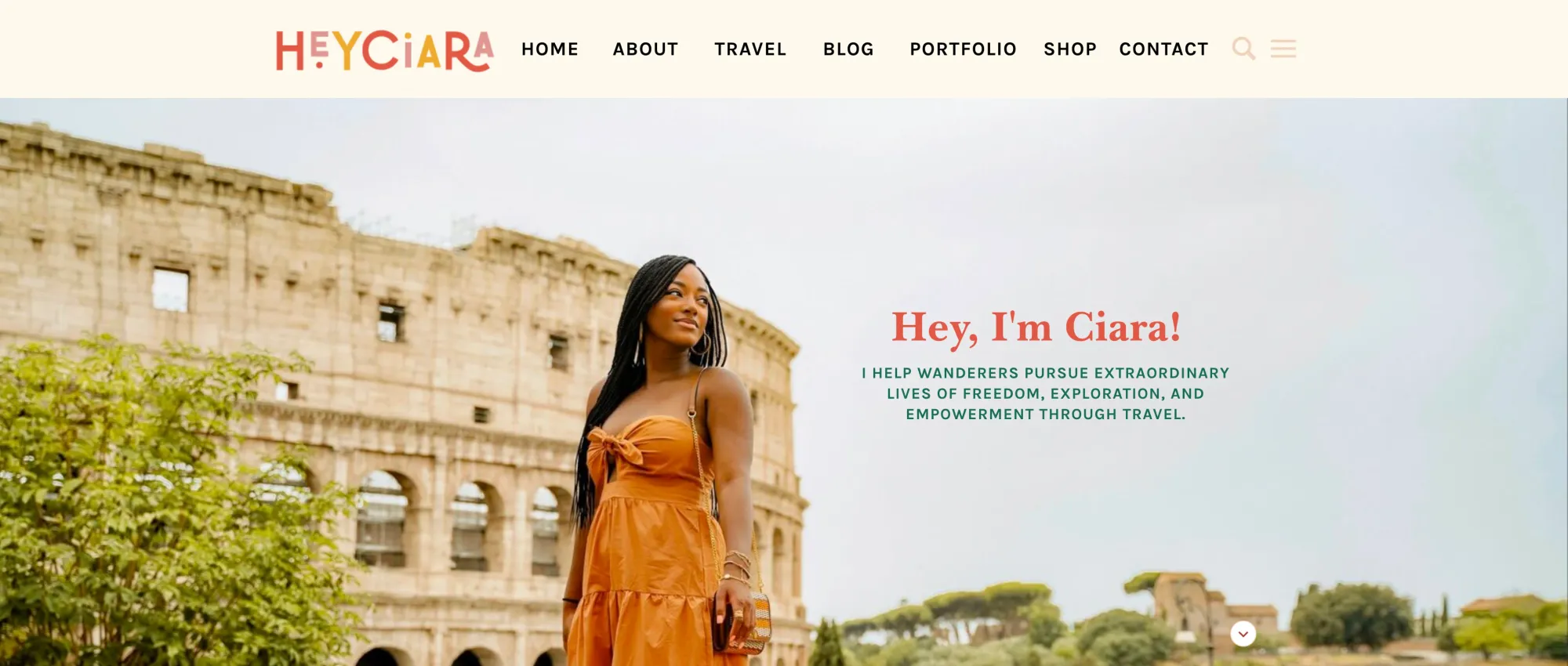 HeyCiara is a travel blog by Ciara, an ex 9-to-5er who embraced the unknown and traveled fearlessly.
She knew that in order to get the life she dreamt of, she had to take that leap of faith. So she sold everything she owned, bought a backpack, ended her lease, and booked a one-way flight to Mexico as a solo traveler.
Her story is truly inspiring and on her blog, you will find a lot of travel, and personal anecdotes that will inspire you to step out of your comfort zones and explore the world.
28. O.Christine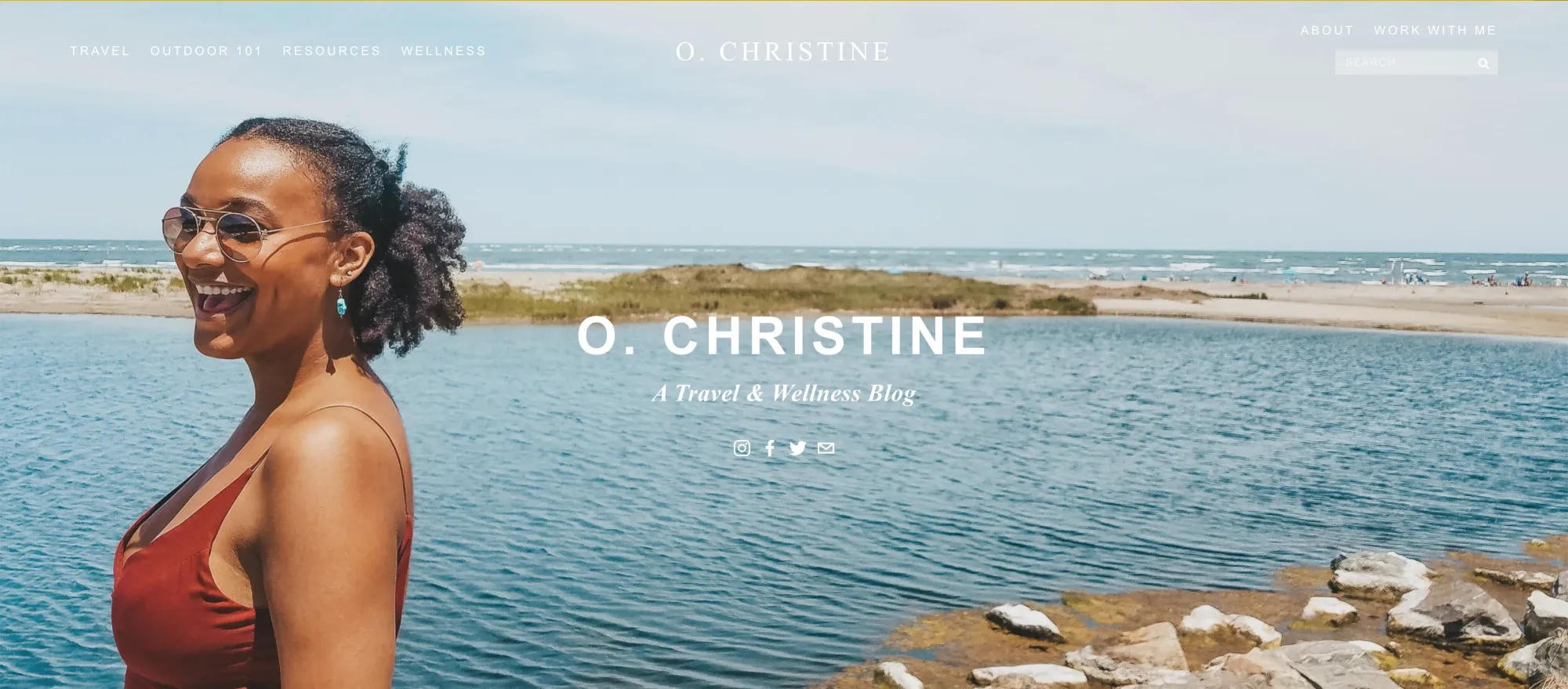 O.Christine is a travel and wellness blog by Olivia Christine, an Afro-Latina living with lupus nephritis.
Olivia, with her truly inspiring story, aims to empower women and BIPOC to travel more and get outdoors for their wellness.
The blog offers travel guides, wellness guides, and remote work tips, all aimed at helping readers achieve work-life balance.
29. Expert Vagabond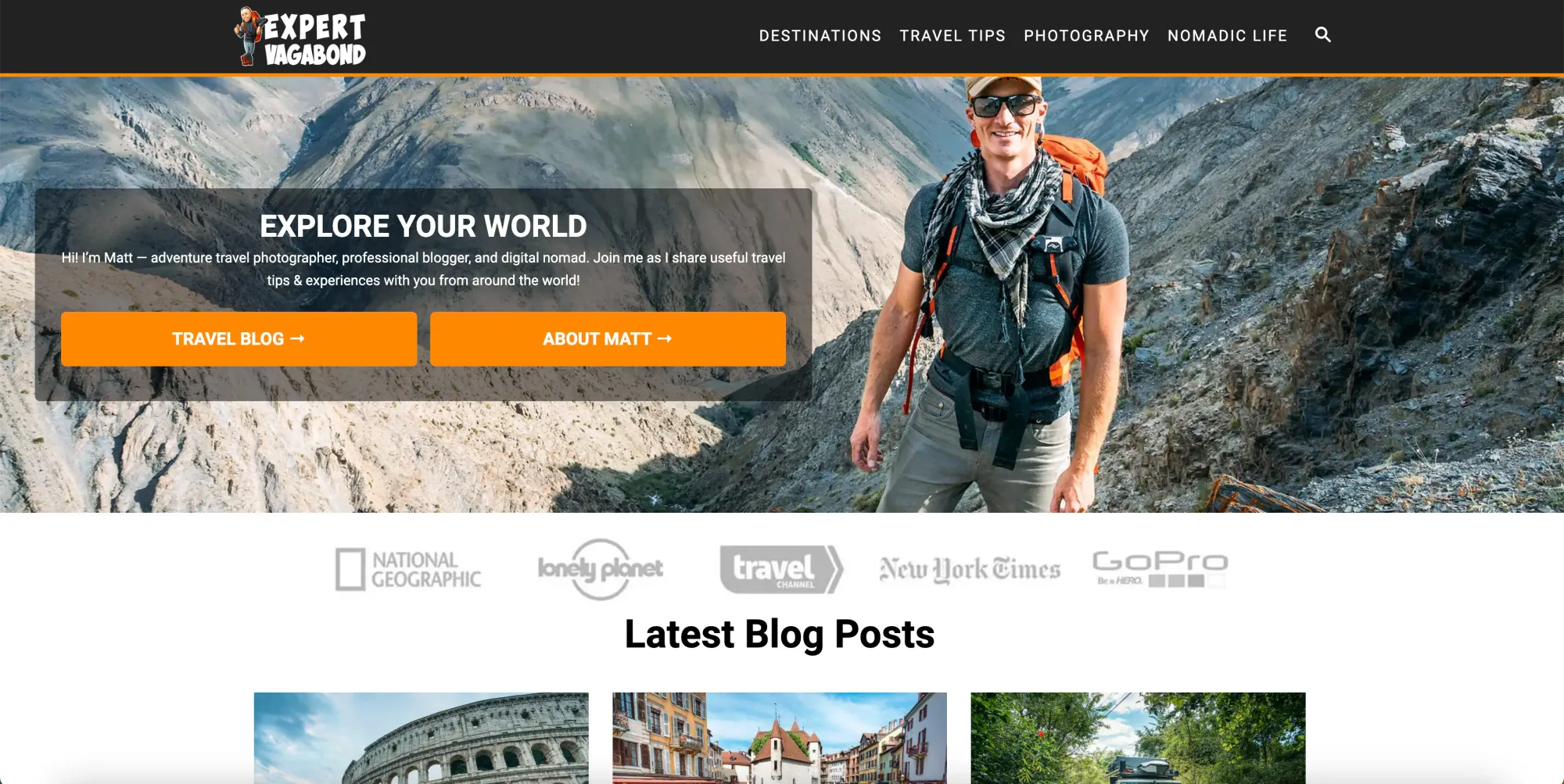 If you're looking for a blog that combines adventure, photography, and practical travel tips, then Expert Vagabond is your go-to.
Run by Matthew Karsten, a professional blogger, digital nomad, and travel photographer, this blog is a treasure trove of inspirational stories from around the world. Matt's journey is not just about visiting new places but immersing himself in these environments. He's hiked over 100 miles through the mountains of Afghanistan with locals, an experience that he counts as one of his most memorable.
His blog posts are a mix of his latest adventures, reader favorites, and useful tips on travel photography and the digital nomad lifestyle. His YouTube channel is worth checking out for more thrilling escapades.
---
You may also be interested in: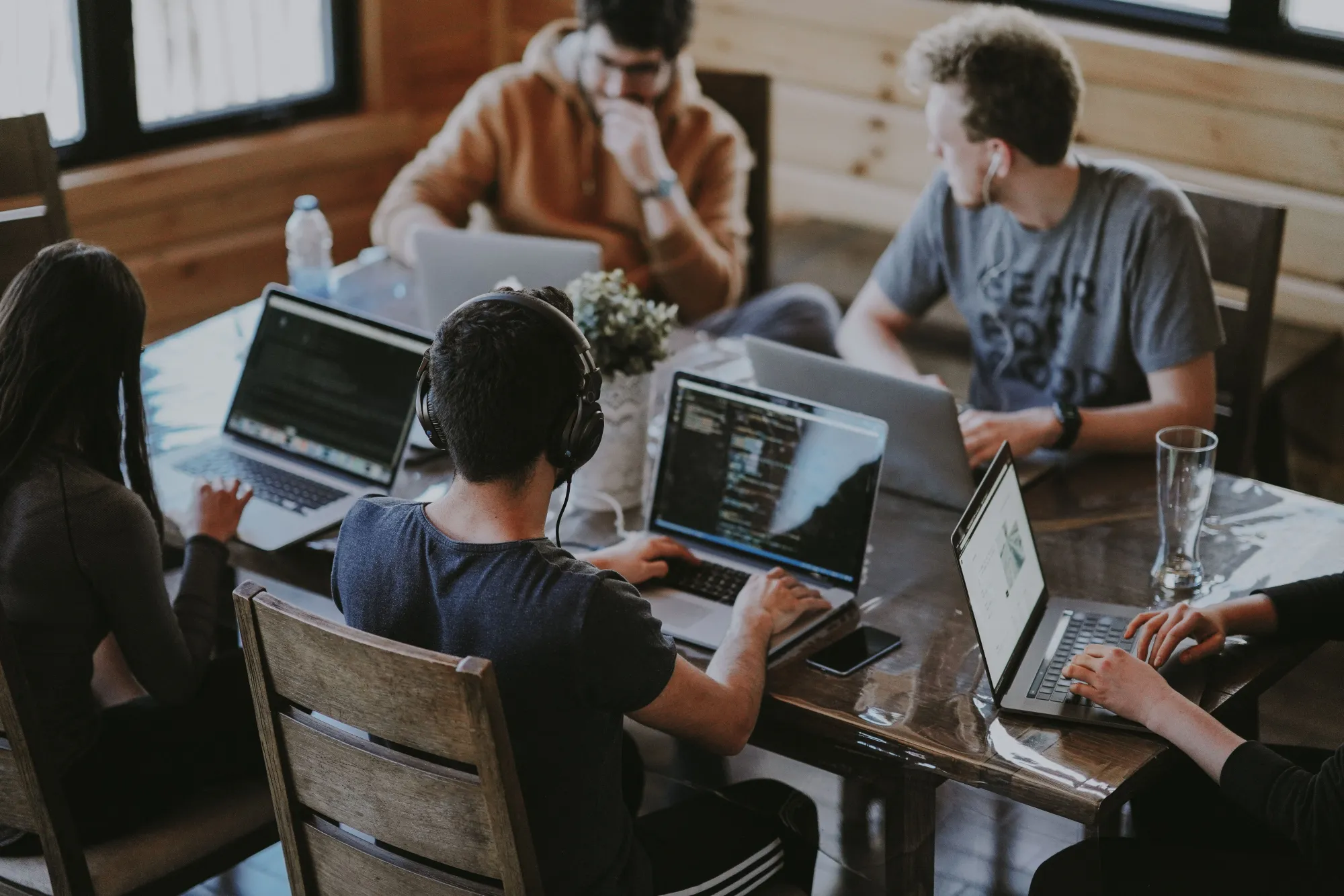 ---
30. Swedish Nomad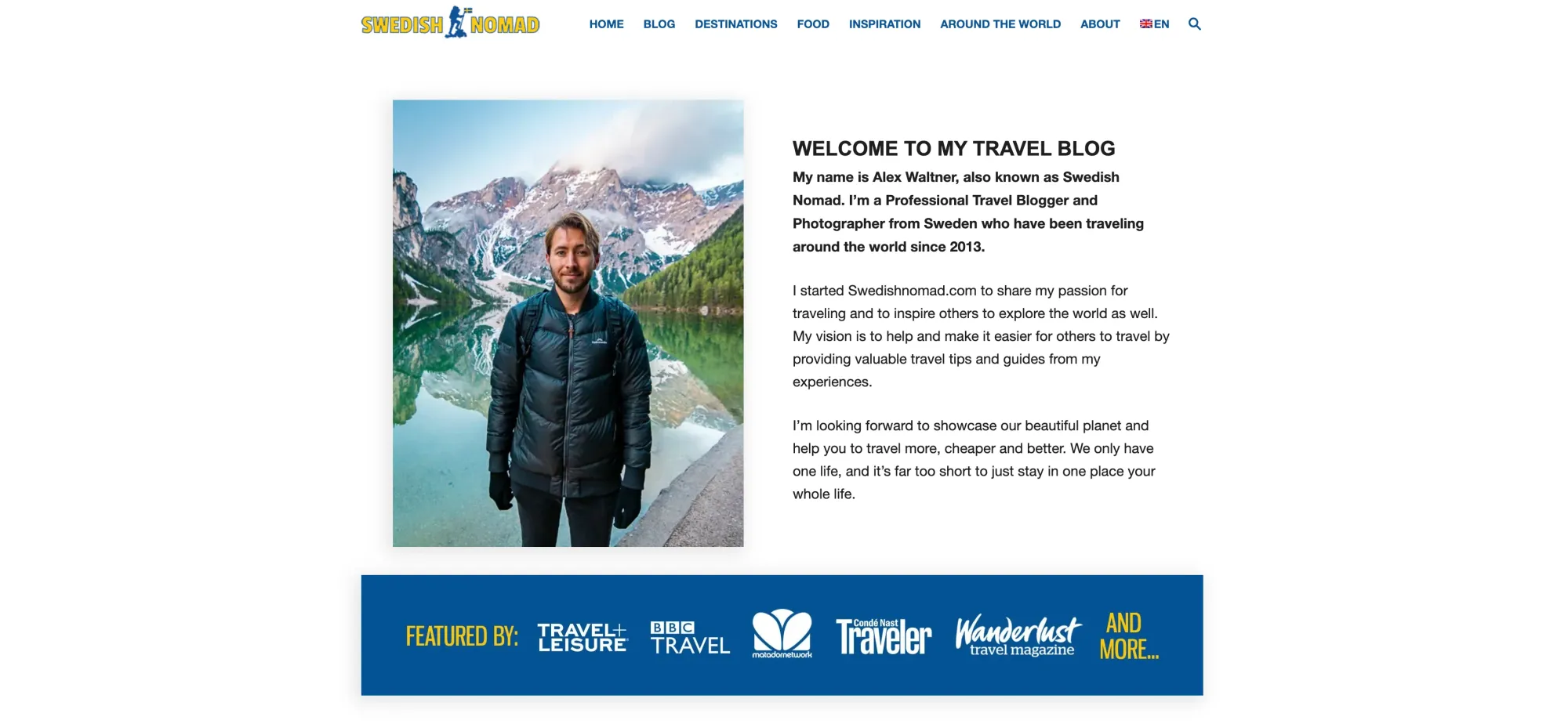 Alexander Waltner, aka the Swedish Nomad, is a full-time traveler and professional photographer who shares his experiences and tips on his blog.
His posts are a treasure trove of travel guides, photography tips, and insights into various cultures and cuisines.
His stunning photography and in-depth guides make this blog a must-read for anyone looking to explore the world as a digital nomad.
31. I am Aileen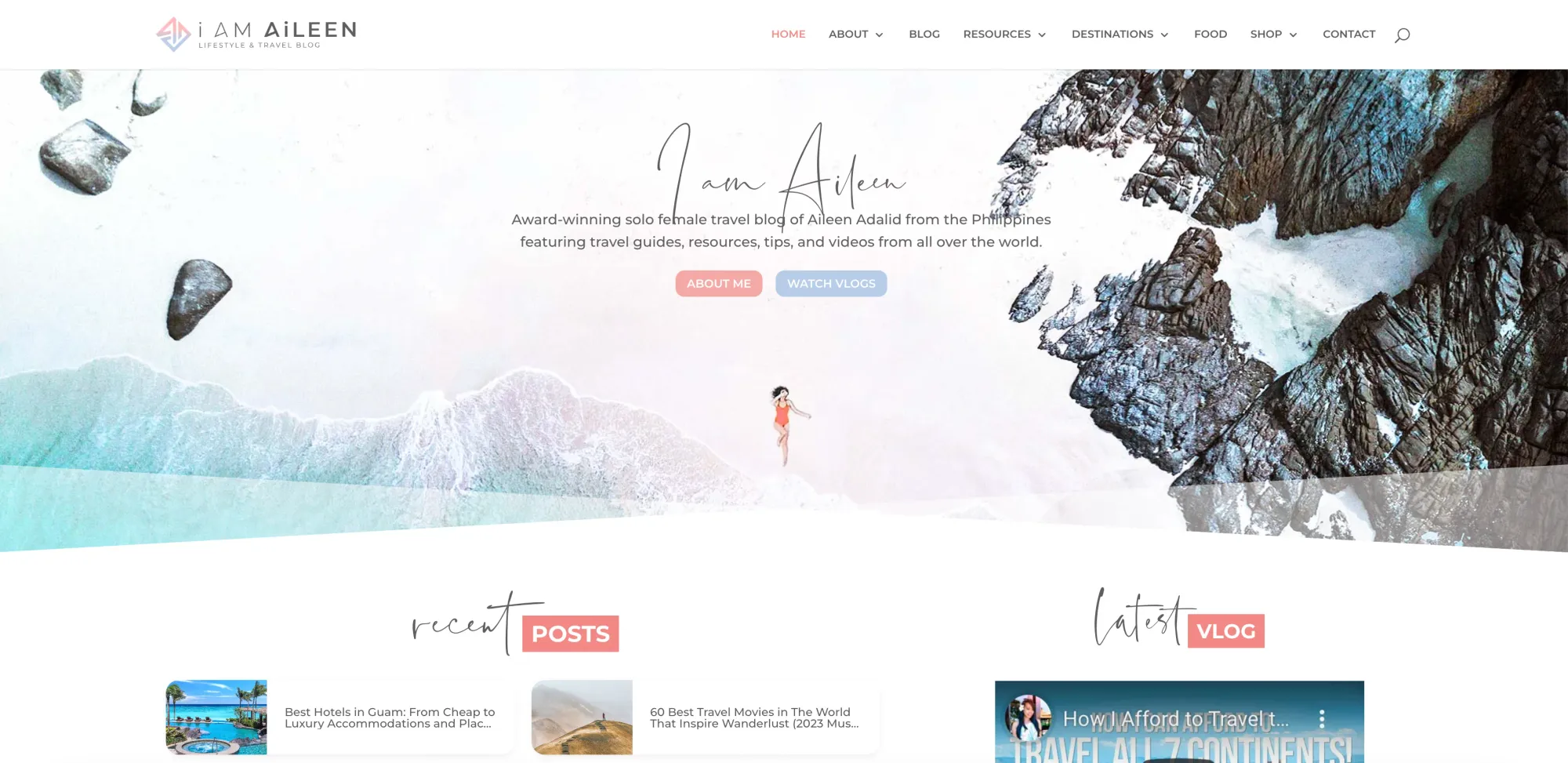 Aileen Adalid is the face behind I am Aileen.
She left her corporate job in the Philippines at the age of 21 to pursue her dreams of traveling the world. Today, she is a digital nomad and entrepreneur living a sustainable travel lifestyle.
Her blog is a rich resource of travel guides, tips, and advice for those who want to follow a similar path. Aileen's story is a testament to the fact that it's never too early to chase your dreams.
32. The Diary of a Nomad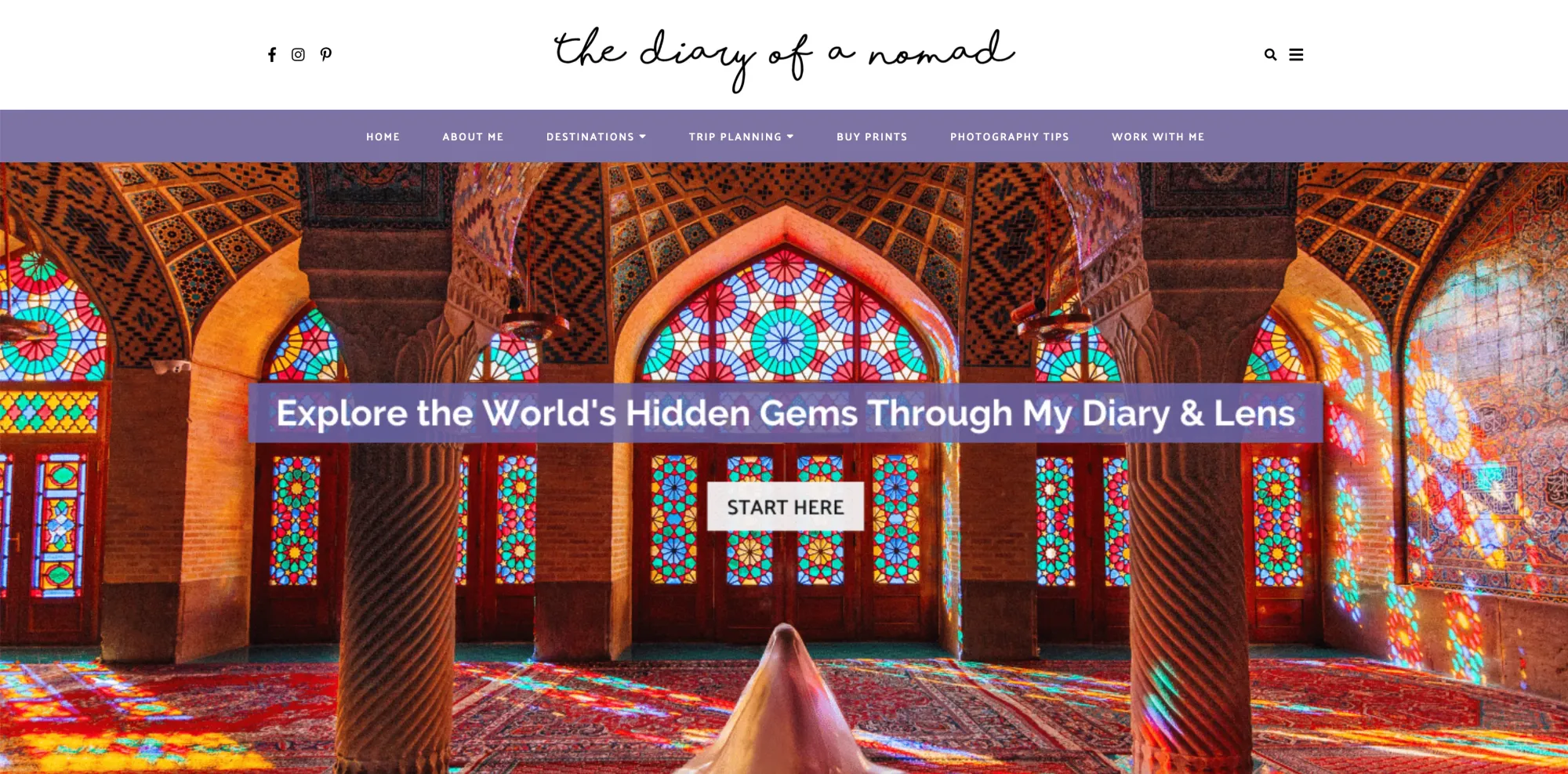 The Diary of a Nomad blog is the brainchild of Jiayi, a Chinese-Italian ('Chitalian' in her words) photographer, writer, and content creator with a deep passion for travel.
Jiayi's unique upbringing in both Europe and Asia has given her a multicultural perspective that shines through in her blog.
She has a special love for less-visited destinations and aims to debunk cultural misconceptions through her detailed guides and stunning photography.
Jiayi's journey from a curious traveler to a full-time travel blogger and photographer is truly inspiring. If you're looking for insights into underrated locations and a fresh perspective on travel, The Diary of a Nomad is a must-read.
33. Anna Everywhere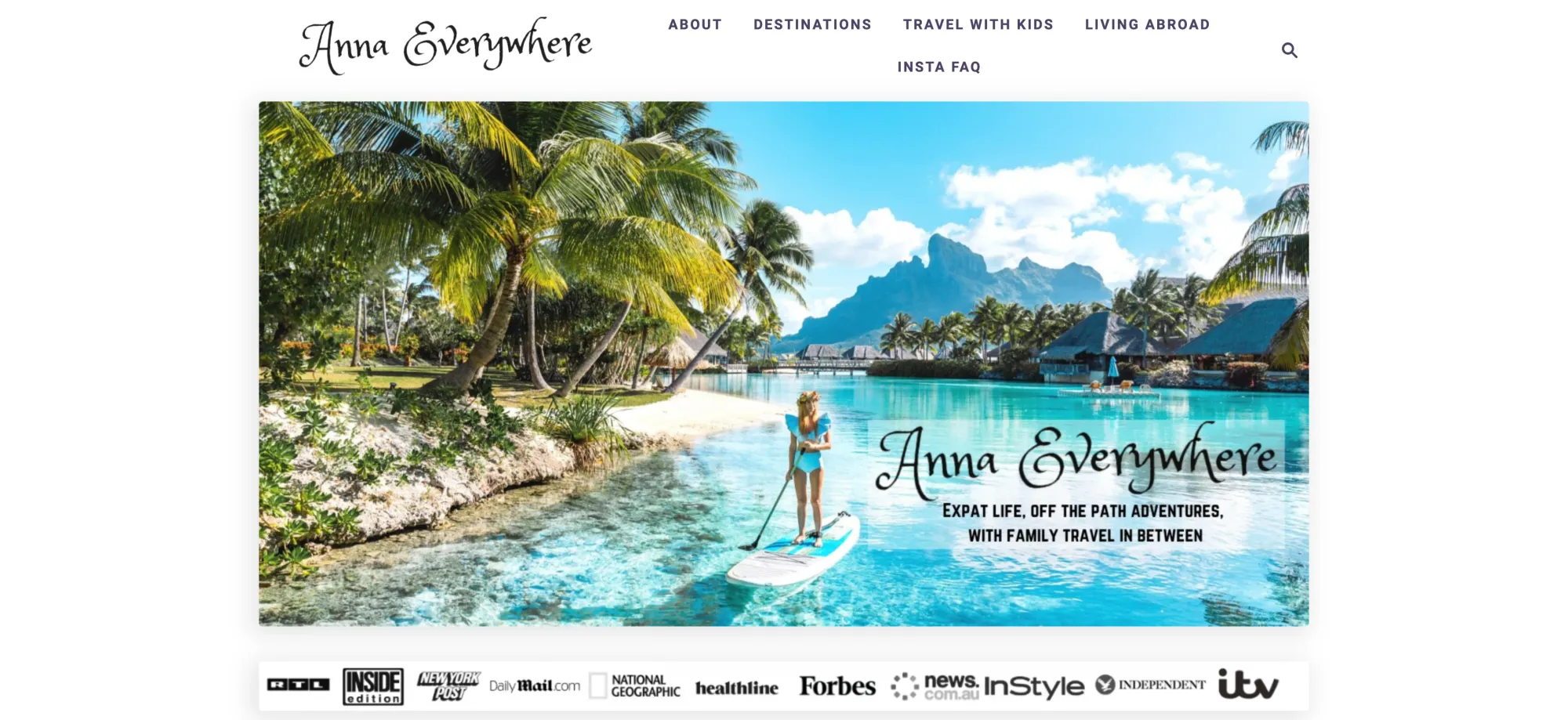 Anna Everywhere is a nomad blog that combines inspiration for adventurous travels with cultural, historical, and political insights.
Anna, a Polish-born globetrotter, has been on the road for over a decade, exploring every corner of the world.
Her blog is a treasure trove of travel tips, destination guides, and personal anecdotes that reflect her adventurous spirit and insatiable curiosity. Her stories are not just about the places she visits, but also about the people she meets and the unique experiences she has along the way.
34. The Blonde Abroad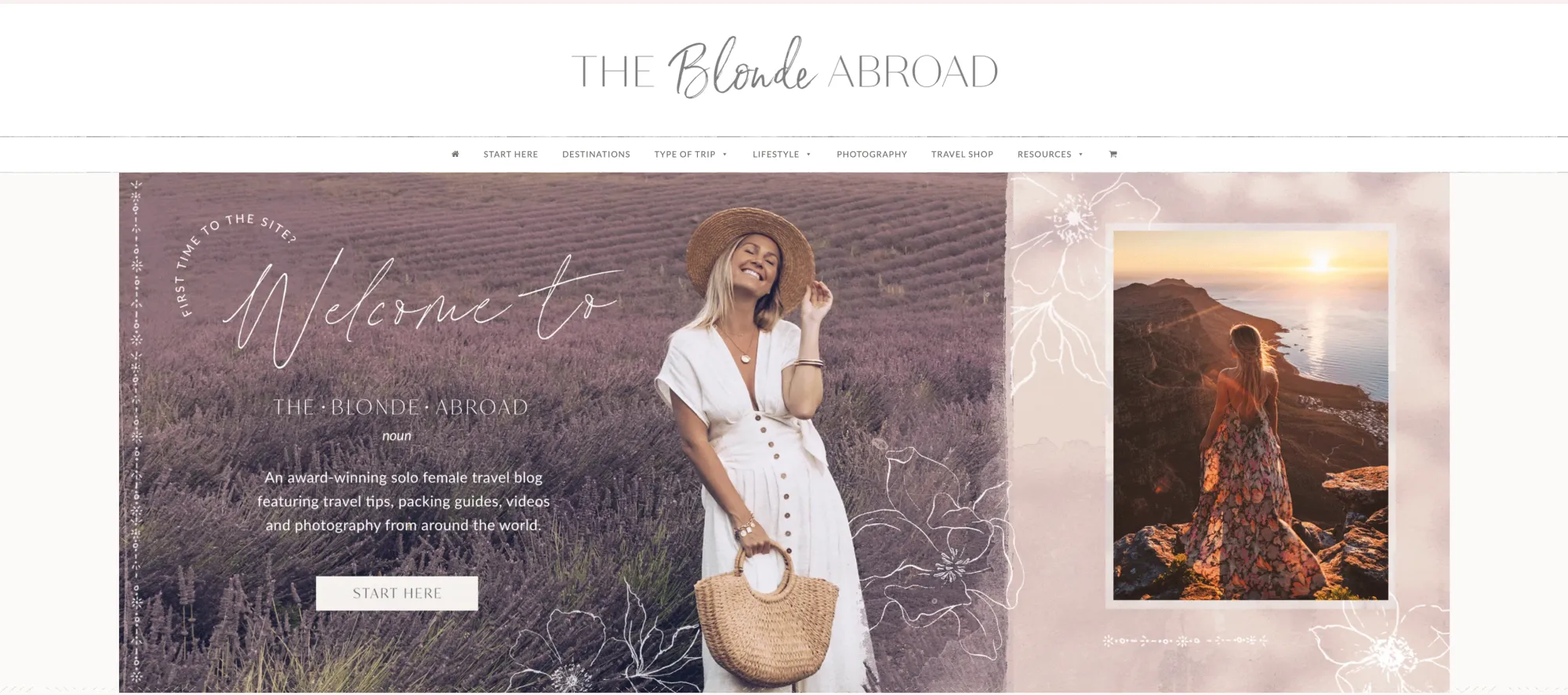 Kiersten Rich, also known as Kiki or The Blonde Abroad, is an award-winning solo female travel blog.
Kiki is a California native who left her corporate finance career to explore the world. She now splits her time between South Africa and San Diego and has traveled to over 70 countries.
Her blog features travel tips, packing guides, videos, and photography from around the world. She also provides resources for female digital nomads and entrepreneurs, offering blogging, photography, and freelancing tips.
35. Stingy Nomads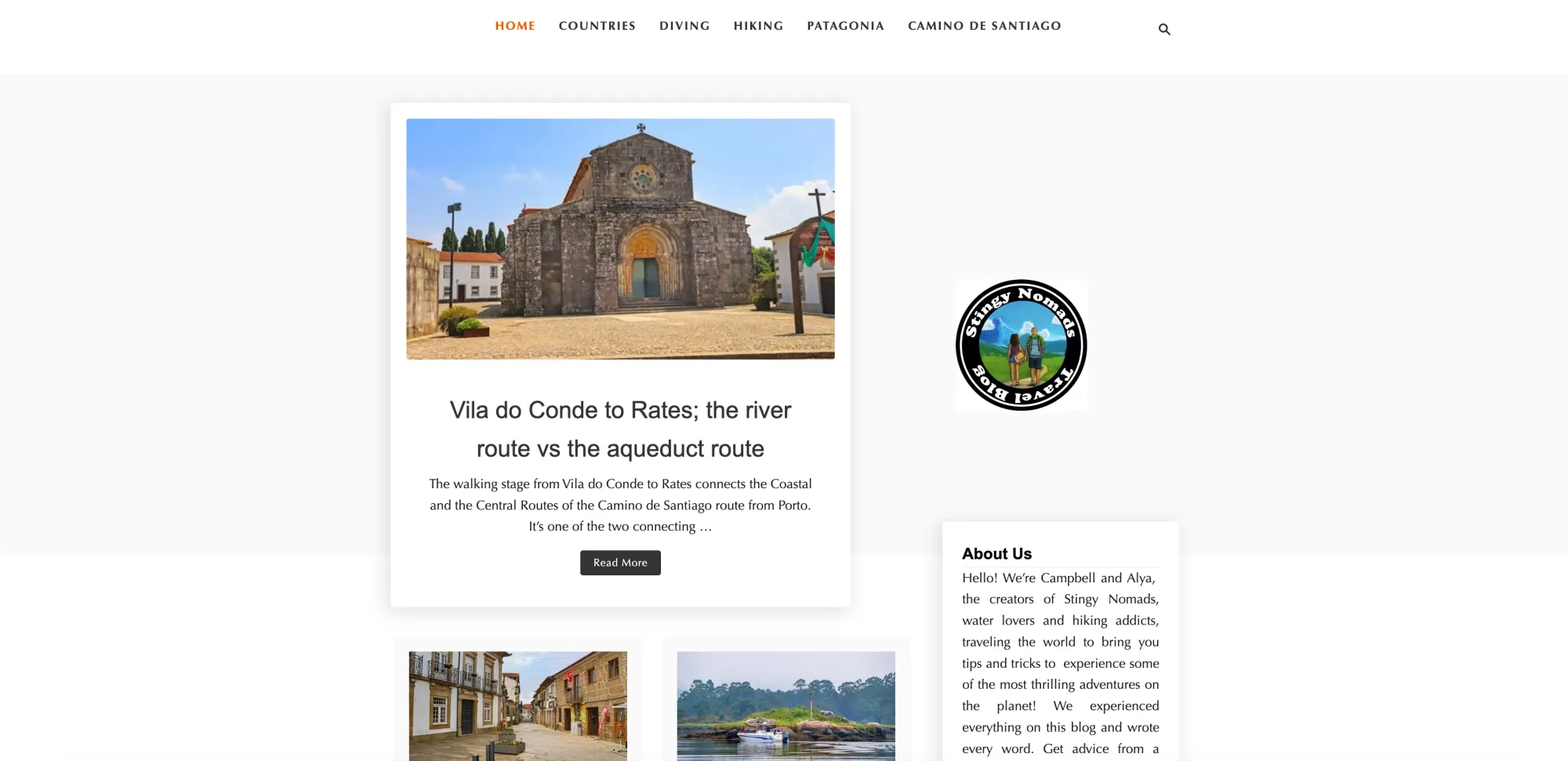 Created by Campbell and Alya, Stingy Nomads is a useful resource for those who love nomad adventures on a budget.
This couple has mastered the art of traveling cheaply without compromising the thrill.
From diving and hiking to detailed travel guides, their blog is a diary of their love for exploring the world. What we love is that they share their experiences with a personal touch, making readers feel like they're part of the journey.
---
You may also be interested in: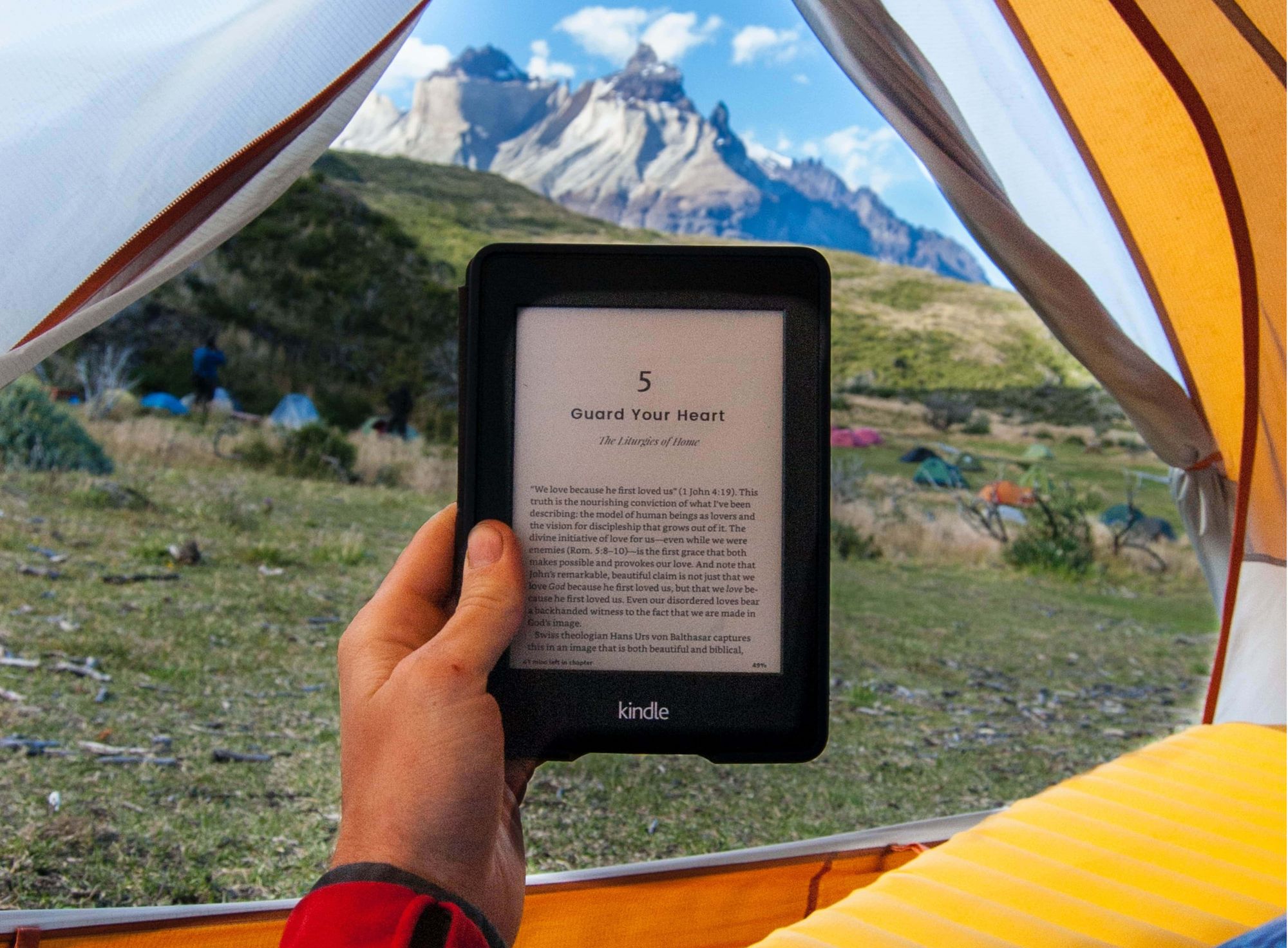 ---
36. The Suitcase Entrepreneur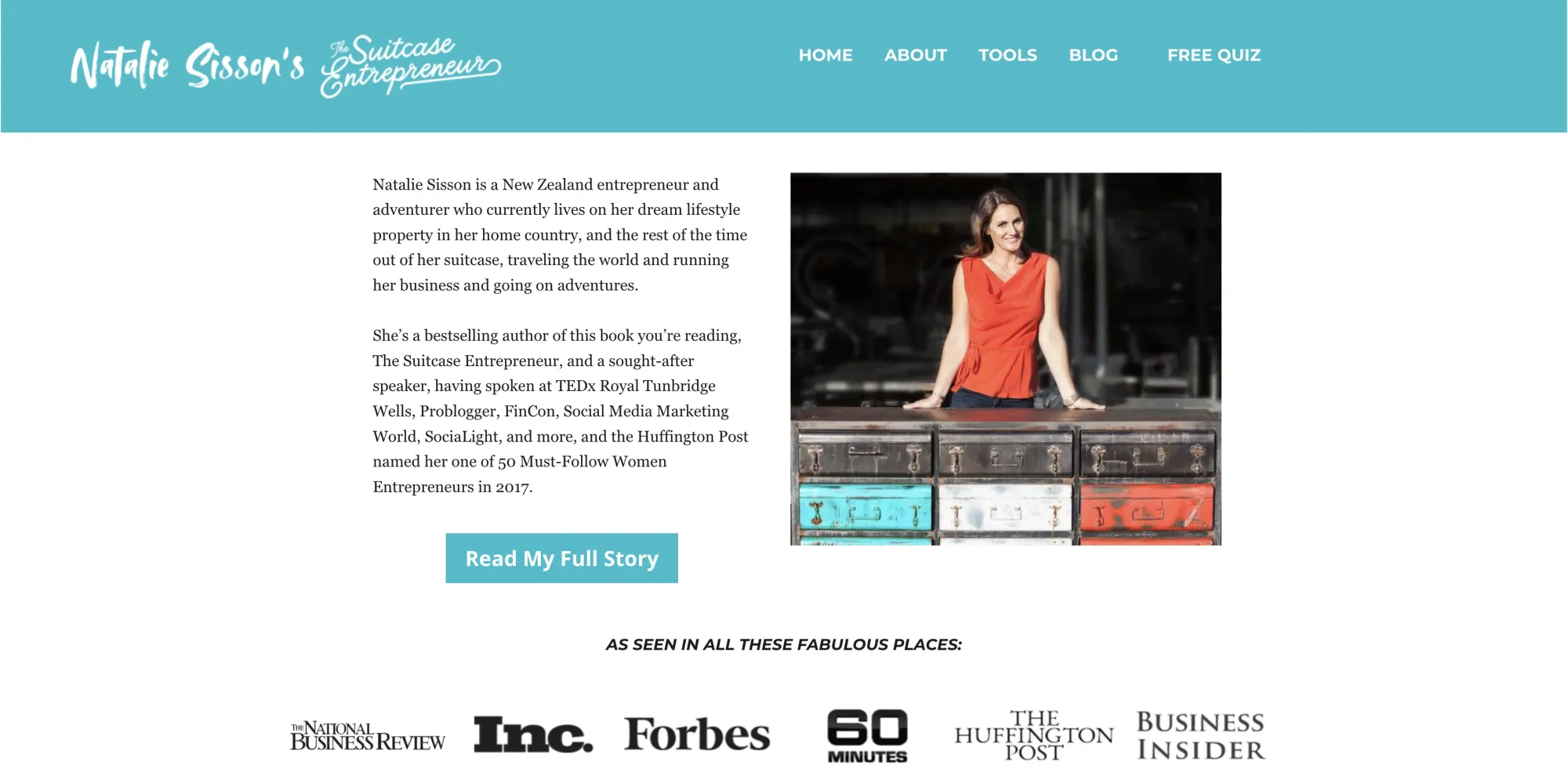 Natalie Sisson, aka the Suitcase Entrepreneur, is the epitome of a digital nomad. She's been living out of her suitcase for over a decade, running her business from her laptop while exploring the world.
Her blog, The Suitcase Entrepreneur, is a goldmine of resources for aspiring digital nomads. From tips on building an online business to guides on maintaining a healthy work-life balance while on the road, Natalie covers it all.
Her personal stories and insights add a unique touch, making her blog a must-read for anyone interested in the digital nomad lifestyle.
37. The Lifestyle Hunter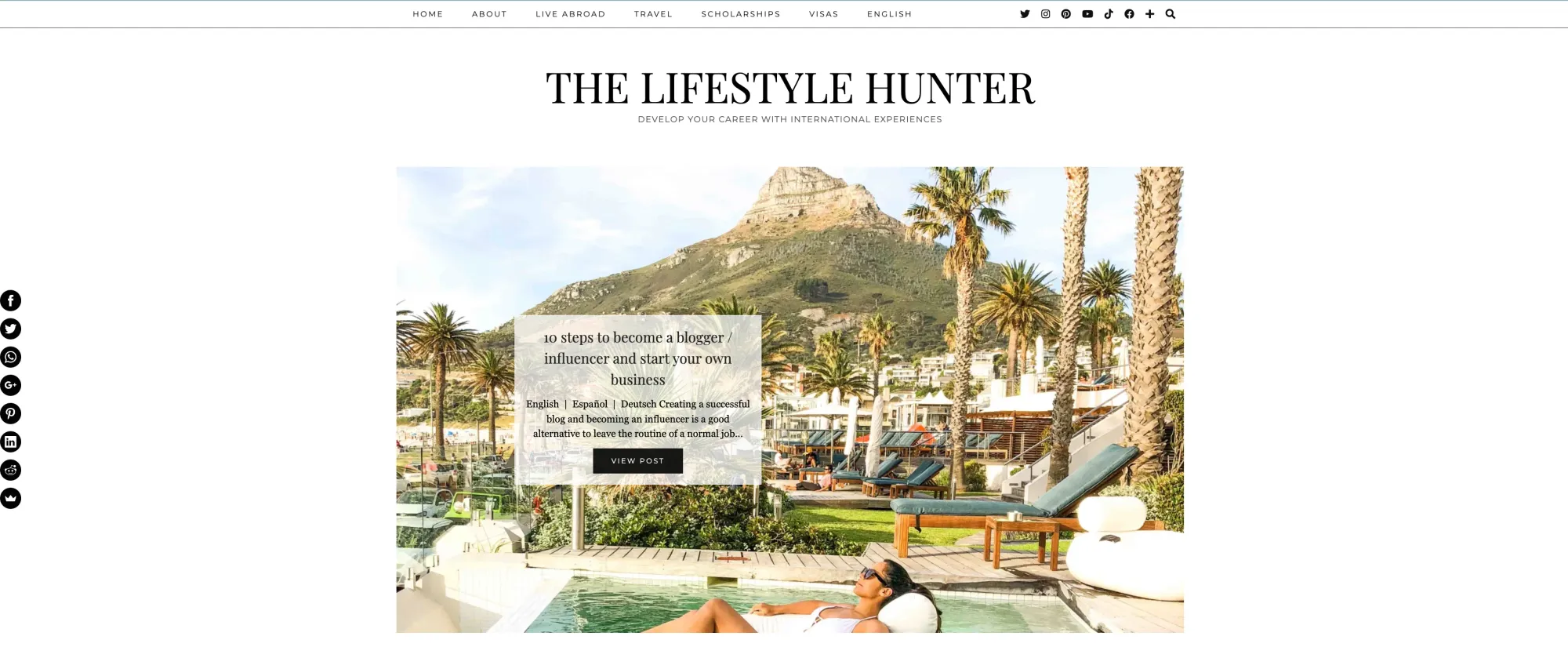 Pilar Noriega, the woman behind The Lifestyle Hunter, is a world traveler, MBA graduate, and lifestyle blogger.
Her blog is a blend of travel, fashion, and career advice, with a focus on luxury experiences on a budget. She provides valuable tips on how to balance a professional career with a love for travel.
Her blog is a testament to the fact that you don't have to choose between a successful career and seeing the world.
38. The Broke Backpacker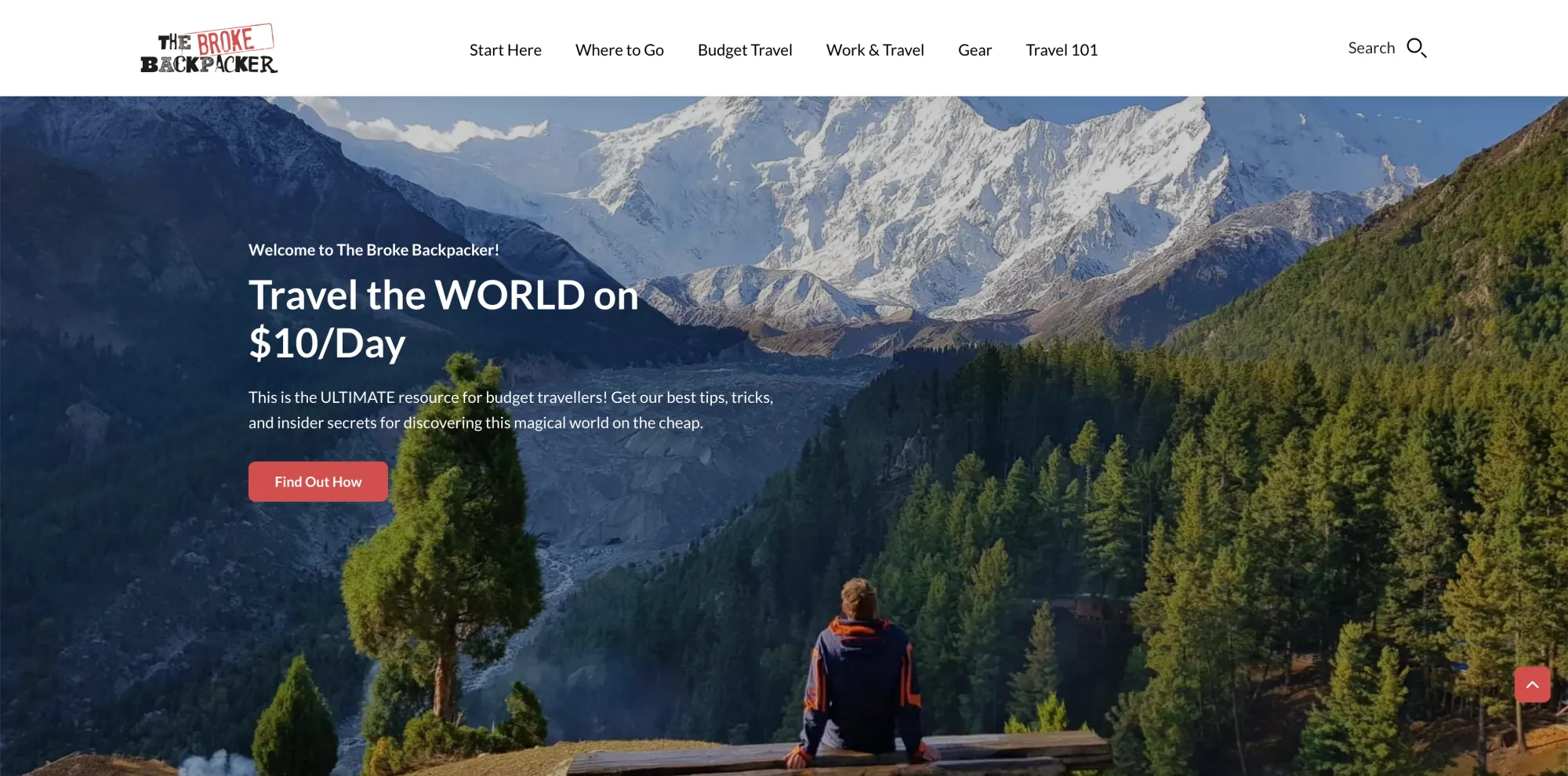 Will Hatton, the seasoned traveler behind The Broke Backpacker, is on a mission to show you that travel doesn't have to be expensive.
His blog is packed with budget travel guides, money-saving tips, and advice on how to make money while traveling.
Will's adventurous spirit and knack for finding off-the-beaten-path destinations make his blog a great resource for digital nomad travelers seeking unique and affordable experiences.
39. Too Many Adapters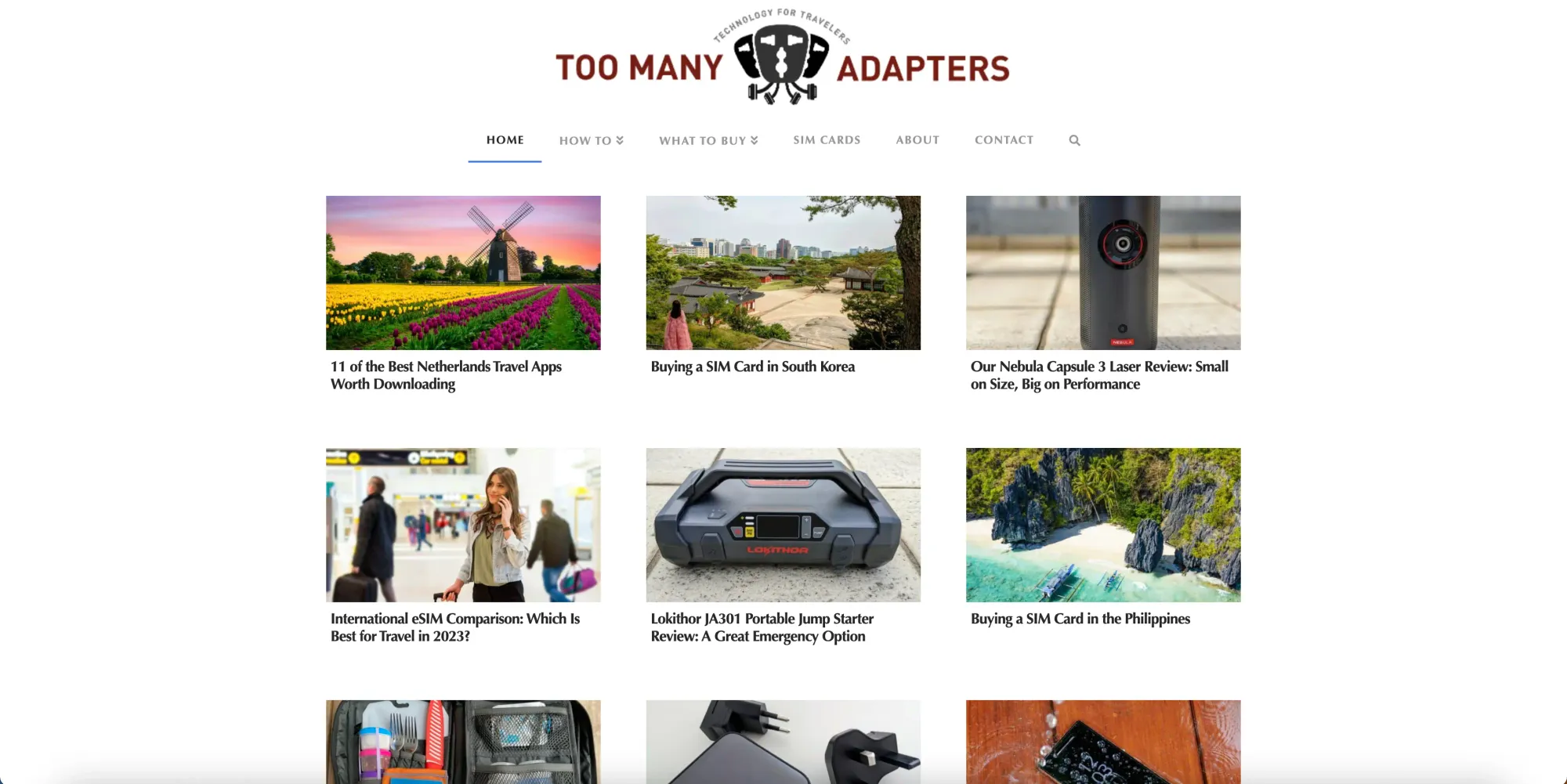 Dave Dean, the digital nomad behind Too Many Adapters, is a tech-savvy traveler who shares his knowledge about the best gadgets and apps for nomads.
His blog is a one-stop shop for all things tech-related in the travel world.
Dave's insights are invaluable for the modern digital nomad, from reviews of the latest gear to tips on staying connected abroad.
40. Wandering Earl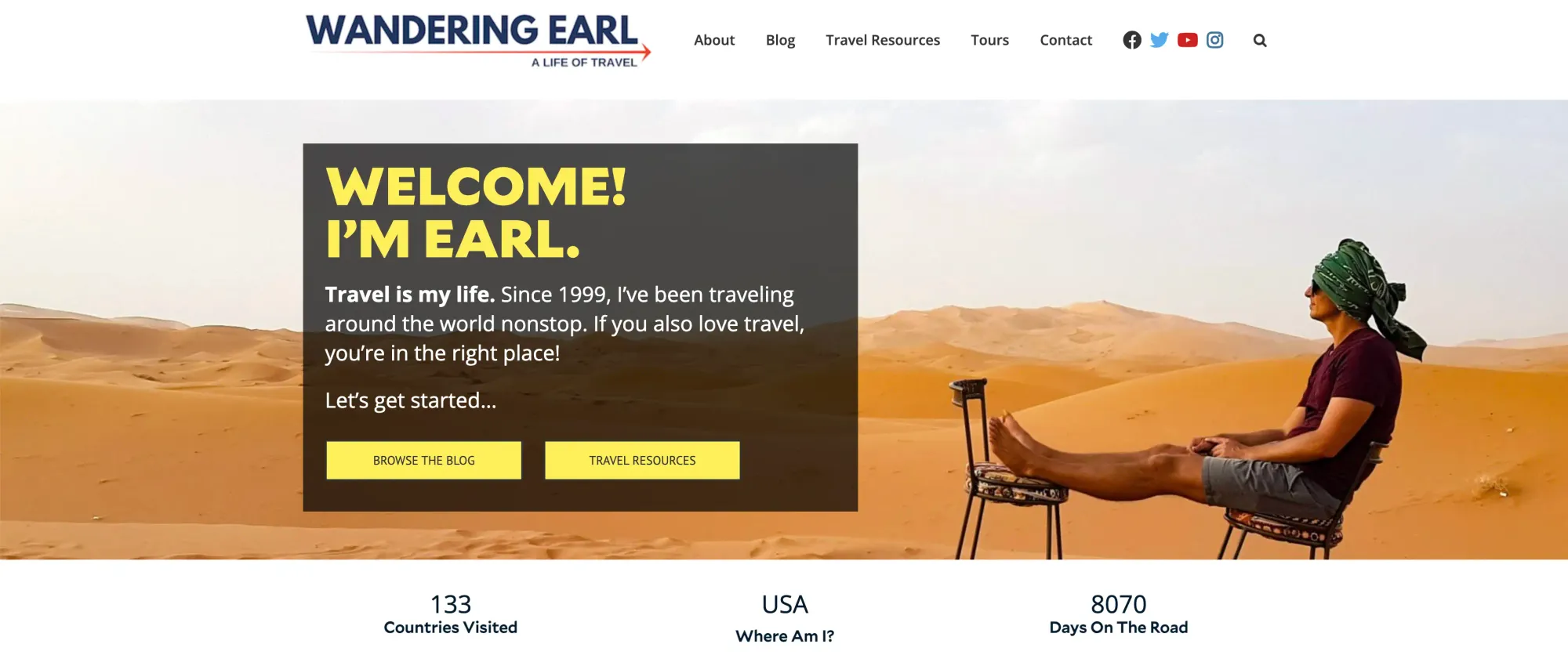 Derek Earl Baron, the man behind Wandering Earl, has been on the road since 1999, making him one of the original digital nomads.
His blog contains a wealth of travel stories, tips, and insights accumulated over his two decades of experience. He's in fact visited over 100 countries and lived in places like India, Mexico, Romania, and Vietnam.
This is a must-read for anyone interested in long-term travel and the digital nomad lifestyle.
41. Travel with Hayden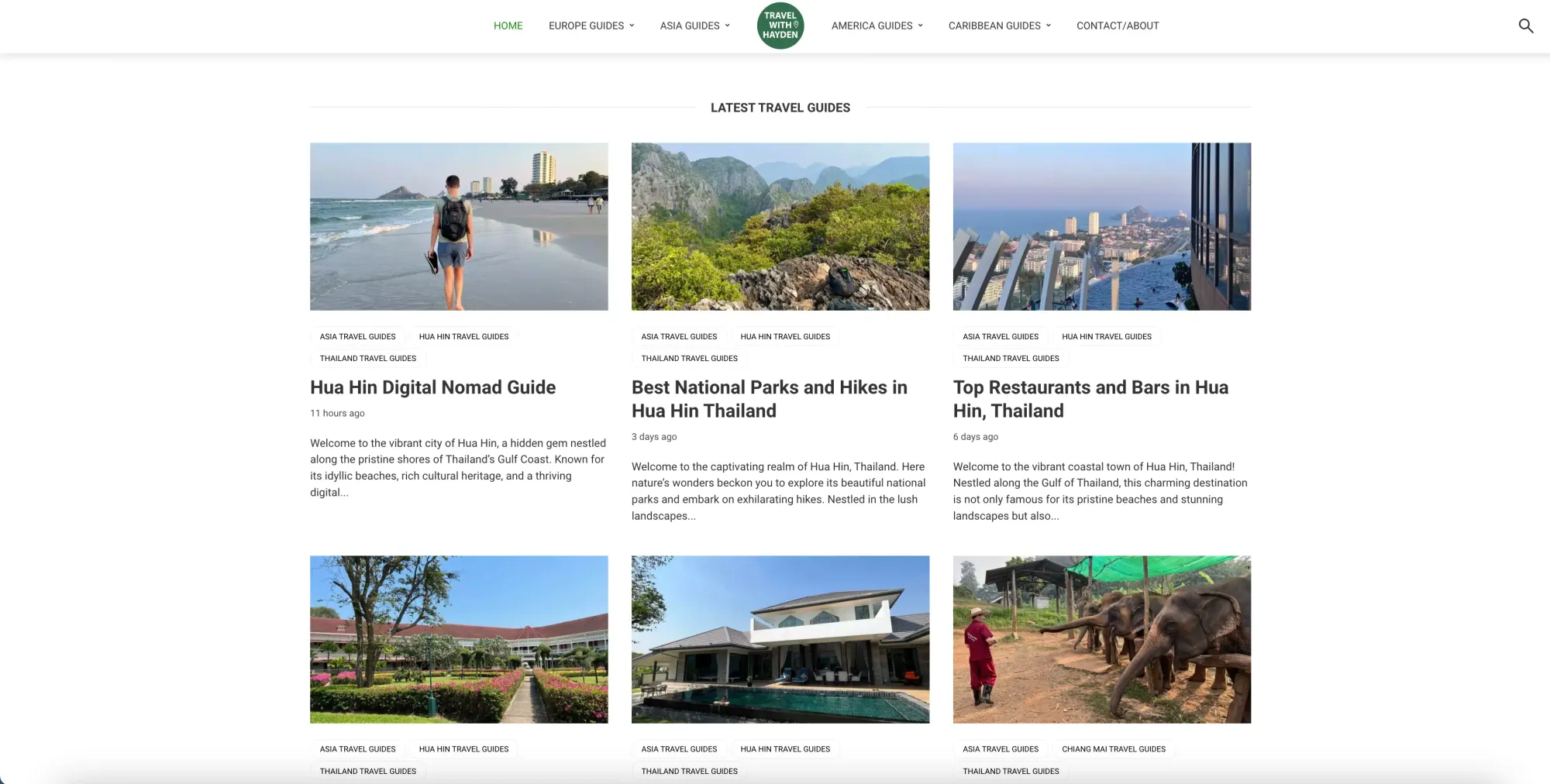 Hayden is a digital nomad who has been traveling the world since 2017.
His blog is a mix of travel guides, tips, and personal stories that provide a real and raw look at the digital nomad lifestyle.
Hayden's blog is particularly useful for those interested in budget travel and solo travel, as he often shares his experiences and tips on how to travel cheaply and safely.
42. Out of Office Gal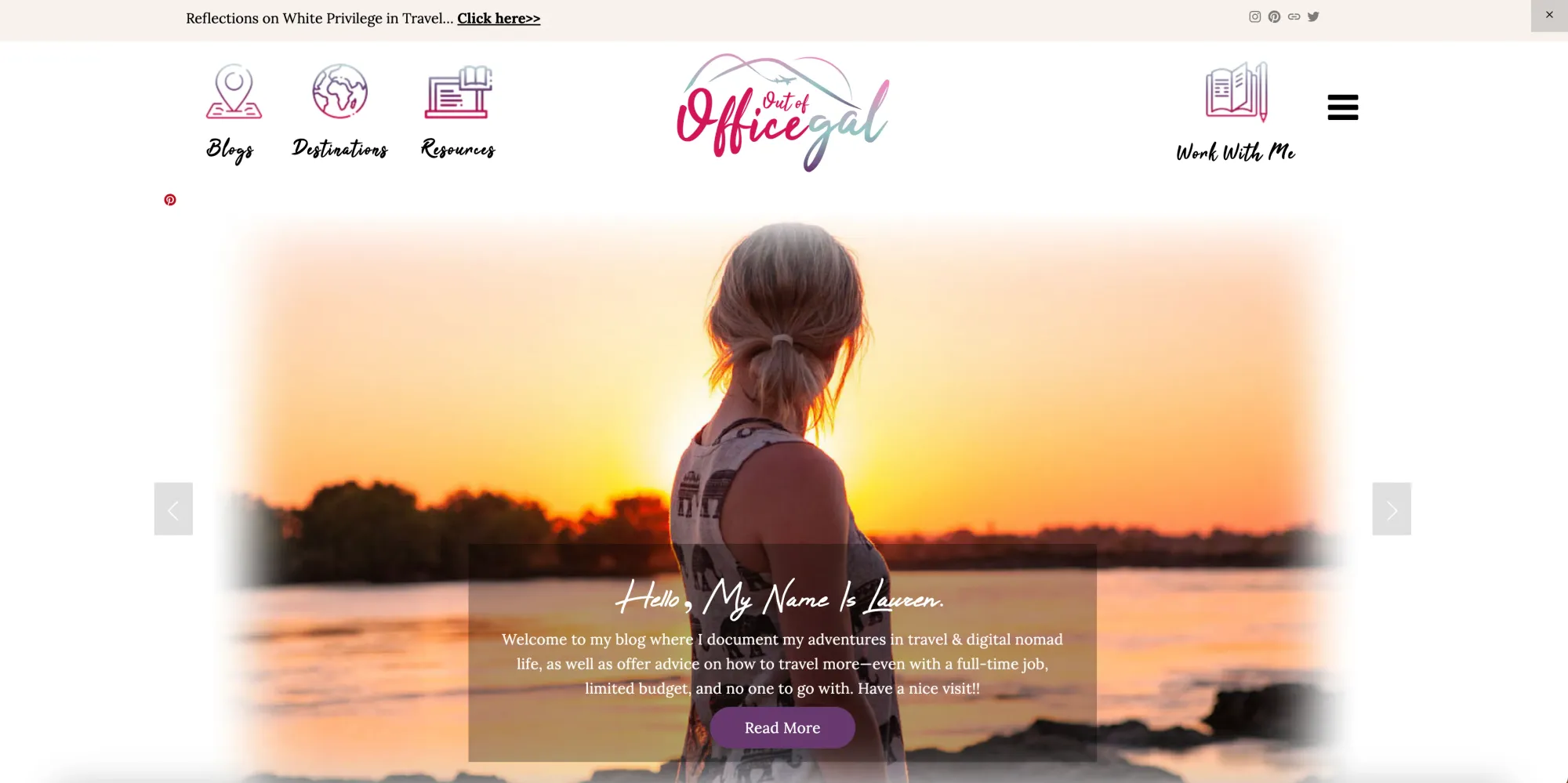 Out of Office Gal is a blog by Lauren Gabel that encourages readers to break free from the traditional 9-5 grind and embrace the digital nomad lifestyle.
She has been a travel writer up to 2019 when she actually made her transition to a full-time digital nomad. Since then, this lifestyle has been a big part of her blog, and you will find plenty of practical digital nomad advice, tips, and resources for those who want to work remotely while exploring the world.
---
You may also be interested in:
---
43. Runaway Juno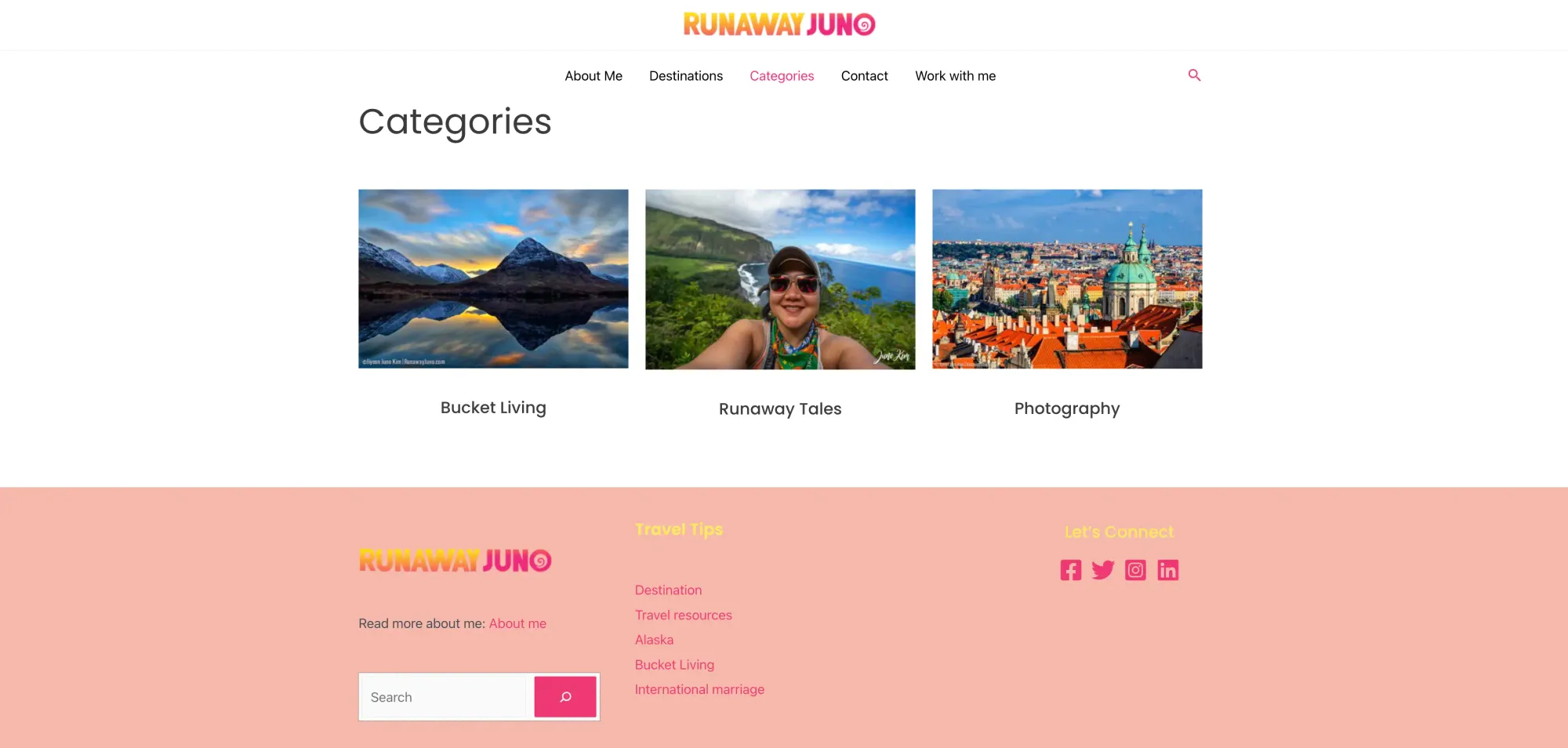 Runaway Juno is a travel blog run by Juno Kim, a Korean digital nomad who left her engineering career to become a full-time traveler and storyteller.
Her blog is a mix of her personal travel experiences, destination guides, and photography tips. Juno's love for her home country, South Korea, is evident in her detailed guides and stories about Korean culture and history. She also has a special fondness for the Nordic region and Alaska, sharing her experiences of the Northern lights, glaciers, and Alaska Native culture.
Juno's blog shows her belief in the power of travel to inspire and transform lives. Her storytelling approach makes her blog engaging and relatable, offering readers a glimpse into the life of a true wanderer.
44. Nomadtopia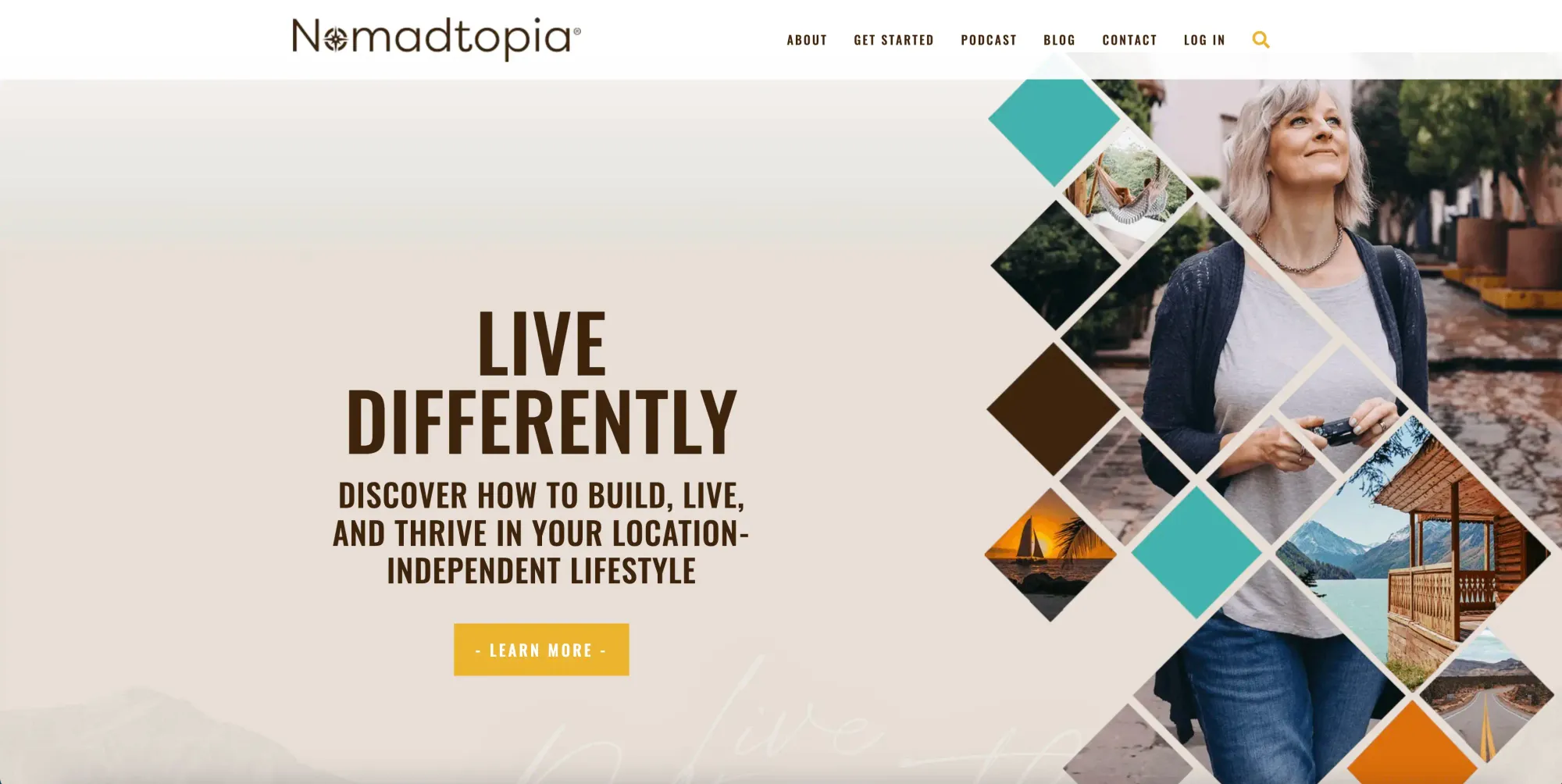 Nomadtopia is a hub of resources, inspiration, and community for building—and thriving in—the location-independent lifestyle.
The blog is run by Amy Scott, who has been location-independent since 2004.
After traveling all over the world, she is currently based in central Mexico with her husband and their twin preschoolers. Amy founded Nomadtopia to help others create—and thrive in—the location-independent lifestyle that's right for them.
45. I Work Remote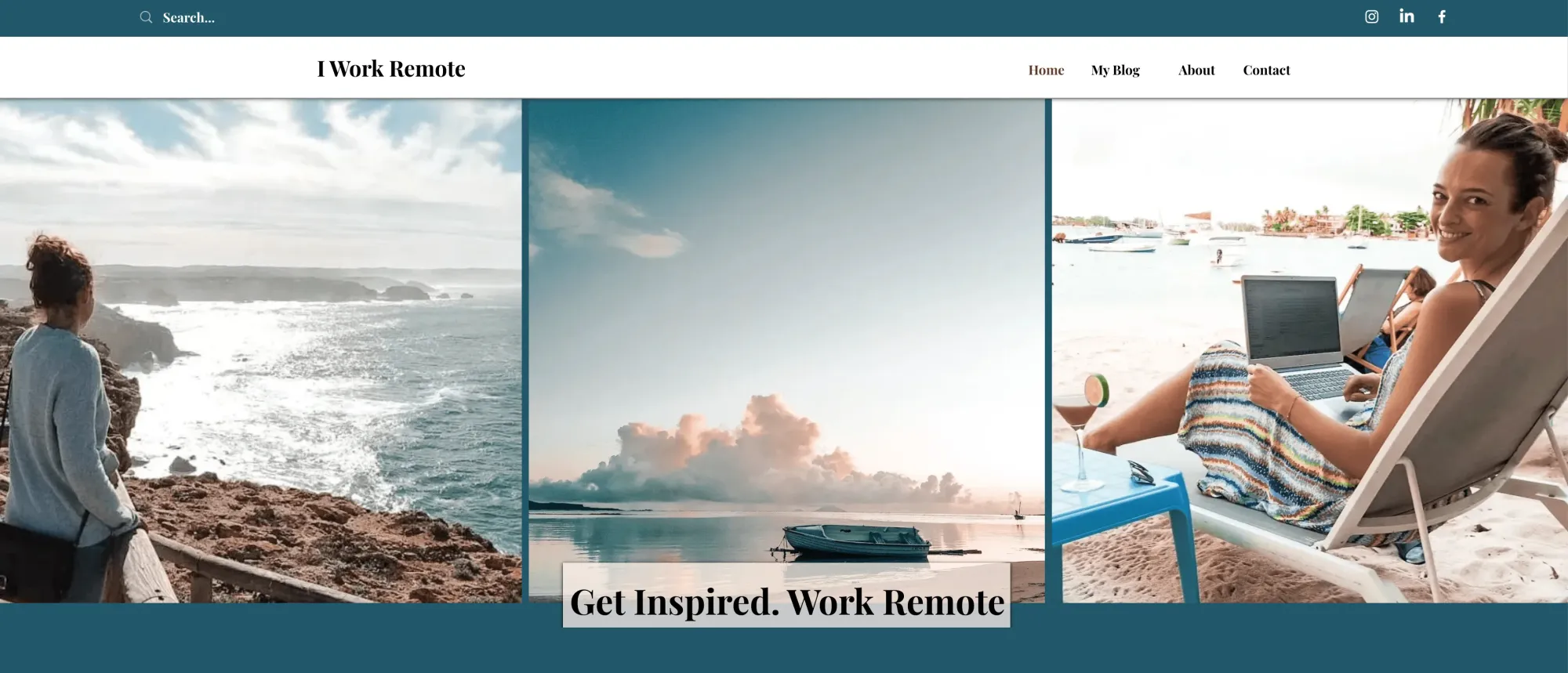 The face behind I Work Remote is Esther Twisk, a Dutch digital nomad and freelancer copywriter who started working remotely in 2019 after quitting her corporate job.
She created I Work Remote because, when researching remote work destinations and tips, she felt there was a lack of personal stories and opinions out there.
On her blog, you'll find a mix of destination articles, honest stories on becoming a digital nomad, and the latest visa updates. If you want to gain insights and personal experiences for your own remote work journey, you should definitely check out iWorkremote.co.
More Resources For Digital Nomads
As we navigate the vast digital nomad landscape, the shared stories and wisdom from fellow nomads often light our way. Digital nomad blogs are more than just online diaries or travel guides. They are our companions on this journey, offering a sense of community that transcends geographical boundaries. Each blog post we read is a window into someone else's world, a chance to learn from their experiences, and an opportunity to walk in their shoes, if only for a moment.
So, as we conclude this exploration of the best digital nomad blogs, we encourage you to delve deeper. Find those blogs that speak to your heart, that resonate with your dreams. Use them as a source of inspiration, a guide, and sometimes, a mirror to reflect on your own journey.
And if you need more resources, you can check out our digital nomad resource hub for essential tools and apps, as well as our digital nomad destination guides to discover your next adventure, and gain more insights from our digital nomad tips page.
Remember, being a digital nomad is not just about the places you'll see, but also about the people you'll meet, even if it's in the virtual world of blogs. So, explore these blogs, connect with your fellow nomads, and most importantly, embrace the beautiful journey of the digital nomad lifestyle. Safe travels, fellow nomads!
Did You Get Inspired by Any of These Digital Nomad Blogs?
If you want to receive digital nomad guides like these, sign up for our free newsletter and get upcoming articles straight to your inbox!
You can also follow us on Instagram and join our Facebook Group if you want to get in touch with other members of our growing digital nomad community!
We'll see you there, Freaking Nomads!
Disclosure: Hey, just a heads up that some of the links in this article are affiliate links. This means that, if you buy through our links, we may earn a small commission that helps us create helpful content for the community. We only recommend products if we think they will add value, so thanks for supporting us!