Nowadays, most people value job flexibility and remote work alternatives.
The last two years have left the pandemic glare inside the world of the workers whose demand is for fully remote work or to be allowed to obtain flexibility options.

According to the Global Survey of Working Arrangements (G-SWA):
"The COVID-19 pandemic triggered a huge, sudden uptake in working from home, as individuals and organizations responded to contagion fears and government restrictions on commercial and social activities. Over time, it has become evident that the big shift to work from home will endure after the pandemic ends."
So it's easily understandable why more and more people have embraced the digital nomad lifestyle in the last few years.
In this article, we'll review the 6 most beginner-friendly digital nomad options that will allow you to work remotely from anywhere in the world.
The 3 Types Of Digital Nomad Jobs
But first, let's define which type of digital nomad jobs there are out there.
We can identify three main categories of remote working:
Freelancing
Fully-Remote Employment
Online Entrepreneurship
Let's analyze them one by one.
Freelancing
A freelancer is self-employed and sells services to clients without needing to be committed to an employer.
When working as a freelancer, you will often offer your skills and expertise as a service for an hourly fee or as a monthly retainer.
This is why figuring out what skills you own and what the demand in the market is, are very important aspects of having a better view of the services you will be offering.
The pros of this approach are that you will be fully independent and you will have the chance to choose your own clients and working hours.
On the other hand, you will probably trade your time for money, and your monthly income might be capped to the number of hours that you will have available to carry out your work.
Fully-Remote Employment
As opposed to freelancers, fully remote employees have a connection with an employer as they directly employ them.
The difference with other employees is that they work remotely while other colleagues are instead working from an office.
They are generally people in professions where the physical presence in the office is not necessary to carry out their work.
This is a great solution to generate a steady monthly income while traveling and exploring the world as a digital nomad.
However, the cons of this approach are that you will need to adapt to the policy of the company that employs you, including working hours and time zones.
Online Entrepreneurship
An online entrepreneur is a person who runs their own business on the internet.
They often take financial risks to create their own company that could offer services or products.
The difference between a freelance and an online entrepreneur is that the first one gets paid for their work/time while the online entrepreneur creates their own business, often depending on employees or freelancers who actually work for them.
Freelancers, though, can also be considered online entrepreneurs. This is because they will still have to treat their services as a business and will be prone to financial risks like any other online entrepreneurs.
The difference is that online entrepreneurs have virtually no limits to scaling their business compared to freelancers.
6 Digital Nomad Jobs To Do With No Experience
If you intend to look for a job that can be performed remotely, here is a quick list that can help you achieve your goals.
They are only some of one long list. Still, we want to share our advice for everyone, whether you are a digital nomad veteran looking to change career or beginners looking for ideas to start their digital nomad journey.
1. Graphic Designer
Logos, website images, and graphics can be created without being at an office.
You can do your work from home or anywhere else in the world.
More and more companies need support to create visual concepts into a mix of art and technology.
If you love art and can create interesting and appealing images, that is the right job for you!
2. Social Media Manager
The world is social! We hear every day how new companies are trying to take advantage of big platforms like TikTok, Instagram, and Facebook to promote their products and services.
But the social media world is moving faster, and all companies struggle to keep up with the latest trends as well as social media algorithm updates.
Social Media Managers can bridge this gap by managing the accounts of those businesses and creating social media strategies for them.
They will probably be involved in posting pictures, images, and short-form videos to create a community around brands and promote their products and services.
3. Online Teacher
Due to the pandemic, eLearning has seen a rapid increase.
Gone are the days when people were forced to attend classes in person as they can now join courses and lessons wherever they are in the world!
Online teaching has become one of the hottest jobs in the digital nomad space as it can be done from home without interacting in person with students.
And if you are specialized in a particular subject such as English or Yoga, online teaching can become a beginner-friendly yet profitable option.
Teaching online can help people learn something they are good at, so if you are fond of cooking, science, or even literature, you could teach your abilities and skills online.
4. Data Entry
You do not need much experience to do this job, but you need to know database software like Microsoft Excel or Word.
You should have excellent typing skills and the ability to collect data.
You could be called by to review data, verify information, or check outputs. It is an important job where accuracy and liability are much appreciated.
5. Copywriter
Slogans, ad copy, emails, sales pitches, newsletters, and landing pages can promote a company online.
A copywriter can often work with a graphic designer to create engaging content that sells.
You will need writing and communication skills to become a digital nomad copywriter.
Research skills will also be important to understand the market and the customer persona of your clients.
6. Transcription
Like data entry, you don't need much experience to make a transcription.
The main task here is to listen to audio and video and write down what you hear typing word for word.
You can be hired to transcript a call, a conference, or an interview.
It takes patience and training because the work must be made with accuracy to produce high-quality written documents.
3 Tips To Get A Digital Nomad Job With No Experience
Dreaming can be easy, but it would be better to understand what you can do or make to become a digital nomad.
We have therefore wrapped for you 3 tips to get your digital nomad job, even if you have no experience!
1. Understand Your Current Skillset
First, start understanding what you already know and what are your actual skills.
Of course, if you don't have any and you have to learn one, acquiring a niche skill is always your best bet.
Having more knowledge and experience in a specific field can help you to exchange your time with the specific needs of clients or employers.
---
You might also be interested in:
---
2. Sign Up For A Remote Job Posting Platform
The internet is wide and offers many solutions to people who want to work remotely.
The internet can help you understand the market, but it can also be a way to directly get in touch with someone who might need your skills via their website or social media.
However, signing up on job listing platforms that "do the job for you" can be an easier way to could be the first step to realizing a remote job and contacting employers who are actually hiring new staff.
Some of the platforms that we suggest you have a look at are:
If you want a bit of inspiration on which jobs to apply for, check out our list of the best digital nomad jobs for aspiring remote workers.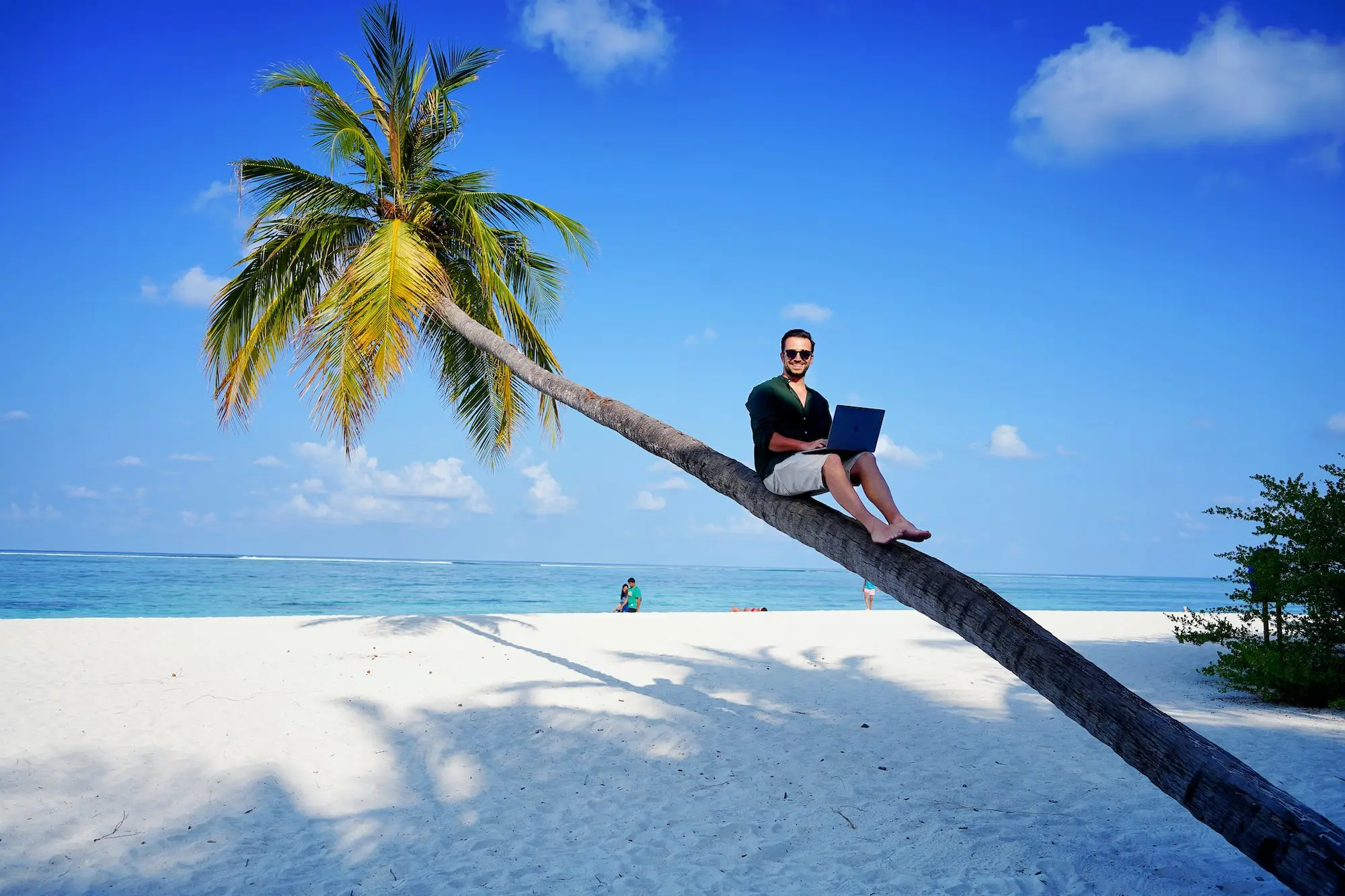 3. Join Online Communities
The internet is like a square where you can meet other people like you.
Facebook Groups or Online Forums such as Quora and Reddit can help you to get more information and give a hand to other people.
Some Facebook Groups that we recommend are:
One lesson should be: "No man is an island". Even if you are talented and brave enough to face the world alone, there is always the need to be in touch with others.
Are You Ready To Travel While Working Remotely?
If you want more digital nomad guides like these, sign up for our free newsletter and get upcoming articles straight to your inbox!
You can also follow us on Instagram and join our Facebook Group if you want to get in touch with other members of our growing digital nomad community!
We'll see you there, Freaking Nomads!
Disclosure: Hey, just a heads up that some of the links in this article are affiliate links. This means that, if you buy through our links, we may earn a small commission that helps us create helpful content for the community. We only recommend products if we think they will add value, so thanks for supporting us!