We know how amazing it is to travel the world while working remotely, but let's face it: staying connected and secure while on the go can be quite a challenge.
Public Wi-Fi networks can be a breeding ground for hackers, and accessing your favorite Netflix show from back home can be nearly impossible due to geo-restrictions. But don't worry; we've got you covered! In this article, we'll introduce you to the beautiful world of VPNs, how they can make your digital nomad life much easier, and help you choose the best for your needs.
So, buckle up and get ready to discover the best VPNs for digital nomads tailored to your unique needs and preferences. We'll guide you through our top picks and provide all the information you need to make an informed decision. Let's get straight into it.
Why Do You Need a VPN as a Digital Nomad?
Using a VPN is a must for digital nomads who want to stay safe and enjoy their online experience while traveling and working remotely.
Imagine being able to watch your favorite shows or keep up with your sports team from anywhere in the world. Wouldn't it be nice? Well, a VPN can do just that.
A good VPN helps you stay anonymous, making it harder for anyone to snoop on your online activities. And you might even find better deals on flights when using a VPN to search for tickets or keeping your login details and online banking activities hidden from prying eyes. Having a VPN by your side makes life on the road much easier and worry-free.
Top 7 Digital Nomad VPNs for 2024
Alright, folks! It's now time to dive into our top VPN picks to make your digital nomad life a breeze. We've carefully analyzed numerous VPNs and handpicked the best, considering factors like global server coverage, unblocking capabilities, privacy, speed, security, ease of use, and value for money. So, let's explore our top choices and find the perfect VPN companion for your adventurous nomad travels.
1. NordVPN: Best Overall Digital Nomad VPN
When trying out NordVPN, we were wowed by their fantastic privacy options, blazing speeds, and handy add-ons.
Their Threat Protection tool is great for blocking ads and harmful websites, while their Double encryption and wide server network enhanced our security while browsing. Unblocking streaming services like US Netflix, HBO, Amazon Prime Video, BBC iPlayer, Hulu, Disney+, and ESPN was easy and helped us stay connected to our favorite shows while traveling.
NordVPN's ability to bypass government restrictions and work seamlessly in China is also a huge bonus. With features like double VPN, Tor over VPN, automatic kill switch, built-in ad blocker, and 256-bit encryption, NordVPN provides the ultimate peace of mind. Finally, extra goodies like Meshnet for private encrypted networks, Dark Web Monitor for account breach alerts, Dedicated IP, and SmartDNS for easy streaming setup made the slightly higher price totally worth it.

With NordVPN, we felt secure and connected wherever our digital nomad adventures took us. That's why we think it's definitely one of the top VPNs for digital nomads you should seriously consider.
Features:
Servers/countries: 5,700+ servers in 60 countries
Streaming sites: Netflix, Amazon Prime, HBO, BBC iPlayer, Disney+, Apple TV+, Hulu, Peacock
Compatible with: Windows, Mac, Linux, Android, iOS
Money Back Guarantee: 30 Days
Support: Live chat, email, help center
NordVPN Pricing
1-month plan: $12.99 (Standard); $14.19 (Plus); $15.69 (Complete)
1-year plan: $124.35 (Standard); $158.70 (Plus); $248.55 (Complete)
2-year plan: $223.83 (Standard); $285.66 (Plus); $447.39 (Complete)
🔥
Special Discount:
These are the standard rates, but you get a
discount of up to 63%
if you choose their
1-year
or
2-year plans
.
2. ExpressVPN: Most Premium VPN Option
ExpressVPN impressed us with its ultra-fast connections, superior security, and inventive features like its own groundbreaking Lightway protocol. As we all know, a fast, reliable, and secure internet connection is crucial for digital nomads, and ExpressVPN certainly delivered.
Although ExpressVPN comes with a higher price tag than some alternatives, the seamless unblocking of websites and services, along with cutting-edge features like selective routing, the innovative TrustedServer approach, the Network Lock safeguard, and private DNS functionality, make it a worthwhile choice.
The option to pay using Bitcoin for added anonymity and the ability to explore hidden .onion websites via Tor is also a nice addition. With a vast network of over 3,000 VPN servers in 94 countries, you can easily access content from around the globe, even in locations known for blocking VPNs, such as China, Indonesia, and Iran.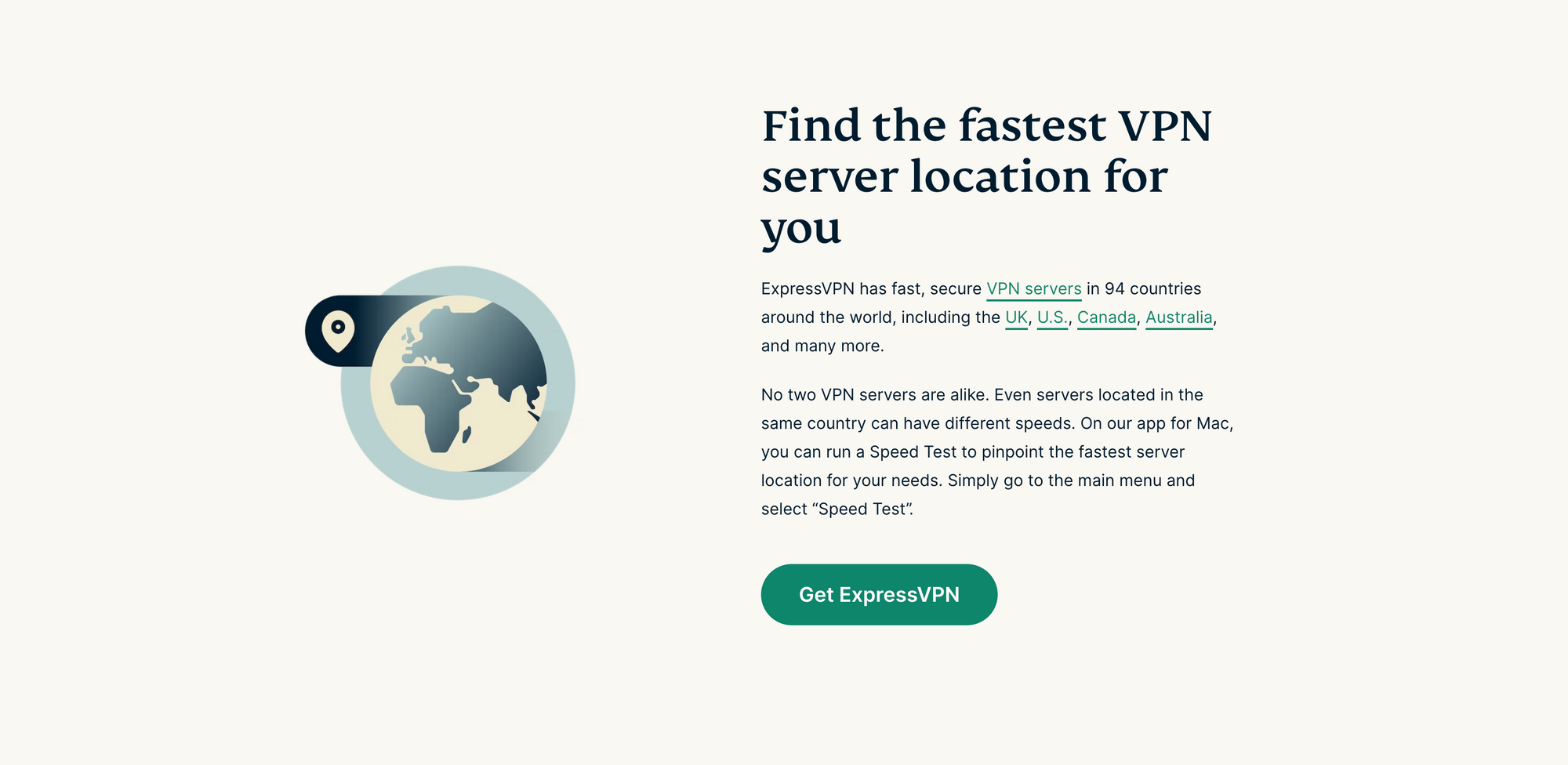 As digital nomads, we appreciated the handy built-in speed test tool that ensured we always found the quickest server for our work activities, whether in a bustling cafe or a coworking space in a jungle. Finally, the addition of the Threat Manager, which prevents communication between apps, sites, trackers, and malicious parties, along with the groundbreaking Lightway protocol for an optimized and more dependable VPN experience, distinguishes ExpressVPN as a top contender for digital nomads seeking a reliable and secure online experience.
Features
Servers/countries: 3,000+ servers in 94 countries
Streaming sites: Netflix, Amazon Prime, HBO, BBC iPlayer, Disney+, Apple TV+, Hulu
Compatible with: Windows, Mac, Linux, Android, iOS
Money Back Guarantee: 30 Days
Support: Live chat, email
ExpressVPN Pricing
1-month plan: $12.95/month
6-month plan: $9.99/month (billed as $59.95 every six months)
12-month plan: $8.32/month (billed as $99.84 annually)
3. Surfshark: Best Value-for-Money
Surfshark won us over with its perfect balance between cost and quality. It has everything we need as digital nomads: top-notch security, privacy, and performance - all without breaking the bank.
It's not just about the price, though. It's also packed with neat features like their ad-blocking CleanWeb 2.0 and their VPN split tunneling Bypasser. But what set it apart was the unlimited device connections, a fantastic feature for digital nomads on the go. We also found Surfshark's speeds pretty consistent during testing, and we loved knowing they don't keep logs of our online activities.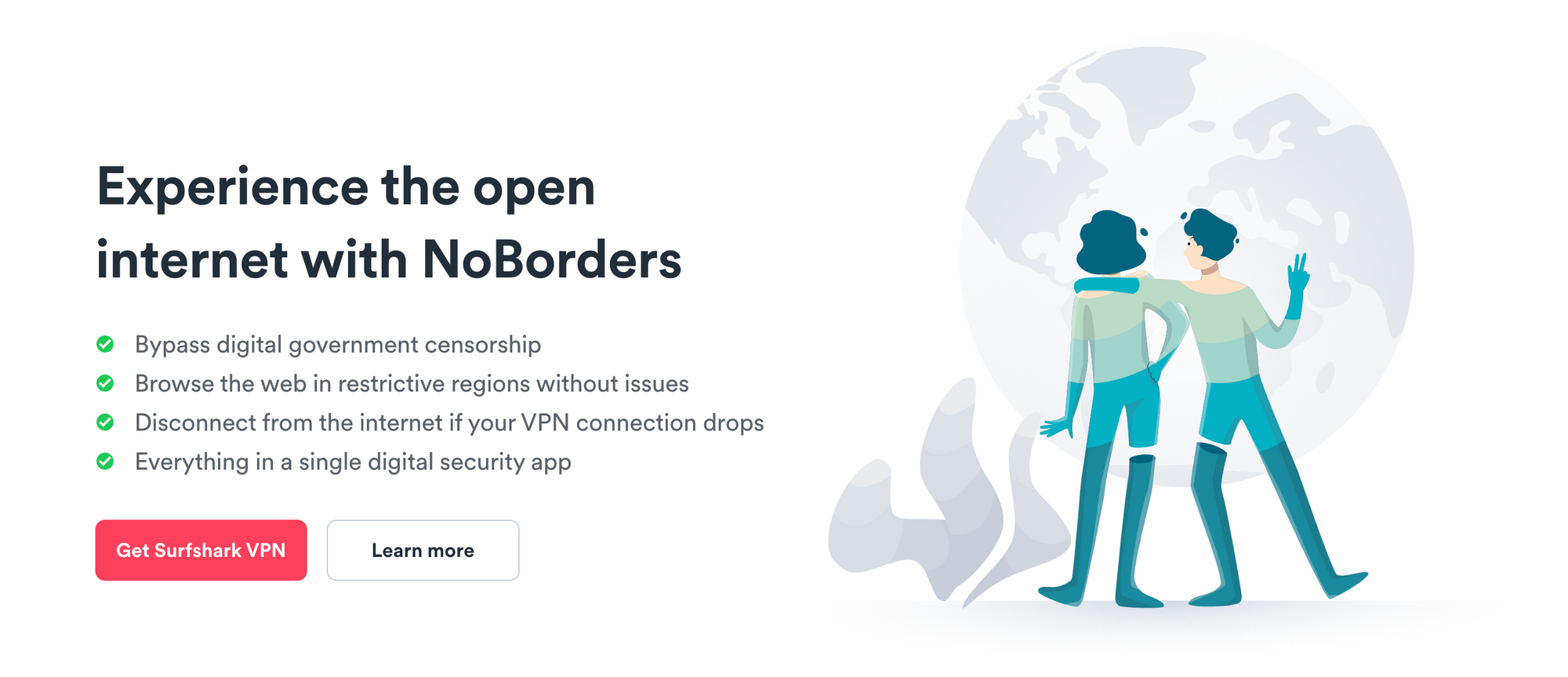 Surfshark believes the internet should be open for everyone, so their NoBorders mode lets you use the VPN no matter where you are. Plus, we could change our IP address and encrypt our internet activity with top-notch encryption, which was also helpful for websites that limit usage using your IP address (image compression websites, for instance).
The icing on the cake? We could choose from different secure protocols, with WireGuard® set as the default and other options like OpenVPN or IKEv2/IPsec available too.
Features:
Servers/countries: 3,200+ RAM-only servers in 100+ countries
Streaming sites: Netflix, Amazon Prime, HBO, BBC iPlayer, Disney+, Apple TV+, Hulu, Peacock
Compatible with: Windows, Mac, Linux, Android, iOS
Money Back Guarantee: 30 Days
Support: Live chat, email, help center
Surfshark Pricing
1-month plan: $12.95/month
12-month plan: $3.99/month (billed as $59.76 every 12 months)
2-year plan: $2.39/month (billed as $59.76 every 2 years)
4. CyberGhost: Best Nomad VPN for Beginners
CyberGhost's extremely user-friendly interface and exclusive NoSpy servers caught our attention.
As digital nomads always on the move, we appreciated how the streaming-optimized servers allowed us to binge-watch our favorite shows from anywhere. True, the connection speeds occasionally varied, but considering the price and ease of use, CyberGhost ranks high on our list.
The security aspect was impressive, too, and we enjoyed end-to-end protection across all our devices with robust encryption. Additionally, the automatic kill switch provided an extra layer of security, and their split-tunneling feature allowed us to choose which apps we wanted to protect, which was quite convenient.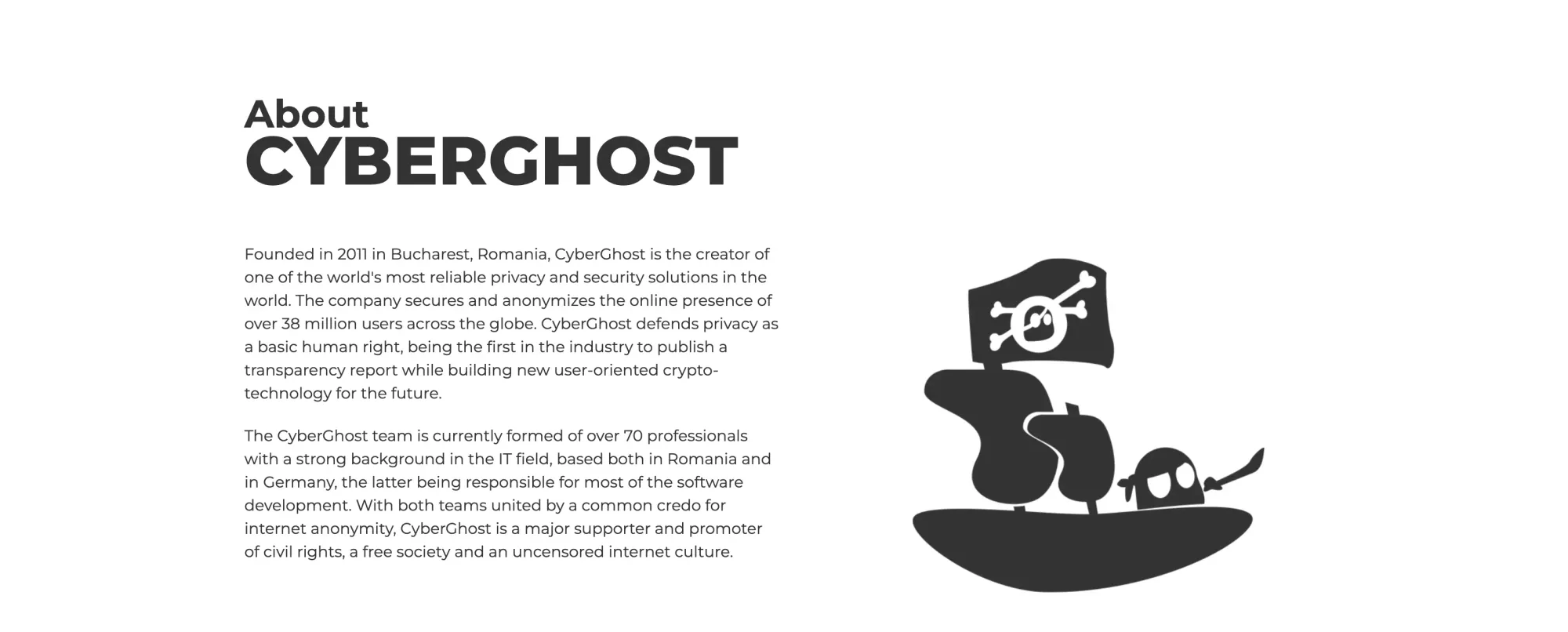 But CyberGhost's commitment to maintaining our online privacy won us over. Being based in Romania (outside those pesky surveillance alliances) and adhering to a strict No-Logs policy meant we could relax, knowing our privacy was well protected. We loved that we could also use CyberGhost VPN on up to 7 devices simultaneously with just one subscription. And with more than 7,000 servers in 90 countries, we never had to worry about being unable to access our desired content.
CyberGhost checked all the right boxes for us, providing excellent digital protection, top-tier privacy, and an outstanding user experience, all at a reasonable price.
Features:
Servers/countries: 7,300+ servers in 91 countries
Streaming sites: Netflix, Amazon Prime, BBC iPlayer
Compatible with: Windows, Mac, Linux, Android, iOS
Money Back Guarantee: 45 Days
Support: Live chat, email, help center
CyberGhost Pricing
1-month plan: $12.99/month
6-month plan: $6.99/month (billed as $41.94 every 6 months)
2-year plan: $2.11/month (billed $56.97 first 2 years and yearly thereafter)
5. IPVanish: Best for Device Compatibility
We were genuinely impressed with IPVanish's robust privacy features and device compatibility when putting it to the test.
The Scramble function effectively concealed VPN usage and contributed to our sense of security while online. The vast server network and high-speed connections were commendable, although we encountered some limitations with streaming compatibility.
However, one of IPVanish's most significant advantages for digital nomads is, without any doubt, the VPN's compatibility with multiple devices. With dedicated apps for all major platforms and operating systems, we were able to secure every device we owned, making it convenient and reassuring as we moved between locations. Additionally, the unmetered unlimited simultaneous connections feature allowed us to connect multiple devices to IPVanish's VPN network simultaneously without any restrictions. This flexibility proved invaluable when managing our numerous devices and maintaining privacy at all times while working remotely and traveling.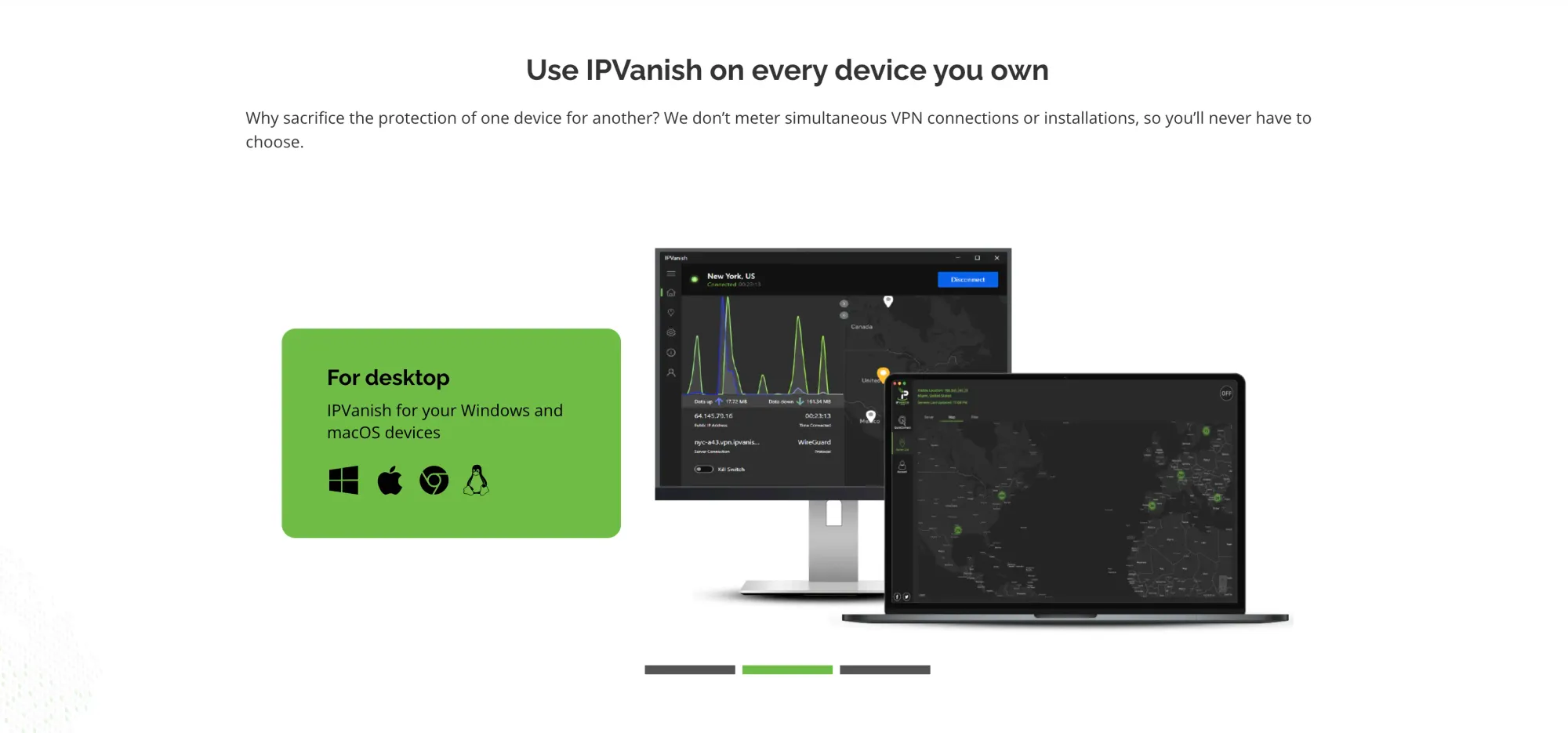 Beyond device compatibility and unmetered connections, IPVanish offers top-notch browsing experiences, customizable VPN filtering for specific apps, a VPN kill switch, and a versatile SOCKS5 proxy.
Features:
Servers/countries: 1,900+ servers in 75+ locations
Streaming sites: Only few streaming platforms
Compatible with: Windows, Mac, Linux, Android, iOS
Money Back Guarantee: 30 Days
Support: Live chat, email, phone
IPVanish Pricing
1-month plan: $11.99/month
1-year plan: $4.50/month (billed as $53.99 first year)
2-year plan: $3.33/month (billed $79.99 first 2 years)
🔥
These are the standard rates, but you can
save 82%
if you choose their
2-year plan
!
6. Atlas VPN: Best Up-and-Coming Nomad VPN
Atlas VPN is an up-and-coming player in the VPN market, offering an affordable solution without compromising essential features. This emerging VPN is an excellent choice for digital nomads seeking a new, innovative virtual private network.
In our tests, Atlas VPN's sleek interface and their unique SafeBrowse feature smoothly protected us from malicious websites. The service is ideal for casual browsing and streaming, even if it doesn't have the most extensive server list or the fastest connections.
Atlas VPN stands out as the top emerging VPN for digital nomads due to its budget-friendly pricing and numerous security features. For instance, SafeSwap servers allow users to access the internet using multiple IP addresses simultaneously, providing an additional layer of online security and privacy.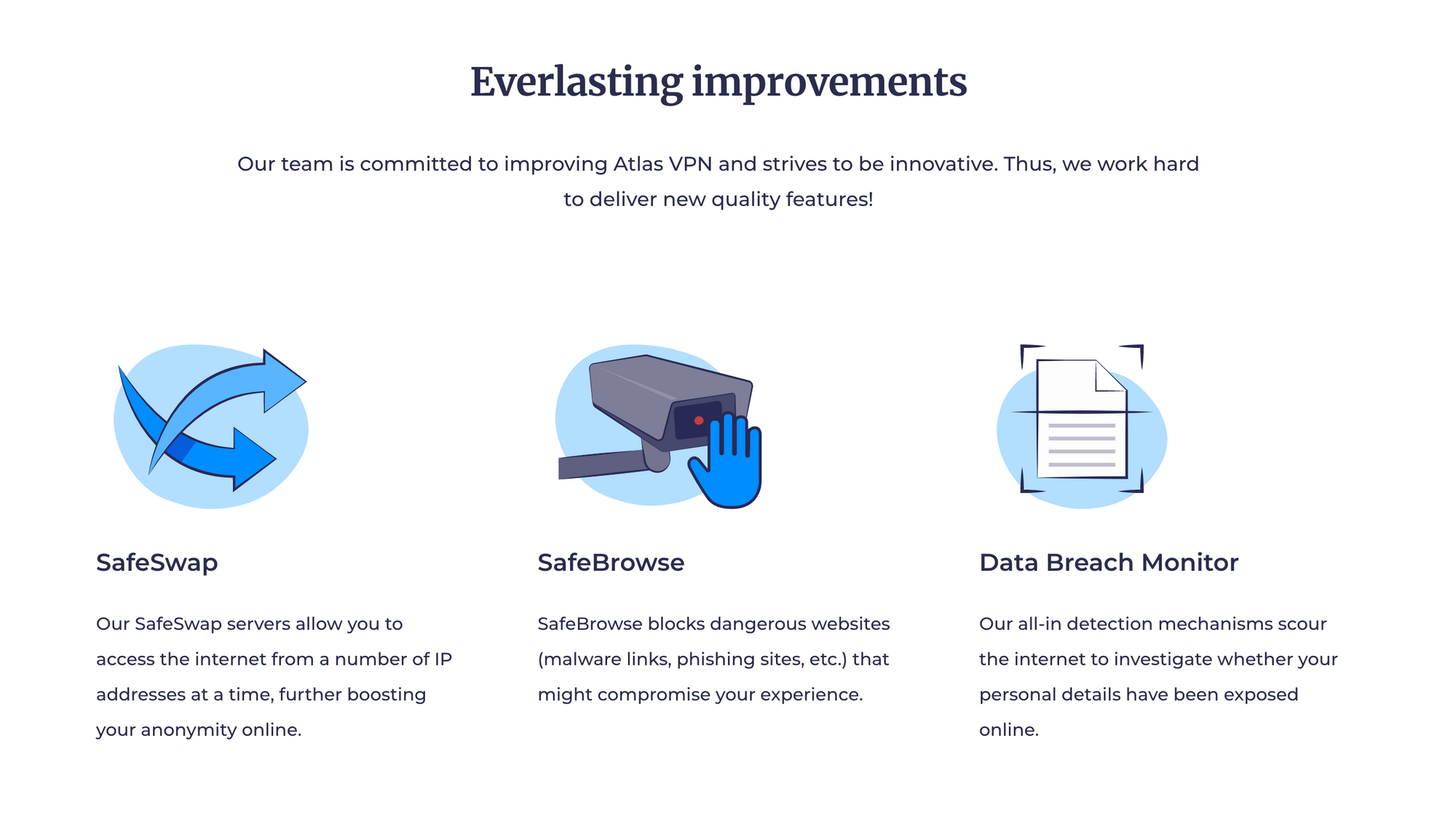 Atlas VPN's integration of the state-of-the-art WireGuard® protocol guarantees a secure connection and smooth online experience, whether streaming, gaming, or browsing. Other notable features include split tunneling, MultiHop+, and the Data Breach Monitor, which scans the internet for any exposed personal data.
We firmly believe Atlas VPN has the potential to excel in the competitive VPN market. If you're a digital nomad seeking a rising star that perfectly balances cost and essential features, look no further.
Features:
Servers/countries: 700+ servers in 28 countries
Streaming sites: Only few streaming platforms
Compatible with: Windows, Mac, Android, iOS
Money Back Guarantee: 30 Days
Support: Email, request form
Atlas VPN Pricing
1-month plan: $10.99/month
1-year plan: $4.08/month (billed as $49.01 for the 1st year, after $131.88)
3-year plan: $1.83/month (billed as $71.49 for the first 3 years, after $428.61)
We had a delightful experience testing HideMyAss (HMA). Its extensive server network covered us no matter where we roamed, and the user-friendly interface was easy to navigate.
The most impressive aspect? HMA boasts the world's largest VPN network, with over 1100 servers in 290+ locations worldwide. This means that no matter where our travels took us, we had a reliable and speedy connection to the internet, making it easy to stay connected and up-to-date with work and loved ones.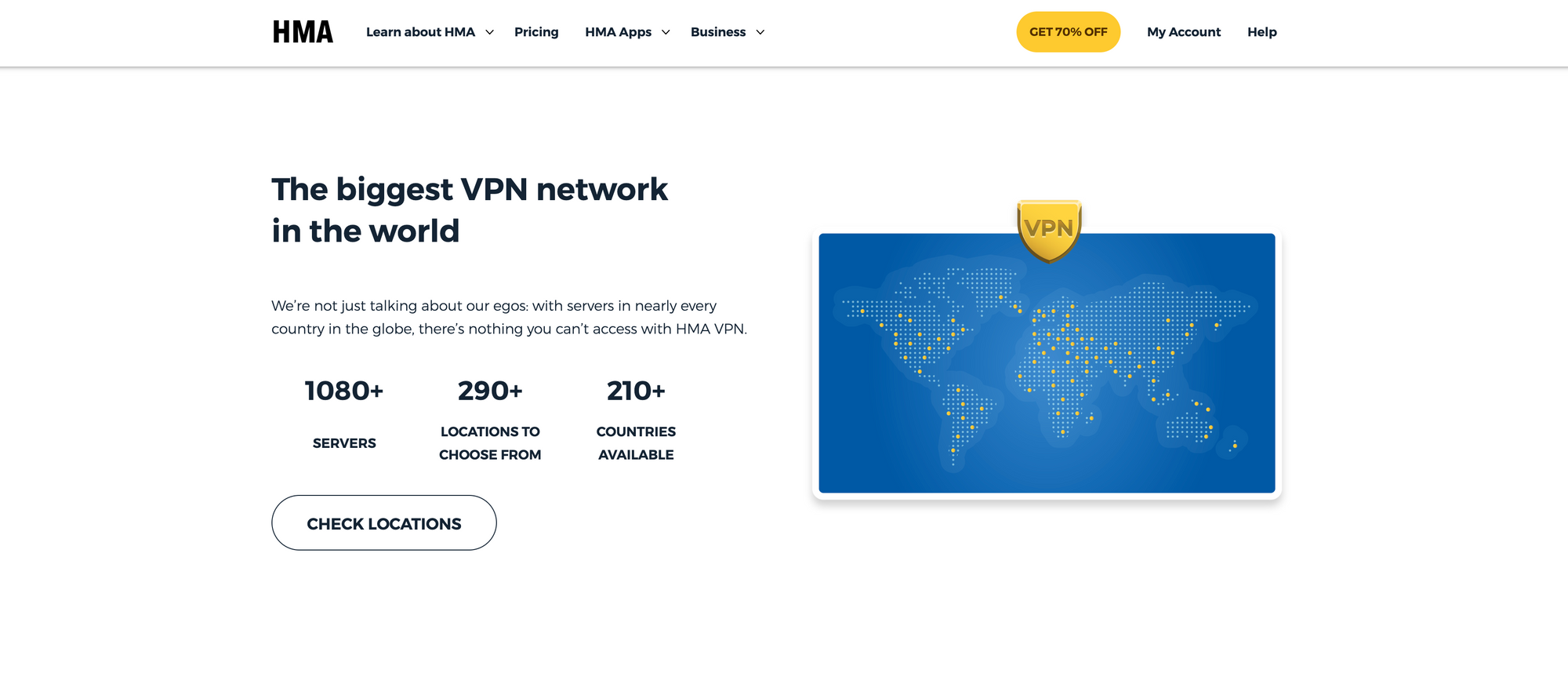 While HMA is based in the UK, we found it a solid choice for file sharing and torrenting. It might not be the top pick for evading censorship in every country, but it compensates with its worldwide coverage and ease of use. HMA's no-logging policy and Smart Kill Switch kept us feeling safe and secure during our online adventures. And the Split Tunneling feature was a great bonus, allowing us to choose which apps needed VPN protection and which could roam free.
HMA proved to be a reliable companion for digital nomads like us. Its vast server network, innovative privacy features, and compatibility across multiple devices kept us connected and protected throughout our nomad travels, so we couldn't leave it out of our list.
Features:
Servers/countries: 1,100+ servers in 290+ locations
Streaming sites: Only few streaming platforms
Compatible with: Windows, Mac, Linux, Android, iOS
Money Back Guarantee: 30 Days
Support: Live chat, email, help center
HideMyAss (HMA) Pricing
5 Connections
12-month plan: $4.99/month (billed as $59.88 annually)
36-month plan: $2.99/month (billed as $107.64 every 3 years)
10 Connections
12-month plan: $7.99/month (billed as $95.88 annually)
24-month plan: $6.99/month (billed as $165.76 every 2 years)
36-month plan: $5.99/month (billed as $215.64 every 3 years)
So, What's the Best VPN For Digital Nomads?
Alright, here's the thing: choosing the perfect VPN for digital nomads really depends on your personal needs.
Overall, we believe that NordVPN is the best choice because of its excellent privacy, ultra-fast speeds, and nifty features perfectly suited to digital nomads. If budget is a concern, Surfshark offers a great balance between cost and quality without sacrificing the essentials. For those looking for top-of-the-line, instead, ExpressVPN delivers blazing-fast connections and creative features while CyberGhost is ideal for newcomers, thanks to its user-friendly setup and awesome streaming perks.
Other options in the market have their own strengths: IPVanish is perfect for syncing various devices, HideMyAss for wide-ranging coverage, PrivateVPN for a blend of functionality and value, and Atlas VPN is the promising newcomer.
At the end of the day, it's all about what works best for you – whether it's price, server locations, streaming, or security features that make the difference.
---
You may also be interested in:
---
How To Set Up a VPN for Digital Nomads
Setting up a VPN for digital nomads is a straightforward process that can be accomplished in just a few easy steps. By following these instructions, you'll be ready to enjoy a secure and private internet connection, no matter where your travels take you.
Research and choose a reputable VPN provider that suits your needs and budget
Sign up for a subscription plan with your chosen VPN service
Download and install the VPN app or software for your specific operating system (e.g., Windows, Mac, Android, iOS)
Launch the VPN application and sign in with your account credentials.
Select a VPN server location based on your desired virtual location or the fastest available connection.
Activate the VPN connection by clicking the "connect" button or a similar option in the app.
Verify your VPN is connected and working properly by checking your IP address or using a VPN leak test tool online.
Finding The Best Digital Nomad VPN: What To Look For?
Extensive global coverage
As a digital nomad, you need a VPN that has servers in the countries you'll be visiting. Trust us: you don't want your VPN to fail during important Google Meet calls or Zoom presentations. Availability is crucial.
Fast internet speeds
While every VPN will impact your connection speed to some extent, the best providers will only reduce it by around 10-20%. You'll want a VPN that minimizes this lag for a smooth browsing experience.
Compatibility with multiple devices
Ensure your chosen VPN has apps for all your gadgets, making the experience seamless and user-friendly. Also, check how many devices are covered in their plan – you might need up to six devices to use your phone and laptop simultaneously, so ensure your VPN can handle it.
Automatic kill switch
Even the best VPNs occasionally drop out, but your online safety shouldn't be compromised. Look for a provider with an automatic kill switch feature that disconnects your internet if the VPN drops, then reconnect when it's back up and running.
First-class customer support
Like any essential business tool, excellent customer service is vital for your VPN provider. You need the ability to contact them if any issues arise, ensuring your work can continue smoothly, no matter where you are in the world.
FAQs About The Best VPNs for Digital Nomads
Can a VPN help in accessing region-locked content?
A VPN can act as your digital passport, teleporting your online presence to different countries and granting access to geographically restricted content as if you were a local.
What is a no-logs policy?
A no-logs policy is like a librarian with amnesia, ensuring that a VPN provider doesn't keep records of your online activities, so even if asked, they have nothing to share about your digital journey.
How does a VPN keep my online activities private?
A VPN functions as an invisibility cloak, encrypting your data and masking your IP address, so you can wander through the digital landscape undetected and untraceable.
What should I look for in a VPN for digital nomads?
Seek a VPN that's an all-in-one digital companion, offering extensive global coverage, speedy connections, multi-device compatibility, an automatic kill switch, and stellar customer support.
How do I set up a VPN for my device?
Setting up a VPN is as simple as downloading an app. You just need to open your VPN, select a server location, and press connect. This will allow you to transform your device into a secure and private communication hub.
Can a VPN help bypass government restrictions in countries like China?
A VPN can be your digital accomplice, stealthily bypassing government firewalls in restrictive countries and granting unrestricted global internet access.
What are some popular streaming platforms that can be unblocked with a VPN?
A VPN can be your digital key, unlocking popular streaming platforms like Netflix, Hulu, BBC iPlayer, and Amazon Prime Video, giving you a front-row seat to your favorite shows.
Is it possible to use a VPN on multiple devices simultaneously?
Many VPNs offer a digital buffet, allowing you to connect and protect multiple devices simultaneously, keeping all your gadgets secure under one account.
Can a VPN improve my internet connection speed?
While a VPN isn't a digital speed booster, it can help bypass ISP throttling, leading to more stable and sometimes faster connection speeds, especially during peak hours or data-heavy tasks.
Why can't I use a free VPN instead?
Opting for a free VPN is possible, but be prepared for limitations like reduced streaming access, slower download speeds, and overcrowded servers. Moreover, free VPNs can compromise your privacy, as some sell user data to third parties or fail to provide adequate encryption, like in the 2020 UFO VPN incident.
Are there any risks or legal concerns in using a VPN?
Risks for VPN usage depend on your travel destination. In countries like Iran and Oman, VPNs are banned due to strict government laws related to them. Be sure to research local laws, especially in more restrictive regions. However, VPNs are legal in most countries, including the US, Germany, and the UK.
Ready To Keep Your Online Activities Secure While Traveling and Working Remotely?
If you want to receive digital nomad guides like these, sign up for our free newsletter and get upcoming articles straight to your inbox!
You can also follow us on Instagram and join our Facebook Group if you want to get in touch with other members of our growing digital nomad community!
We'll see you there, Freaking Nomads!
Disclosure: Hey, just a heads up that some of the links in this article are affiliate links. This means that, if you buy through our links, we may earn a small commission that helps us create helpful content for the community. We only recommend products if we think they will add value, so thanks for supporting us!