If you are a remote worker, you're probably well aware of the challenges that come with living and working in an environment where physical location doesn't define your job.
After all, it requires more than an open mind to navigate global digital infrastructure while producing results from the comfort of any corner of the world. One of those parts is ensuring a secure connection when accessing online resources: something that's generally provided by Virtual Private Networks (VPNs).
Whether you're looking for additional privacy or extra security as you work remotely, there are dozens of excellent VPN providers available to boost your productivity and protect your personal and work information from malicious threats.
In this review, we'll be exploring what makes VPNs so important for remote workers like yourself – and even better - which are the best-in-class VPN services.
Why Do You Need a VPN as a Remote Worker?
Having a VPN in place as a remote worker is super important, but you might be wondering why this is the case. Let me share some clear, simple reasons for you:
Worldwide Access: VPNs enable remote workers to bypass geographical limitations that some digital resources or sometimes countries implement. This means you can access necessary work tools and resources regardless of your location around the globe.
Enhanced Data Security: Working remotely often requires dealing with sensitive information online, especially if you are a remote employee. VPNs add that sweet layer of protection by encrypting your data and making it more difficult for cyber miscreants to intercept and misuse it.
Privacy Shielding: VPNs prevent your Internet Service Provider (ISP) or any third party from monitoring your online activities, ensuring any sensitive or proprietary information you handle remains confidential.
Stable Connectivity: Depending on your location, as a remote worker you may face unstable internet connections. A quality VPN can provide a more dependable connection, enabling uninterrupted work.
Preventing Bandwidth Throttling: ISPs sometimes reduce your internet speed if you consume a lot of data. Particularly for data-intensive roles, a VPN will conceal your online activities from your ISP, preventing potential bandwidth throttling.
Now that we've established why a VPN is an absolute must-have for remote workers, it's time to dive into the details. Strap in as we take a closer look at which VPN providers we consider the best for remote workers.
Best VPNs for Remote Work: Our Top Picks
1. NordVPN: Best Overall for Remote Workers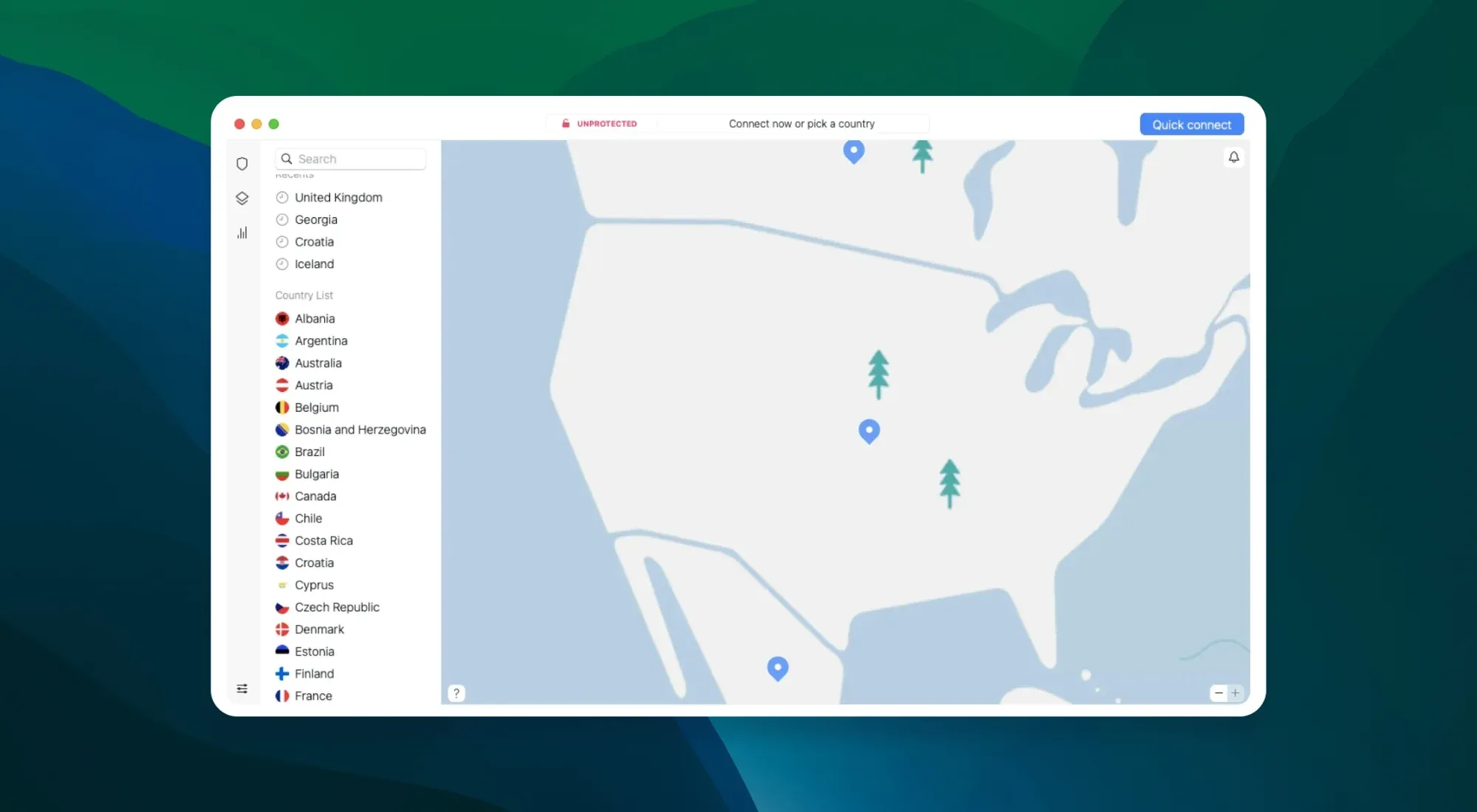 NordVPN tops our list of the best VPNs for remote workers, offering a formidable blend of speed, security, and user-friendly features.
It's one of the most secure VPNs available, combining AES-256 encryption with a comprehensive suite of security tools, including an ad and malware blocker, and multi-hop connections. For remote workers, NordVPN's annual standard plan is a valuable investment, allowing for 6 devices to connect simultaneously and providing access to over 5,400 servers across 59 countries.
NordVPN also enhances remote work with its optional security-focused products, such as NordLocker for encrypted file storage and NordPass for password management. On top of that, you get the option for a dedicated IP address (starting from $3,69/month), which is particularly beneficial for remote professionals who may require it for specific work uses like software testing from a specific location or IP.
Key VPN Information:
Type of VPN: Personal, remote work, mobile, and split tunneling
Server Number and Locations: Over 5,400 servers in 59 countries
Browser Extensions: Yes, for Chrome, Edge, and Firefox
Free Trial: 30-day money-back guarantee
24/7 Customer Support: Yes
Anonymous Browsing: Yes
Kill Switch: Yes
No-Logs Policy: Yes
Split-Tunneling: Yes
Pros and Cons:
2. Surfshark: Ideal for Tech-Savvy Remoters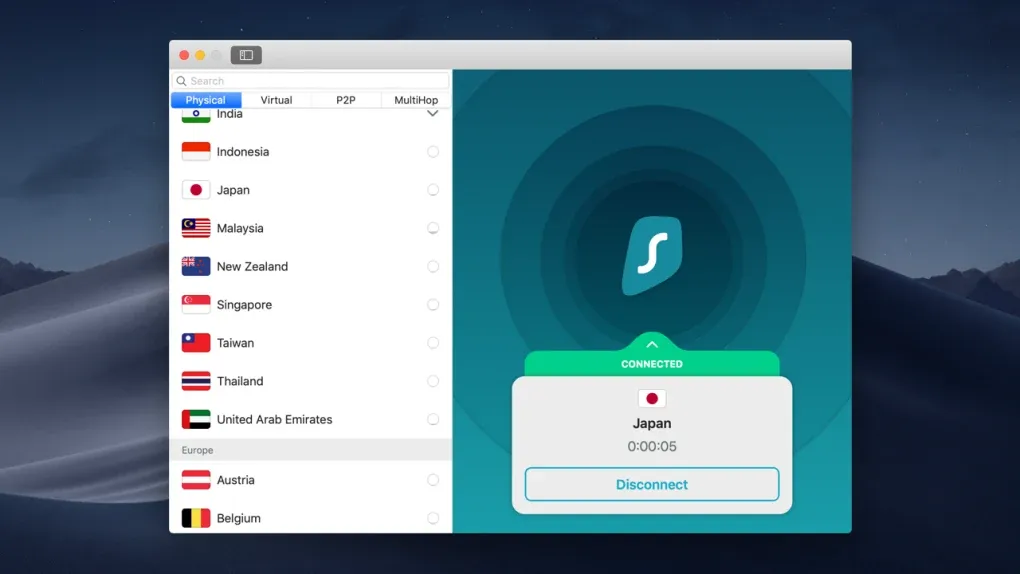 Surfshark is instead a standout VPN for remote workers who are budget-conscious yet require advanced set of features. It offers a competitive edge with its unlimited simultaneous device support and a comprehensive suite of privacy tools, all for a very affordable annual subscription fee.
Surfshark's no-logs policy and the Camouflage Mode on each server ensure that your online activities and identity remain confidential, which is paramount for remote work involving sensitive data.
The service includes CleanWeb to block ads, trackers, and malware, and a Whitelister tool that allows select apps and websites to bypass the VPN. This selective tunneling is especially useful for accessing local services while maintaining VPN protection for other tasks. With 24/7 customer support and a 30-day money-back guarantee, Surfshark shows great attention to user satisfaction and support, which is something we really like about this VPN service.
Key VPN Information
Type of VPN: Personal, remote work, mobile, and split tunneling
Server Number and Locations: Over 3,200 servers in 100 countries
Browser Extensions: Yes, for Chrome and Firefox
Free Trial: 30-day money-back guarantee
Customer Support: 24/7 availability
Anonymous Browsing: Supported
Kill Switch: Included
No-Logs Policy: Strict adherence
Split-Tunneling: Available
3. ExpressVPN: Best For Global Remoters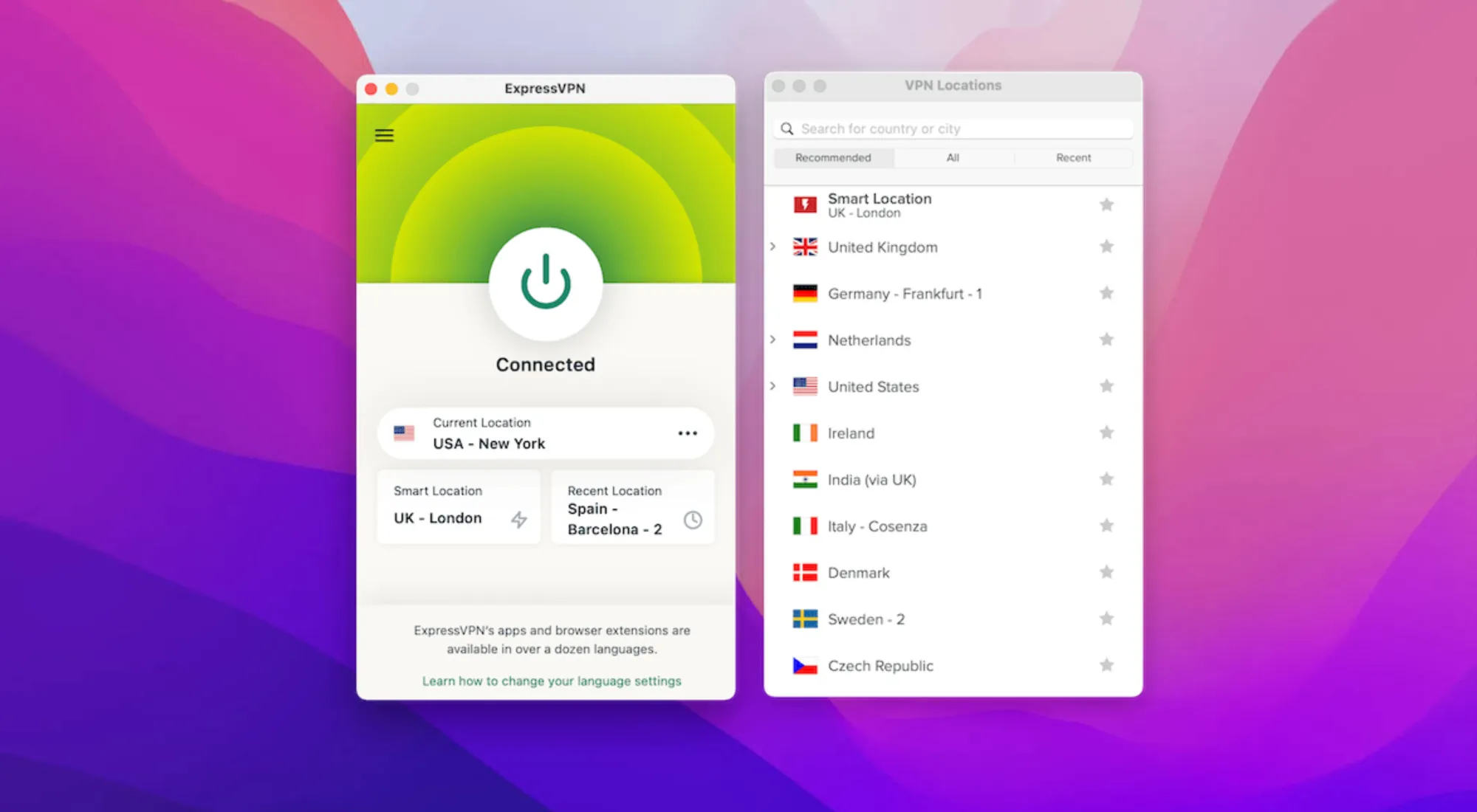 ExpressVPN is our favorite option for remote workers who need reliable access across a truly global network. Its service has a higher price tag which reflects though its premium offerings, including servers in 105 countries.
ExpressVPN's TrustedServer technology ensures that data is never written to a hard drive, maintaining the integrity of each session and, thanks to their support for up to 8 devices simultaneously, remote workers can easily stay connected across all their devices.
ExpressVPN's commitment to privacy is evident with its no-logs policy and the innovative Bitcoin payment option caters to those remote professionals who prioritize anonymity. The company network and proprietary Lightway protocol is also designed to deliver faster speeds and quick reconnections, which our tests confirmed, ensuring efficient remote work without the lag.
Key VPN Information
Type of VPN: Personal & secure remote access for work, mobile, and split tunneling
Server Number and Locations: Over 3,000 servers worldwide
Browser Extensions: Yes, for Chrome, Edge, and Firefox
Free Trial: 30-day money-back guarantee
Customer Support: 24/7 availability
Anonymous Browsing: Supported
Kill Switch: Included
No-Logs Policy: Strict adherence
Split-Tunneling: Available
4. Atlas VPN: Best For New VPN Users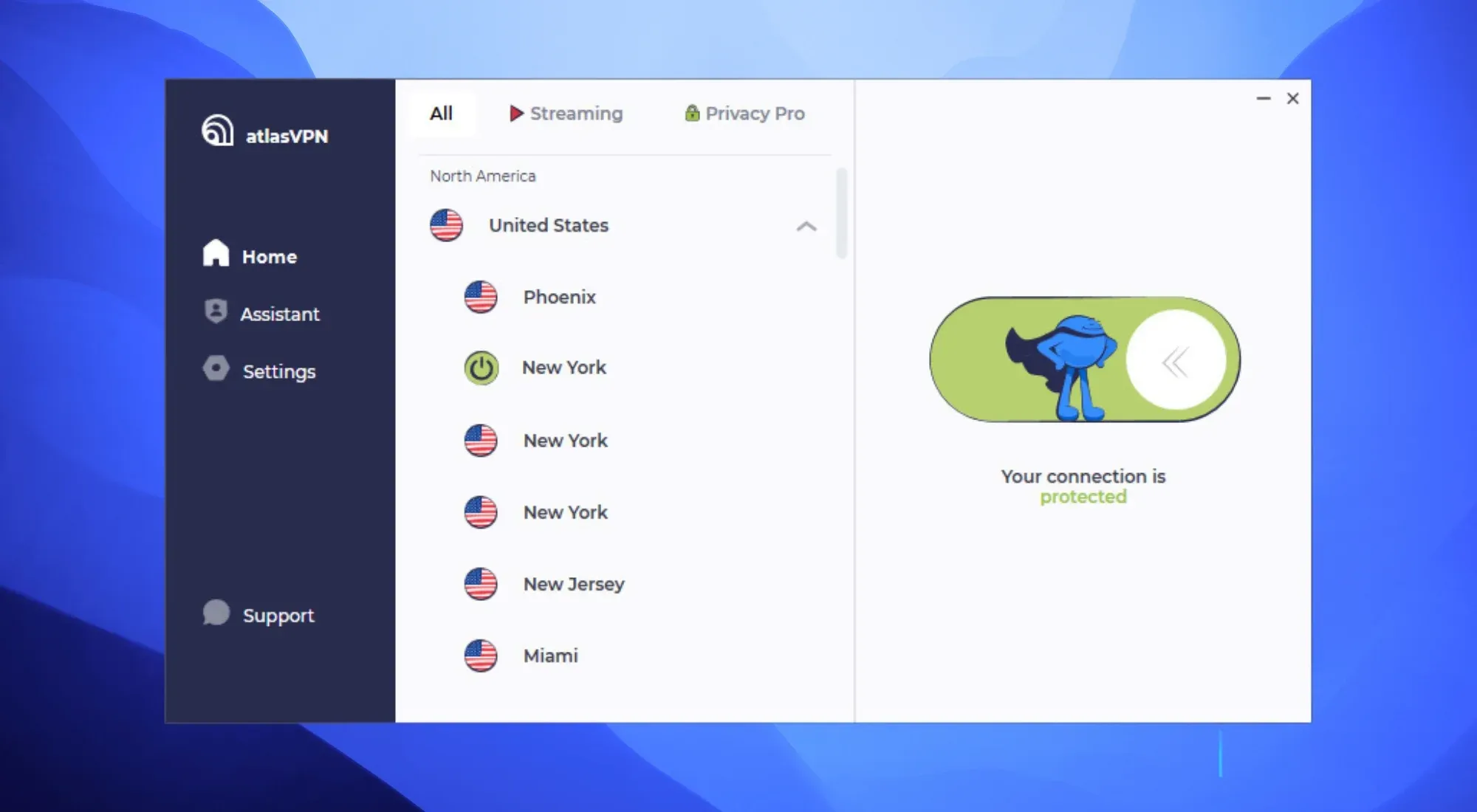 Next in our top VPN list, there is Atlas VPN. This is surely the go-to choice for beginners in the VPN space, thanks to its user-friendly interface and straightforward setup. With a focus on simplicity without sacrificing security, what we like about Atlas VPN is that they offers a free version for those looking to test the waters before committing to a premium plan. The premium version is also competitively priced, making it accessible for all users, including remote workers looking for an affordable VPN service.
Above all, Atlas VPN ensures that remote workers like us can enjoy an open internet with features like MultiHop servers for added privacy and 10Gbps servers for high-speed connectivity. Furthermore, its unlimited device policy means that one subscription can cover all of our work devices, ensuring a truly comprehensive protection.
Key VPN Information
Type of VPN: Personal and remote work with MultiHop and Privacy Pro servers
Server Number and Locations: Over 700 servers in 28 countries
Browser Extensions: Yes, for Chrome, and Firefox
Free Trial: 30-day money-back guarantee on plans longer than one month
Customer Support: 24/7 availability
Anonymous Browsing: Supported
Kill Switch: Included
No-Logs Policy: Verified
Split-Tunneling: Available
5. Cyberghost: Best For Privacy Features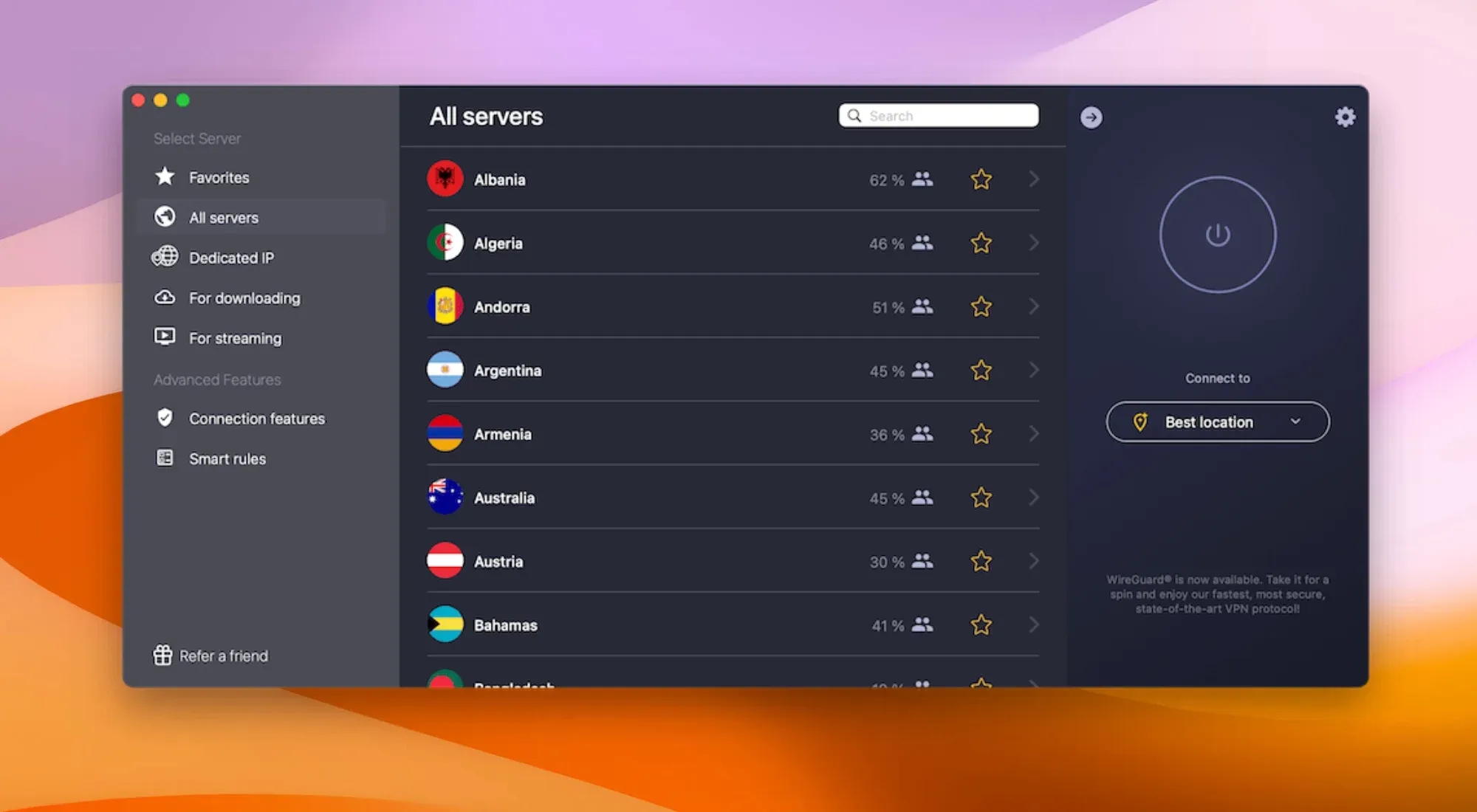 CyberGhost VPN is our choice for the best VPN service for privacy features, catering to remote workers who require both anonymity and security. With a vast network of 9,831 servers worldwide, CyberGhost offers top privacy for all devices, including specific apps for Windows, iOS, Mac, Android, or Linux. Its strong encryption and no-logs policy in Romania—a country with privacy-friendly laws—allow a secure foundation for all online activities.
What makes CyberGhost stand out are its features like the automatic kill switch, DNS and IP leak protection, and the possibility to use dedicated IPs, which are beneficial for us remote workers who often need to access IP addresses on-restricted networks. The service also boasts fast speeds, making it suitable for streaming, gaming, and large file downloads without compromising security, which is a great addition.
And with 24/7 customer support and a generous 45-day money-back guarantee, CyberGhost VPN is surely in out list of the most reliable and privacy-focused choice for location-independent professionals.
Key VPN Information
Type of VPN: For personal & remote access for work, mobile, and split tunneling
Server Number and Locations: Over 9,800 servers in 91 countries
Browser Extensions: Yes, for Chrome and Firefox
Free Trial: 45-day money-back guarantee
Customer Support: 24/7 availability
Anonymous Browsing: Supported
Kill Switch: Included
No-Logs Policy: Verified
Split-Tunneling: Available
6. IPVanish: Best For Connection Speed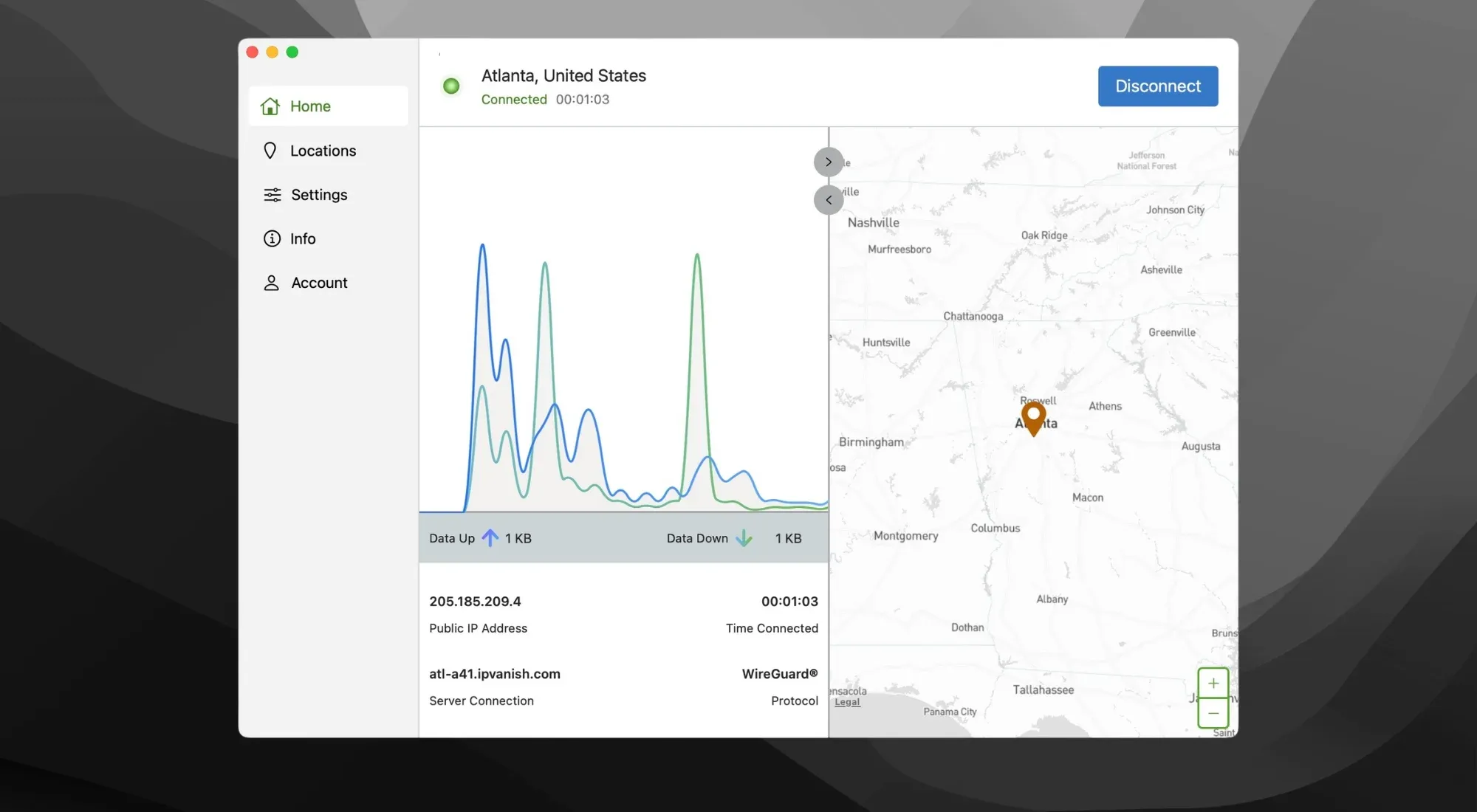 Last in our list, we got IPVanish, which earns its spot as the best VPN for speed due to its strong focus on speed and security, making it a nice choice for remote professionals who want to keep their online activities shielded from prying eyes while getting a fast connection. With a reasonable yearly plan, IPVanish offers an attractive package for those looking for a balance between cost and performance. It doesn't limit the number of devices you can have on one account, meaning you can secure every device in your remote work arsenal without worrying about additional costs.
IPVanish provides advanced encryption standards, a verified no-traffic-logs policy, and unmetered connections, ensuring that any remote worker can have the freedom and security to work from any location. Furthermore, this VPN service includes the WireGuard® protocol, which is praised for its high-speed performance, making it suitable for everything from high-speed browsing to HD streaming.
Key VPN Information
Type of VPN: Personal and remote work with a focus on privacy
Server Number and Locations: Over 2,000 servers in 75 different locations
Browser Extensions: Only for Chrome
Free Trial: 30-day money-back guarantee
Customer Support: 24/7 live chat, email, and phone support during business hours
Anonymous Browsing: Supported
Kill Switch: Included
No-Logs Policy: Verified
Split-Tunneling: Available
Key Features to Look for in a VPN for Remote Working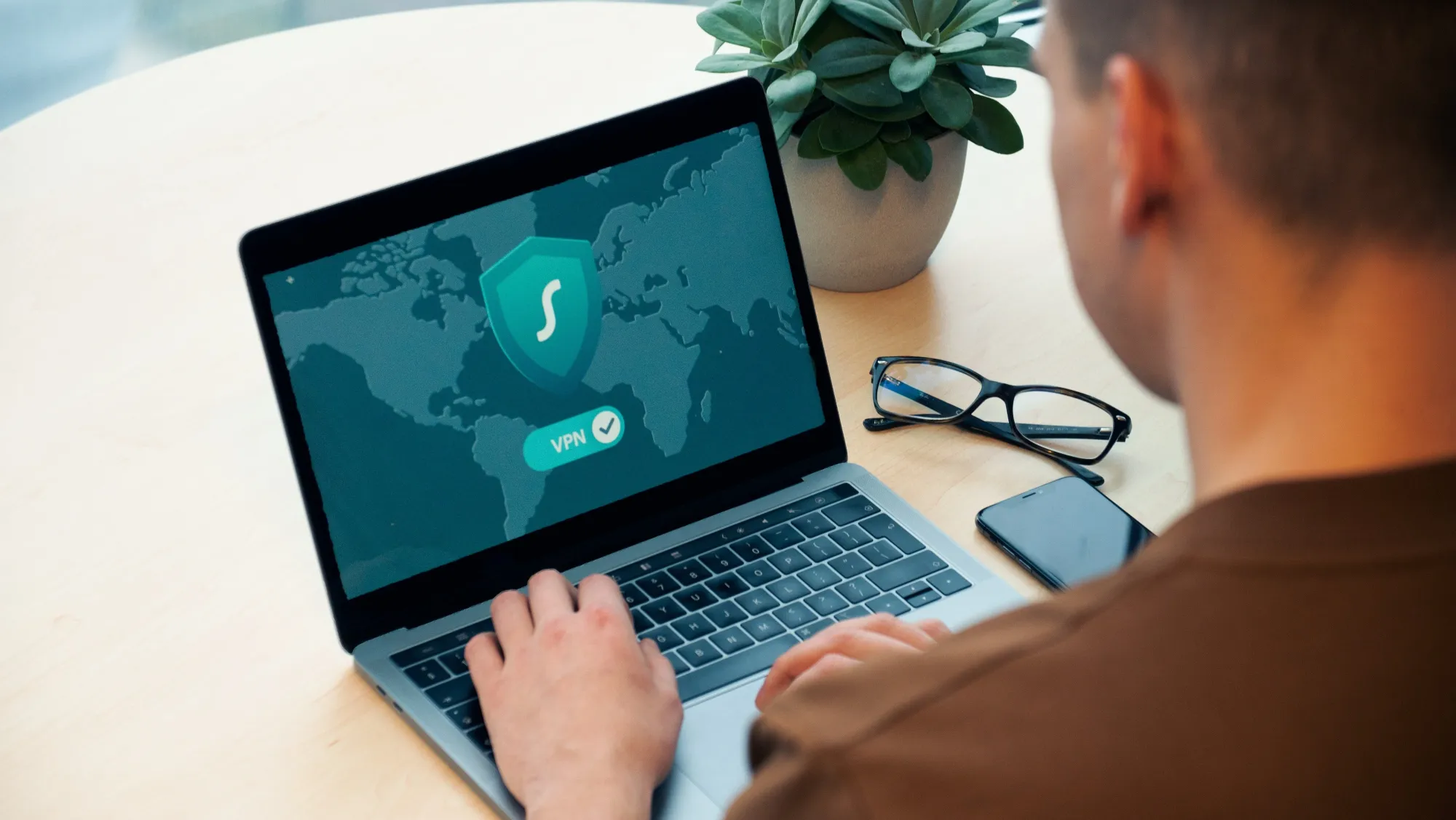 As many of you might already know, a VPN is an essential tool for many remote workers. It's that piece of software that keeps your internet connection secure and private, especially when you're tapping into Wi-Fi at a coffee shop or using a hotel's public network. But with so many VPNs out there, how do you choose the right one?
It's not just about picking any VPN; it's about finding one that fits your specific needs as a remote worker. How? Let's break down the must-have criteria for a VPN that will keep you safe and make your remote work life easier:
Strong Encryption Standards: Top-notch encryption for us is non-negotiable. Look for a VPN with AES-256 encryption to ensure your data stays protected.
No-logs Policy: Privacy is key, so opt for a VPN that doesn't keep records of your browsing history. This way, your online activity remains your own business.
Speed and Reliability: A good VPN should be fast and not drop out at critical moments. After all, time is money when you're working remotely.
Server Availability and Location Diversity: The more servers a VPN has worldwide, the better your chances of finding a fast and reliable connection, no matter where you are.
Ease of Use and Customer Support: You want a VPN that's straightforward to use, with reliable customer support in case you run into any issues.
Multi-platform Support: Your VPN should work across all your devices, ensuring seamless protection whether you're on your phone, tablet, or laptop.
You may also be interested in:
---
How Do I Set Up a VPN for Remote Working?
By now, you would have a clear idea of which VPN suits your remote work needs. So you might want to you how to set up one so you know what to expect once you picked your VPN provider.
Lucky for you, setting up a VPN for remote work is a relatively straightforward process and thanks God you don't have to be a cybersecurity expert to do so. Here's a simple, step-by-step guide that'll have you surfing securely in no time at all:
Subscribe to the right plan: Once you've made your choice, head on over to the VPN's website and sign up for a subscription. They'll usually have different plans (monthly, annually, etc), so choose what works best for you. Check out also for deals and discounts as they tend to offer many in various times of the year.
Download and Install: After subscribing, you'll need to download the VPN application. It's available on the VPN provider's website. Install it on your device just like you would any other app.
Sign In: Open the VPN application and sign in using the credentials you created when you subscribed. Usually they have apps available for Android, iOS, Desktop apps and even Chrome and Mozilla extensions.
Connect: Most VPNs have a big 'Connect' button. All you have to do is click that and voila! You're connected to the VPN. Now you're surfing the web safely and privately, no matter where your remote work takes you.
Choose Your Server: If you want to appear as if you're in a specific location (to access certain region-restricted content, perhaps), you can choose a server in that area. Most VPNs have a list or map of locations you can choose from.
Troubleshooting: If you run into any hiccups, reach out to the customer support each VPN must provide. They're there to help, so don't hesitate to reach out to them.
And there you have it—super easy, right?
10 Tips to Use a VPN Effectively as a Remote Worker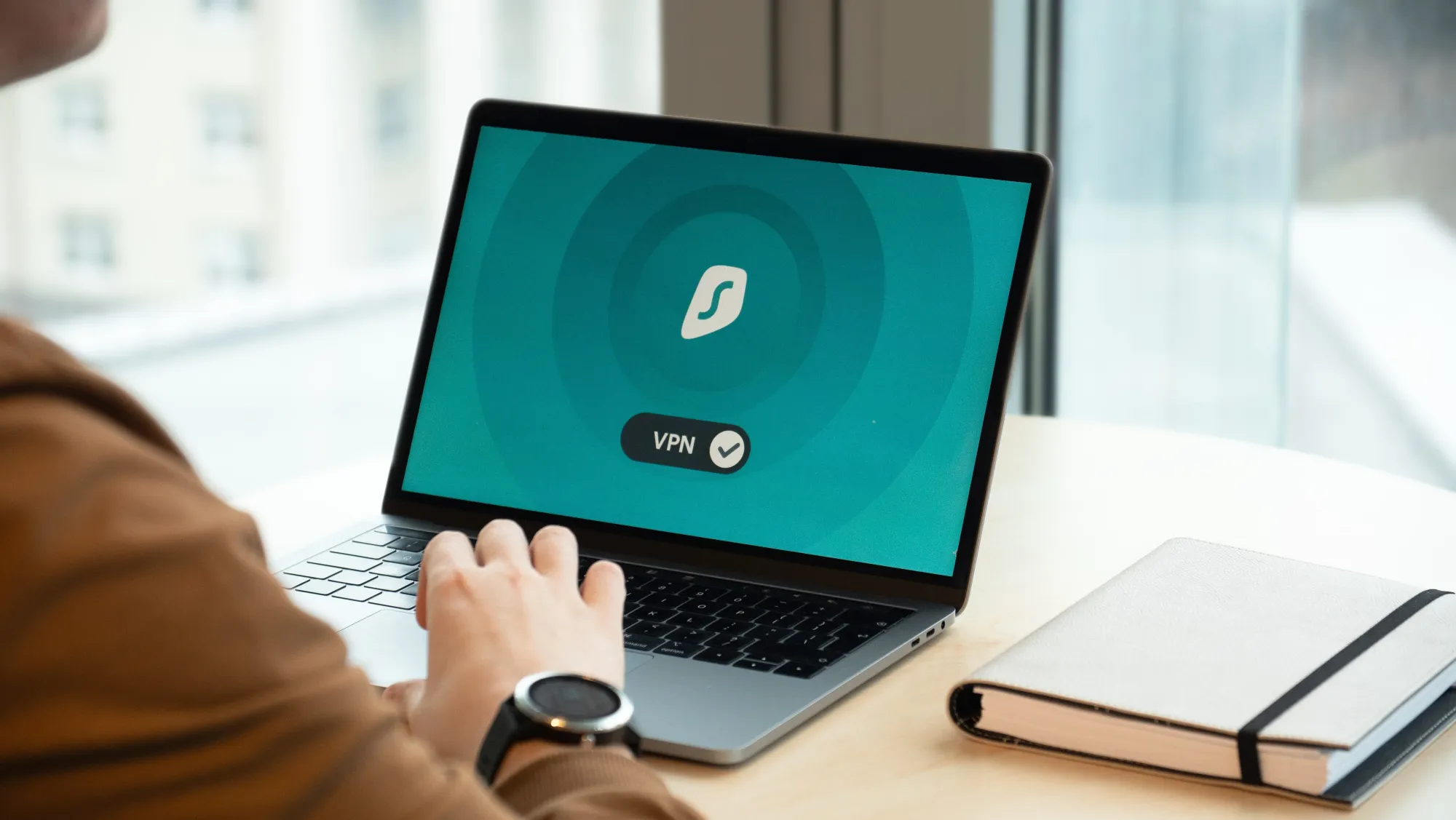 Now that we've laid out the criteria for selecting the best VPN for remote work, it's time to delve into some practical tips to maximize your VPN usage.
As a remote worker, knowing how to optimize your VPN can make a world of difference to your productivity, security, and overall online experience. So, let's dive into some key strategies to ensure you're getting the most out of your VPN service.
Tip 1: Embrace Consistent Usage of VPN
Maintaining your VPN connection throughout your workday, not just during particular tasks, can ensure you constant protection. This way, you have continuous assurance that your data is safe from suspicious eyes.
Tip 2: Choose a Reputable VPN Service
Select a VPN that has proven itself over time and earned the trust of its users. Dig into their background, scan through reviews, and familiarize yourself with their privacy policies. This is akin to doing a background check on your bodyguard – you want to ensure they've got your back.
Tip 3: Connect Smartly
Speed or content accessibility - your needs dictate which server you should connect to. If speed's your game, opt for a server near your physical location. But if you're after accessing certain content, get connected to a server in the country where that content is available. It's like choosing the fastest or the most scenic route, based on your travel preferences.
Tip 4: Secure All Devices
Don't leave any device unprotected - ensure your VPN covers all devices you use for work. Many VPN providers offer multi-device subscriptions. It's like applying a robust armor to virtual private network on all your devices, keeping them safe in the cyber battlefield.
Tip 5: Use Secure Protocols
Ensure your VPN uses secure protocols like OpenVPN or WireGuard. Known for their fine balance of speed and security, these protocols are your best bet. It's like choosing a well-balanced diet – you get both taste and health.
Tip 6: Keep the VPN Updated
Regularly updating your VPN software is as crucial as updating your phone's OS. This ensures you have the latest security enhancements and protocol improvements at your disposal. Stay ahead of the curve and enjoy a safer browsing experience.
Tip 7: Test for Leaks
Make it a habit to occasionally check for IP, DNS, or WebRTC leaks. This confirms that your VPN isn't inadvertently revealing any of your personal information. Consider it as regular health check-ups to ensure your VPN is in top shape.
Tip 8: Beware of Free VPNs
Free VPN services can be a tempting offer, but remember, they may not provide adequate security and could jeopardize your data. It's like choosing between a paid professional bodyguard and a volunteer – you know which option is more reliable.
Tip 9: Use a Kill Switch
A kill switch is a lifesaver that halts all internet traffic if your VPN connection drops, keeping your data from leaking. This is like an emergency brake that safeguards you from unintentional data exposure.
Tip 10: Stay Informed
Keep yourself updated with the latest cybersecurity threats and understand how they can impact your remote work. This allows you to adjust your VPN usage accordingly. It's like staying informed about the weather forecast and carrying an umbrella just in case it rains.
VPNs for Remote Work: Frequently Asked Questions (FAQs)
Should remote workers use a VPN?
Yes, remote workers should use a VPN to secure their internet connection and protect their data from potential threats on public networks.
How does a VPN benefit remote work?
A VPN allows remote employees to securely access their organization's servers and resources as if they were in the office, providing security and connectivity benefits.
What's the difference between a personal VPN and a business VPN?
Personal VPNs are designed for individual use, offering privacy and access to geo-restricted content, while business VPNs provide additional security for accessing corporate networks and resources.
Do all remote workers need to use a VPN?
While not all remote work requires a VPN, it is recommended for enhanced security, especially when using public Wi-Fi or accessing sensitive company data.
Can you use a VPN to work from anywhere on "US only" jobs?
A VPN can help mask your location and allow you to access "US only" jobs, but there are risks involved, including potential job loss if discovered.
What are the critical features a VPN must have for remote workers?
Critical features include strong encryption, a no-logs policy, speed, reliability, server availability, ease of use, customer support, and multi-platform support.
How do I choose the right VPN for remote work?
Research and select a reputable VPN service that meets your specific needs, considering factors like security features, server locations, speed, and user reviews.
What are the risks of using a free VPN for remote work?
Free VPNs may not provide adequate security, could have slower speeds due to overcrowding, and might use your data for advertising or other purposes.
How can remote workers ensure their VPN is secure?
Regularly update VPN software, use secure protocols, test for leaks, and use features like a kill switch to maintain security.
Can a VPN protect the privacy of remote workers?
Yes, a VPN can help protect privacy by masking the IP address and encrypting data, making it difficult for snoopers and hackers to access your information.
Ready To Protect Your Remote Work?
If you want more digital nomad guides like these, sign up for our free newsletter and get upcoming articles straight to your inbox!
You can also follow us on Instagram and join our Facebook Group if you want to get in touch with other members of our growing digital nomad community!
We'll see you there, Freaking Nomads!
Disclosure: Hey, just a heads up that some of the links in this article are affiliate links. This means that, if you buy through our links, we may earn a small commission that helps us create helpful content for the community. We only recommend products if we think they will add value, so thanks for supporting us!