Madeira it's one of those places that makes you feel like a real traveler from the first moment you set foot there.
It's a truly magical place.
In this guide, we are going to share some useful information about this tropical European island.
If you are a digital nomad, an expat, or simply a travel lover looking for a great destination all year round, this guide is for you.
Where Is Madeira Located?
When we talk about Madeira, we refer to both the island of the same name and the archipelago, which is formed by four islands: Madeira, Porto Santo, the Desertas, and the Savage Islands.
Often we only hear about the main island, the island of Madeira, and this is the one we will mainly refer to in this guide.
The other islands are mainly tourist destinations, but if you happen to be there, we absolutely recommend you visit them.
Among those, we highly recommend Porto Santo, a true hidden gem with its golden beaches and crystal clear water.
Although Madeira is a Portuguese territory, it is geographically located in the middle of the Atlantic and is about 500-600 km from the African coast (precisely, in the northwest).
It is an autonomous region of Portugal, and its capital is Funchal.
Funchal is the most equipped place for digital nomads and the one where most people usually find accommodation as it is close to the coast and all the services are situated there.
Some digital nomads prefer Ponta do Sol, as it is among the hottest places to hang out on the island and where the famous 'Digital Nomad Village' is located (we will talk about this later in this article).
Why Visit Madeira as a Digital Nomad?
There are mainly 4 reasons.
The first one is that the population counts around 200,000 people and the island is easily walkable, making it the perfect nomad destination for anyone looking for a quieter place, far from the noise of the big cities.
In fact, in one hour maximum, you can easily go from one part of the island to another.
The second reason is that it is a relatively cheap destination compared to many European holiday destinations.
The currency is the Euro since we are in Portugal and, later in the guide, we will explain how much we spent for one month on the island, so you can get a better idea of the cost of living in Madeira.
The third reason is that it is a phenomenal destination for those who love nature and the outdoor lifestyle. You can find everything: natural pools to waterfalls and adventurous hikes to rocky cliffs overlooking the ocean.
It is a real paradise for photographers, videographers, hikers, and in general any nature lovers.
The final and fourth reason to visit this island is its subtropical climate.
Madeira is in fact often referred to as the "Hawaii of Europe", thanks to its mild climate all year round.
The slightly colder months are December and January, but you can enjoy sunshine and warmth for the rest of the year.
Forget the heavy jacket of European winter destinations (especially northern Europe). In Madeira, a long-sleeved sweater and a jacket in the colder months are all you need.
To give you an idea, in the high season months (which are from June to October) it is often said always to carry your swimsuit in your backpack because you could find yourself bathing in a waterfall overlooking the road or sunbathing at the rocky beaches of Ponta do Sol, which is the warmer side of the island.
Getting Around Madeira
Overall, Madeira does not have an excellent transportation network, unfortunately.
The main ways to get around the island are by car, taxis, and Bolt (i.e., Uber's European competitor).
Uber was operating in Madeira a few years back but apparently decided to close its doors in April 2021, following a decree from the local government that wanted to limit the number of vehicles and mobility companies on the island.
In our opinion, taxis are not the cheapest choice. We paid around 25 Euros for a ride from the airport to our Airbnb in Funchal, about half an hour away.
By using the Bolt app, you can save money compared to taxis. However, the number of Bolt cars on the island is very limited so you will likely see more taxis than Bolt cars around.
There are also buses, but if you don't want to wait hours in the middle of nowhere, we personally don't recommend them.
In our opinion, the best solution is to rent a car, especially if you are staying for a month or two.
We find this is the best way to enjoy the island as you can be independent and visit the most remote places on the island, at all hours of the day, if you wish.
In terms of cost, you can negotiate a car between 25 and 30 euros if you are in the low season, which is a very attractive price all things considered.
We paid 700 euros for the car rental, including full insurance, for a whole month.
We have also heard of people renting a car for 400-500 euros a month in the low season, but they told us that the cars were very old, which will depend on your preferences.
Where To Stay in Madeira as a Digital Nomad
For the accommodation, you are spoiled for choice.
You can find a hotel room for two people from 30-40 up to 100 euros per night, depending on the degree of comfort in which you want to stay.
In the low season (i.e., around November) you could even find rooms in luxurious hotels for 70-80 euros per night (for two people) using platforms like Booking.com or cheap hostels using Hostelworld.
If you are looking instead for a slightly longer-term stay, Airbnb is one of your best bets. For monthly accommodation on Airbnb, at a 5-10 minutes distance from Funchal, we paid around 800 euros. It was a pretty modern house with a garden, barbecue, large living room, internet, and many other comforts.
There are also cheaper houses on the island, but we wanted to stay near Funchal so that we could easily reach the city in a few minutes on a walk if we ever wanted to.
As an alternative to Airbnb for medium/long-term accommodations in Madeira look no further than Flatio. If you don't know them yet, they are one of the largest European platforms dedicated to medium-term rentals. Unlike Airbnb, they focus on accommodations for digital nomads and remote workers, which is a great option. Furthermore, they have a huge house and flat inventory in Madeira so you will certainly find something of interest there.
🔥
Special Discount: Use our discount code freakingnomads10 for 10% off on Flatio's service fee!
What To Eat in Madeira
If you are a foodie as we are, we bet the food is one of the best parts of your travels.
We think you can love Madeirense cuisine as you can hate it.
Generally speaking, you will find a fair balance between meat and fish with a large variety of tropical fruits available anywhere.
One of the most famous dishes you will find on the island is called "Espetada". It is essentially beef cooked on the grill and served on a huge skewer at your table. So delicious!
The story behind this dish is that it was served as a special occasion during pilgrimages. This is because ordinary people were not used to eating beef which was very expensive at that time.
The Espetada is usually accompanied by all Madeiran dishes: the famous "Bolo Do Caco". This is nothing more than warm bread made with sweet potatoes, brewer's yeast, oil, and a final touch of melted butter on the surface. For those who live in the UK, this can remind you of garlic bread.
How Much Does It Cost To Eat in Madeira?
When it comes to food prices, if you don't fall into tourist traps and stick to local restaurants, you can get away with 20-25 euros per person maximum for lunch or dinner out.
Our advice is to absolutely avoid most of the restaurants in Funchal, as they are very touristy and particularly expensive.
If you want to cook your own meals at home instead, grocery prices at the supermarket are very similar to most European supermarkets (the inexpensive ones, to be specific).
We recommend the grocery chain Continental as it offers good quality and inexpensive food.
To buy all the essentials there, you could spend around 30-40 euros for everything you need for a week.
And if you are super lazy like us, and sometimes you don't feel like cooking after work, you can use delivery apps like Glovo and UberEats which operate in the whole Funchal area and sometimes beyond.
Language
As for the language, we were very impressed by how everyone on the island spoke English, so we did not encounter any language barriers.
If you speak any neo-Latin language like Spanish, French, or Italian, you won't have many problems in understanding the locals. Otherwise, you might have to find a way out to grasp some Portuguese words if you happen to encounter locals who don't speak English.
Is Madeira Safe?
Madeira is relatively safe. If you are in some areas of Funchal at night, though, we recommend keeping an extra eye on things to be 100% safe.
The Madeirans were all very kind to us. However, we noticed that tourists don't seem to be seen very well by the locals.
We assume that this is because Madeira has seen a huge increase in tourism in the last few years and a lot of expats and pensioners started moving to the island, inflating prices, and sometimes making it hard for the locals to keep up with the cost of living.
Therefore, we recommend being respectful as much as possible and avoiding overpaying for meals or anything else you buy on the island.
You wouldn't want to be referred to as the 'freaking nomads'. Trust us, we know something about it!
---
You may also be interested in: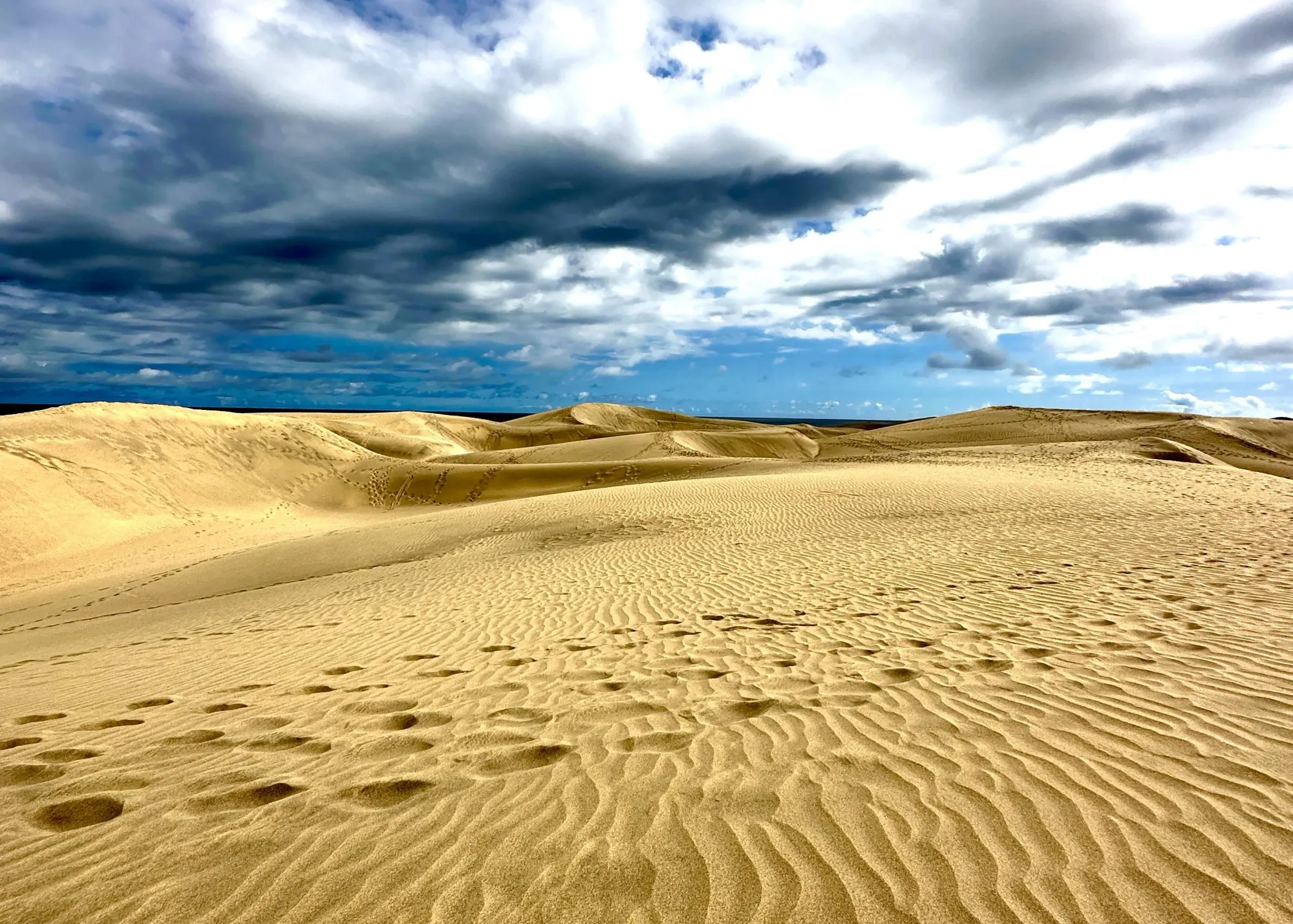 ---
Things To Do In Madeira as a Digital Nomad
If you are looking for a place to party at night and have fun, Madeira may not be exactly the place to do so.
Apart from the center of Funchal, there aren't many places to spend a night out.
The idea that we had is that people in Madeira prefer to spend time dining at restaurants until late.
Funchal's old part is the only place where you can find some action. You will find some really nice places to get a drink and meet other expats and sometimes locals.
As for the day, if you are looking for sandy beaches where you can sunbathe and swim in Madeira, you will not find anything special. The beaches are few and are mostly rocky.
The only exceptional beach we have seen in Madeira was in Porto Santo, which can be reached in two hours by ferry, which we absolutely recommend.
However, if you are a nature lover and want a little escape from the smog and noise of most big European cities, Madeira is definitely the right place.
There are so many breathtaking scenic spots that I assure you you won't be disappointed!
We saw mountains in the clouds, rocks overlooking the sea, and fairytale forests.
Madeira really has a lot of landscapes to appreciate. A truly magical place.
Coworking Spaces in Madeira
For those thinking of working remotely from Madeira, we have you covered.
There are a few coworking spaces on the island and the most well-known is mainly 2:

• Cowork Funchal (10 euros a day)
• Co-working Space Ponta do Sol (free!)
The first one is in Funchal while the second one is in Ponta do Sol, a town about 20 minutes from Funchal.
Our recommendation is not to miss the experience of trying the co-working space in Ponta Do Sol. Firstly, because it's free (!), and secondly, it's because it has such a great digital nomad community that you will not regret it.
This coworking, in fact, is located in the Madeira Digital Nomad Village which represents one of the most successful digital nomad initiatives between local governments and digital nomad entrepreneurs.
This exciting project has been ideated by Gonçalo Hall, a digital nomad himself, who is now the CEO of NomadX.
It is a super-equipped coworking with many activities and a close-knit community of digital nomads. If you are looking to meet fellow digital nomads, that's THE place.
The initiative is temporary and has been extended until 2023, but we hope this will become soon.
Madeira has become a rising destination for digital nomads, especially after the Covid pandemic, so we wouldn't be surprised if that were the case.
How Much Can You Spend In A Month In Madeira As A Digital Nomad?
As usually living costs are quite personal, I thought it would be useful to share exactly how much I spent living in Madeira for a month as a digital nomad.
1. Transportation: 500-800 euros per month (car + insurance + petrol)
2. Accommodation: 600 euros per month (hotel) - 800 euros per month (whole house on Airbnb)
3. Restaurant meals: 20 euros x 4 times a month = 80 euros per month
4. Grocery: 20-30 euros per week = 80-120 euros per month
5. Entertainment: natural landscapes = free!
6. Coworking = Ponta do Sol: free ; Funchal: 10 euros for 4-5 times a month = 40-50 euros
TOTAL: 1300-1800 euros for one person (reduced to 1100-1300 if there are two people)
Are You Ready To Travel and Work in Madeira?
If you want to receive digital nomad guides like these, sign up for our newsletter and get upcoming articles straight to your inbox!
You can also follow us on Instagram and join our Facebook Group if you want to get in touch with other members of our growing digital nomad community!
We'll see you there, Freaking Nomads!
Disclosure: Hey, just a heads up that some of the links in this article are affiliate links. This means that, if you buy through our links, we may earn a small commission that helps us create helpful content for the community. We only recommend products if we think they will add value, so thanks for supporting us!