Rome, the radiant capital of Italy and the country's largest city, is a global beacon of historical significance. Its history is examined and revered worldwide. Such prestige imbues Rome with an international flair, making it an effortless task to engage with a myriad of individuals from across the globe.
The inhabitants of Rome are known for their candid demeanor which can be quite robust at times, but their warmth and welcoming nature is equally renowned. With Italy's inherently sunny disposition permeating every city street, the overall atmosphere is inviting.
While the cost of living in Rome isn't negligible, it's well compensated by the boundless opportunities for self-development and the beauty of the city's many marvels.
Free Wi-Fi is also practically ubiquitous, and a multitude of cafes and coworking spaces have adapted to cater to the growing influx of digital nomads visiting each year.
Where Exactly is Rome Located in Italy?
So, where is Rome exactly?
Rome was once believed to be the center of the world, and this is where the old saying "all roads lead to Rome" was born. In reality, it's actually in central Italy, nestled in the Lazio region and a mere 40km from the Mediterranean Sea.
Why Choosing Rome as a Digital Nomad?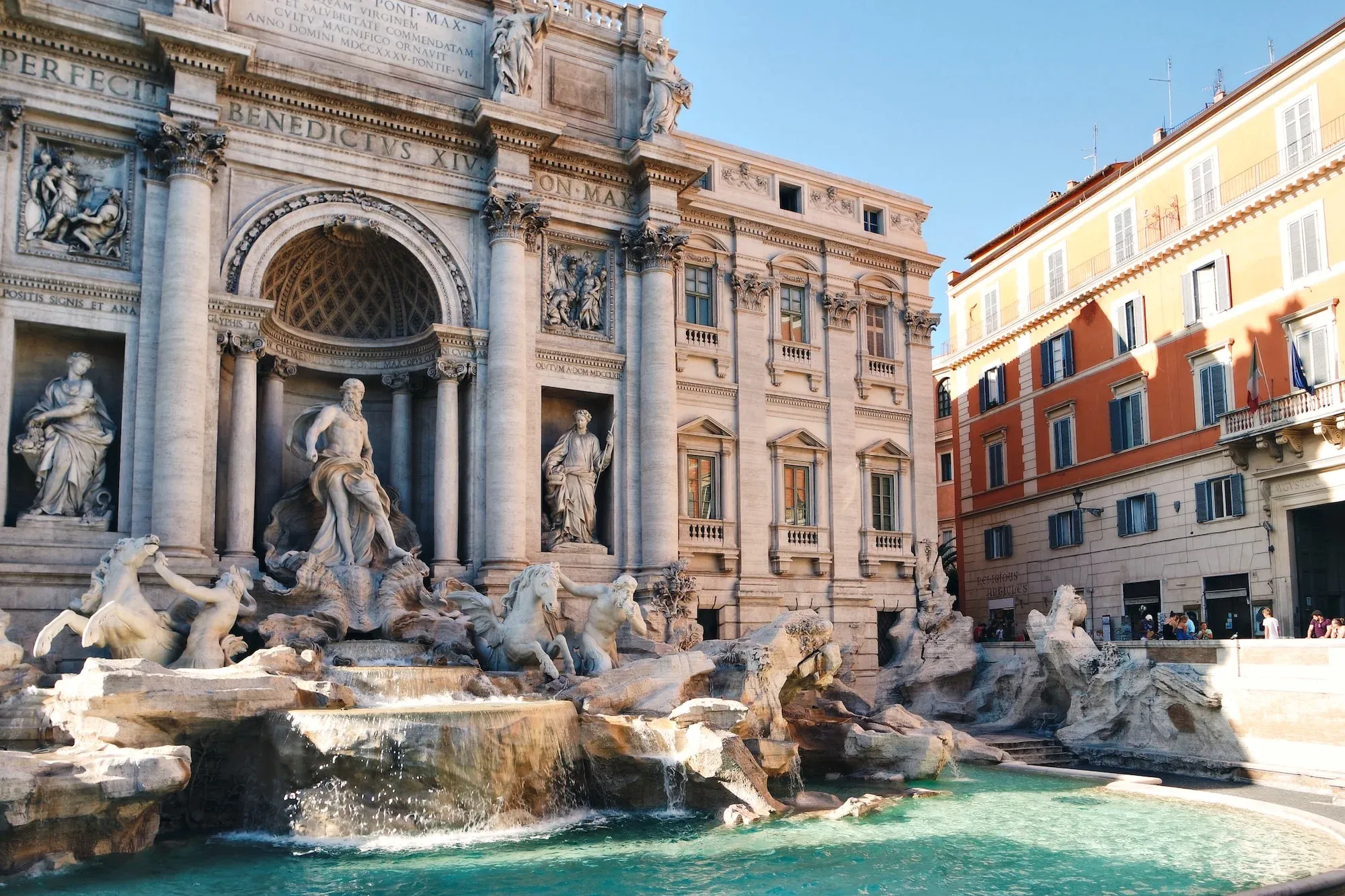 The reasons for exploring Rome as a digital nomad aren't easy to list - it's like explaining why life is worth living!
There are truly a ton of reasons, but I'll spare you the cliches.
When it comes to Rome, it's a city of extreme emotions - you'll either fall in love with it, or it'll drive you up the wall. One moment, it can leave you breathless with its stunning beauty or the prospect of one of the most ancient monuments, and the next, it can infuriate you with its traffic congestion and seeming chaos.
As an Italian who's spent recent years traveling the globe, I've tried to approach my home city from a new perspective, experiencing Rome as a digital nomad. What I've discovered is a metropolis teeming with potential in networking, job opportunities, personal growth, well-being, and safety. Rome truly has it all!
How to Get From the Airport to the City Center
Rome offers two main airport options: Ciampino Airport and the Leonardo da Vinci Airport (Fiumicino). Both are well connected to the city via public transportation.
From Ciampino Airport
Ciampino, the smaller airport and closest to the city, regrettably offers a less-than-optimal connection to the city center. Your best bet here is a bus to Termini Station, from where you can utilize three metro lines or buses to reach various parts of the capital.
From Leonardo da Vinci Airport (Fiumicino)
Leonardo da Vinci Airport (Fiumicino), Italy's largest and one of its most modern, is significantly easier to reach. The "Leonardo" train takes you straight to Termini station, placing you in a central location with access to bus and metro lines that span the city.
Check the Trenitalia official website for regional connections for departure times and schedules.
Using Taxis
While Rome's taxis are convenient, they are also costly. Standard rates from both airports to the city center are roughly 60 euros (65 USD) from Ciampino and 70 euros (76 USD) from Fiumicino, though these prices can fluctuate.
To avoid any unfortunate taxi scams, familiarize yourself with the required charges which can be found inside the taxis or online.
Accommodation Options and Best Areas To Stay in Rome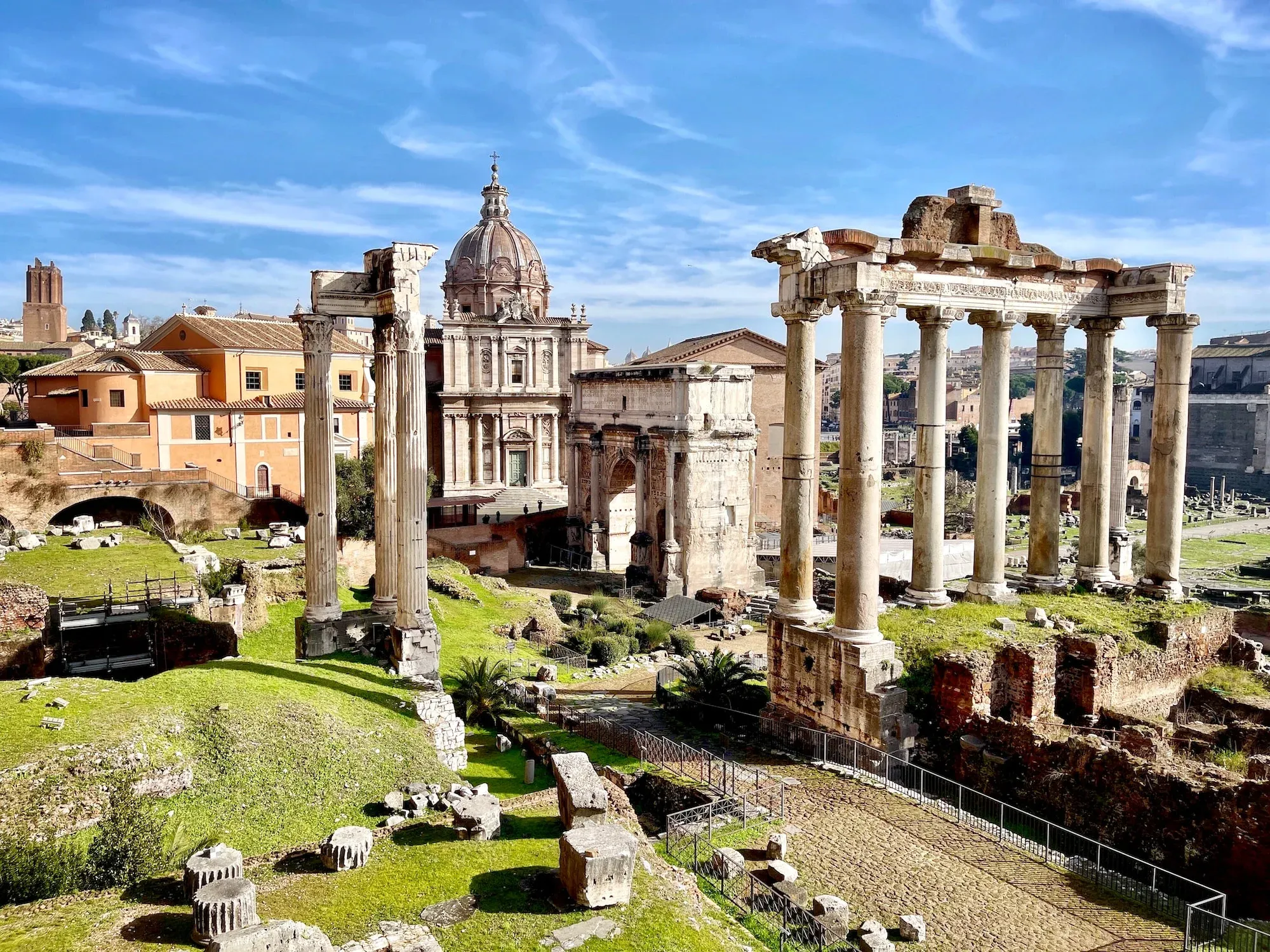 When it comes to accommodations in Rome, there are options for every budget and preference.
Platforms like Booking.com, TripAdvisor, and Airbnb provide an extensive list to select from. However, the recent rise in living costs in Italy has resulted in a corresponding increase in accommodation prices, so a bit more research may be required for you to find a reasonably priced place to stay.
🟡
Remember to factor in the tourist tax, which is an extra fee applied in Rome to visitors. It's the highest in Italy for non-residents in Rome.
The neighborhood you choose will be vital as well, as some are better connected and more advisable than others.
Telling you the ideal place to stay in a sprawling metropolis like Rome can be quite challenging, as it's largely a matter of personal preference. However, I can suggest two areas that stand out due to their connectivity, networking opportunities, amenities, safety, and affordability.
North Rome
Montesacro and Talenti are serene yet engaging neighborhoods perfectly linked to the city center and Fiumicino airport.
As a digital nomad, you'll find everything you need here, including tech stores, banks, 24/7 supermarkets, cafes, and restaurants.
These localities also offer the opportunity to interact with the locals, with many street scenes featuring Roman people's daily lives and leisurely activities. In addition, there's a plethora of cafes with efficient Wi-Fi where you can work throughout the day.
South Rome
Ostiense is another great hotspot for digital nomads and remote workers, boasting numerous work-friendly venues and highly-rated coworking spaces.
Here, you're likely to rub shoulders with other digital nomads who have chosen this vibrant area for their stay.
Getting Around Rome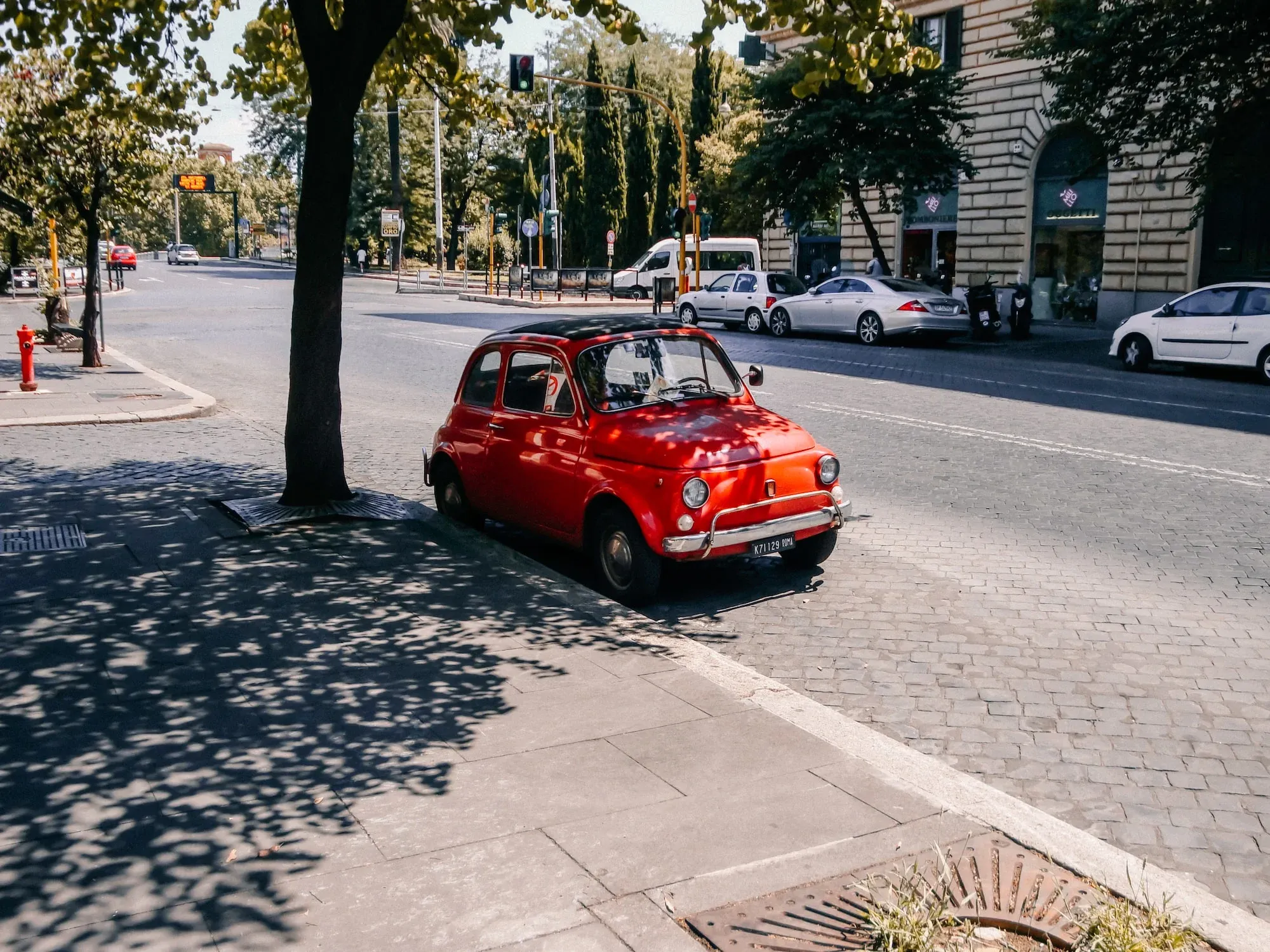 Navigating Rome might seem daunting, especially considering the city's infamous reputation for unreliable and inefficient public transport.
While public transportation services are available and generally well-connected to points of interest (including the coast), delays and disruptions can be a frustratingly common occurrence. This starkly contrasts with European cities like London, Berlin, or Madrid, where public transport is typically reliable.
However, if you're lucky and manage to avoid these delays, moving around Rome can be straightforward.
Metro
The city has four metro lines: A, B, B1, and C. They offer a swift way to get around the congested city streets. A single ticket allows you to take all surface public transport (tram and bus) even after using the metro.
Buses
Buses are available across the city. A standard ticket costs around 1.50 euros (1.60 USD), allowing unlimited transfers between various modes of transport for 75 minutes from the time of validation.
Rideshare Services
You can rent electric scooters, bicycles, and cars throughout Rome from companies like Lime, Enjoy, Cooltra, and Hellbiz.
However, I advise against renting a car unless you plan to venture outside the city, as traffic congestion, lack of parking, and good public transport connections make it impractical.
How is the Internet Connection in Rome?
Rome has an excellent internet connection across all areas.
With numerous cafes and coworking spaces offering reliable Wi-Fi, finding a good spot to work won't be a problem.
Major mobile operators in Italy such as Vodafone, TIM, and Wind-Tre offer local SIM cards at reasonable prices, ensuring perfect internet coverage.
Best Places for Remote Work in Rome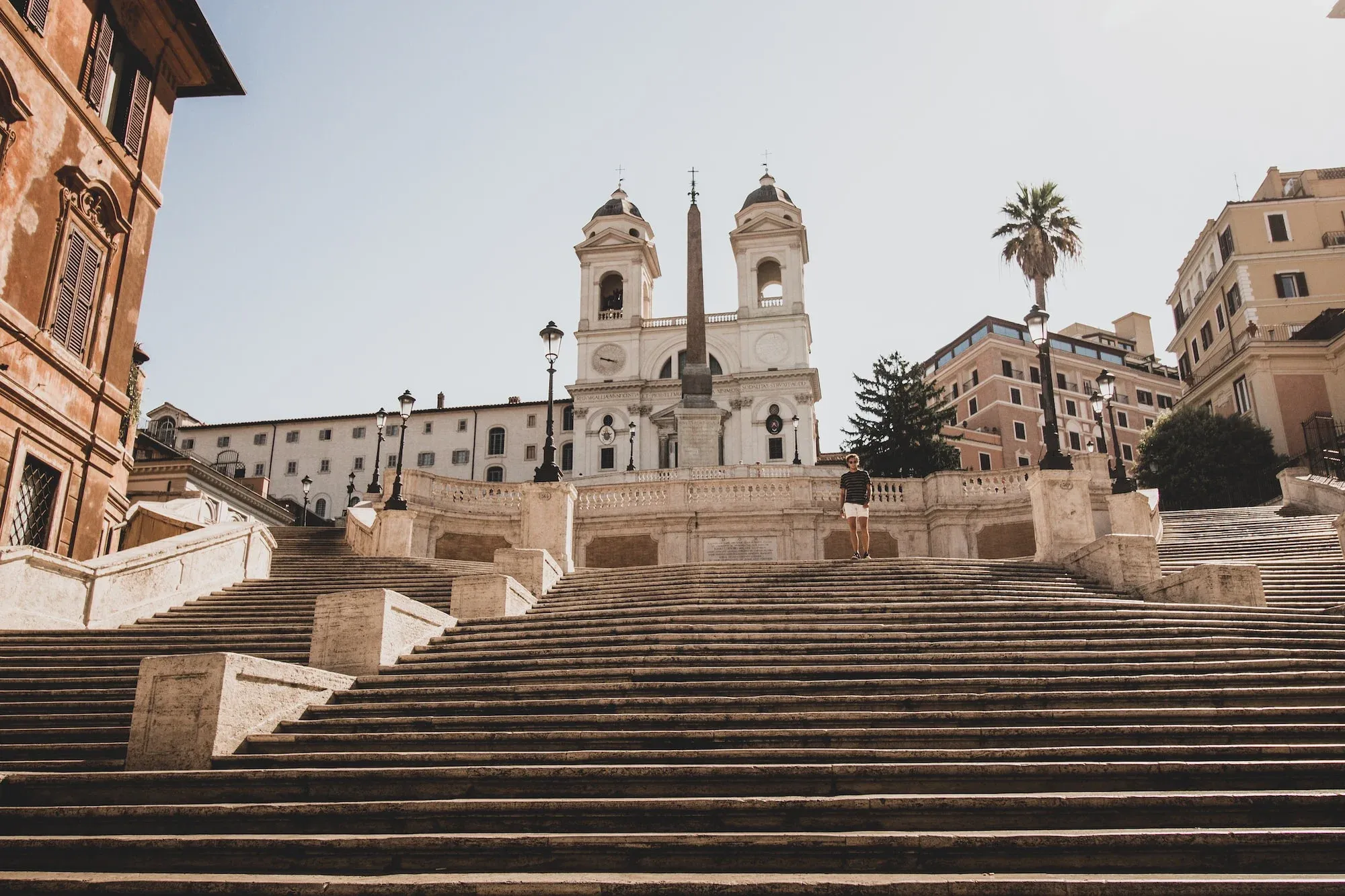 Rome is teeming with work-friendly cafes and coworking spaces. Here are some popular choices among the digital nomad community.
Coworking Spaces
Cafes To Work From
Cost of Living in Rome
Rome is a city of contrasts, and that extends to its economy.
Generally, Rome is considered a bit pricey. It doesn't rival cities like Venice or Oslo, but it's not among the cheapest places either. On average, you can enjoy a meal at a typical restaurant for around 20 euros (22 USD), and grab a drink at a local club for between 7-9 euros (8-10 USD).
As previously mentioned, one significant expense you'll likely need to budget is quality housing.
However, public transportation is pretty affordable, and for about 3 euros (3.20 USD), you can traverse the city from one end to the other.
Finally, over the last year, grocery costs have risen, but Rome offers plenty of local markets where residents do their food shopping. These markets provide fresh, locally sourced items at affordable prices.
Culture and Food To Try in Rome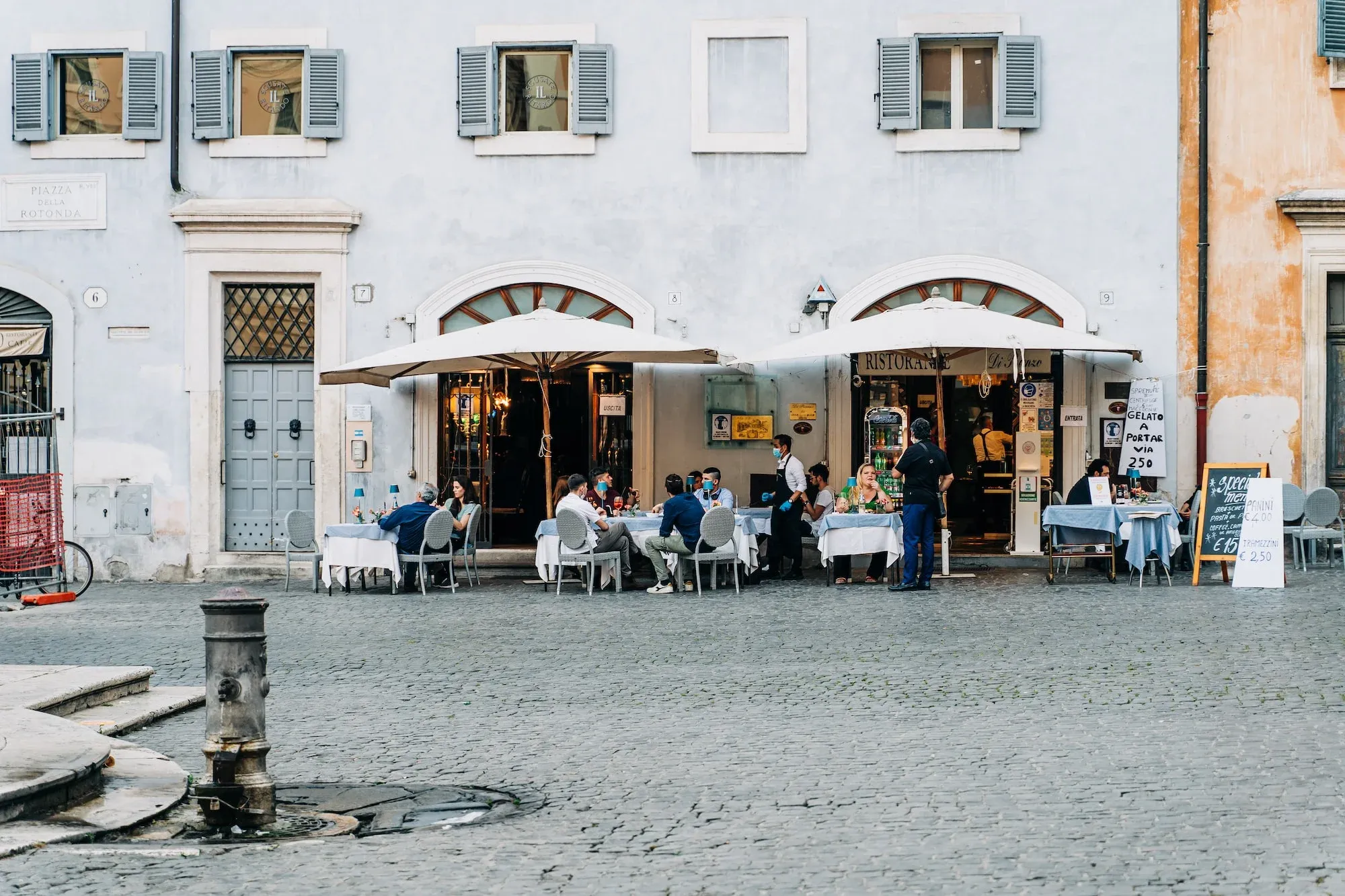 Romans are good-hearted people. They might come off as rough around the edges or grumpy, and they take out their frustrations on their favorite football teams, but they're kind at heart. Most importantly, Romans love to eat!
You could write a whole book about the food in Rome, but I'll try to keep it short.
Here are some local dishes that you shouldn't miss if you're planning to work remotely from Rome:
Pasta carbonara: Creamy pasta made with eggs, crispy bacon, Parmesan, and pecorino romano cheese. It's not vegan or diet-friendly, but it's incredibly tasty!
Amatriciana pasta: Pasta served with tomato sauce, crispy bacon, and pecorino romano cheese. Originally from the town of Amatrice, it's a staple dish in Rome.
Saltimbocca alla Romana: This dish features veal topped with prosciutto and sage, cooked in white wine. The flour creates a creamy sauce that's absolutely delicious.
Pasta Cacio e Pepe: This simple yet flavorful dish is pasta tossed with cheese and black pepper. It packs a punch and will have you reaching for your water glass!
Roman Pizza: Italy is known worldwide for its pizza, especially the Neapolitan style. However, Rome's version is thinner, crunchier, and either served by the slice or as a whole pie.
Roman-style Artichokes: Available mainly in the spring, these are cooked and seasoned with garlic, parsley, and mint. They're a common side dish in the capital.
When is the Best Time to Visit Rome?
The beauty of Rome is that there's never a bad time to visit. The winters are quite mild, the rains are rare, and you can still enjoy sunny days. Summer can be hot and could be the least enjoyable time to visit because of the heat, even though the city is less chaotic and you can visit attractions more peacefully.
Many people say a lifetime isn't enough to discover Rome, so there's always a good reason to come back. However, the city sees a surge in tourism in spring and autumn, thanks to the pleasant weather.
The only period I'd personally advise against is the peak of summer (July and August) due to the intense heat.
Best Things to Do in Rome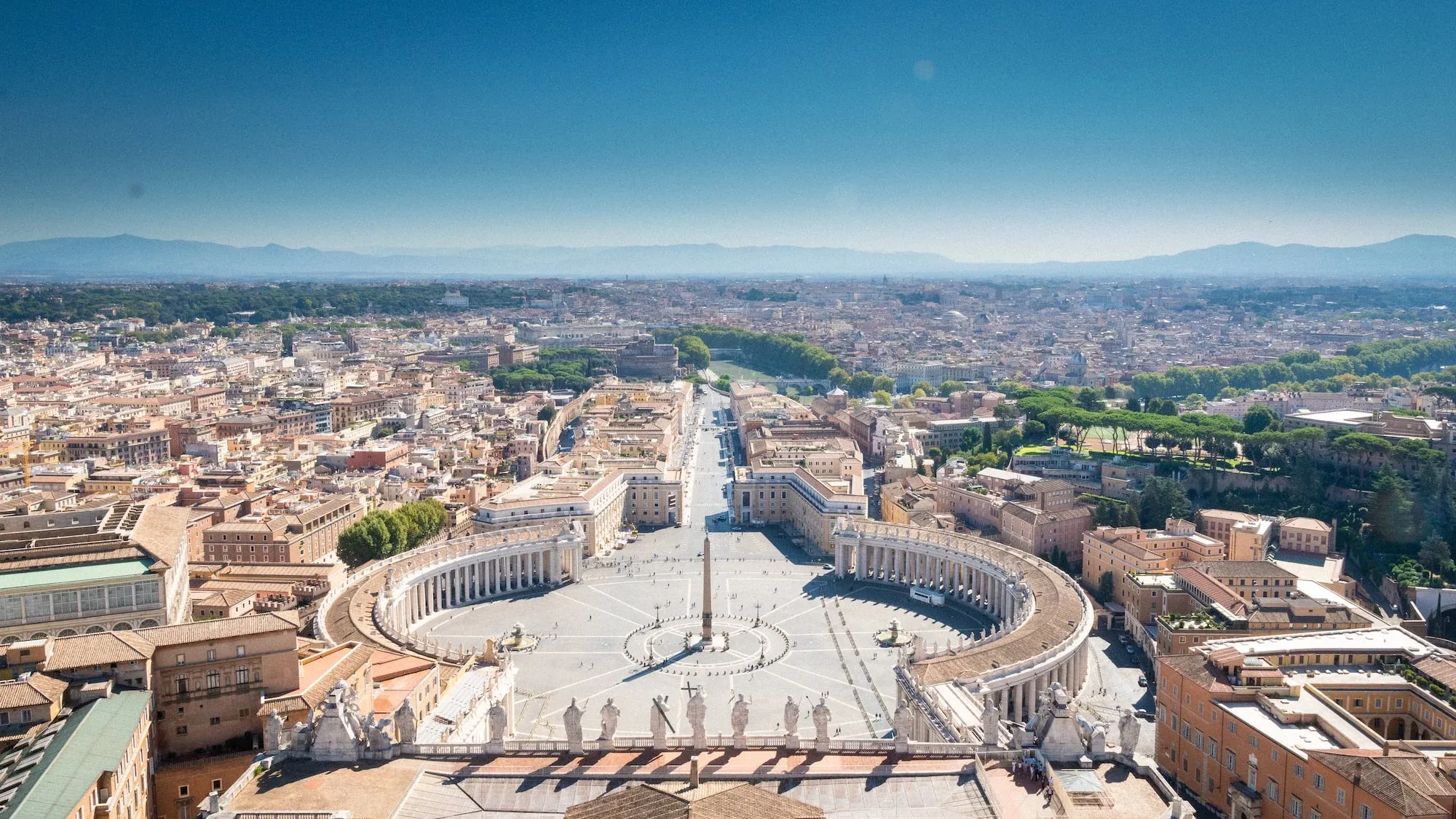 Rome is a city of history and culture, and it can be overwhelming to decide what to do. Here are some highlights:
10 Famous Things to Do in Rome
Visit the Colosseum and the Roman Forum.
Watch the sunset at the Orange Garden for one of the best views over Rome.
Throw a coin into the Trevi Fountain and make a wish.
Wander through the city center on foot, stopping by Via del Corso, Piazza del Popolo, Piazza Venezia, and the Pantheon.
Explore the historic streets of the Trastevere district.
Visit the Vatican City.
Spend half a day in one of the many historic villas, such as Villa Borghese, Villa Ada, or Villa Torlonia.
Stroll along the Tiber.
Visit the archaeological park of Ostia Antica.
Enjoy the city's culinary delights in a Roman trattoria.
10 Unusual Things to Do in Rome
Enjoy the view over Rome from Piazza Socrate.
Explore underground Rome.
Visit the catacombs of Santa Priscilla.
Walk among the skulls and bones of the Church of Santa Maria della Concezione dei Cappuccini.
Admire the optical illusion of Via Niccolò Piccolomini, where the dome of St. Peter's Basilica seems to grow larger as you move away and smaller as you approach.
Shop at the Porta di Roma shopping mall, one of the largest in Italy.
Grab a refreshing treat from the historic "La Sora Maria" kiosk.
Take a walk in the Eur park and visit the waterfalls.
Watch a football match at the Stadio Olimpico.
Witness the firing of the cannon on the Gianicolo Hill (daily at noon).
Is Rome Safe to Visit?
Rome has its share of petty crime and pickpocketing like any major city, especially in crowded tourist areas and on public transport. It's always wise to take precautions and keep an eye on your belongings.
However, Rome is generally safe, and you can comfortably explore the city. Just be cautious in a few areas that are best to avoid:
Termini station at night
Corvial
Tor Bella Monaca
Torre Maura and Torre Angela
San Basilio and Centocelle
These areas are mostly in the outskirts, so they're not typically places tourists would visit, with the exception of Termini Station, which is centrally located.
Just remember to stay aware of your surroundings, and you should have a safe and enjoyable time in Rome.
Are You Ready To Live and Work in Rome?
If you want to receive digital nomad guides like these, sign up for our free newsletter and get upcoming articles straight to your inbox!
You can also follow us on Instagram and join our Facebook Group if you want to get in touch with other members of our growing digital nomad community!
We'll see you there, Freaking Nomads!
About The Author
Federico Felici is an Italian born in Rome in 91'. He started his first journey as a Digital Nomad in July 2021 to the Azores. In the following year, he visited various countries including the Canary Islands, Morocco, and Norway. He is a Social Media Manager and columnist and plans to carry on his work from every corner of the world. He has an allergy to offices and an irrepressible desire to discover the world.
You can follow him on his social media channels:
Disclosure: Hey, just a heads up that some of the links in this article are affiliate links. This means that, if you buy through our links, we may earn a small commission that helps us create helpful content for the community. We only recommend products if we think they will add value, so thanks for supporting us!