Are you planning to travel to multiple countries in Europe?
Staying connected to the internet while hopping from one European country to another can be a challenge. The hassles of local SIMs and high roaming fees often leave many travelers frustrated.
But here's the good news: there are eSIMs out there that allow you to access uninterrupted connectivity across Europe!
Among the options available, Holafly's Europe eSIM has gained popularity, especially among digital nomads and remote workers.
It promises to deliver unlimited data and local calls in over 32 European countries, all at an affordable rate.
Whether you're working remotely from the bustling cafes of London or uploading photos from a secluded spot in Romania's Transylvania, Holafly aims to keep you connected wherever you go.
But does Holafly truly live up to the hype?
In this review, we'll answer all your burning questions based on our first-hand experience with this service, from features to costs to real-world performance and speed.
By the end of this review, you'll know whether Holafly's Europe eSIM is the right choice for your European adventure. Let's dive in!
What is Holafly eSIM?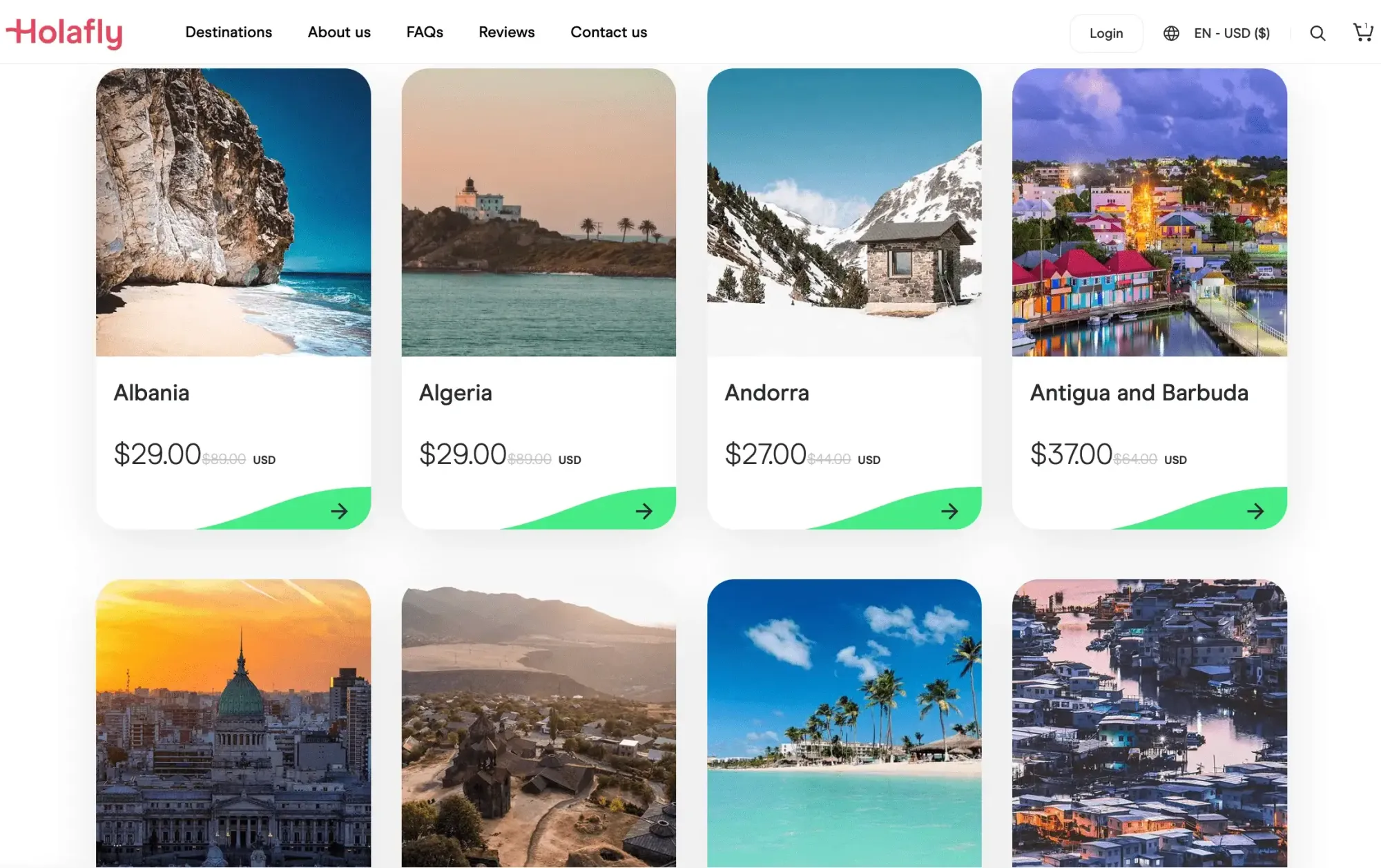 Holafly eSIM is a digital SIM card that lets you access the internet in more than 160+ countries worldwide without changing your physical SIM.
Trusted by over a million travelers, Holafly offers tons of local, regional and global plans for you to choose from.
What makes Holafly stand out is their unlimited data packages, designed with digital nomads and remote workers in mind. These plans ensure uninterrupted connectivity, whether you're working for your online clients or streaming a movie in your downtime.
How Do Holafly eSIMs Work?
In all our travels as digital nomads, we've turned to Holafly eSIMs on several occasions. And we are glad we did! Because they are extremely reliable and also pretty easy to use.
Here's how they work:
You choose and buy the Holafly eSIM plan for the country you are visiting
Next, you receive an activation QR code via email
Then you simply scan this code to activate your eSIM, and voila! In just a few moments, you're connected and ready to go.
Holafly Europe eSIM: What's in the Offer?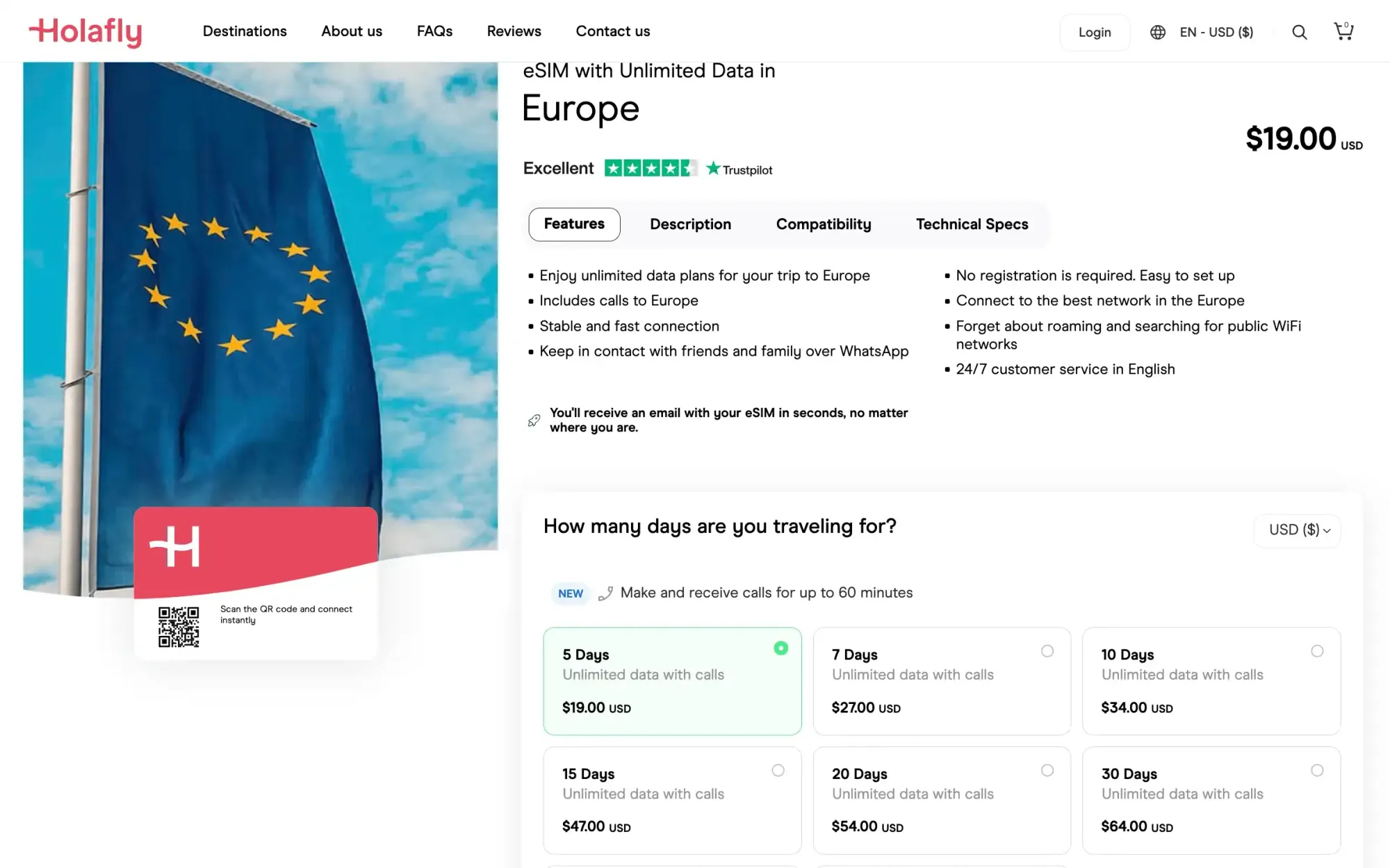 Among the 6 regional plans offered by Holafly, the Holafly Europe eSIM is among the most convenient eSIM plans for digital nomads traveling to Europe.
It's designed to keep you connected while exploring multiple countries in Europe in a single trip, and it's very affordable for the value you get.
Specifically, this is what you can expect when purchasing this eSIM plan:
Unlimited data plans across 32 European countries
Fast and reliable internet connection that connects you to the best network in each country
An Austrian (+43) phone number to make and receive calls for 60 minutes within Europe
Keep your WhatsApp number
24/7 customer support services through live chat and WhatsApp
Given its promising features, we decided to give Holafly Europe eSIM a try and personally put it to the test for our upcoming trip to Europe.
Purchasing process
First, let's look at how easy it was to purchase it.
We bought our Europe eSIM on the Holafly website, where there was a ton of information about the eSIM and its features.
The package options, sorted by travel duration, were clear and easy to navigate. Given our plans for a three-month itinerary, the 90-day plan was a no-brainer for us.
The actual checkout process was very straightforward: we just entered our details, picked a payment option, and clicked to confirm.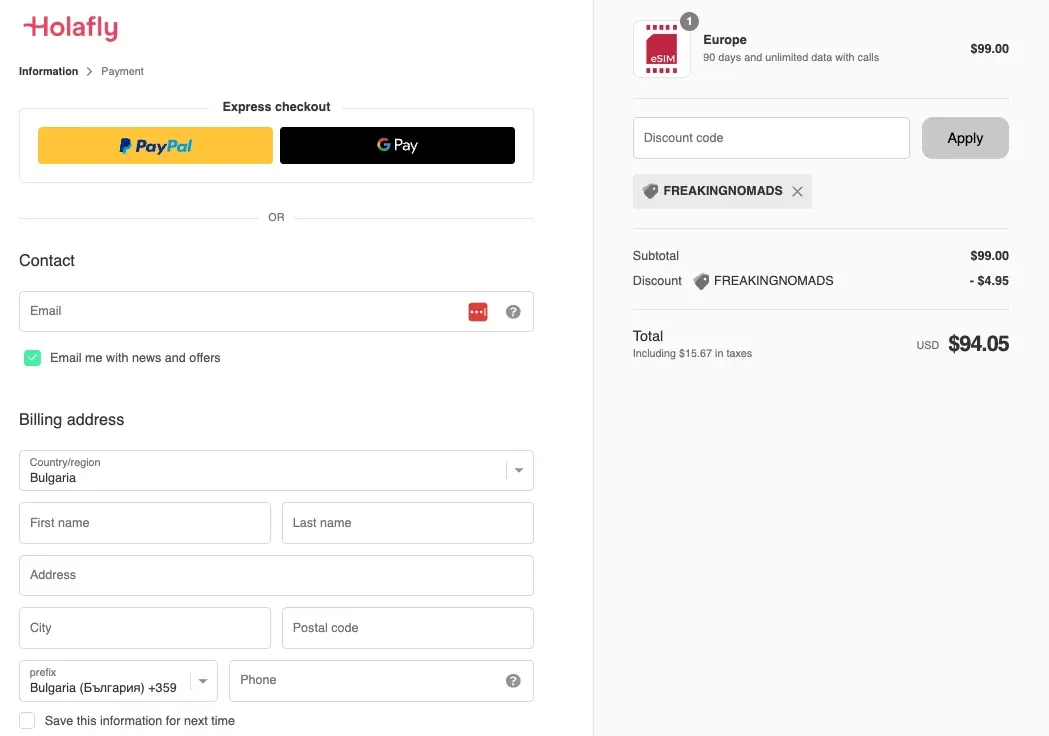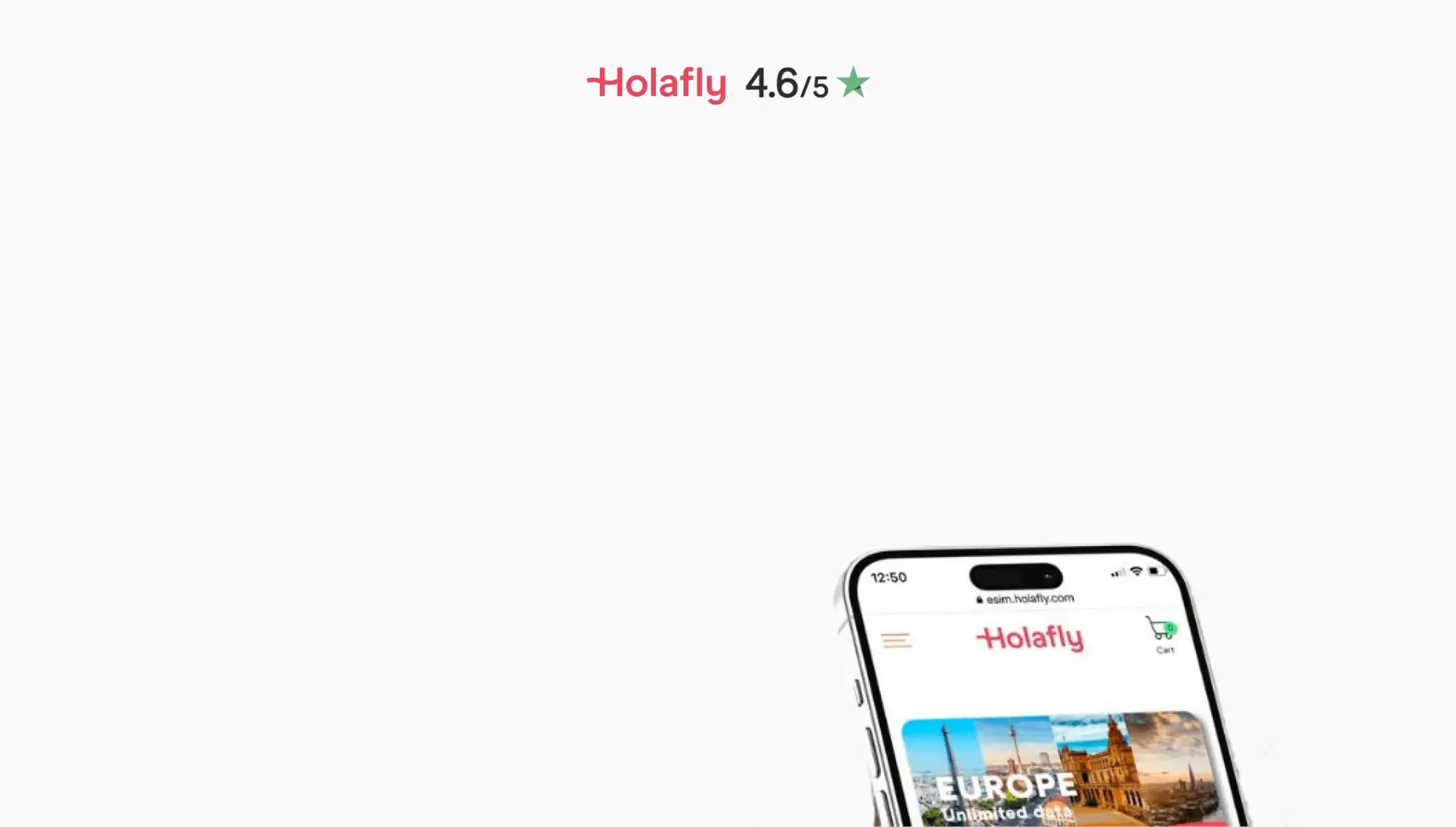 Get 5% Off on
Holafly Europe eSIM
Use Code '
FREAKINGNOMADS
' and Save on New eSIMs and Top Ups
Grab Your Discount Now!
Installation and activation process
Just minutes after our purchase was confirmed, Holafly sent us an email with instructions and a QR code to install and activate our eSIM.
The steps involved navigating to our 'Mobile Data' settings, choosing 'Add Data Plan', and scanning the QR code.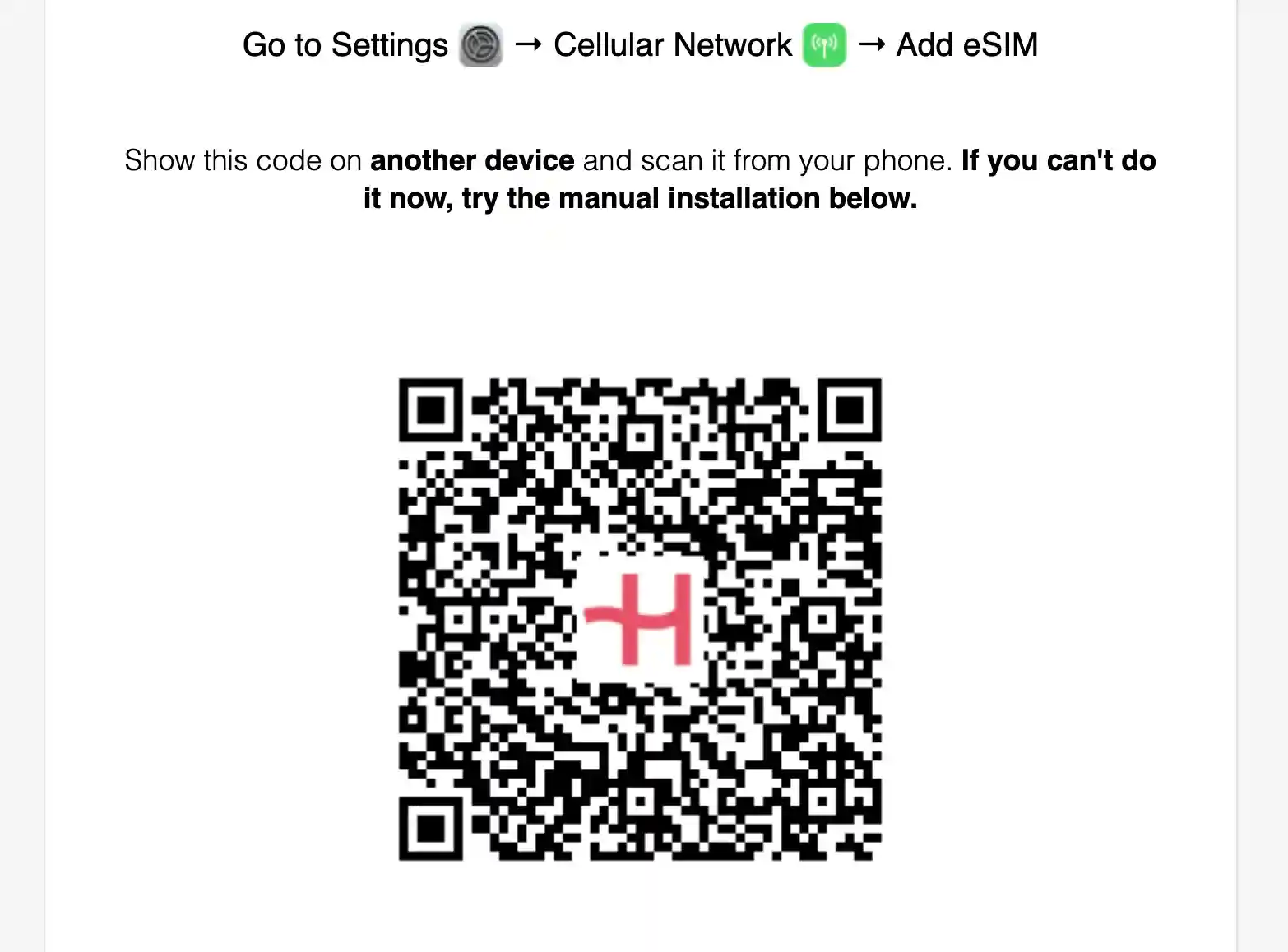 We initially thought we needed two devices to scan the QR code but as we updated to IOS 17 we noticed that now you can add the QR code from your photos which made the process so much easier.
💡
Pro tip: Although we decided to scan the QR code on the spot, we suggest you install the eSIM before traveling to your destination. This will ensure you have a reliable connection as soon as you arrive.
🟡
If you are unable to scan the QR code, Holafly offers a manual setup option. Detailed instructions on this alternative method are included in the same email containing the QR code.
After scanning, our eSIM profile started downloading instantly and activating our eSIM was incredibly easy.
We simply chose the Holafly as our main data source within the mobile data settings, and our eSIM was immediately active!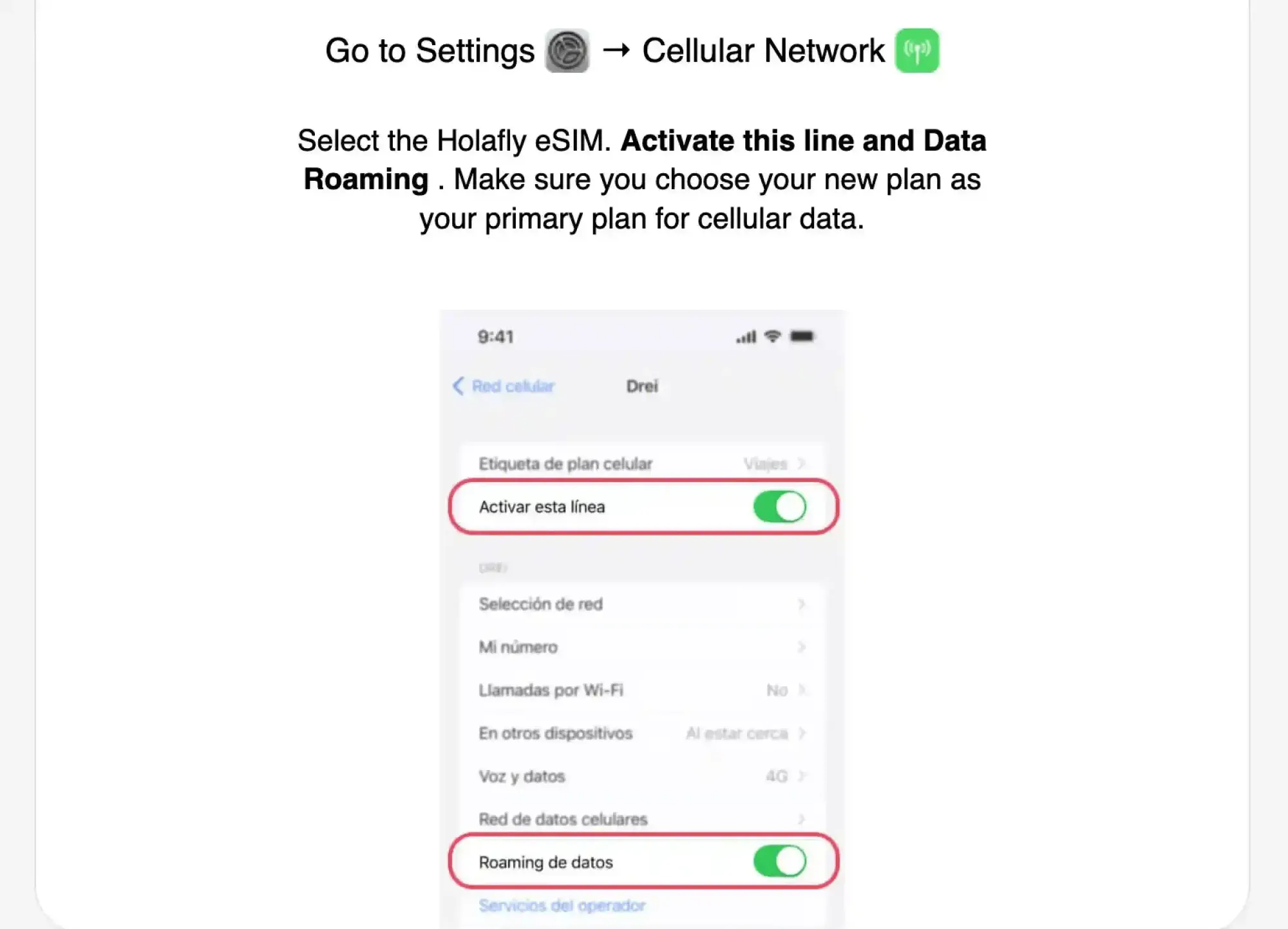 If you'd rather visualize this process, watch the instructional video below on how to install your Holafly eSIM on your iOS device:
For those on the Android side of things, the video below will guide you through the process:
Using Holafly's Europe eSIM: Our experience
To make sure we had an accurate view of the Holafly Europe eSIM plan, we decided to test it across different European countries. We used it in Portugal, Spain, Italy, Croatia and Romania.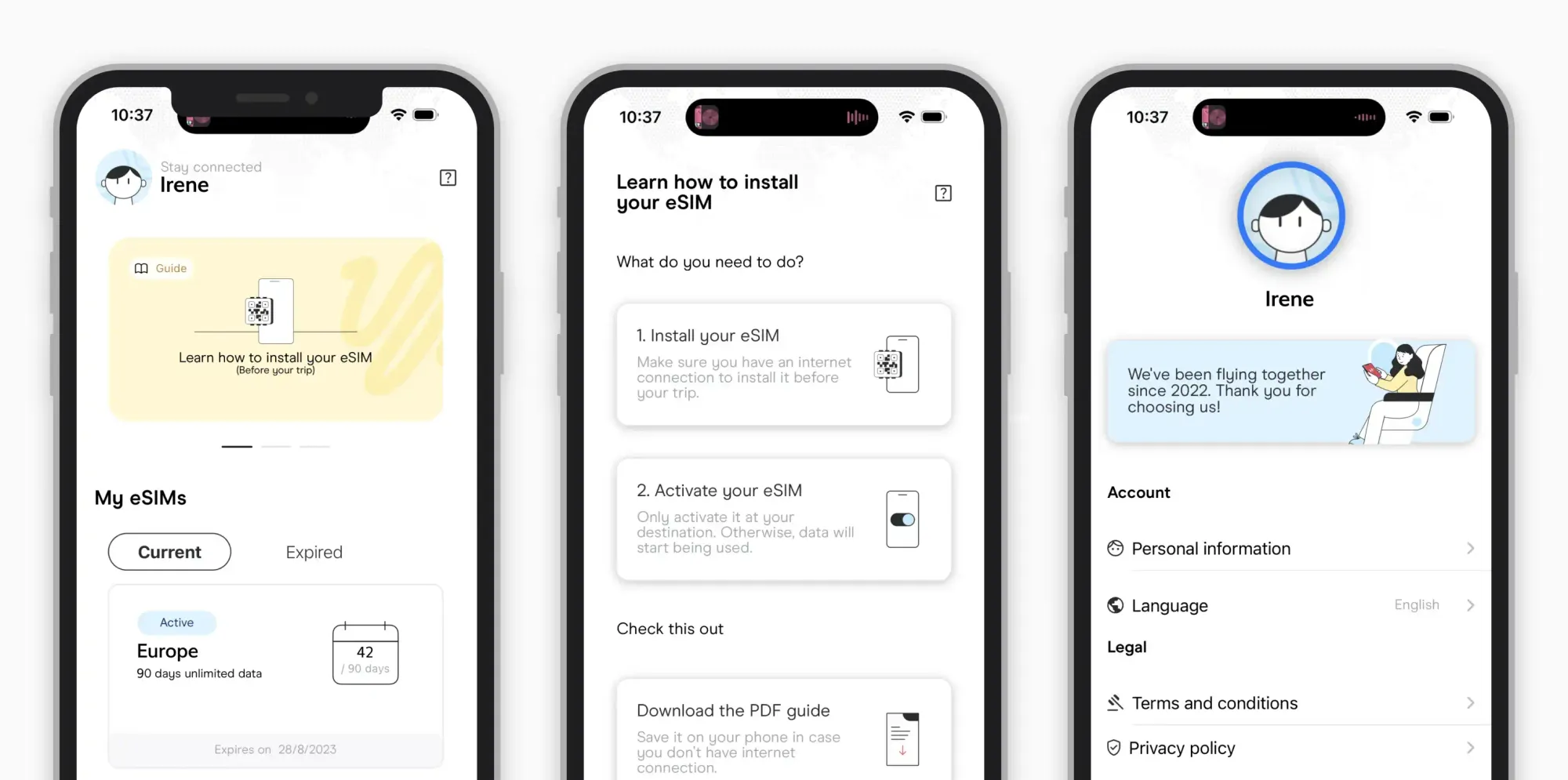 So the real question is – how was its real-world performance and speed?
The results were truly impressive:
| Country | Speed | Connection details |
| --- | --- | --- |
| Portugal | 205 Mbps (download) / 107 Mbps (upload) | Consistent across the board, including remote islands |
| Spain | 248 Mbps (download) / 131 Mbps (upload) | Great in most regions, except for some rural areas |
| Italy | 144 Mbps (download) / 64 Mbps (upload) | Northern areas having faster speeds than southern areas |
| Croatia | 122 Mbps (download) / 52 Mbps (upload) | Consistently strong, both in urban hubs, islands and mountainous regions |
| Romania | 260 Mbps (download) / 153 Mbps (upload) | Great everywhere, even in remote areas |
Overall pretty great!
We even managed a few Zoom calls from the pebbly beaches of Croatia as the connection was pretty stable and fairly fast.
Those speeds remained pretty consistent as the eSIM seamlessly transitioned between local network providers while we were crossing borders.
The fact that we could also use the Austrian phone number included in the plan to make dinner reservations at local restaurants was incredibly convenient for us.
We must say though that we had some small issues when traveling in remote areas of Spain. But to be honest, we also had a local SIM to compare with and we think that it was genuinely a lack of signal in the area. Any other operators, including those offering physical SIM, would have struggled with it too.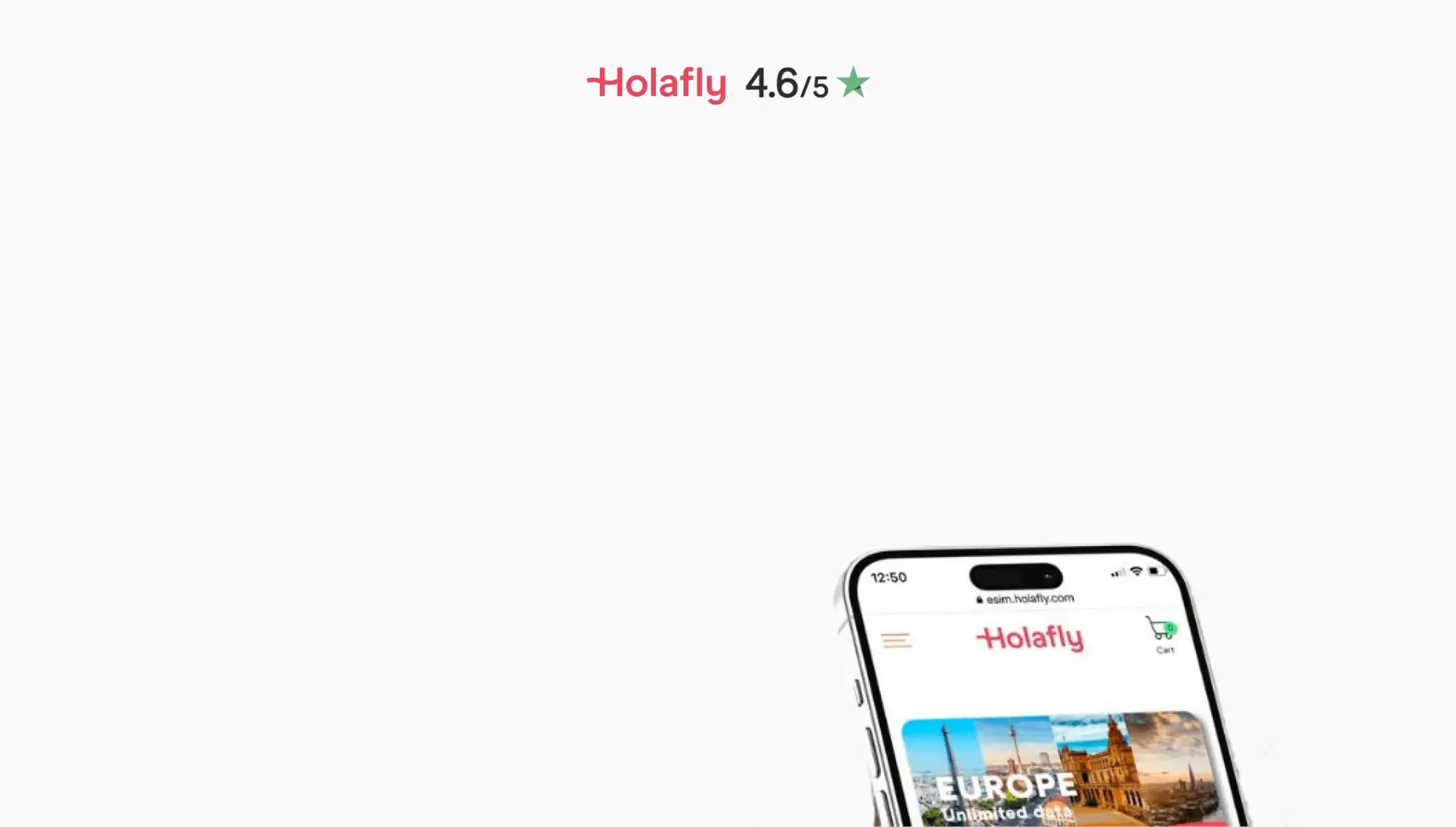 Get 5% Off on
Holafly Europe eSIM
Use Code '
FREAKINGNOMADS
' and Save on New eSIMs and Top Ups
Grab Your Discount Now!
Pros and Cons of Holafly Europe eSIM
So, should you pick Holafly as your eSIM when traveling to Europe?
Let's look at the pros and cons of Holafly Europe eSIM you should consider before making a purchase: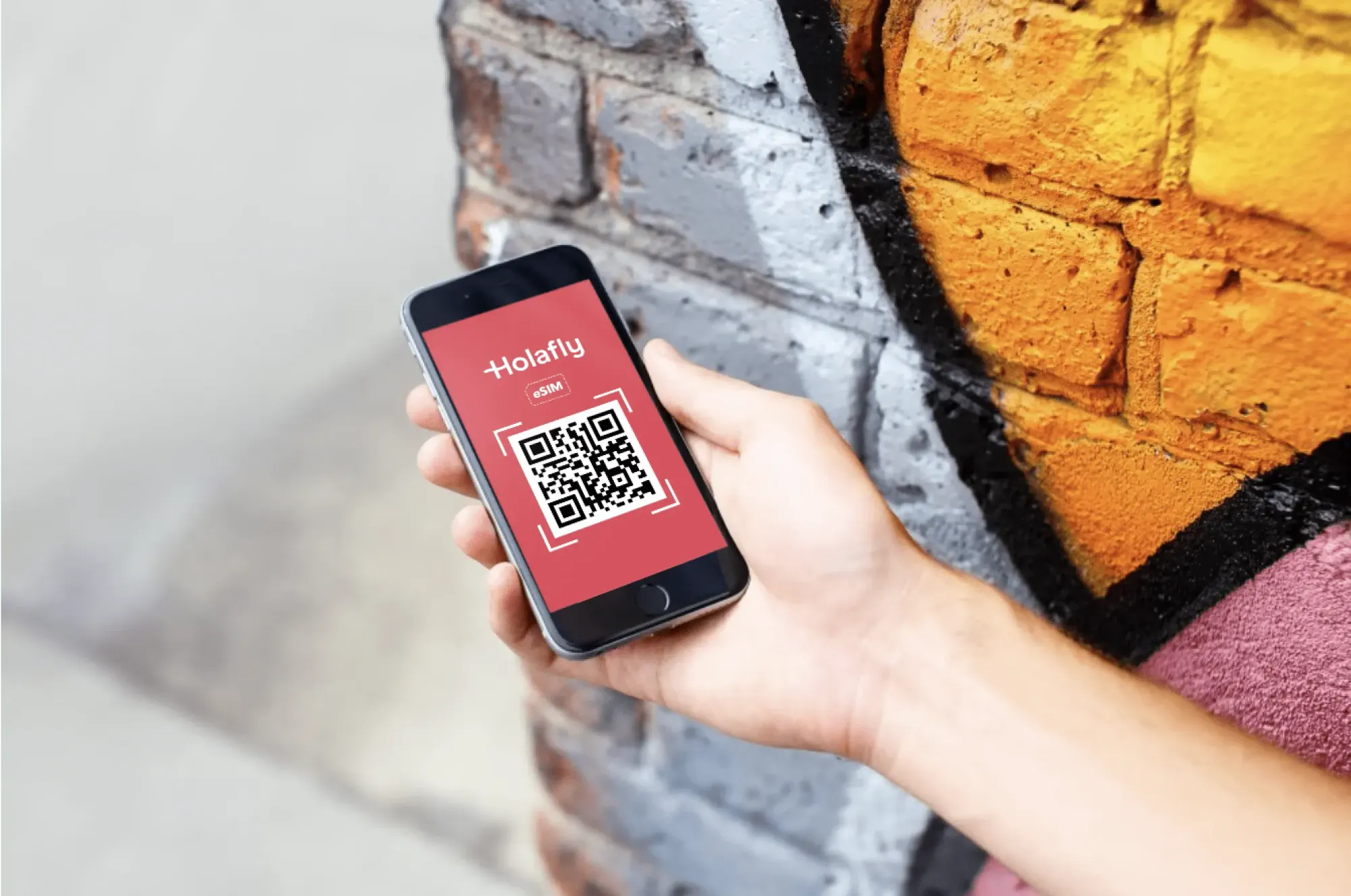 In our opinion, while there are a few things that could be improved, Holafly is definitely one of the best eSIM providers you should consider for your trip across Europe.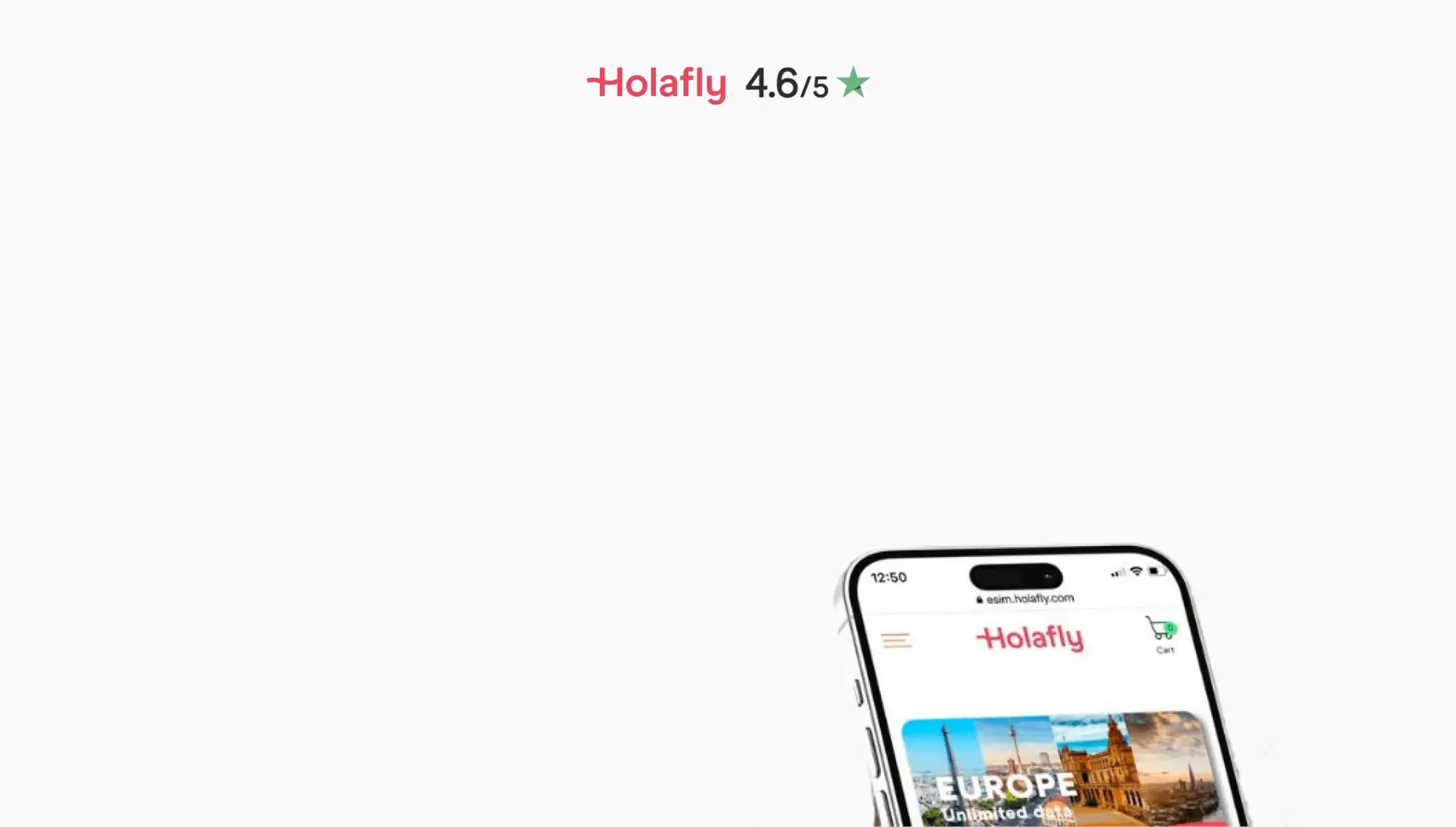 Get 5% Off on
Holafly Europe eSIM
Use Code '
FREAKINGNOMADS
' and Save on New eSIMs and Top Ups
Grab Your Discount Now!
Holafly's Europe eSIM Pricing and Packages
If you are considering purchasing their European eSIM packages, you are probably wondering how much they cost. Here are the prices you can expect:
| eSIM Validity | Data Allowance and Calls | Price |
| --- | --- | --- |
| 5 days | Unlimited data with calls | $19 |
| 7 days | Unlimited data with calls | $27 |
| 10 days | Unlimited data with calls | $34 |
| 15 days | Unlimited data with calls | $47 |
| 20 days | Unlimited data with calls | $54 |
| 30 days | Unlimited data with calls | $64 |
| 60 days | Unlimited data with calls | $87 |
| 90 days | Unlimited data with calls | $99 |
All these plans include up to 60 minutes of calls within Europe using an Austrian phone number.
💡
Please bear in mind that these are the prices at the time of writing. For more up to date information on Holafly's European eSIM pricing and packges, visit the
Holafly website
.
In which countries does Holafly's European eSIM work?
If you are worried about coverage and want to know exactly where their European eSIM works, you can find the full list of countries below:
| Region | Countries Covered |
| --- | --- |
| Central Europe | Austria, Czech Republic, Germany, Hungary, Poland, Slovakia, Switzerland |
| Western Europe | Belgium, France, Ireland, Luxembourg, Netherlands, United Kingdom |
| Northern Europe | Denmark, Estonia, Finland, Iceland, Latvia, Lithuania, Norway, Sweden |
| Southern Europe | Croatia, Cyprus, Greece, Italy, Malta, Portugal, Slovenia, Spain |
| Eastern Europe | Bulgaria, Romania, Ukraine |
| Microstates | Liechtenstein, Monaco, San Marino, Vatican City |
Please note that the calls feature is not available in all the countries where the data coverage is available.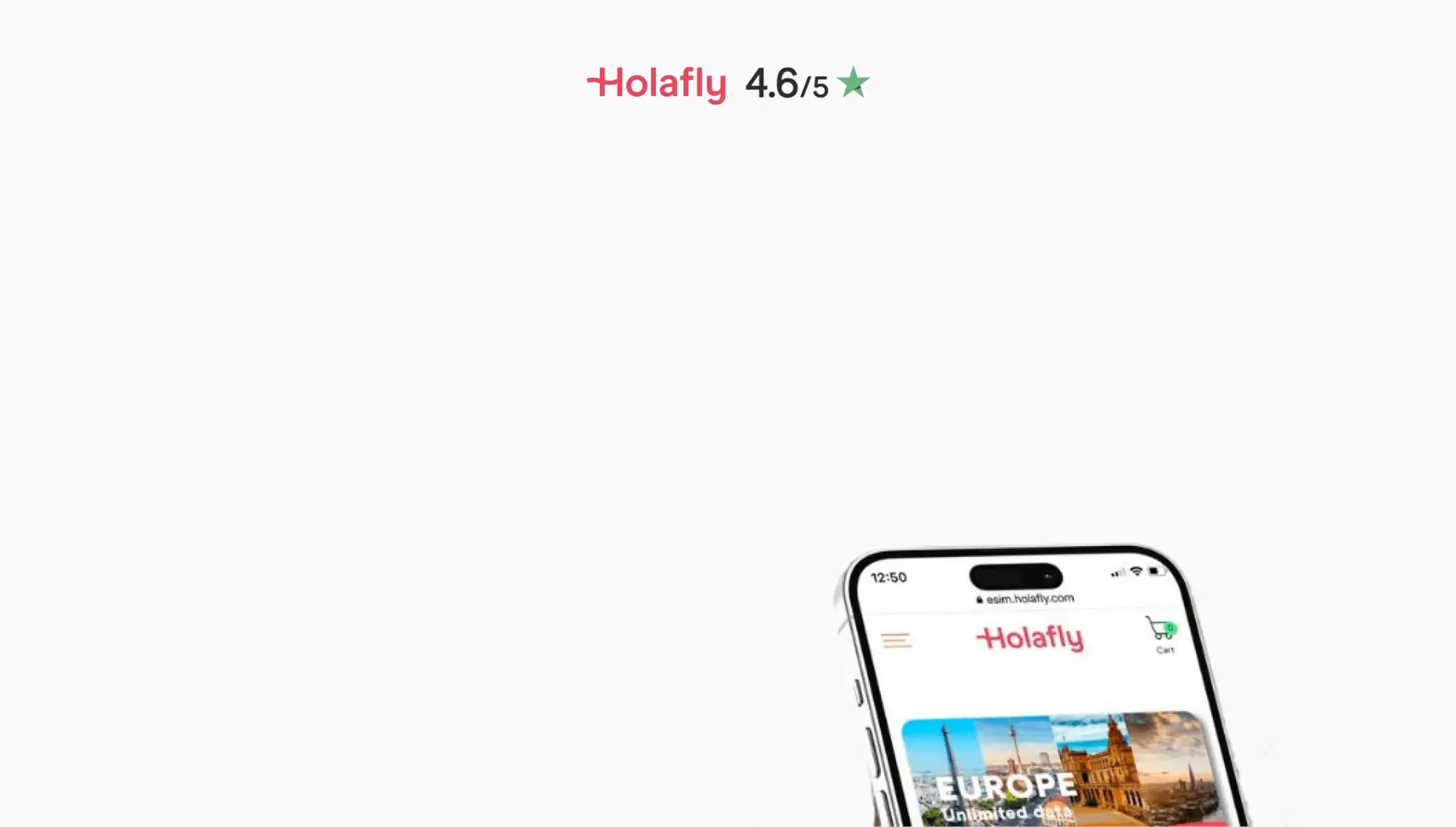 Get 5% Off on
Holafly Europe eSIM
Use Code '
FREAKINGNOMADS
' and Save on New eSIMs and Top Ups
Grab Your Discount Now!
What networks does Holafly use?
| Country | Local Network Providers Holafly Relies On |
| --- | --- |
| Austria | A1, T-Mobile, Drei |
| Belgium | Proximus, Orange, Base |
| Bulgaria | Vivacom, Telenor, A1 |
| Croatia | Hrvatski Telekom, A1, Tele2 |
| Cyprus | Cyta, MTN, PrimeTel |
| Czech Republic | O2, T-Mobile, Vodafone |
| Denmark | TDC, Telia, Telenor |
| Estonia | Telia, Elisa, Tele2 |
| Finland | Telia, DNA, Elisa |
| France | Orange, SFR, Bouygues Telecom |
| Germany | Telekom, Vodafone, O2 |
| Greece | Cosmote, Vodafone, Wind |
| Hungary | Telekom, Vodafone, Telenor |
| Iceland | Siminn, Nova, Vodafone |
| Ireland | Vodafone, Three, Eir |
| Italy | TIM, Vodafone, Wind Tre |
| Latvia | LMT, Tele2, Bite |
| Liechtenstein | Swisscom |
| Lithuania | Telia, Tele2, Bite |
| Luxembourg | POST Luxembourg, Orange, Tango |
| Malta | GO Mobile, Vodafone Malta |
| Netherlands | KPN, Vodafone NL, T-Mobile NL |
| Norway | Telenor Norge AS (Telenor), Telia Norge AS (Telia), Ice Norge AS (Ice) |
| Poland | Orange Polska S.A. (Orange), Polkomtel Sp. z o.o. (Plus), P4 Sp. z o.o. (Play) |
| Portugal | MEO (Altice Portugal), NOS (NOS Comunicações), Vodafone Portugal (Vodafone) |
| Romania | Orange Romania SA (Orange), RCS & RDS SA (Digi Mobil), Vodafone Romania SA (Vodafone) |
| Slovakia | Slovak Telekom a.s. (Telekom), Orange Slovensko a.s. (Orange), O2 Slovakia s.r.o. (O2) |
| Slovenia | Telekom Slovenije d.d. (Telekom Slovenije), A1 Slovenija d.d. (A1 Slovenija), Telemach d.o.o. (Telemach) |
| Spain | Movistar (Telefónica Móviles España S.A.U.), Orange Espagne S.A.U. (Orange), Vodafone España S.A.U. (Vodafone) |
| Sweden | Telia Company AB (Telia), Tele2 Sverige AB (Tele2), Telenor Sverige AB (Telenor) |
| Switzerland | Swisscom Schweiz AG (Swisscom), Sunrise Communications AG (Sunrise), Salt Mobile SA (Salt) |
| United Kingdom | EE Limited (EE), Hutchison 3G UK Limited (Three UK), Vodafone Limited (Vodafone UK) |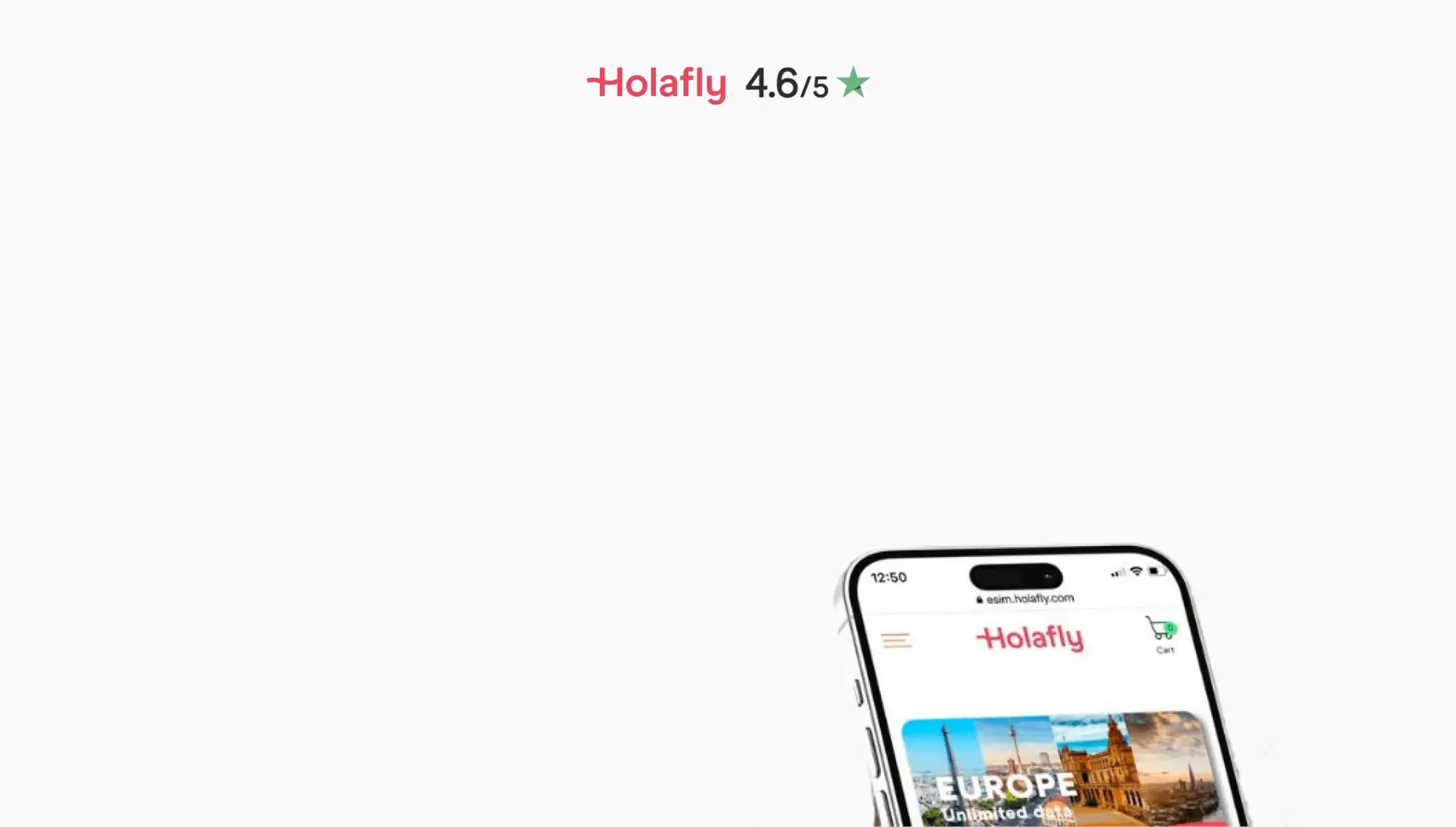 Get 5% Off on
Holafly Europe eSIM
Use Code '
FREAKINGNOMADS
' and Save on New eSIMs and Top Ups
Grab Your Discount Now!
So, Is Holafly's Europe eSIM Worth The Hype?
The truth is that Holafly's eSIM is undeniably a frontrunner when it comes to seamless, hassle-free connectivity in Europe.
After testing this eSIM on our journey across Portugal, Spain, Italy, Croatia, and Romania, it's evident Holafly doesn't just promise – it delivers.
Sure, there were a couple of hiccups. But these minor drawbacks are overshadowed by the availability of local networks in each country, which always kept us connected to a robust service.
The process, from purchase to activation, was mostly seamless. And the added feature of an Austrian number for local calls reflects the thought Holafly has invested in meeting the needs of digital nomads and remote workers.
If Europe is on your itinerary and maintaining constant, affordable connectivity is a top priority, Holafly's Europe eSIM is an unbeatable choice.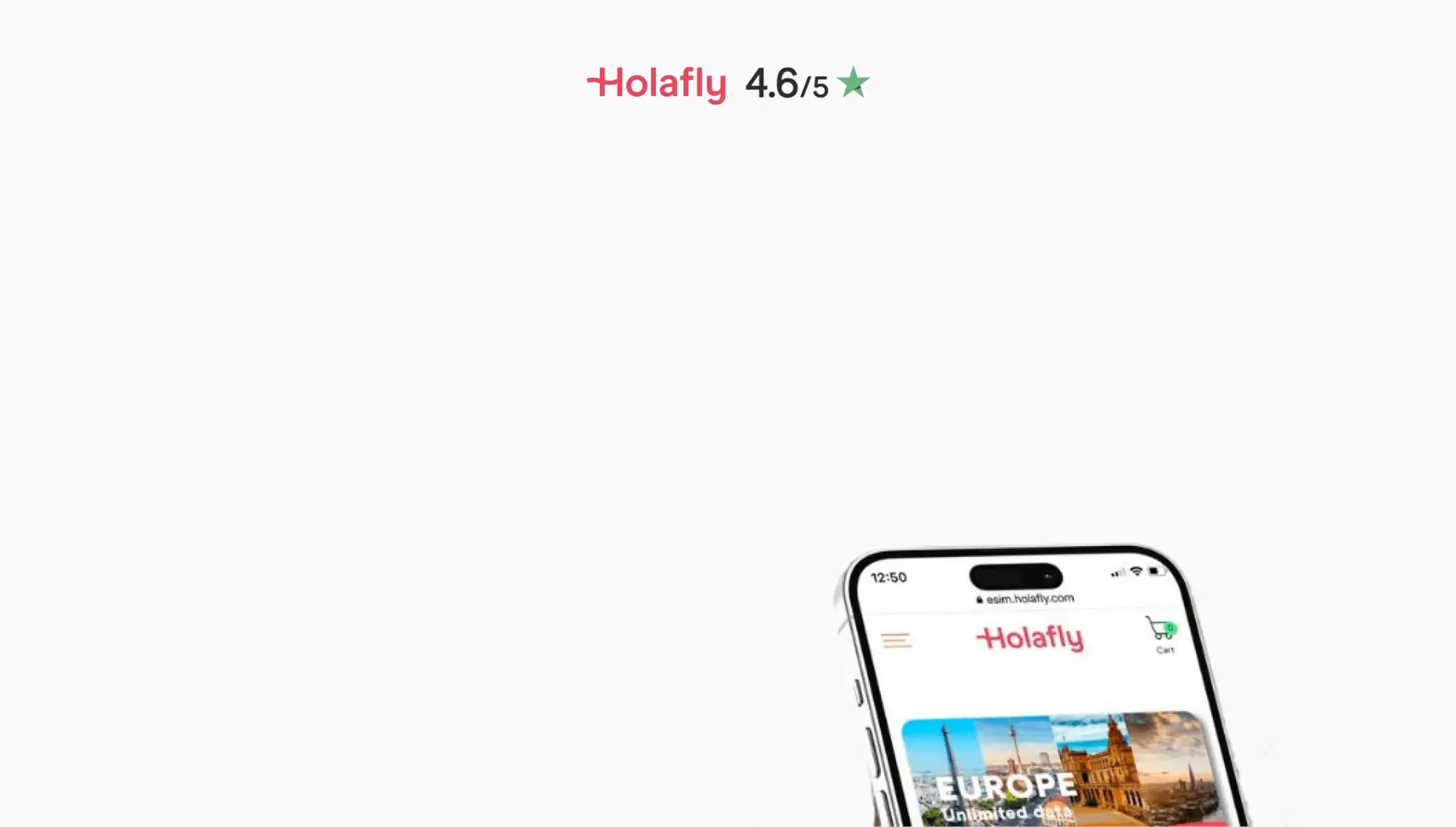 Get 5% Off on
Holafly Europe eSIM
Use Code '
FREAKINGNOMADS
' and Save on New eSIMs and Top Ups
Grab Your Discount Now!
FAQs about the Holafly eSIMs
What countries does Holafly work in?
Holafly works in the following countries:
Europe: Albania, Andorra, Bosnia and Herzegovina, Croatia, Cyprus, Finland, Iceland, Moldova, Montenegro, Norway, Sweden, Switzerland, Turkey, United Kingdom, and 32 other countries in the European Union.
Asia: Armenia, Azerbaijan, Bahrain, Bangladesh, Brunei, Cambodia, China, Georgia, Hong Kong, India, Indonesia, Iran, Israel, Japan, Jordan, Kuwait, Laos, Malaysia, Nepal, Oman, Pakistan, Philippines, Qatar, Russia, Saudi Arabia, Singapore, South Korea, Sri Lanka, Taiwan, Thailand, United Arab Emirates, Vietnam.
North America: Canada, Costa Rica, El Salvador, Guatemala, Hawaii, Honduras, Mexico, Nicaragua, Panama, USA.
South America: Argentina, Bolivia, Brazil, Chile, Colombia, Ecuador, Paraguay, Peru, Uruguay.
Caribbean: Antigua and Barbuda, Aruba, Barbados, Bermuda, British Virgin Islands, Cayman Islands, Curaçao, Dominica, Dominican Republic, Haiti, Jamaica, Martinique, Puerto Rico, St Martin, Trinidad and Tobago, Turks and Caicos.
Africa: Algeria, Botswana, Cameroon, Central African Republic, Chad, Democratic Republic of Congo, Egypt, Ghana, Ivory Coast, Kenya, Madagascar, Malawi, Mauritius, Morocco, Mozambique, Nigeria, Rwanda, Senegal, Seychelles, Sierra Leone, South Africa, Sudan, Tanzania, Tunisia, Uganda, Zambia.
Oceania: Australia, Fiji, New Zealand, Tonga.
What is my phone number with my Holafly eSIM?
Your phone number with your Holafly eSIM varies depending on the destination you are traveling to. Holafly offers eSIMs with phone numbers for several European destinations, including Europe, Spain, Italy, France, Germany, Greece, Portugal, The Netherlands, Austria, Sweden, Ireland, and Poland. For these destinations, you will receive an Austrian phone number (+43). With this eSIM, you are granted 60 minutes to make calls and another 60 minutes to receive calls from anywhere in the world. This won't replace your local number, so you can maintain your original number while using the eSIM.
It's important to note that while you can receive text messages on your eSIM, sending them is not supported. Additionally, using the eSIM as a portable wi-fi hotspot is not allowed. However, you can still utilize apps like WhatsApp, Skype, Telegram, and others to make calls and send messages using your data plan.
For destinations outside the aforementioned list, Holafly's eSIM primarily provides internet access. This means you won't get a dedicated phone number, but you can still make calls using VoIP services or apps that utilize your data connection.
How good is Holafly?
Holafly has a rating of 4.6 out of 5 stars on Trustpilot, based on 25,434 reviews.
Most of the reviews praise Holafly for their easy installation, good connectivity, cheap and convenient plans, phone numbers for some destinations, and excellent customer service: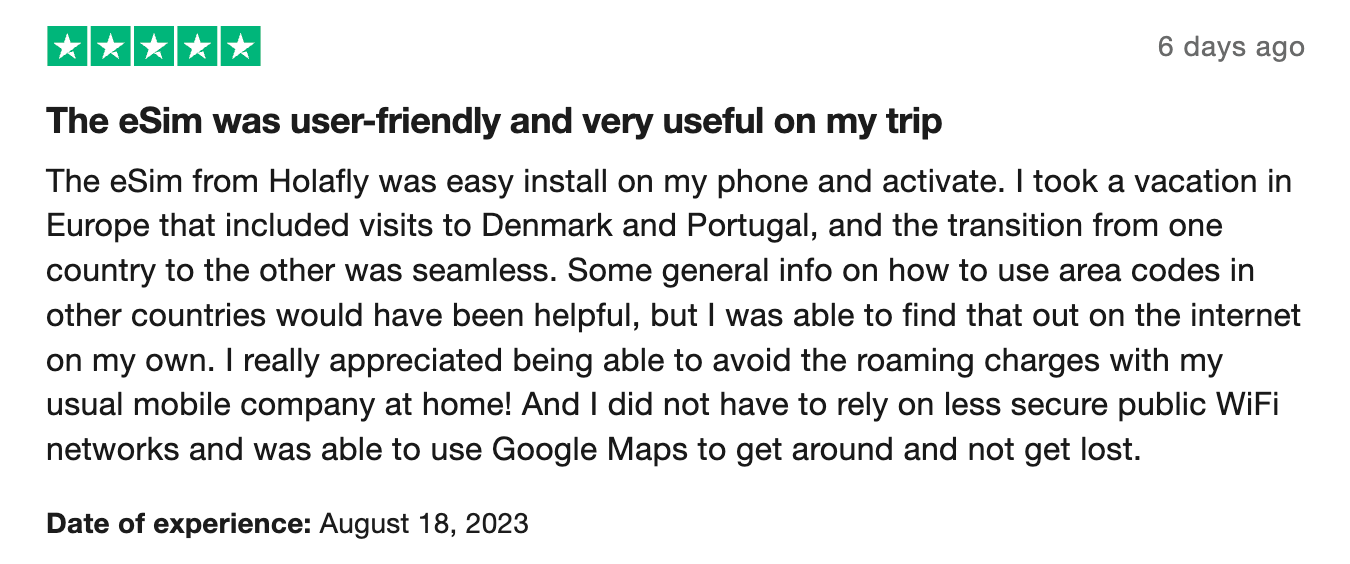 These are some of the negative reviews that Holafly has received on Trustpilot:

However, these reviews are very few compared to the positive ones, and do not reflect the average experience of most customers.
Based on such a high score on Trustpilot and our highly positive experience using this service, we cannot recommend Holafly enough!
How long does Holafly take to respond?
In our own experience contacting support, Holafly has very good customer service that responds quickly and courteously.
Most of the reviews from Trustpilot praise Holafly for their fast and helpful support:


However, there is one negative review from Trustpilot that complains about a delayed response: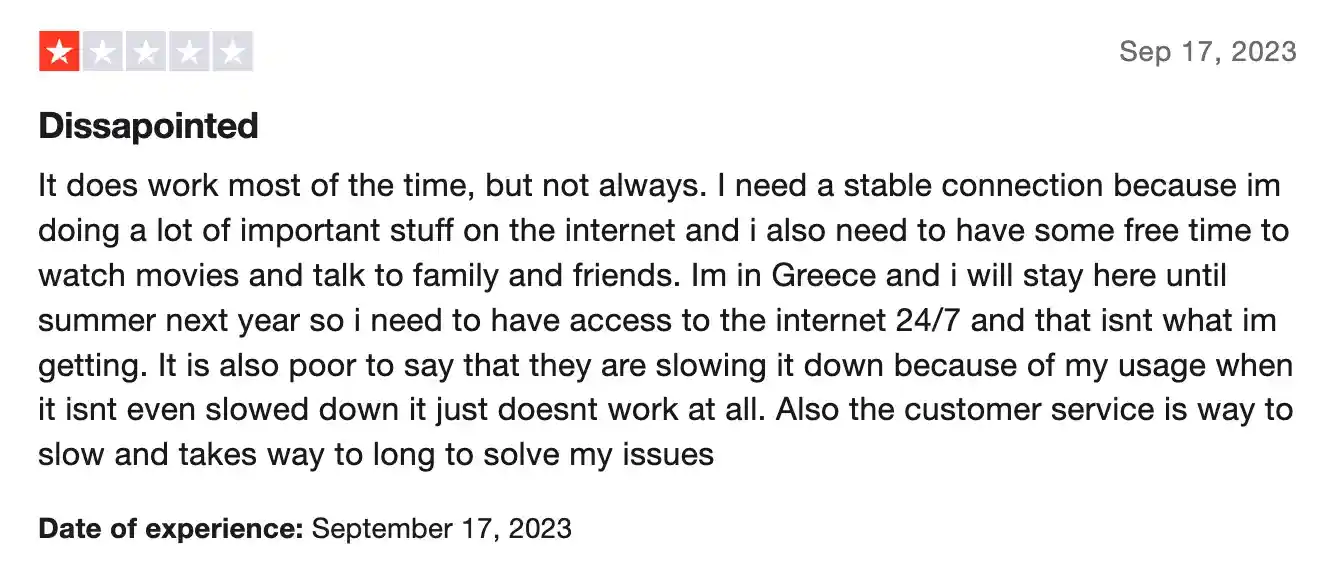 This seems to be an isolated case, as most of the other reviews do not report slow response times.
Based on our own experience and these reviews, we would say that Holafly generally has a good response time, and you can expect to receive a reply from them within minutes or hours.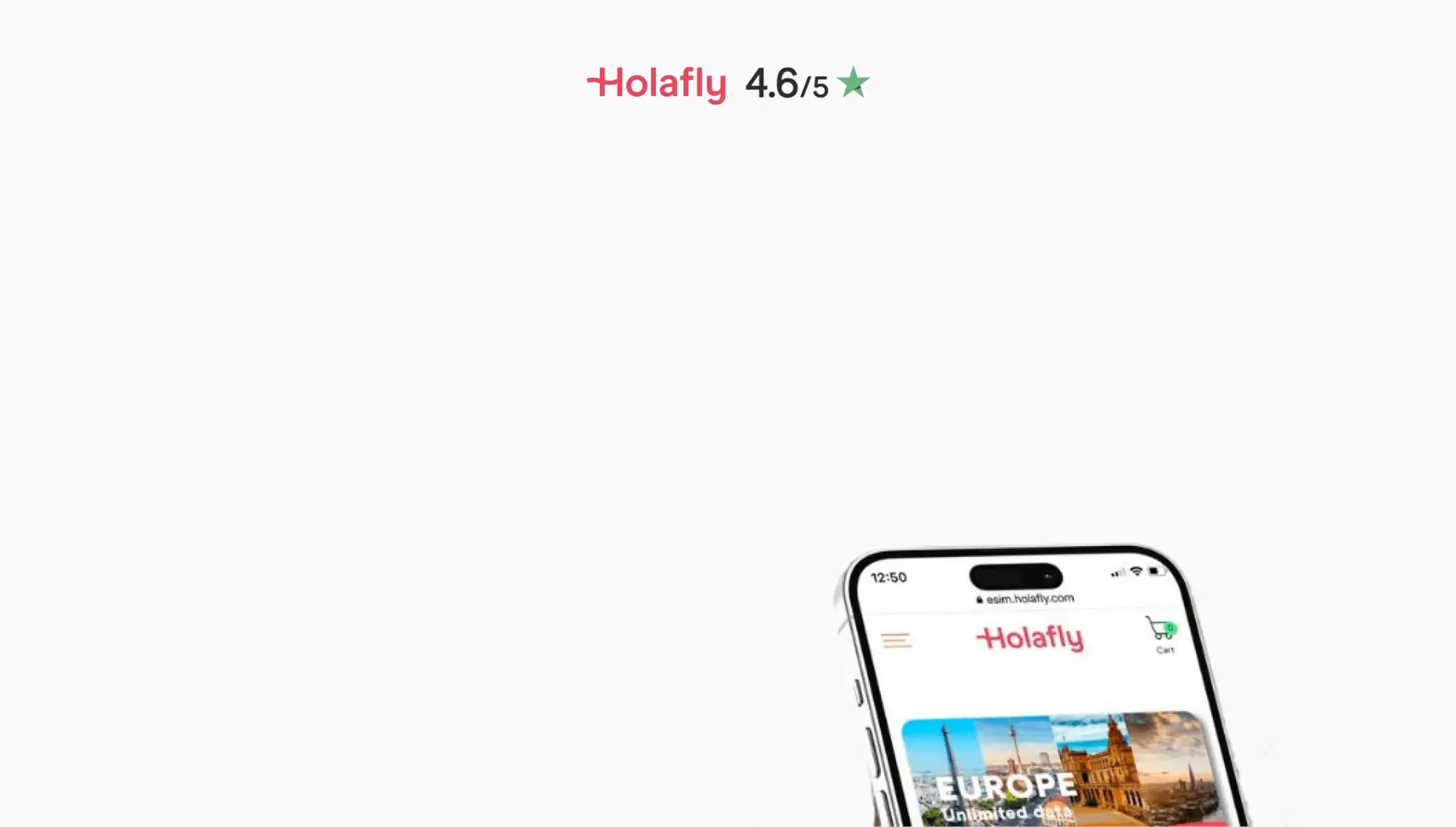 Get 5% Off on
Holafly Europe eSIM
Use Code '
FREAKINGNOMADS
' and Save on New eSIMs and Top Ups
Grab Your Discount Now!
Ready To Stay Connected in Your Next Trip To Europe?
If you want to receive digital nomad guides like these, sign up for our free newsletter and get upcoming articles straight to your inbox!
You can also follow us on Instagram and join our Facebook Group if you want to get in touch with other members of our growing digital nomad community!
We'll see you there, Freaking Nomads!
Disclosure: Hey, just a heads up that some of the links in this article are affiliate links. This means that, if you buy through our links, we may earn a small commission that helps us create helpful content for the community. We only recommend products if we think they will add value, so thanks for supporting us!