If you want to appear among the first results of Google, get noticed, and sell something, Search Engine Optimization (SEO) is your winning recipe.
The starred chef is the SEO Specialist, who knows (almost) all the ingredients to position your site, or the site of the company you work for, at the top of Google's search results.
But if you think this mythological figure is relegated to a desk in a dark and uninviting office, you are totally wrong.
It's very likely instead that an SEO specialist will happen to be a freelancer who responds to the requests from his clients (or the company he works for) from the other side of the world.
This could happen from a dreamy beach bar or from a coworking with strong Wifi in the middle of a tropical forest.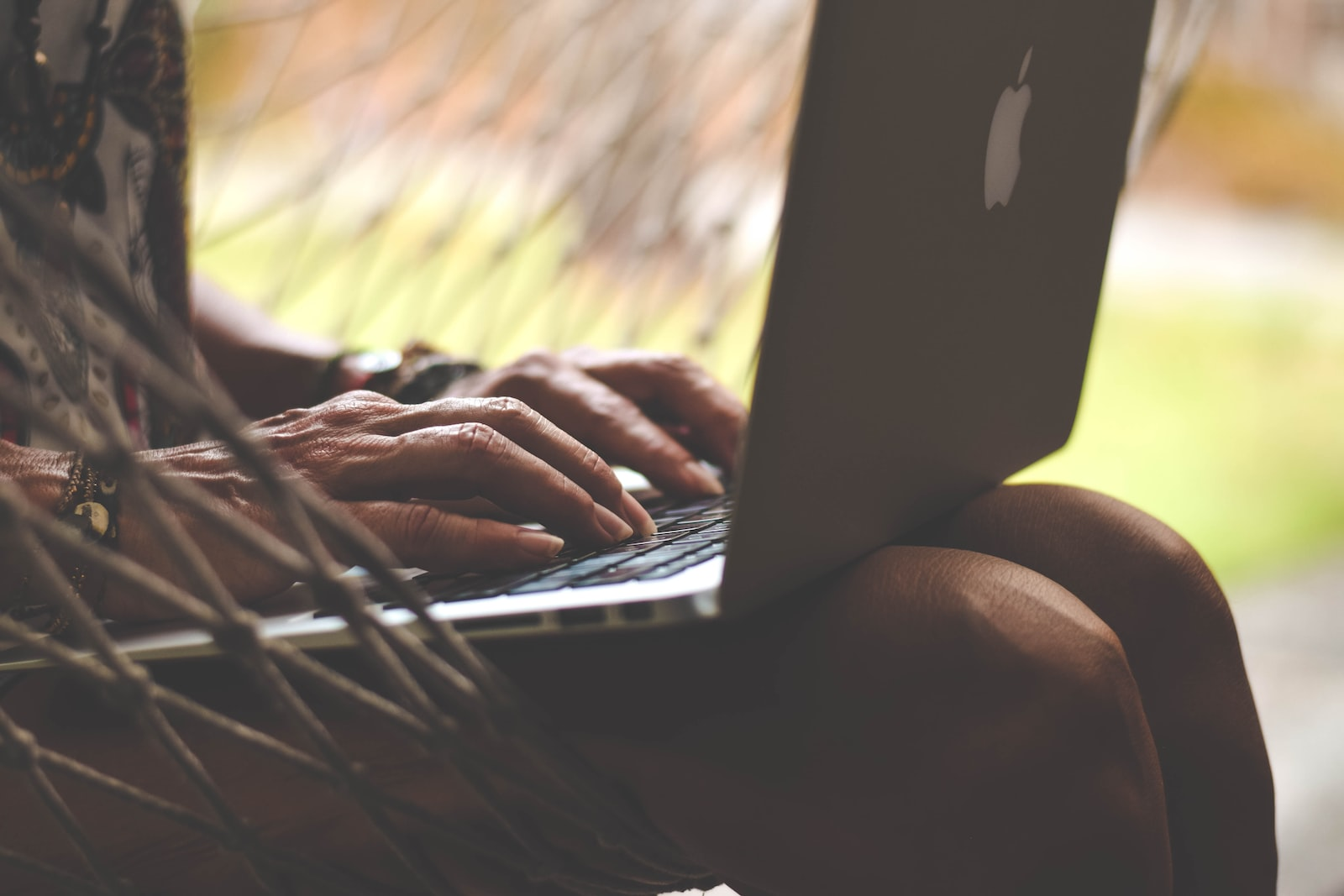 You may be wondering at this point: what the heck is an SEO specialist and can I really become a digital nomad by becoming one?
Let's find out together.
What Is An SEO Specialist?
An SEO specialist is a professional who knows how to optimize a website or digital asset in search engines.
SEO is in fact an acronym that stands for Search Engine Optimization.
But what is a search engine?
A search engine is an online platform that allows us to search for anything on the internet.
When it comes to search engines, the first thing that usually comes to mind is Google, since it is the digital tool that we use from most parts of the world to search for pretty much anything.
Google is in fact the most used search engine in the world and has as much as 83% of this market.
Nonetheless, the American giant is not the only search engine we use every day.
Other sites like Amazon, eBay, Spotify, Netflix, Youtube, or the app store on our mobile phones are all search engines. Their technology allows us, in fact, to easily search for music, podcasts, videos, movie, products, or apps.
For this reason, many SEO specialists often decide to extend their knowledge to other search engines than Google, giving birth to micro categories within the SEO profession such as:
the Amazon SEO Specialist
the Youtube SEO Specialist
the App Store Optimization (ASO) Specialist
the Podcast SEO Specialist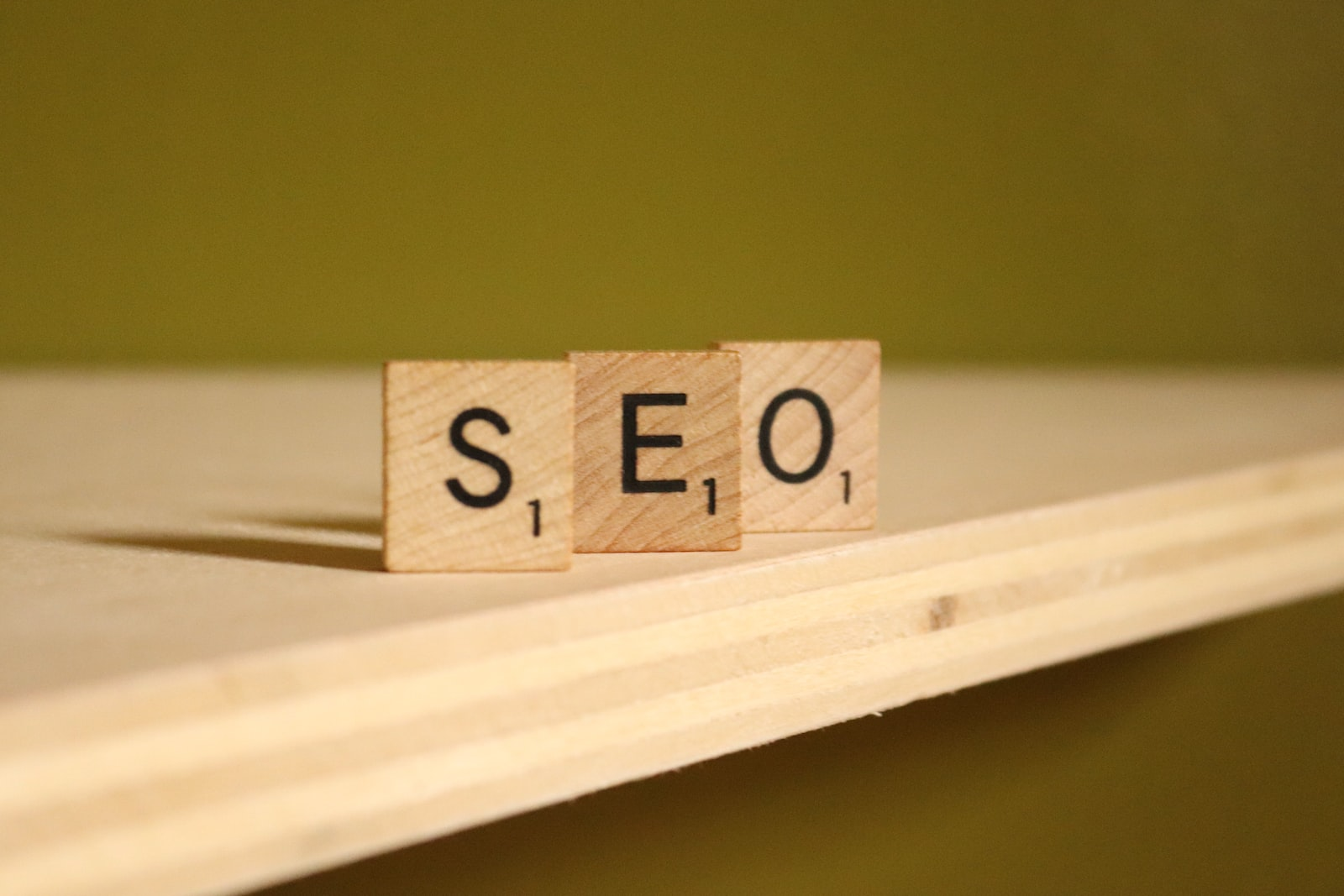 What Does An SEO Specialist Do?
An SEO specialist tries to understand the algorithms behind search engines like Google to help companies appear higher in search engine results.
This is because the higher up they are for keywords people input in search engines, the more they can be found by their potential customers and therefore sell their products and services.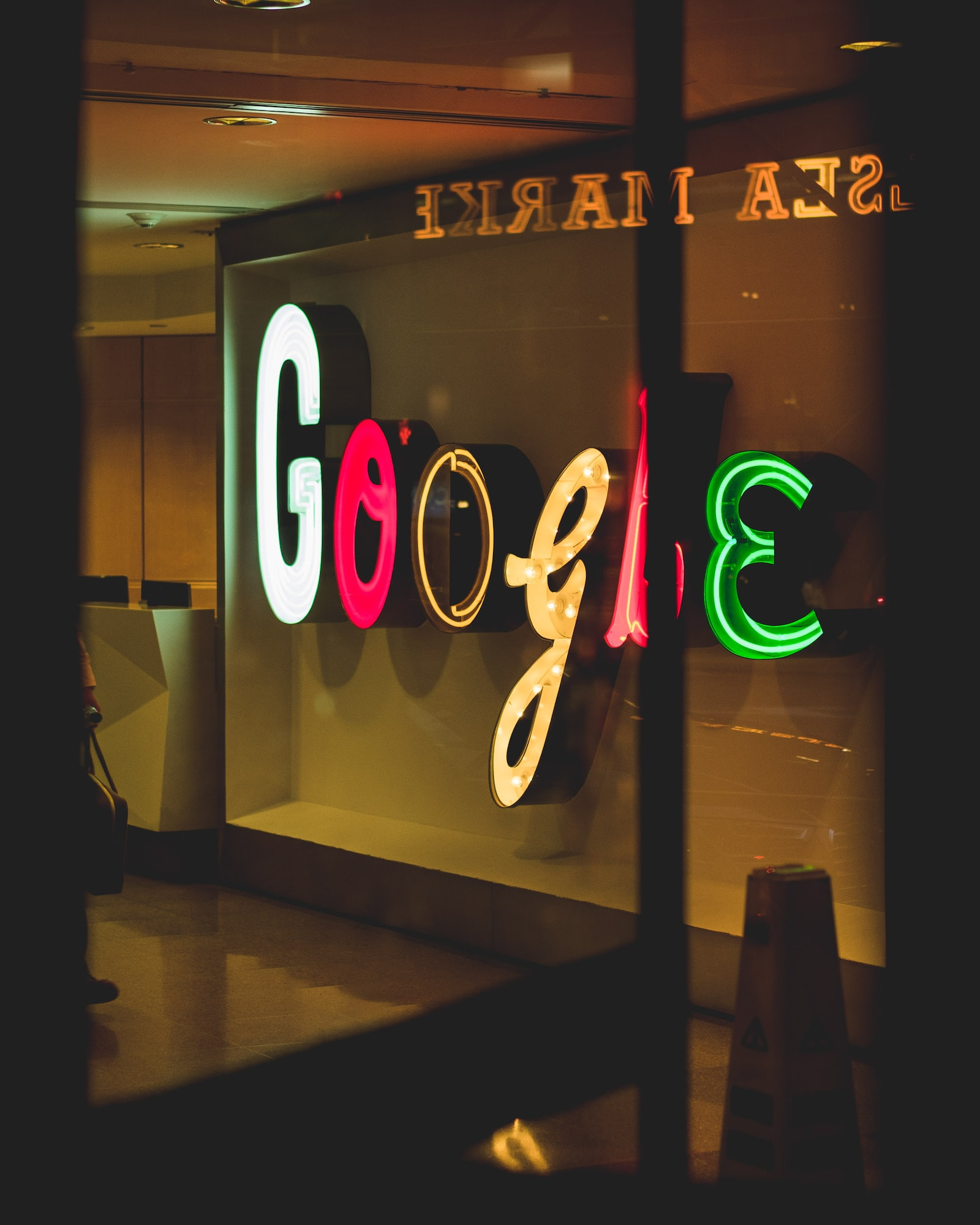 Why Become An SEO Specialist?
If at this point you have understood what an SEO specialist is and are thinking of pursuing this career, know that you are on the right track to becoming part of a growing market.
The interest in search engine optimization (or SEO) has seen exponential growth in recent years.
If you don't believe me, you can check out for yourself this Google Trends graph which shows the interest over time around the keyword "SEO" from 2004 to the present.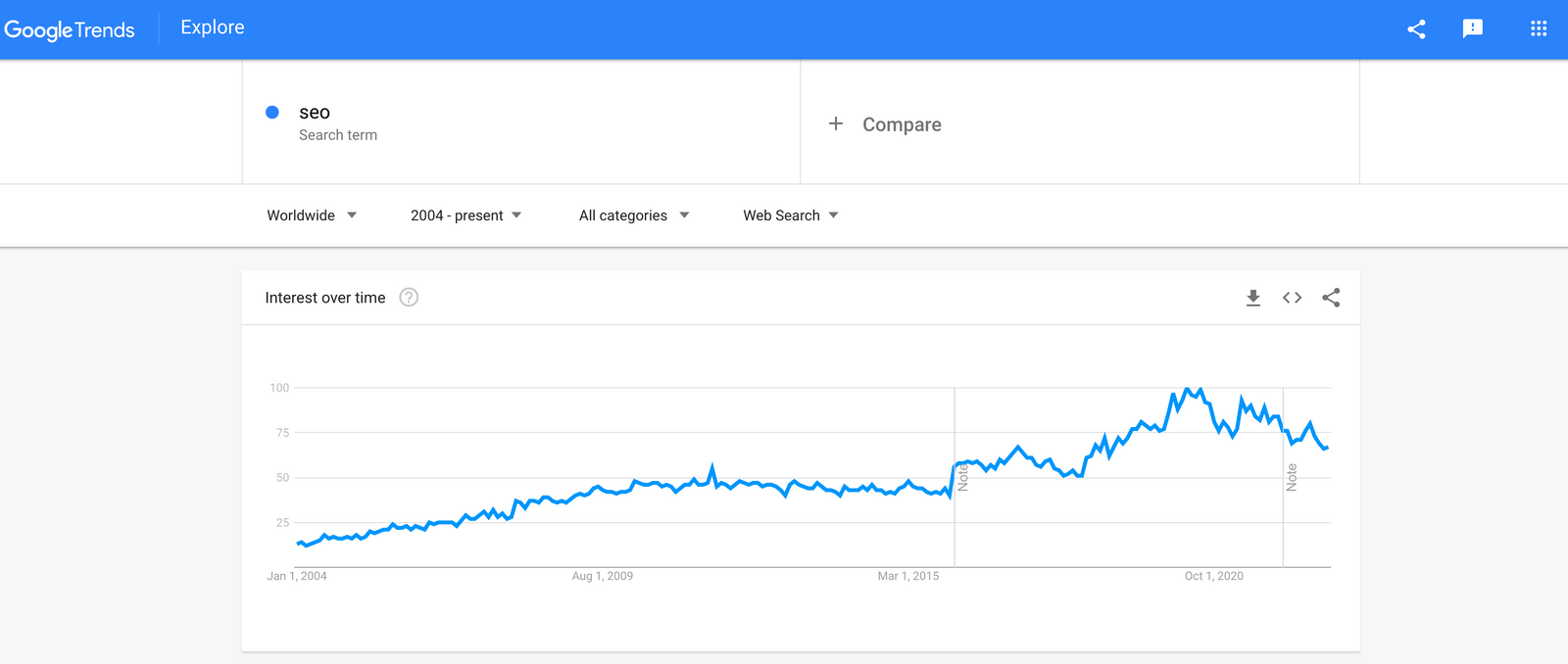 And if you're one of those people who doesn't like graphs, you can just pop over to Twitter or Linkedin and write the name of any digital marketing expert you can think of. I bet you'll find SEO mentioned often among their posts and tweets.
But the interesting thing is that, although the demand for SEO professionals continues to grow globally when talking to recruiters in the field, you will discover that many companies still struggle to find highly qualified professionals.
And why are companies trying so hard to find many candidates for these roles, you may be wondering?
There are mainly 3 reasons:
1. People use Google to search for anything. In fact, it is often said that 68% of online experiences begin with a search engine
2. People trust Google when searching for information. We all do it, don't we? Just think how many times our friends had told us 'Google it' when we weren't sure of the source of an information
3. People don't trust ads or any form of advertising. To be number one in search results (which are by nature not paid), Google uses about 200 signals to determine if any content on the web deserves to appear at the top. As a consequence, Google's first results are much more meritocratic than ads which, as we said, people don't trust very much.
For these 3 reasons, the main traffic source for most company websites today is Google. And companies are ready to spend thousands and thousands of dollars to be more visible in Google's search engine results.
Furthermore, being an SEO specialist a profession in the digital space lends itself perfectly to remote work. It can be then an excellent opportunity for you to become a digital nomad and work while traveling.
---
You might also be interested in:
---
What Skills Do I Need To Become An SEO Specialist?
Let's clear up something that is often asked.
You don't need a college degree to become an SEO specialist.
In general, SEO, like all digital professions, is relatively new. Hence, the academic world is usually not particularly up-to-date with this market.
In college marketing courses, you usually only learn theoretical concepts of marketing. Disciplines like SEO can only be learned in the field, whether it's working for marketing agencies, as part of an in-house SEO team or as an SEO freelancer.
Having clarified this point, it is important to know that SEO is mainly divided into 3 pillars:
Technical SEO
Content
Backlink Acquisition and Digital PR
Those who work in SEO can either get involved in all three areas or specialize in one of those.
My advice is to understand your skillset and find out your personal inclination for one or more of the three areas mentioned.
For example, if you are inclined to coding and software development, you will most likely love technical SEO.
If, on the other hand, you are a person inclined to write online, you will certainly like the content side of SEO.
Finally, if you like establishing relationships with people or companies, the link acquisition and digital PR part of SEO will be well-suited for you.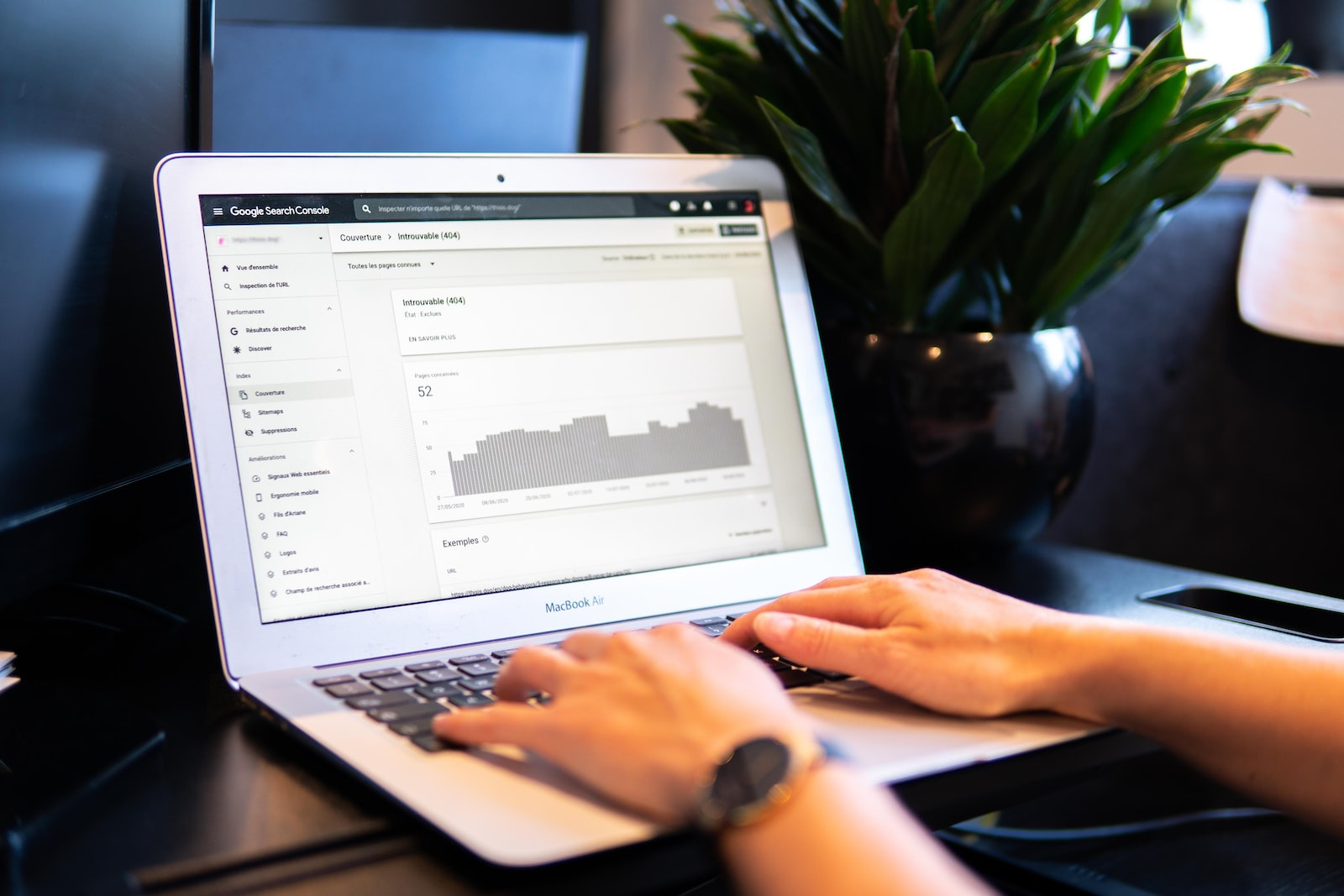 How Do I Become A Digital Nomad As An SEO Specialist?
There is no set route.
Like all digital skills, SEO can be learned by both self-study and practice.
However, we have collected for you 5 ways that will help you become an SEO specialist as quickly as possible and kickstart your digital nomad lifestyle.
Ready? Let's dive right in.
1. Take Free SEO Online Courses
The first is to take as many SEO online courses as you can. We suggest you take advantage of the thousands of free resources online, including those that Google shares on its official channels.
You don't need to make any initial investment as the quality of the free courses will already be good enough to give you the foundation you need.
Below you will find a complete list of courses that we absolutely recommend you take a look at:
To be well-versed in any subject, you need at least 100 hours of study. So, roll up your sleeves and divide the hours you need to study the material above by the days you plan to study SEO. In this way, you will be just fine!
2. Read SEO Publications
The second method is to read online publications that publish daily news about SEO.
The online courses you studied would be useless without keeping yourself up to date with the trends and changes in the SEO world.
This is very important since Google makes thousands of changes to its algorithm every year. And each of these changes could make or break the knowledge you acquired through the online courses you took.
This is why every SEO specialist must keep up to date, even if they already have an excellent knowledge of the subject.
You can find below a list of the most famous online news sites in the SEO world so that you can bookmark them and check them out:
3. Open Your Personal Blog
It is often said that practice is more important than theory.
And the best way to put into practice all the theoretical knowledge from your self-study is to create your own personal website or even open a blog around your passions.
Owning a website will force you to deal with SEO if you want to see any traffic at all. This will be your personal lab where you can experiment with all the theoretical notions you will have learned in the various online courses you decide to take.
And if you manage to get results, congratulations! You will have just collected the first site in your portfolio, which you can now show to potential employers.
4. Manage Someone Else's Site
Once you have your own site to use as a lab to test your own knowledge and learn faster about SEO, you'll be ready to get serious and take over your first website.
You can start from the site of a friend, a relative, or anyone who is willing to let you manage their site.
It doesn't matter.
What matters is that you start collecting results from real sites to use them as a portfolio for potential clients or employers.
The more tangible the results will be (and the sites in your portfolio optimized), the more you will be able to build your credibility as an SEO specialist, so you will be able to start your journey as a digital nomad.
5. Find An SEO Coach
The last method we recommend is to consult an SEO coach.
This is not a mandatory step, but I assure you that it will visibly speed up your learning process and help you achieve your goals faster, whether to get a better salary, land your dream job, get that promotion, or even start your own SEO consultancy business.
Having an SEO coach will save you a lot of time that we bet you would rather use to take care of yourself or other projects.
Finally, with the help of a coach, you will learn so many notions that would have taken years to be learned otherwise.
If that's something that you might be interested in, you can book a 121 SEO coaching session with me, Luca Mussari, directly from here.
What Is The Salary Of An SEO Specialist?
At this point, let's look at the information that I'm sure will interest you the most: how much does an SEO specialist earn?
According to Glassdoor, the average salary of an SEO Specialist in the United States is $53,384 per year ($3,780 gross per month) while in the United Kingdom is £36,408 per year (£3,034 gross per month).
The remuneration of an SEO Specialist in the US can start from a minimum salary of $33,962 gross per year as a Junior SEO Specialist to a maximum salary of $83,914 as a Senior SEO Specialist.
In the UK, instead, a Junior SEO Specialist would earn a minimum of £22,000 while a Senior SEO Specialist would earn a maximum of £60,000.
Of course, these figures are related solely to the profession of an SEO Specialist as an employee. They might be so much higher if you happen to lead a department as a Head of SEO of an in-house team or if you are self-employed as an SEO Freelancer.
---
You may also be interested in: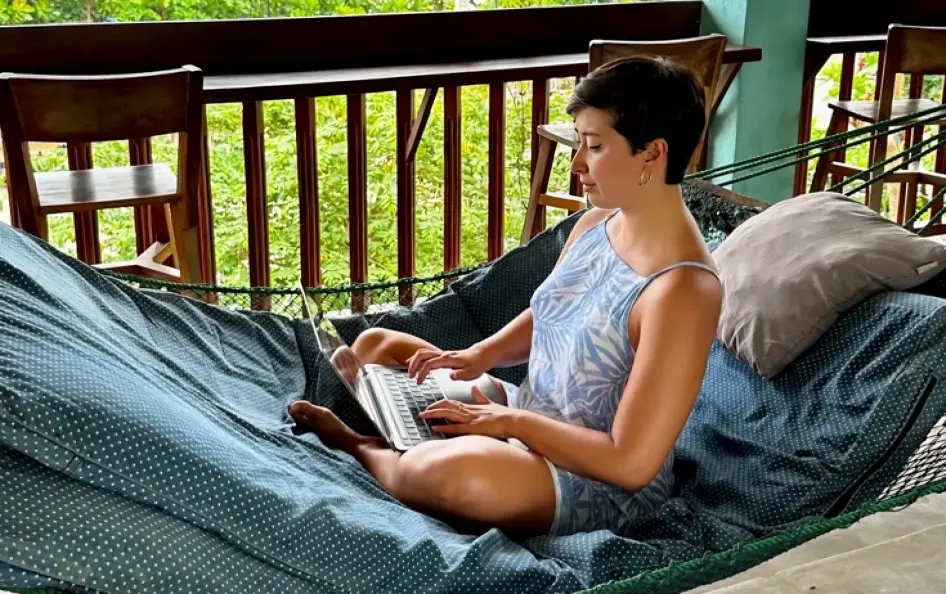 ---
Are You Ready To Start Your Career As An SEO Specialist And Become A Digital Nomad?
If you want to receive digital nomad guides like these, sign up for our free newsletter and get upcoming articles straight to your inbox!
You can also follow us on Instagram and join our Facebook Group if you want to get in touch with other members of our growing digital nomad community!
We'll see you there, Freaking Nomads!
Disclosure: Hey, just a heads up that some of the links in this article are affiliate links. This means that, if you buy through our links, we may earn a small commission that helps us create helpful content for the community. We only recommend products if we think they will add value, so thanks for supporting us!