In recent years, the concept of families embracing a digital nomad lifestyle has transitioned from a niche phenomenon to a growing global trend.
Historically, the digital nomad lifestyle was predominantly associated with solo travelers and adventurous couples. However, a 2018 survey by Flexjobs painted an emerging picture: 61% of digital nomads were married, and 26% had children under 18. Among these, 59% of the children didn't travel with their digital nomad parent, with the majority enrolled in public schools, followed by homeschooling and online schools.
Yet, this trend has accelerated rapidly since then. Today, it's estimated that there are over 200,000 posts on Instagram alone (at the time of writing) using hashtags related to digital nomad families, signaling a significant and growing interest in this lifestyle. Advances in technology, coupled with the global shift towards remote work fostered by the COVID-19 pandemic, have made it increasingly feasible for families to blend travel, work, and education into a harmonious lifestyle. Parents are now finding innovative ways to integrate their professional lives with the educational and developmental needs of their children, all while exploring the world.
And as the number of families living as digital nomads grows, so does the wealth of shared experiences online. Digital nomad blogs have in fact become key sources of information and inspiration for many and in this article, we are going to uncover the best blogs run by digital nomad families out there to get you inspired and help you solve the challenges that you as part of a digital nomad family can face while on the go.
💡
Note that our list is not in order of importance, following base, or priority in which you should follow them. The blogs we will mention are all equally awesome, and we recommend you check out the ones that spark your curiosity the most!
Best Digital Nomad Family Blogs: The Quick List
1. Anna Everywhere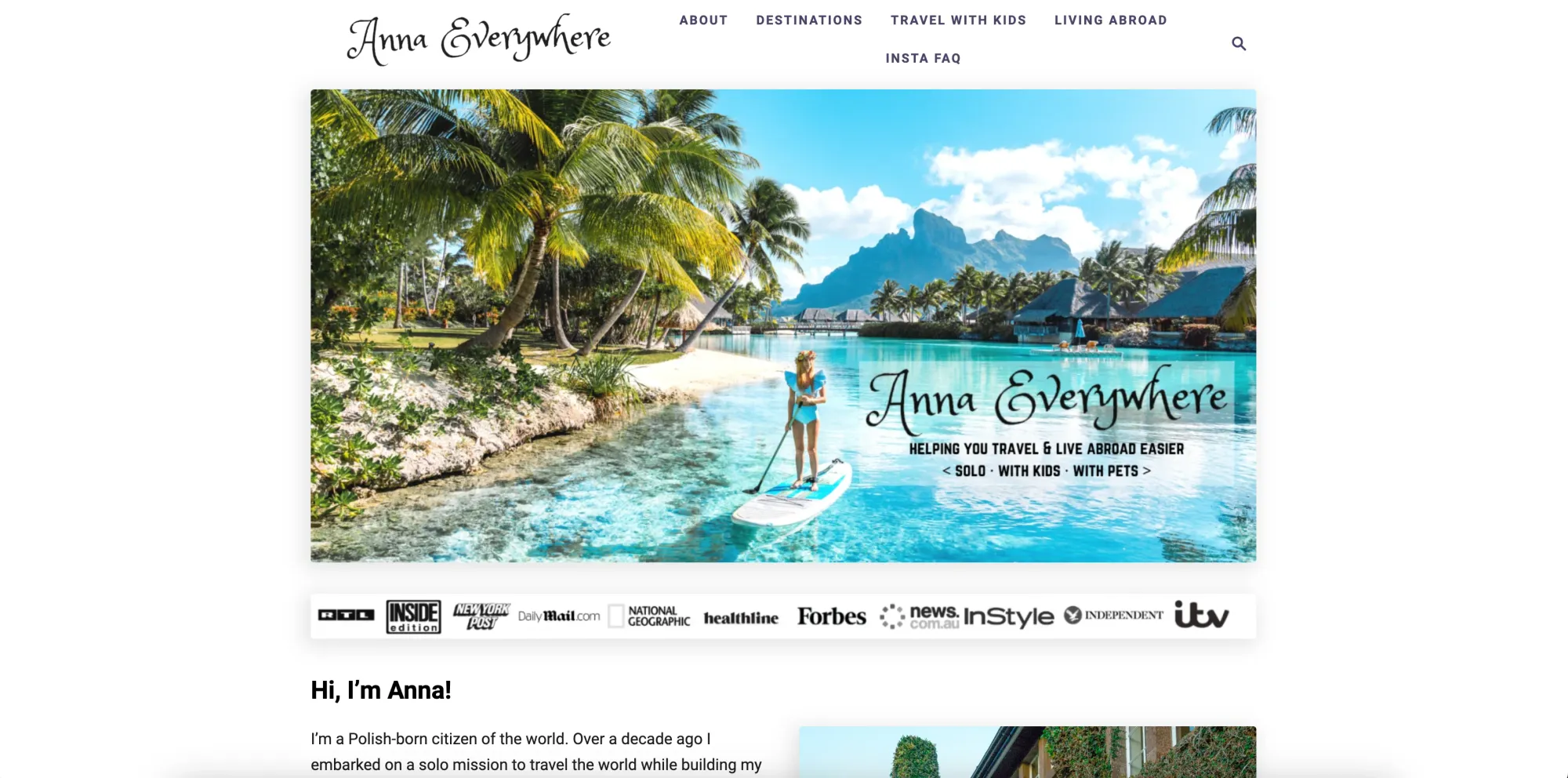 Anna Everywhere is the creation of Anna, a seasoned traveler and digital nomad who has turned her passion for exploring the world into a resource-rich blog. Her journey from solo adventuring to navigating the globe with her family gives her blog a unique and relatable perspective.
What sets Anna's blog apart is its blend of personal travel stories with actionable advice for families who are either considering or are already on their digital nomad journey. Covering everything from destination guides to tips on traveling with children, Anna's blog is a go-to source for families looking for inspiration and practical advice to balance travel, work, and family life. Her honest take on the ups and downs of nomadic family life makes 'Anna Everywhere' a must-read for families aspiring to a nomadic lifestyle.
2. Where's Sharon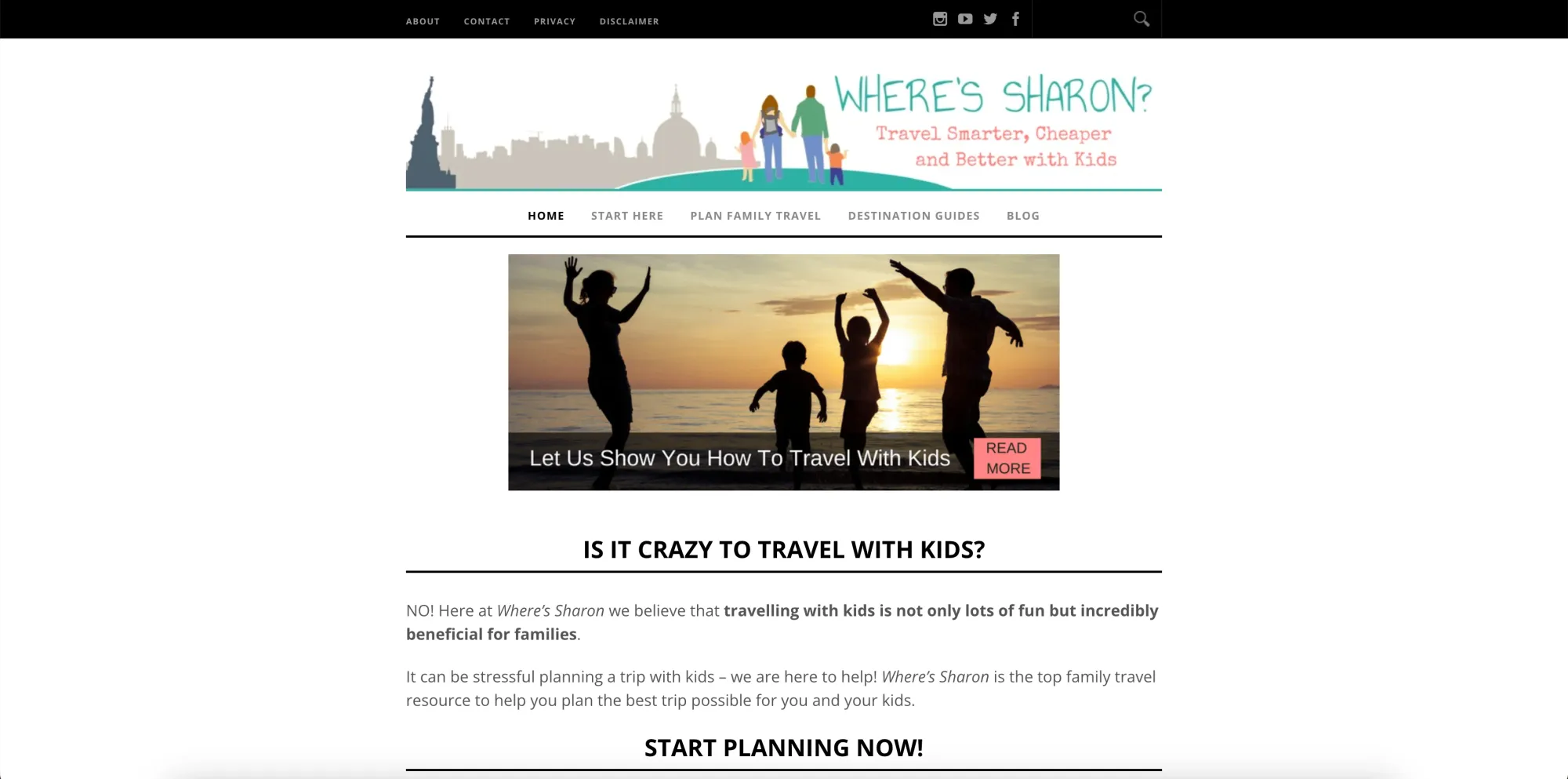 Sharon Gourlay, the voice behind Where's Sharon, shares her family's digital nomad adventures with a refreshing and practical approach. The blog, one of the most popular family blogs online, stands out for its in-depth destination guides and firsthand experiences of traveling with kids.
Sharon's expertise in family travel logistics, from planning itineraries to choosing kid-friendly activities, makes her blog a treasure trove for families on the move. Her candid discussions about balancing travel with education and parenting offer valuable insights to families embarking on similar journeys. You can't miss the chance to read her blog!
3. 5 Lost Together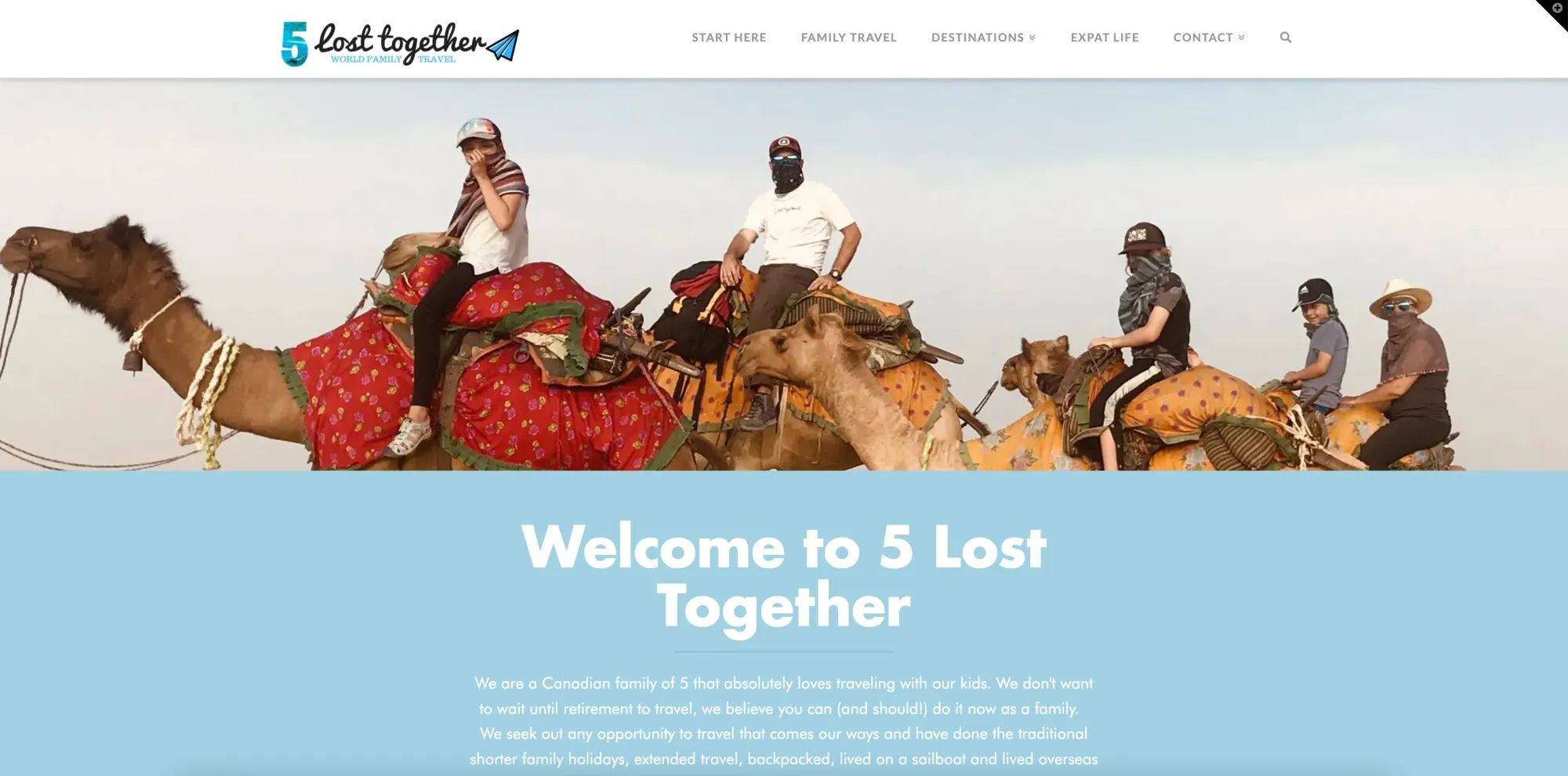 5 Lost Together is not just a blog; it's a narrative of a family embracing the world as their classroom. Dawn Nicholson and her family of five bring a unique perspective to the digital nomad lifestyle, focusing on slow travel and immersive experiences.
Their blog is filled with stories of cultural exploration and practical tips for long-term travel with kids. What sets them apart is their emphasis on education through travel, providing a blueprint for parents looking to offer their children a world-centric education.
4. The Global Wizards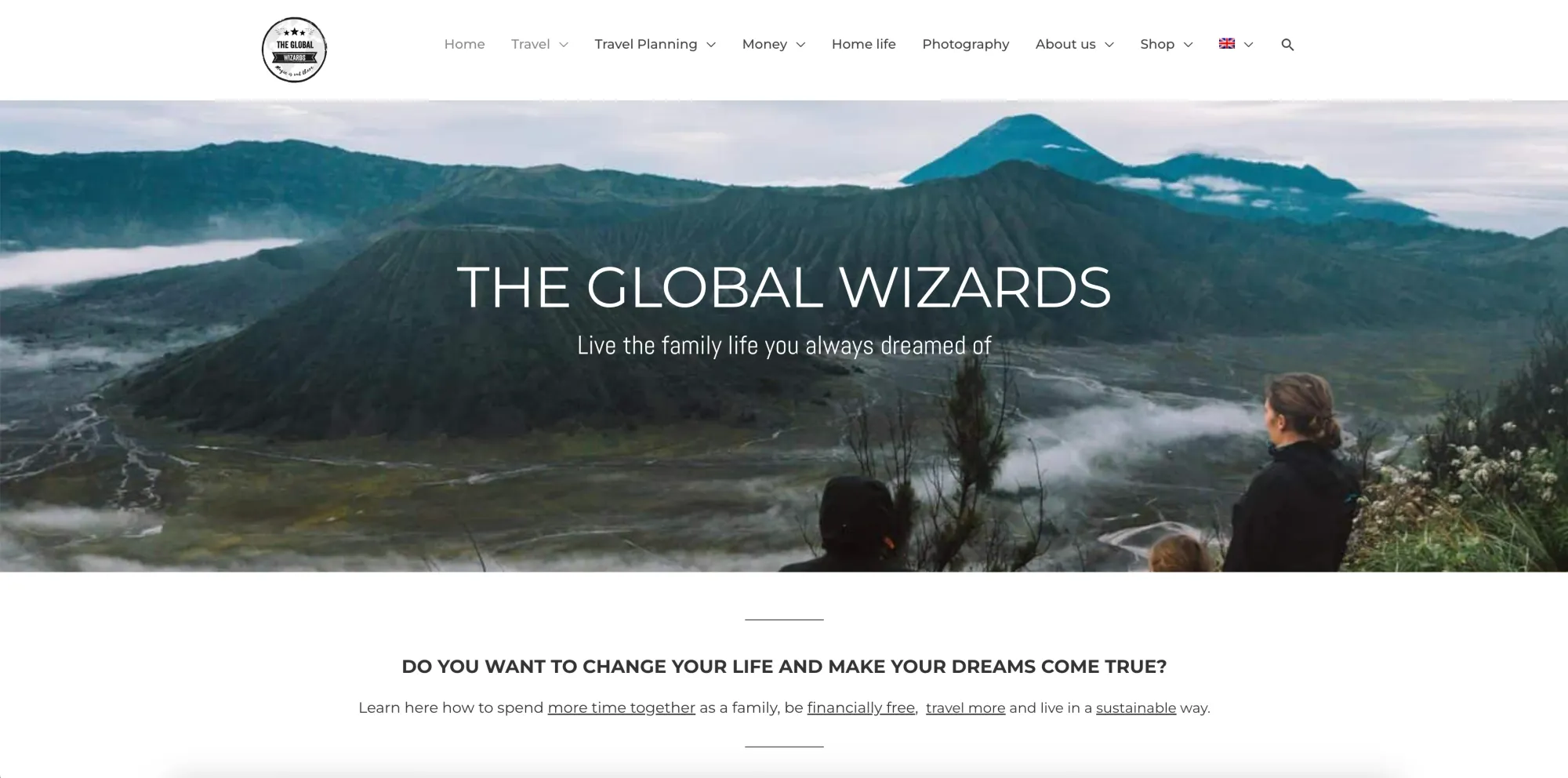 Jurgen, Heleen, and their children, Yuna and Hanne, make up The Global Wizards - a family that traded the rat race for a life of adventure and discovery. This blog narrates their bold decision to leave behind traditional business ventures, sell their house, and embrace full-time travel since August 2018. They focus on sustainable living, deep family bonds, and homeschooling while exploring the world.
Their journey is an inspiring call to others who dream of a life unbound by convention, offering practical insights on sustainable travel, financial independence, and living life to the fullest.
5. World Travel Family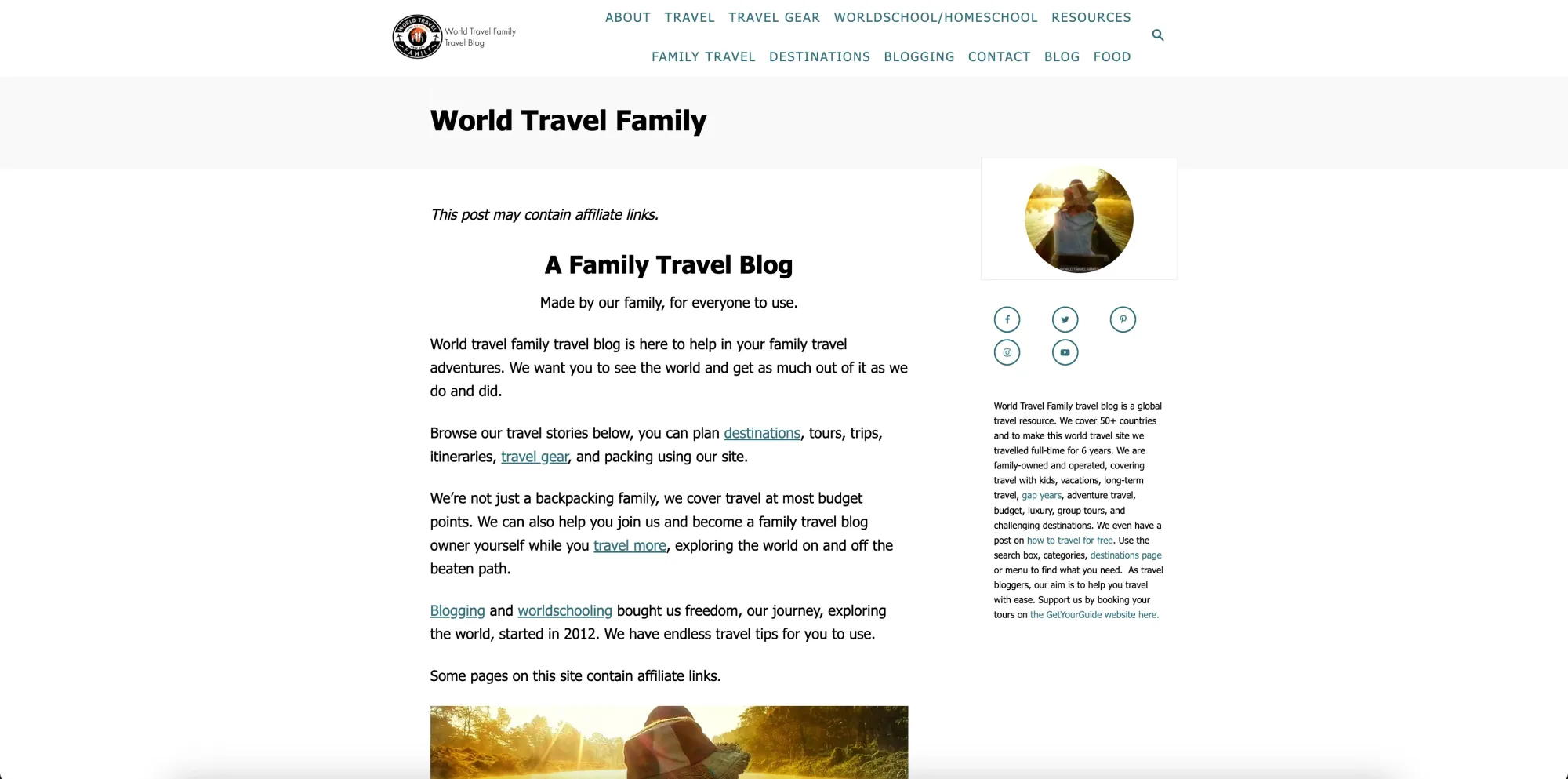 Alyson Long's World Travel Family blog is a testament to a life lived unconventionally. With more than 6 years of continuous travel with her children, Alyson's blog offers a seasoned perspective on long-term nomadic family life. The blog excels in providing practical advice on everything from homeschooling to budget travel. It's the realism and depth of information that makes this blog a must-follow for families who want to understand the intricacies of nomadic living.
---
You may also be interested in: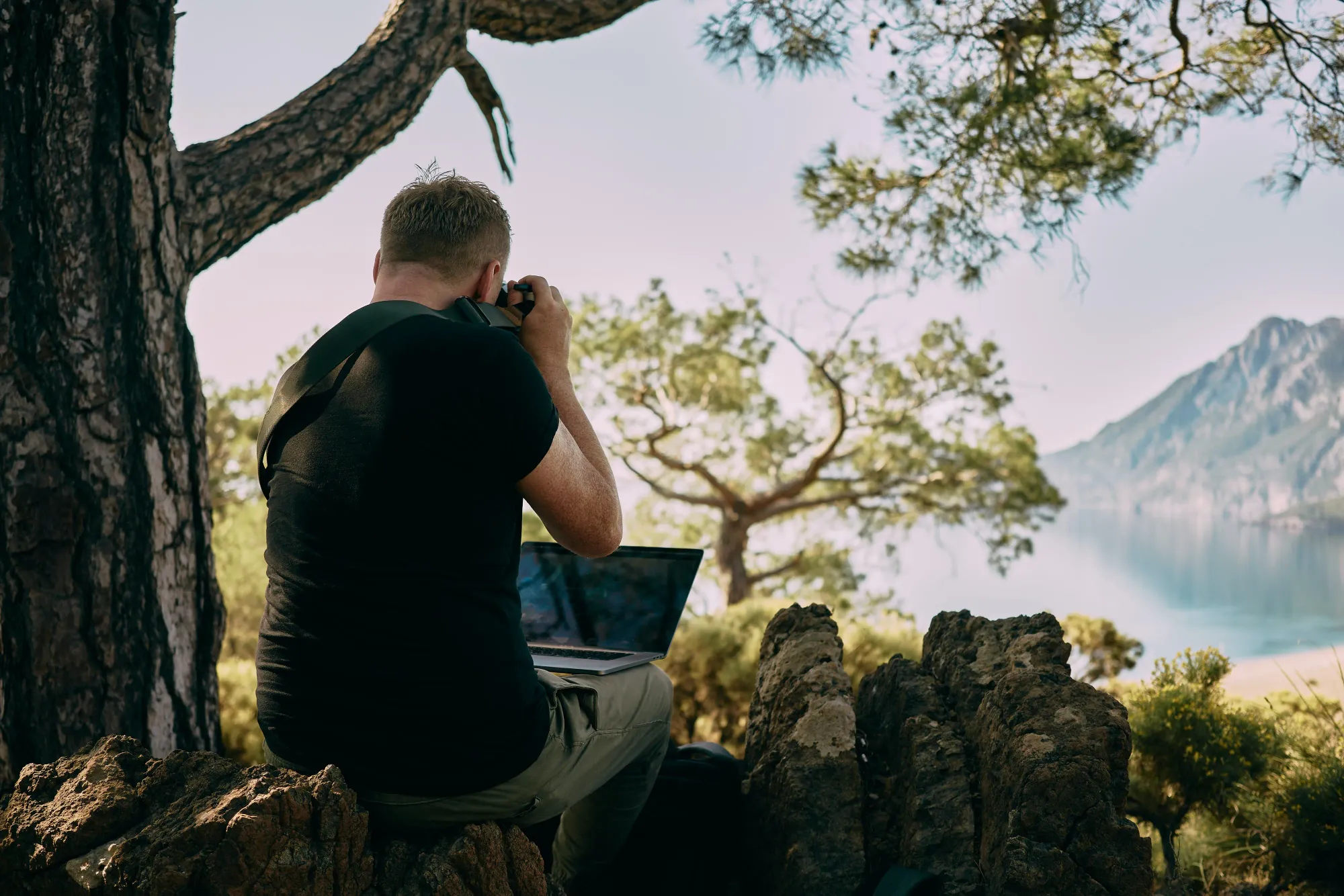 ---
6. Digital Nomad With Kids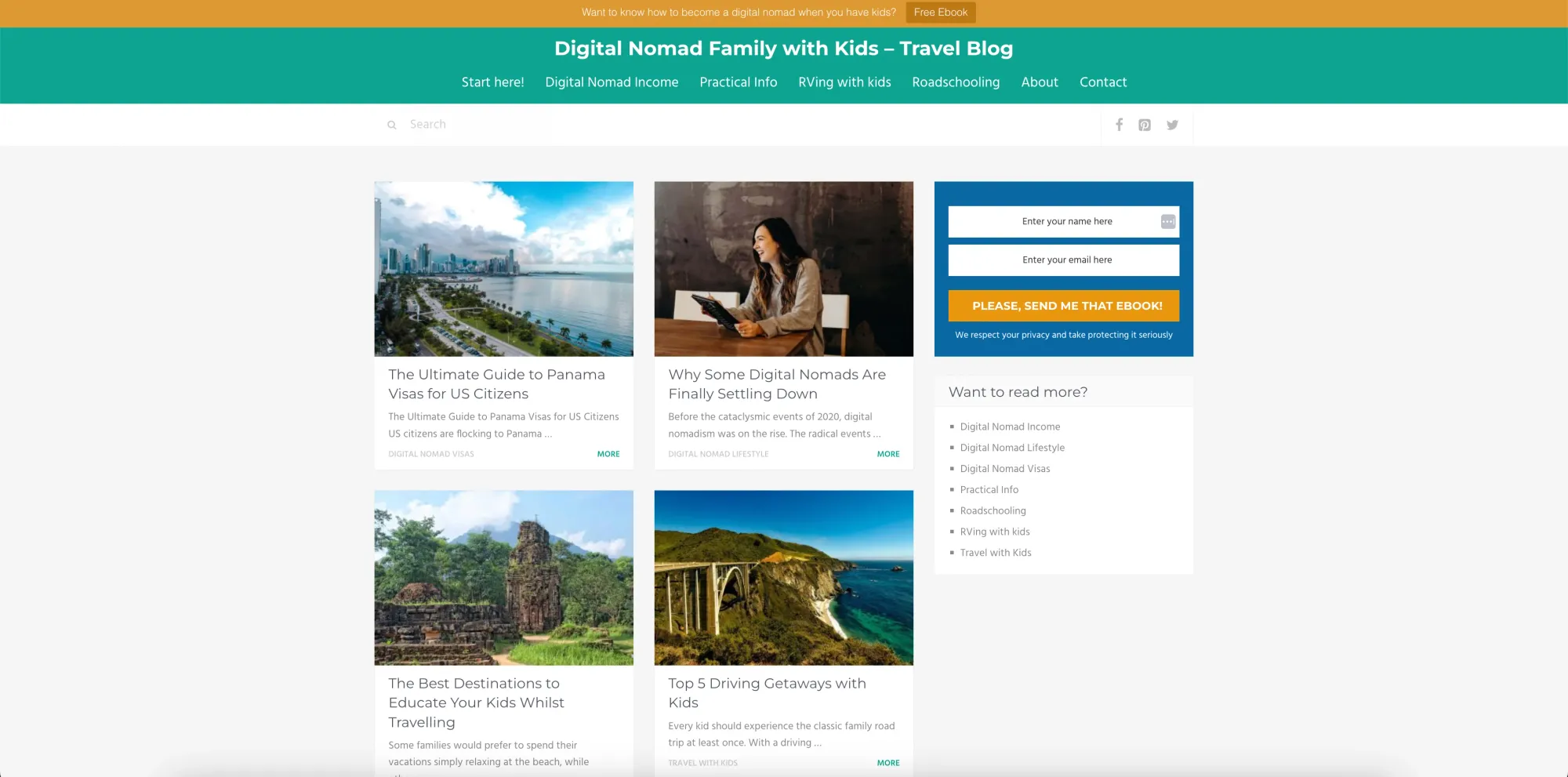 Digital Nomad With Kids is a beacon for families venturing into the digital nomad lifestyle. Created by Nanouk van Gennip and her family of four, this blog provides a deep dive into the logistics and joys of traveling and working globally with children. Nanouk's honest portrayal of the challenges and rewards that come with balancing professional obligations and family time on the road makes this blog both relatable and inspiring. It's a practical guide for parents seeking to navigate this lifestyle without compromising on their career or family experiences.
7. Let's Travel Family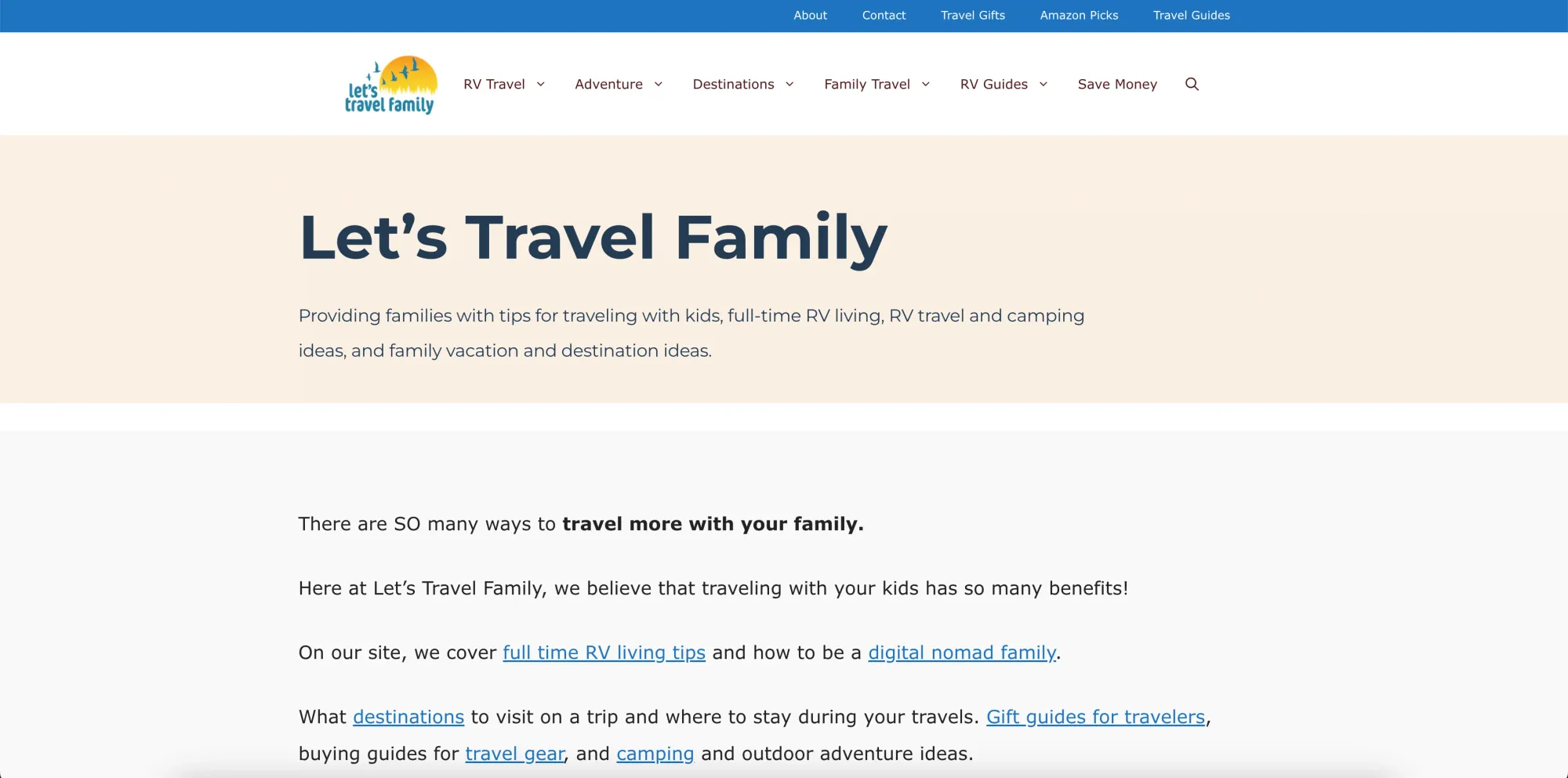 Tony and Jill, the duo behind Let's Travel Family, offer a warm and engaging take on traveling full-time with four kids. Their blog stands out for its family-oriented travel tips, camping and RV living insights. The mix of destination guides, homeschooling tips, and detailed accounts of camping and RV life provides a comprehensive resource for families considering a road-based nomadic lifestyle. Their personal stories add a human touch, making the blog both informative and endearing.
8. The Nomad Family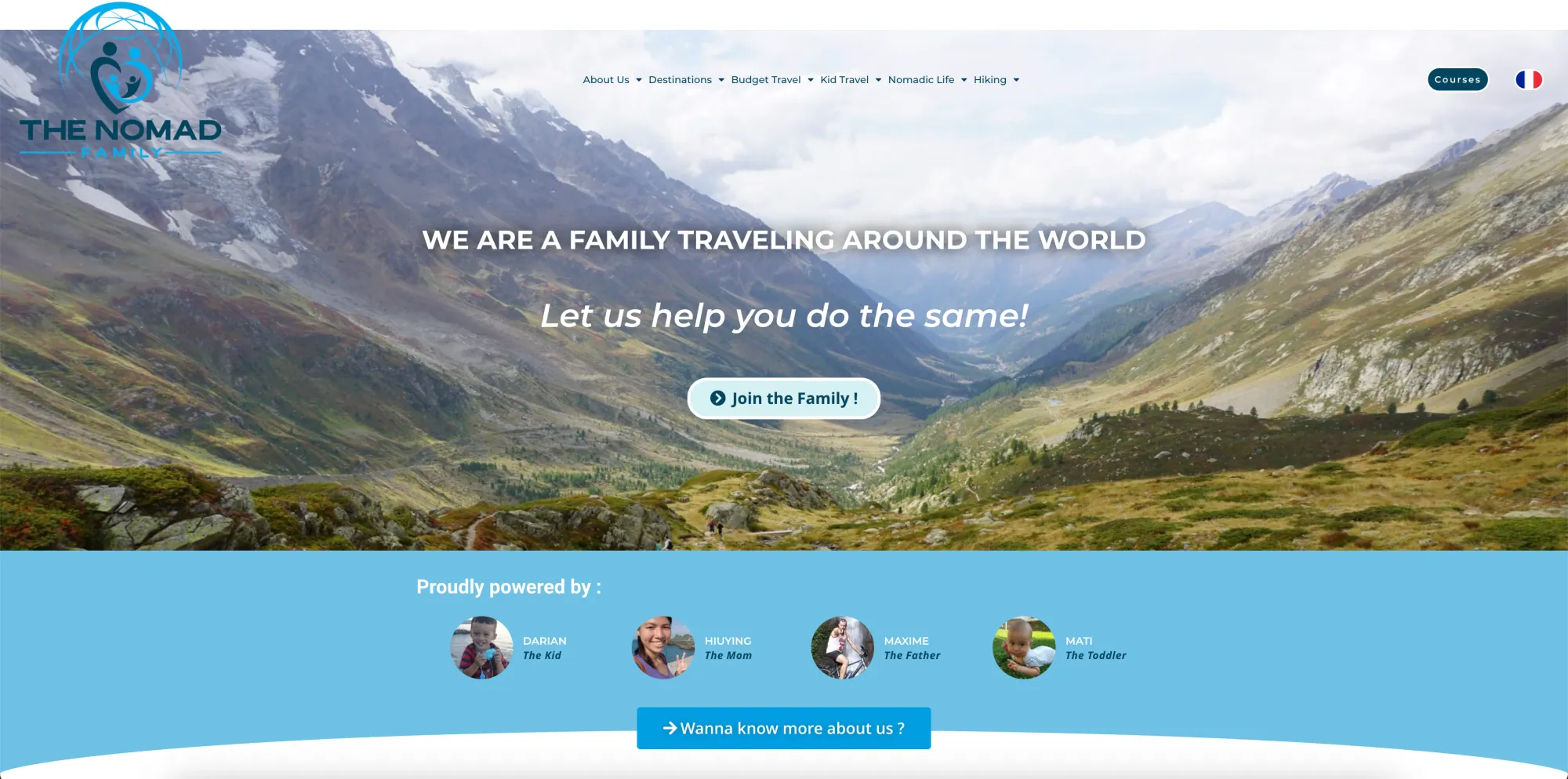 The Nomad Family blog, run by HiuYing and Maxime (and their two lovely children Darian and Mati, is a colorful tapestry of global adventures and cultural experiences. Their journey across continents is a rich source of inspiration for families dreaming of a nomadic lifestyle. The blog excels in showcasing the educational and developmental benefits of exposing children to diverse cultures. It's a celebration of global living, offering insights and tips on how to make the most of traveling as a family unit.
9. The Nomad Mompreneur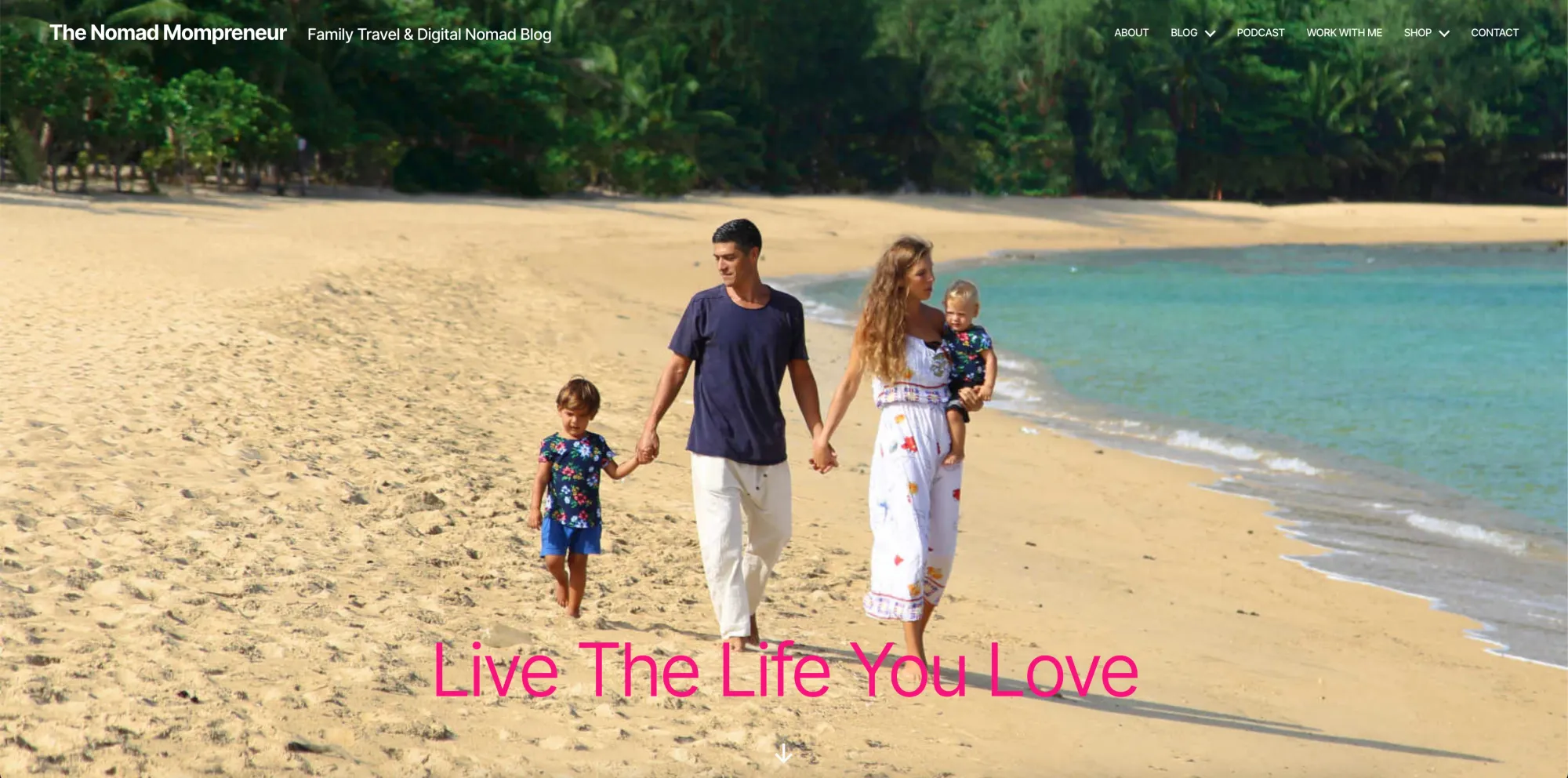 Julia Jerg's The Nomad Mompreneur is not just a blog; it's a motivational platform for mothers who dream of combining entrepreneurship with a nomadic lifestyle. Julia's journey from a quitting her job to a traveling entrepreneur, social media coach, public speaker, podcast host, author, course creator blogger, and above all, mom (!) is filled with actionable advice and empowering messages. Her focus on balancing business with family life while on the move offers valuable perspectives for mompreneurs seeking to tread a similar path.
10. Nomad Mum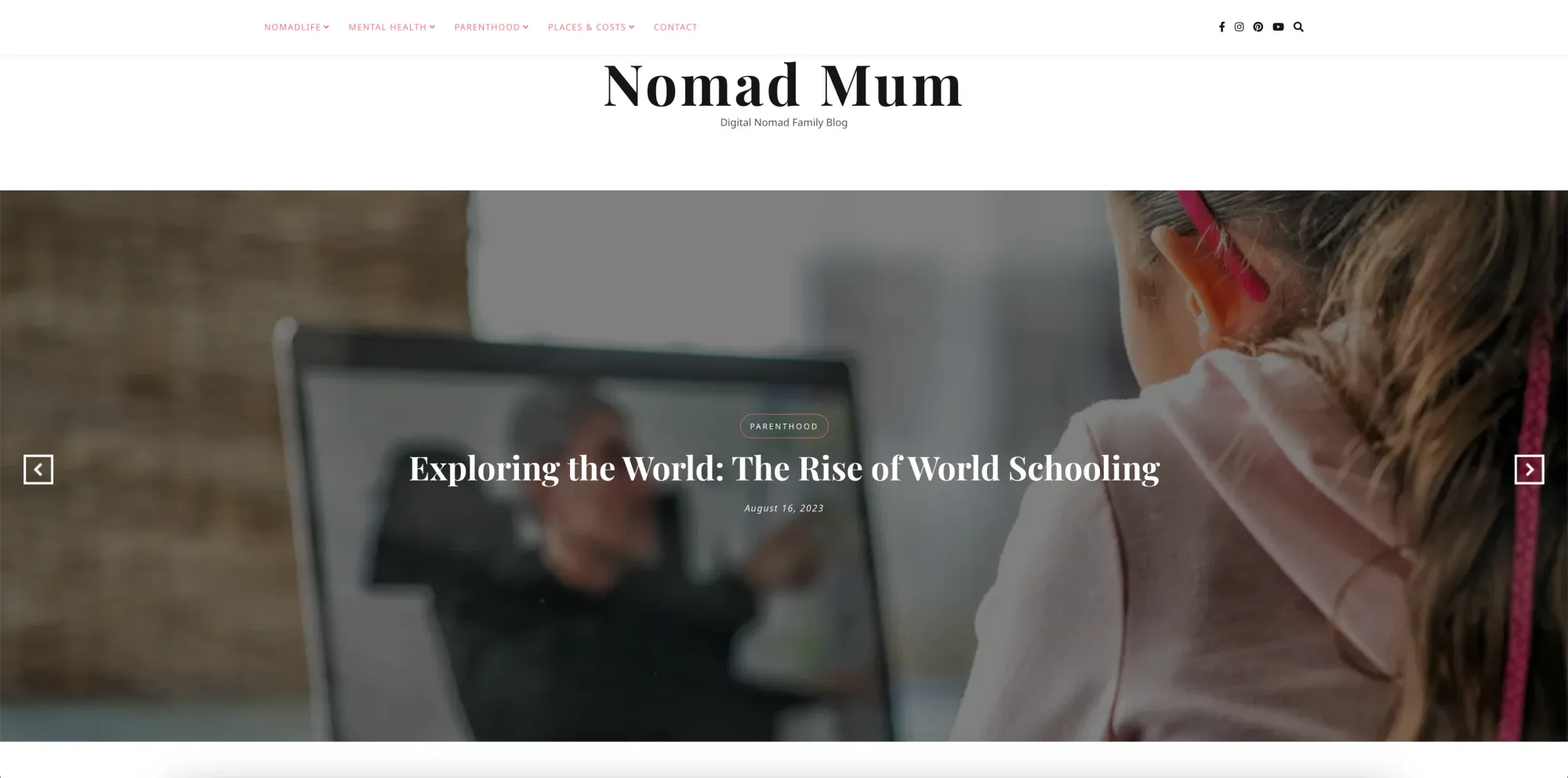 Nomad Mum, created by Lulu, is a heartfelt and practical blog focused on being a mom on the road. Lulu's unique angle of traveling the world with her husband and child offers a fresh perspective in the digital nomad space. Her blog provides insightful tips on budget travel, parenting challenges, and the joys of experiencing the world through her child's eyes. It's a source of encouragement and practical advice for nomad moms embarking on a nomadic journey.
---
You may also be interested in:
---
11. Raising Miro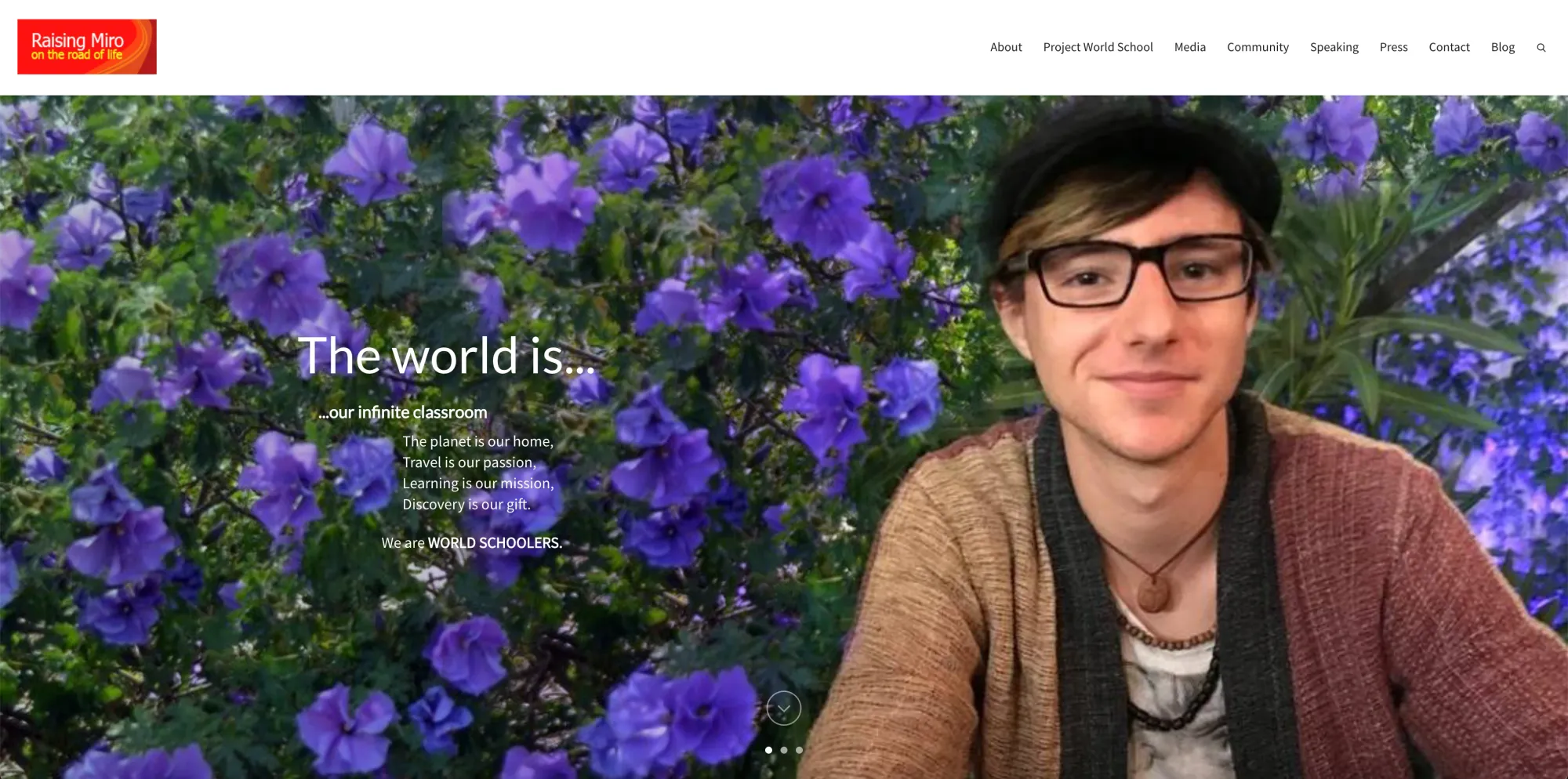 Raising Miro, penned by Lainie Liberti, documents the transformative journey of a mother and son duo as they explore the world through unschooling and cultural immersion. The blog is a rich narrative of their experiences, highlighting the educational and bonding benefits of their nomadic lifestyle. Lainie's approach to parenting and education on the road offers a thought-provoking perspective for families interested in alternative education and deep travel experiences.
12. Small Footprints Big Adventures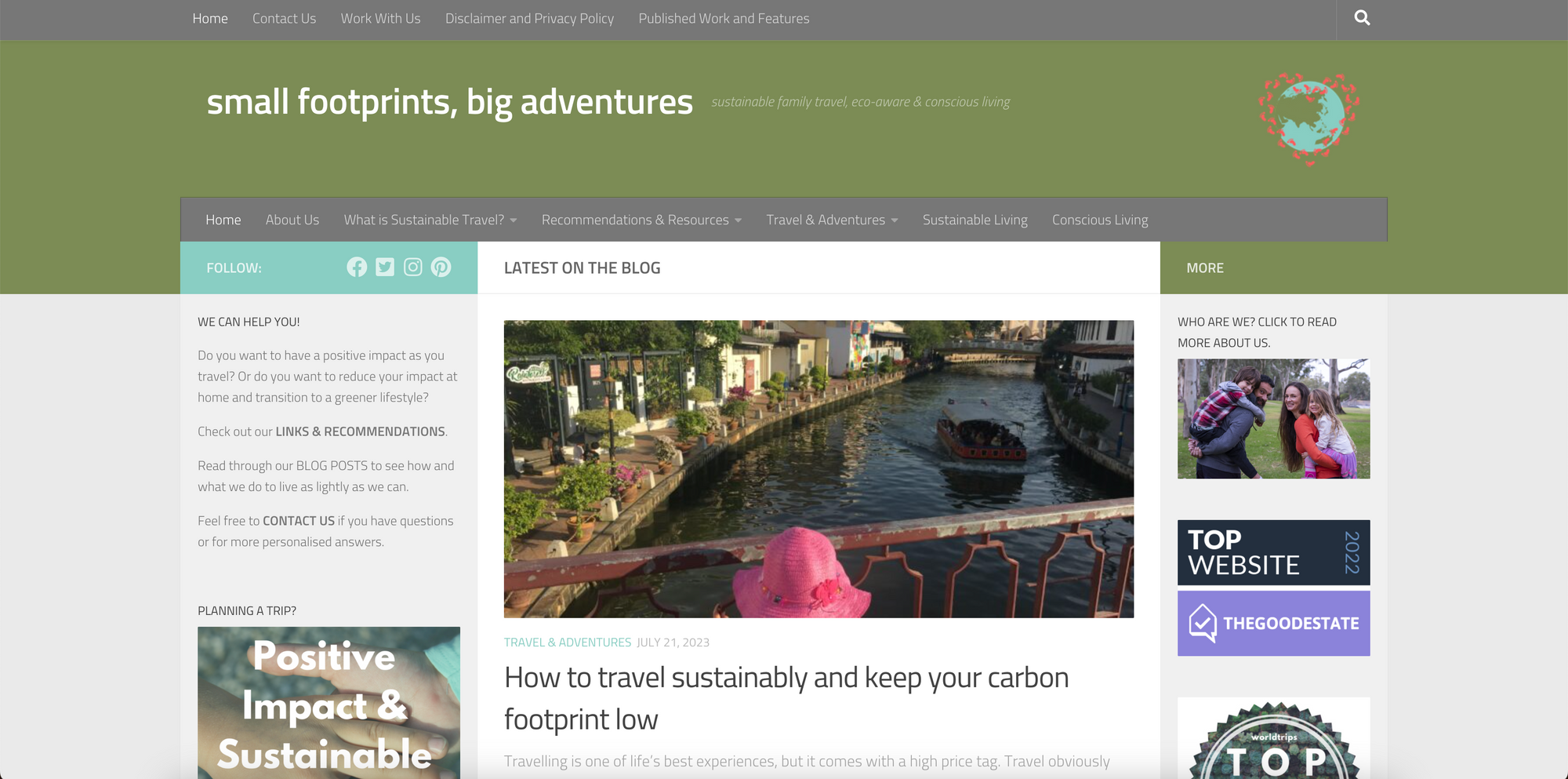 Emma and her family of four curate Small Footprints Big Adventures, a space dedicated to sustainable travel and eco-friendly living. Their blog is a valuable resource for nomad families looking to minimize their environmental impact while exploring the globe. The blog stands out for its focus on responsible travel, offering practical tips on how to travel lightly and mindfully. It's an inspiring read for families committed to making a positive impact on the planet while fulfilling their travel dreams.
---
More Resources For Digital Nomad Families
That's quite the roundup of digital nomad family blogs, isn't it? With so many perspectives and tips gathered in one place, it's normal to feel a bit overwhelmed. But remember, this abundance of information is a fantastic resource at your disposal. These blogs are just the starting point in your journey to a fulfilling nomadic family life.
As you explore the nuances of this lifestyle, be sure to check out our extensive collection of digital nomad destination guides. From bustling cities to serene getaways, find your next family adventure on our digital nomad destinations page.
For a deep dive into tools and tips that make the nomadic life easier and more efficient, our digital nomad resource hub is an invaluable asset. Here, you'll find a curated list of websites, apps, and resources tailored to the needs of digital nomads.
And, for more practical advice and insights, our digital nomad tips page is packed with articles that cover everything from starting your nomadic journey to mastering the art of remote work and travel.
Each step of the way, Freaking Nomads is here to guide, inspire, and support you and your family in this exciting adventure. Whether you're just beginning or are well into your nomadic journey, our resources are designed to help you navigate and thrive in this dynamic lifestyle.
Inspired by Any of These Awesome Digital Nomad Family Blogs?
If you want more digital nomad guides like these, sign up for our free newsletter and get upcoming articles straight to your inbox!
You can also follow us on Instagram and join our Facebook Group if you want to get in touch with other members of our growing digital nomad community!
We'll see you there, Freaking Nomads!
Disclosure: Hey, just a heads up that some of the links in this article are affiliate links. This means that, if you buy through our links, we may earn a small commission that helps us create helpful content for the community. We only recommend products if we think they will add value, so thanks for supporting us!