Every digital nomad and remote worker knows the struggle of landing in a new destination and immediately hunting for reliable internet.
It's not just about staying connected with loved ones, it's about maintaining our careers on the move.
Airalo, an eSIM provider with coverage in over 200 countries, claims to be the answer to our connectivity challenges. But does it live up to the hype?
In this review, we'll share our hands-on experience testing this product and address the burning questions every digital nomad has about eSIM technology.
Dive in to discover if Airalo could be the connectivity solution you've been searching for!
What is Airalo eSIM?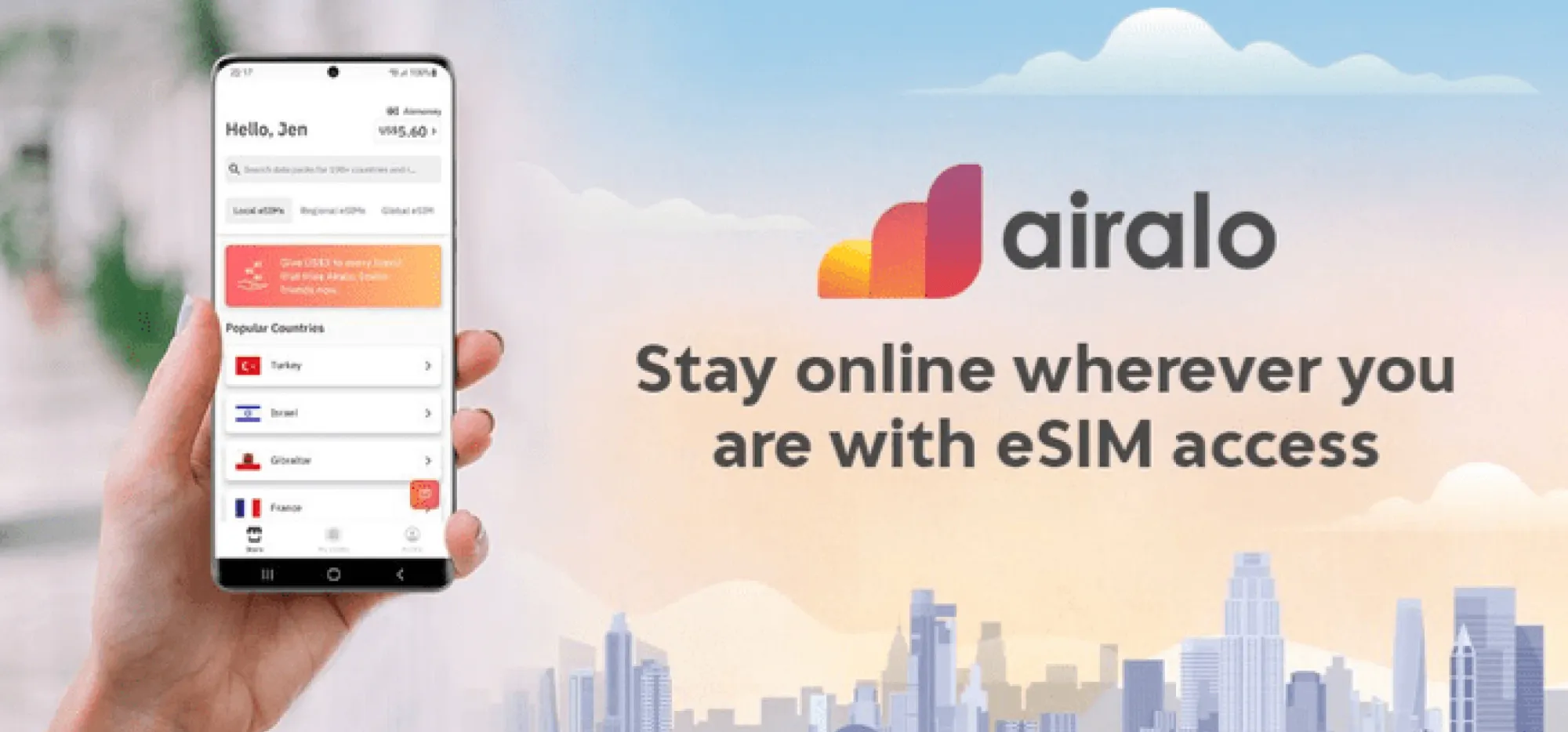 Airalo eSIM is a digital SIM provider that allows you to access local, regional and global data plans when you travel abroad. It is a convenient and affordable alternative to roaming charges or physical SIM cards as you can buy and activate Airalo eSIMs directly from your smartphone, without having to insert anything into your device.
Airalo eSIMs are trusted by over 5 million people worldwide, and you can choose from different packages in 200+ countries worldwide, depending on your needs.

But what makes Airalo stand out from its competitors isn't just its global coverage. Pioneering the eSIM space, Airalo holds the title of the world's first-ever eSIM store, a testament to its forward-thinking approach and commitment to travel connectivity.
What Products Does Airalo Offer?
Airalo has designed a range of eSIM options for different types of travelers. They vary based on your destination and the duration of your data plans. Let's look at their main eSIM types.
1. Airalo eSIMs by Destination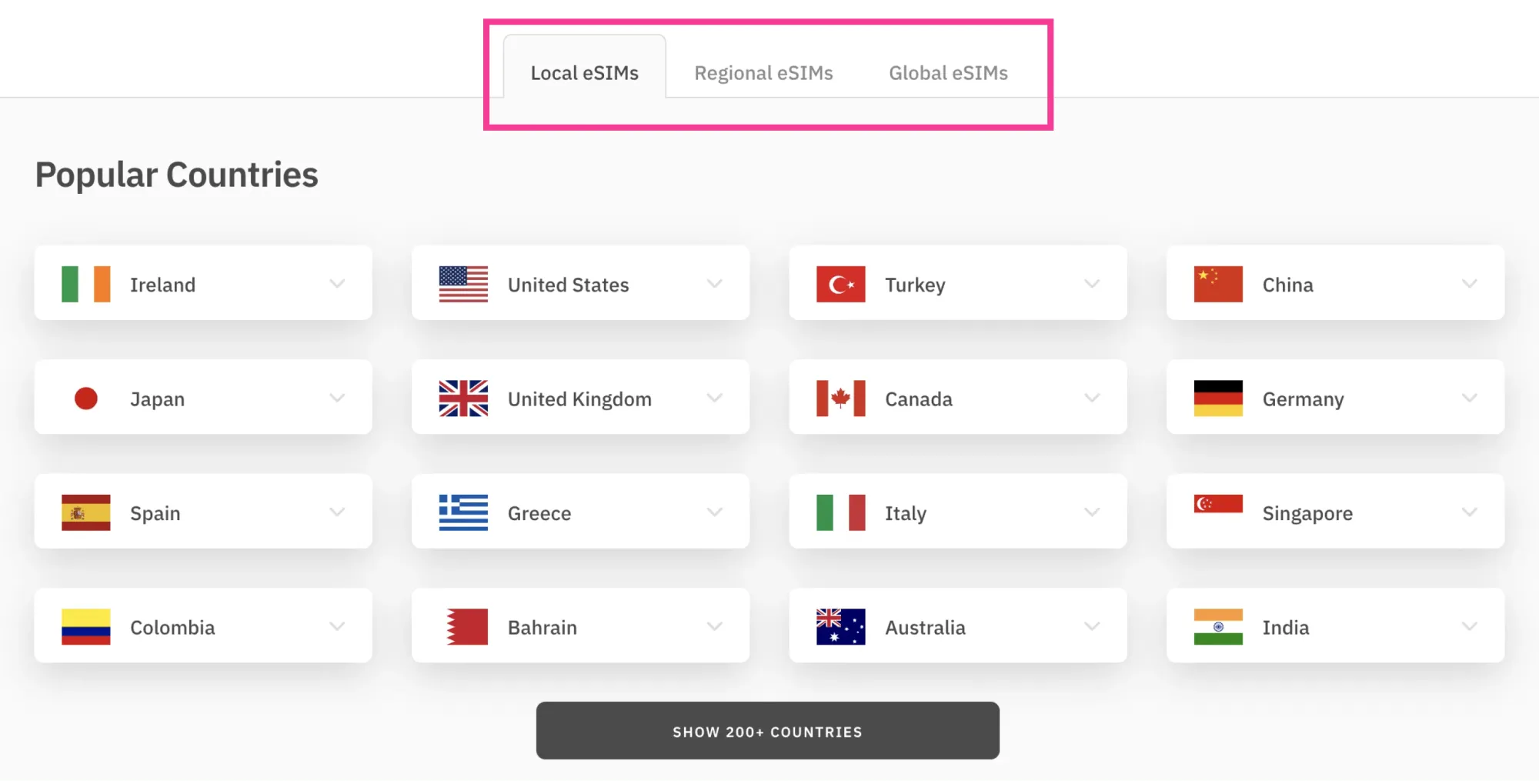 For those exploring specific destinations, their local eSIMs are an optimal choice. In fact, say you're headed exclusively to Thailand, there's an actual eSIM specifically curated for that.
On the other hand, if your journey spans across multiple countries in a region, like Europe or Southeast Asia, their regional eSIMs is the way to go.
Finally, for those with truly global itineraries, Airalo offers also global eSIMs to keep you connected almost anywhere.
2. Airalo eSIMs by Duration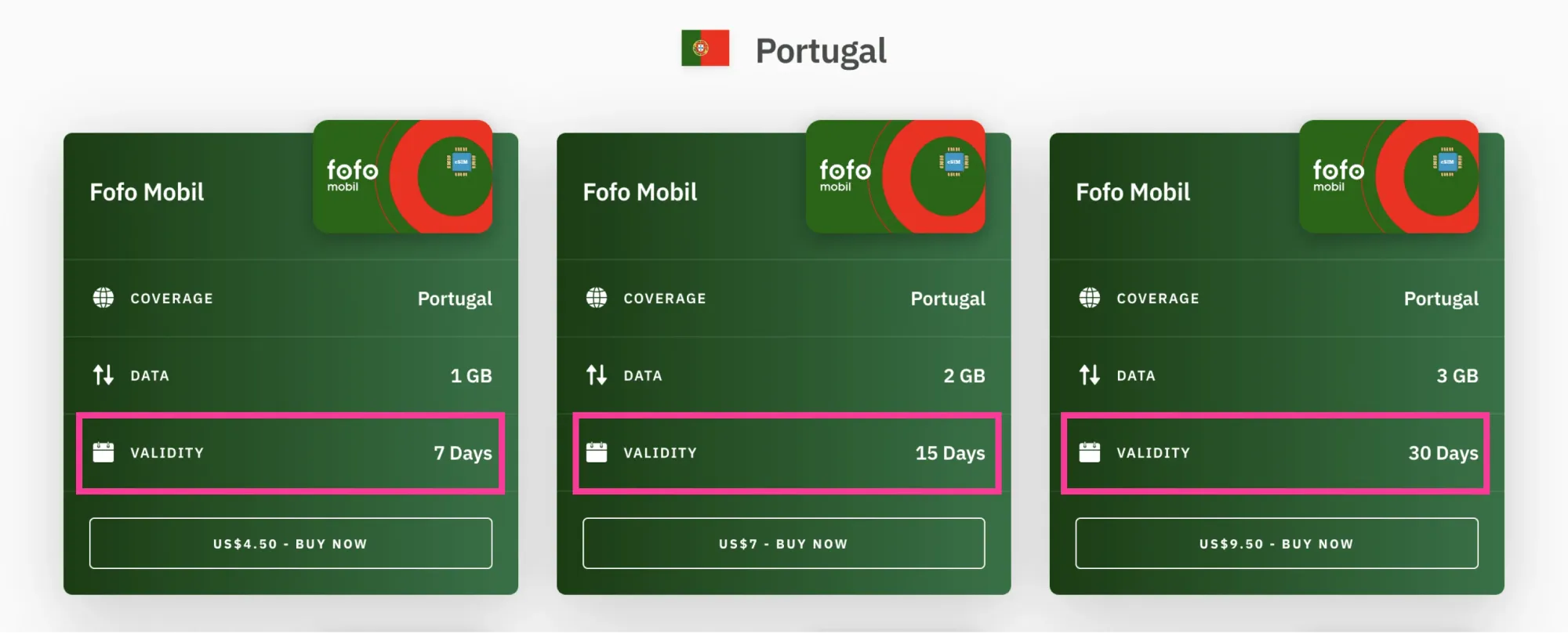 In terms of validity, Airalo understands that the travel plans of a digital nomad can be ever-changing, so they offer eSIMs with varying durations, catering to both short trips and extended stays.
Generally speaking, the validity of an Airalo eSIM ranges between 7 days and 30 days. This does vary by country though, with the Global eSIM being available for up to 180 days.
3. Airalo eSIMs by Data Allowance

As for data allowances, there's a broad spectrum available. At Freaking Nomads, we typically find ourselves consuming around 2 GB a week for our digital needs.
However, if your online activities are more data-intensive, perhaps due to video streaming or frequent video calls, Airalo has you covered, offering packages that go up to 50GB!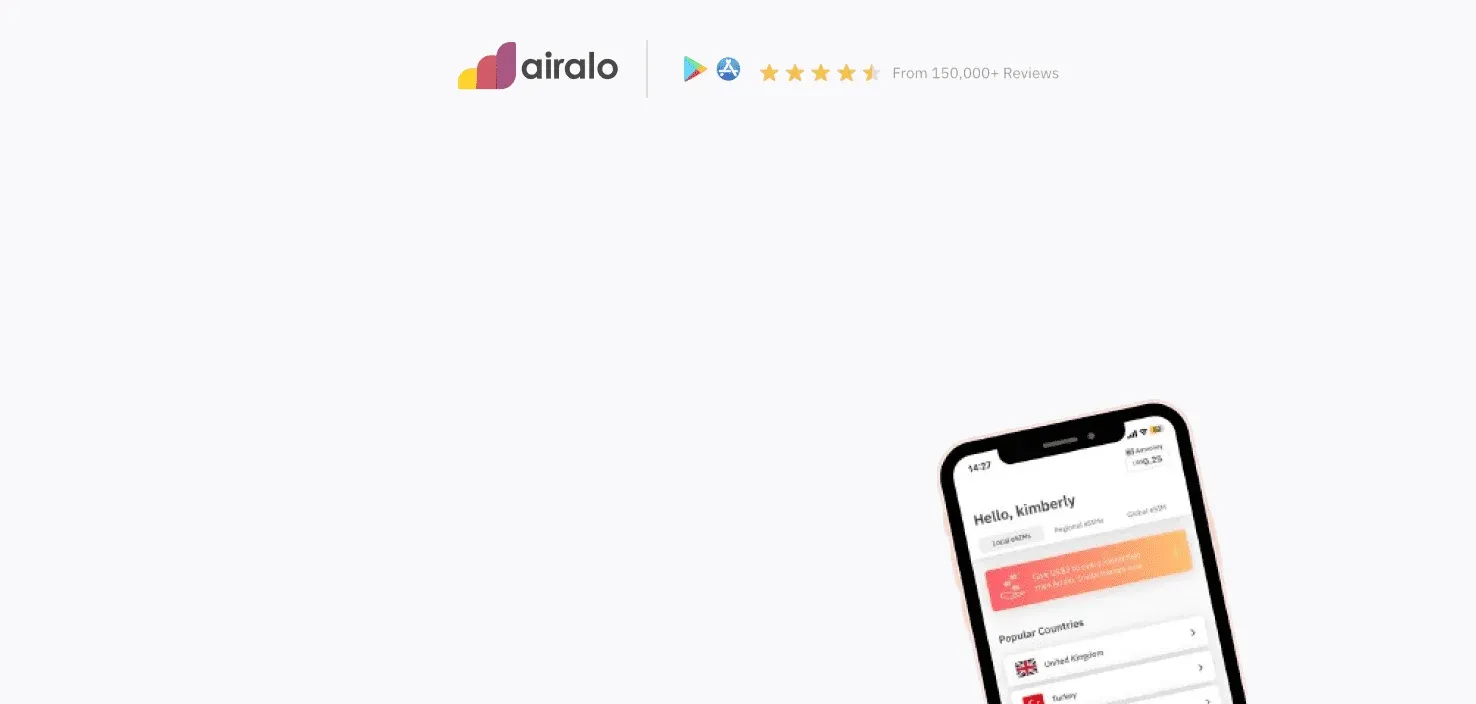 Get Up To 15% Off on Airalo eSims
If you are new to Airalo, use the Code '
DEC15
' and get
15% Off
while if you are an existing Airalo user, use the Code '
DEC10
' to get
10% Off
on all Airalo plans!
Grab Your Discount Now!
Can You Make or Take Calls With Airalo?
Now, here's a crucial detail: most of Airalo's eSIM packages are predominantly data-based. However, they haven't completely overlooked the traditional communication methods. Some Airalo packages do include call and text allowances, but these are exceptions rather than the rule.
For those who primarily rely on internet-based communication tools like WhatsApp, Skype, or Zoom, Airalo's data-centric approach will serve you well. But if you anticipate needing to make or receive traditional phone calls, you can easily check prior to purchase if calls are supported by the desired eSIM by going to BUY NOW> Additional Information> Plan Type.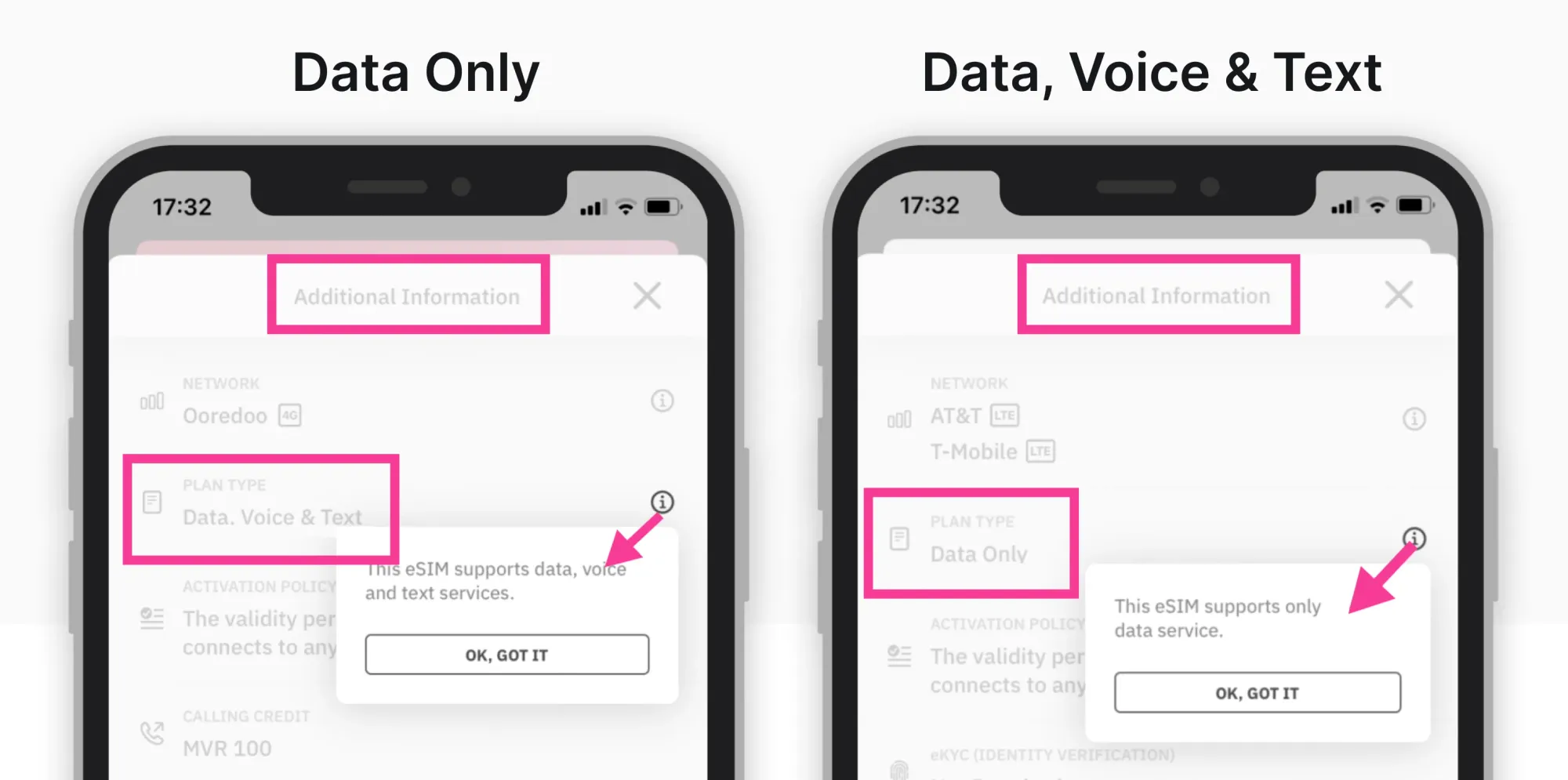 How Much Does Airalo Cost?
Airalo's eSIM pricing isn't a one-size-fits-all. It varies based on several factors including the destination, data allowance, and other specifics of the package chosen.
Here's a rough breakdown to give you a general idea by the time of writing:
eSIM packages for Southeast Asia (e.g. Thailand or Vietnam) are often as low as $5-$10 for around 3GB for a week.
eSIM packages for Europe (e.g. France or Germany) are typically around $15-$25 for 5GB spanning a week.
When it comes to regions, based on our observations, Africa tends to be on the pricier side for Airalo eSIMs, while Asia usually offers the most bang for your buck.
💡
Pro tip: Remember to buy in bulk to be more cost-effective with your eSIM purchases. If you know you'll be traveling or staying in a place for an extended period, it often pays to get a larger data package with a longer validity. The per-GB price tends to drop significantly!
When we weigh Airalo against its competitors, the brand typically sits in the low-range. They are definitely among the cheapest eSIMs providers out there, and their user-friendly platform and quality of service often make them a top choice for us.
💡
Please note: This observation is in comparison only to other eSIM providers. And while Airalo eSIMs (and in general eSIMs) might sometimes be more expensive than local physical SIM cards, the convenience of avoiding shops, paperwork, and immediate setup often outweighs the marginal cost difference for us.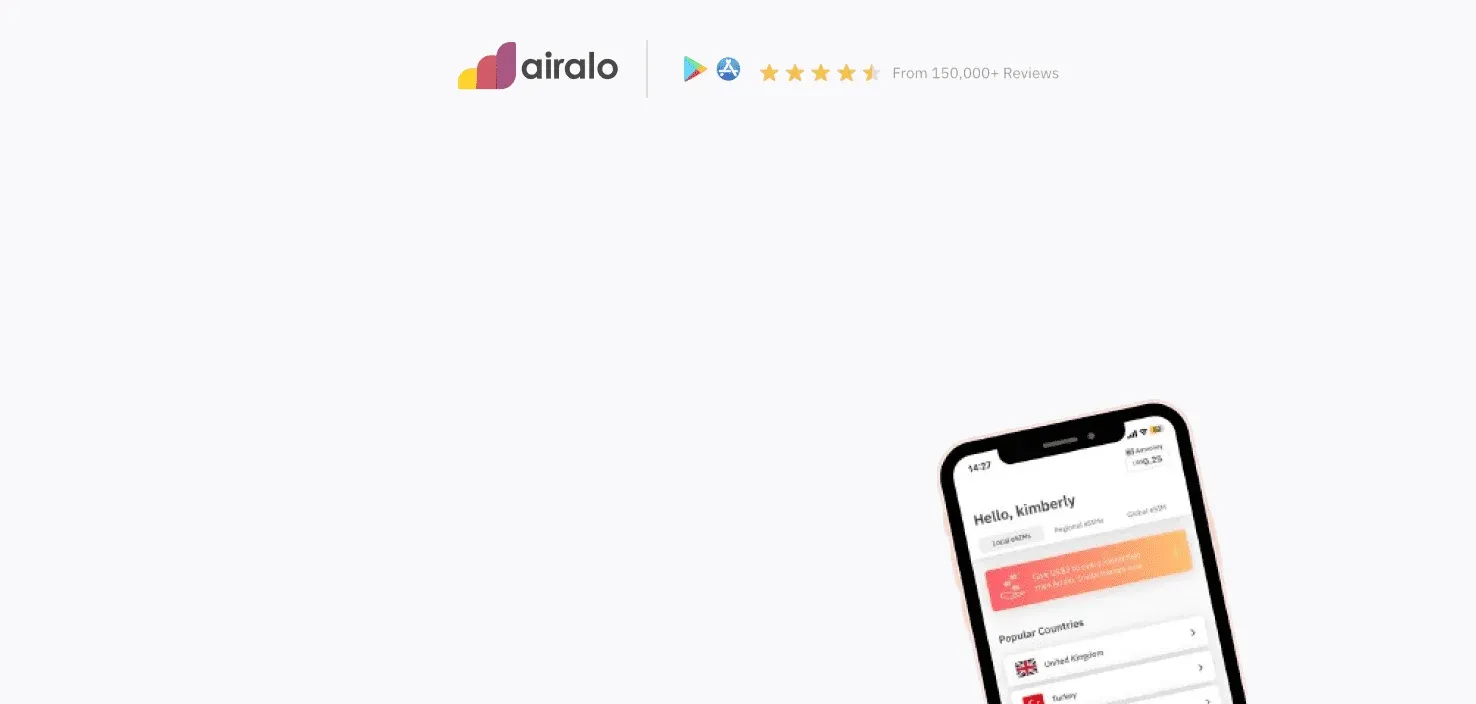 Get Up To 15% Off on Airalo eSims
If you are new to Airalo, use the Code '
DEC15
' and get
15% Off
while if you are an existing Airalo user, use the Code '
DEC10
' to get
10% Off
on all Airalo plans!
Grab Your Discount Now!
Will Airalo eSIMs Work With My Phone?
While eSIM technology promises a revolutionized travel experience, it's essential to recognize that not all devices have embraced this innovation yet.
To make sure your iOS devices supports eSIM and is carrier unlocked, watch the instructional video below:
For those on the Android side of things, the video below will guide you through the process:
🟡
We can confidently say that most of the latest generation phones (except for a few models) nowadays are compatible with eSIMs. But make sure to double check if your models supports it too. You can check the full list of supported devices
here
.
How Does Airalo Work? A Step-by-Step Guide
We have used Airalo on a number of international trips and we've been amazed of how easy is to setup Airalo eSIMs.
It's digital, straightforward, and offers a truly user-friendly experience.
Here's what you need to do: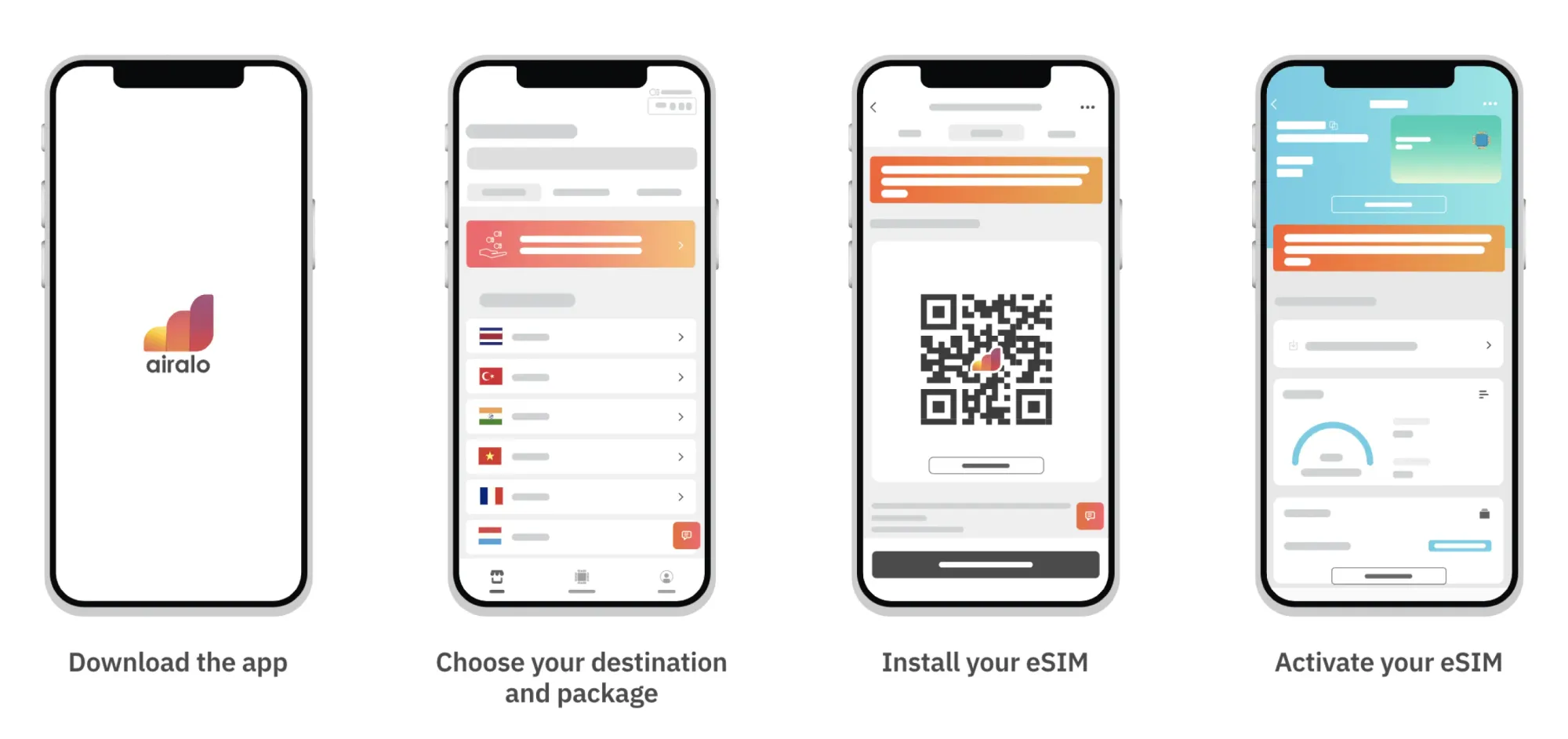 STEP 1: Select Your eSIM Type and Destination
Kick off the process on the Airalo website or on their intuitive mobile app (which is our personal favourite for installing, purchasing and monitoring data usage).
Start by deciding on the eSIM type – local, regional, or global. Then, depending on your choice, select either the specific country or region you'll be visiting.
STEP 2: Choose a Data Package
Once you've pinned down your destination or region, a range of eSIM data plans will pop up. These plans are transparent, showing you the price, data allowance, and validity period, ensuring you make an informed choice tailored to your travel duration and online needs.
STEP 3: Purchase your Chosen Plan
Now that you've found the perfect data package for your travel, purchasing your selected plan is as easy as clicking "Buy". Just pick your preferred payment method (Apple Pay is supported!), punch in the details, and you're good to go. You can expect a swift email confirmation once the transaction gets the green light.
STEP 4: Install and Activate your Data Plan
After buying your preferred plan, it's time to get that eSIM up and buzzing.
If you decide to use the Airalo website, you have two options:
QR Code Method: After buying your plan, you'll receive a QR code. To activate it, go to your phone's settings to add a new cellular plan and scan this code. Your eSIM will start downloading. Watch the video below to learn more about this method:
Or Manual Installation: If you prefer to input details yourself or face any hiccups with the QR code, Airalo provides all the necessary information. Just head to your phone settings, look for the eSIM or cellular plan addition option, and input the details provided by Airalo. Watch the video below to learn more about this method:
If you decide to use the Airalo mobile app instead, you will still have both the QR code and manual methods at your disposal, just like the website. However, the mobile app offers an additional method:
Automatic Installation (Our Recommended Way!): This is the simplest and most streamlined way to get connected. After you've checked out, you'll notice an option for auto eSIM installation. Just tap on it, and the app will handle the rest. Within moments, your eSIM will be installed, activated, and ready to use. Watch the video below to learn more about this method:
💡
This is what really makes stand out Airalo from the other
eSIM providers
who don't offer the chance to install your eSIM directly from their app. This will avoid you the need of a second device to scan the QR code or to get confused with any manual setups.
STEP 4: Monitor Your Data Usage and Top Up
Staying on top of your data consumption is super easy with Airalo. Simply log into their website or open the app to check your remaining data. If you find yourself nearing the limit and your plan allows, you can also top up directly from the platform.
💡
Pro tip: Ensure you have a stable Wi-Fi connection during the setup, especially when scanning the QR code, to make sure the process goes smoothly!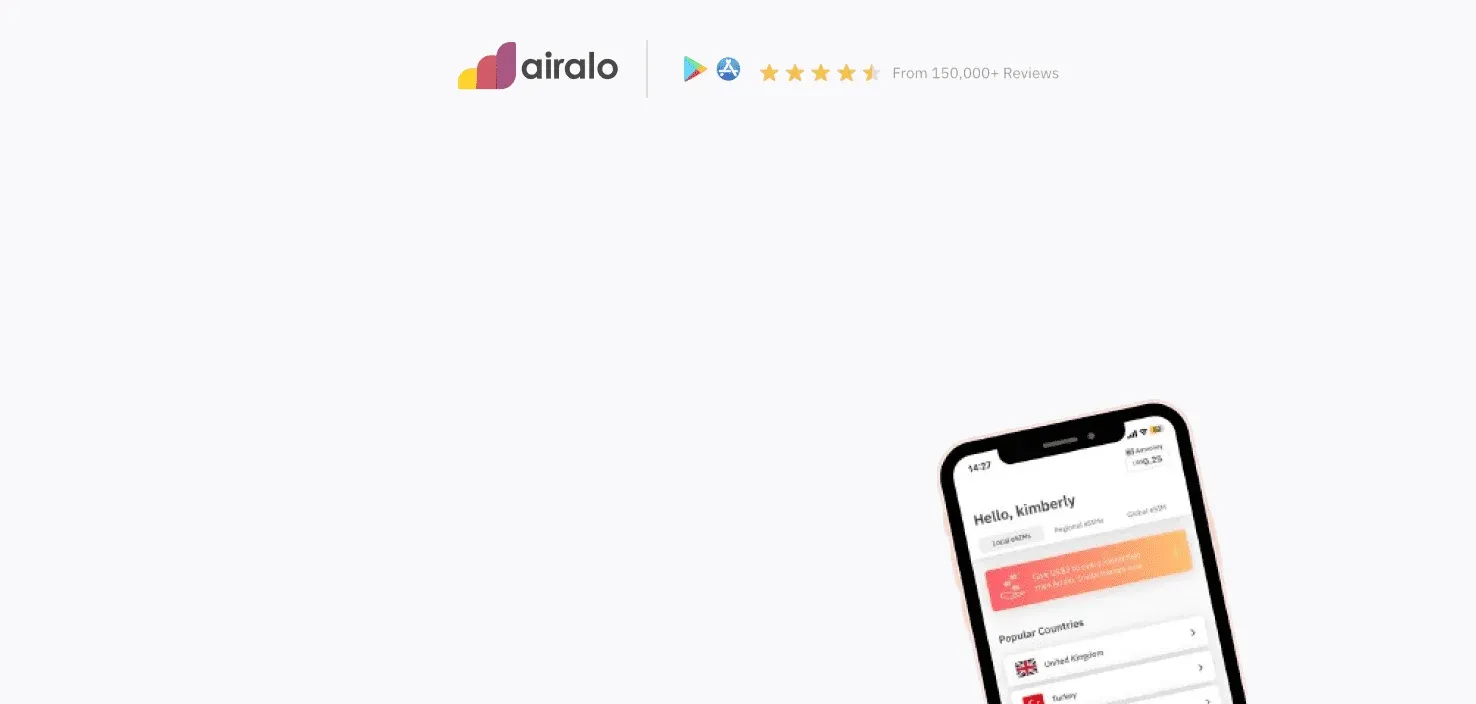 Get Up To 15% Off on Airalo eSims
If you are new to Airalo, use the Code '
DEC15
' and get
15% Off
while if you are an existing Airalo user, use the Code '
DEC10
' to get
10% Off
on all Airalo plans!
Grab Your Discount Now!
Does Airalo Have a Loyalty Program?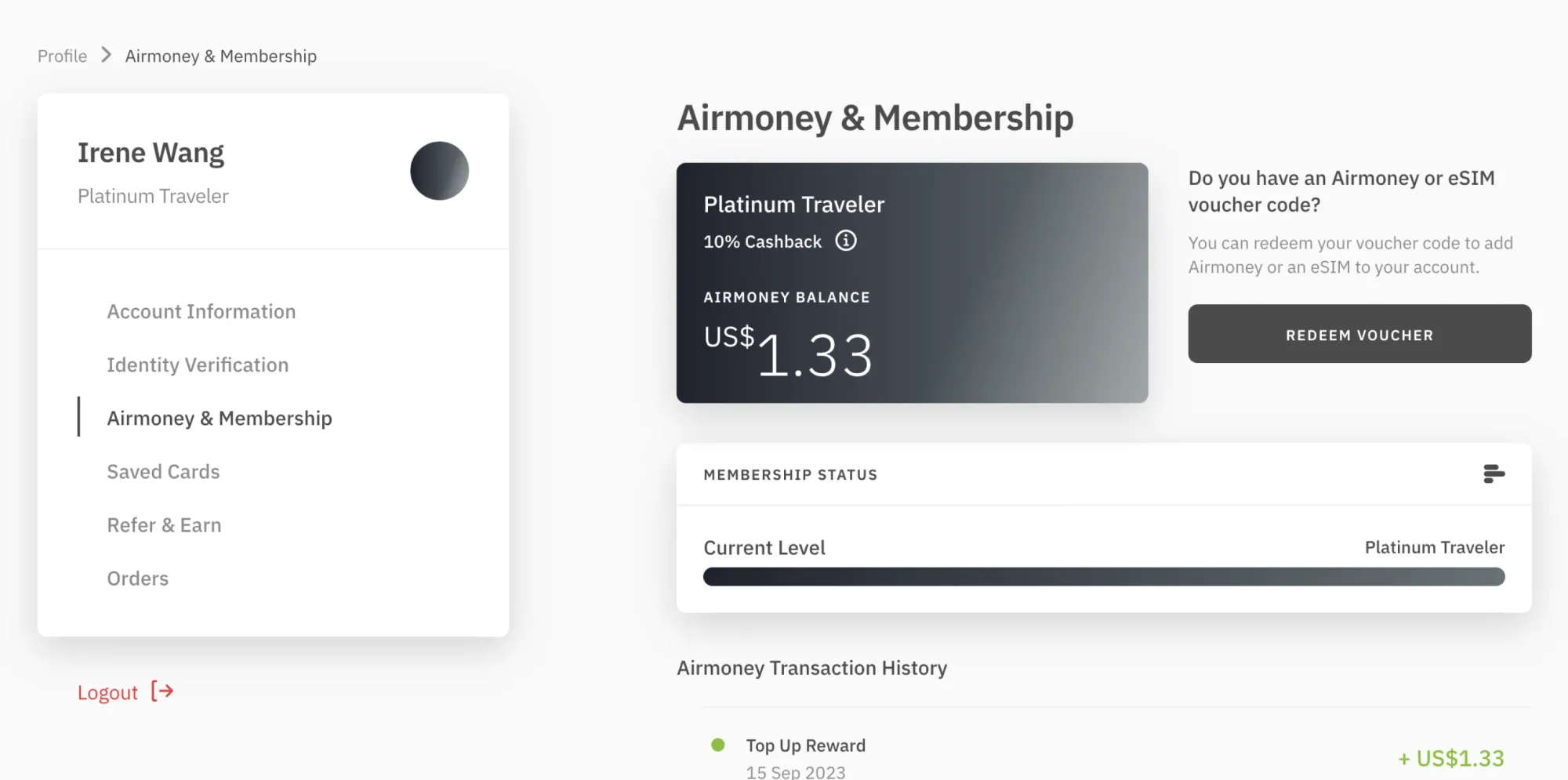 For frequent travelers, the question of loyalty perks often comes to mind so good news for you! Airalo does offer a loyalty program for its dedicated users.
This program rewards users for their consistent use of Airalo's services and helps ensure they get even better value for their money over time.
For every purchase made on the platform, users earn "Airmoney", which is actual money in your Airalo wallet that can later be used on future eSIM packages. The more you use Airalo, the more "Airmoney" you accumulate, leading to significant savings in the long run.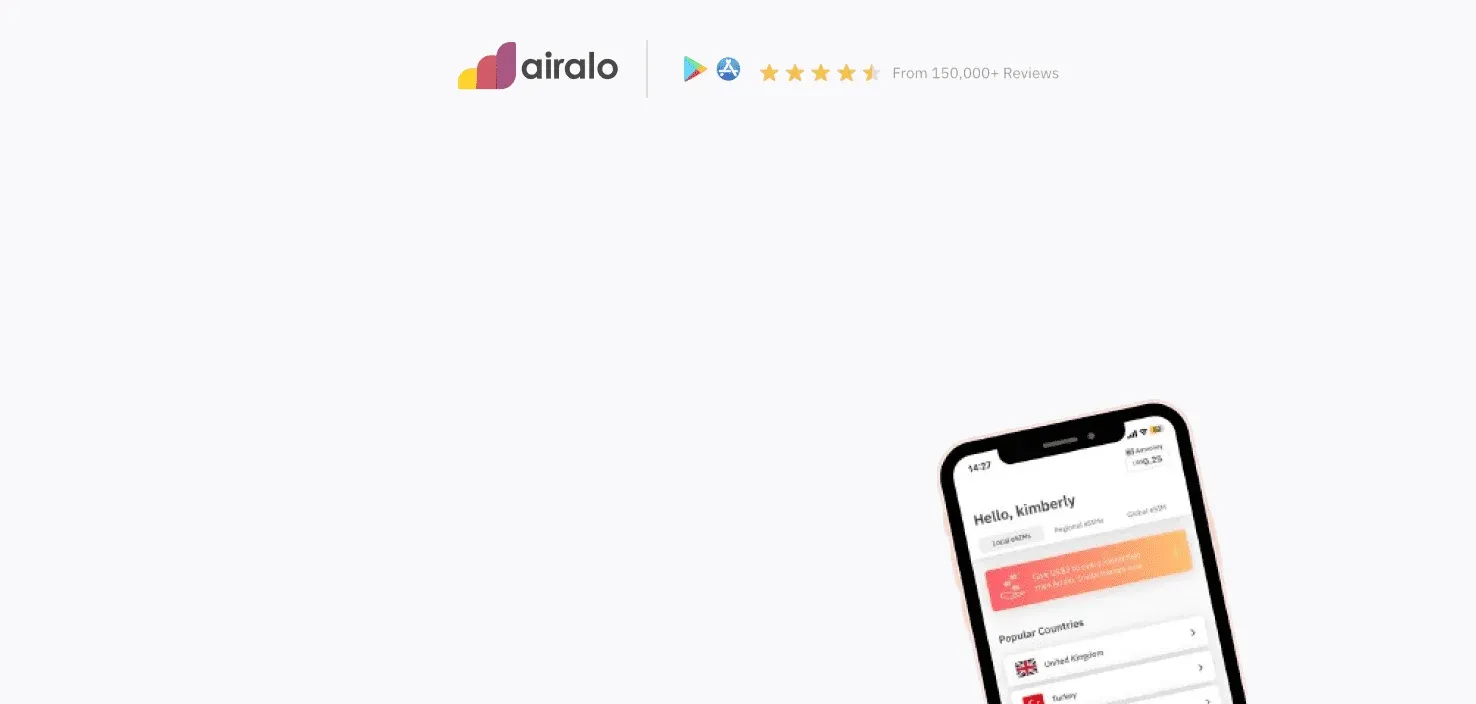 Get Up To 15% Off on Airalo eSims
If you are new to Airalo, use the Code '
DEC15
' and get
15% Off
while if you are an existing Airalo user, use the Code '
DEC10
' to get
10% Off
on all Airalo plans!
Grab Your Discount Now!
Our Experience Using Airalo eSIMs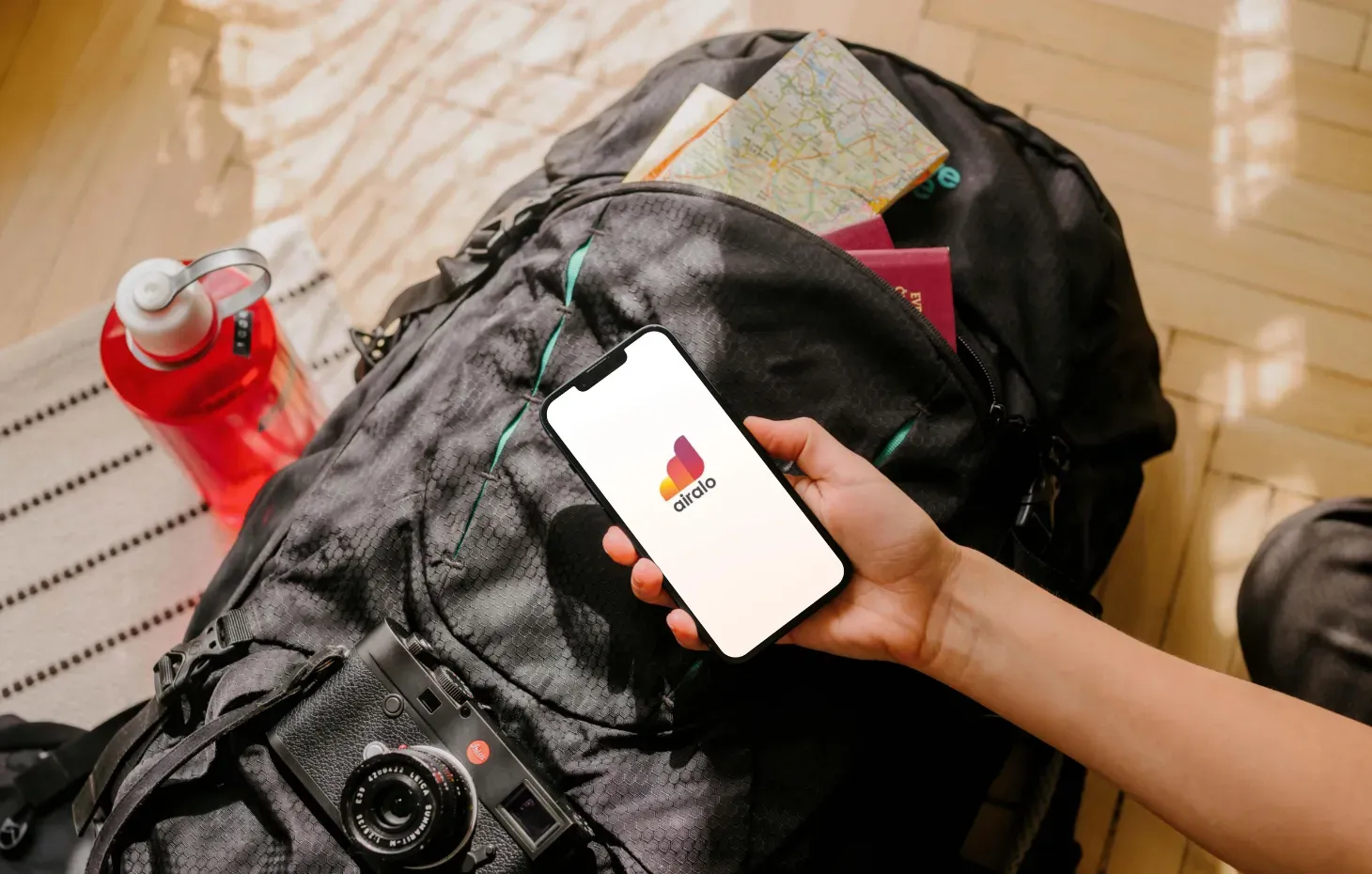 So, do we recommend Airalo? We've used it many times during our travels as digital nomads, but we'll consider our most recent trips to Thailand, Portugal, the Canary Islands, Georgia, and Morocco to share our hands-on experience with Airalo in this review.
Airalo Review: Their Top Features
There are a handful of features offered by Airalo that really made a difference for us. Here's what stood out to us when testing it:
Effortless Setup Process: Every digital nomad has their rituals, and we've got ours. Each time our plane touches down in a new country and we line up for passport control, we set up our Airalo eSIM. A case in point was our arrival in Morocco. Despite feeling overwhelmed and a tad tired after a long intercontinental flight, we had our eSIM set up and running in less than 5 minutes. It's that kind of efficiency and reliability that keeps us loyal to Airalo.
Global Coverage and Flexible Plans: While hopping between countries in South East Asia, with Thailand as our recurrent base, Airalo was our savior. Our itinerary was spontaneous, frequently darting from Thailand to Cambodia, then back, and off to Malaysia before returning once more. Though we didn't opt for Airalo's regional plan this time around (most definitely we will in the future!), the local eSIMs suited us perfectly. Airalo had an impressive range of plans for each country we visited, granting us the flexibility to adapt to our ever-evolving travel schedule.
Prompt and Helpful Customer Service: We did face a slight glitch while arriving from Portugal to the Canary Islands in the middle of the night, while also in need of booking a taxi at the airport. However, a quick chat with Airalo's customer service using the Airalo mobile app had us sorted in no time. It was comforting knowing there was a team ready to assist, even during our late-night travels.
Airalo Loyalty Program: In each of our travels, be it to Thailand or Georgia, one delightful perk was earning "Airmoney" with Airalo. These loyalty points quickly added up, allowing us to use them for subsequent eSIM purchases, which came in quite handy for budget-savvy digital nomads like us!
Our Airalo Performance Review Across 5 Different Countries
We know speed and reliability are the most important aspects to consider to make sure you can work remotely in peace so we've personally tested Airalo connectivity in various settings to give you a genuine snapshot of its speed performance.
Here are our findings from our recent trips:
| Country | Speed | Connection details |
| --- | --- | --- |
| Thailand | 31.8 Mbps (download) / 16.9 Mbps (upload) | Consistent across the board, including remote islands |
| Portugal | 51 Mbps (download) / 12.3 Mbps (upload) | Great everywhere, even in smaller towns |
| Canary Islands | 28.5 Mbps (download) / 10.9 Mbps (upload) | Impressive in populated zones, sporadic in isolated spots |
| Georgia | 19.6 Mbps (download) / 11.3 Mbps (upload) | Consistently strong, both in urban hubs and mountainous regions |
| Morocco | 18.8 Mbps (download) / 8.9 Mbps (upload) | Reliable in major hubs, fluctuations in rural zones |
All in all, Airalo delivered across the board for us and this consistent connectivity made our travels smoother and kept us linked to everything we needed. So kudos to Airalo!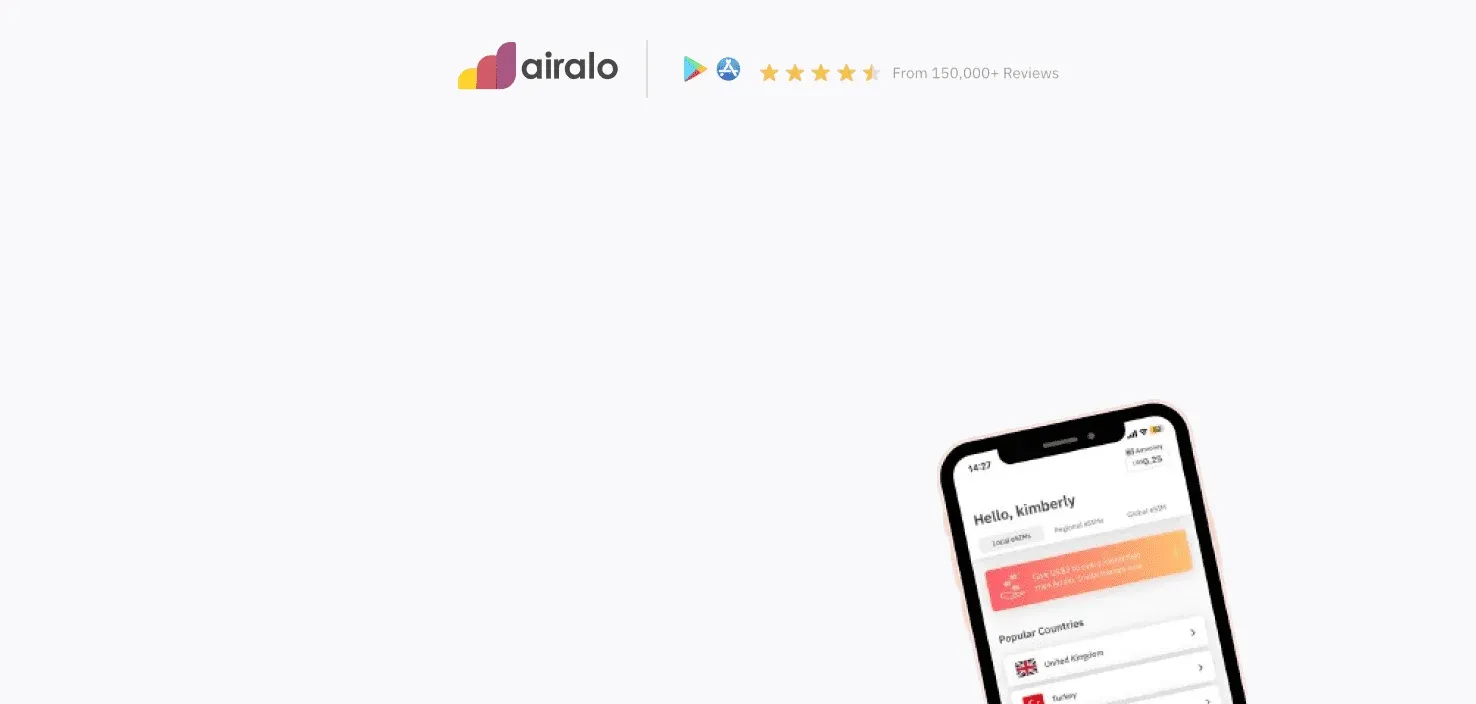 Get Up To 15% Off on Airalo eSims
If you are new to Airalo, use the Code '
DEC15
' and get
15% Off
while if you are an existing Airalo user, use the Code '
DEC10
' to get
10% Off
on all Airalo plans!
Grab Your Discount Now!
Airalo Pros and Cons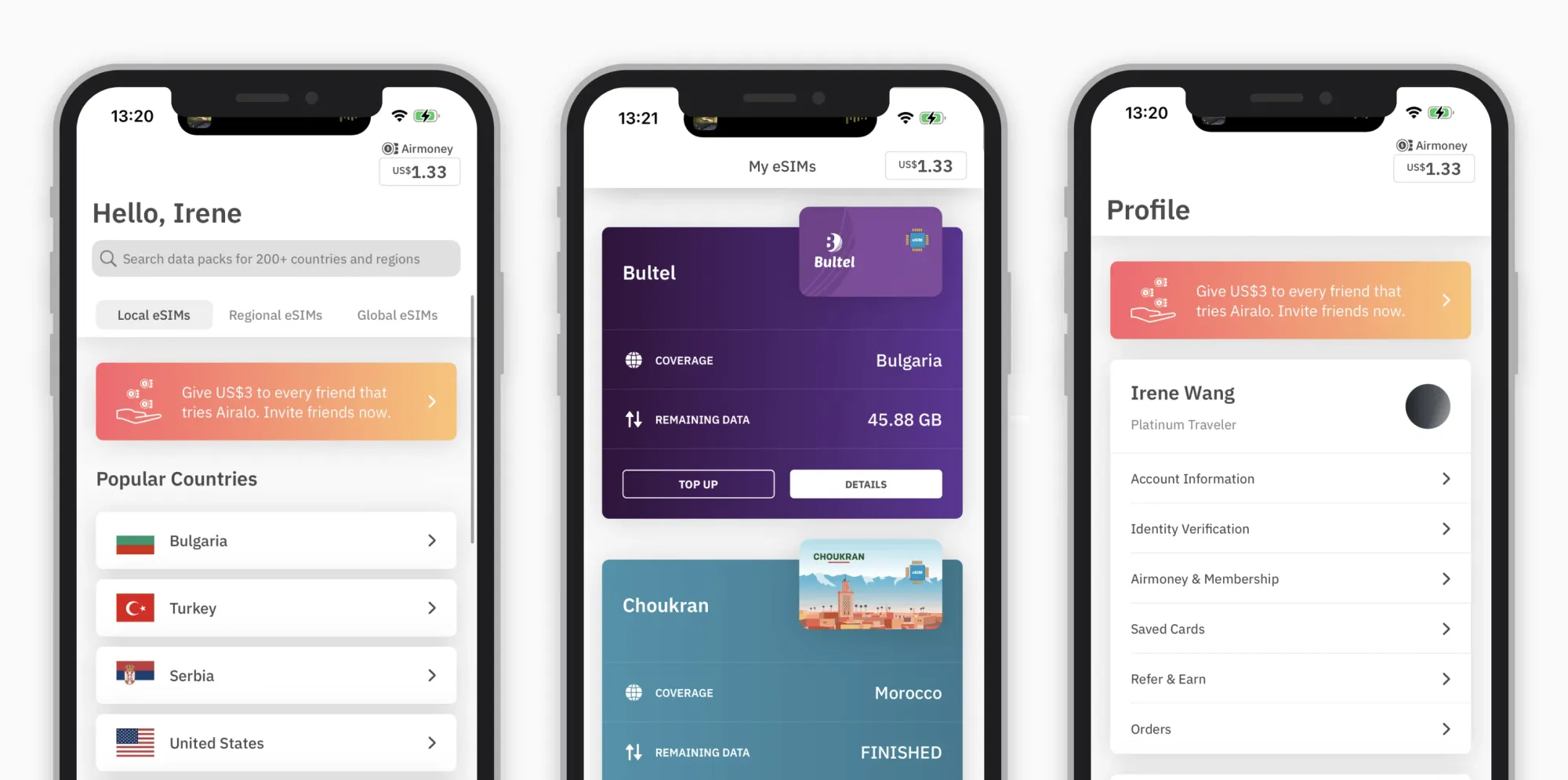 Having used Airalo in various parts of the world, we've had our fair share of experiences, both shining and those that had room for improvement.
Let's dive into what we genuinely appreciated and areas where we felt a tweak or two would make a difference:
Like all tech solutions, Airalo is not without its quirks, but all in all its pros undeniably outweighed the cons for our digital nomad lifestyle.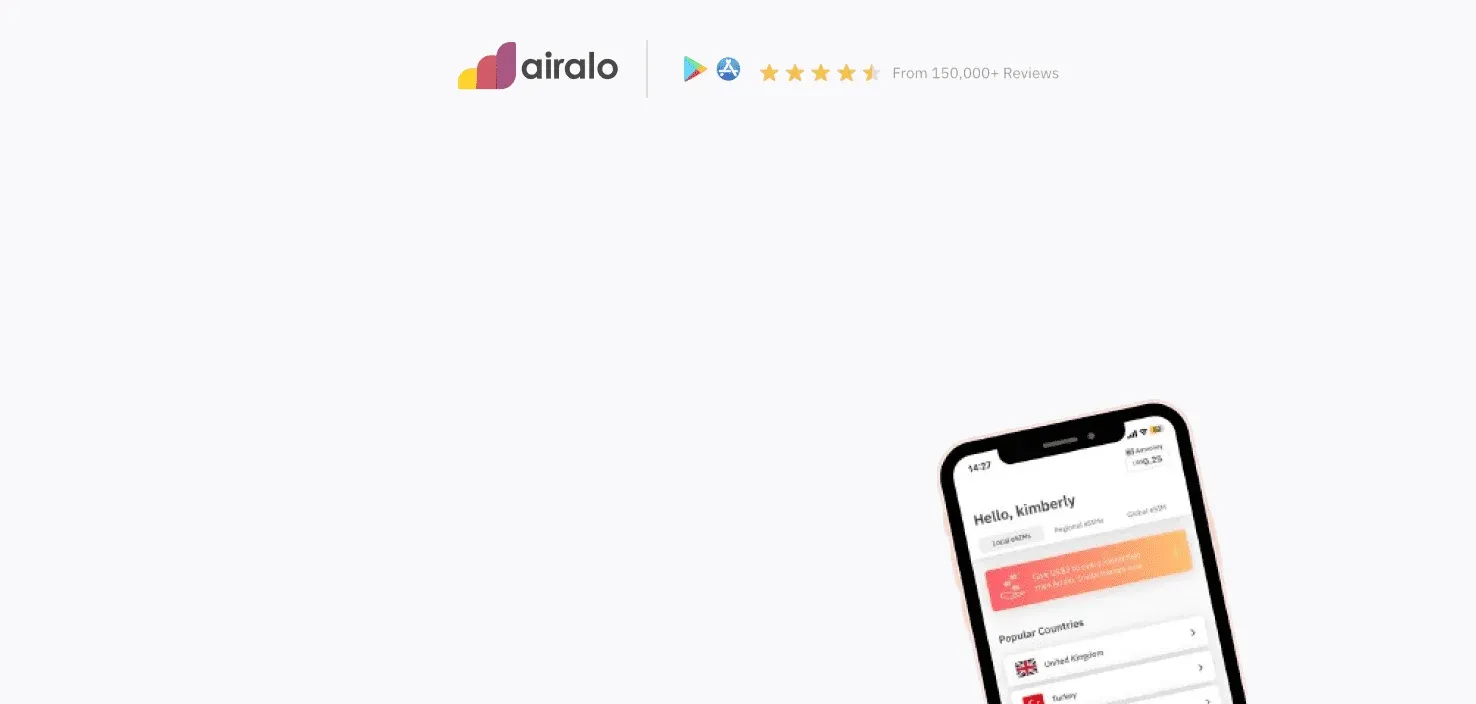 Get Up To 15% Off on Airalo eSims
If you are new to Airalo, use the Code '
DEC15
' and get
15% Off
while if you are an existing Airalo user, use the Code '
DEC10
' to get
10% Off
on all Airalo plans!
Grab Your Discount Now!
What Other Nomads Think of Airalo?
To bring you a comprehensive view of what the community thinks about Airalo eSIM and provide a well-rounded review, we've gathered feedback from fellow digital nomads found on Reddit, Trustpilot, and Product Hunt.
Here's what they had to say: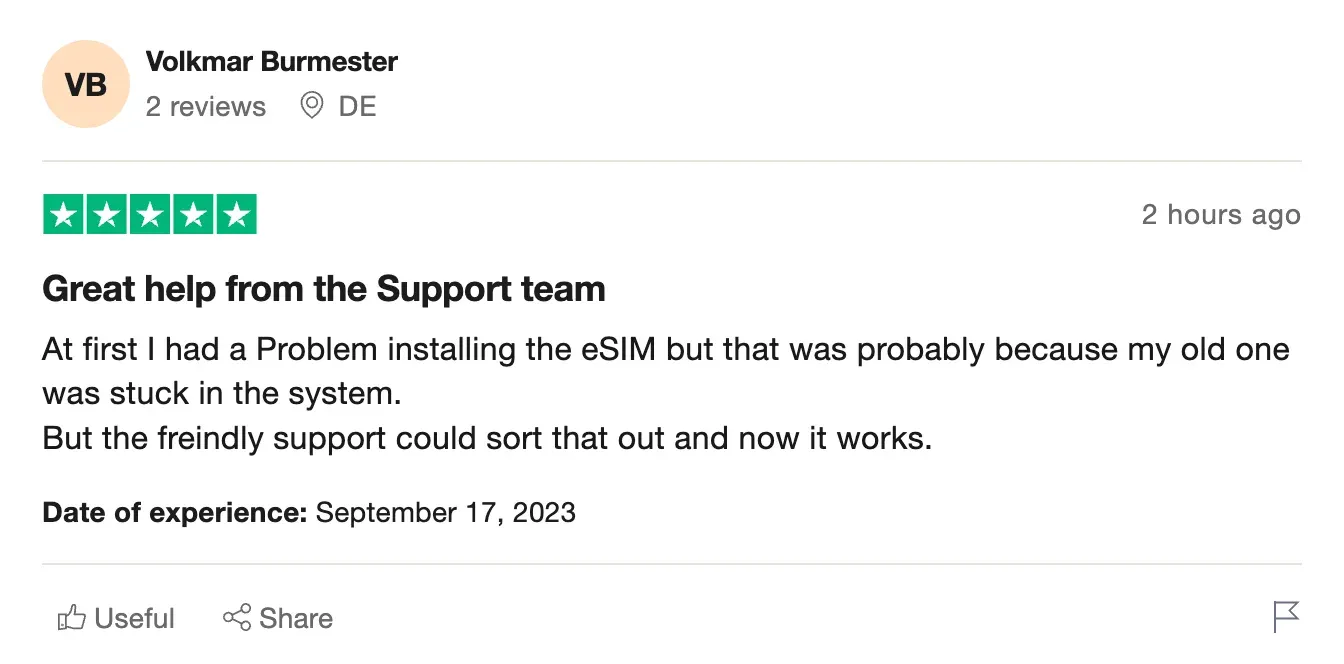 Users have praised the company for its excellent customer service, with several people mentioning the helpfulness and responsiveness of the support team. Travelers have also appreciated the ease of signing up from the app and the fast speed. Some nomads mentioned a few downsides if not the fact that the eSIMs are slightly more expensive than physical SIMs, which to be fair it's a common comment often mentioned for all the eSIM providers. But if you consider the convenience of avoiding swapping SIMs we believe it's still worth paying the surcharge.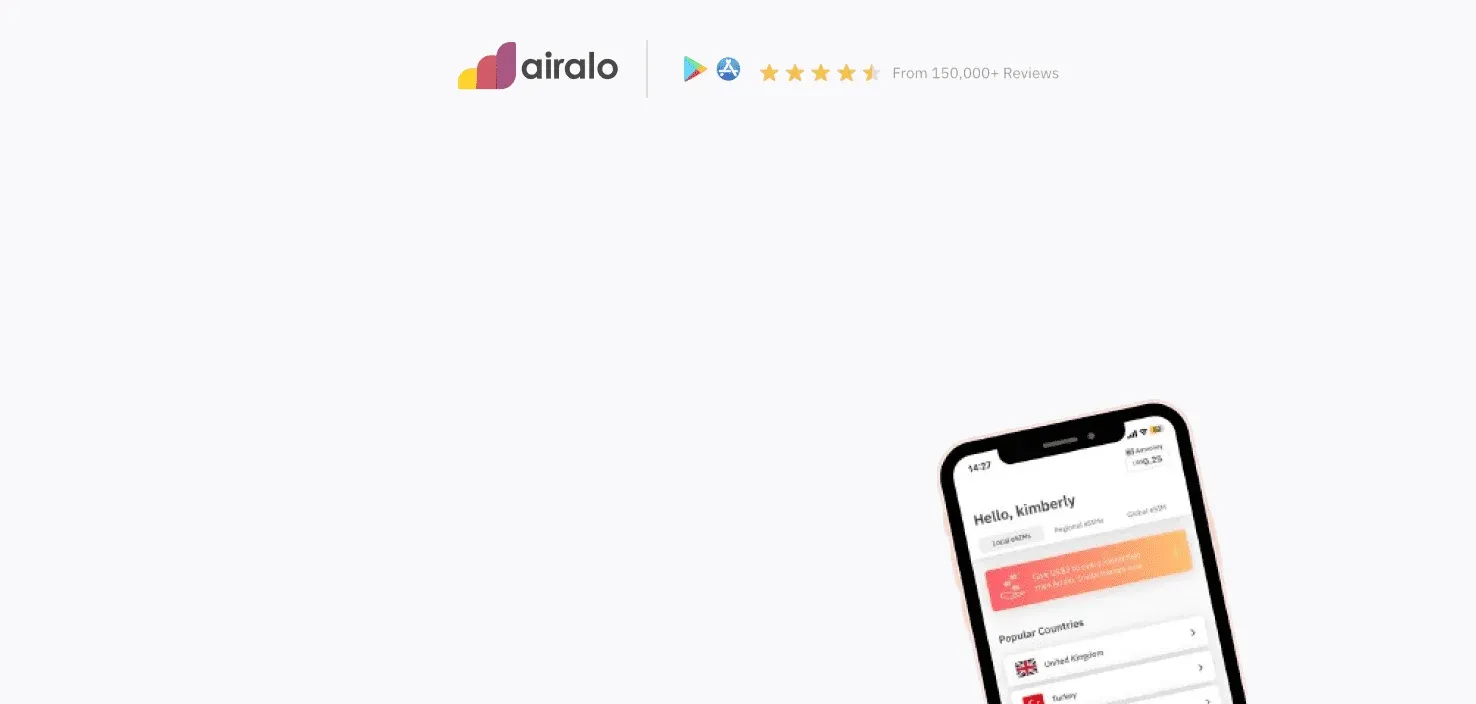 Get Up To 15% Off on Airalo eSims
If you are new to Airalo, use the Code '
DEC15
' and get
15% Off
while if you are an existing Airalo user, use the Code '
DEC10
' to get
10% Off
on all Airalo plans!
Grab Your Discount Now!
Best Airalo Alternatives
While Airalo is a great choice, depending on your travel patterns, data requirements, or specific regions you frequent, some other eSIM providers might just hit the sweet spot for you. Here are three other eSIM providers we've personally tested and we would recommend checking out:
Holafly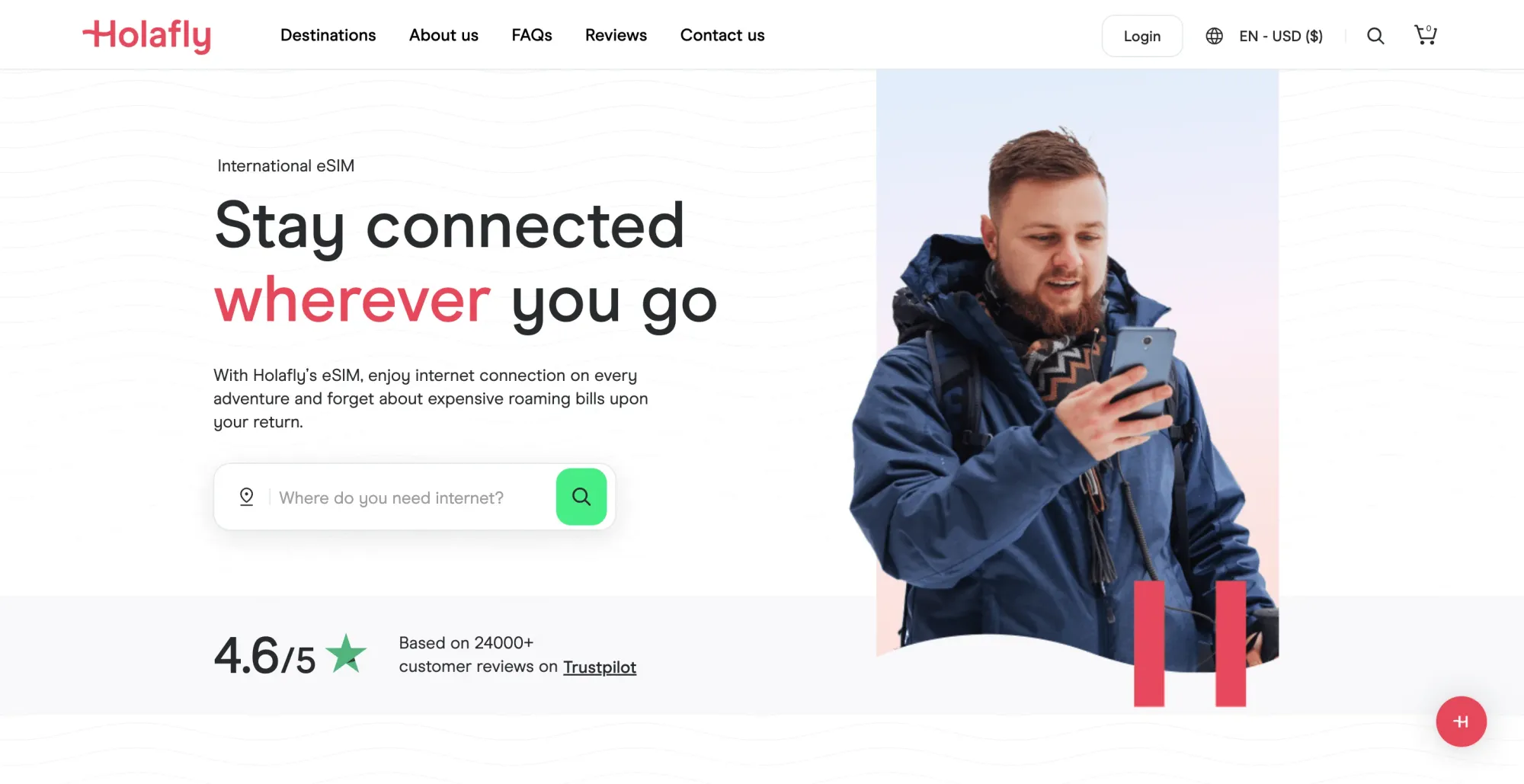 Holafly, on occasion, comes with a steeper price tag than Airalo. Yet, one can't overlook their offering of unlimited data plans. It's a tempting choice for travelers who don't want to worry about running out of data mid-journey. Holafly also includes a local phone number for voice calls or messages in some countries, which Airalo does not.
🎁
SPECIAL DISCOUNT:
Use our exclusive code
FREAKINGNOMADS
to get
5% off
on all your Holafly eSIM plans!
Nomad eSIM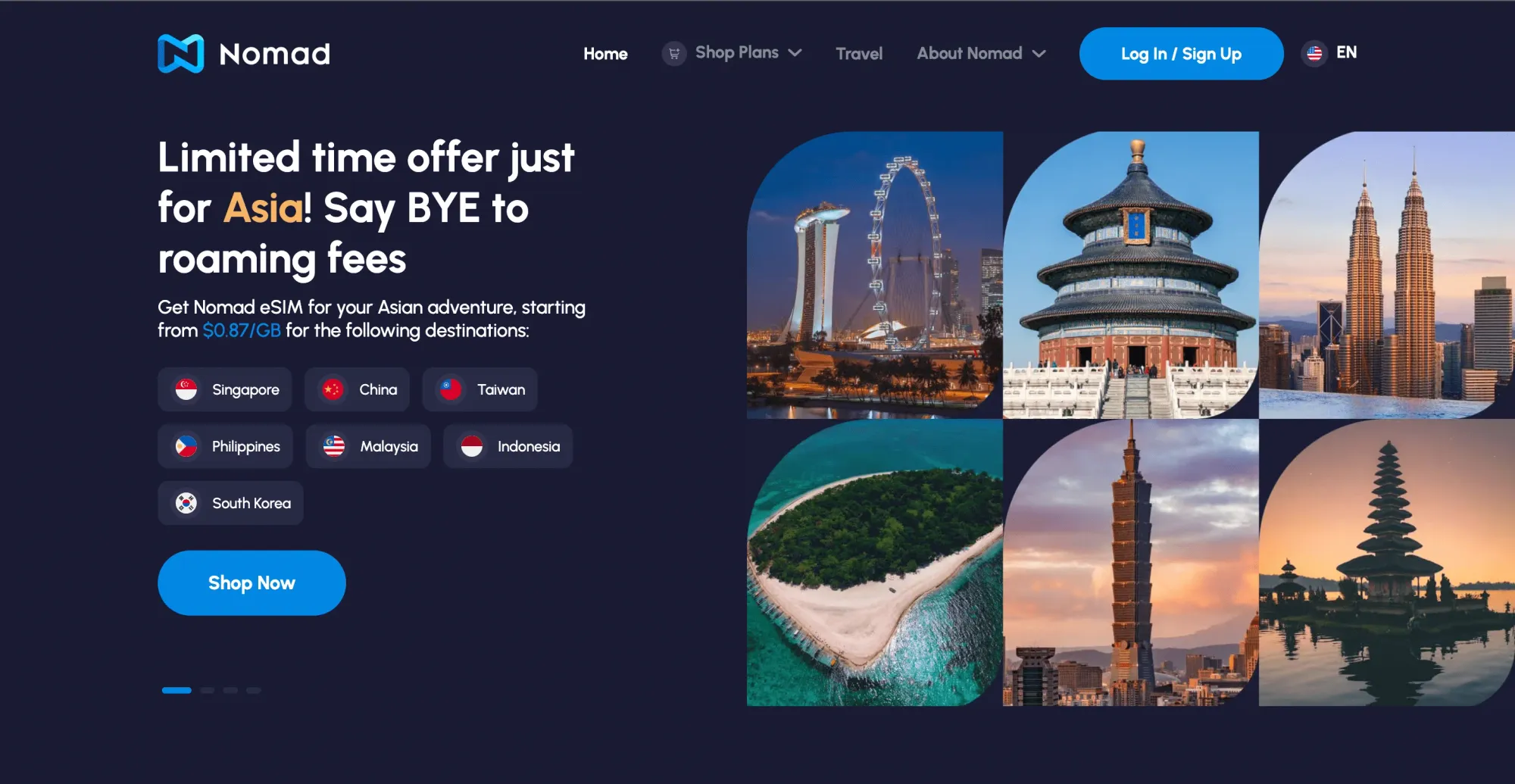 Although they don't cover as many countries as Airalo, Nomad offers the option to buy more data, even boasting unlimited data options. This is an attractive feature for those who have hefty data needs. Unlike Airalo, Nomad eSIM also offers SMS-only plans and two providers to choose from in the USA.
Alosim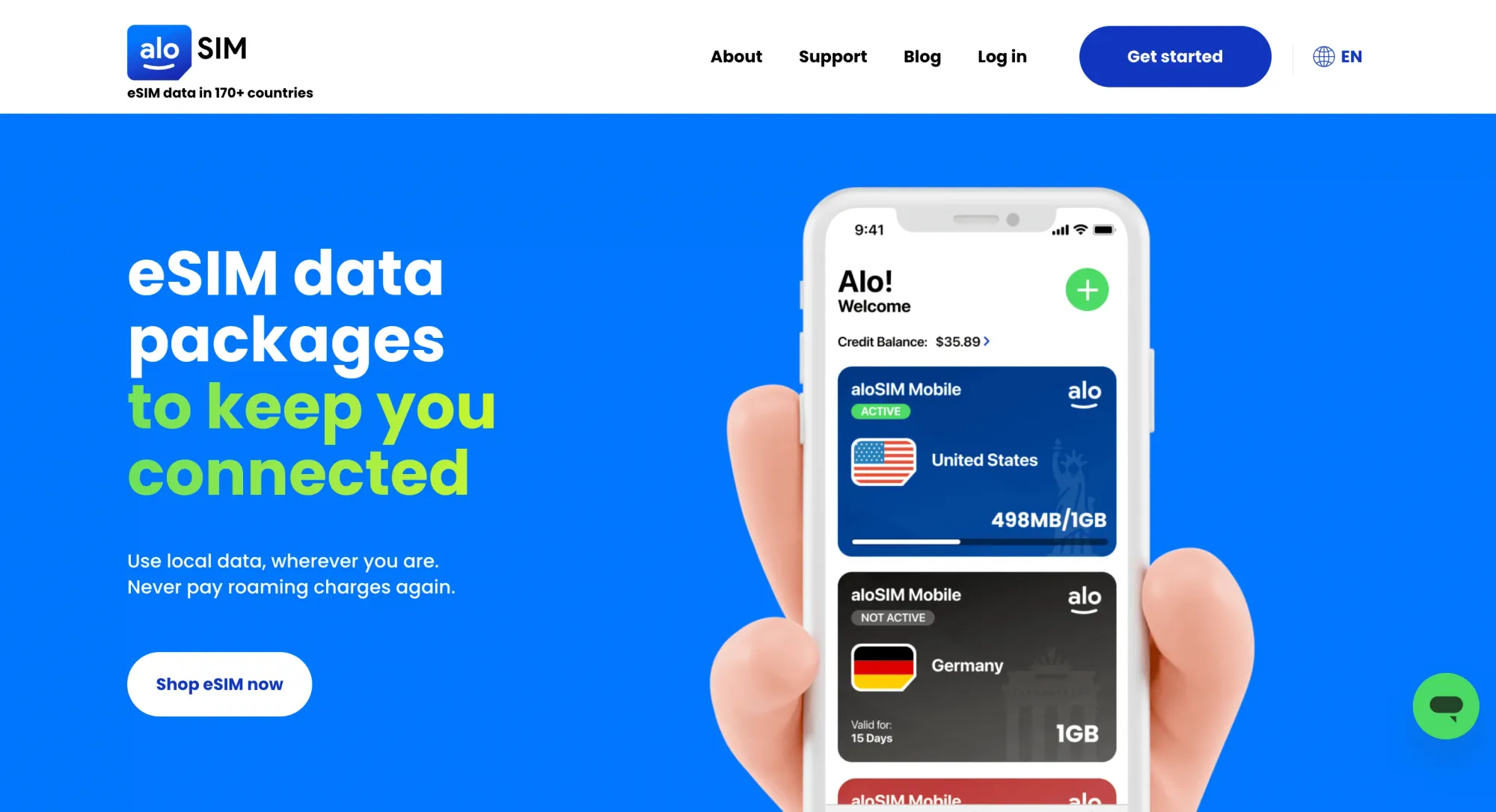 If you're shopping on a budget, Alosim might be your go-to. They often undercut the competition in terms of price. Although they don't have as expansive a country list as Airalo, they often hit the mark for popular digital nomad destinations.
🎁
SPECIAL DISCOUNT:
Use our exclusive code
FREAKINGNOMADS
to get
5% off
on all your Alosim eSIM plans!
Airalo Troubleshooting
If you have ever experienced any issues with your Airalo eSIM, we thought to share a step-by-step guide to help you navigate any bumps in the road:
Check Your Phone Settings: Ensure that your phone's settings have the Airalo eSIM set as the active data plan. Sometimes, the phone might default to your original carrier or another saved eSIM.
Turn On Data Roaming: While your Airalo plan might be activated, data roaming could be turned off for that plan by default. Check your device settings and ensure data roaming is turned on to start using your Airalo plan.
Restart Your Device: It's a cliché because it often works. Turning your phone off and on again can help re-establish the connection with the network.
Inspect Data Usage: If you've used up your data allowance, you'll naturally lose connectivity. You can easily check your remaining data via the Airalo app or website. If needed, you can also purchase additional data through the platform.
Network Selection: Some phones allow for manual network selection. If you're not connecting automatically, you can try selecting a network provider manually from the list available in your device's settings.
Prefer to watch a video tutorial instead? Don't worry, we've got you covered!
💡
Pro tip: If the above steps don't resolve the issue, it's time to reach out to Airalo's customer support. They can offer specific advice tailored to your situation, and they're known for their responsive and helpful service.
Airalo Review Summary
Having travelled through numerous countries and used Airalo eSIM to stay connected, Airalo has emerged as a reliable companion, not just for our own digital nomad journey, but for countless other nomads as well.
Its global reach, combined with an intuitive app experience and responsive customer service, sets it a notch above. While there are some areas of improvement, particularly in remote regions, the overall offering is compelling. The added bonus of the Airmoney loyalty program only sweetens the deal.
For those seeking a hassle-free, cost-effective, and flexible connectivity solution while travelling to and working from all corners of the world, Airalo stands as a great choice. Whether you're an avid traveler or just occasionally seeking international data, we wholeheartedly recommend giving Airalo a try.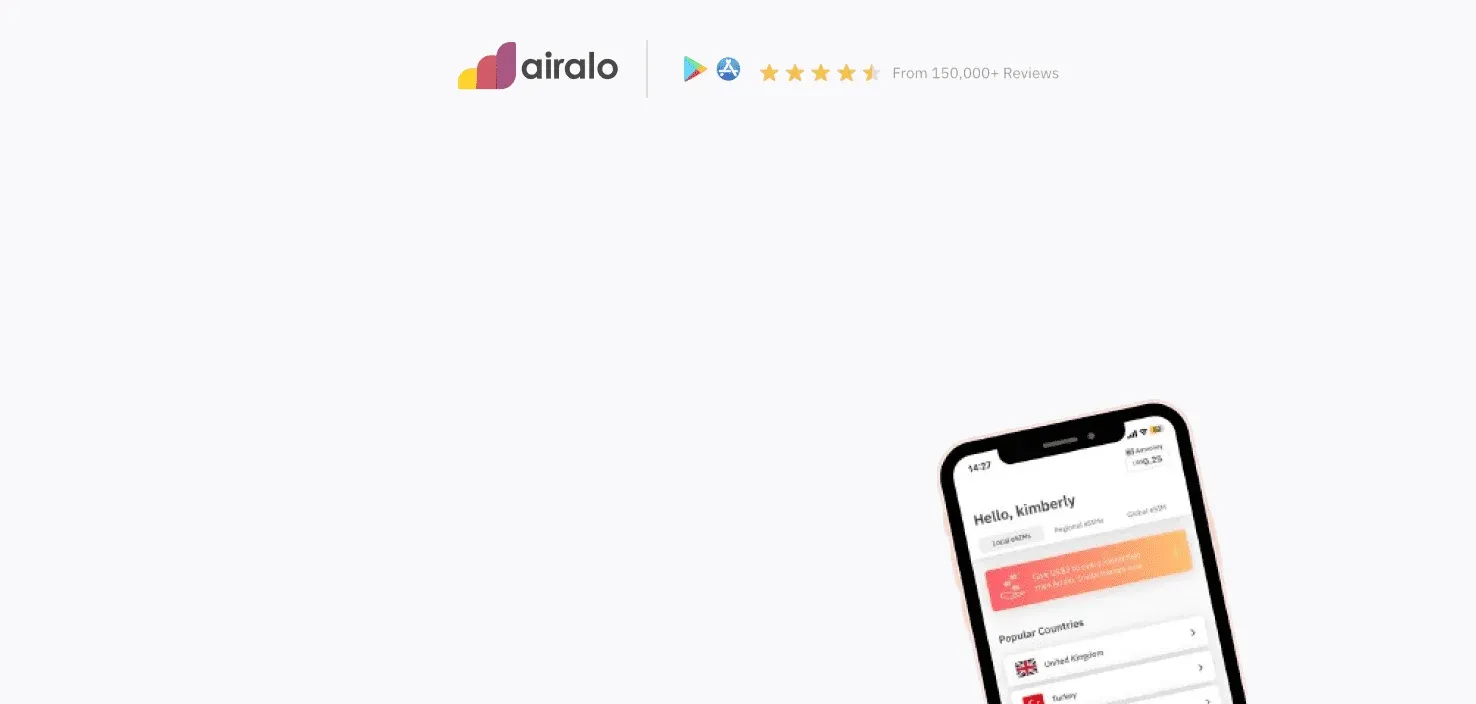 Get Up To 15% Off on Airalo eSims
If you are new to Airalo, use the Code '
DEC15
' and get
15% Off
while if you are an existing Airalo user, use the Code '
DEC10
' to get
10% Off
on all Airalo plans!
Grab Your Discount Now!
Frequently Asked Questions
Can Airalo be trusted?
Absolutely. Based on our extensive travels and experiences using Airalo in different countries, we've found this provider to be very reliable. Their eSIMs consistently delivered internet connectivity, and their customer service was quick to assist whenever we faced any issues. Additionally, with a secure platform for transactions and transparent customer feedback, Airalo has established itself as a trustworthy option for global travelers. Remember, like any service, always read user reviews and do your research, but from our hands-on experience, Airalo has been dependable.
Is Airalo eSIM reliable?
Yes, Airalo eSIM is highly reliable. In our multiple trips across various countries, we've found that Airalo consistently provided the promised connectivity. Even in diverse settings, from bustling city centers to more remote areas, Airalo provided us with stable connections the majority of the time. Though, like all services, there might be occasional dips in remote areas, the overall performance has been commendable. Combined with their prompt customer service that's ready to assist when rare glitches arise, we can confidently vouch for the reliability of Airalo eSIM.
Is Airalo fast?
Based on our personal experience, Airalo offers impressive speeds in most locations. During our travels, we recorded various download and upload speeds in different countries, and the results were often on par with or exceeded local cellular networks. For instance, in Portugal, we noted a download speed of 51 Mbps, and in Thailand, it was 31.8 Mbps. While the exact speeds can vary based on the location and local network infrastructure, Airalo has consistently provided us with speedy connections suitable for both casual browsing and more data-intensive tasks like video calls or streaming.
Should I install Airalo eSIM before or after travel?
We recommend installing the Airalo eSIM before you travel. Doing so allows you to test the eSIM and ensure it's properly installed and activated on your device. This way, as soon as you land or cross the border, you can easily switch to your Airalo eSIM profile and connect immediately without any hassles. Pre-travel installation ensures you have a smooth transition without the need to hunt for local SIM cards or WiFi upon arrival.
Does Airalo work with Whatsapp?
Yes, Airalo works seamlessly with WhatsApp. Once you activate your Airalo eSIM and connect to the internet, all your apps, including WhatsApp, will function as they normally do. It's important to note, however, that if you're using an Airalo eSIM from a different country than your original phone number, your WhatsApp will still retain your original number unless you choose to change it manually within the app. This means you can communicate with your contacts on WhatsApp without any disruptions or need for notifications about number changes.
Does Airalo use my phone number?
No, Airalo does not use or replace your existing phone number. When you activate an Airalo eSIM, you are essentially adding a secondary data profile to your device. Most Airalo eSIM plans provide data-only services, meaning you won't receive a new phone number with the eSIM. Your primary phone number remains intact and functional. If you need to make calls or send texts, you can do so using your original carrier or utilize internet-based services like WhatsApp, Skype, or other VoIP applications.
Does Airalo offer any customer support or assistance?
Yes, Airalo offers robust customer support. They have a dedicated customer service team that can be reached via the Airalo mobile app or their official website. Whether you're facing issues with setting up the eSIM or have questions about plans and coverage, their team is responsive and eager to assist. Based on our experience and the feedback from other users, Airalo's customer support is both prompt and helpful, even during off-hours or when traveling in different time zones.
Is there a downside to using eSIM?
While eSIMs provide a lot of conveniences, such as easy plan switching without needing to swap physical SIM cards, there are some considerations. Not all devices support eSIM technology, so checking compatibility is vital. With eSIM, you don't have the option of a physical backup to switch between devices easily. Transferring an eSIM profile to a new phone might be less straightforward than moving a physical SIM. Some devices also limit how many eSIM profiles you can store. Lastly, since eSIM is relatively new in certain areas, local support might not be as familiar with it compared to traditional SIMs. However, for many, the benefits of eSIMs often outweigh these potential downsides.
Does eSIM drain battery?
No, eSIM technology itself does not cause additional battery drain compared to traditional SIM cards. The battery consumption is primarily influenced by your device's usage patterns, network conditions, and the applications running in the background. If you're connected to the internet and actively using data, your battery might deplete faster, but this is true whether you're using eSIM or a physical SIM. In essence, eSIM's operation is as energy-efficient as its physical counterpart.
Ready To Try Airalo Yourself?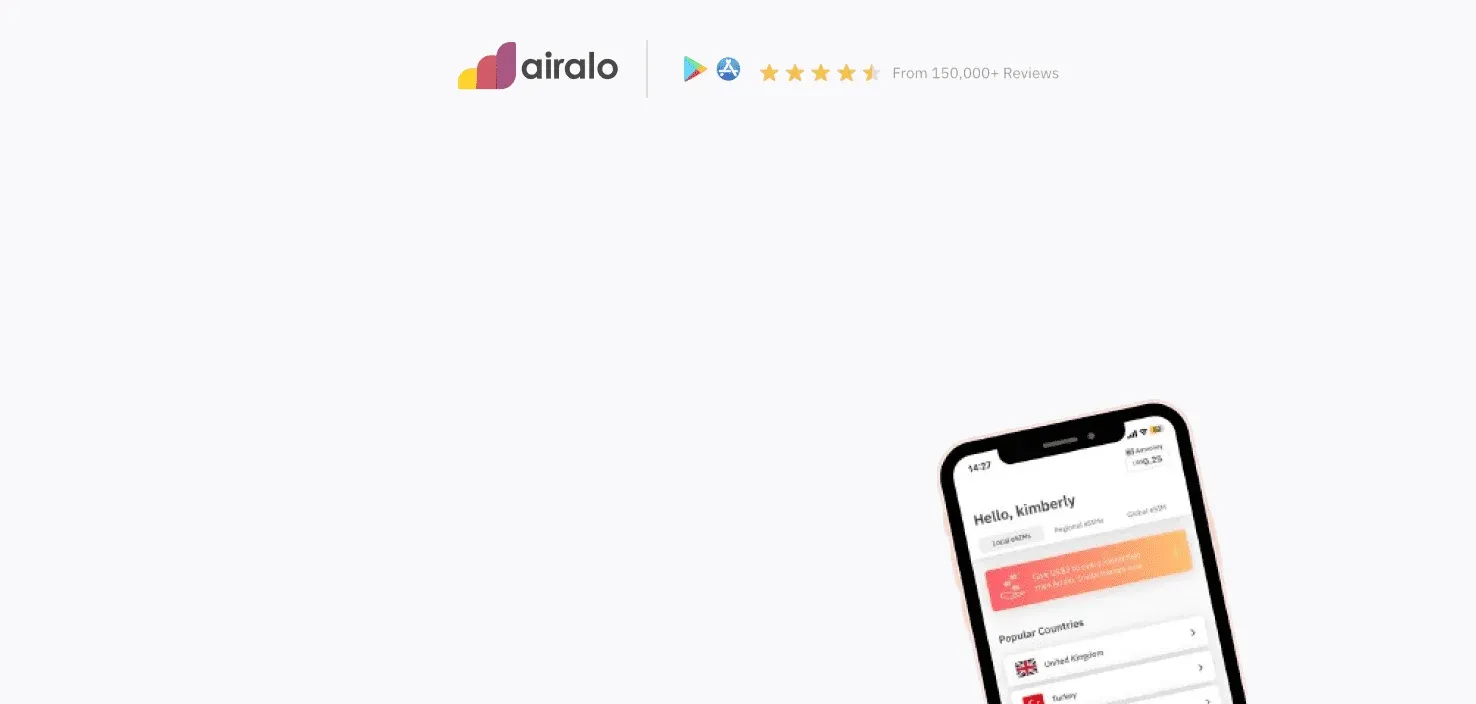 Get Up To 15% Off on Airalo eSims
If you are new to Airalo, use the Code '
DEC15
' and get
15% Off
while if you are an existing Airalo user, use the Code '
DEC10
' to get
10% Off
on all Airalo plans!
Grab Your Discount Now!
---
If you want to receive digital nomad guides like these, sign up for our free newsletter and get upcoming articles straight to your inbox!
You can also follow us on Instagram and join our Facebook Group if you want to get in touch with other members of our growing digital nomad community!
We'll see you there, Freaking Nomads!
Disclosure: Hey, just a heads up that some of the links in this article are affiliate links. This means that, if you buy through our links, we may earn a small commission that helps us create helpful content for the community. We only recommend products if we think they will add value, so thanks for supporting us!