With its tropical climate offering warm, humid weather year-round, Lombok stands as an appealing alternative to its more celebrated neighbour, Bali.
This Indonesian island doesn't just allure with its affordability; it's also a paradise for diverse interests. Whether you're into yoga, water sports like surfing and scuba diving, or you've got your eyes set on the challenging hike up the legendary Mount Rinjani, Lombok has what you need. But it's not just a playground; the island is increasingly geared towards the digital nomad lifestyle. Though its community of remote workers isn't as established as in some other Southeast Asian locales, you'll find well-equipped co-working spaces and numerous cafes boasting robust internet connections.
That said, Lombok won't be everyone's cup of tea. Some might find its quieter ambiance lacking, while others could be disappointed by the still-developing digital nomad community.
Every destination has its pros and cons, and Lombok is no exception.
It's crucial to weigh all factors to see if this island aligns with your unique preferences and needs. So, to help you out, we've put together this comprehensive guide that'll give you the lowdown on everything you need to know before booking your ticket to Lombok.
Where is Lombok Located?
Situated in Indonesia's West Nusa Tenggara province, Lombok is a gem in the chain of the Lesser Sunda Islands. This tropical paradise is framed by the Lombok Strait to the west, separating it from Bali, and the Alas Strait to the east, distancing it from Sumbawa.
What's particularly fascinating is that the Lombok Strait lies on the Wallace Line—an invisible boundary delineating the distinct wildlife species found in Australia, Papua New Guinea, and Southeast Asia.
Diverse not just in flora and fauna, Lombok is home to over 3.4 million people, the majority of whom are from the Sasak ethnic group. This community practises Wetu Telu, a unique form of Islam that beautifully blends elements of Hinduism and animism into its traditions and rituals.
While the island's main city is Mataram, situated in the northwest, the southern tip hosts Kuta—a magnet for surfers, tourists and digital nomads.
Why Visiting Lombok As A Digital Nomad?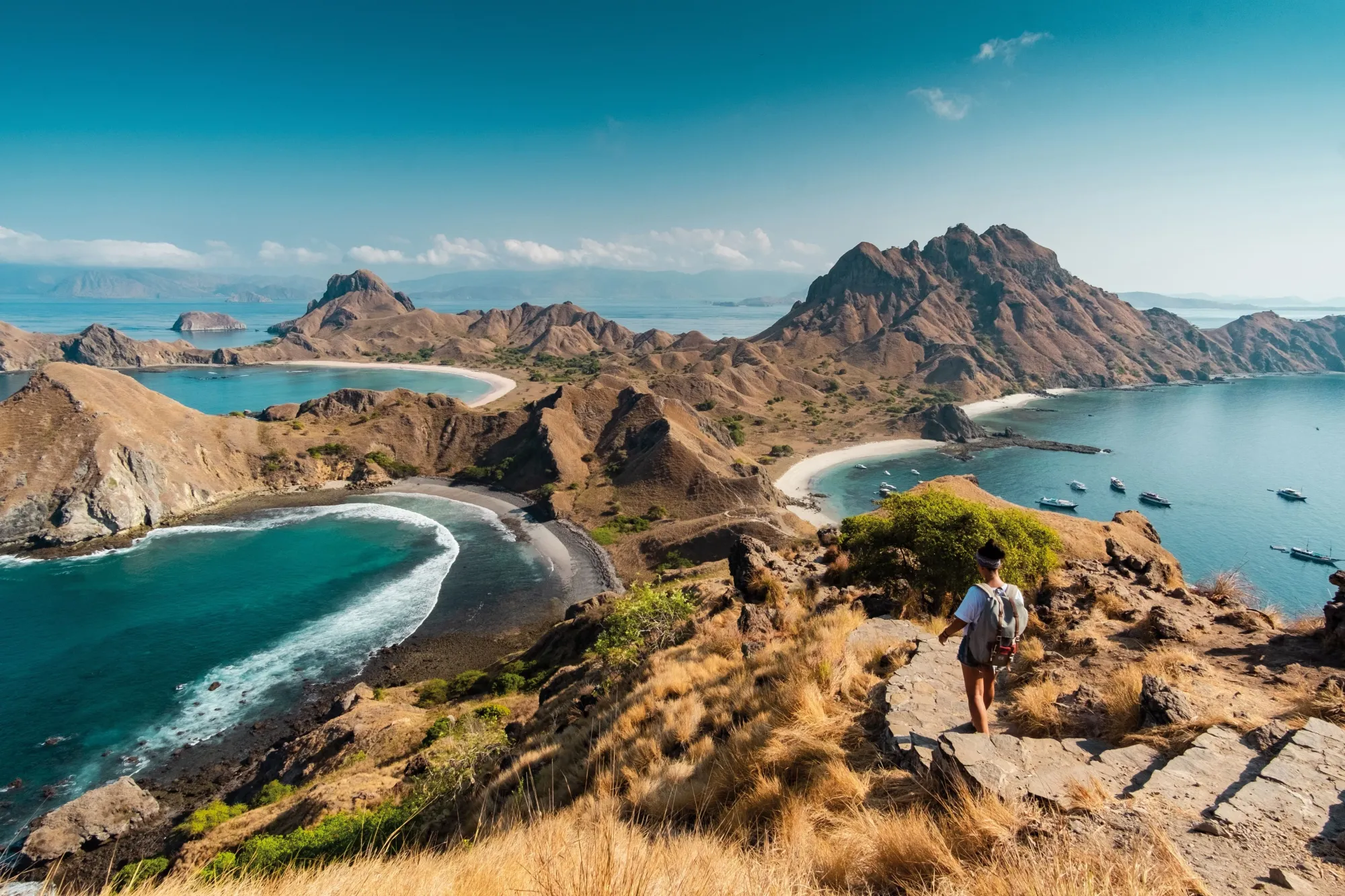 Lombok offers a myriad of attractions for digital nomads, and it's not just the idyllic landscapes. Let's look at the main reasons you might want to pick Lombok as your next nomad destination.
1. It has a good connectivity
In Lombok, you're in luck because internet connectivity is generally pretty good, especially in Kuta. Here you will find a couple of co-working spaces as well as many cafes that offer free Wi-Fi.
2. There is a ton to do
When it comes to leisure activities, Lombok is an all-encompassing destination that caters to diverse interests. Are you someone looking to recharge through spiritual practices like yoga and meditation? You've got it here. For the adrenaline junkies among us, the island is a surfer's haven, offering a broad spectrum of beaches suitable for everyone, from newbies to seasoned surfers. If catching waves is on your agenda, Lombok is really a top shout. Surf lessons are reasonably priced, and the beaches are far from overcrowded.
This is something we personally found refreshing; fewer people in the water means less chance of accidental collisions while you're trying to catch that perfect wave!
3. It's more affordable than Bali
Lombok is clearly on the up as a hotspot for digital nomads, especially in Kuta. New cafes, co-working spaces, and other amenities are popping up to welcome the growing number of travelers and remote workers. Despite this, Lombok remains more chilled and budget-friendly than its famous neighbour, Bali, and it's every bit as beautiful.
4. It's great for island hopping
Lombok doesn't just offer a great place to work and play; it's also a brilliant jumping-off point for exploring other local gems. Location-wise, it's a cracking base for a bit of island hopping. Fancy a quick trip to the Gili Islands? They're only a 15-minute boat ride away from Bangsal, located at the top end of Lombok. If you're keen on heading to Bali, it's also a doddle. You can either take a short flight or a 90-minute speedboat, which also sets off from Bangsal.
Is Lombok Better Than Bali as a Digital Nomad?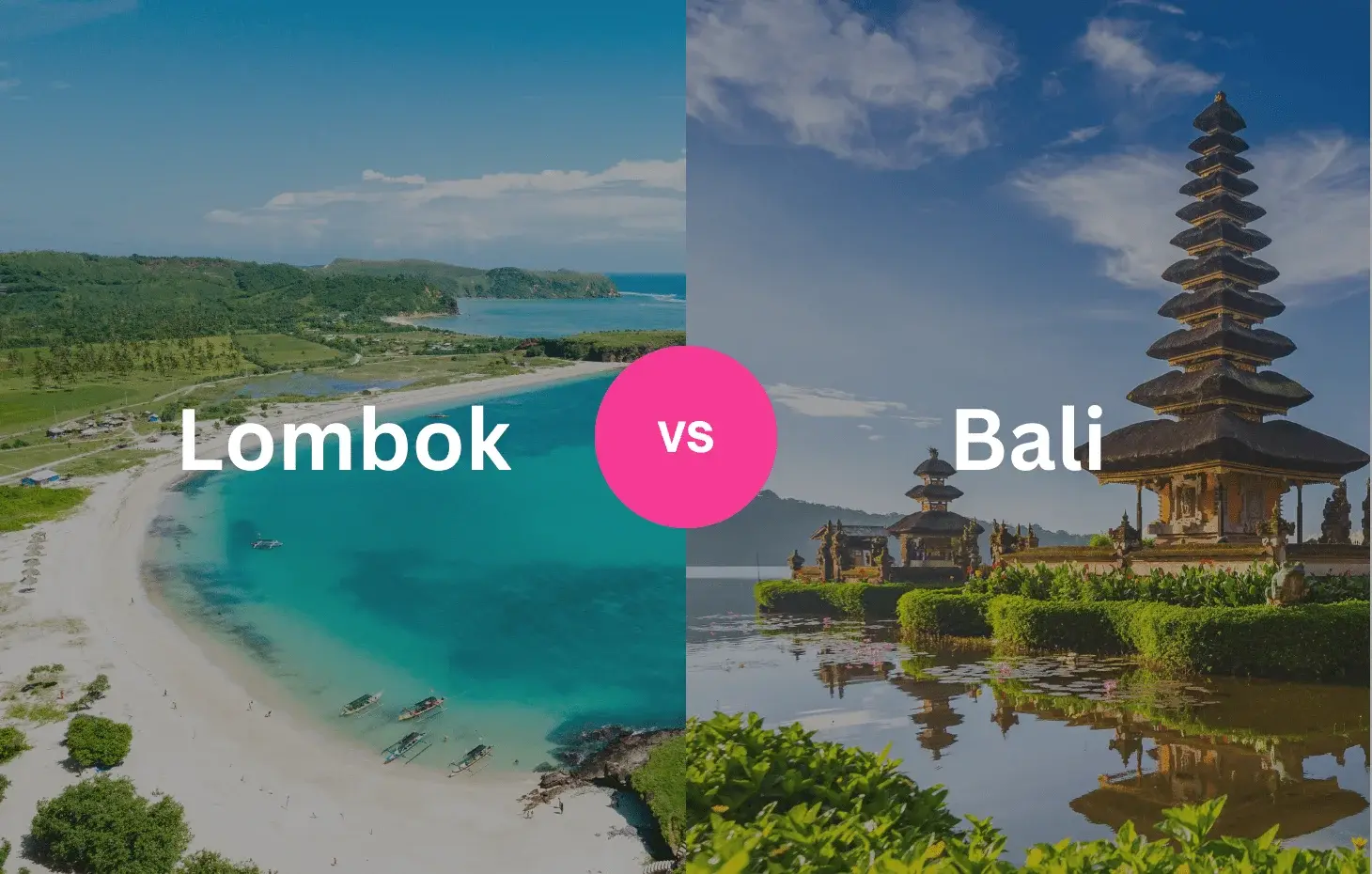 Lombok, and more specifically Mataram, is primarily known as a university town, bit it also offers a different vibe altogether for digital nomads. While it may lack in the co-working department compared to Bali, it makes up for it with a nice selection of spacious independent cafes. These spots provide a conducive atmosphere for focused work, without a flurry of distractions.
Further, Mataram is conveniently close to Sengiggi, with its intriguing coastline, featuring black sandy beaches adorned with rows of weathered fishing boats and free-roaming chickens. While it's not ideal for a dip in the sea, it's a top-notch place to savour some Ikan Bakar, or grilled fish.
On top of that, Mataram provides a fantastic chance to dive deeper into Indonesian culture. Unlike some other popular spots in Bali, here you'll mostly encounter locals, with nary a tourist or digital nomad in sight. Yet, working remotely poses no issues.
For foodies, the markets in Mataram are a treat, flaunting fresh local produce and street food of a remarkably high standard.
On the flip side, there are a couple of drawbacks to consider when weighing up Lombok against Bali:
The digital nomad community in Lombok is currently a bit on the smaller side. So, if networking with fellow nomads tops your list of priorities, Lombok might not be your cup of tea just yet.
There's the rather disheartening issue of litter. Whether it's along roadsides, strewn across fields, or sadly, even in the sea and on the beaches, you can't help but notice the waste. This is particularly gutting given the natural beauty of the island.
---
Now that we got out of the way, all the reasons why you should absolutely visit Lombok and how it differs from Bali, let's get to the more practical stuff.
How To Get To Kuta From The Airport and Other Ports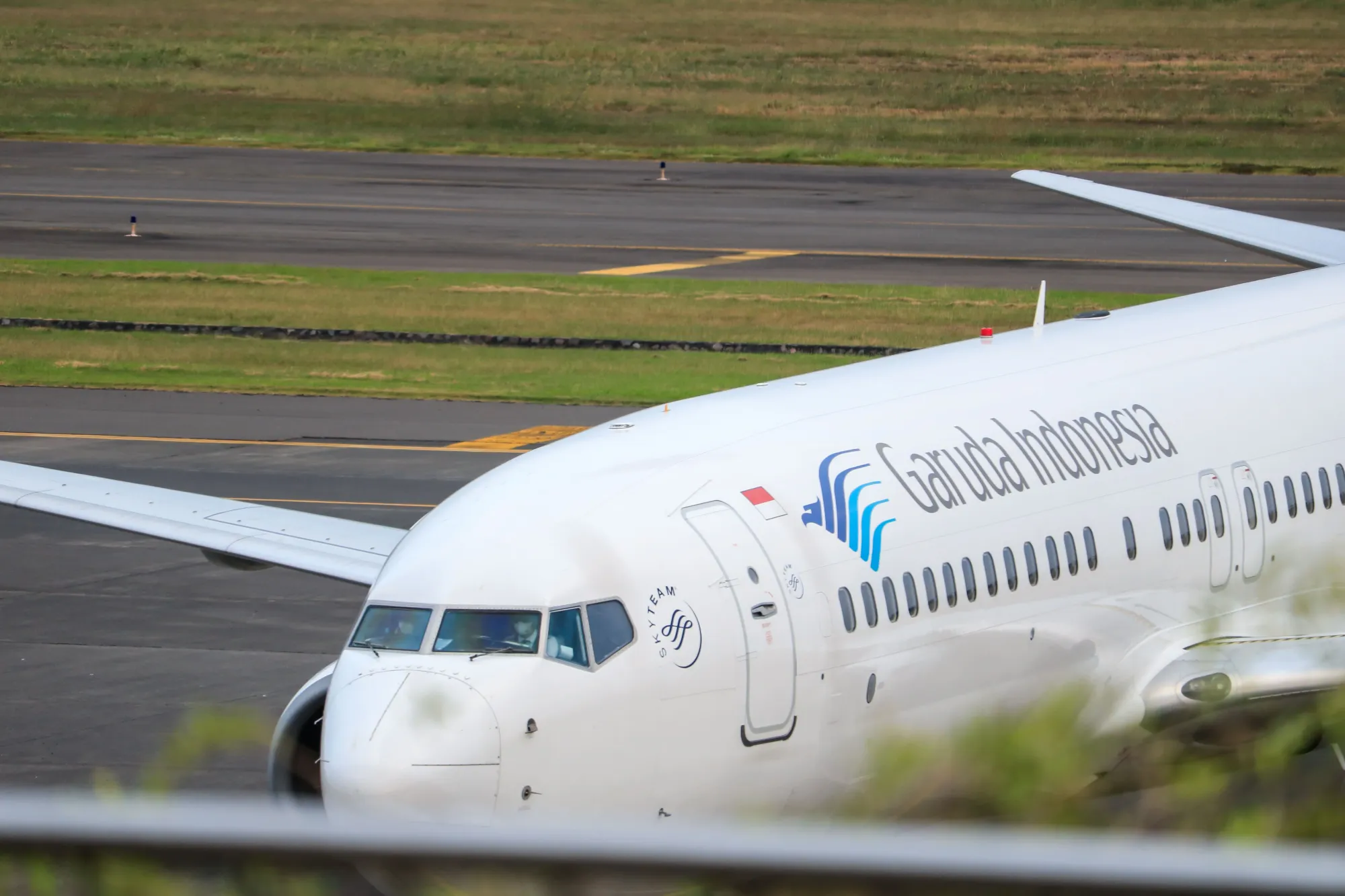 Getting around Lombok's smaller size might pose a challenge, as public transport isn't a thing here. But fret not, Kuta is a mere half-hour drive from the airport, making a taxi ride fairly inexpensive.
🟡
If you're coming in by boat, bear in mind that the main ports are up north, so your taxi fare will be a bit steeper.
Contrary to much of Indonesia, ride-hailing apps like Gojek and Grab aren't also as reliable in Lombok. Although you might spot a few drivers on the apps, you could end up waiting for an available one for quite a while—sometimes up to an hour.
So, our tip? Stick to booking a traditional taxi, which your accommodation host can usually sort out for you.
Below is a rundown of some typical routes to Kuta, with ballpark timings and costs.
💡
Do note that fares might fluctuate between high and low seasons, and barter is pretty much the norm, so you could end up paying less if you've got the gift of the gab!
1. Airport to Kuta
Hands down, the quickest and most straightforward way to reach Kuta is from the airport.
Journey Time: 25-30 minutes
Cost: 150k-200k IDR ($10-13)
2. Bangsal Port to Kuta
If you're sailing in from Bali, or the Gili Islands, you'll likely dock at Bangsal Port. From there, you can catch a taxi straight to Kuta.
Journey Time: 1.5-2 hours
Cost: 250k-300k IDR ($16-19)
3. Pelabuhan Kayangan Port to Kuta
Coming from Flores? You'll probably land at Pelabuhan Kayangan Port on the eastern side of Lombok. Given it's a smaller port, taxi availability might be limited, so pre-booking through your accommodation is advisable.
Journey Time: 2-3 hours
Cost: 400k-500k IDR ($26-32)
Where To Stay in Lombok?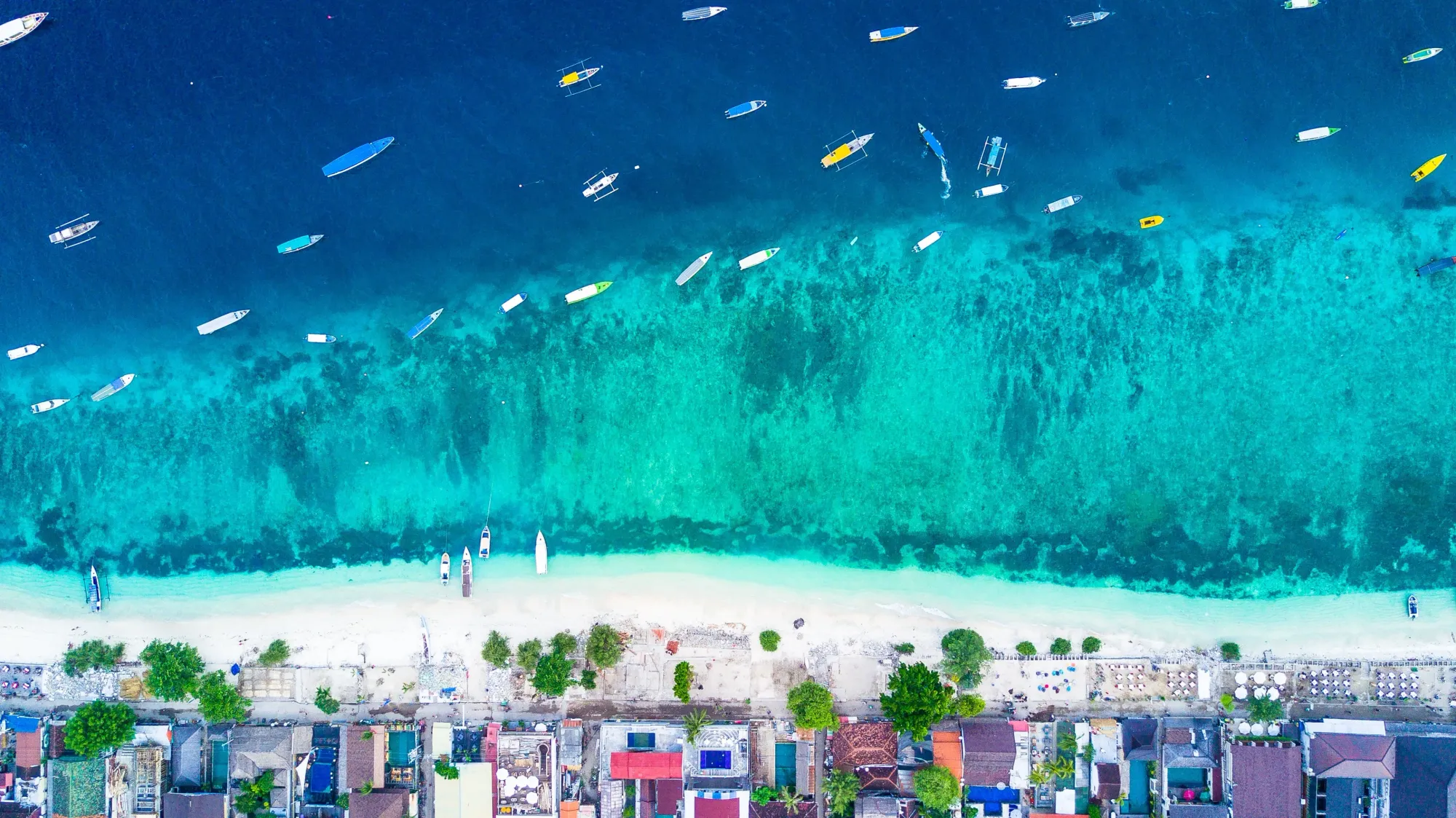 Getting a place in Lombok is relatively simple, and you'll find a wide range of accommodation options on platforms like Booking.com and Airbnb. If you're considering an extended stay, it might be worth joining Facebook groups for digital nomads and ask other remote workers to bypass third-party fees and connect directly with property owners via word of mouth.
Your choice of location will, of course, depend on many factors including the weather with varies based on the island's geography. In this guide, we will focus into the two regions where we spent the majority of our time to give you a better understanding of what each area has to offer:
1. Kuta
Kuta is an ideal spot if you're into surfing, and you can easily switch it up with nearby waterfalls and caves if you've had enough beach time. This compact but lively town offers a good mix of relaxation, healthy living, and convenient places to work. It's the only area in Lombok that has designated coworking spaces, and it's where you're most likely to encounter fellow digital nomads. If meeting like-minded individuals is a priority, then Kuta is certainly worth considering.
Here a couple of places you might want to check out:
Lombok Pool House: Offers a peaceful environment that's well-suited for both work and leisure. It's located a little higher up in the hills but remains just a short 2-3 minute drive from all the central activities. The venue includes a comfortable communal area, a swimming pool, a small kitchen, and a workspace. Just be aware of the playful local monkeys that may pay a visit!
Mana Eco Retreat: For those who can allocate a higher budget towards accommodation and wish for a holistic experience, Mana Eco Retreat is another commendable option. The place comes with a beautiful pool, a café that's conducive for work, and yoga classes for a rounded lifestyle.
2. Mataram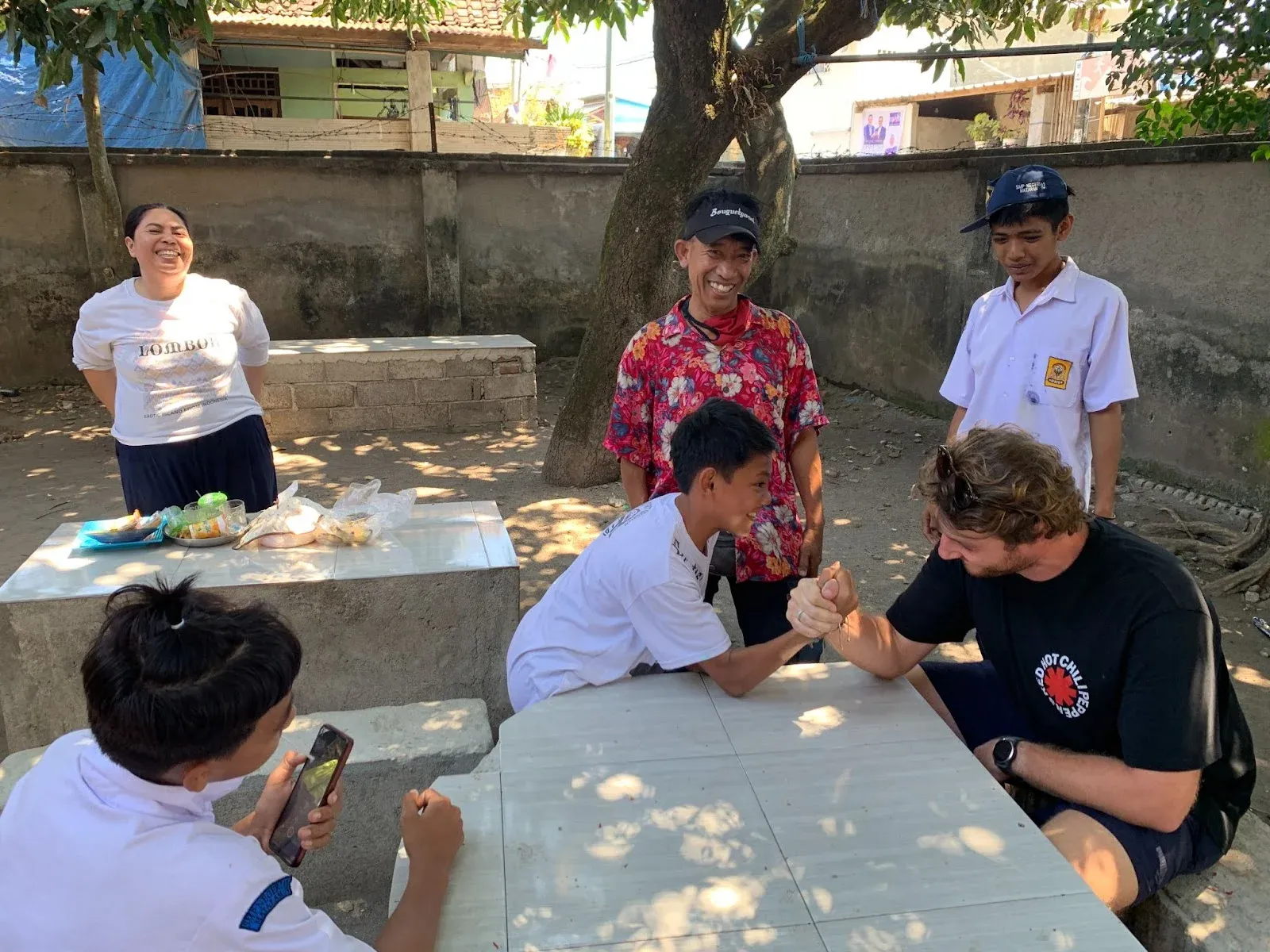 If you're keen on immersing yourself in local culture, Mataram is the spot for you. This down-to-earth city offered us a more genuine slice of Lombok life compared to more tourist-centric places like Kuta. We found it easier here to strike up conversations with locals, who are generally quite welcoming.
One accommodation we'd highlight here is Frangipani Garden Villa, located in the Ampenan area. The villa offers a huge outdoor space as well as a big sitting room and kitchen. You will, however, likely need a scooter as it's not centrally located. If scooters aren't your preference, you might wish to stay closer to the city centre.
Our Bonus Location
If you are planning on hiking Mount Rinjani, and you'd prefer to stay closer to the pickup location on the day leading to the start of the hike, then we recommend a stay at Saifana Organic Farm in Bayan. Originating as an organic farm, the place has since evolved into a quaint guesthouse with just seven bungalows. It has a remarkable backstory: they began farming organic vegetables even before they had a reliable water supply. They secured water in 2018 and have since established a welcoming environment that feels like a home away from home.
The farm features a spacious covered outdoor area that serves as both a lounge and a restaurant. It's a suitable spot for working while enjoying views of ducks and their ducklings roaming the garden. There's a catch, though. The location is relatively isolated, which could be seen as either a pro or a con. Without a moped, you might find yourself dining exclusively at Saifana's restaurant. Fortunately, they offer a delicious menu featuring organic dishes made from their own produce.
How Can I Get Around in Lombok?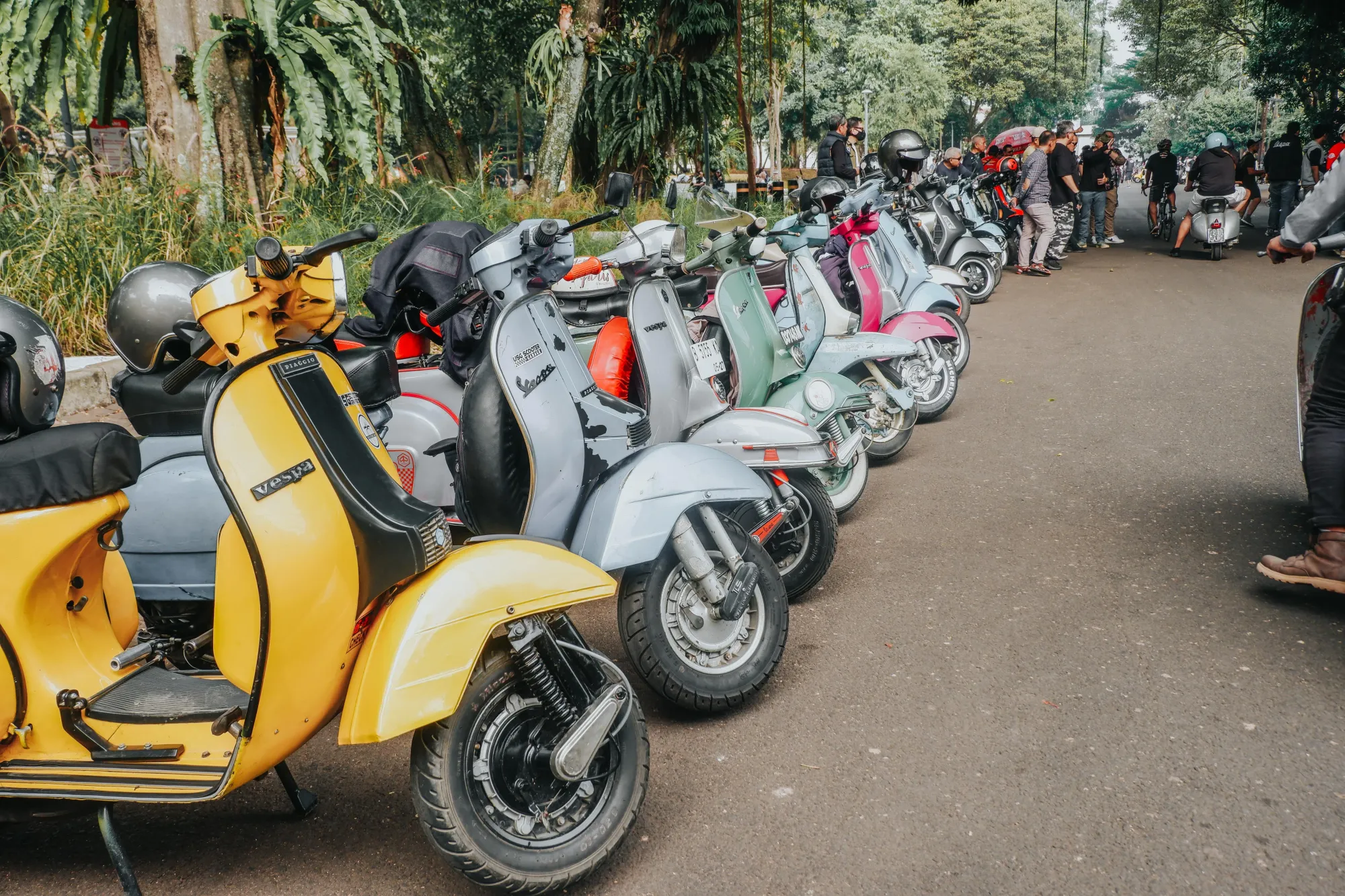 When it comes to getting around Lombok, public transport is virtually non-existent. Your best bet? Renting a motorbike or getting a traditional taxi. This is because, as we said previously, while ride-hailing apps like Grab and Gojek are not that reliable in Lombok.
Scooter rentals are readily available across the island, whether you're staying in Kuta or Mataram. We found the rental rates to be quite consistent, with 125cc scooters costing around 60k-70k IDR ($3.8-4.5) per day and 160cc models priced between 150k-170k IDR ($10-11) per day.
💡
If you're planning a longer stay, you'll likely secure an even better deal. Some accommodations may even throw in a motorbike as part of your stay package.
Traffic in Lombok is a breeze compared to Jakarta or Bali. Especially in Kuta, it's generally quite manageable, making it a safe place to scoot around, even for those not overly experienced with two-wheelers.
To find a reputable scooter rental, you can either consult Google and aim for those with top reviews or opt to rent one through your accommodation host.
🟡
One word of caution, though: If you do rent a scooter, always aim to park it in well-lit, busy areas, preferably close to restaurants or public spaces. Our host shared an unfortunate tale of a guest whose scooter was stolen after they parked it in a dimly lit, secluded spot near a beach for a night out. While such incidents aren't common, it's always wise to take extra precautions when choosing your parking spot.
Is The Internet Connection Reliable in Lombok?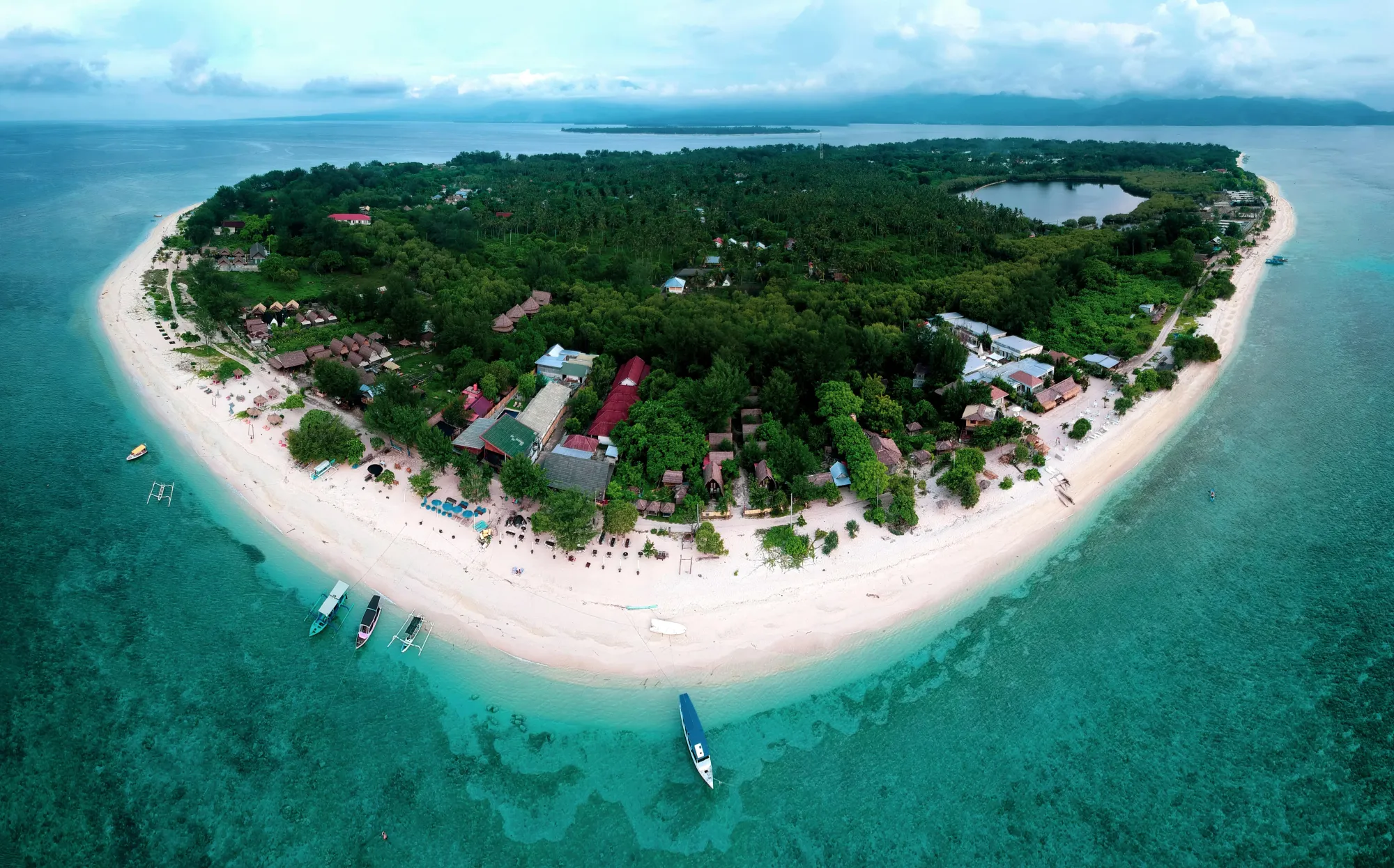 Generally speaking, Indonesia boasts excellent connectivity, and during our two-month sojourn, we hardly encountered any issues with finding a stable internet connection.
Most hotels, cafes, and coworking spaces provide free Wi-Fi, and you'll also find solid internet access in many apartments and holiday lets—though it's not a guarantee everywhere. If you venture off to more remote corners of the island, like Senaru, it's wise to double-check with your host about the reliability of their internet. Cafes with dependable Wi-Fi can be few and far between in such areas.
Having a fallback option is always smart, and in Indonesia, you've got choices. Whether you go for a local physical SIM card to put in your mobile hotspot or opt for an eSIM provider like Airalo or Holafly, you're well-covered.
🟡
Be aware that in busy spots like Kuta, some cafes implement a 'time-restricted' Wi-Fi strategy. You may in fact receive a single-use code to access their Wi-Fi, helping the cafe maintain its focus as a place to eat rather than a temporary workspace.
Prepaid Sim Cards for Indonesia: Details and Prices
The first choice you have is a prepaid SIM card, suitable for your phone or for a portable Wi-Fi hotspot.
In Indonesia, there are four principal prepaid or tourist SIM card providers: Telekomsel, XL Axiata, IM3 Ooredoo and 3 (Tri). They all offer different packages and prices depending on your needs and preferences. Let's look at each of them.
Telekomsel
This is Indonesia's biggest cellular provider, offering comprehensive coverage across the entire country. Their tourist prepaid card is priced at 150k IDR (~$9.70) and comes with a 25GB data allotment on a 5G network, along with 25 minutes of voice calls. It's valid for 30 days but cannot be extended or renewed. However, Telekomsel states that additional packages can be purchased when the initial one expires.
XL Axiata
Known for some of the most budget-friendly packages in Indonesia, they offer four distinct prepaid options, all with a 30-day validity:
Xtra Combo Flex M: Comes with 12GB of data for 40,000 IDR (~$2.60)
Xtra Combo Flex L: Offers 22GB of data for 55,000 IDR (~$3.60)
Xtra Combo Flex XL: Features 38GB of data for 80,000 IDR (~$5.20)
Xtra Combo Flex XXL: Provides 55GB of data for 110,000 IDR (~$7.15)
🟡
Please note that their prepaid plan offerings can change frequently. Check
XL Axiata's prepaid webpage
for the most up-to-date information.
IM3 Ooredoo
As the country's second-largest operator, they offer four different prepaid packages, each valid for 30 days:
Freedom Internet 3GB: Gives you 3GB of data for 25,000 IDR (~$1.63)
Freedom Internet Online 15GB: Comes with 15GB of data for 50,000 IDR (~$3.25)
Freedom Internet Online 25GB: Features 25GB of data for 75,000 IDR (~$4.88)
Freedom Internet Online 50GB: Provides 50GB of data for 100,000 IDR (~$6.50)
3 (Tri)
Part of the international 3 Group, they operate in various countries globally. Their pricing structure is a bit tricky to navigate but generally ranges from a minimum of 25k IDR (~$1.63) to a maximum of 80k IDR (~$5.20). For more details, you can visit their official website.
---
You'll often find stands for these providers at many airports, though I can't vouch for their presence at Lombok Airport specifically since we arrived and departed the island via boat. That said, you can easily locate provider stores in nearly every village on the island.
Another noteworthy point is that although we haven't detailed it here, many of these prepaid plans come with some form of calling package. This is an option not available with many eSIMs. However, from our own experience, the need to make traditional phone calls is quite rare. Most communication needs, when they arise, can be handled through WhatsApp, which enjoys widespread use in Indonesia.
eSim packages for Indonesia: Details and Pricing
If you want to secure an internet connection before setting foot in Indonesia and sidestep any potential lines or scams, an eSIM might be the way to go. This virtual SIM eliminates the need for physical insertion or removal, allowing you to keep your primary SIM in your device. This feature is particularly useful if you often receive OTP messages and don't want the hassle of swapping SIM cards.
The two primary eSIM providers we recommend for Indonesia are Airalo and Holafly. Airalo is generally the more popular and pricier option, but it's the one we'd personally recommend. We initially tried Holafly, and while it started off well, the service ceased functioning after just a few days. The ordeal of contacting their customer service was far from smooth, though they did eventually issue a full refund.
Because of this experience, I'll focus on detailing the options available through Airalo:
| eSim Provider | Price | Data Coverage | Validity |
| --- | --- | --- | --- |
| Airalo via Indotel | $5.50 | 1GB | 7 Days |
| Airalo via Indotel | $8 | 2GB | 15 Days |
| Airalo via Indotel | $11 | 3GB | 30 Days |
| Airalo via Indotel | $16.50 | 5GB | 30 Days |
| Airalo via Indotel | $24.75 | 10GB | 30 Days |
| Airalo via Indotel | $40 | 20GB | 30 Days |
💡
Nowadays, most phones support eSIMs. However, we recommend checking with your phone manufacturer or just checking online to see if your phone supports eSIMs!
Best Places to Work From in Lombok
While Lombok hasn't fully achieved 'hotspot' status for digital nomads, it's increasingly making its mark within the community. The growing prevalence of cafes, where robust internet connectivity draws laptop-wielding visitors, is a clear indicator of this. Furthermore, Lombok offers a couple of coworking spaces, and we're optimistic that more are set to open in the near future.
Best Coworking Space in Lombok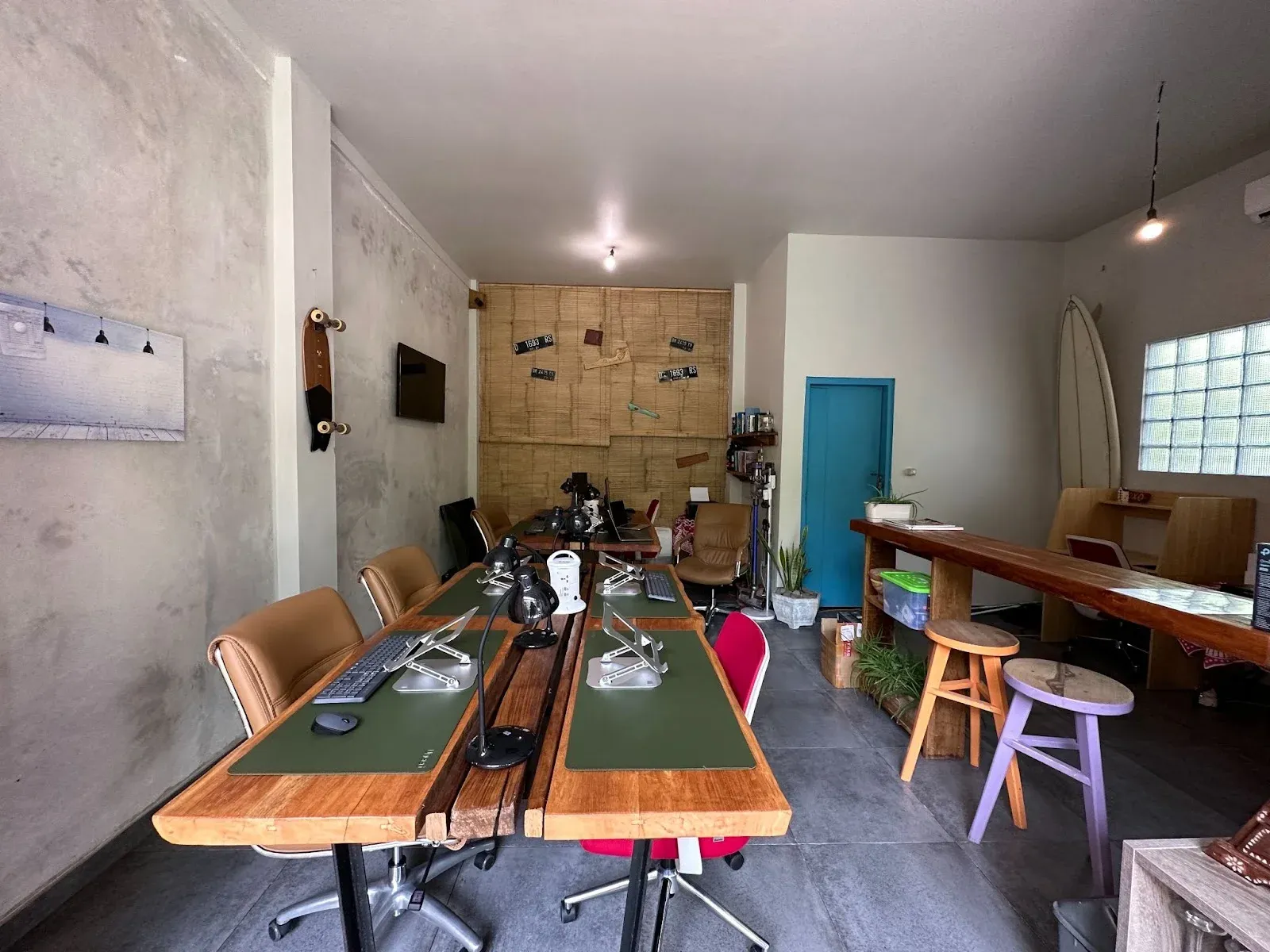 cokreate: This cosy and well-appointed coworking space finds its home in the heart of Kuta. Open around the clock, cokreate offers flexible packages, allowing you to secure a desk for just a few hours if needed. There's also an inviting outdoor cafe where you can work without booking a desk; the only catch is a minimum spend of 40k IDR—easily met with a coffee and a snack. In terms of community, cokreate is still a bit of an undiscovered gem in a location that's not yet a nomad hub. While you might not find a bustling community here, it's a space where we've managed to meet a small yet engaging group of people. This could change as Lombok gains popularity.
South Lombok Cowork: One of the pioneers among Lombok's coworking spaces, this venue sits right on the beachfront and offers a splendid ocean view. Unfortunately, it was closed during our stay, so we can't personally vouch for it. However, it has received favourable reviews online. Packages are available from hourly rates to long-term stays, and a pass lasting over a week grants you 24/7 access.
Best Cafes and Beach Bars To Work From in Kuta, Lombok
Kenza: Situated at the far end of Kuta's main street, Kenza offers a broad selection of breakfast items, generous portions, and high-quality food. While the prices are a bit on the higher side, the food and quick service make it well worth it. The cafe tends to get busy, so consider arriving early if you plan to work here. Although they don't offer air-conditioned spaces, the fans usually suffice for keeping the place cool.
Bush Radio: With its unique industrial design, Bush Radio stands out among local cafes. The internet connection is dependable, and there's no shortage of electrical outlets. Their fruit bowls are sizable and flavourful, but we found their coffee somewhat lacking—particularly the cappuccino didn't meet our expectations, though this could just be a matter of personal taste.
Milk Espresso: A stellar option for coffee aficionados, Milk Espresso is one of the best places for coffee on the entire island. The cafe offers both an open-air area and an air-conditioned room, catering to different work environment preferences. Their breakfast and brunch menu is diverse and delicious, featuring options that cater to a variety of dietary needs, including vegan and light lunch selections.
Best Cafes and Beach Bars To Work From in Mataram, Lombok
Konyu Coffee and Space: Located near the Islamic Center, this venue serves as a hybrid between a cafe and a coworking venue. The place features some large tables that you will often share with other locals working at their laptops. The coffee ranks among the best we've tried in Mataram, and the food menu offers a wide range of tasty options. Everything we tried was top-notch. The internet connection is dependable, and the main seating area benefits from efficient air conditioning.
Cost of Living in Lombok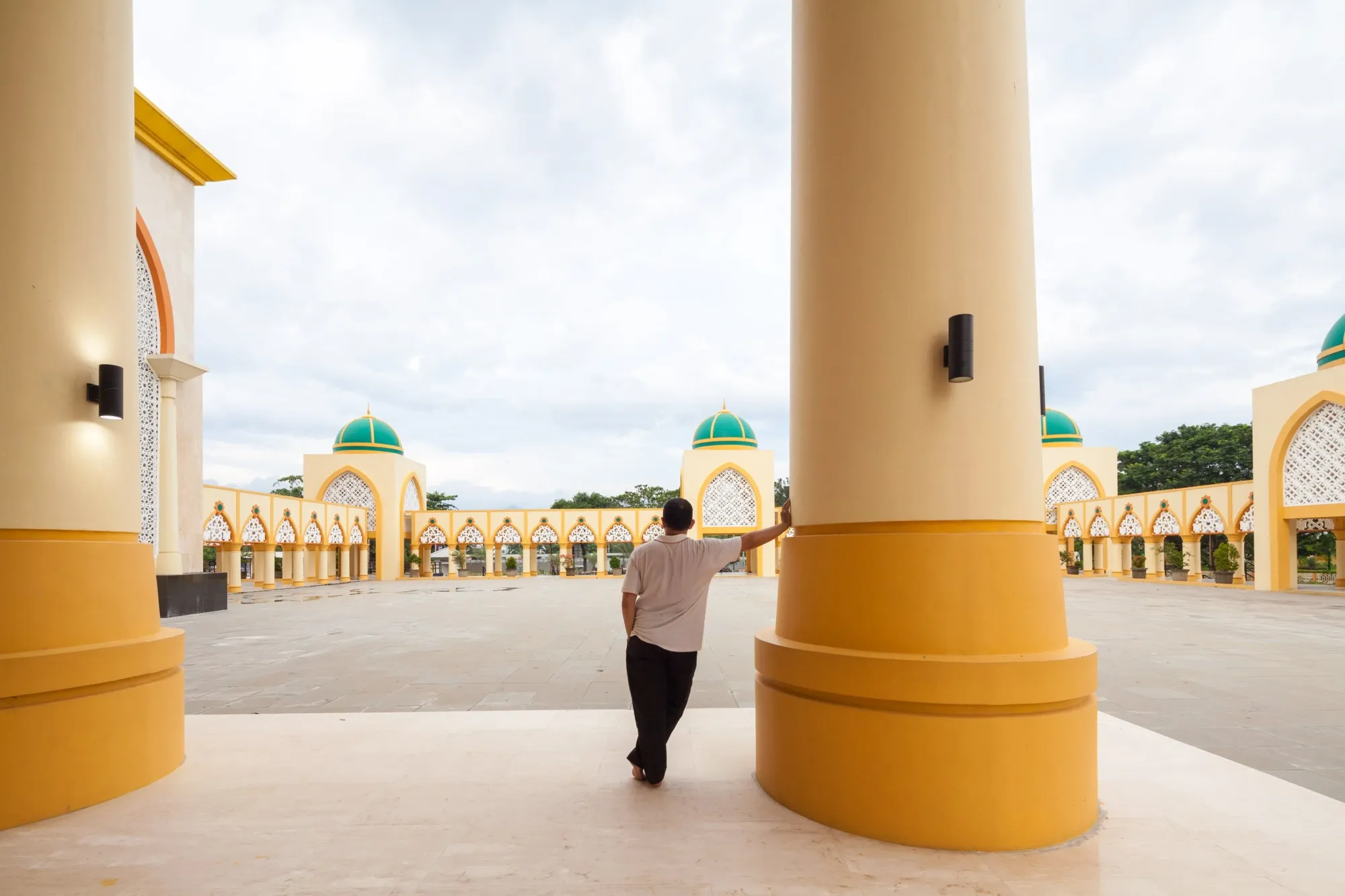 Lombok is undoubtedly more budget-friendly than its neighbouring Bali, particularly in the capital city of Mataram. Kuta, is brimming with coffee shops and global cuisine due to its popularity among tourists. However, the prices at these establishments can be significantly higher—around five times the cost of a meal at a local Warung.
When it comes to food, a plate of Nasi Campur (mixed rice) and a hot tea can cost less than one dollar at a Warung. In contrast, a granola bowl at a café could set you back around $5 or $6. Note that Warungs generally aren't conducive to setting up a makeshift office due to the quick turnover of customers. If you're not heading to a coworking space, you'll likely find yourself at a cafe. Spending the entire day there can amount to $10 to $15, considering you order a couple of hot drinks, a meal, and a snack.
Accommodation options offer a wide range of prices. You can find hostels with pools for as low as $8 a night or opt for a lavish Eco Retreat at around $85 a night. There are also plenty of amazing stays that fall somewhere in between, priced around $17 a night.
If you're considering a longer stay, it's worth noting that Airbnb listings tend to be pricier compared to direct negotiations with property owners. On Airbnb, a month-long stay could cost approximately $400. However, we'd recommend checking Facebook groups that offer local rates, which can sometimes be as low as $250 to $300 for a monthly stay.
Culture and Food in Lombok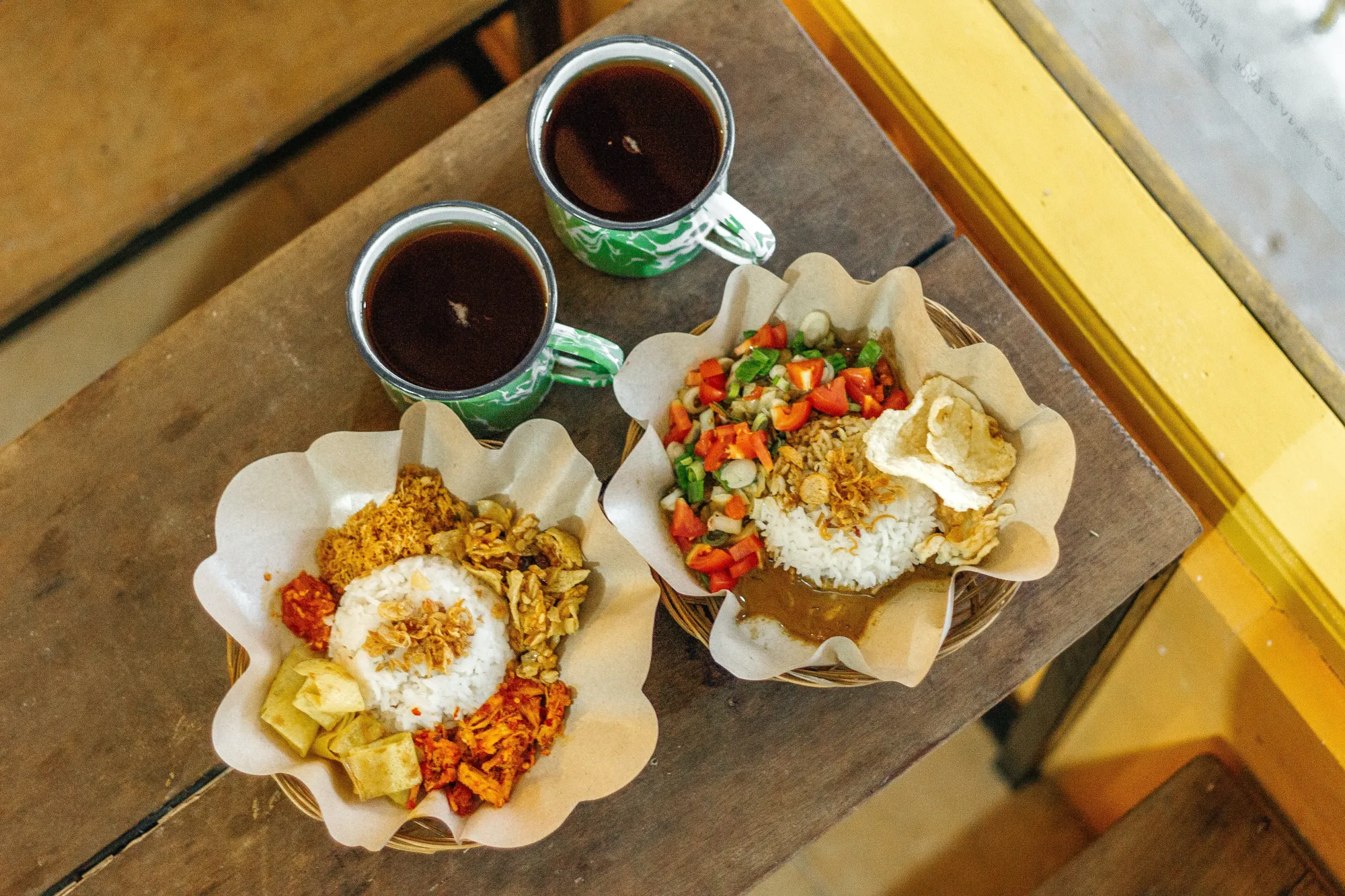 Lombok is often referred to as the "The Island of a Thousand Mosques", underscoring its deep Islamic roots. Unique to this island is the Wetu-Sasak language, distinctly different from Bahasa Indonesia, which is spoken across the rest of the nation.
The island's cultural fabric is one-of-a-kind, with Wetu-Telu playing a significant role. This term translates to 'three times,' highlighting the practice of three daily prayers as opposed to the more common five daily prayers in most Muslim communities. Sasak culture is also known for Gendang Beleq, a sacred dance that translates to "big drum." This dance is an integral part of various significant life ceremonies, from births to weddings.
---
You may also be interested in:
---
In terms of architecture, Indonesia offers a wealth of variety, with each region showcasing unique roof styles. In a future trip, we're eager to document these architectural marvels. For now, if you're travelling near Bayan, don't miss the village of Sade, renowned for its traditional lumbung rice storage buildings.
When it comes to the culinary landscape, Lombok delivers an exciting mix of flavours, from healthy to deep-fried. Ingredients like coconut, lemongrass, and tamarind are generously used, lending dishes their unique flavours. And yes, the food can get quite spicy! If you're not a fan of heat, be sure to ask for "tidak pedas", which means "not spicy". Conversely, if you're like us and crave that extra kick, don't forget to add some extra sambal to your order. Much like Italy (where we come from) regards bread as a mealtime essential, in Lombok, rice is the go-to staple. The island's culinary rhythm resonates with the saying, "rice for breakfast, rice for lunch, and rice for dinner". Don't worry about getting bored, though—the extensive selection of side dishes ensures that your rice-centric meals stay far from repetitive.
What's The Best Time To Visit Lombok?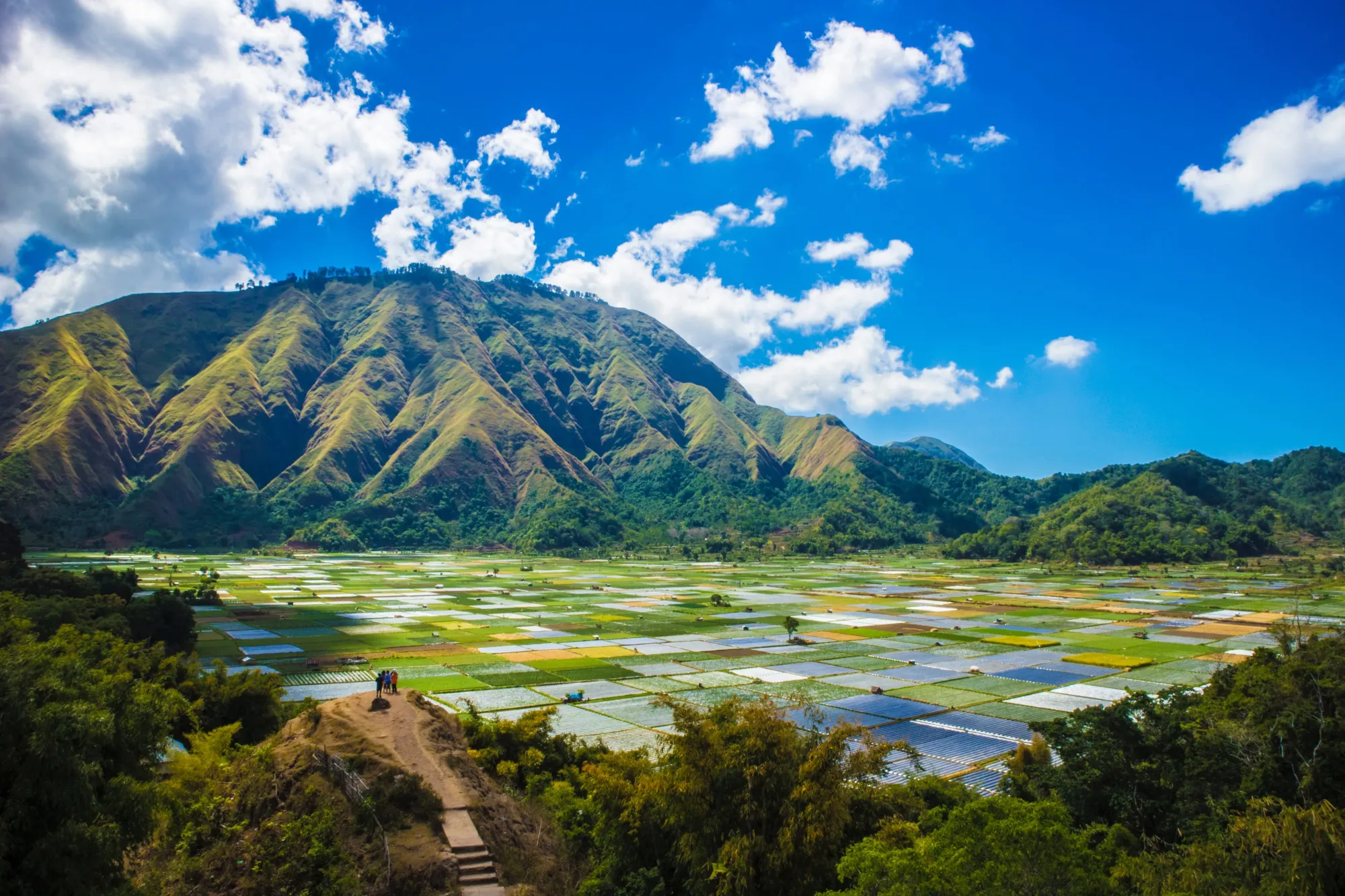 Climate change has undoubtedly had a global impact, making it challenging to offer exact seasonal descriptions. However, in Indonesia, including Lombok, there are still distinguishable wet and dry seasons. The temperature stays fairly consistent year-round, ranging from 23°C to 33°C, but it's the humidity that fluctuates.
The wet season brings a slightly muggier atmosphere along with marginally warmer temperatures. Conversely, the dry season promises cooler evenings and a more comfortable climate overall.
Unique to this region, the dry season spans from May to September, overlapping with the European and US summers. This makes Lombok (and the rest of Indonesia) particularly busy during these months.
The optimal time to visit really boils down to your individual preferences. Even the rainy season here is typically marked by sunny spells punctuated by afternoon showers and thunderstorms—a setting that might suit you if you're working and don't want to feel like you're missing out on outdoor activities.
If you enjoy socialising and meeting other travellers or digital nomads, the high season from May to September might be your ideal timeframe, as you may have more chances to do so. But if you're looking for a quieter space to concentrate on work, consider visiting during the off-peak months. Just a heads-up—December and January are the wettest months of the year.
Things To See and Do in Lombok as a Digital Nomad
Lombok is a treasure trove of experiences, offering something for every type of traveler. Whether you're into unwinding by the beach, immersing yourself in local culture, surfing, diving, or hiking, this stunning island won't disappoint. Below are some of the highlights from our own adventure in Lombok:
1. Hike Up Mount Rinjani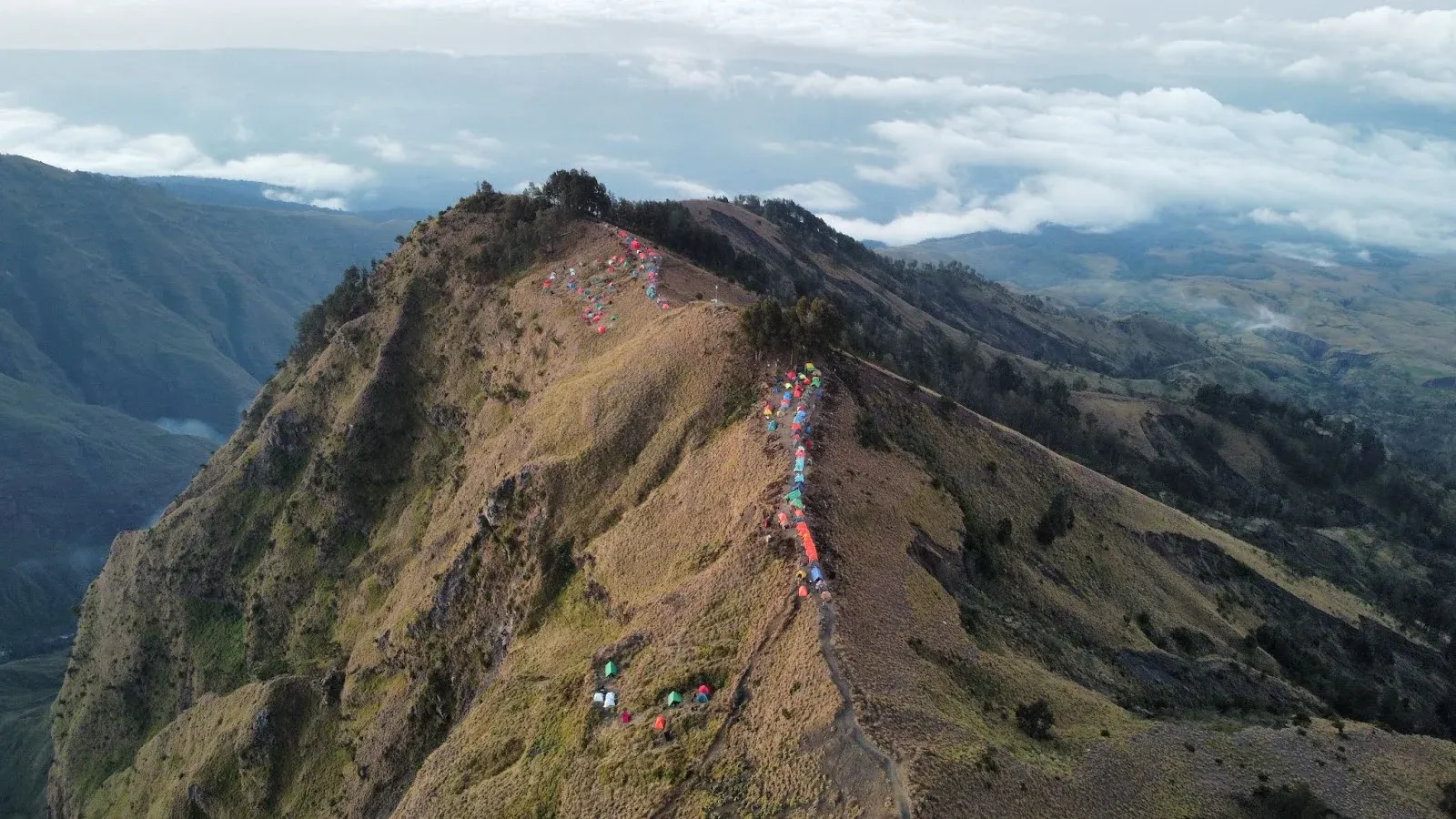 The towering and awe-inspiring Mount Rinjani has put Lombok on the map for adventurers worldwide. This active volcano in North Lombok soars to 3,726 meters, making it Indonesia's second-highest volcano. It lures hikers keen to test their limits and ascend to its peak. Guided tours for this hike come in three different durations: 2D/1N, 3D/2N, and 4D/3N.
If you're considering this challenge, we highly recommend the 4D/3N package for a more leisurely paced experience. But be warned—tackling Rinjani is one of the most physically and mentally demanding feats we've ever undertaken. The final 4km stretch will truly test your mettle, but the reward is absolutely worth it.
2. Catch Waves in Kuta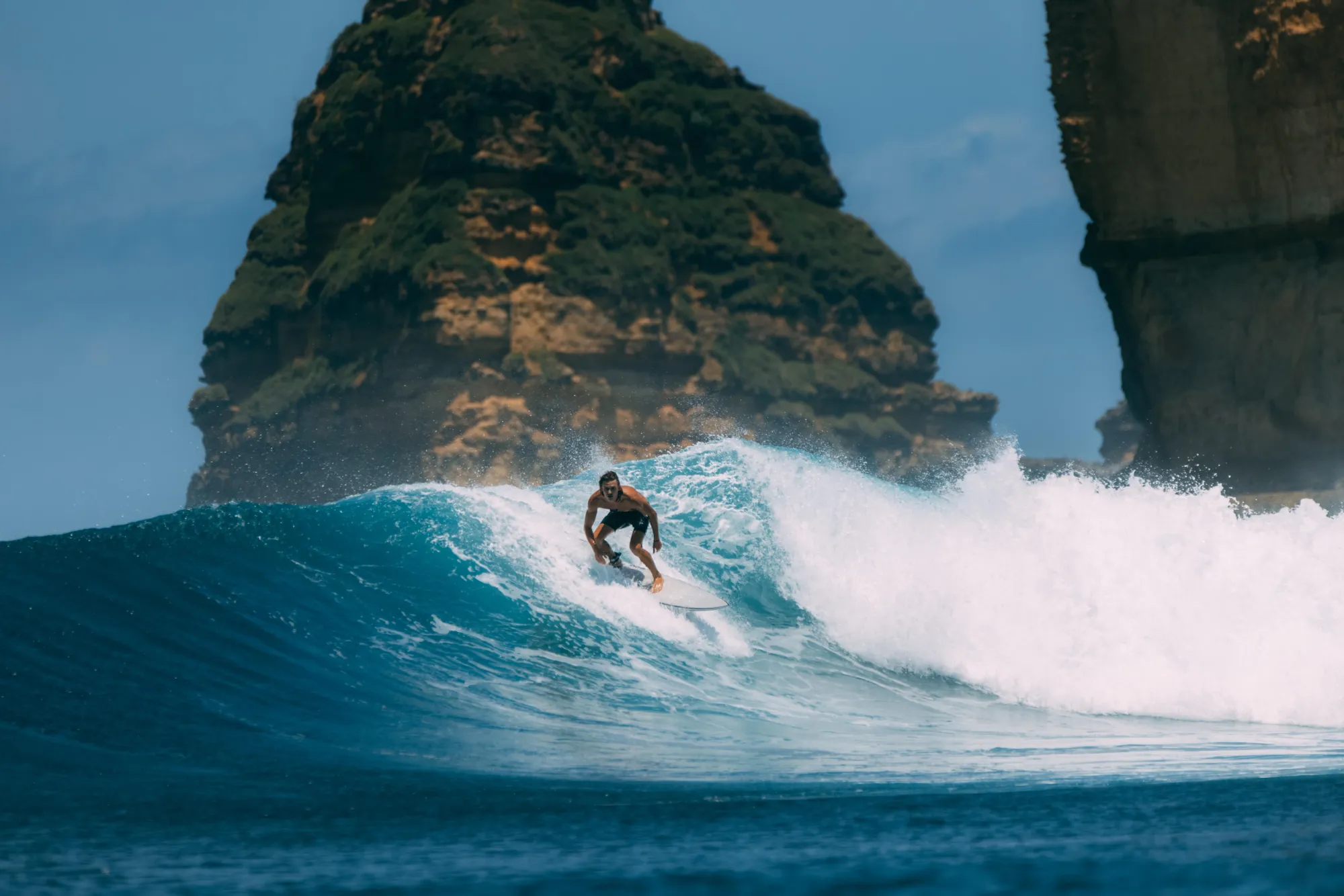 Regardless of whether you're a seasoned surfer or a complete novice intrigued by the sport, Lombok's surf conditions cater to all skill levels. Selong Belanak Beach is ideal for newcomers, although the water quality leaves something to be desired due to a nearby polluted river. On the other hand, Tanjun Aan is a heaven for more experienced surfers, boasting consistently high waves ranging from 2 to 3 metres..
3. Visit the Bamboo Mosque in Bayan
While touring the northern region of the island, consider a detour to visit the Traditional Mosque Beleq, Lombok's oldest mosque. While the mosque itself may not be jaw-dropping, its unique construction sets it apart from any other mosque we've visited. Once you're there, extend your walk to explore the surrounding rice paddies located just behind the mosque. They're some of the most picturesque on the island and nearly worth the trip on their own.
4. Visit the Islamic Center in Mataram
This large mosque is not only striking in its design but also welcoming to people of all faiths. You have the opportunity to enter the main prayer room, where informed staff can walk you through the mosque's history and explain the Five Pillars of Islam. The mosque has five minarets, and the tallest one used to be open to visitors for a stunning view. However, as of 2023, that option has been unavailable since the 2018 earthquake.
5. Immerse Yourself in Kebon Roek Traditional Market in Mataram
Our local friend, Murad, gave us a tour of this lively market, and it's an experience we highly recommend. If you're around Mataram and curious about how locals really live, Kebon Roek Traditional Market is worth a visit. The place is full of energy and lets you see everyday life through the eyes of residents. If you feel like cooking for yourself, you can find fresh produce here for a fraction of what you'd pay in regular supermarkets.
6. Find Zen at Mana Eco Retreat with Yoga
This is one of the most serene spots we've found for practising yoga. Mana Eco Retreat hosts various yoga classes throughout the week, conducted in an open-air studio on their property. Because the classes are led by different instructors, it's a good idea to check their website to find the session that best suits you.
7. Visit the Gili islands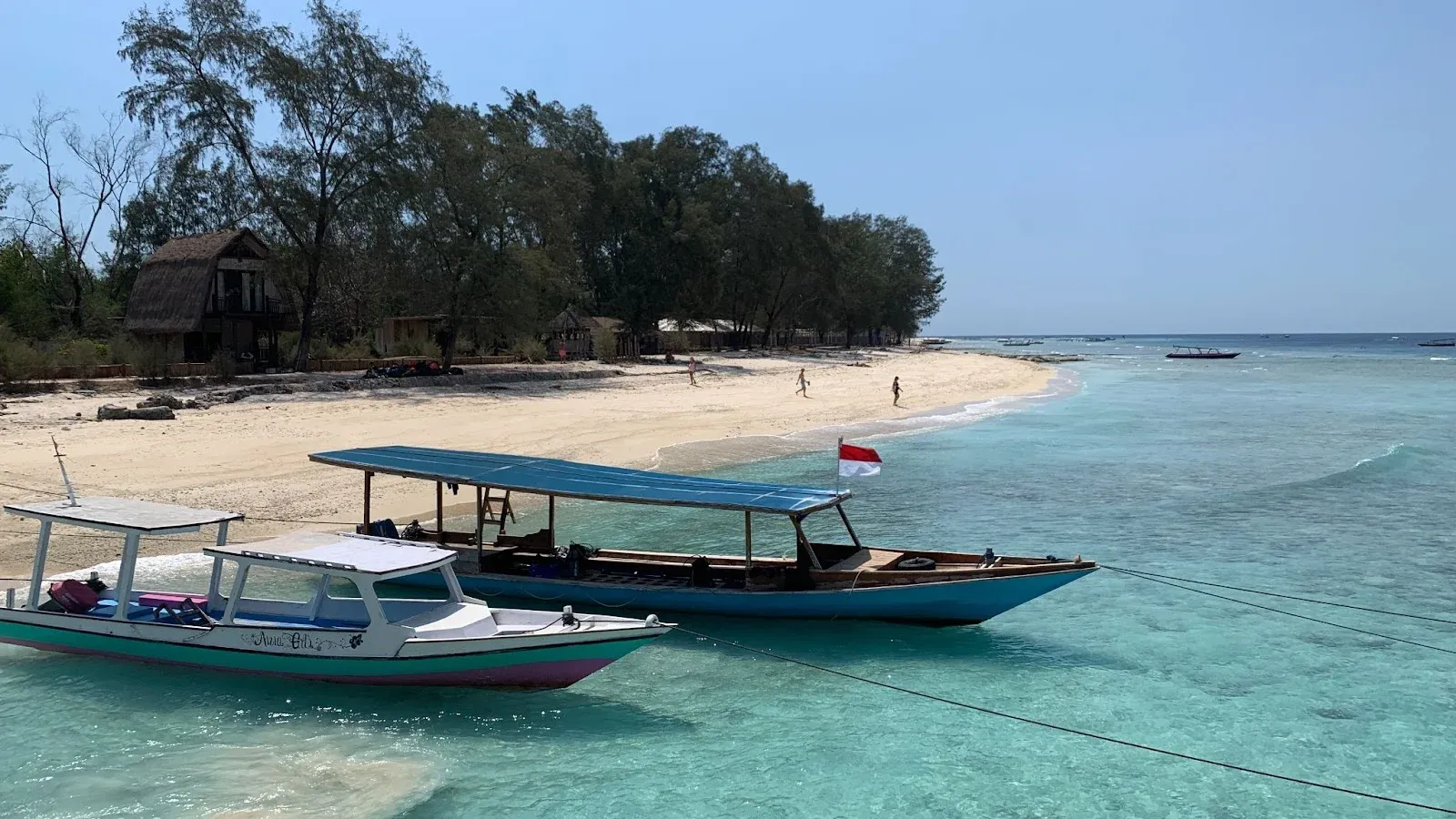 Just off Lombok's northwest coast, you'll find the Gili Islands, an archipelago consisting of three unique islands: Gili Trawangan, Gili Meno, and Gili Air. Locally known as Gili Indah, or "beautiful small islands," they certainly live up to their name. A quick boat trip from Lombok's Bangsal port will get you there, and we suggest planning to spend at least a weekend exploring. Each island offers something distinct: Gili Meno, the most untouched, doesn't even permit scooters, keeping the atmosphere tranquil. Regardless of which island you choose, expect crystal-clear waters and an unforgettable experience.
Is Lombok Safe To Visit?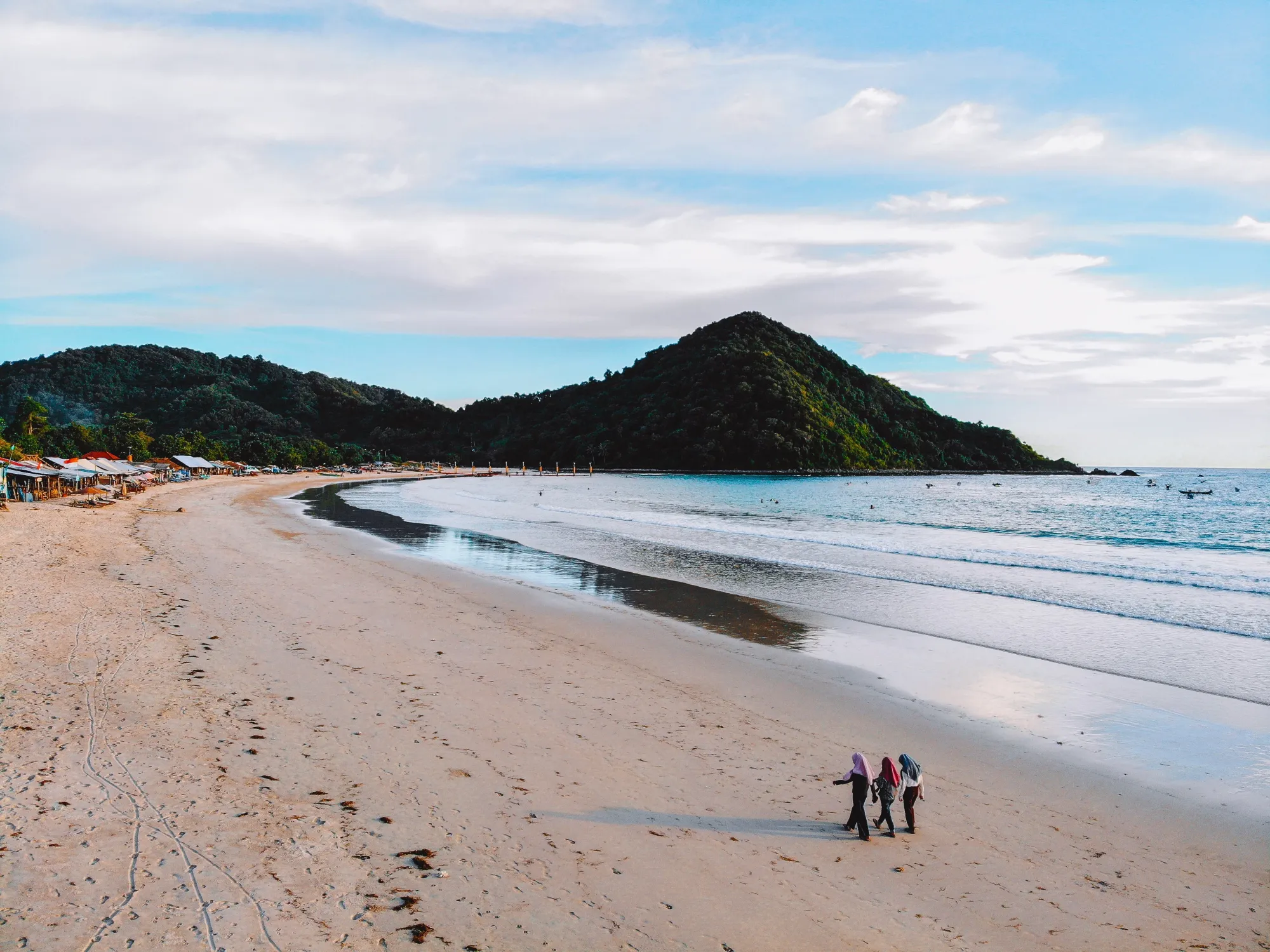 Lombok is generally a secure destination for travellers, but like any place globally, it's wise to take standard precautions. While petty crimes like scams or pickpocketing exist, being mindful of your belongings and maintaining awareness in public places can go a long way in ensuring your safety.
The people in Lombok are quite welcoming and open to interacting with visitors. Don't be surprised if you're invited into someone's home; we were invited by two separate families during our time on the island.
That said, always exercise caution when accepting such invitations. Get to know the person inviting you and gauge their intentions; most times, they'll be genuine. Trust your instincts, and you'll likely have an incredible time in Lombok.
The most significant risk in Lombok stems from natural disasters like earthquakes and tsunamis. Although earthquakes are unpredictable, for tsunamis, evacuation routes are well-marked. The island suffered a tragic earthquake in 2018 that resulted in over 500 fatalities and left 1000 more injured. While this is a concern throughout Indonesia, it's something to consider when visiting Lombok. In terms of architecture, many local buildings are single-story wooden structures, which could be less risky in the event of an earthquake. However, if the possibility of natural disasters unnerves you, you might want to consider other destinations.
Lastly, exercise caution when navigating the island's roads, either by car or scooter. Poor road conditions and different driving customs can lead to accidents, so it's best to be alert and drive safely.
Indonesia Digital Nomad Visa
There's always been chatter about Indonesia introducing a digital nomad visa with a validity of five years. However, this visa has yet to materialise and Indonesia launched instead their "Second Home Visa", which was not the digital nomad visa many people expected.
More information can be found here:
In the meantime, your best bet for working remotely in Indonesia is the B211a tourist visa. This particular visa allows you to live and work remotely in Indonesia for a maximum of 180 days without being liable for income tax.
It's important to note that the B211a is a single-entry visa. In other words, if you leave Indonesia, re-entry will require a fresh application and a new visa.
To qualify for this visa, you should:
Have at least $2,000 in savings at your disposal
Be fully vaccinated against COVID-19
Another Route: eVisa
An alternative to consider is the eVisa, which can be applied for via Indonesia's official immigration website. Exercise caution and steer clear of scams. The eVisa permits a stay of up to 60 days and can be applied for online, not exceeding 30 days prior to your planned entry date. We found that our own application was approved in quite a brisk manner—taking less than 30 minutes.
🟡
A bit of a disclaimer: This visa doesn't officially allow for work. While we've not heard of anyone encountering problems for working on this visa, this isn't an endorsement to flout the rules. If you choose to go down this path, it's at your own risk. We're merely providing this as a tip, not as encouragement.
That's it for our Lombok digital Nomad guide. We hope you've found our article insightful and that you will enjoy this wonderful place as much as we did!
Ready to Travel and Work from Lombok?
If you want to receive digital nomad guides like these, sign up for our free newsletter and get upcoming articles straight to your inbox!
You can also follow us on Instagram and join our Facebook Group if you want to get in touch with other members of our growing digital nomad community!
We'll see you there, Freaking Nomads!
About The Author: The Scrapbookers
We're Beatrice and Davide, a freelance designer and a software engineer who took the plunge into the digital nomad lifestyle at the beginning of 2023. We kicked off our adventure in South East Asia, and we're keen on making our travels as sustainable as possible. If you've enjoyed our stories, and fancy reading more you can check out our blog. Alternatively, stay up-to-date with our journeys by following us on Instagram.
Disclosure: Hey, just a heads up that some of the links in this article are affiliate links. This means that, if you buy through our links, we may earn a small commission that helps us create helpful content for the community. We only recommend products if we think they will add value, so thanks for supporting us!