Something fresh is stirring in the world of travel insurance, and it may just be the breakthrough digital nomads have been waiting for.
So far, nomad insurance options have been frankly limited, but here's where the narrative takes an exciting turn!
Enter Genki Insurance - a company that claims to provide top-notch medical travel insurance specifically aimed at digital nomads, travelers, and remote workers.
What's in it for you? They say robust coverage, commendable customer service, adaptable monthly plans, competitive pricing, and, the cherry on top, an established track record of processing claims without the unnecessary back-and-forths.
Do they live up to those ambitious expectations?
In this comprehensive Genki Insurance review, we'll pull back the curtain and dive into the nitty-gritty of what Genki truly brings to the table and whether it should be your go-to travel insurance provider as a digital nomad.
Ready? Let's get started!
Who is Genki Insurance?
Genki is a travel insurance company specifically tailored for digital nomads, remote workers, and long-term travelers.
They offer comprehensive worldwide coverage, ensuring subscribers are protected wherever their work or adventures take them.
Genki's commitment to flexibility is also evident in their policies: subscribers can leave anytime, with insurance remaining valid until the end of the last paid month.
What's more? Their partnership with Allianz Partners and Barmenia, two well-known European insurers with over 120 years of experience, guarantees subscribers receive top-tier risk coverage and prompt medical care wherever they are.
How Does Genki Insurance Work?
With a monthly subscription model, Genki's plans renew automatically for up to 2 years, providing both affordability and peace of mind.
They offer mainly two comprehensive worldwide coverage plans: Genki Explorer and Genki Resident.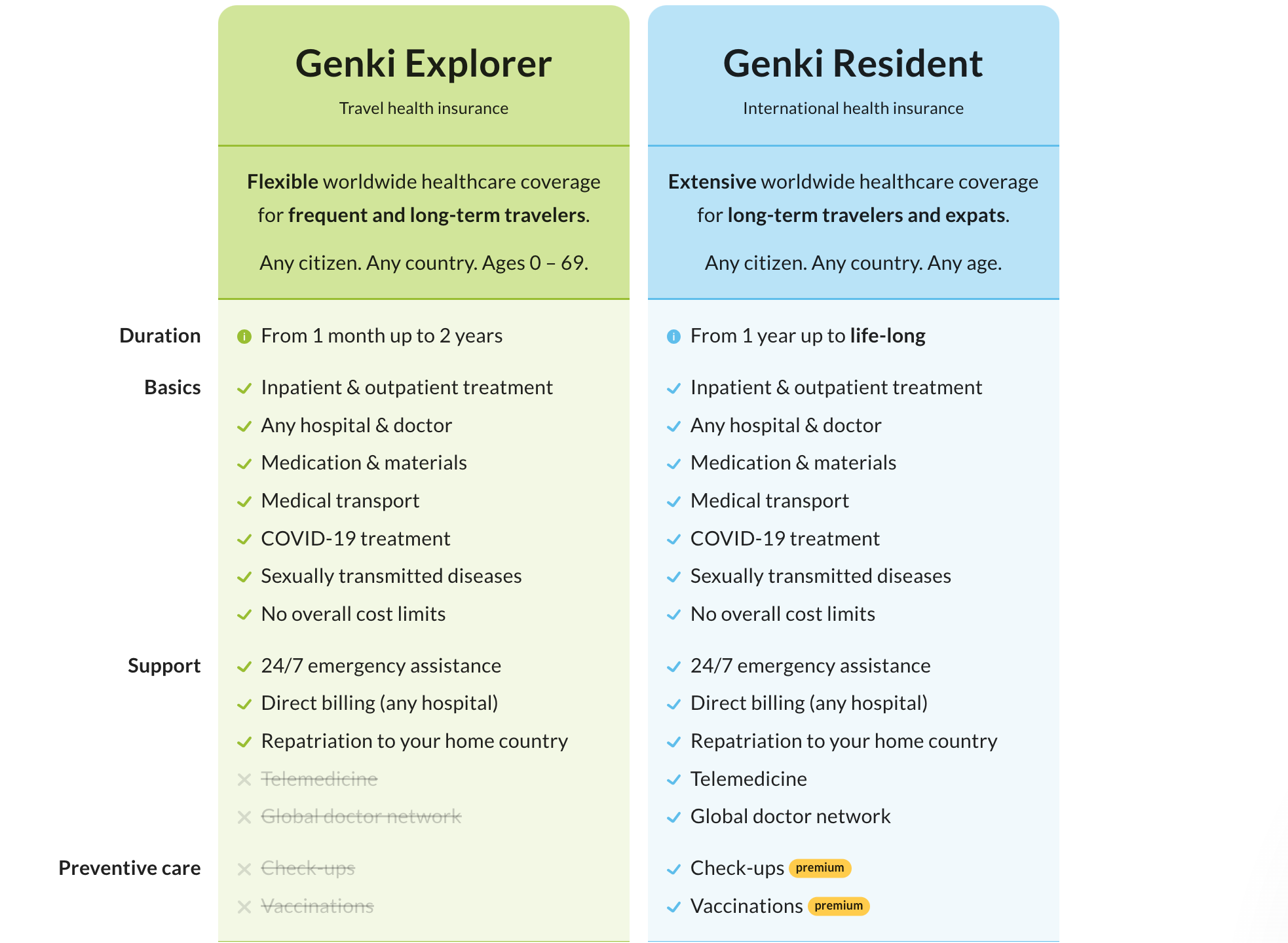 Genki Explorer
Genki Explorer is a travel health insurance plan suited for frequent and long‑term travelers like digital nomads and remote workers and covers any citizen aged 0-69 from any country for any citizen aged 0-69 from any country up to 2 years.
Genki Resident
Genki Resident is instead an international health insurance that is more suited for expats and long-term travelers who tend to stay longer in certain places. Compared to the Explorer plan, it covers extra services like telemedicine, global doctor network support, and premium services like check-ups and vaccinations. This plan is also available to citizens of any country and age range.
What Makes Genki Insurance Different From Other Insurance Providers?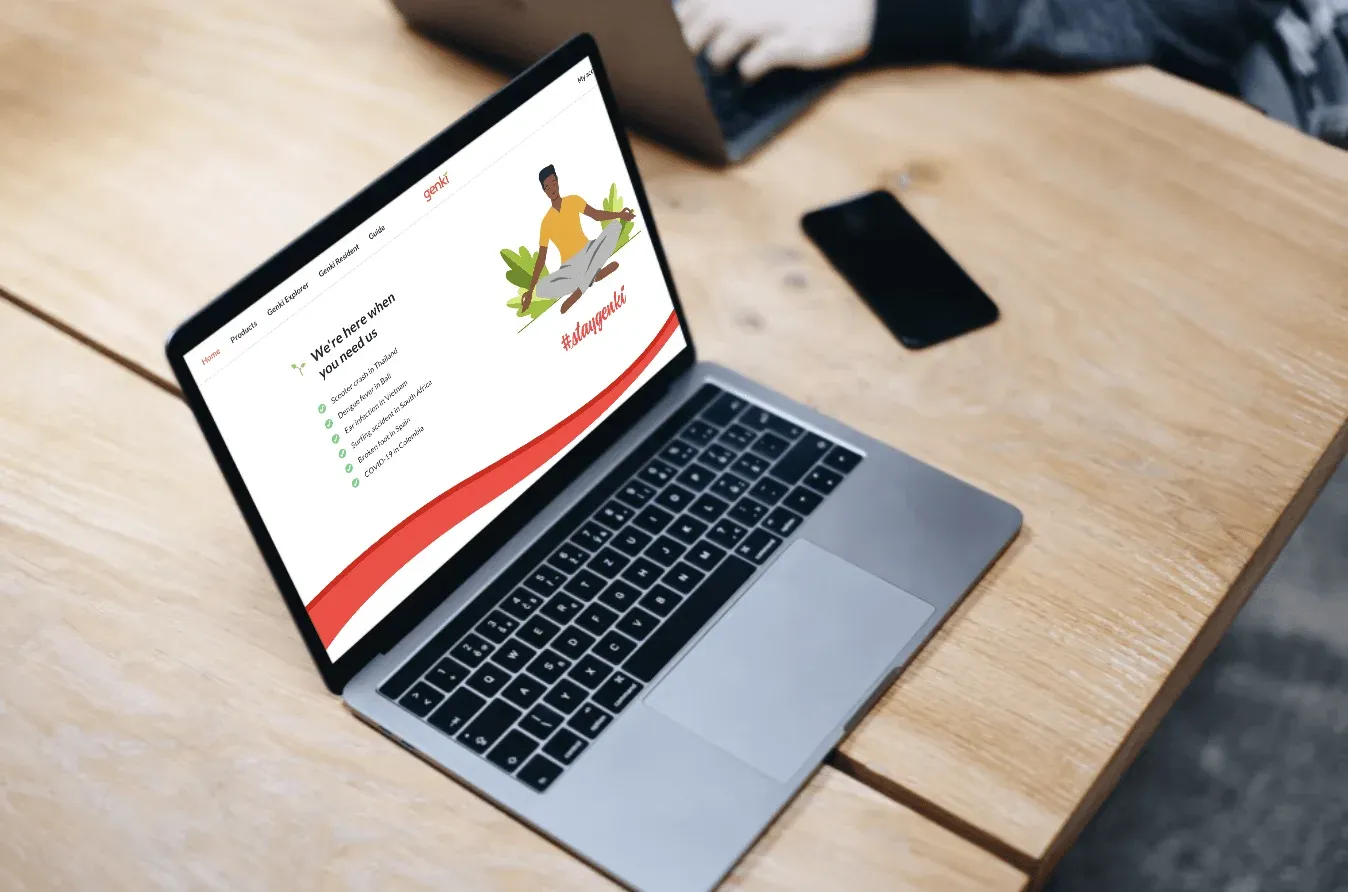 Genki Insurance stands out in the travel insurance market with several unique features:
Designed for Long-Term Travelers
Genki Insurance is primarily designed for digital nomads and remote workers. This focus ensures that their policies are tailored to the unique needs of this demographic.
Flexible Coverage Areas
Unlike many insurers requiring set travel destinations, Genki offers open-ended coverage, allowing travelers to change plans on a whim.
Adaptable Subscription Plans
Genki provides monthly subscriptions lasting up to 2 years, with the option to cancel anytime, ensuring users only pay for what they need.
Broad Health Coverage
Genki covers a range of health conditions, even some that other insurers might exclude, such as certain pre-existing conditions if they haven't been treated or diagnosed in the past six months.
Insurance for Adventure Sports
Genki differentiates itself by covering several sports often deemed "high-risk" by other insurance providers.
Efficient Claims Handling:
Genki prioritizes customer service with a fast and user-friendly claims process, adhering to high European consumer protection standards.
How Much Does Genki Insurance Cost?
The cost of their insurance plans is determined by:
Your Age: Different age groups have different pricing tiers.
Regions of Cover: Costs adjust depending on whether you include or exclude the U.S.
Deductible Choice: The deductible you opt for can also influence the final price.
Let's look at each of the two plans they offer (Genki Explorer and Genki Resident) and how much they cost.
Genki Explorer Prices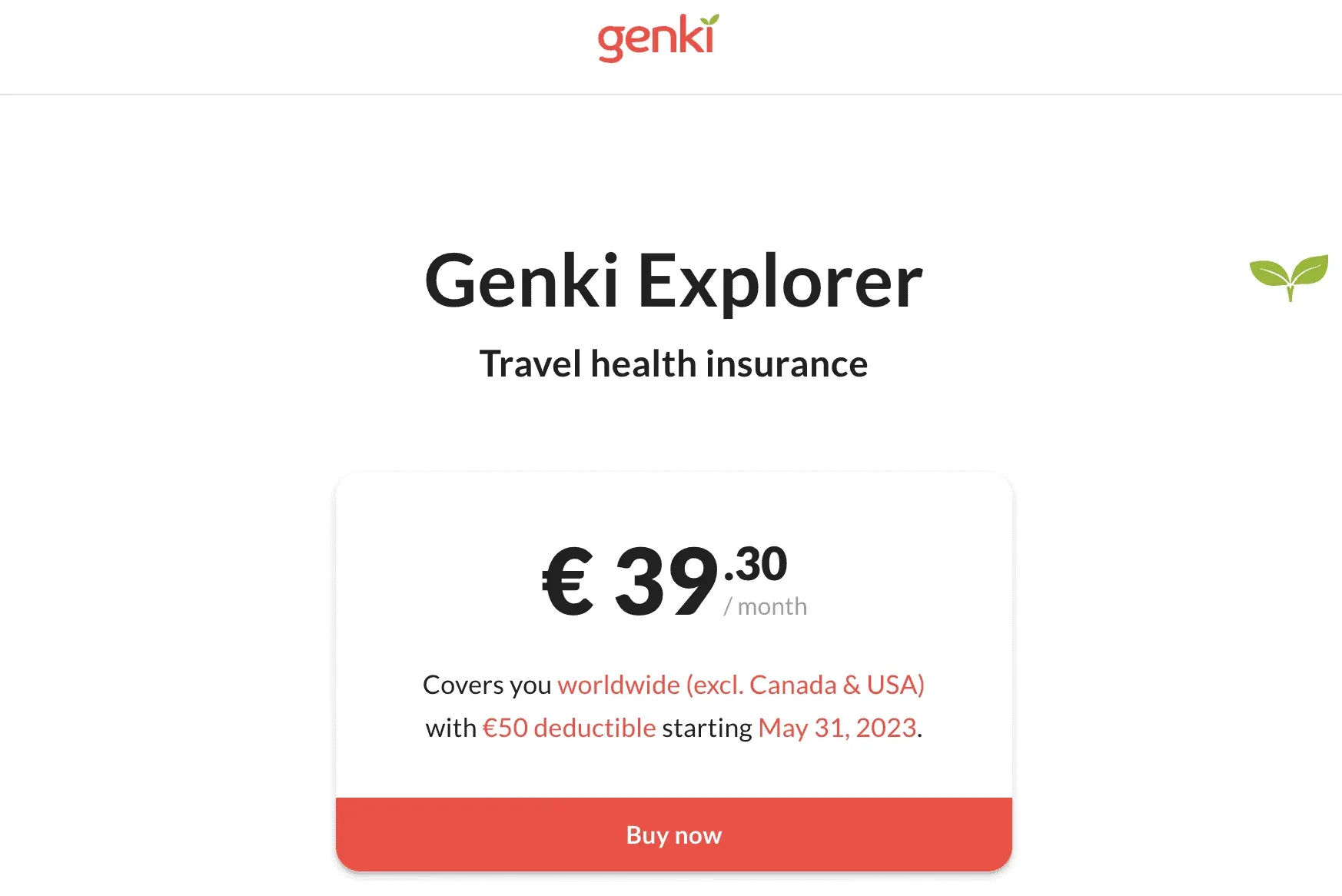 The Genki Explorer plan offers transparent prices starting at just €39.30 per month.
Here's a breakdown of Genki insurance costs:
| Age Group | Monthly Cost (Excluding U.S.) | Monthly Cost (Including U.S.) |
| --- | --- | --- |
| 0-29 | €39.30 | €86.70 |
| 30-39 | €54.60 | €108.30 |
| 40-49 | €60.00 | €130.20 |
| 50-59 | €78.00 | €169.20 |
| 60-69 | €116.70 | €253.50 |
💡
The breakdown costs above all include the €50 deductible per case option. This means that if a doctor's bill is €1,000, Genki pays €950, and you pay instead €50.
Including the U.S. in your coverage does bump up the price. However, this trend is not unique to Genki and can be seen across the travel insurance industry due to higher medical in the U.S.
It's also worth noting that Genki offers an enticing €0 deductible option.
While you might elevate your monthly premium by about €10 to €30, with this choice, you'll avoid paying any initial amount when a claim is made, making it a desirable choice for those who want to avoid any upfront costs during a medical event.
Genki Resident Prices
The standard Genki Resident plan starts at €105 per month while the Genki Resident Premium plan starts at €125 per month.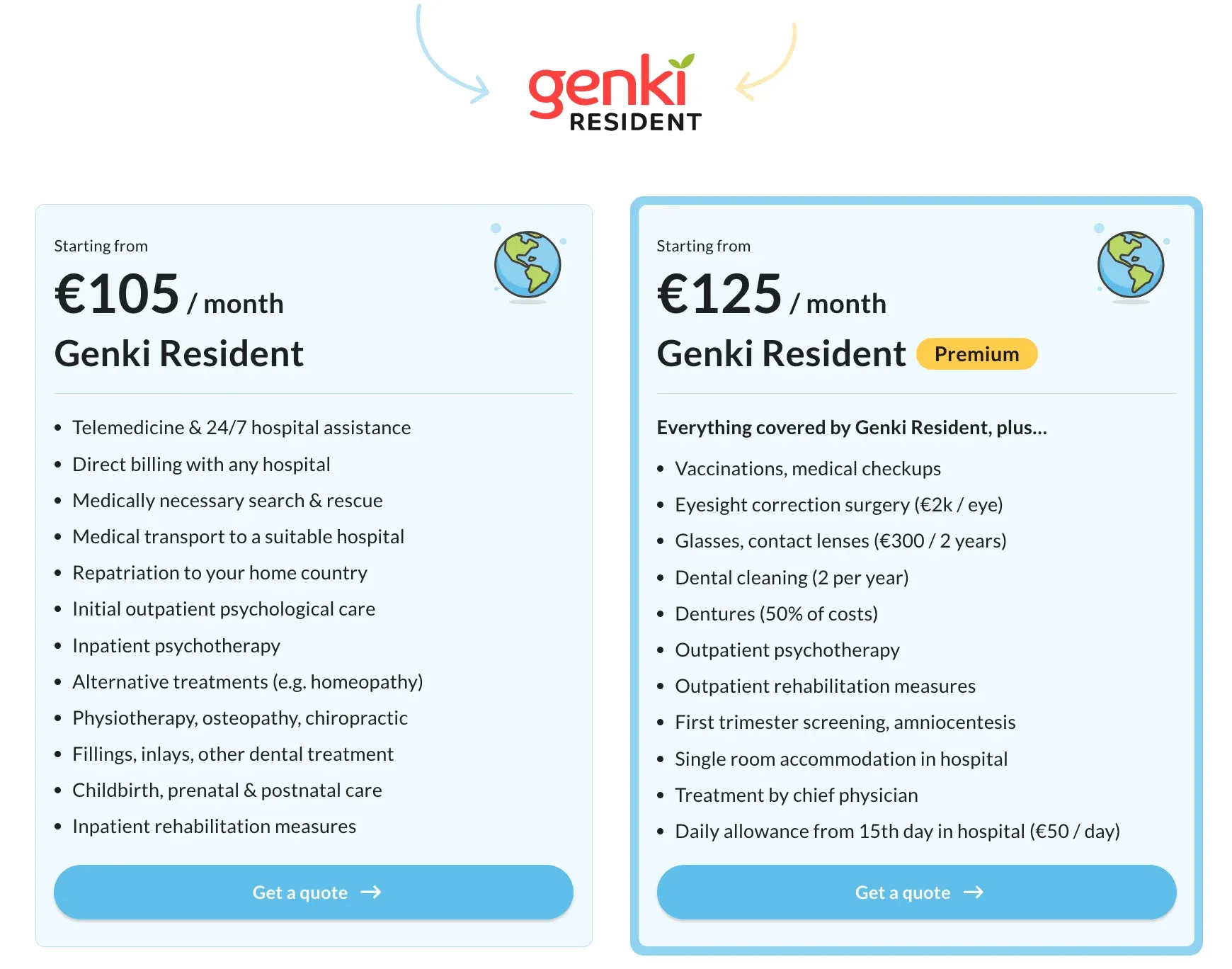 If you're not planning to venture into Canada or the USA, you can take advantage of reduced monthly costs by excluding coverage in these two countries.
What's even more flexible is that you can adjust this choice monthly, meaning you can adapt your insurance based on your changing travel itinerary.
You're also covered for a generous 180 days per calendar year for all benefits during stays in your country of origin. This means peace of mind as you reconnect with friends, family, or take a break from your nomadic adventures.
💡
Keep in mind, though, that this coverage applies only once you've embarked on your international journey; it doesn't kick in if you're still at home preparing for your travels!
What's Covered By Genki Travel Insurance?
When it comes to both coverage plans, Genki Insurance offers two different options to choose from:
Worldwide Coverage: This encompasses almost every country globally, ensuring that nomads have the freedom to explore without geographical constraints.
Worldwide with Limited Cover in Canada and the US: This option provides global coverage but has certain limitations when it comes to Canada and the US.
This destination-independent approach to travel insurance means that travelers don't have to specify their exact route in advance, providing them with the freedom to adapt their plans as they go.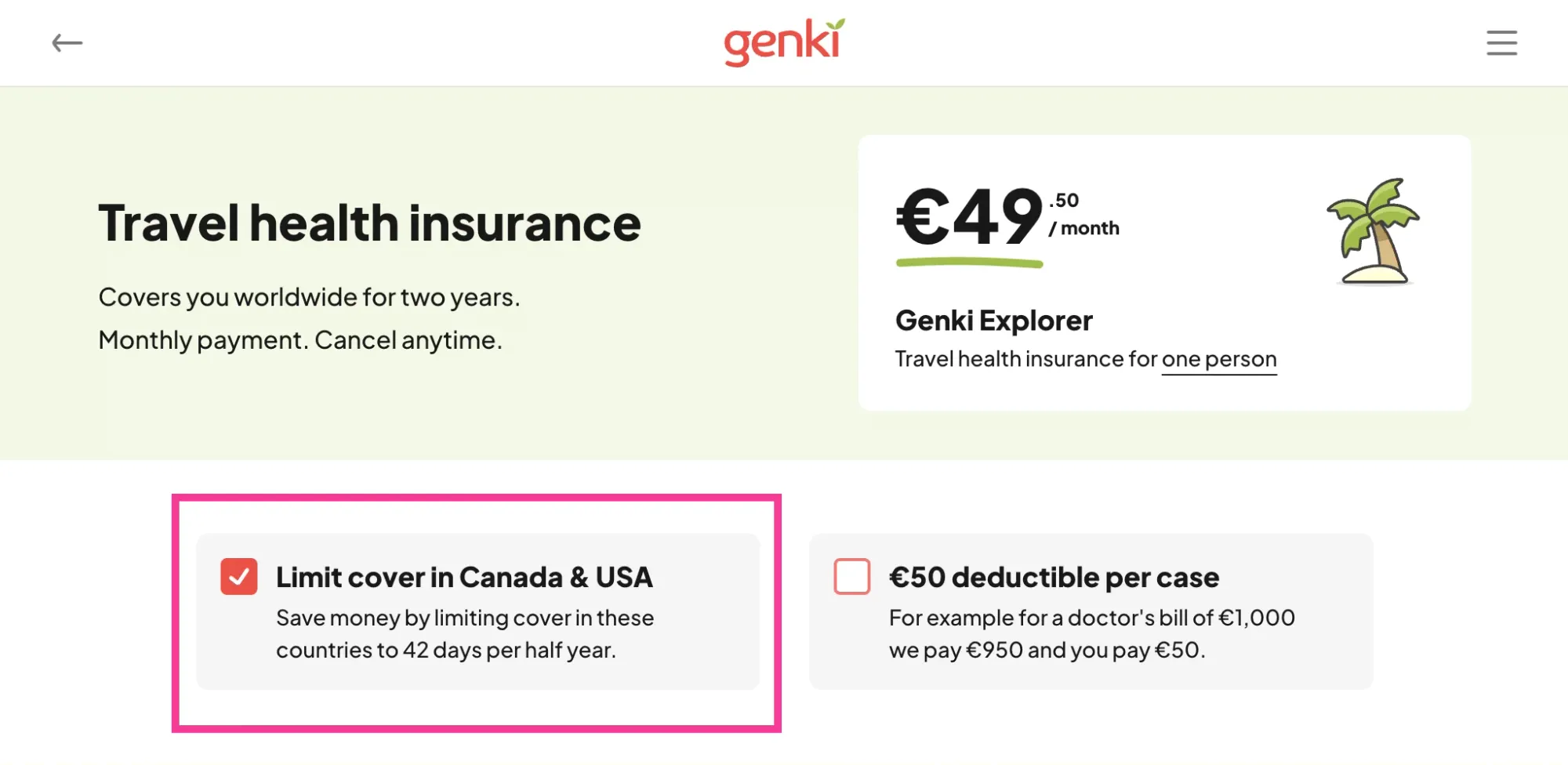 Medical Coverage
Genki Insurance is renowned for its robust medical coverage tailored for travelers and digital nomads.
Here's a breakdown of what they offer:
| Medical Coverage | No Limit | Limit | Limit (Up To) |
| --- | --- | --- | --- |
| Emergency Treatments | ✓ | | |
| Medications and Supplies | ✓ | | |
| Dental Care (Immediate pain relief) | | ✓ | Up to €500 |
| Dental Care (Due to an accident) | | ✓ | Up to €1k |
| Mental Health (Outpatient initial) | | ✓ | Up to €1,5k |
| Mental Health (Inpatient emergency) | | ✓ | Up to €20k |
| Transportation to the nearest hospital | ✓ | | |
| Transportation back to home country | ✓ | | |
| Repatriation of mortal remains | ✓ | | |
One of the standout features of Genki's medical coverage is its inclusivity. It covers additional benefits like emergency dental treatments and mental/emotional health issues.
Moreover, most medical-related incidents have no limit on coverage, which is a rarity among travel insurance providers. This comprehensive medical coverage ensures travelers are well-protected during their journeys.
💡
Remember, it's always essential to read the terms and conditions of any insurance policy to understand the specifics and potential exclusions.
Activities and Sports
Genki Insurance offers a comprehensive range of activities covered under its travel insurance plans.
Activities and Sports Included in Genki Explorer Plan
Some of the activities that the Genki Explorer plan covers include:
Climbing (indoor only)
Cycling
Hiking
Motorcycle/-scooter
Surfing
Skiing (any kind)
Snowboarding (any kind)
Kitesurfing
Kayaking
Mountain biking
While Genki covers a wide range of activities, certain "Dangerous activities" are excluded from the coverage. Those include:
Base jumping
Bungee jumping
Diving
Parachuting & gliding
Racing
Professional sports
Activities and Sports Included in Genki Resident Plan
The Genki Resident Plan takes the coverage a notch higher and includes all activities and sports that are part of the Explorer Plan. Yes, that's right! Even those activities that were previously deemed "Dangerous" and excluded from the Explorer Plan are now covered under the Resident Plan.
This means adrenaline junkies will be delighted to find that activities such as base jumping, bungee jumping, diving, parachuting, and gliding are now covered. This makes the Resident Plan a perfect choice for nomads who are into thrill-seeking sports and adventures.
However, it's important to note that professional sports are still excluded from the Genki Resident coverage.
💡
As always, reading the terms and conditions of your insurance policy will give you a full understanding of what's covered and excluded.
What's NOT Covered By Genki Travel Insurance?
While Genki Insurance offers comprehensive coverage, there are a few exclusions to consider. Let's look at them for each Genki coverage plan.
Pre-existing Conditions
The Genki Explorer plan does not cover medical conditions that require treatments or medical advice within a certain period before the insurance starts. This includes chronic illnesses such as diabetes, cancer, sleep apnea, and chronic obstructive pulmonary disease (COPD).
With the Genki Resident plan, if you have a pre-existing condition, mentioning it before signing up for a plan is essential, as the insurer will assess this information to decide if and under what conditions your existing medical conditions will be covered.
Adventure & Extreme Sports
As previously mentioned, the Genki Explorer plan does not cover certain dangerous activities and extreme sports.
If you're an enthusiast of these activities, you might want to check the Genki Resident plan, which covers most adventure and extreme sports, except professional sports.
Alcohol & Drugs
Accidents and illnesses caused by the use of alcohol, drugs, or similar substances are not covered by Genki's plans.
This also includes the cost of withdrawal treatments for drug, alcohol, or any other substance abuse rehabilitation. This means if you're away and need professional help overcoming substance addiction, Genki would not cover the costs for such treatments.
It's important for digital nomads or any potential Genki customers to be aware of this exclusion, especially if they have a history of substance abuse or are in recovery. If you need such coverage, you may need to look at other insurance providers or purchase additional coverage specifically for rehabilitation treatments.
Pre-existing Pregnancy
For all plans, the coverage is restricted for pregnancies that had already arisen, knowingly or unknowingly, before the insurance starts.
It's also limited to acute and unforeseeable deterioration in the mother's or child's health.
Are There Any Deductibles?
As you might already know, a deductible is the out-of-pocket amount before your insurance kicks in. When considering travel insurance, understanding deductibles is therefore a crucial consideration. Genki plans offer both options with or without deductibles.
Genki Explorer Deductibles
Genki Explorer subscribers can choose between two deductible options:
€50 deductible: for every claim made, the first €50 is paid by the subscriber, and the insurance covers the rest.
No-deductible plan: as the name suggests, requires no initial payment from the subscriber when a claim is made. This option might come with a slightly higher monthly premium but eliminates any upfront costs during a medical event.
Genki Resident Deductibles
When it comes to Genki Resident subscribers instead, the deductible choice is between:
€1,000 per calendar year: the subscriber pays the first €1,000 of any claims made during that year. After that, Genki will cover the remaining expenses.
€500 per calendar year: the subscriber pays the first €500 of any claims made during that year. After this, Genki covers the remaining expenses with a slightly higher monthly premium.
No deductible: similar to the Explorer plan, this option requires no initial payment from the subscriber but may come with a slightly higher monthly price.
💡
These options depend on individual preferences and how often you anticipate making claims.
Are You Covered in Your Home Country?
Many remote workers and digital nomads find themselves returning to their home countries for short visits. Genki Insurance recognizes this need and provides coverage in your home country. This approach ensures that travelers have a safety net even when they're back home, but it's essential to be aware of the specific limitations. Let's see which ones in this section.
Home Country Coverage: Genki Explorer
When it comes to the Genki Explorer plan, you are covered in your home country for up to 6 weeks (42 days) per 180 days. However, this coverage is restricted to accidents and severe life-threatening emergencies. It's also important to note that your home country is only covered if you've left it at least once after your insurance started.
For those who sign up for Genki Insurance while abroad, the first 14 days of coverage in their home country are limited to accidents and emergencies.
Home Country Coverage: Genki Resident
For digital nomads and expats who spend more time in their home countries, Genki offers the Genki Resident plan.
Under this plan, you're entitled to full coverage in your home country for up to 180 days per year. This means that your coverage isn't limited to accidents and emergencies, unlike the Explorer Plan.
The Genki Resident plan provides a broader safety net, covering a wide range of medical services, including general check-ups, prescription medication, and even illness treatments. This makes it an excellent choice for nomads who ferry between their home countries and other destinations but still require extensive insurance coverage.
What is Genki Insurance Good (and Not Good) For?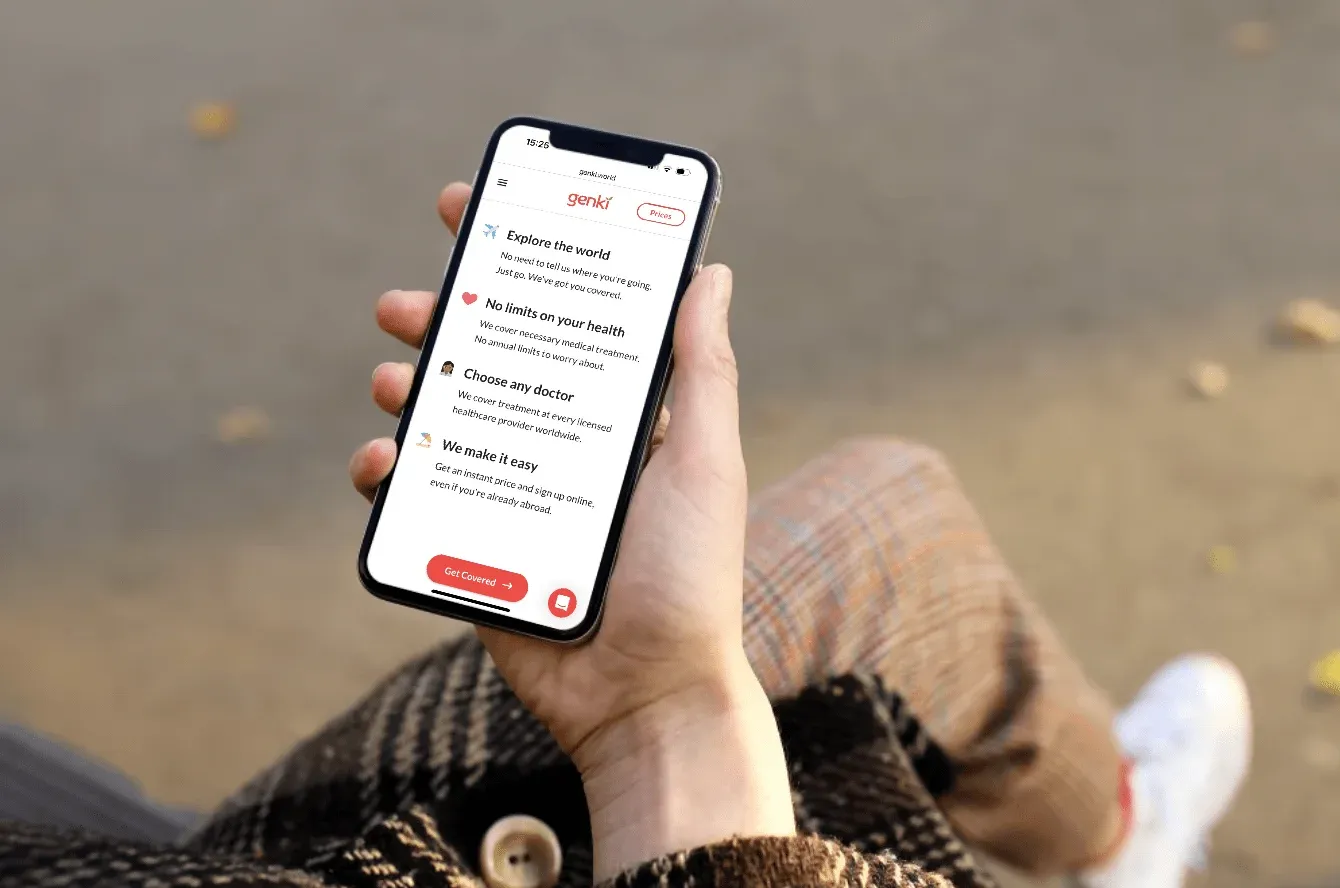 Genki Insurance is a top choice for many travelers, especially those who are:
Digital Nomads, Long-Term Travelers, and Backpackers: Genki is tailored for those traveling and working remotely for extended periods.
Health Coverage Seekers: Genki offers comprehensive medical coverage, including treatments for sports injuries, hospital visits, medical transport, repatriation, pregnancy, emergency dental treatment, and initial mental health issues.
Travelers Valuing Flexibility: With coverage durations ranging from one month to two years and a cancel-anytime policy, Genki suits those with ever-changing plans.
Budget-Conscious Travelers: Genki's pricing is competitive, especially when considering the breadth of health coverage offered.
On the flip side, Genki might not be the best fit for those who are:
Travelers Over 69: Currently, Genki does not offer coverage for individuals over the age of 69.
Short-Term Vacationers: Those seeking insurance for brief trips or specific travel-related issues like baggage loss might find other options more fitting.
Extreme Adventure Seekers: In their most popular plan Genki Explore, Genki excludes coverage for certain high-risk activities, such as motorcycle racing and parachuting.
Pre-existing Condition Concerns: Genki does not cover pre-existing conditions or treatments that are not deemed medically necessary.
While Genki Insurance offers a compelling package for many digital nomads and long-term travelers, weighing its offerings against your individual needs and preferences is essential.
How To Get Coverage For Genki Insurance Plans
Now that we discussed the benefits, pros and cons of Genki Insurance, let's move on to the more practical stuff, starting with how to get a quote for their plans. For this example we will use their most popular plan, Genki Explorer.
Here's a step-by-step breakdown of how the Genki Explorer insurance plan works:
Step 1: Request a Quote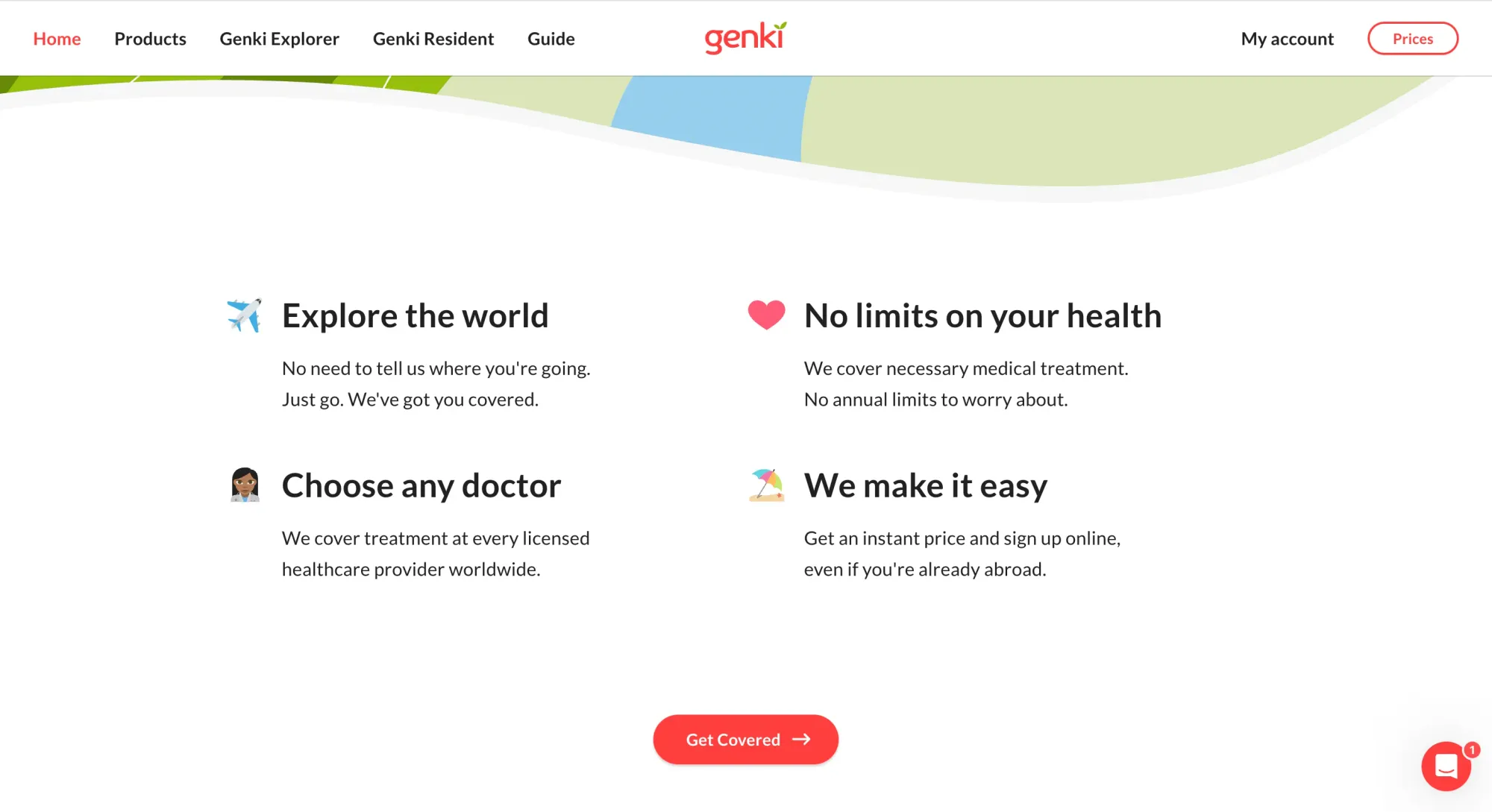 Before committing to a policy, Genki allows potential customers to get a free quote. This is done by entering personal details on their website, such as age, home country, and intended departure date.
This initial step gives travelers an idea of the potential cost based on their specific circumstances.
Step 2: Specify Travel Duration
In the next step, you will specify the duration of your travel: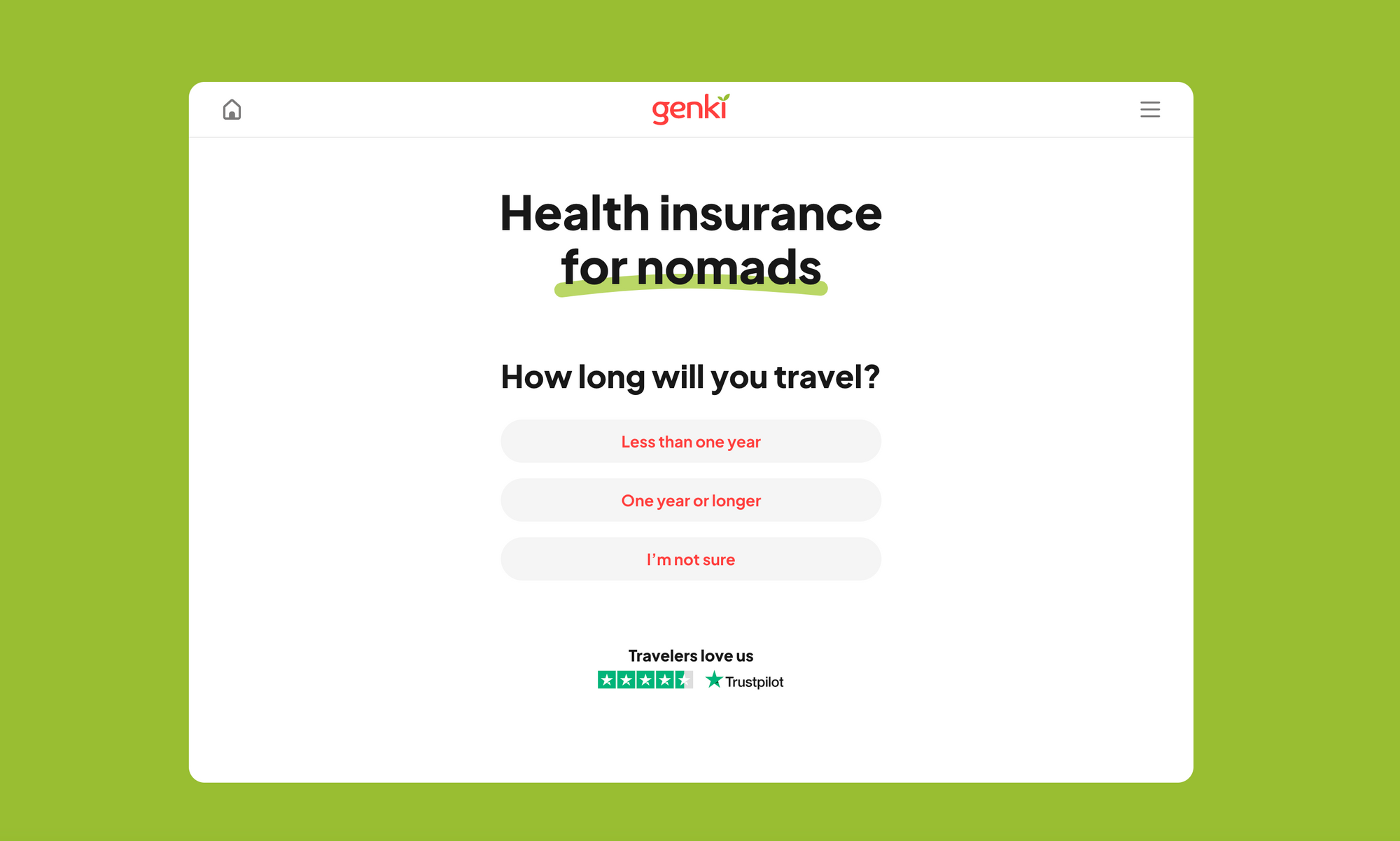 Genki is quite flexible in this regard, catering well to the unpredictable schedules of digital nomads. You can select one of three options: if you plan to travel for less than a year, choose the 'Less than one year' option. If your travel plans extend to one year or more, select the 'One year or longer' option. If you are uncertain about the duration of your travel, you have the option to specify 'I'm not sure'.
Step 3: Enter Your Age
After choosing your travel duration, the next step in the Genki quote process is to specify your age: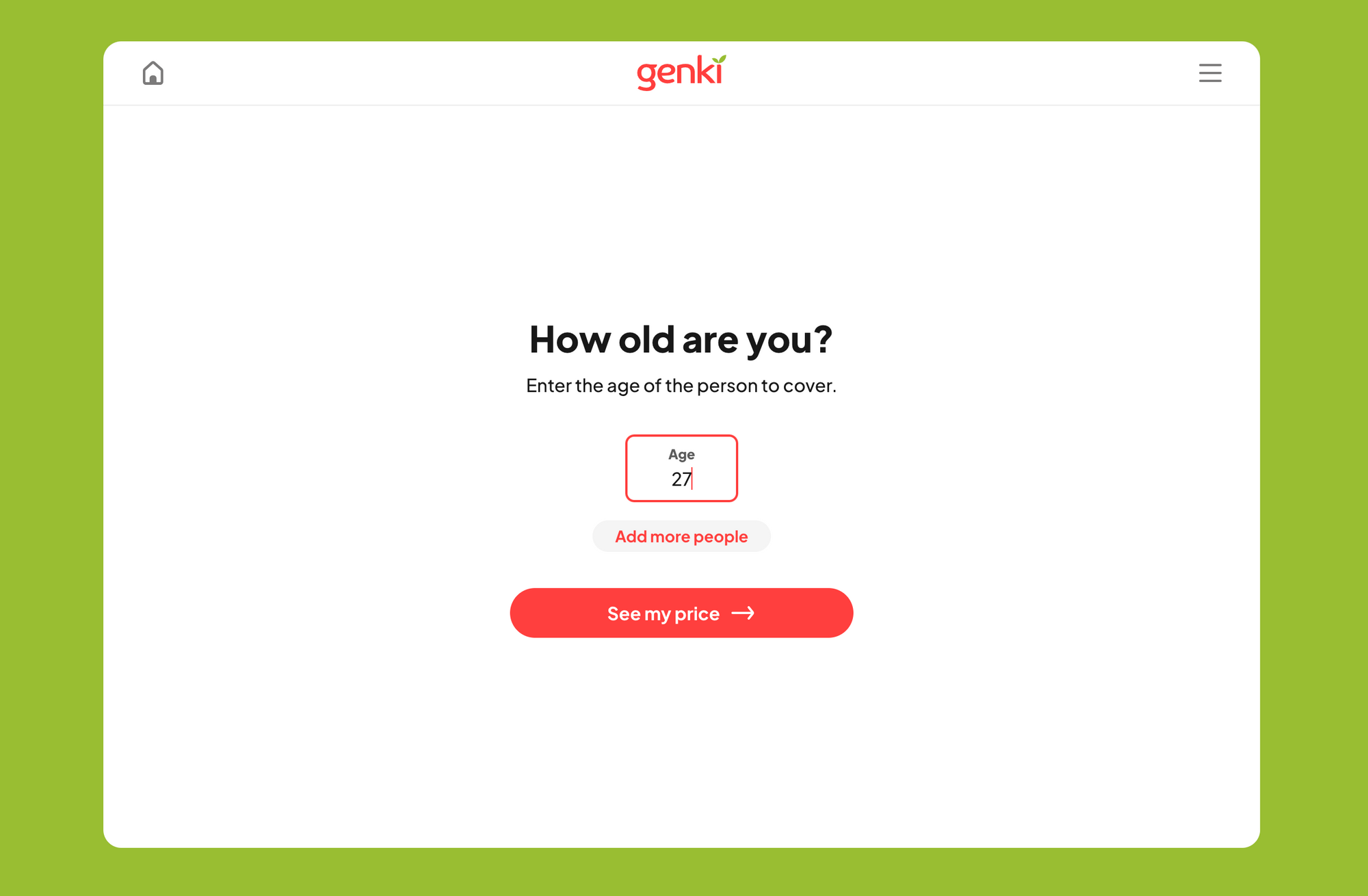 This is a crucial part of the process as the cost of Genki's Nomad Insurance can vary depending on the traveler's age. All you need to do is select the appropriate age by typing it in the box. Here, you will also have the option to add more people to your group.
Step 4: Customize Your Travel Health Insurance
Once your age has been entered, Genki offers the opportunity to further customize your policy. This is where you can make choices that affect the overall cost of your premium.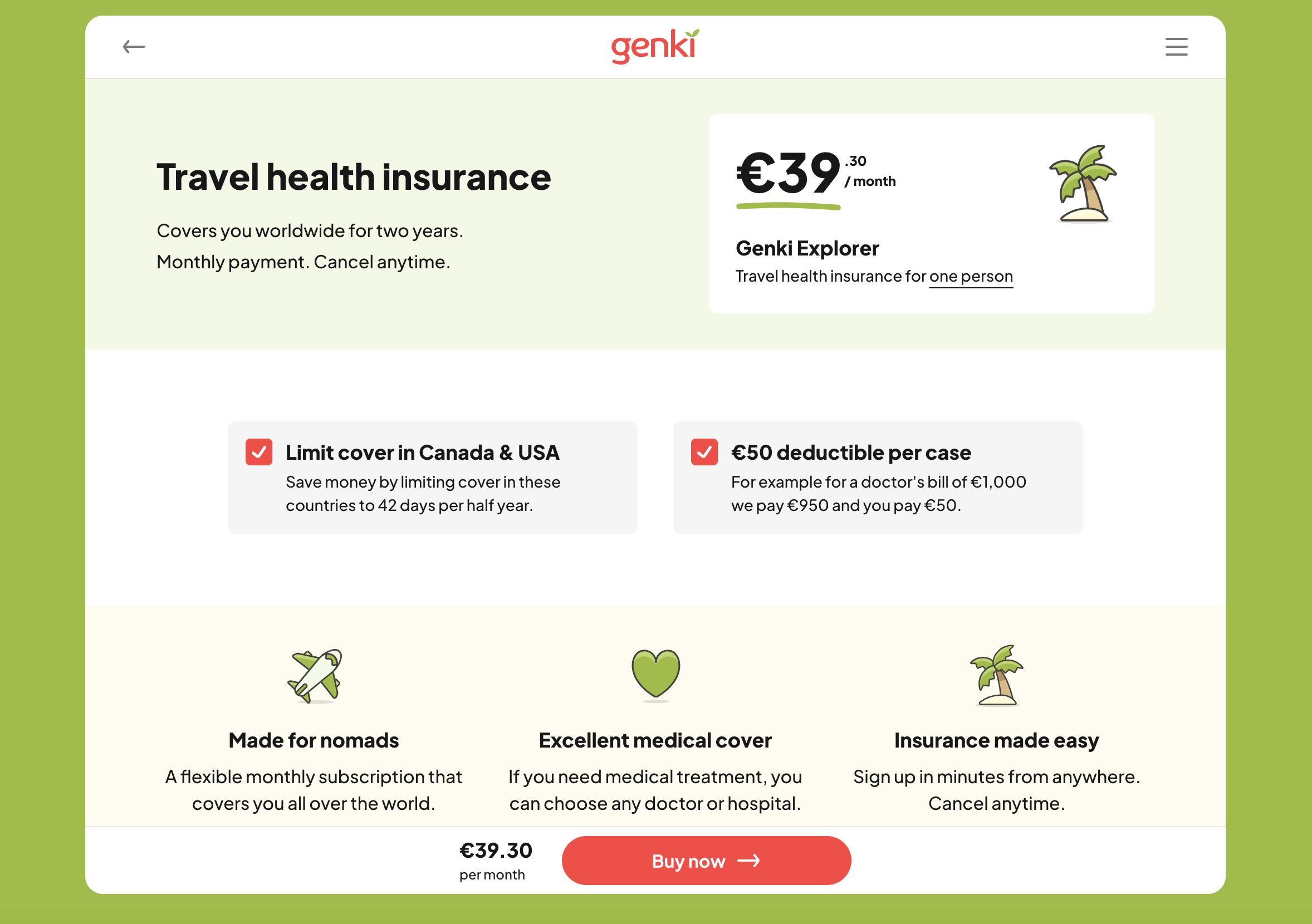 For starters, you can choose to limit your policy coverage in the United States and Canada. Selecting this option can reduce your monthly premium.
Additionally, Genki provides the possibility to include a deductible of €50. By opting for this deductible, you agree to pay the first €50 of any claim, in exchange for lower monthly payments. It's a choice that allows for greater flexibility in managing your insurance costs.
💡
Remember, these choices are optional. You can select either, neither, or both, depending on your personal preferences and financial considerations. The power to shape your Genki Nomad Insurance policy to fit your needs lies in your hands.
Step 5: Add Your Personal Information
After tailoring a policy to your needs, you will need to add your personal information including your name, surname, date of birth, your home country: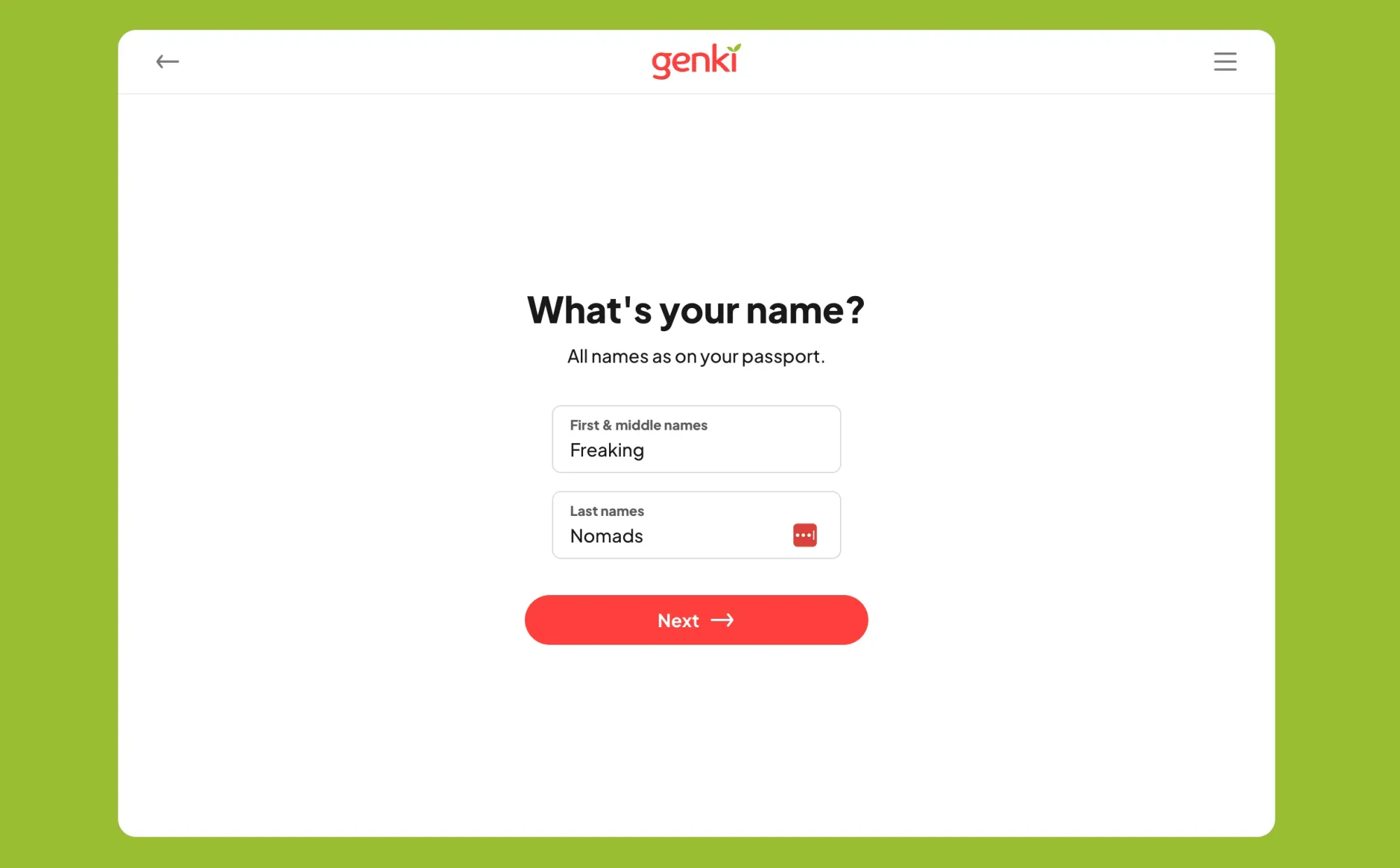 Step 6: Select Starting Date
In this step, you will be asked to select when you want your policy to start: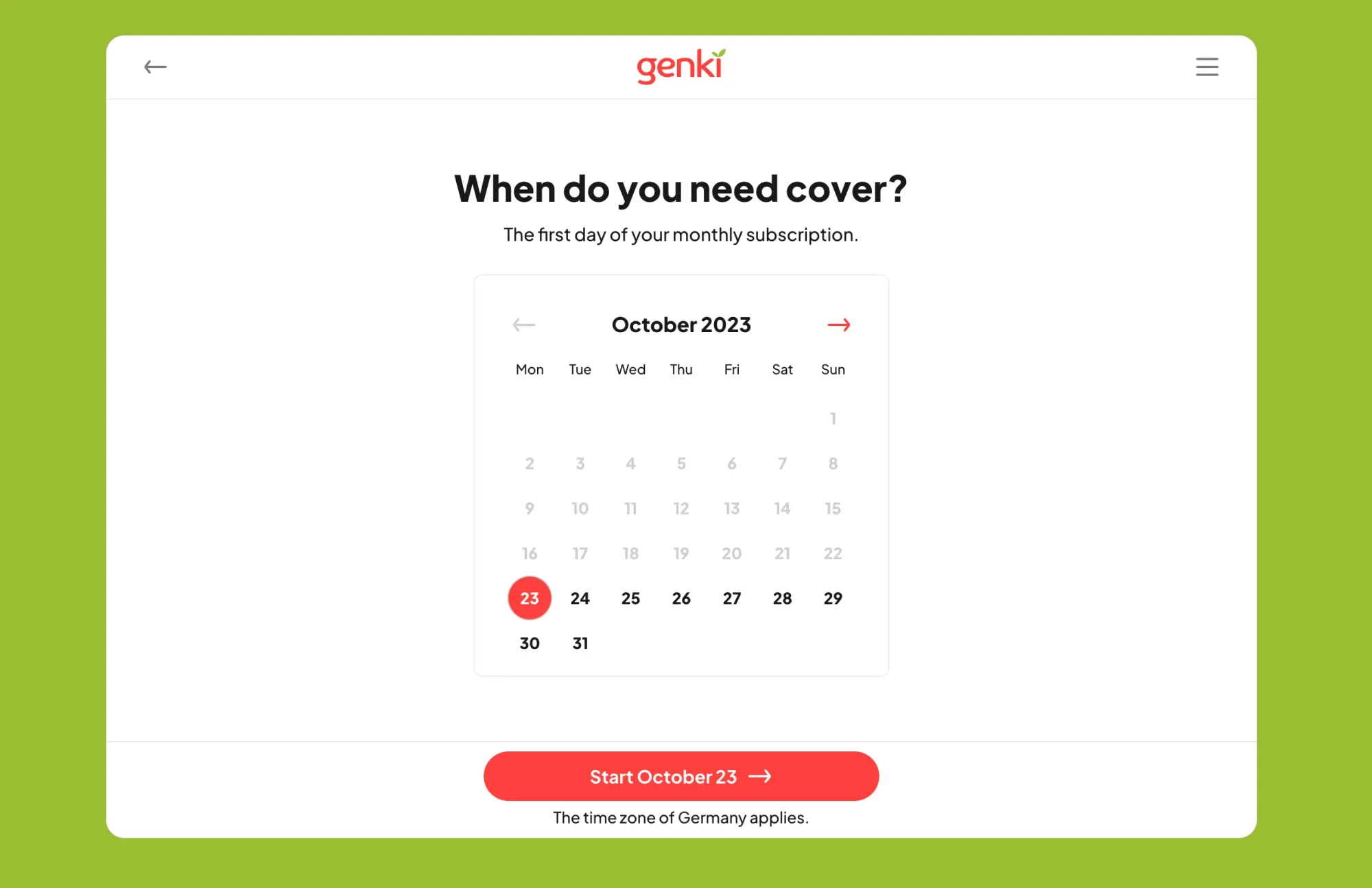 Step 7: Verify Email and Set Up Payment
Once, you have completed the form, you will receive an email from Genki which will ask you to verify your email and proceed to setting up a monthly recurring payment:
Genki operates on a subscription model, meaning you're billed monthly. This flexibility is especially beneficial for long-term travelers or digital nomads whose plans might change.
💡
The first month's payment is made upon subscribing, and subsequent charges occur automatically every month on the same day.
How Do You Make a Claim For Genki Insurance?
Filing claims with Genki Insurance is not particularly complex and while it might not be the most enjoyable task, it's essential when the unexpected happens.
Here's a step-by-step guide on how to make a claim with Genki Insurance:
Step 1: Ask for Itemized Receipts:
Whenever you undergo any treatment, it's crucial to maintain transparency throughout the process. Ensure you receive a detailed invoice for your expenses. This invoice will be vital when you're making your claim.
Step 2: Submit Your Claim Form
Upon subscribing to Genki Insurance, you would have received login details to your online profile with the insurance provider, or an email address and/or a telephone number.
You need to send your claim, which includes bills, receipts, and other relevant documents, either via your online profile or through email to your health insurance provider to initiate the process.
Step 3: Report the Illness or Accident Promptly
For optimal care and to expedite the administrative process, it's essential to report the illness or accident as soon as it happens. This can typically be done via a phone call.
💡
Ensure you provide all the necessary information!
Step 4: Wave the Physician-Patient-Privilege
By releasing the treating physician from the physician-patient privilege, the insurance provider can gather all the required information. This step is essential for the insurance company to understand the nature of the treatment and to process the claim efficiently.
Step 5: Claim Review and Compensation
Genki stands out with one of the fastest compensation timelines among the digital nomad insurance companies out there.
They commonly settle claims within a period of 2-5 weeks, or make direct payments to the hospital, based on the circumstances although this are general timeframes and can vary based on specific situations.
💡
Remember, while Genki Insurance offers a streamlined process for claims, it's always essential to keep all your documents organized and to communicate promptly with the insurance provider for a smooth claims process.
How Do You Cancel Genki Insurance?
Terminating your Genki Insurance policy is as straightforward as setting it up.
Genki, in contrast to many other insurance providers, gives you the freedom to cancel your policy whenever you wish thanks to its subscription model.
Your coverage will remain effective until the last day of the most recent month for which you've paid. Furthermore, you have the option to revoke your insurance within the initial 14-day period for a complete refund.
💡
It's important to note that once your subscription is canceled, you will not be able to make any new claims. However, if you have an ongoing claim at the time of cancellation, it will still be processed and compensated accordingly.
What Travelers Think of Genki Insurance?
To provide a comprehensive Genki insurance review, we didn't just rely on our experience and insights. We took an extra mile and scoured the internet, focusing on what other travelers and digital nomads had to say about Genki. To do so, we used Trustpilot, the most renowned customer review website.
On Trustpilot, Genki has an excellent rating of 4.4 out of 5 stars based on 227 reviews. Most of the reviewers praised Genki for its easy and fast sign-up process, its affordable and flexible plans, its friendly and helpful customer service, and its reliable and transparent claims handling. Many travelers shared their positive experiences of using Genki in different countries and situations, such as getting injured in Thailand, having a health problem in Angola, or needing a MRI scan in Kuala Lumpur. They also appreciated the new features that Genki introduced, such as the online claim form and the Air Doctor app.
Of course, not everything was perfect. Some reviewers complained about the long waiting time for reimbursement processing, the lack of communication from the claims team, the $50 deductible fee per case, and the difficulty of finding a doctor in some locations. However, Genki responded to most of these negative reviews and offered solutions or explanations. They also acknowledged their shortcomings and promised to improve their service which is always great to see from our perspective.
Generally, the majority of travelers who used Genki were very satisfied with their experience and would recommend it to others. They found Genki to be a great insurance option for digital nomads and travelers who want to have peace of mind while exploring the world.
Our Verdict on Genki Insurance
After using Genki ourselves several times throughout this year and reading a ton of customer reviews about them, we are confident to say that this insurance is legit and it's actually a great option for digital nomads who are looking for a reliable insurance provide.
It ticks many boxes: affordable plans, a simple sign-up process, and reliable claims handling for those unexpected situations on the road.
But hey, don't just take our word for it - give Genki a shot and see why it's becoming a rising travel insurance for many nomads. Whether you're embarking on a long-term journey or a quick getaway, having Genki as your travel companion might give you peace of mind and let you fully enjoy your adventures without the "what ifs".
So next time you're searching for a reliable and affordable travel insurance, you might want to consider checking out Genki.
As always, we recommend comparing different insurance options and choosing the one that best fits your specific needs. You can check out the best ones below:
Ready To Leave For Your Next Awesome Destination?
If you want more digital nomad guides like these, sign up for our free newsletter and get upcoming articles straight to your inbox!
You can also follow us on Instagram and join our Facebook Group if you want to get in touch with other members of our growing digital nomad community!
We'll see you there, Freaking Nomads!
Disclosure: Hey, just a heads up that some of the links in this article are affiliate links. This means that, if you buy through our links, we may earn a small commission that helps us create helpful content for the community. We only recommend products if we think they will add value, so thanks for supporting us!