As I sit on the sun-drenched terrace of a quaint café in Weligama, a beautiful town in Sri Lanka, I can't help but marvel at the azure waters of the Weligama Bay in the Indian Ocean.
With the soothing sound of waves in the background and the refreshing ocean breeze, I open my laptop to start my workday.
This is my office today. Tomorrow, it could be anywhere in the world. I am a digital nomad, and my UX/UI designer profession allows me to work from anywhere, anytime.
If you're intrigued by this lifestyle and are wondering how you can become a digital nomad as a UX/UI designer, I'm here to share my journey and tips with you in this guide.
What is a UX/UI Designer?
Let's start first with some actual definitions.
A UX/UI designer is a professional who focuses on creating user-friendly, efficient, and enjoyable products and services. They work on a product's user experience (UX) and the user interface (UI) aspects, such as a website, app, or device.
They research conceptualize, and design a digital interface to ensure it is optimized for user interaction. As a result, the digital interface provides a more engaging and efficient user experience for platforms such as websites or mobile applications.
What is a UX/UI Design?
But what actually, does UX and UI design involve?
UX design is about developing products and services that are user-friendly, efficient, and enjoyable to use. On the other hand, UI design involves crafting the visual components a user interacts with, such as screens, buttons, icons, and menus.
So, What Does a UX/UI Designer Do?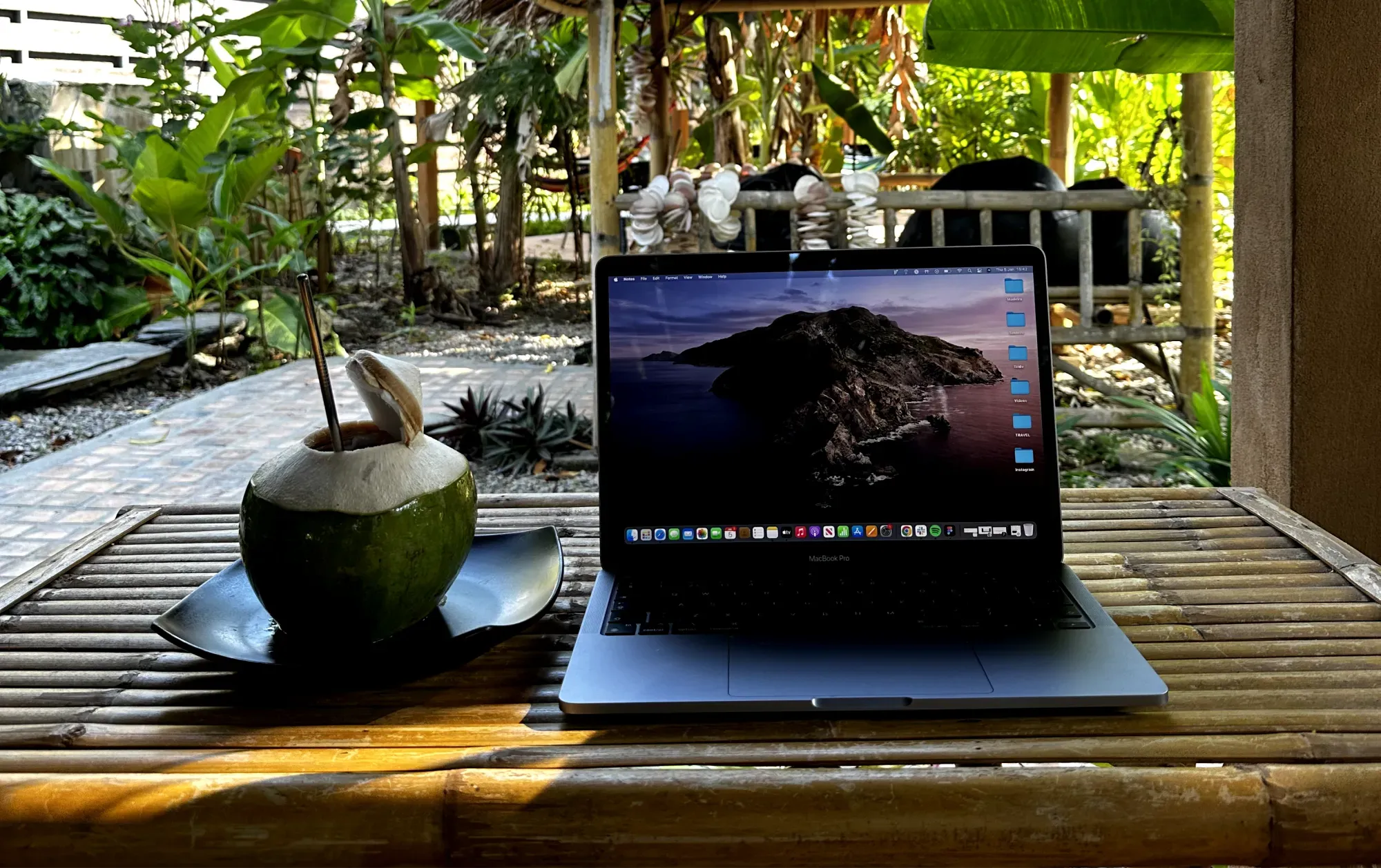 Think of it like this: imagine you're attending a party.
The overall experience of the party, how easy it is to navigate, the mood, the music - that's akin to UX design. It's about creating an environment that's enjoyable and intuitive.
Now, consider the layout of the buffet table, the arrangement of the dishes, and the color of the plates - that's similar to UI design! It's about the aesthetics and the arrangement of the elements you interact with.
As a UX/UI designer, your job is to ensure that the digital 'party' you're attending (be it a website, app, or device) is enjoyable, easy to navigate, and visually appealing. That's pretty much it.
Why Choose To Become a UX/UI Designer?
If you love solving problems, enjoy being creative, and want to make a difference in how people see and experience digital products, becoming a UX/UI designer could be the perfect path for you. It's a rewarding, challenging, and exciting career that offers both personal fulfillment and professional growth.
Imagine being able to combine your creativity and analytical skills to create something that not only looks good but also makes people's lives easier.
That's the magic of being a UX/UI designer.
It's a role that allows you to make a real-world impact by solving problems and improving people's lives through good design.
Every time you design a user-friendly website, an accessible app, or a delightful digital product, you're making someone's interaction with the digital world a little bit better. And let me tell you, there's nothing quite like the satisfaction of seeing your designs come to life and knowing they're making a difference.
But it's not just about creative satisfaction.
The UX/UI design industry is dynamic and interdisciplinary, offering continual growth and learning opportunities. It's a field where no two days are the same. One day, you might be sketching wireframes; the next, you could be conducting user testing or presenting your designs to stakeholders. And the best part? It's perfectly suitable for remote work, so you won't have any difficulties in working for clients on a freelance basis and enjoy your freedom and flexibility as a digital nomad.
What Skills Do I Need To Become a UX/UI Designer?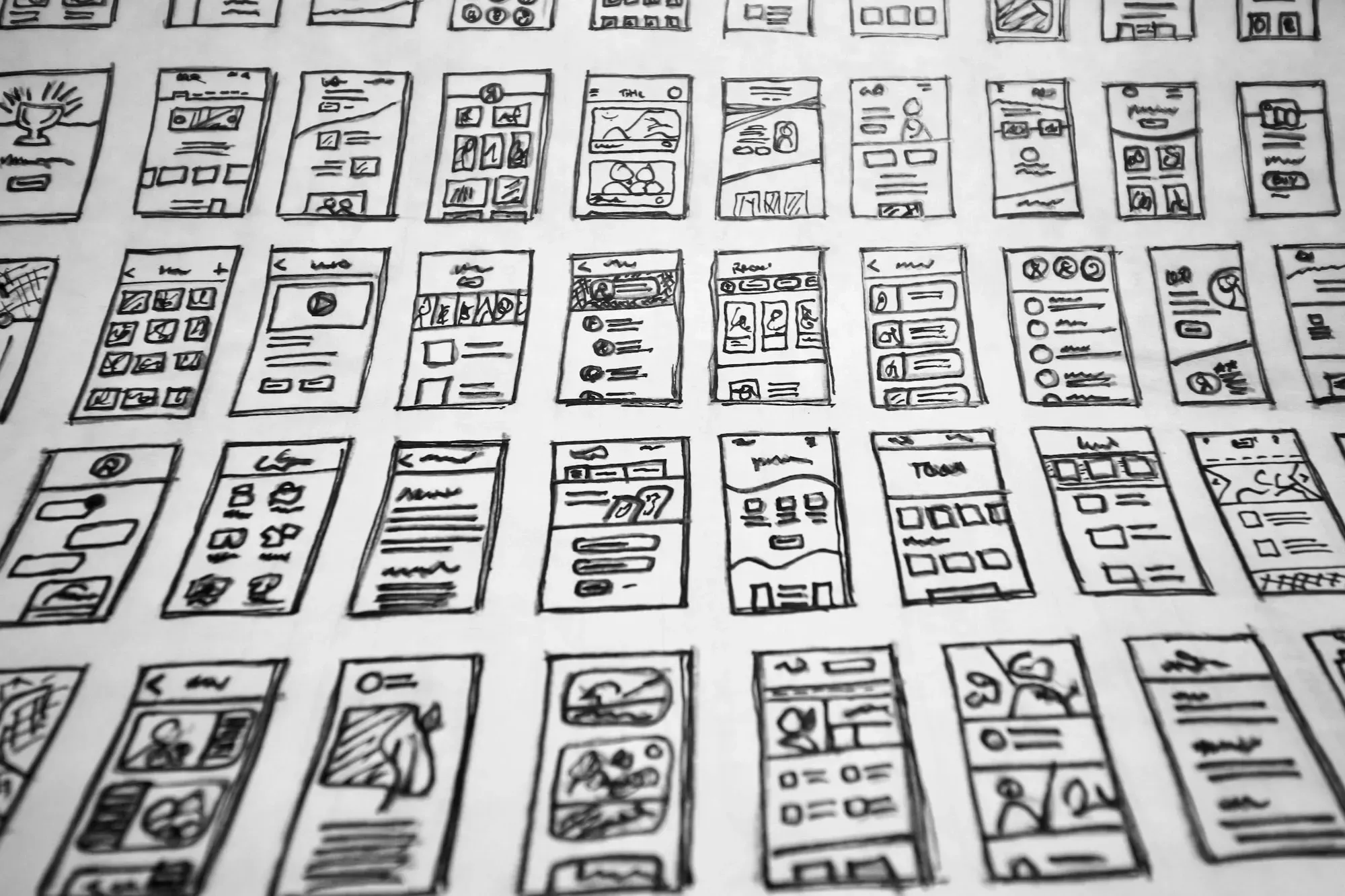 You don't necessarily have to start from scratch if you are looking to become a UX/UI designer. This profession allows you in fact to leverage your existing skills and background.
Whether you come from a graphic design, psychology, or even a non-design-related field, there's room for you in the UX/UI world.
However, there are some skills that you will necessarily have to acquire in order to become UX/UI designer.
Hard Skills
Let's start with the most essential to get the job done: the hard skills.
1. UX research
I found gathering qualitative and quantitative user data in UX/UI design quite an invaluable skill. You will have to constantly deal with a lot of user data through methods such as interviews, surveys, analytics, and observations. So the capacity to analyze and synthesize this data to pinpoint user requirements, objectives, behaviors, and challenges is crucial.
2. Information Architecture
The end goal of this role is always to make the user's journey as intuitive as possible. The ability to logically and intuitively arrange and structure the information and content of a product or service becomes then a necessity. This includes creating user flows, sitemaps, and navigation systems.
3. Wireframing and prototyping
Next, you should be able to generate low-fidelity and high-fidelity mockups of the envisioned product or service and its functionality. You will need to be able to create wireframes, prototypes, and user interfaces using popular industry tools like Figma, Sketch, and Invision.
4. User testing
And what about evaluating and validating your design with actual or potential users? This is where user testing comes in. You will have to collect and analyze feedback, measure usability and user satisfaction, and iterate on your design based on the results. And that's certainly one of the most rewarding parts of our job.
5. Visual design
This is another crucial skill as it makes a significant difference in the user experience. It's all about learning principles like color, typography, layout, hierarchy, contrast, and alignment to craft visually appealing and consistent user interfaces.
6. Interaction design
Lastly, you need to be able to design how a user interacts with a product or service and develop interactive prototypes that display the functionality and behavior of your design. This can be done through tools like Figma or Adobe XD which allows you to design interactive elements such as buttons, menus, sliders, gestures, animations, transitions, and feedback.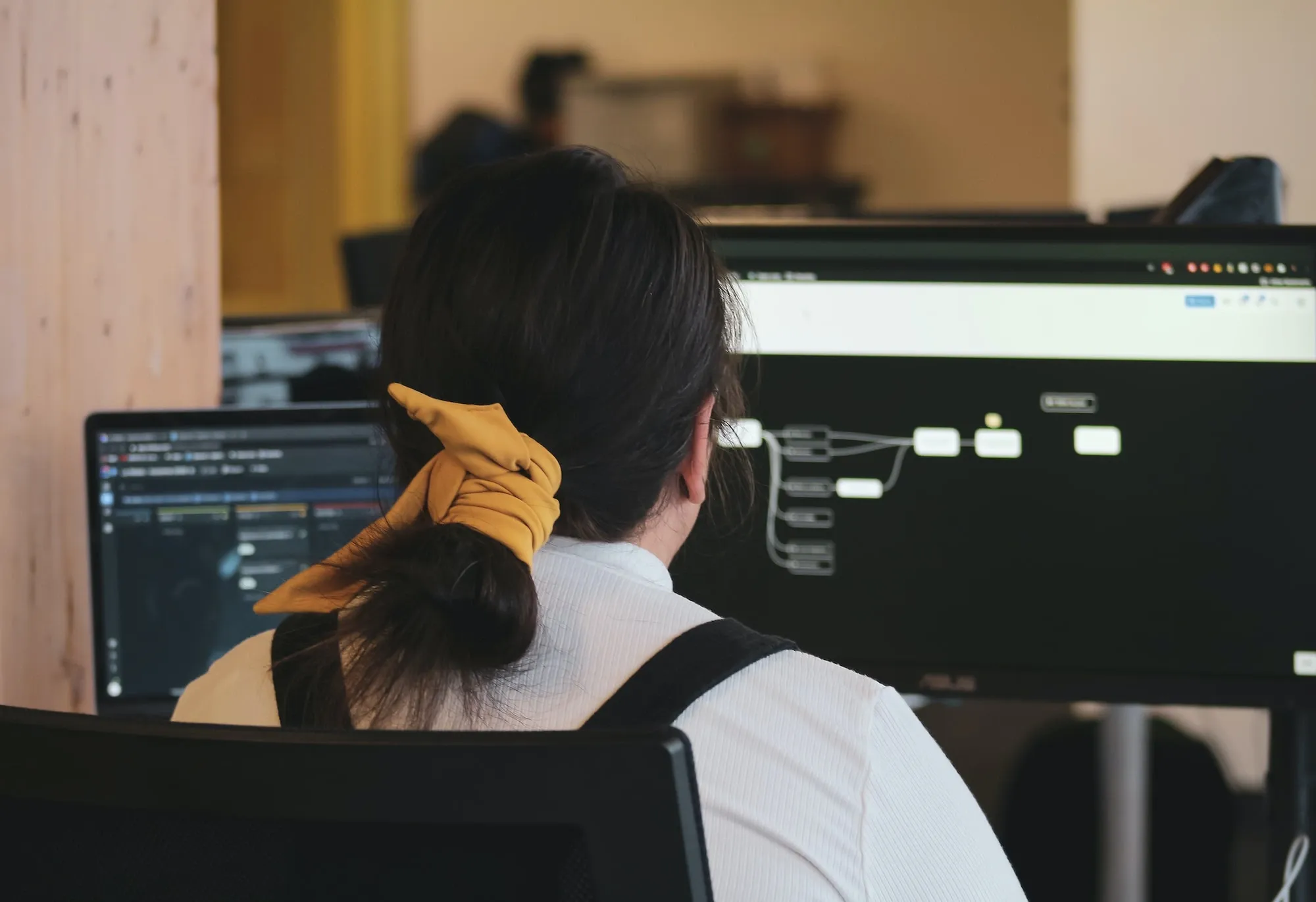 Soft Skills
But it's not all about hard skills. God knows how many times soft skills saved the day when I had a difficult day with my clients. Let's see which ones you might want to acquire.
1. Communication skills
Effective communication with different stakeholders such as users, clients, developers, marketers, and other designers is essential. You should be able to articulate your design ideas and solutions clearly and persuasively through verbal, written, and visual means. This will make you really stand out as a designer, trust me.
2. Collaboration and teamwork
You also need to be able to work well with others in a multidisciplinary team that may include developers, marketers, product managers, content writers, and other designers. Giving and accepting constructive feedback and incorporating varied viewpoints into your design will need to be the norm.
3. Critical thinking
Finally, the ability to critically analyze the problems you aim to solve and the solutions you suggest will be absolutely necessary for you. You are expected to justify your design decisions based on data, research, best practices, and user needs, especially if you will work independently as a freelancer.
Best Resources To Become a UX/UI Designer
You might be wondering now, how do I get these skills? That, my friend, it's a really good question.
Learning new skills has never been easier with the wealth of online resources and affordable certifications available today. So I've wrapped for you some of my favorite online resources you might want to check out.
Free resources
Great For Learning The Fundamentals
CareerFoundry's UX Design Short Course: This free short course is a great starting point for beginners in UX design.
Accenture's Digital Skills Course: This free course introduces the fundamentals of user experience (UX), the basics of visual design, and the tools needed to become a UX designer.
Hackdesign: An easy-to-follow free design course for people who want to receive design lessons weekly more than a whole course.
Invision: Offers a variety of free resources including eBooks, webinars, and design tutorials.
Figma — Learn Design Pilot: This free resource provides a series of self-paced modules to learn the basics of design, from the people behind the popular design software Figma.
Future Learn — Digital Skills: User Experience: This course explores the concept of UX design.
UX Design Institute: Offers 7 free classes in UX design to learn the fundamentals.
Noble Desktop: Offers a number of free online video tutorials for learning UX and UI design.
UX Collective: An independent design publication built to elevate unheard design voices all over the world.
Paid Resources & Certifications
Great For Speeding Up Your Learning and Boosting Your CV
UI/UX Design Career Track' by Springboard: A comprehensive online bootcamp that includes a job-ready curriculum, real-world project with a startup, one-on-one mentorship from industry experts, career coaching sessions, and a job guarantee within 6 months of graduation or money back (terms and conditions apply).
On Skillshare:
The Complete UX/UI Design Fundamentals Course by Alex Matei: This course covers both the fundamentals and a few advanced ideas in UX/UI design.
UI UX Design Workshop by Antony C.: This course is designed specifically for individuals looking to break into the field of UX design.
On Coursera:
How Do I Become A Digital Nomad As a UX/UI Designer?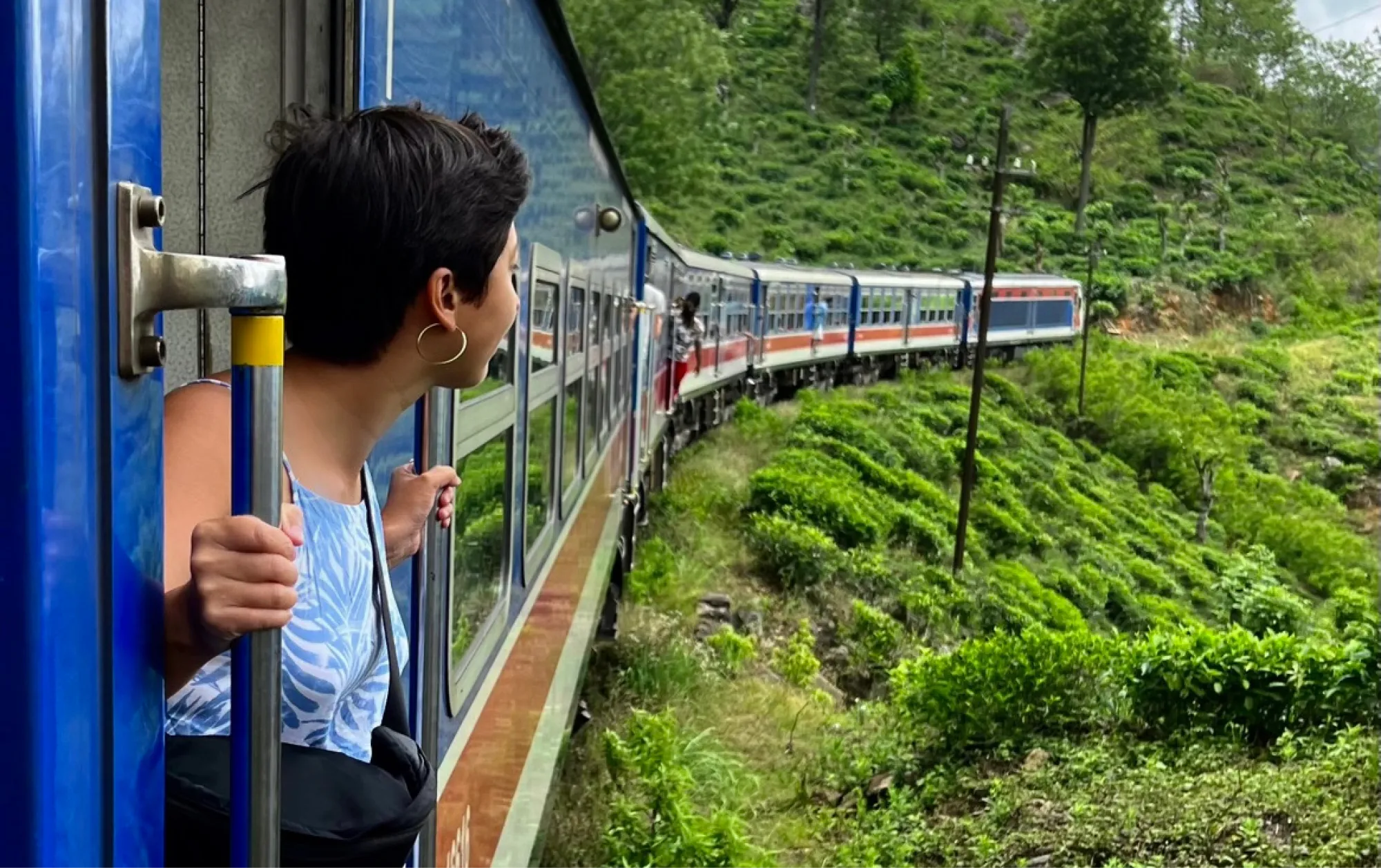 Once we got out of the way the skills required to get the job done along with some useful resources, let's dive into the actual steps that will take you from dreaming about becoming a digital nomad UX/UI designer to actually living that dream.
Step 1: Hone Your Craft
The first step on this exciting journey is developing robust UX/UI design skills. There's a wealth of online courses and boot camps that can help you master the fundamentals and best practices of UX/UI design.
The 'UI/UX Design Career Track' by Springboard' was a game-changer for me. Not only it equipped me with the skills and knowledge I needed, but it also served as the boost I needed to kickstart my freelance career (and therefore my digital nomad lifestyle).
Step 2: Showcase Your Work
Next, you'll need a portfolio that truly reflects your capabilities as a UX/UI designer.
This is your chance to shine, and show off your best work, unique design approach, and the tools and techniques you swear by. Remember to infuse your portfolio with your personal brand and style. It should be a testament to your problem-solving prowess, a knack for crafting user-friendly interfaces, and adaptability to different branding guidelines.
Step 3: Secure Your Remote Income
Before you pack your bags, ensure you have a steady income and an actual remote job that can be accomplished anywhere in the world.
Look for freelance gigs, remote positions, or long-term contracts that resonate with your career goals. Online platforms like Upwork, Fiverr, and Dribbble are excellent starting points.
And don't forget the power of networking! Connecting with fellow designers and clients can lead to valuable referrals and testimonials.
Step 4: Take a Test Drive
Before you fully commit to the digital nomad lifestyle, give remote work a trial run.
Spend a few weeks or months working from home or a shared workspace to ensure you can maintain productivity. And research your destinations thoroughly, considering internet speeds, living costs, visa requirements, and safety.
Preparing a travel itinerary, budget, and backup plan is also a good idea - just in case things don't go as expected.
Step 5: Embrace the Adventure
Living as a digital nomad UX/UI designer is an exhilarating journey, but it's not without its challenges.
Balancing work with exploration, taking care of your health, and dealing with feelings of loneliness or culture shock are all part of the package. Joining local meetups, co-working spaces, or online groups can provide a sense of community.
So, get ready to immerse yourself in new cultures, experiences, and projects you're passionate about, and don't forget to have fun along the way. Because that we are doing it after all, right?
What Are the Pros and Cons of Being a UX/UI Designer?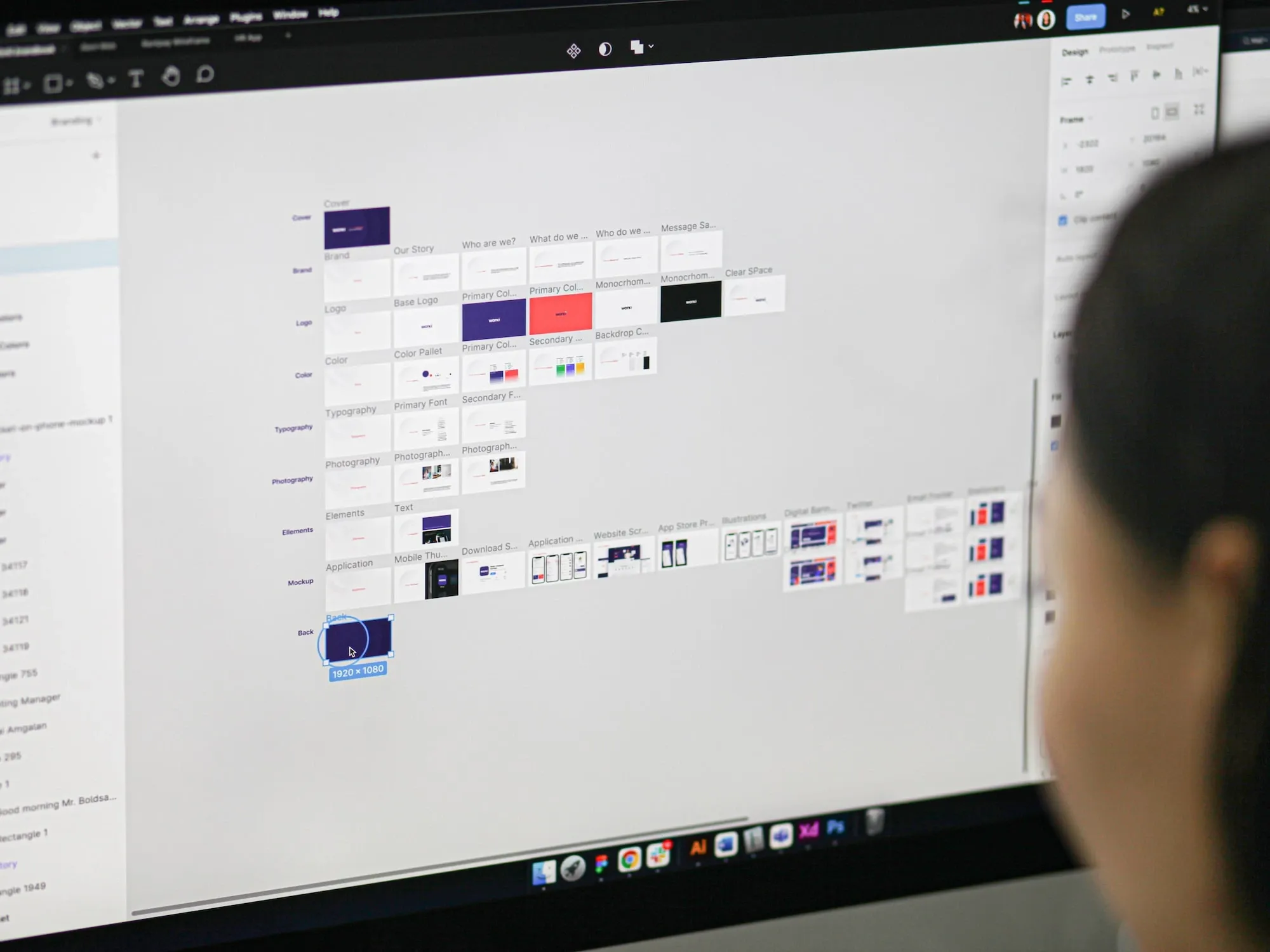 Now that you know which skills you will need and know the steps required to get there, you are probably wondering if it's worth it or not. I totally get it, as I also did my list of pros of cons because of taking a leap of faith and jumping into the unknown.
So, don't worry, I'm going to share with you my list of advantages and disadvantages so you will have a good starting point.
Advantages
The opportunity to effect change by addressing real-world issues and enhancing lives via effective design.
The ability to employ your creative and analytical talents to develop products and services that are user-friendly, accessible, and enjoyable to use.
Working in a vibrant, multidisciplinary industry that's constantly progressing and learning.
High demand for UX/UI designers, numerous job prospects, and competitive compensation.
Utilizing your current skills and experience while acquiring new abilities through online resources and cost-effective certification programs.
Seeing the fruits of your labor swiftly and receiving immediate feedback from users.
Collaborating with diverse businesses, projects, and challenges that maintain your interest and motivation.
The flexibility to work remotely from any location worldwide.
Drawbacks
The need to stay updated with the latest trends, tools, and technologies in the industry
Balancing the needs and expectations of various stakeholders, such as users, clients, developers, marketers, and other designers
Navigating complicated problems that might not have straightforward or easy solutions
Justifying your design choices based on data, research, industry standards, and user requirements
Managing tight deadlines, evolving requirements, and multiple revisions
Ensuring efficient time management, communication, and collaboration while working remotely
Handling constructive criticism and feedback from users and clients
What is the Average Salary of a UX/UI Designer?
At this point, you might be wondering about one of the most important questions. How much exactly does a UX/UI Designer earn?
As a digital nomad constantly traveling and working remotely from many locations, that's a good consideration to make. So let's look at some numbers.
The average salary of a UX/UI designer obviously depends on several factors, including the level of experience, the skillset, the industry, and the location. So for this exercise, we will look at averages across all the industries for UX/UI designers based in the US and the UK.
Research from Talent.com suggests that the typical UX/UI Designer yearly income for a UX/UI designer in the USA hovers somewhere between $84,988 and $144,688.
In London (UK), instead, data shows that a UX/UI Designer can expect to earn between £25,000 and £66,000.
It's important to notice, though, that certain industries and corporations are known to shell out more for UX/UI designers, with the tech and telecom sectors leading the pack, and companies like Google and Microsoft offering some of the most competitive salaries.
UX/UI Freelancer vs Remote UX/UI Employee: Which is Better?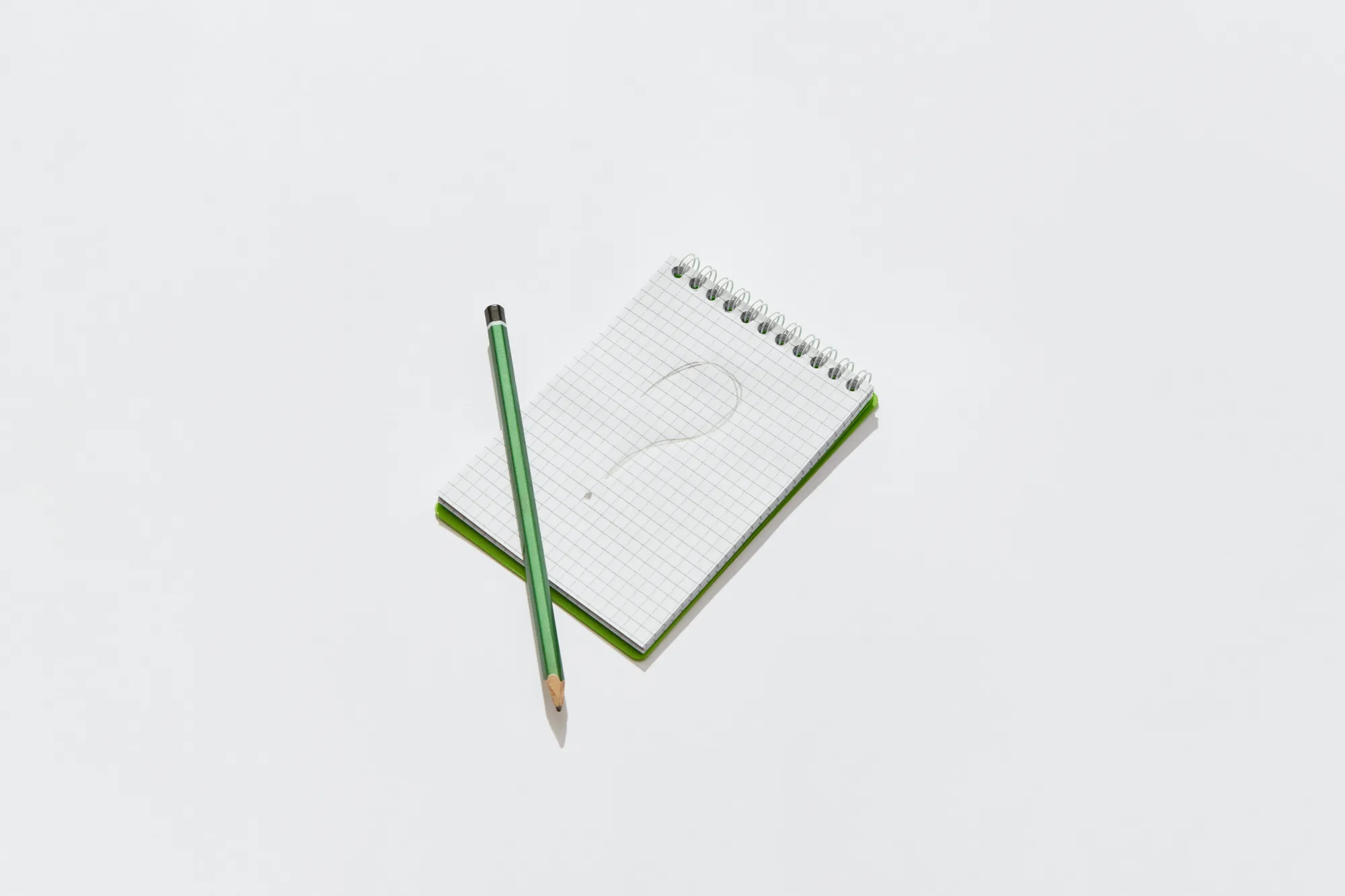 Ah, the age-old question: to freelance or to be an employee? Well, my friend, there's no one-size-fits-all answer to this, as it largely depends on your personal preferences, work style, and career goals.
As a UX/UI freelancer, you're your own boss. You have the freedom to choose the projects you work on, set your own rates, and manage your own schedule. It's a great option if you love variety, independence, and the thrill of running your own business. Plus, it can be quite rewarding financially if you're able to establish a strong client base.
However, with great freedom comes great responsibility. You'll need to handle your own taxes, continuously look for new clients, and manage all aspects of your business.
On the other hand, being a remote UX/UI employee offers more stability. You'll have a steady income, a set number of work hours, and often, benefits like health insurance and paid time off. You'll also have the opportunity to collaborate with a consistent team, which can lead to strong work relationships and more opportunities for mentorship and learning.
Still, you'll have less flexibility than a freelancer and you'll need to adhere to the company's policies and culture.
So, which is better?
It's really up to you. If you value independence and variety, freelancing might be your cup of tea. If you prefer stability and being part of a team, then being a remote employee could be a better fit. Remember, there's no right or wrong choice here - it's all about finding the path that best suits your lifestyle and career aspirations.
What Does a Typical Day As a UX/UI Designer Looks Like?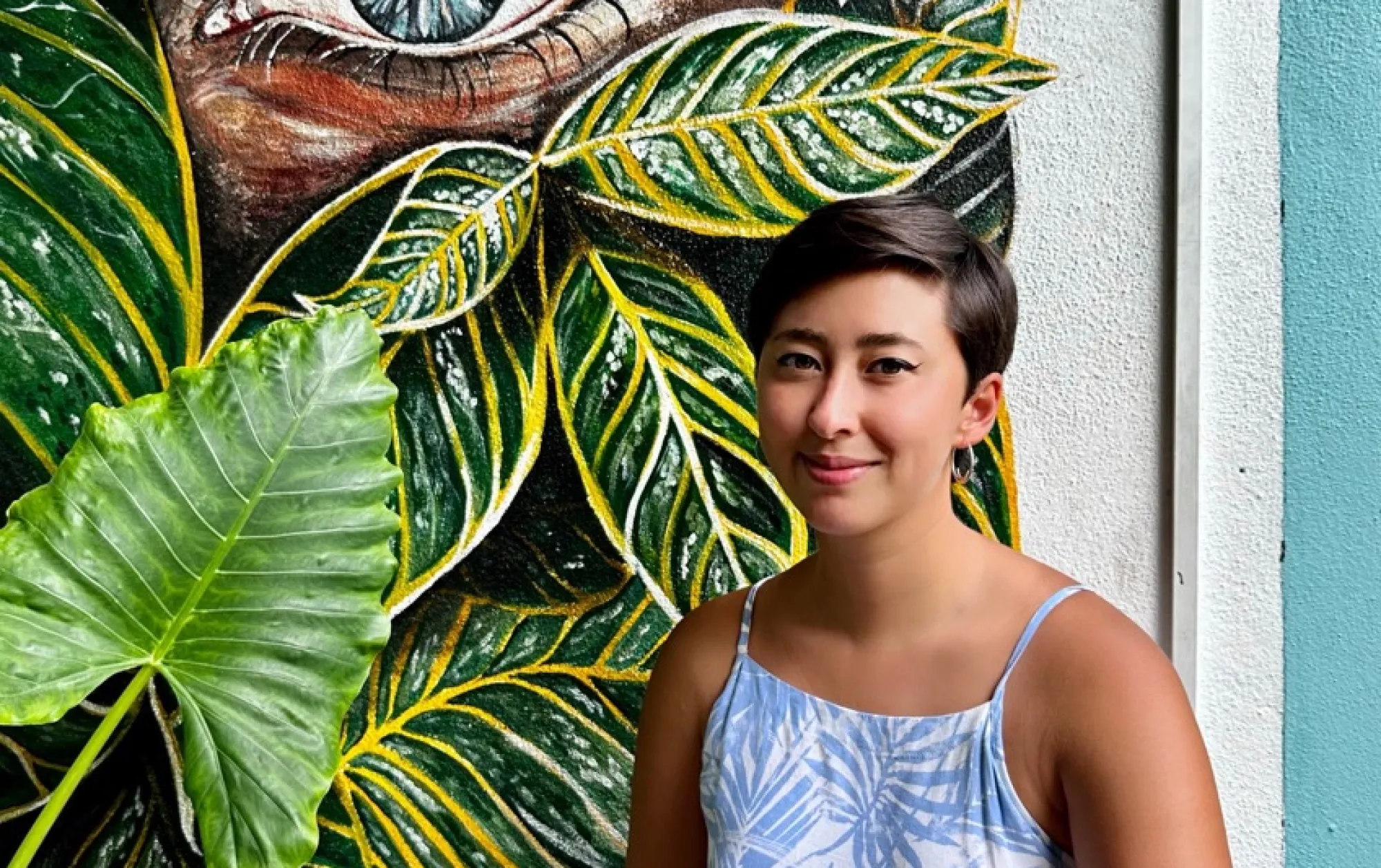 As a digital nomad UX/UI designer, each day is a unique blend of work, exploration, and cultural immersion so there is not really a typical day.
However, I'll try to share a glimpse of what my typical day might look like:
My day kicks off at 9 am, as I sift through emails and messages from clients and teammates scattered across different time zones. Flexibility is my middle name, and asynchronous responses are my game. I then review my calendar and to-do list, strategizing my day based on task priorities.
After a quick breakfast, I set up my workspace for the day. Sometimes it's a bustling local cafe with the perfect blend of reliable Wi-Fi, comfy seating, and exceptional coffee. Other times, when I crave solitude or silence, my Airbnb or local guest house becomes my office.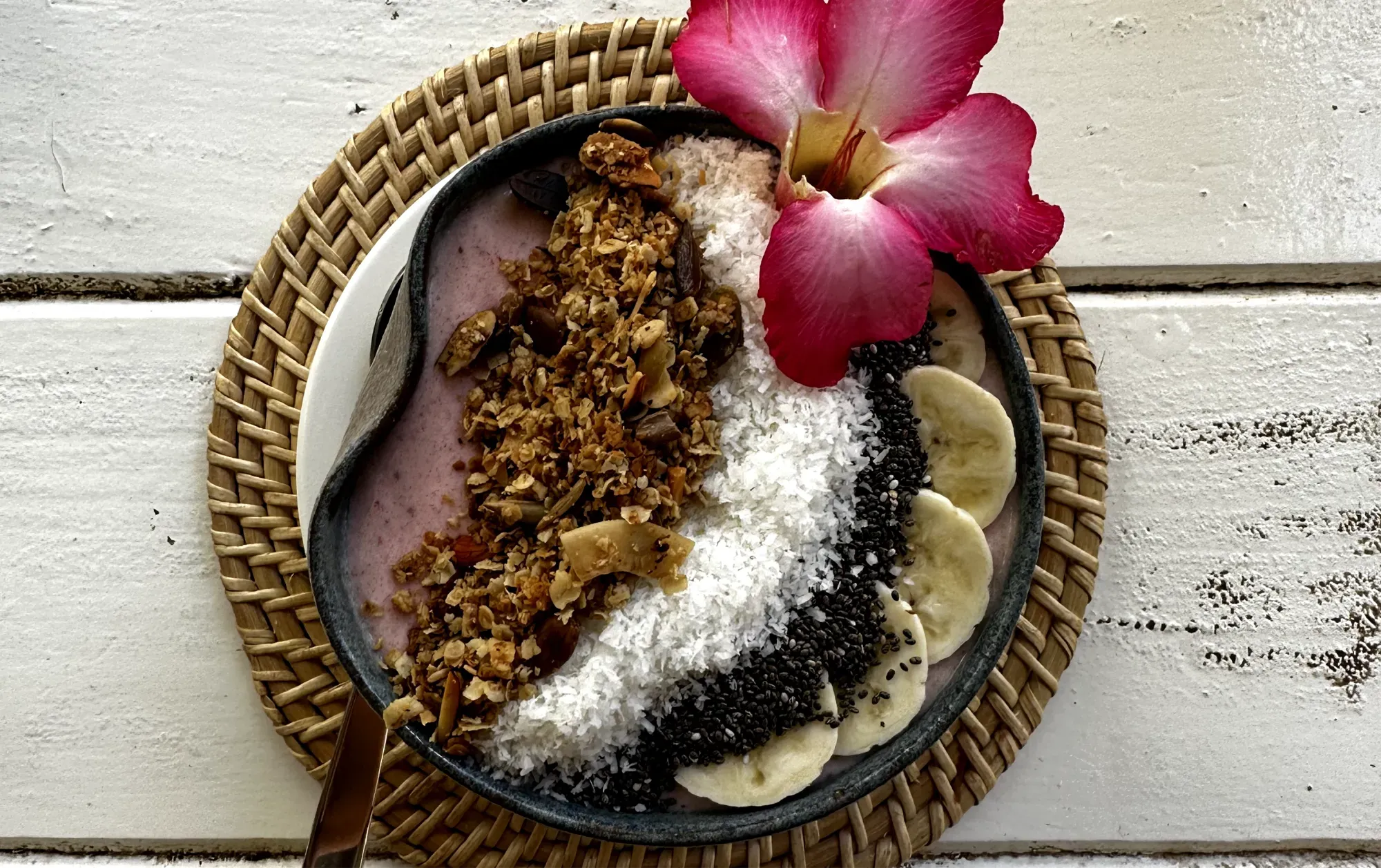 By 9:30 am, I'm deep into my projects. My day might involve conducting user research, crafting wireframes, building prototypes, testing, or immersing myself in UI design. Figma is my go-to tool for design, while Slack, Google Meet, and Loom are my trusty sidekicks for seamless collaboration and design presentations.
Lunchtime around 1:30 pm is a culinary adventure. I love exploring the local cuisine and culture of my current location. Sometimes, I'll join fellow digital nomads or travelers, swapping stories and tips over a meal.
I then go back to work at 1:30 pm, and I usually continue until 4-5 pm. This stretch often includes meetings or calls to discuss project progress and feedback, although I'm a huge fan of asynchronous communication so you can find me recording Looms in a meeting room of a coworking. Amidst the hustle, I carve out some 'me time' to stay updated with the latest UX/UI trends, experiment with new tools, or participate in workshops. Sometimes, I just go for a walk and enjoy the surroundings to take a break from work.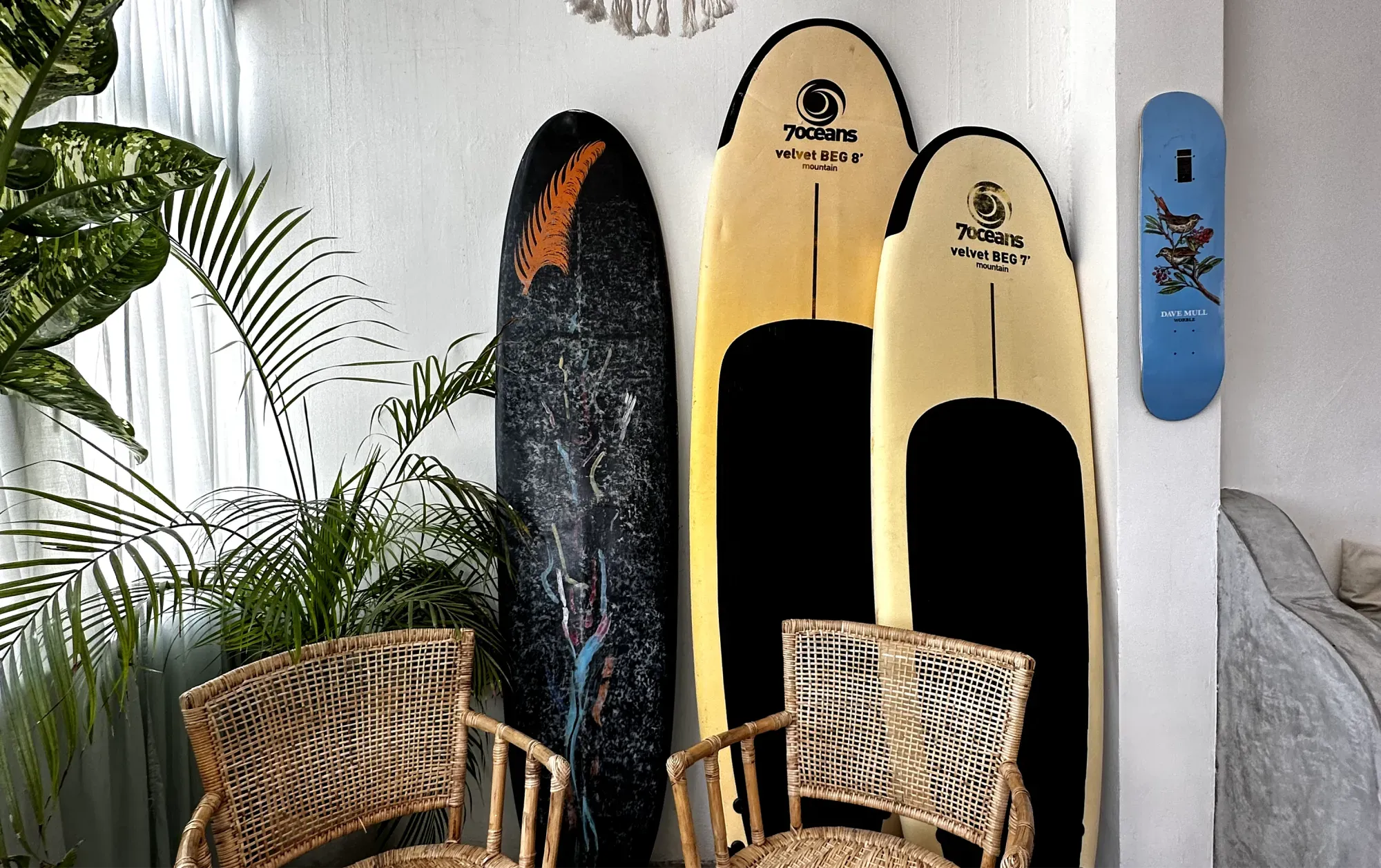 It's time for leisure once the workday wraps up. I might take a leisurely stroll, visit local attractions, join community events, or simply relax at my accommodation. If a location shift is on the horizon, I'll also plan my travel itinerary for the next exciting destination.
As 10 pm rolls around, I call it a day, recharging for another vibrant day ahead in the life of a digital nomad UX/UI designer.
Becoming a UX/UI Designer: Some Popular Questions Answered
Do I need a degree to become a UX/UI designer?
You do not need a specific degree to become a UX/UI designer. Many UX/UI designers come from different backgrounds and disciplines, such as psychology, anthropology, or even Art History (like me)! However, you need to learn the right hard skills to be considered for a UX/UI design role through online courses, certifications, or boot camps, such as the "UI/UX Design Bootcamp" by Springboard. By using this special referral offer, you can avail a substantial discount of $750 on your first Springboard course!
How long does it take to become a UX/UI designer?
It generally takes around two years to become a UX/UI designer. However, you can learn the basics of UX/UI design in as little as 12 weeks by taking an online course or a boot camp, such as the "UI/UX Design Bootcamp" by Springboard. By using this special referral offer, you can avail a substantial discount of $750 on your first Springboard course.
Do UX/UI designers need to know how to code?
No, UX/UI designers do not need to know how to code. However, understanding how coding works can help UX/UI designers communicate better with developers, design more feasible and realistic solutions, and enhance their skills and value. If you are looking for a great website to start learning about coding, check out Code Academy.
Can I become a UX/UI designer if I have no design background?
Yes, you can become a UX/UI designer if you have no design background, but you will need to learn the essential skills and tools of UX/UI design. You can learn UX/UI design through online courses, certifications, or boot camps, such as the "UI/UX Design Bootcamp" by Springboard. By using this special referral offer, you can avail a substantial discount of $750 on your first Springboard course!
How can I stay updated with UX/UI trends?
To keep up with the latest in UX/UI, chat with fellow designers in online communities, attend interesting workshops, or follow inspiring industry leaders on social media. Don't forget to read up on the latest articles and books, play around with new tools, take part in design challenges, and always be mindful of industry standards. And of course, keep your portfolio fresh, and remember, teamwork often leads to the best creations!
How can I practice and improve my UX/UI design skills?
Boosting your UX/UI design skills is key to creating user-friendly, innovative, and effective products. You can do this by enrolling in online UX/UI courses for in-depth learning and feedback, engaging with other designers in online communities, employing user testing to refine your designs, and using tools like Sketch or Adobe Photoshop to create realistic mockups. Remember, UX/UI design is always evolving, so stay curious, keep learning, and don't shy away from seeking feedback and mentorship.
What's the difference between a UX/UI designer and a product designer?
The terms UX/UI Designer and Product Designer are sometimes used interchangeably, but there can be subtle differences based on the organization or the specific role. A UX/UI Designer typically focuses on a product's user experience (UX) and user interface (UI). On the other hand, a Product Designer often has a broader role that may encompass both UX and UI design and a product's overall strategy, objectives, and direction.
Can a UX/UI designer work as a digital nomad?
Absolutely! UX/UI design is one of the professions that lends itself quite well to remote work, making it a great fit for the digital nomad lifestyle. A UX/UI designer can work on projects virtually anywhere with a laptop and a reliable internet connection. However, effective communication and time management skills are crucial in successfully navigating the challenges of different time zones and remote work environments.
Are You Ready To Become a UX/UI Designer?
If you want to receive digital nomad guides like these, sign up for our free newsletter and get upcoming articles straight to your inbox!
You can also follow us on Instagram and join our Facebook Group if you want to get in touch with other members of our growing digital nomad community!
We'll see you there, Freaking Nomads!
Disclosure: Hey, just a heads up that some of the links in this article are affiliate links. This means that, if you buy through our links, we may earn a small commission that helps us create helpful content for the community. We only recommend products if we think they will add value, so thanks for supporting us!