If you're hunting for a fast, reliable, and user-friendly LTE router with exceptional battery life, the Netgear Nighthawk M1 router is definitely an interesting option to consider.
In this in-depth review, I'm going to dive into what sets this nifty device apart, the aspects I'm not so fond of, and all the essentials you need to decide if the Netgear Nighthawk M1 is worth your hard-earned money in today's router marketplace.
If you're a bit short on time, just check the price here and snag one for yourself. Trust me, you won't have any regrets. I've been using it for about three years and still don't see the need to upgrade.
But enough chit-chat, let's get to it.
Is the Netgear Nighthawk M1 Router Any Good?
The Nighthawk M1 is still an excellent router choice. Let me tell you why:
It is uncomplicated to set up and use
The battery lasts all day
The design looks cool
It is light
It works as a power bank for smaller devices if needed
It is compatible with an endless list of service providers
You can use a MIMO antenna to power up its receiving power
Even with the newer Netgear M6 and the M6 Pro in the picture, the M1 is still a well-rounded package at a competitive price for a premium LTE router from a brand that is smoking its competition.
Yes, Netgear products are pricey, but they are worth the investment.
I got my Netgear M1 three years ago when I decided to go all-in as a digital nomad. I've been with this device across various locations mostly between Latin America and Europe—and it's delivered steadfast connection with each local carrier I got.
Whether I was in a lovely Café in Medellín or struggling with power outages in Durrës. The Nighthawk M1 always offered reliable connectivity when needed the most.
💡
Pro tip: Carry your Netgear Nighthawk M1 in your hand luggage. Some airlines won't let you put it in checked bags because they have safety concerns with the battery.
But it's not all positive.
The device is pricey, and setting up the MIMO antenna is tricky but worth it once you've found the right spot. Furthermore, it lacks 5G connectivity. So, It might not be as future-proof as some of you might like. Also, it doesn't come with a SIM card adapter.
This though are all downsides that keep the M1 among the best mobile hotspots for remote workers out there.
What Does the Nighthawk M1 LTE Mobile Router Look Like?
If you are wondering how the Nighthawk M1 looks like, here are some pictures of the actual product. Let's check it out.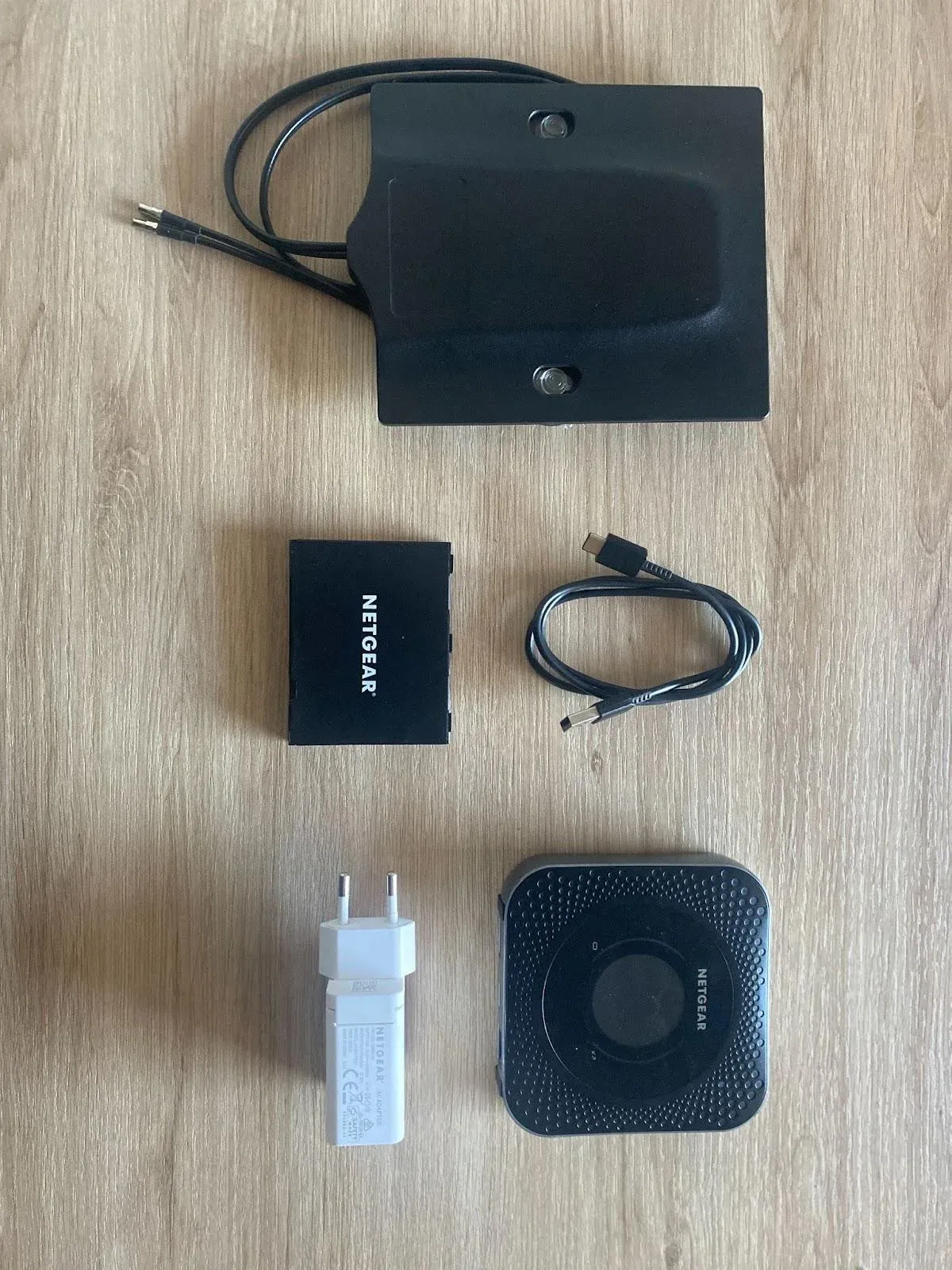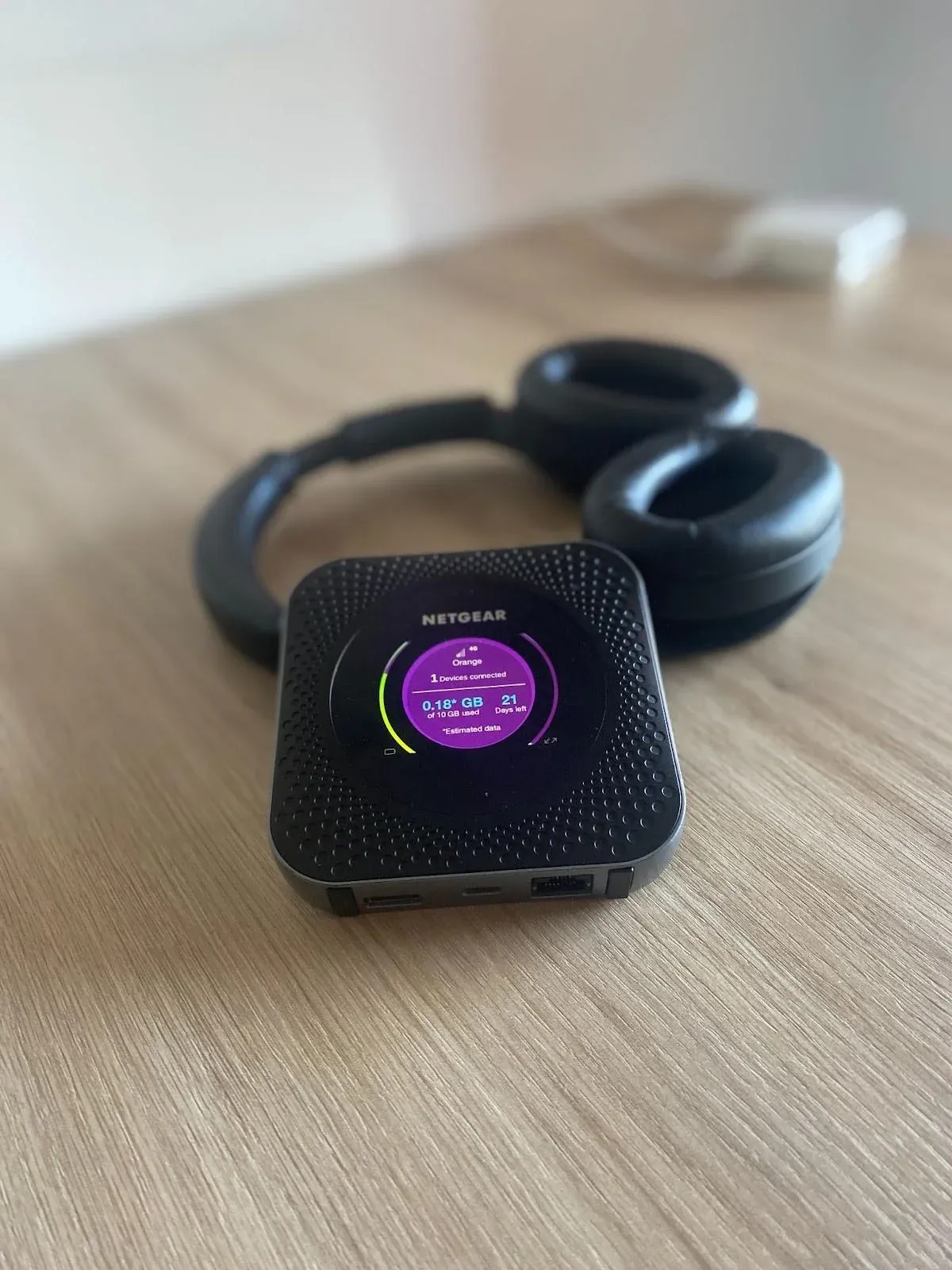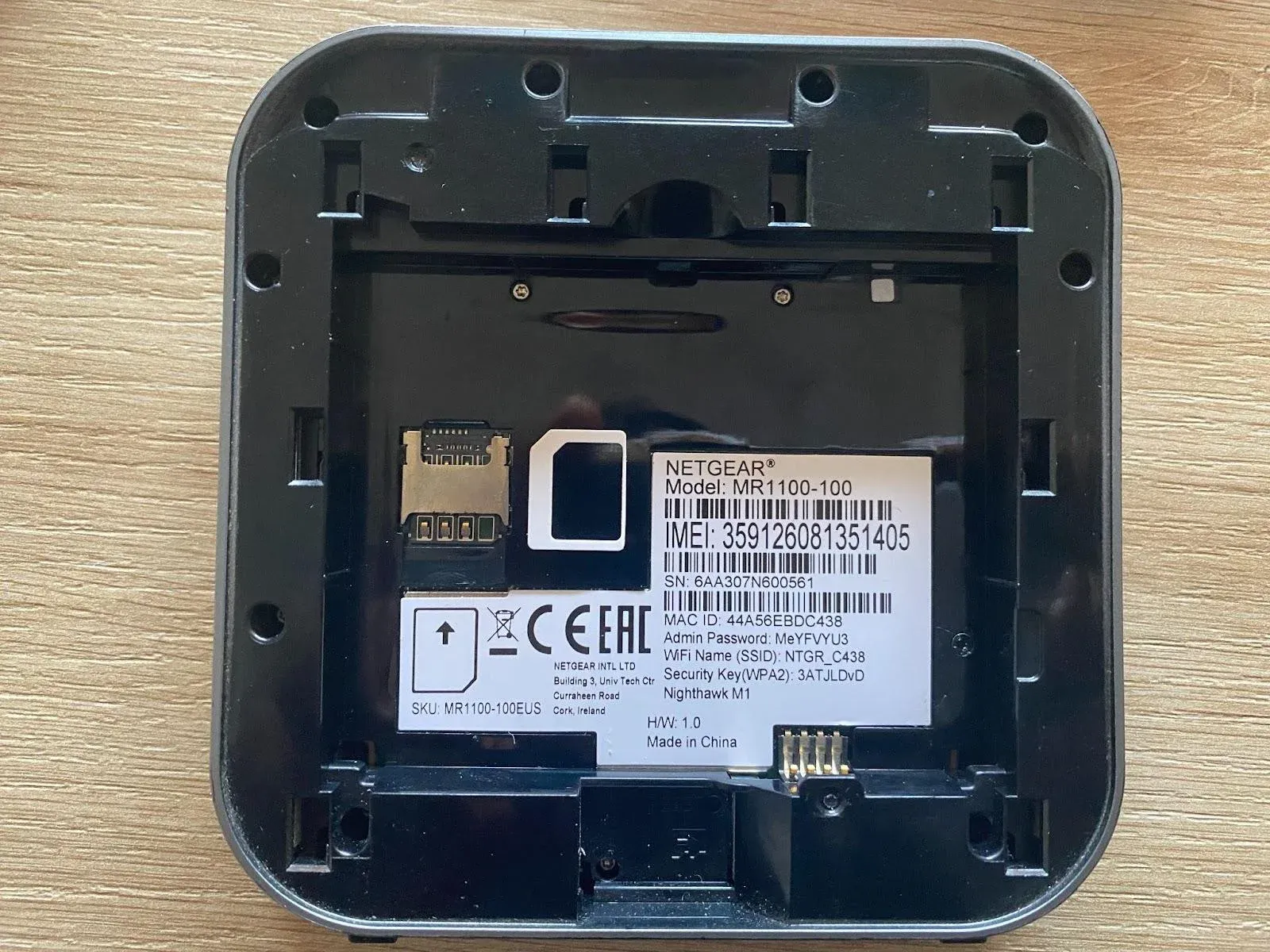 Do you want to give the Netgear M1 a shot? Check the price at the time of writing below.
Let's Get Nerdy: Nighthawk M1 Mobile Router Key Specs
Netgear Nighthawk M1 LTE Router Specifications
PHYSICAL SPECIFICATIONS
Dimensions
105.5 (L) x 105.5 (W) x 20.35 (H) mm
Weight
240 g (with battery)
TECHNICAL SPECS
Technology/Bands
Max 1 Gbps download speeds, and 150 Mbps upload speeds.
LTE CAT 16, 4-band CA and 4x4 MIMO.
Up to 4X Carrier Aggregation and support for LAA in future firmware upgrades.
LTE/4G Bands: 1, 2, 3, 4, 5, 7, 12, 14, 29, 30, 66.
3G Bands: 1, 2, 5.
IPV6 Support
Chipset
Qualcomm MDM9x50
Battery
Removable Li-ion battery (5040 mAh); Up to 11 hours of continuous usage
Wi-Fi
Full Dual-Band/Dual-Concurrent Wi-Fi.
Wi-Fi 802.11 b/g/n 2.4 GHz.
Wi-Fi 802.11 a/n/ac 5 GHz
Max Theoretical Downlink Speed
1 Gbps
Data Usage Meter
Manage your data and how much you use
Media
microSD with Media Server/NAS capabilities
External Display
1.77" LCD display
Now, if that number soup left you confused, here's what you need to know about the Netgear Nighthawk M1 LTE Router specs in a more digestible way:
High-Speed Internet On-the-Go: Offers fast internet up to 1 Gbps, which is as fast as many home broadband connections.
Shareable Wi-Fi: This can provide internet access for up to 20 devices, making it ideal for families or small teams.
Long Battery Life: Can last up to 11 hours on a single charge, allowing for all-day use without needing to recharge.
Travel-Friendly: Its pocket-sized design makes it easy to take with you, ensuring you have internet access wherever you go.
Easy to Set Up: Simple setup process with no need for installing software, so you can quickly get online.
Screen Display: Comes with a small screen that shows information about your internet connection and usage.
Expandable Storage: It has a microSD slot, which means you can insert a memory card to share files across your connected devices or stream media.
Future-Proof: Ready for future updates to support new internet technologies like LAA for even faster speeds.
Dual-Band Wi-Fi: Supports two Wi-Fi frequencies for better performance and less interference, which means a more stable internet connection.
Portable Charging: You can use it to charge other small devices like smartphones and tablets, thanks to its JumpBoost feature.
Netgear Nighthawk M1: Pros and Cons
Now, let's break down the advantages and disadvantages of owning a brand new Netgear Nighthawk M1:
Nighthawk M1 Mobile Router Pricing Vs. Quality
The Nighthawk M1 does come with a substantial price tag. If you want to make it your travel companion, be prepared to pay about $250. The price tag goes up to around $300 if you also purchase the Netgear MIMO antenna.
Yes, that price isn't that enticing. I know.
For many, spending that much on an LTE router might seem excessive. However, it's worth mentioning that this device costed nearly twice as much just three years ago. And when you compare it to the latest Nighthawk M6 models, which range from $700 to $1,000, it puts things into perspective.
As someone who has used the M1 for the last three years, I can confidently say I have no regrets about the investment. No matter where I've traveled, as long as I had access to a reliable service provider, I had reliable internet— a crucial piece of the puzzle in funding my travels.
I also had some dirt-cheap LTE routers and learned the hard way that good hardware makes all the difference, especially when it comes to remote working.
So, if reliable internet connectivity is a priority for you, the price is absolutely worth it.
Also, consider that some employers offer technology or office perks. If you're fortunate to have such benefits, investing in a robust LTE router like this should be a no-brainer.
While it's true that the Nighthawk M1 is a pricier option, I believe the cost is justified. The quality of the materials, travel-friendly design, clean interface, straightforward setup process, firmware updates, and exceptional battery life all contribute to its value.
This router isn't just another gadget; in my view, it's an investment in peace of mind for anyone who frequently changes their remote office view and needs solid, on-the-go internet while traveling.
💡
Pro Tip: If you know you'll be most of the time working from major cities, save some money by skipping the MIMO antenna. You won't need it.
Should You Buy The Netgear Nighthawk M1?
The Nighthawk M1 is ideal for anyone looking for a premium LTE router with excellent battery life and connectivity without breaking the bank.
Also, someone who doesn't require the speed of faster 5G mobile hotspots to get things done would definitely appreciate this device.
On the other hand, if you love having cutting-edge technology, money isn't a constraint, and 5G connectivity is a top priority for your workflow on the go, this router isn't for you and you might want to check out the best 5G portable WiFi in the market right now: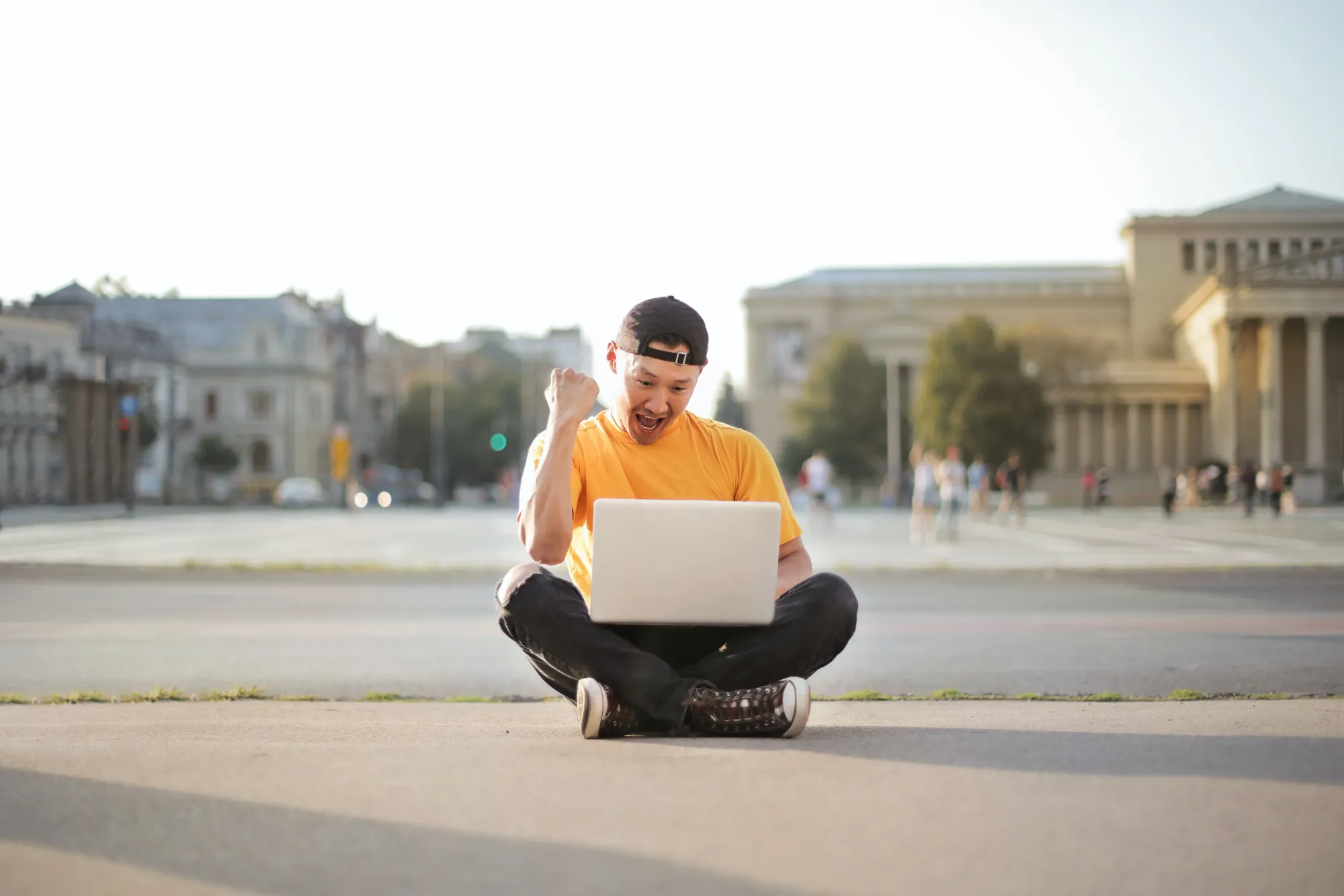 However, be aware that having 5G is nice but, given that the global transition to 5G is still under development in several countries, the M1's 4G capabilities still do the job flawlessly for most people. Below you can find a map of the availability of the 5G so you can see it with your own eyes.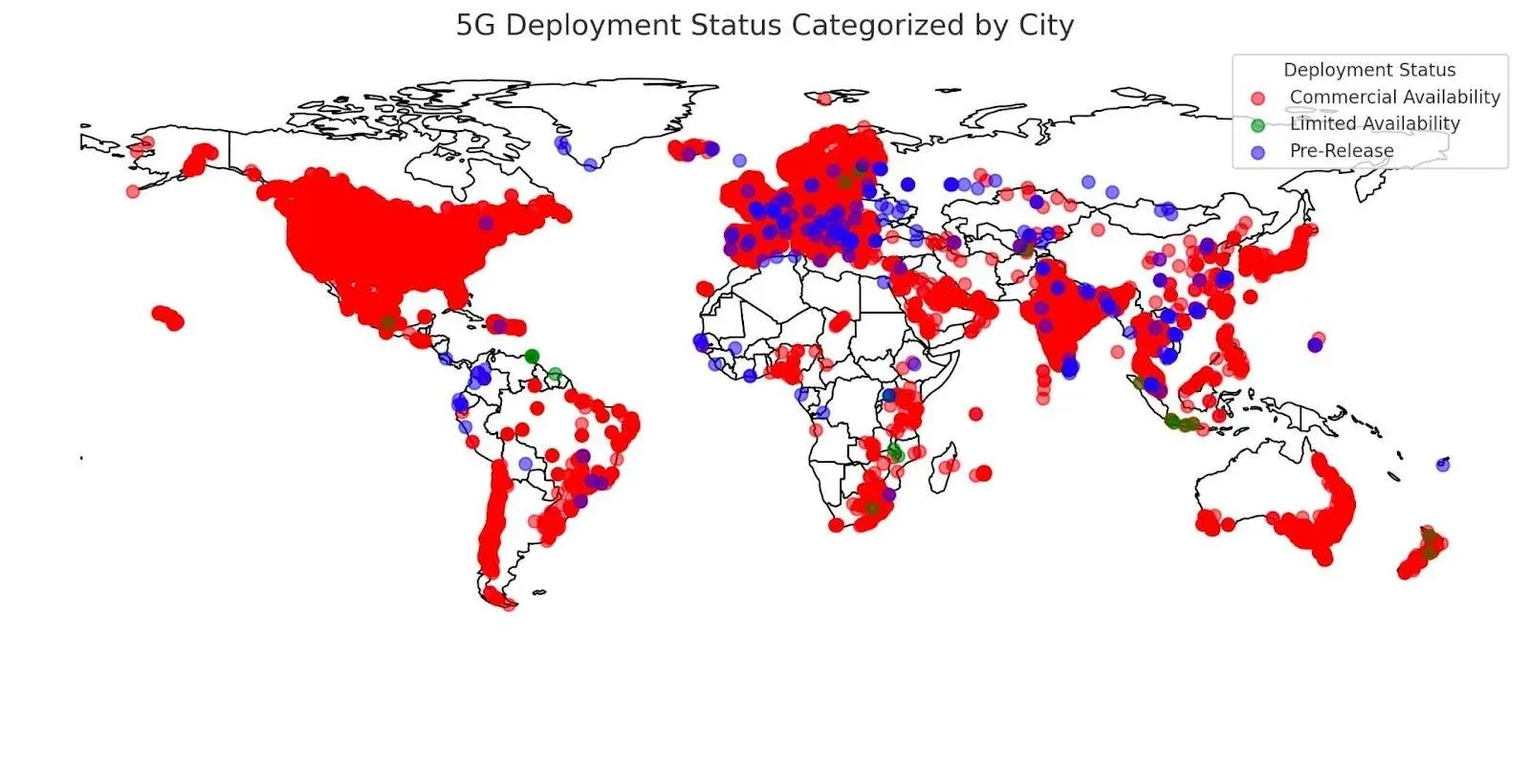 💡
Red dots represent cities with commercial 5G availability, green dots represent limited availability, and blue dots represent cities in the pre-release phase.
Nighthawk Netgear M1 in Action: An Example of Its Speed Performance
If you want to see how the NetGear M1 performs while tested, here is the latest speed test results I run in Spain using the Orange carrier: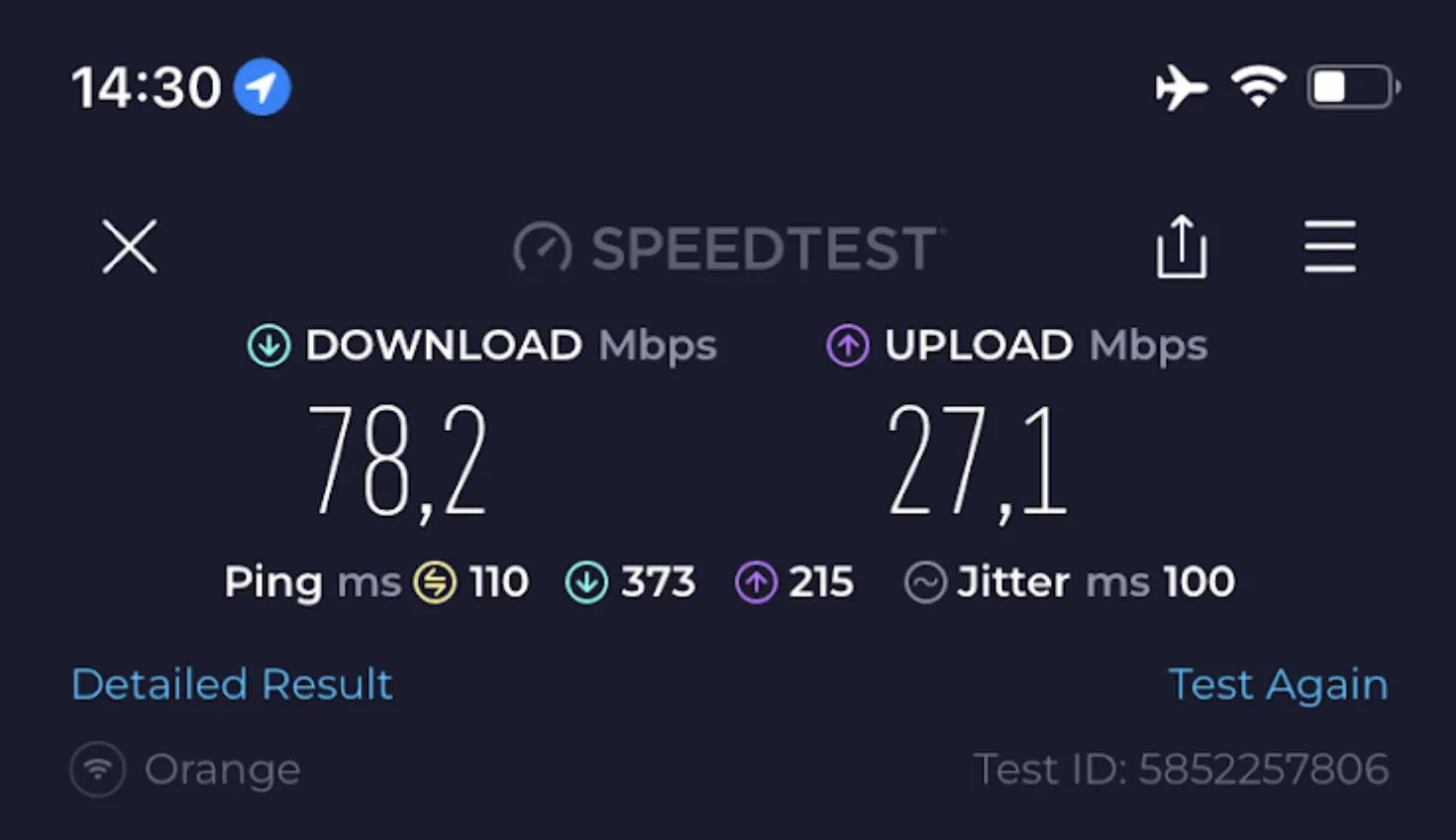 Netgear M1 Mobile Router: Pro Tips and Tricks
The Nighthawk M1, with all its potential, can sometimes feel like an elegant paperweight if you're not optimizing it with the right carrier.
That's where these pro tips and tricks come in handy. Knowledge is power so let's see how to make the most of your Nighthawk M1.
1. Download the Open Signal App
The Open Signal app is a great service that will you understand which service provider offers the best coverage in the areas you plan to explore. No more guesswork about whether X, Y, or Z mobile service provider is the best choice for your LTE router!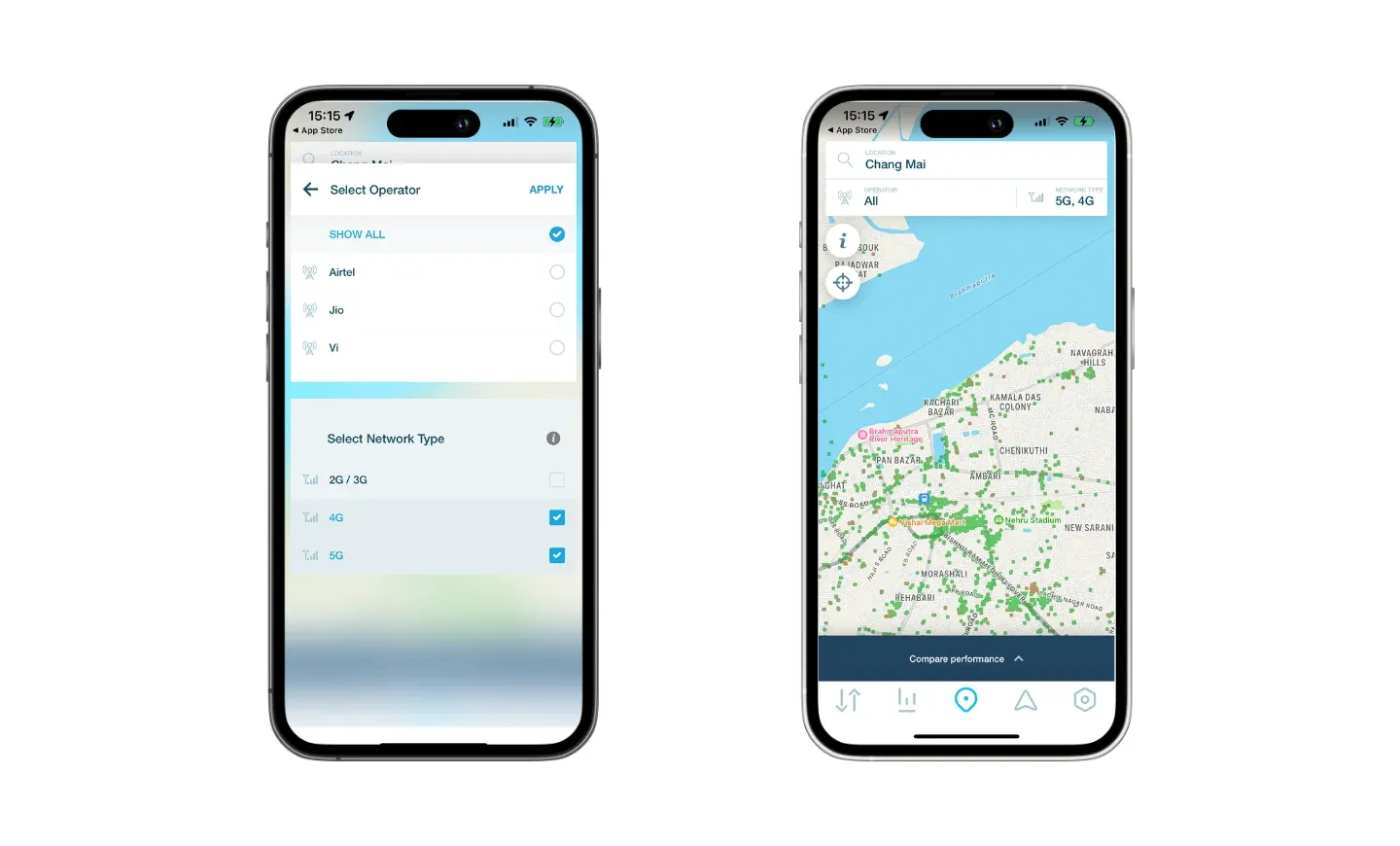 2. Cracking the MIMO Antenna Code
The Open Signal app isn't just about identifying your local service provider's strength and coverage; it's also your key to correctly setting up the MIMO antenna.
💡
If you're primarily in well-connected cities, you might not even need the antenna. I've ventured into some remote areas where the antenna was a game-changer, but I've used it only a handful of times in the last three years.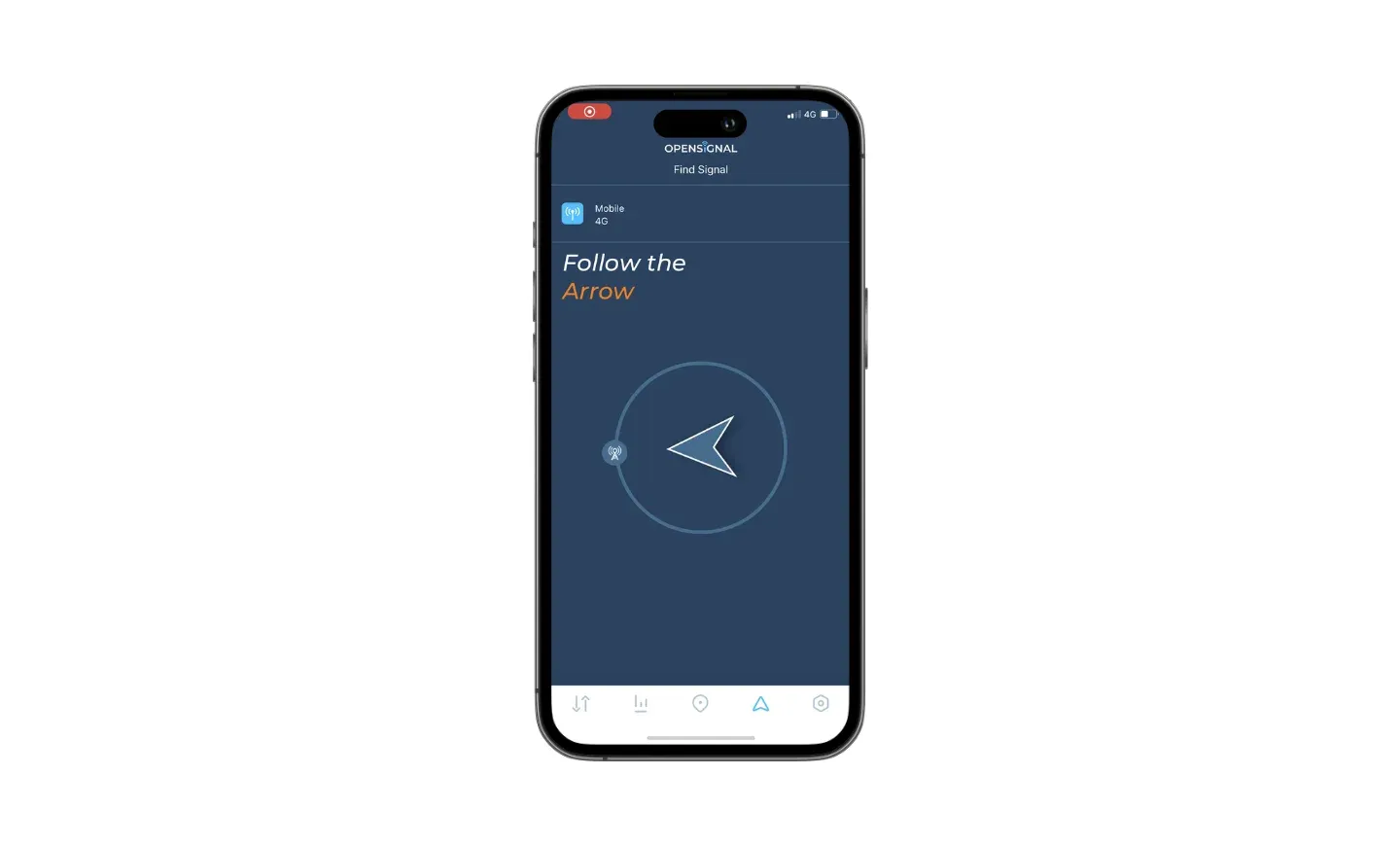 Here's how to get it right:
With your new local SIM card in your phone, open the Open Signal app and tap the arrow icon.
Move your phone around until the arrow points toward the nearest cell tower.
Follow that arrow to the spot in your place that's closest to the tower, and mark it.
Insert the SIM card into your Nighthawk M1 router.
Place the router where you marked it or as close as possible to a window.
Position your antenna on the window, facing the tower.
Test the speed from the M1 router. If you're not satisfied, rinse and repeat until you achieve the desired speeds.
It's a bit of trial and error, but once you nail it, you'll appreciate the results!
3. Troubleshooting: Check Your APN Settings
Sometimes, your Netgear Nighthawk M1 just won't cooperate and connect to the internet.
Having used this device in around seven different countries, I can tell you that more often than not, the culprit is incorrect APN settings.
Normally, your M1 takes care of this automatically. You pop in a new SIM card, your device joins the network, and voila, it grabs the right settings. But sometimes, technology throws a curveball.
Here's how to get back on track:
Connect to Your M1 Router from your computer.
Access the Nighthawk M1 UI. You can do this by visiting http://m.home/, http://m1login.net, or simply typing 192.168.1.1 into your web browser.
Once you're on the home screen, head to Settings.
Click on Advanced Settings, then Cellular, and add or edit the APN profile of your service provider.
Don't forget to save your changes!
Try connecting again.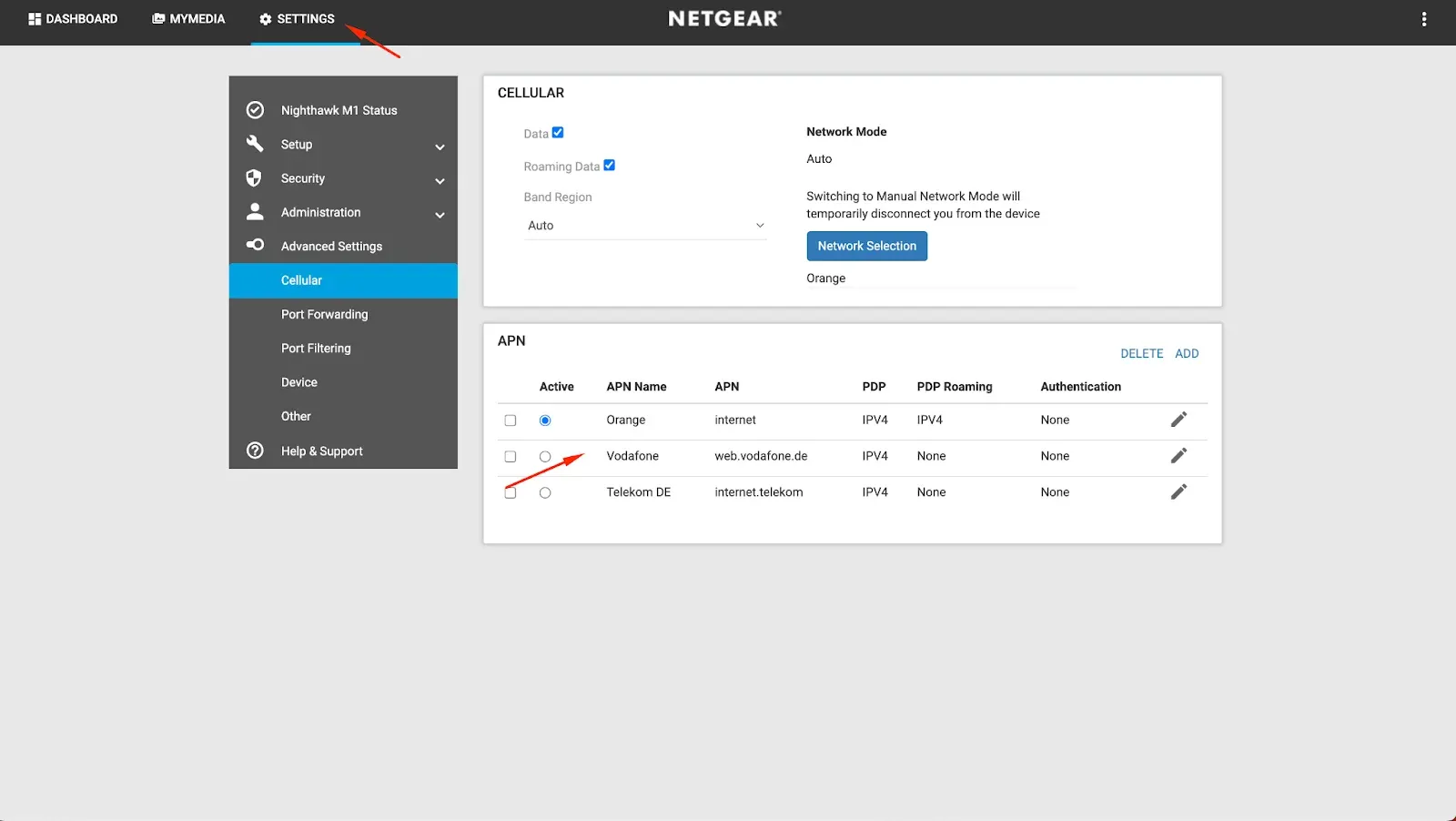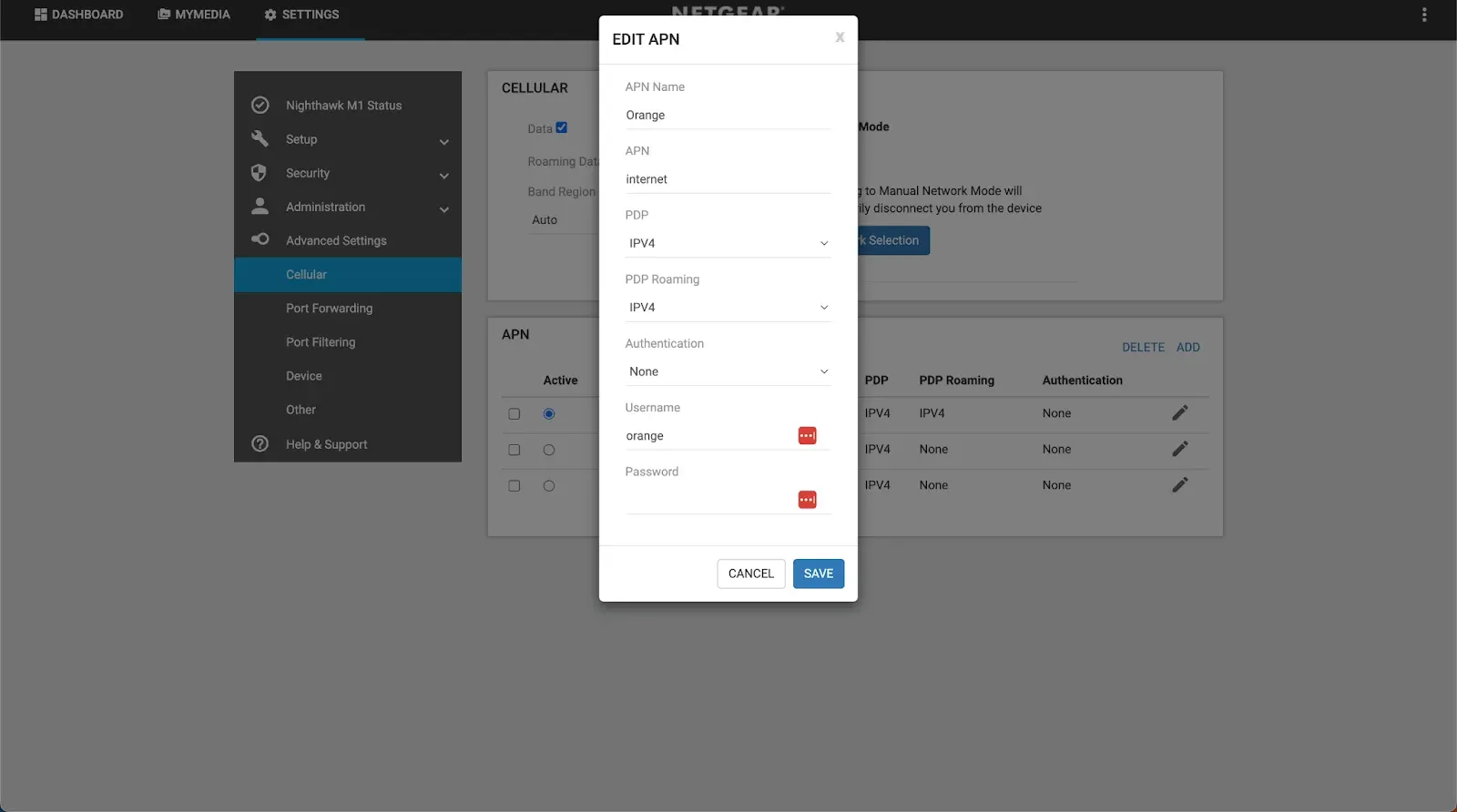 You have the APN settings of most companies available online. A quick Google search from your phone, using this format: "[Your Service Provider's Name] APN settings [Current Year]" should yield a list of settings to resolve your connectivity issues.
But wait, what If I need a connection to look for APN settings?
In this case, your best bet is finding a public Wi-Fi network.
Here at Freaking Nomad, we actually prefer eSims for this sort of thing. Check out below some trusted eSims you can get for emergencies.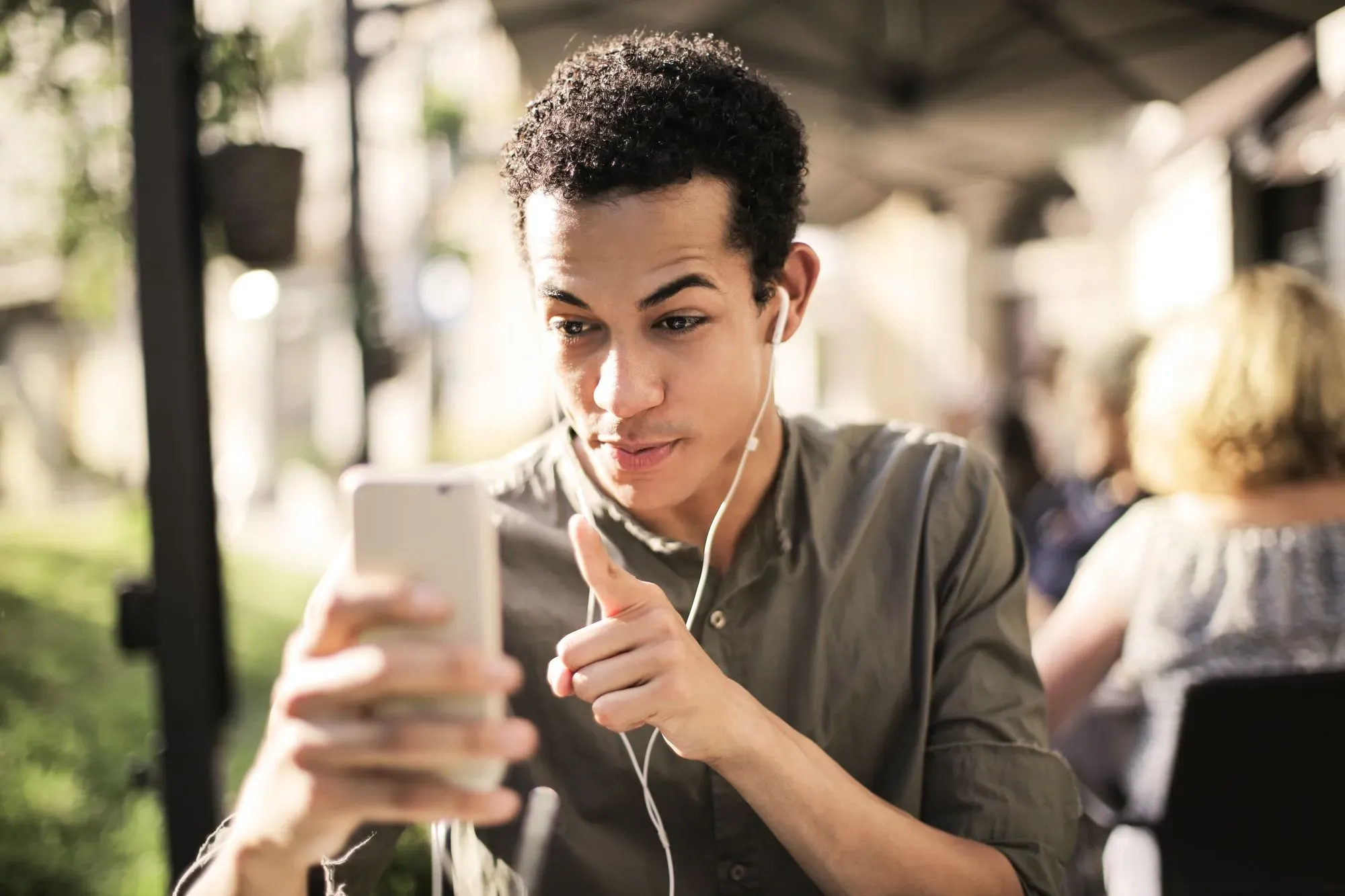 ---
With these tips and tricks up your sleeve, you'll run the M1 mobile router like a pro.
But, what if you're not feeling this router is good for you? Well, let's check some alternatives.
Netgear Nighthawk M1 Alternatives
While the Netgear Nighthawk M1 is a solid choice for many, it's not the only player in the game. If you're exploring alternatives that might better suit your specific needs or budget, here are a few noteworthy contenders:
For those who prioritize budget and portability, the Simo Solis Lite 4G is an impressive option. It's a compact device offering decent LTE performance and a good battery life, perfect for casual users or as a secondary connectivity option.
Price: Approx. $140
Battery Life: Up to 16 hours
LTE Performance: Up to 150 Mbps
Portability: Very Compact/Light
Max Connected Devices: Up to 10
Display: No
Wi-Fi Bands: Dual-Band
External Antenna Support (Yes/No): No
Sim Card Type: Patented vSIM Technology
Memory Card: No
Stepping up the game in terms of performance and features, the Nighthawk M6 Pro offers impressive LTE speeds and connectivity options. Ideal for power users seeking the latest tech and greater device connectivity.
Price: Approx. $850
Battery Life: Up to 24 hours
LTE Performance: Up to 8 Gbps
Portability: Compact/Light
Max Connected Devices: Up to 32
Display: Yes (LCD)
Wi-Fi Bands: Dual-Band
External Antenna Support (Yes/No): Yes
Sim Card Type: Micro SIM
Memory Card: Yes (MicroSD)
The GlocalMe G4 Pro is a great pick for travelers and digital nomads. It provides a balance between affordability and functionality, with enough features to keep you connected without the bells and whistles that might inflate the price.
Price: Approx. $80
Battery Life: Up to 12 hours
LTE Performance: Up to 150 Mbps
Portability: Very Compact/Light
Max Connected Devices: Up to 10
Display: Yes (LCD)
Wi-Fi Bands: Dual-Band
External Antenna Support (Yes/No): No
Sim Card Type: Nano Sim
Memory Card: No
---
Whether you're looking for something more budget-friendly, need higher performance, or want a travel-friendly companion these alternatives offer a range of options. Each has its unique strengths, so consider what matters most to you in your mobile connectivity solution.
To help you do so, I've build the following comparison table to see how the M1 stacks up against other market offerings:
| Feature / Router | Netgear Nighthawk M1 | Alternative 1: Simo Solis Lite | Alternative 2: Nighthawk M6 Pro | Alternative 3: GlocalMe G4 Pro |
| --- | --- | --- | --- | --- |
| Price | Approx. $250 | Approx. $140 | Approx. $850 | Approx. $80 |
| Battery Life | Up to 24 hours | Up to 16 hours | Up to 24 hours | Up to 12 hours |
| LTE Performance | Up to 1 Gbps | Up to 150 Mbps | Up to 8 Gbps | Up to 150 Mbps |
| Portability (Size/Weight) | Compact/Lightweight | Very Compact/Light | Compact/Light | Very Compact/Light |
| Max. Connected Devices | Up to 20 | Up to 10 | Up to 32 | Up to 10 |
| Display | Yes (LCD) | No | Yes (LCD) | Yes (LCD) |
| Wi-Fi Bands | Dual-Band | Dual-Band | Dual-Band | Dual-Band |
| External Antenna Support | Yes | No | Yes | No |
| SIM Card Type | Micro SIM | Patented vSIM Technology | Micro SIM | Nano Sim |
| Memory Card Slot | Yes (MicroSD) | No | Yes (MicroSD) | No |
So, Is The Netgear Nighthawk M1 Worth It?
We saw how the Netgear Nighthawk M1 can be a great addition to your remote work arsenal. Although it doesn't come with the newest 5G technology, it still offers a solid, reliable 4G connection that doesn't stutter or stall as you hop from timezone to timezone.
It's a device that understands the assignment: keep you connected, anywhere, anytime, without fuss.
The M1 It's the kind of router that doesn't beg for attention with flashy features but earns its place by being consistently reliable.
For anyone wondering if they should get one, the M1 is a clear-cut case of getting what you pay for: dependable internet access in a pocket-sized powerhouse.
It's perfect for the here-and-now of internet coverage, especially in places where 5G is just a buzzword, not a reality.
If you're chasing stability over speed, the M1 is your match. If your heart is set on future-proofing with 5G, you might want to wait it out. But for the practical professional, the M1 checks all the right boxes.
---
Other remote work gear you may also be interested in: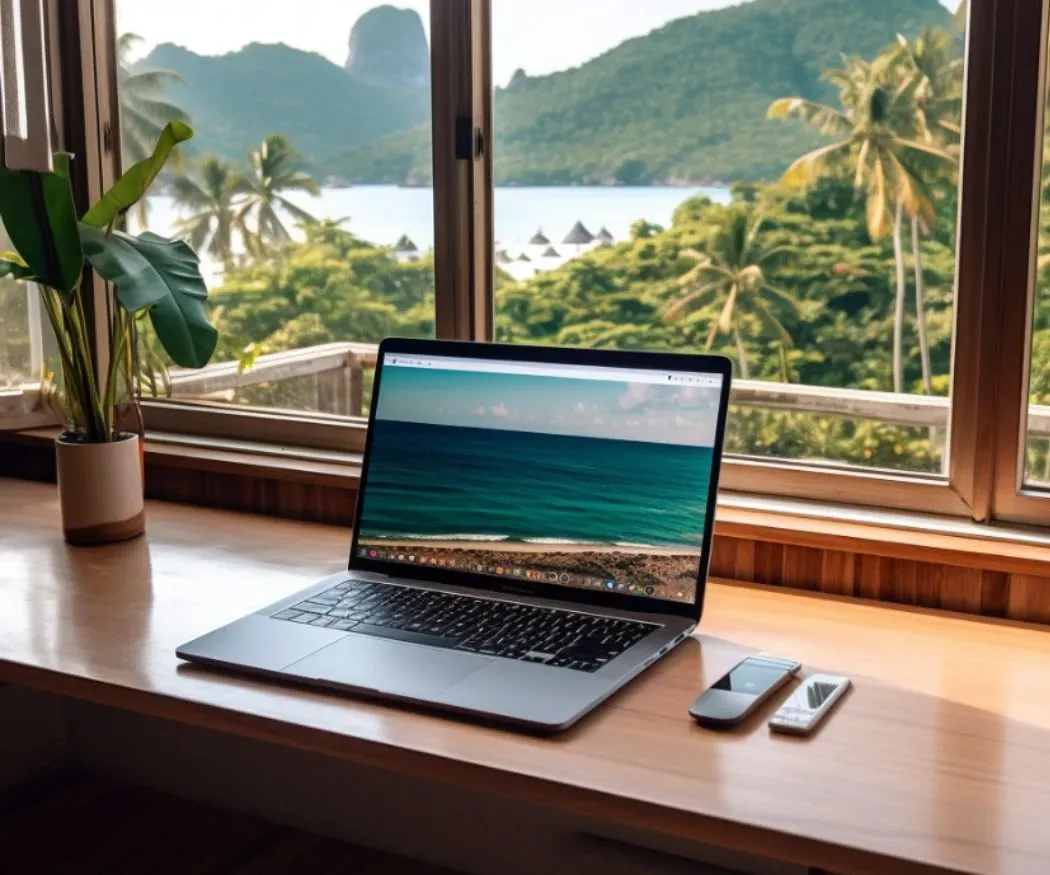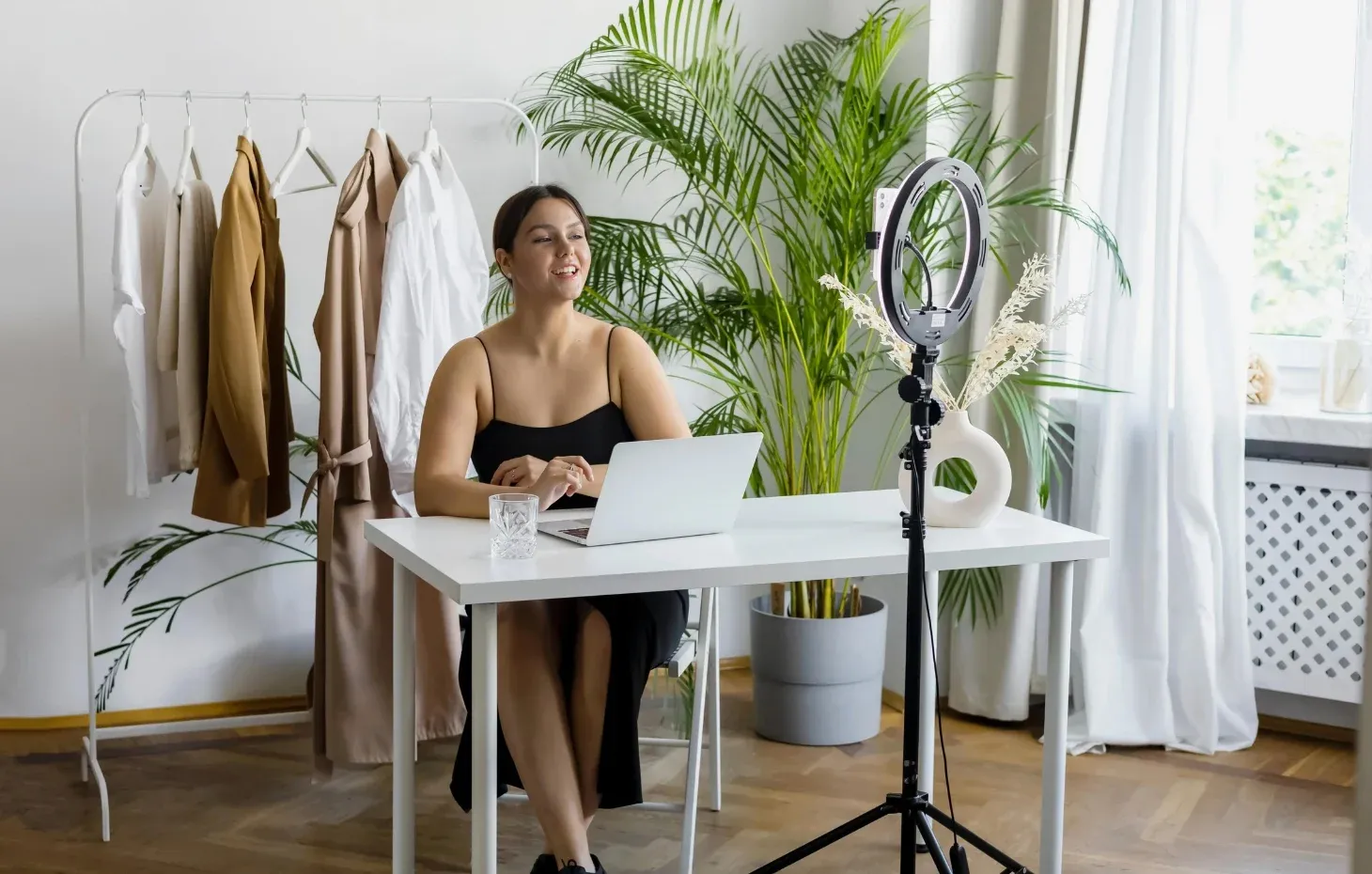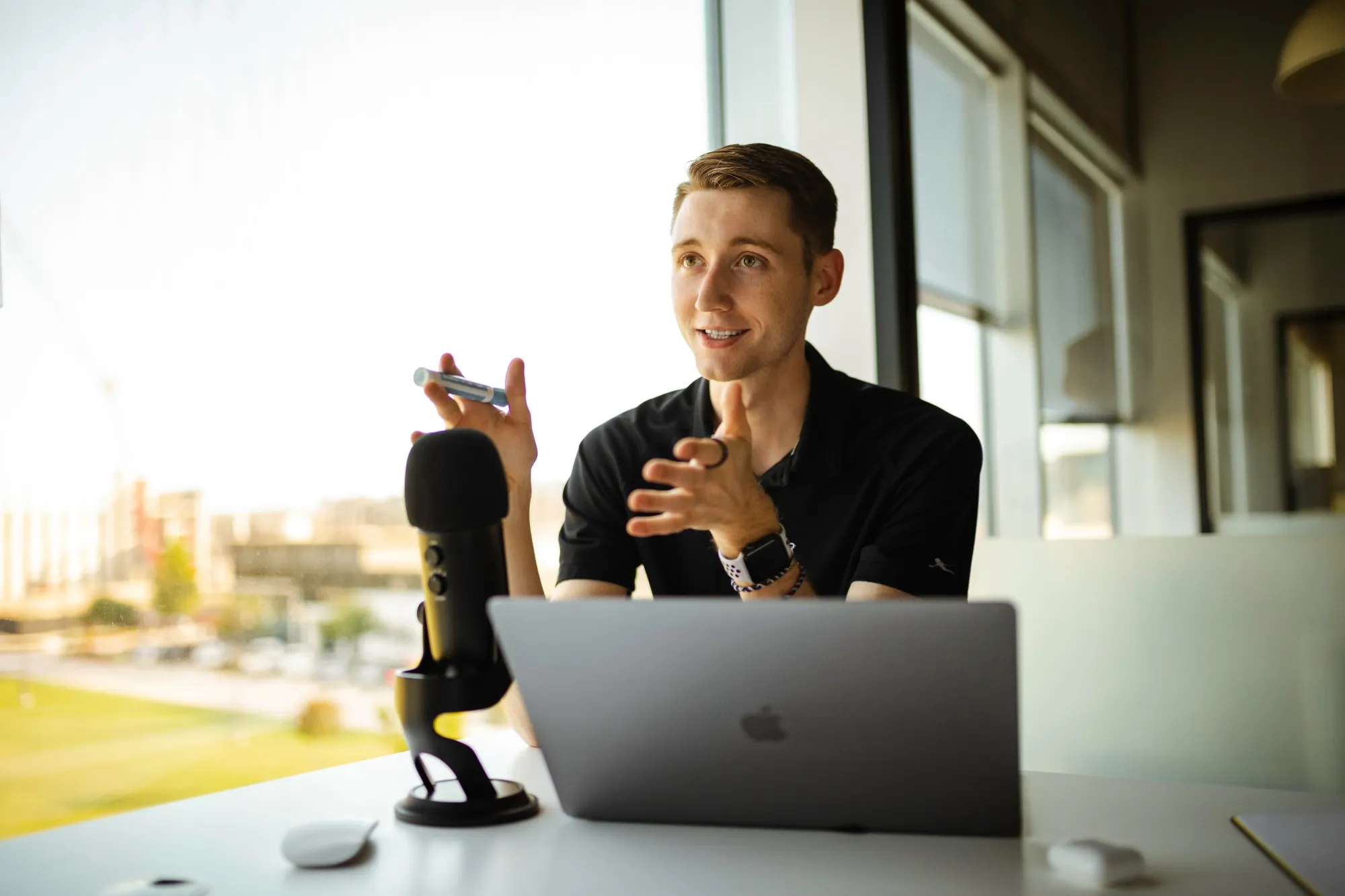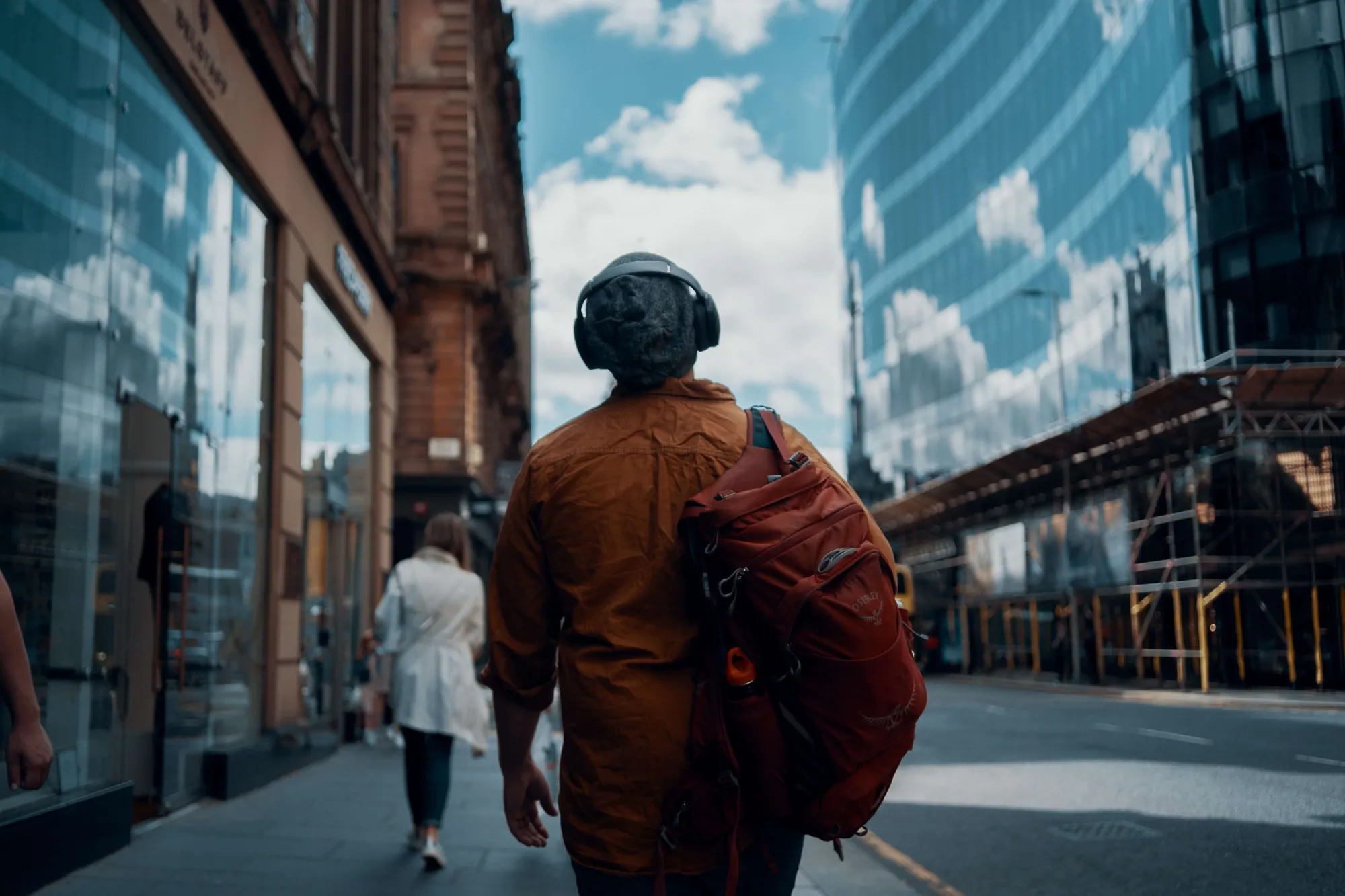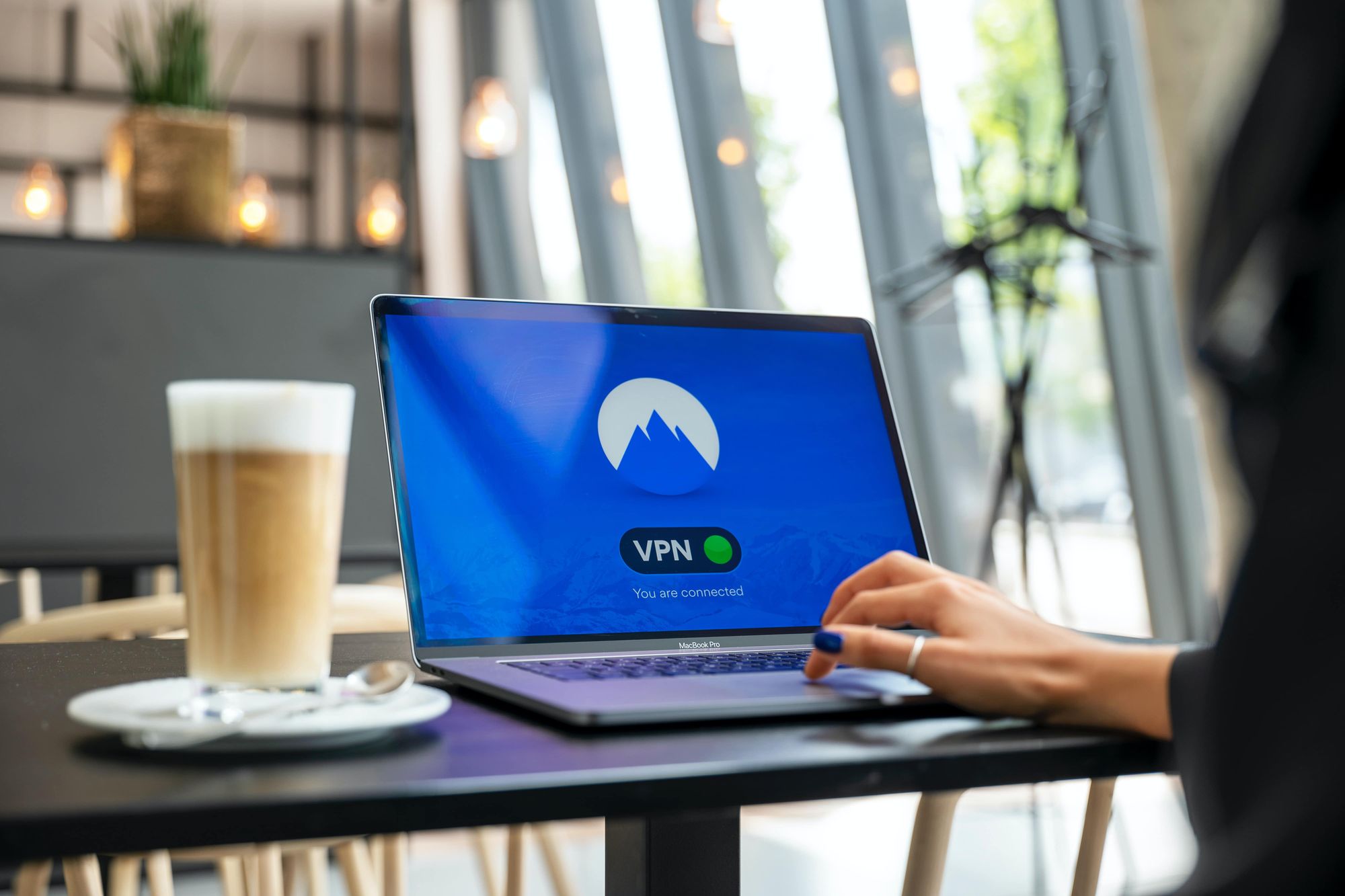 ---
Ready To Try The Netgear Nighthawk M1?
If you want more digital nomad guides like these, sign up for our free newsletter and get upcoming articles straight to your inbox!
You can also follow us on Instagram and join our Facebook Group if you want to get in touch with other members of our growing digital nomad community!
We'll see you there, Freaking Nomads!
Disclosure: Hey, just a heads up that some of the links in this article are affiliate links. This means that, if you buy through our links, we may earn a small commission that helps us create helpful content for the community. We only recommend products if we think they will add value, so thanks for supporting us!