In Chiang Mai, tradition meets modernity, making it a digital nomad's dream come true.
The city's intriguing mix of ancient temples alongside vibrant street markets provides a captivating alternative to Thailand's more well-known beach destinations.
Chiang Mai has also established itself as the top hotspot for digital nomads worldwide in recent years. Whether you're keen on immersing yourself in Thai culture, eager to explore local food, or simply searching for a tranquil setting for your remote work, Chiang Mai ticks all the boxes. The city boasts abundant co-working spaces, lightning-fast internet, and a thriving community of fellow digital nomads.
However, Chiang Mai isn't a one-size-fits-all destination. While some may revel in the city's laid-back atmosphere and cultural richness, others might miss the hustle and bustle of larger cities or the oceanic vistas of coastal towns.
As with any location, it's essential to consider what you're looking for in a destination and how it aligns with your personal and professional needs. To help you make an informed decision, we've crafted this comprehensive guide that delves into all the facets of life in Chiang Mai for digital nomads. If that intrigues you, keep reading!
Where Is Chiang Mai Located?
Tucked away in the mountainous terrain of Northern Thailand, Chiang Mai is situated roughly 700 kilometers north of Bangkok, Thailand's bustling capital.
The city is enveloped by verdant jungles and undulating hills, offering a peaceful retreat from the fast-paced life of other Southeast Asian urban centers.
But Chiang Mai's prime location doesn't just offer you a picturesque workspace; it also serves as a perfect launching pad for exploring the region's natural splendors. Attractions like the Doi Inthanon National Park and serene countryside villages are just a short drive away.
And if you're looking to explore beyond Chiang Mai, you're in luck—neighboring cities and charming villages like Pai and Chiang Rai (famous for its white temple) are easily accessible within a few hours, whether you opt for a bus journey or a motorbike adventure.
Why Visiting Chiang Mai As A Digital Nomad?
Chiang Mai has been steadily gaining attention in the digital nomad community, and it's not hard to see why. The city's food scene is very diverse, featuring everything from street vendors to food markets that offer affordable and tasty options.
1. It's Great for Outdoor Lovers
If you're into sightseeing, landmarks like Doi Suthep and Doi Inthanon (the highest mountain in Thailand) are worth a visit, as are the unique sticky waterfalls. We'd recommend exploring these spots independently rather than through organized tours for a more genuine experience.
2. It Has a Strong Remote Work Infrastructure
While Chiang Mai has become a popular choice for many digital nomads—some of whom have been residing in the city for extended periods—it still offers a balanced mix of modern conveniences and traditional Thai culture. It's a city that provides a relatively peaceful atmosphere for remote work, complemented by the essentials like reliable internet and communal workspaces.
There's a good range of coworking spaces equipped with reliable, high-speed internet and a productive atmosphere. While most are in the Nimmanheim district, you can also find options in other city areas. But these spaces are not just about getting work done; they're also community hubs. Here, you can cross paths with nomads passing through for a short period, as well as those who've made the city their home for an extended time. Many of these coworking spaces strongly emphasize community and host various events, from casual socials to more business-focused gatherings—ideal for networking or making new friends.
3. It Has a Rich History
Chiang Mai isn't solely about work and gastronomic delights; it offers a variety of experiences worth exploring. If you are interested in history or architecture, the city's ancient temples, and past as a former Thai capital provide a decent array of cultural activities. The natural attractions nearby, including waterfalls and hiking trails, also offer options for weekend getaways.
4. It's a Vibrant City
As a university town, Chiang Mai has a youthful atmosphere that's noticeable but not overwhelming. The student population ensures a good selection of cafes and bars for casual hangouts or meeting new people.
For those who enjoy nightlife, Chiang Mai has a range of options. The city is a known stopover for backpackers, adding a bit of vibrancy to the night scene, offering everything from quiet bars to lively clubs.
How Can You Get To Chiang Mai?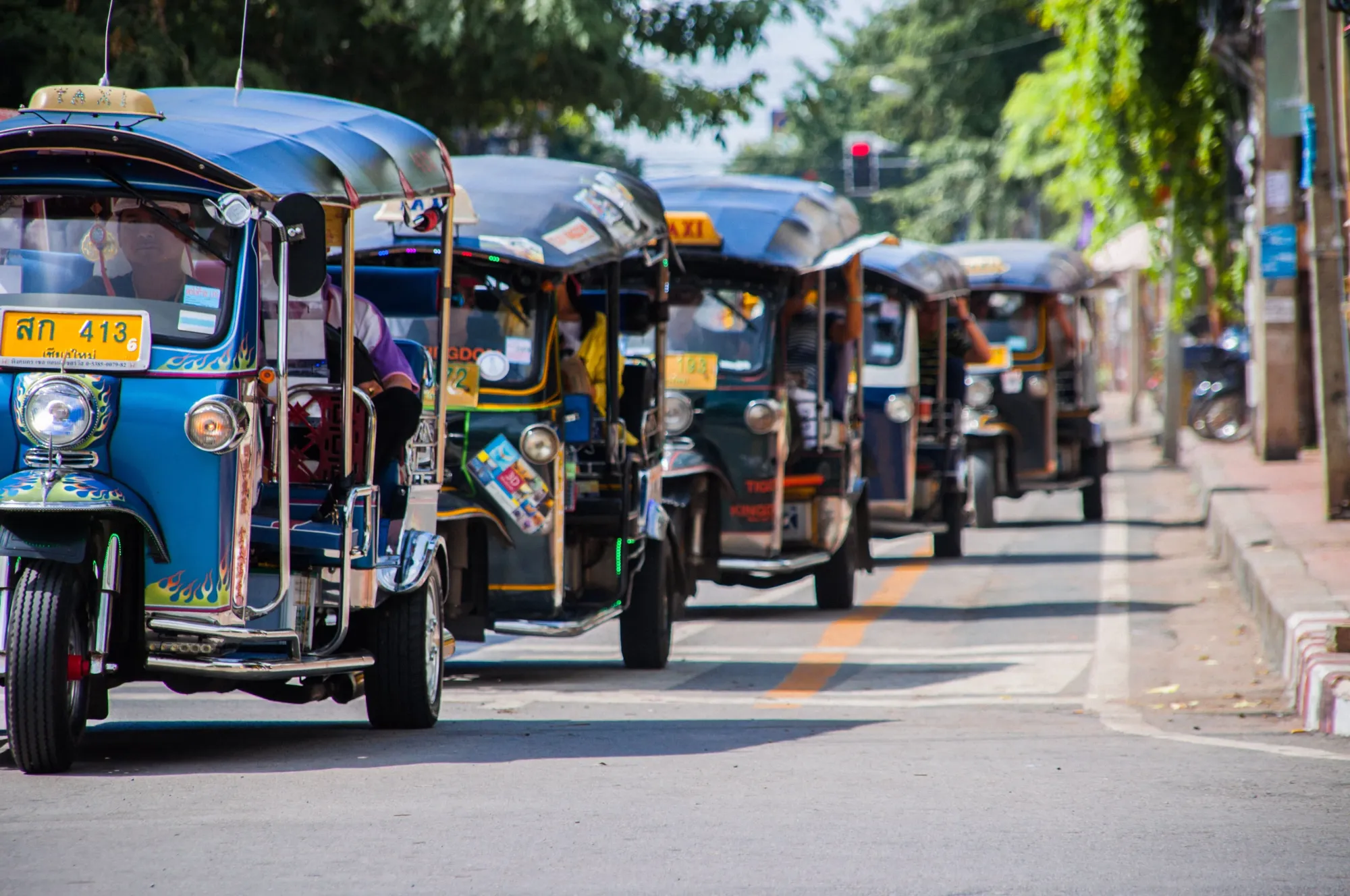 As one of Thailand's key cities, Chiang Mai is accessible in various ways, both by land and air.
Buses, trains, and airplanes serve the city, and its airport accommodates domestic and international flights, connecting to several major cities in Asia. The means of travel might differ depending on your starting point.
While many people arrive in Chiang Mai from Bangkok, other Thai cities like Krabi, Surat Thani, Phuket, Chiang Rai, and Pai also provide routes to Chiang Mai. For the sake of this guide, we'll focus mainly on travel options from Bangkok to give you an idea of the time and costs involved.
If you're traveling from the northern cities like Chiang Rai or Pai, land travel, typically by bus, is often the more practical choice, sometimes even the only one available. However, a land journey can be time-consuming for those coming from southern cities and usually routes through Bangkok. Therefore, the times and prices indicated for travel from Bangkok can also serve as a reference for other starting locations.
Getting to Chiang Mai from Bangkok
Though Bangkok and Chiang Mai are significantly distanced from each other, the route between the two cities is a well-trodden path for travelers, offering several transport options:
By Flight
Clearly the quickest but most costly option, flights between Bangkok and Chiang Mai are frequent, given the route's popularity. A typical flight spans about 1 hour and 15 minutes. The flight price range can vary depending on the airline, season, and how far in advance you book. Rates can start as low as $20 and go up to more than $100.
By Train
Trains are another popular means of travel between Bangkok and Chiang Mai, though the journey can be time-consuming, often exceeding 10 hours. Unfortunately, there are no direct or high-speed trains available for this route.
Both day and overnight train options exist, with the latter potentially saving you a night's accommodation cost.
Prices start as low as $7 and fluctuate based on the type of train. We opted for this transport mode and found it rewarding, especially for the scenic views of Thailand it offers. The ticket even included three meals, adding to the overall value. You can read more about our train journey here.
By Bus
Buses operate daily between Bangkok and Chiang Mai and come in various options. The journey length can vary significantly—from 9 hours to as long as 17 hours. Prices generally range from $17 to $30, based on factors like the bus company and journey duration. Overnight bus options are also available for those looking to maximize their time and also save on accommodation.
Each method has its merits and drawbacks, so your choice will depend on your priorities: speed, cost, or the experience itself.
Where To Stay in Chiang Mai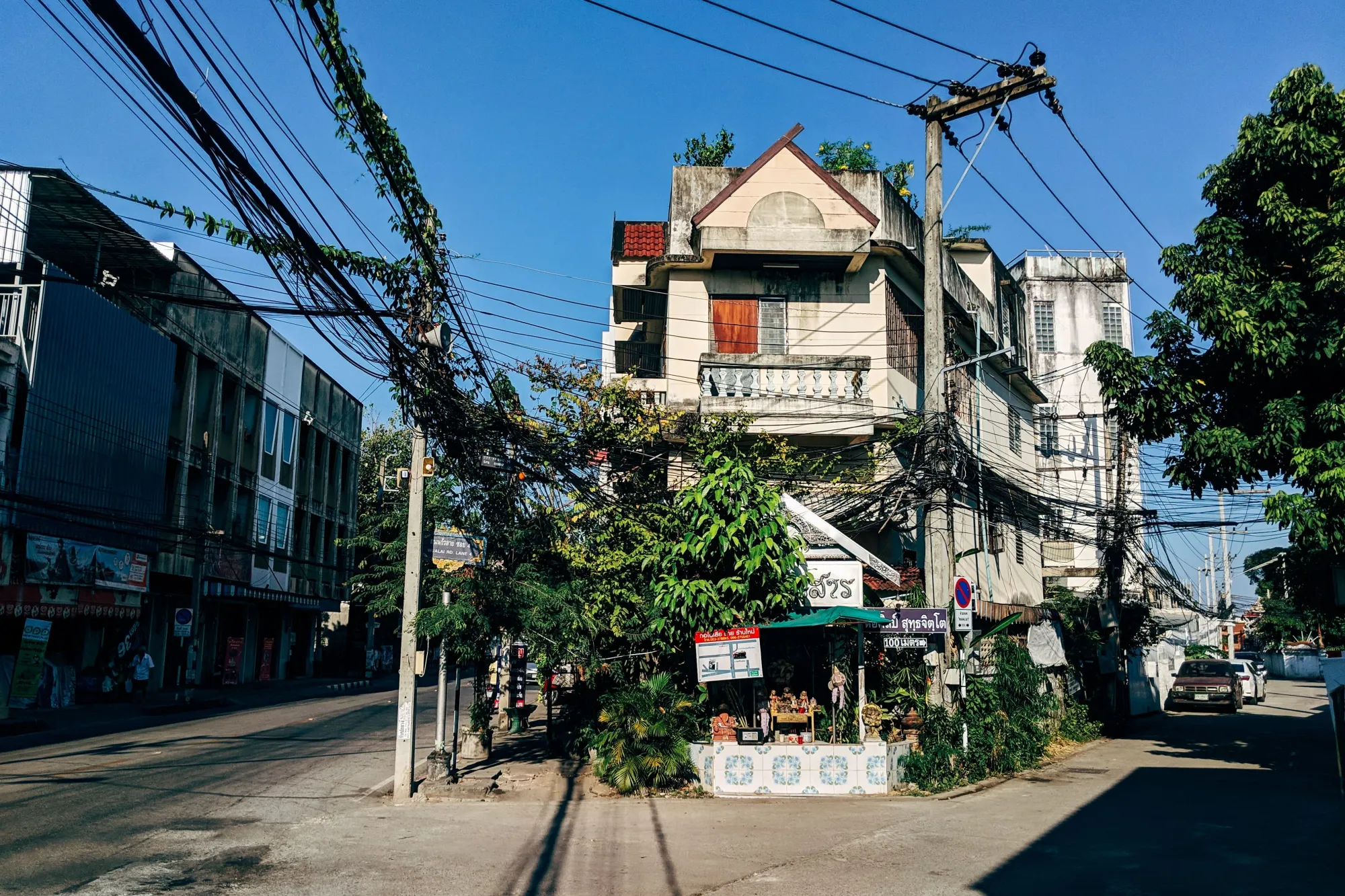 The neighborhoods in Chiang Mai cater to a variety of preferences. The Old Town offers historical landmarks and temples, providing a setting rich in tradition. On the other hand, Nimman is geared towards a younger and more international crowd, with an array of co-working spaces and international dining options.
Santitham is another area that strikes a balance between modernity and tradition, and it is by many defined as the new up-and-coming Nimman. It's not as commercial as Nimman but offers enough amenities, including some coworking spaces. It's situated near both Nimman and the Old Town, so you have the flexibility to change your work setting if needed. The area also has a more localized feel for those interested in a less touristy experience.
Accommodation is available through various platforms, such as Agoda (the cheapest option for accommodations in Southeast Asia) and Booking.com.
If you're planning an extended stay, joining local Facebook groups can offer a more direct connection with property owners, which could save you some money by avoiding service fees. If you're considering a long-term stay, a prudent approach might be to book short-term accommodation first and use this initial period to connect with other digital nomads in coworking spaces, from whom you could gather recommendations and contacts for more permanent housing.
Your choice of location will naturally depend on your lifestyle preferences and work needs.
1. Hotels: Best for Relatively Short Stays
Below are a couple of hotels that we recommend having a look at:
The Sun Terrace: Situated in the northwestern part of the town, just above the Nimman area, this hotel provides convenient access to nearby coworking spaces. Room rates start at approximately $28 per day during peak season.
The Tanwa Hotel: Located in the Hayia Sub-District, this hotel offers a cost-effective lodging option. Although it's not near major coworking spaces, it becomes a viable option if you have a scooter. The establishment also has a garden, adding to its appeal.
Lamphu House: Located in the Old Town, Lamphu House is well-suited for those planning to explore the historical part of the city. It has an internal courtyard with a swimming pool. The prices are relatively low, especially given its central location and amenities.
2. Apartments: Suitable for Extended Stays
The Nimmana: This condominium complex is centrally located in the Nimman area. It comes with decent amenities like a small gym and a swimming pool. Various apartments within the building are available for rent and can be found on many online booking platforms. Though it's on the pricier side, with monthly rates around $850, its location and amenities offer a level of convenience that may justify the cost.
3. Hostel: Budget-Friendly and Social Options
ALEXA: This hostel has a substantial community of digital nomads and is situated in the Nimman area, making it convenient for those planning to use nearby coworking spaces.
The Common Hostel: Situated in a quieter part of the Old Town, this hostel provides a more subdued atmosphere. It's a place where you can meet other travelers without the distraction of a party scene, suitable for those who need to concentrate on work.
Stamp Backpackers: Known for its social environment, this hostel is ideal if you're interested in meeting other travelers and don't mind a lively atmosphere, as long as it doesn't interfere with your work commitments.
4. Coliving: the perfect choice to meet and live with other digital nomads
Hub53: Situated in Nimman, Hub53 serves dual purposes as a coliving and coworking space. Although we haven't personally visited, we've heard positive feedback from other digital nomads in the area. Both the coliving and coworking areas are said to be well-equipped, fostering a vibrant community. They offer a variety of stay lengths, from daily to monthly. Standard rooms begin at around ฿7,000 (~$192) per month.
Alt Coliving: Located near Suan Dok Gate, in the western part of the Old Town, this facility also offers both coliving and coworking spaces. Pricing starts at approximately $600 monthly and can go up to $790 for more spacious rooms.
How Can Yoy Get Around in Chiang Mai?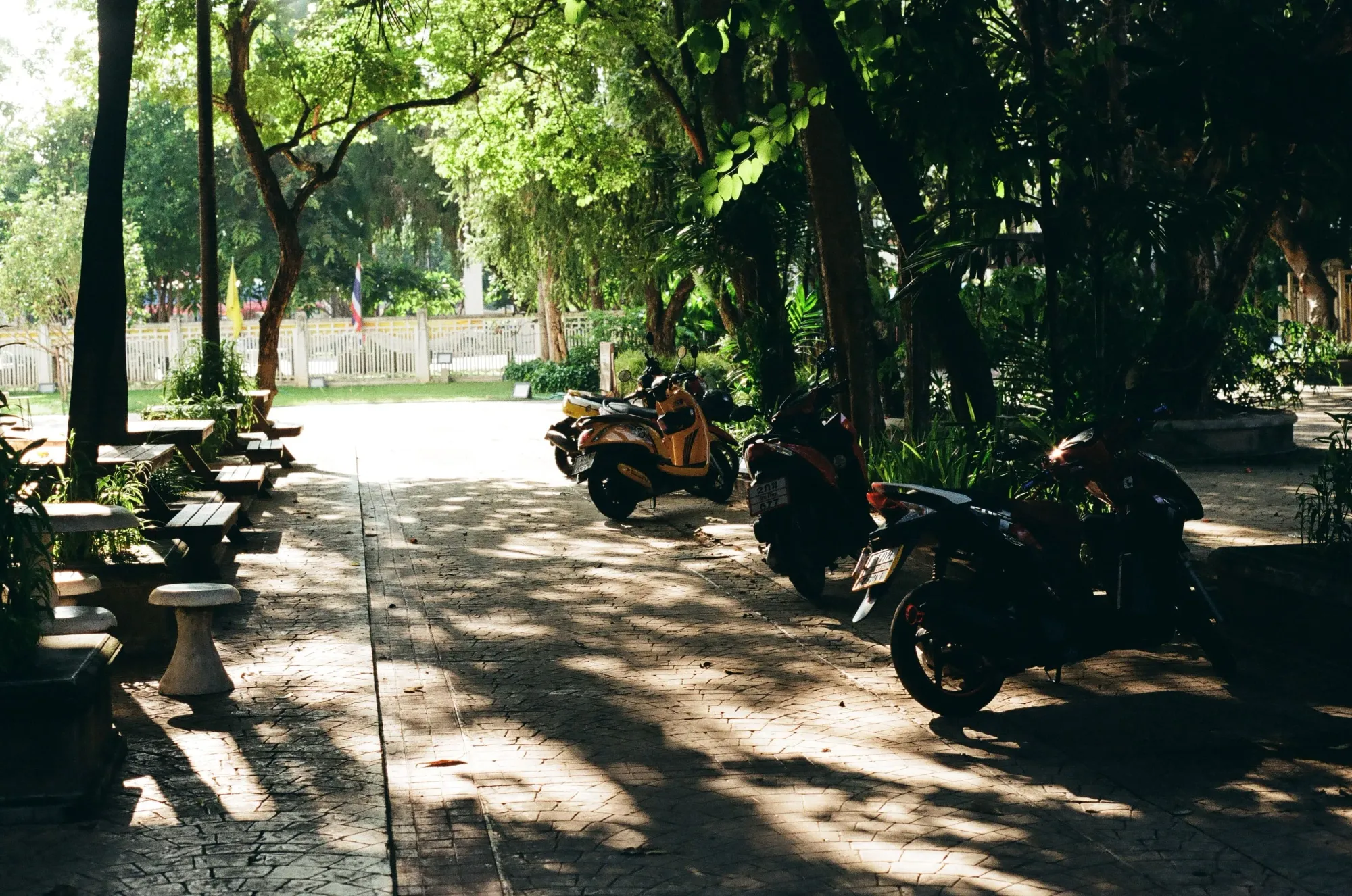 Navigating through Chiang Mai is relatively easy, given the many available transport options. However, one challenge is the city's dense traffic, especially during peak hours, as it's one of Thailand's larger cities.
A popular choice for getting around is definitely renting a scooter. We opted for a scooter from Mango Bikes Rent and were quite satisfied with the quality.
💡
Exercise caution when selecting a rental service; some may ask for your passport (which is both risky and illegal) or a hefty deposit of up to ฿5000 (~$140). Online reviews or recommendations from fellow digital nomads can guide you to reputable options.
Cost varies depending on the scooter model and rental duration. Short-term daily rentals typically range from ฿150 to ฿300 ($4.10-$8.20). Longer rentals often come with discounted rates.
Regarding public transport, there are limited bus options with specific routes, making it a less popular choice for both locals and tourists.
What's frequently used instead are Songthaews, which translates to 'two rows' in Thai. These are modified pickup trucks functioning as communal ride-shares. Accommodating up to 12 people, they roam around Chiang Mai's main roads. Unlike traditional buses, Songthaews don't follow fixed routes; they pick up and drop off passengers upon request. To hail one, wave as you would for a taxi. Prices start around ฿30 ($0.83) for short distances, and it's possible to negotiate for longer rides.
💡
Keep in mind that they're more likely to pick you up if you're on the side of the road that aligns with their current direction.
The final alternative for getting around Chiang Mai is ride-hailing apps like Grab. While convenient, Songthaews generally offer a more cost-effective way to travel through the city.
How is The Internet Connection in Chiang Mai?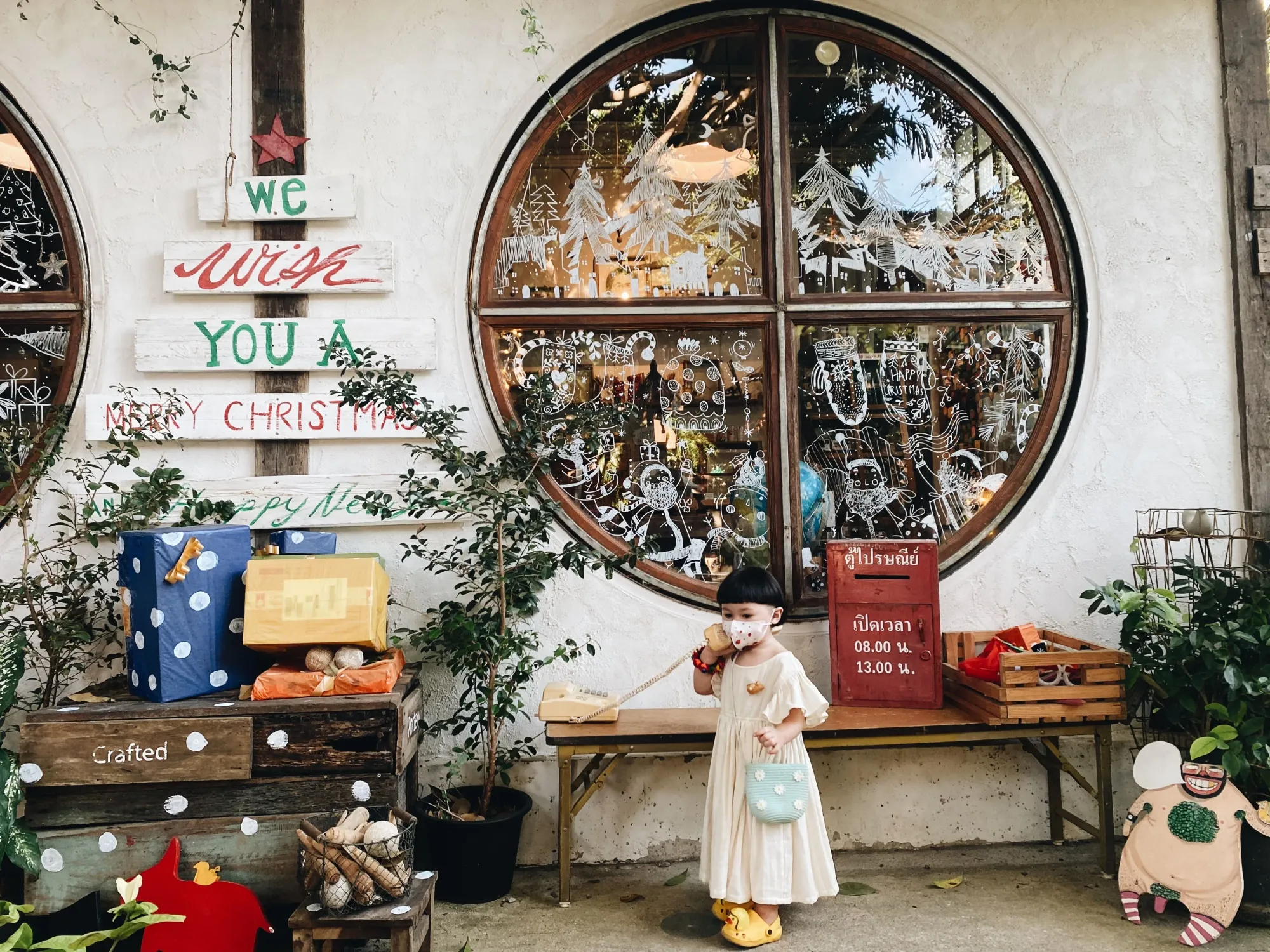 If you are a remote worker like us, you know a dependable internet connection is non-negotiable. Fortunately, Chiang Mai has you covered. The city's digital infrastructure is well-developed, and the abundance of coworking spaces ensures you'll always have access to a solid and reliable connection. In popular areas like Nimman and the Old Town, coworking spaces typically offer high-speed internet, often ranging from 50 to 100 Mbps.
Cafés are another go-to spot for digital nomads; most provide free Wi-Fi, however, the quality can be hit or miss, and you might encounter slower speeds during busy hours.
If you prefer the familiarity of your own space, many apartments and condos include stable internet connections in the monthly rent. As usual, it's smart to check speeds and read reviews before committing to a place long-term.
Of course, no place is immune to internet outages. They're rare here, but it's always good to be prepared. Thailand offers some viable alternatives, like SIM cards with data packages or eSims. In the following section, we'll guide you through some available options, helping you understand what's out there and the costs involved.
Prepaid SIM Cards for Thailand: Details and Prices
Your first option for staying connected in Thailand is a prepaid SIM card, which can be used in your phone or in combination with a portable Wi-Fi hotspot.
Thailand has three main prepaid/tourist SIM card providers: AIS, DTAC, and TrueMove H, each offering a range of packages and prices. The best choice ultimately depends on your personal needs and preferences. Here's a breakdown to help you decide:
AIS
Known for its widespread coverage across Thailand, AIS provides an array of prepaid SIM cards tailored for short-term and long-term stays. The "Traveler SIM" is especially popular among tourists and includes unlimited data, along with free calls to all AIS numbers. Prices vary, ranging from ฿25 to ฿1,500 ($0.70 to $43), based on your chosen package and duration. Two standout options are:
7-day package: unlimited data at 4 Mbps for just ฿299 ($8.20)
30-day package: unlimited data at 10 Mbps for ฿1,100 ($30.20)
DTAC
DTAC offers the "Happy Tourist SIM", with prices for the SIM card itself ranging from ฿49 to ฿599 ($1.50 to $17).
Two popular Happy Tourist SIM options include:
7-day package: unlimited data at 3 Mbps for ฿199 ($5.50)
30-day package: unlimited data at 10 Mbps for ฿599 ($17)
TrueMove H
TrueMove H's "Tourist Inter SIM" offers similar perks to its competitors, including unlimited data and free calls. The price for a TrueMove SIM card ranges from ฿49 ($1.50, €1.28) to ฿599 ($17, €15.60). Popular packages are:
7-day package: unlimited data at 6 Mbps for ฿199 ($5.50)
30-day package: unlimited data at 10 Mbps for ฿599 ($17)
Where Can You Buy Prepaid SIM Cards in Thailand?
Prepaid or tourist SIM cards can be bought at various places throughout Thailand, such as:
Airports: Right after landing at most major Thai airports, you'll encounter stalls for all the major mobile operators. This is a convenient way to purchase and activate your SIM card right on the spot. Just remember to have your passport handy for the required registration. While airport stalls offer a broad range of options, the sheer variety can be overwhelming. Do some homework before you land to make your choice easier.
Convenience Stores: Places like Tesco, 7-Eleven, and Family Mart offer SIM cards from various providers. Although the selection might be more limited than what you'd find at an airport or mobile shop, convenience stores provide an affordable and hassle-free option for staying connected.
Mobile Shops: These specialized stores and stalls not only sell phones and accessories but also offer a range of SIM cards. This could be your best bet if you need extra assistance choosing, registering, or setting up your SIM. However, research in advance is a good idea to avoid shops that might overcharge or sell counterfeit or expired SIM cards.
eSims for Thailand
If you're looking to hit the ground running with internet connectivity the moment you land in Thailand, or if you'd rather skip the queues and avoid any potential scams, an eSIM could be your best bet. Unlike traditional SIM cards that need to be physically inserted or removed, an eSIM is a virtual SIM card. This allows you to maintain your primary SIM card in your device, which can be particularly handy if you frequently receive OTP (One-Time Password) messages and prefer not to swap cards.
Our go-to choice for eSIMs is Airalo, known for its ease of use and comprehensive package offerings. Here's a rundown of the packages they currently have available for Thailand:
| eSim Provider | Price | Data Coverage | Validity |
| --- | --- | --- | --- |
| Airalo via DTAC | $9.90 | 50GB | 10 Days |
| Airalo via Indotel | $19.95 | Unlimited | 15 Days |
💡
Nowadays, most phones support eSIMs. However, we recommend checking with your phone manufacturer or online to see if your phone supports eSIMs!
Best Places to Work From in Chiang Mai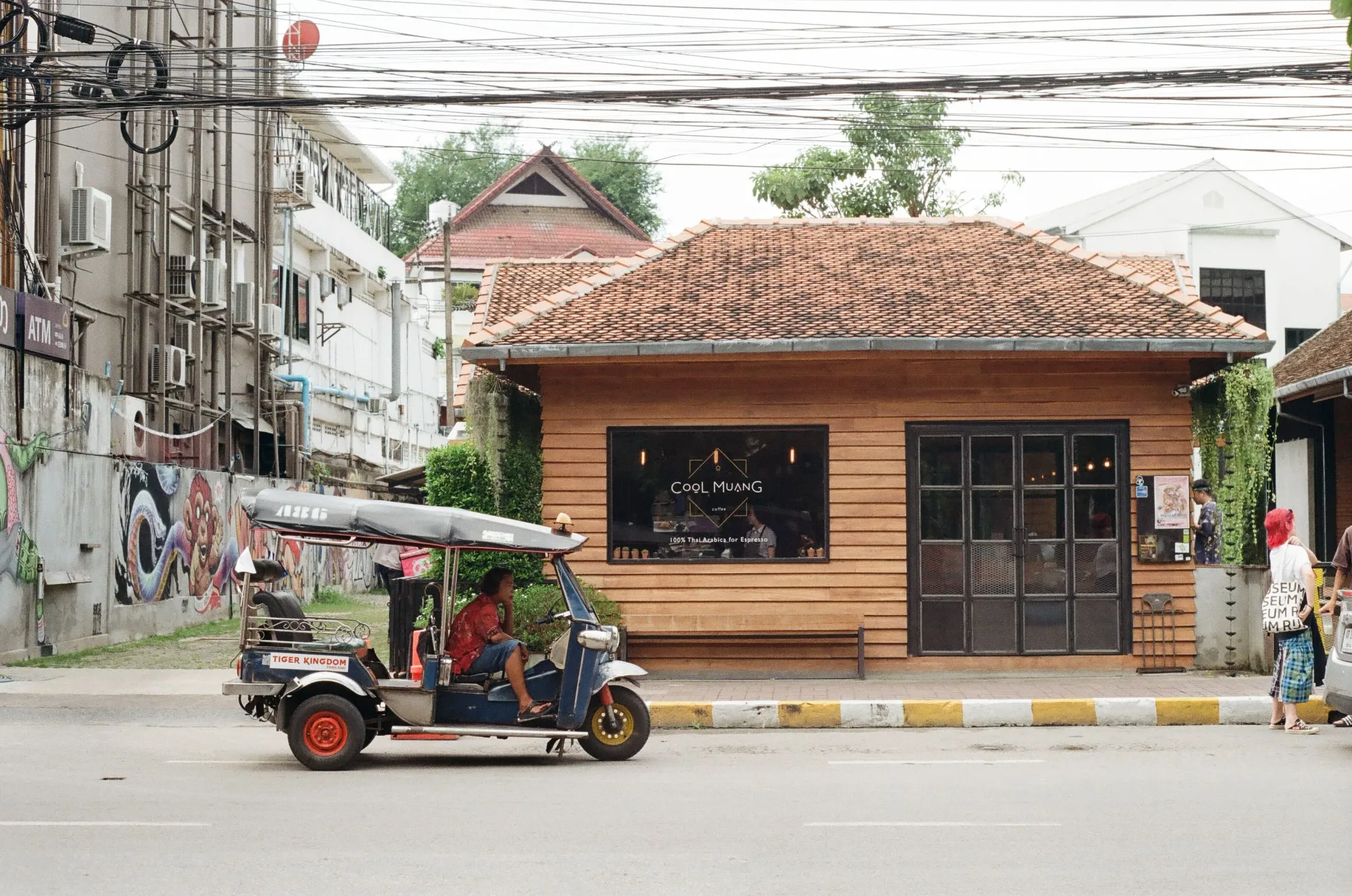 One of the city's highlights is undoubtedly its versatile work environment, which offers plenty of options to work remotely. Whether you thrive in the buzz of a coworking space or the laid-back ambiance of a cafe, Chiang Mai has something for everyone. Here's our curated list of the best places to fuel productivity in this remote work haven.
Best Coworking Space in Chiang Mai
Yellow Coworking Space: This is our top choice in Chiang Mai, without a doubt. In the hip Nimman area, Yellow Coworking is spacious, with plenty of desks and indoor and outdoor workspaces. They offer rock-solid Wi-Fi throughout the premises and operate 24/7, making it a go-to spot for all schedules. The flexible pass system means you can book a desk for a day or just a few hours, starting at ฿4,290 ($118) for a monthly membership. The weekly socials every Thursday are the icing on the cake. With drinks and freshly grilled burgers, it's the perfect spot to network with other digital nomads.
💡
Just a heads-up: it can get pretty packed, so be prepared to join a lively community!
Punspace: With two locations in the heart of the Old Town, Punspace is another fantastic option. The first site is in Wiang Kaew (super famous among the DN community), close to the Old Town's core, and the second is near the historic Tha Pae Gate (the best if you are looking for something quieter). Both spots are enveloped by a variety of eateries and cafes, making your lunch break an adventure every time. Punspace highly emphasizes community, hosting frequent events and social nights in their spacious event areas. Daily passes go for ฿289(~$7.95), while monthly memberships kick off at ฿3,899 (~$107).
Best Cafes To Work From in Chiang Mai
Akha Ama Coffee: If you're a coffee connoisseur, you'll appreciate the rich flavors at Akha Ama. The café features an open design with abundant natural light, especially on the top floor. They offer free water and high-speed Wi-Fi to keep you hydrated and connected. The only drawback is the absence of power outlets. So, come prepared with a fully charged laptop if you plan to make this your workspace for the day.
Roast8ry Lab: Nestled in Nimman's bustling area, this café is a haven for latte art enthusiasts. While they don't offer a food menu, they're conveniently linked to the next-door spot that serves excellent sandwiches and all-day breakfast. The café is a bit on the smaller side and can get crowded, given its popularity. The coffee prices are slightly above average, but the quality makes it worth the splurge. It's an ideal spot when you're in the mood for a premium coffee experience without sacrificing productivity, although it's probably not the best choice to spend an entire working day.
My Secret Cafe in Town: Located on a tranquil street in the Old Town, this cozy café offers an enticing food menu that complements its inviting atmosphere. The café is often filled with people focused on their laptops, a positive indicator for anyone searching for a work-friendly environment.
💡
Click on the location mentioned above to be redirected to the Google directions of the place. From there, you can see pictures and reviews from other people to see if that's your vibe!
Cost of Living in Chiang Mai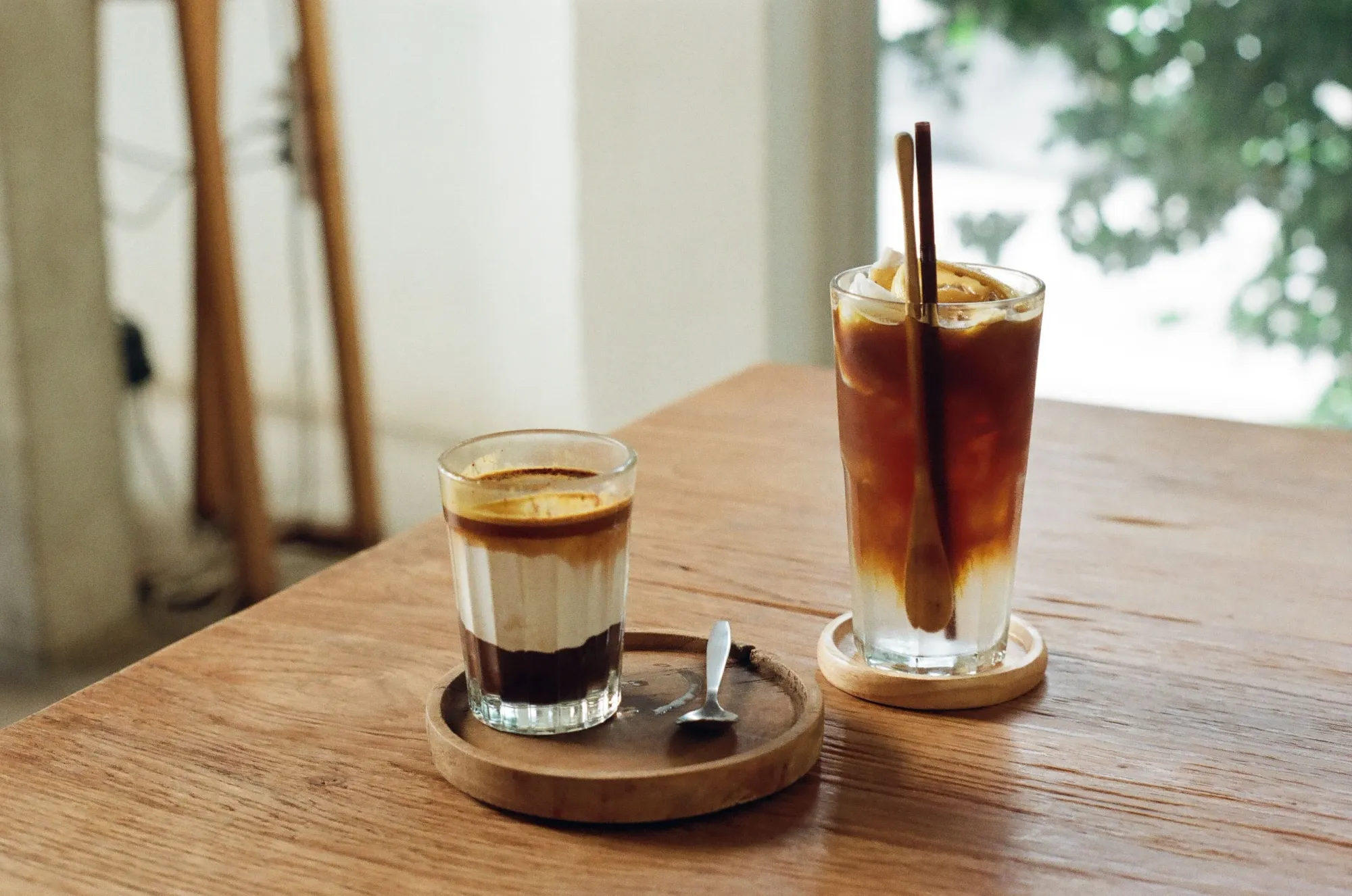 Chiang Mai is often highlighted as a budget-friendly destination for digital nomads, but it's important to remember that your expenses can fluctuate widely based on your lifestyle.
Cost of Food and Coffee
In the Nimman area, popular with digital nomads, upscale restaurants and cafes are common. Eating at these places can quickly bump up your daily budget. A meal at a stylish restaurant could cost you between $10 and $15. However, the city's lively street food scene offers delicious options for just a few dollars. For example, we often ate at food stands where dishes like papaya salad or Pad Kra Pao were less than ฿40 (~$1.05).
The cost of coffee can also vary. A specialty coffee or cappuccino at a trendy Nimman cafe might cost you $4 or $5, but a local Thai coffee from a street vendor is usually just a dollar. If you're planning to work from a cafe for an entire day, you could end up spending $15 to $20, including meals and multiple coffees.
Venturing away from the Nimman area opens up many cost-effective options, especially for dining. The city's numerous food markets offer a feast of authentic Thai dishes for around $1 per serving, making it an affordable gastronomic adventure.
Cost of Accommodation
Accommodation is another significant variable. In Nimman, you can find apartments starting at $400 a month. But if you look in less popular areas like Chang Moi, housing could be as low as $250 a month. Hostels offer another option, with prices ranging from $8 to $15 a night, depending on what amenities you're looking for.
If you're planning an extended stay, it's advisable to look beyond Airbnb, which can be pricier, but opt more for Agoda, which usually has lower prices in many Southeast Asian countries, including Thailand. However, local Facebook groups often feature apartment and condo listings at more budget-friendly rates—sometimes as low as $200 to $300 per month.
If you plan to settle down in Chiang Mai for a more extended period, it's smart to start with a short-term arrangement. Once you've built some local connections, they can often guide you to better, more affordable long-term accommodation.
Cost of Transportation
Transportation is another area where you can save. Songthaews are an economical way to get around, with fares ranging from ฿30 to ฿60 (about $1 to $2). Alternatively, you could rent a scooter for about ฿4000(~$110) per month, allowing you to explore the city at your leisure.
To sum it up, the cost of living in Chiang Mai is highly variable, influenced by your dining choices, workspaces, and housing. By being mindful of these aspects, you can customize your Chiang Mai experience to fit your budget perfectly. Whether you want to live it up or keep things on the frugal side, this city offers the flexibility to make it happen in our opinion.
Culture and Food in Chiang Mai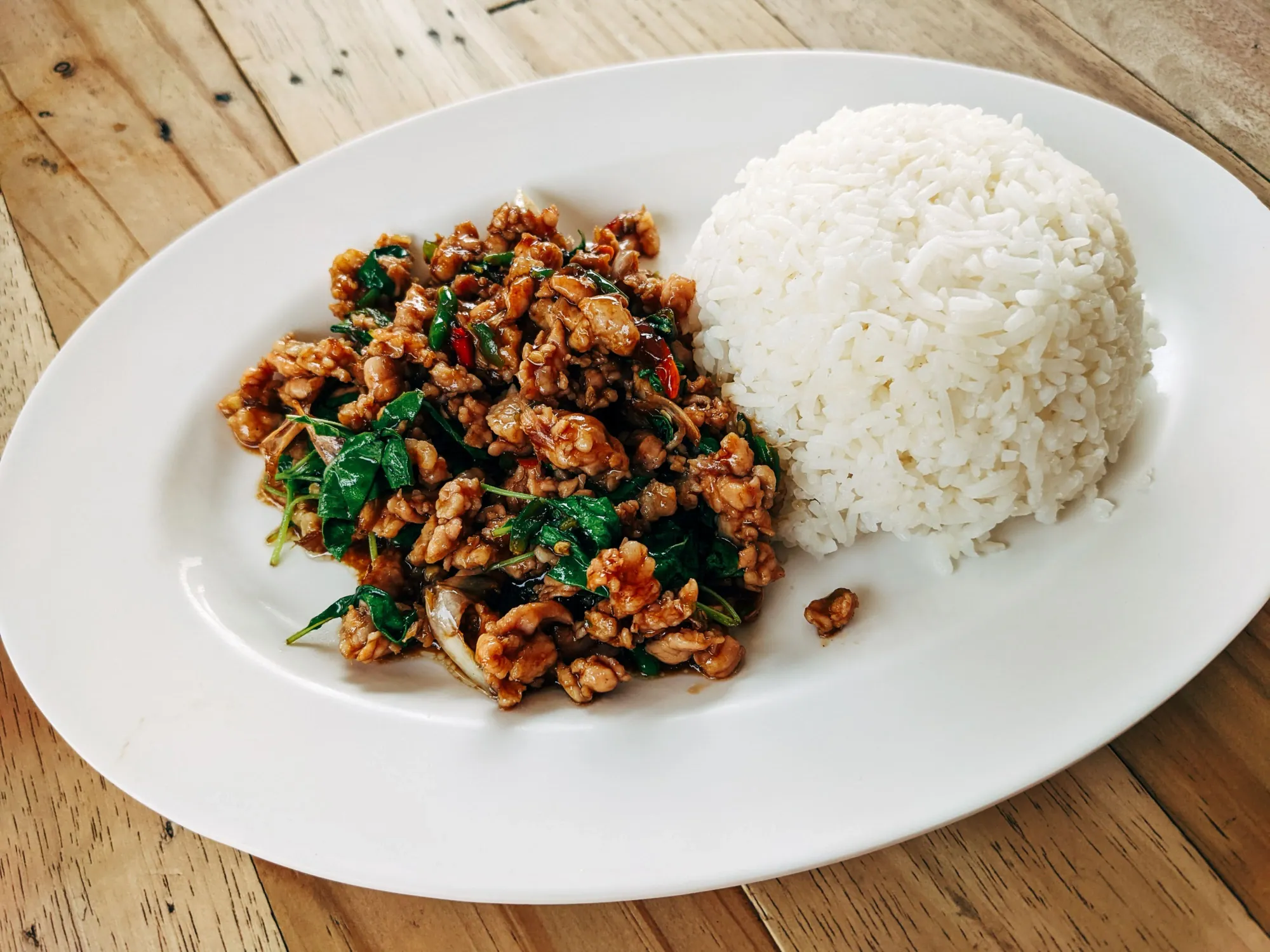 Chiang Mai is a city with a long history, established in 1296 as the capital of the Lanna Kingdom. This blend of historical and modern elements is evident in its over 300 Buddhist temples, each unique in its own way. Visiting these temples offers a look into the area's historical and cultural depth. The city also observes traditional Thai festivals like Songkran and Loy Krathong, giving you a feel for local customs and practices.
Regarding food, Chiang Mai is known for its distinct Northern Thai cuisine. If you talk to travelers about the best food in Thailand, Chiang Mai often comes up in the conversation. The city offers special dishes like Khao Soi, a coconut-based noodle soup, and Sai Ua, a Northern Thai sausage. Street food is readily available, with options from busy night markets to quieter roadside vendors, making it convenient for both meat-eaters and vegetarians.
Beyond traditional Thai food, Chiang Mai also provides a range of international dining choices. Given its appeal to digital nomads, you can find everything from Italian to Indian to Japanese cuisine here.
Best Time To Visit Chiang Mai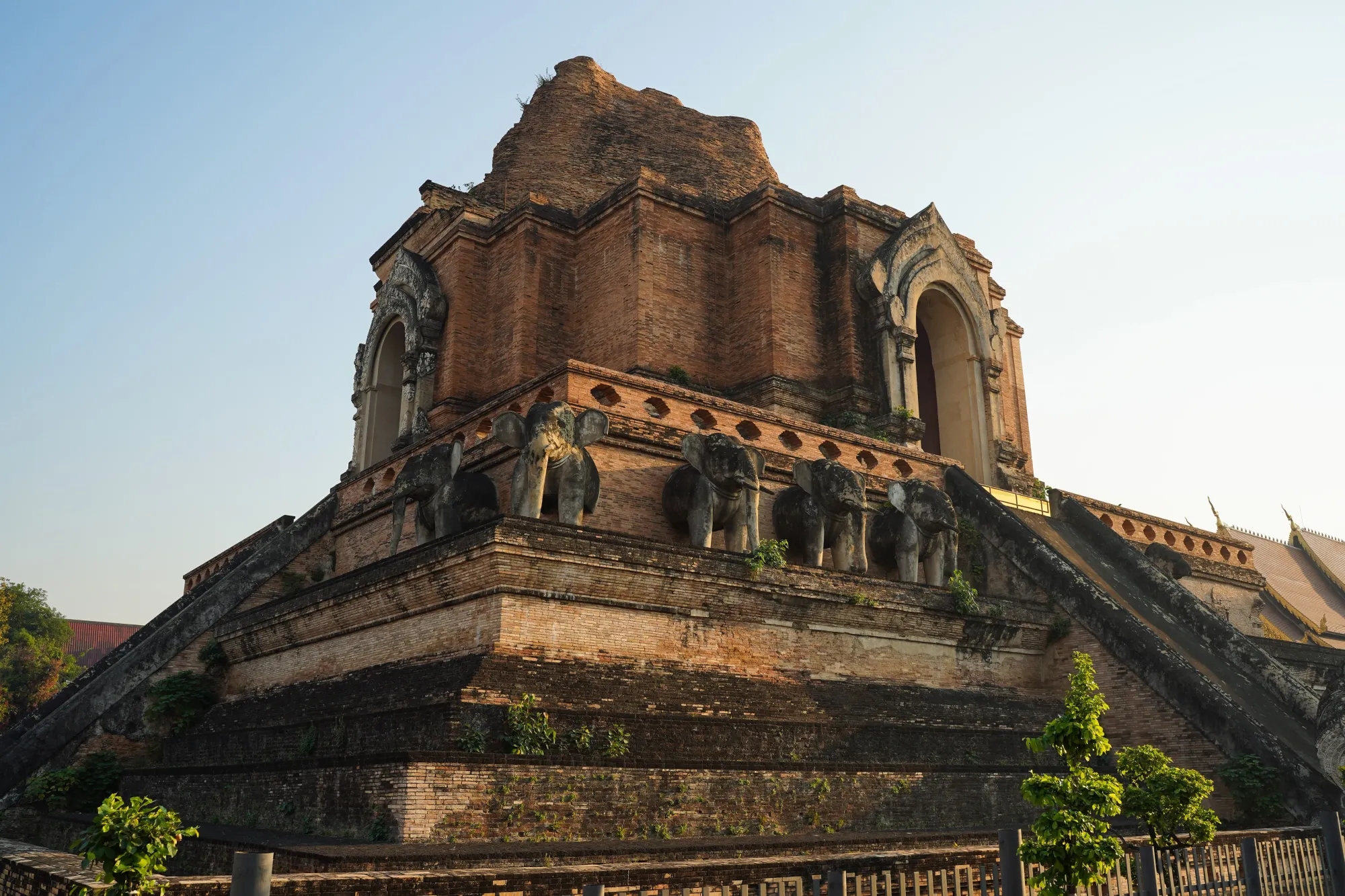 Determining the ideal time to visit Chiang Mai really depends on individual preferences. However, if there's a period to avoid, it's the burning season, which usually extends from late February to April.
We noticed deteriorating air quality during our visit, even toward the end of January. This is when farmers burn their fields for the upcoming planting season, leading to a thick haze that obscures mountain views and can be uncomfortable for those with respiratory problems. During this period, levels of PM2.5 particulate matter often exceed WHO safety guidelines, earning Chiang Mai a spot on the list of the world's most polluted cities.
Below is a photo that illustrates how the visibility of Doi Suthep mountain behind our apartment changed from one day to the next due to heavy burning.
The rainy season runs from May to October, with frequent downpours, especially in August and September. However, it's not as grim as it might sound. Like much of Southeast Asia, you'll still have sunny days interrupted by brief, heavy showers in the afternoon. The upside to this is cleaner air and fewer crowds, as many tourists tend to avoid this period. The primary drawback is increased humidity, which might be uncomfortable for some.
From November to May, the dry season offers plenty of sun and lower humidity levels.
Given the preceding burning season, we recommend visiting Chiang Mai from November to January. This way, you can enjoy the lush landscapes left by the rainy season, cleaner air, and more pleasant humidity levels. However, this is also when the city tends to be busier, offering more chances to socialize.
In summary, the best time to visit Chiang Mai hinges on your needs and desires—just be wary of the burning season. It's honestly not the most pleasant time to be there.
Things To See and Do in Chiang Mai as a Digital Nomad
Chiang Mai serves both your work-related needs and your interests outside of work. If you appreciate outdoor activities, culinary variety, or local culture, Chiang Mai offers several noteworthy activities. Here's a rundown of things we found worthwhile during our stay:
1. Dine at Chang Phuak Gate Night Market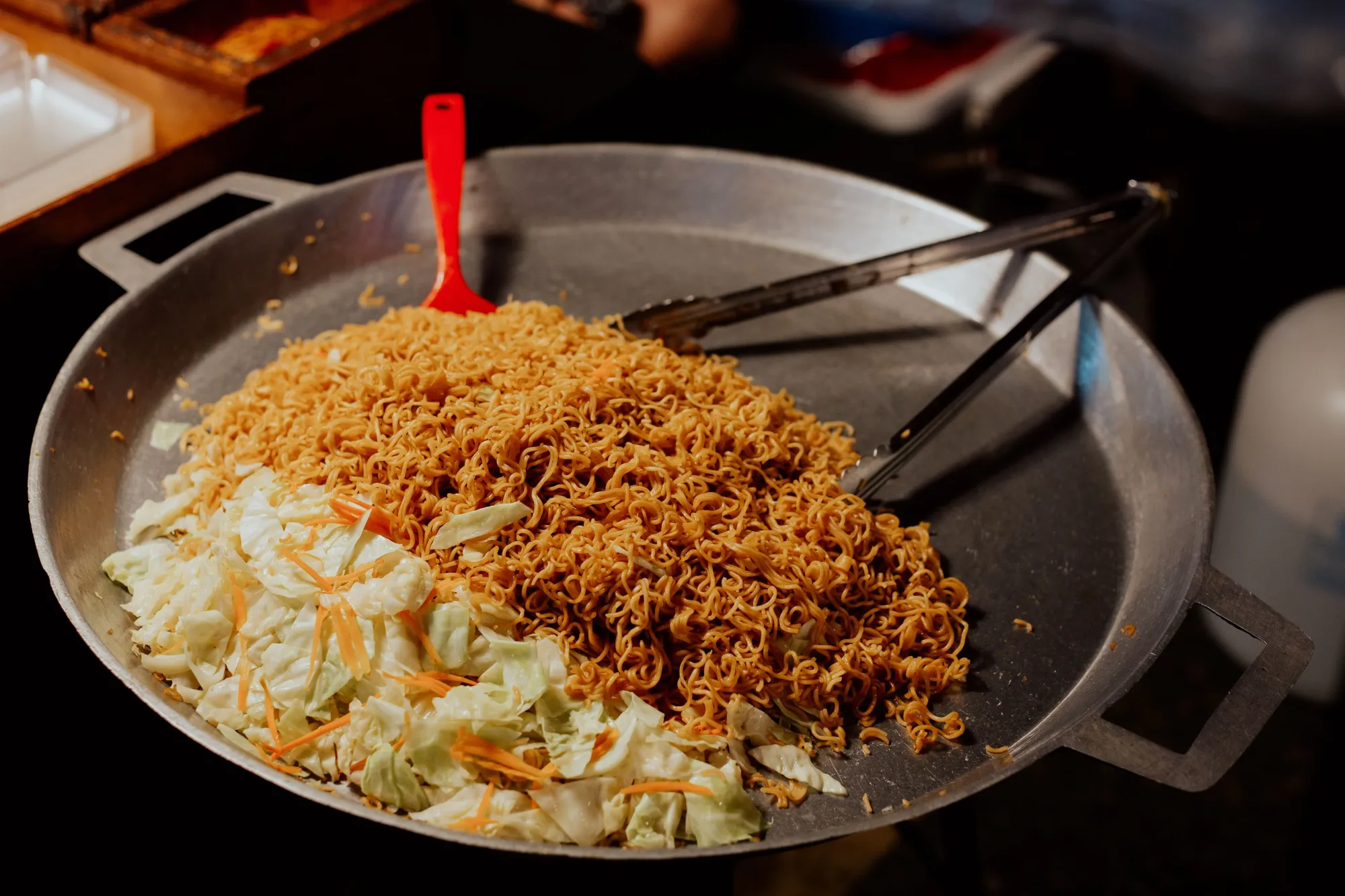 Situated near the northern gate of the Old Town, this night market quickly became one of our top food destinations in Thailand. With a diverse array of food stalls, you could dine here every evening for weeks without repeating a meal—and most likely without ever being disappointed. Locals frequent the market for their daily dinners, which is generally a good indicator of quality. Don't miss the chance to visit if you're staying in Chiang Mai.
2. Experience a Night at North Gate Jazz Co-Op
Just a stone's throw from Chang Phueak Gate, this venue is a cornerstone of Chiang Mai's music landscape, showcasing local and international talent. A night here is a must if you appreciate live music, particularly jazz. The venue fills up quickly as the evening progresses, so arrive early if you want a seat. Beyond the music, it's also a great social hub for meeting other travelers and locals.
3. Explore Bua Tong Waterfalls (Sticky Waterfalls)
Locally known as Bua Thong, these waterfalls offer an unusual natural spectacle: you can actually ascend the cascading waters due to the grip provided by mineral deposits on the rocks. The sensation of walking on water-soaked rocks is certainly unique. Situated about an hour's drive north of Chiang Mai, we recommend renting a scooter to reach the falls. This way, you can spend as much time as you want at this intriguing natural site, free from the constraints of a guided tour.
4. Consider a Hike to Doi Suthep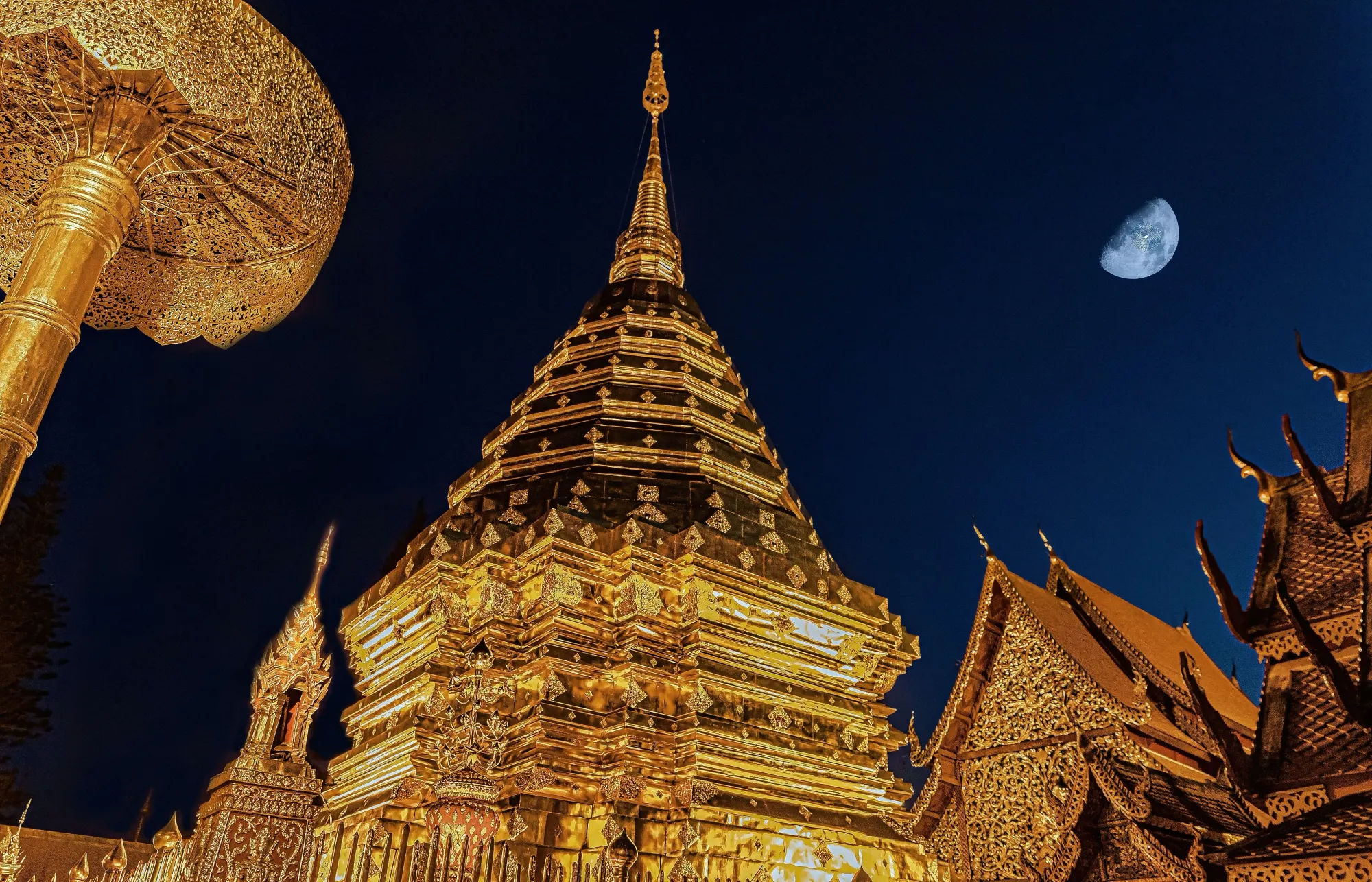 If hiking interests you or you want a break from urban life, Doi Suthep is worth considering. You can either take a taxi to the trailhead or walk from the city. The trail is straightforward to navigate, leading you to Wat Phra That Doi Suthep, a temple that adds a cultural element to your outing. Along the route, you'll also encounter Wat Pha Lat, a serene temple nestled in the forest that's generally less crowded with tourists. Though the hike isn't overly strenuous, be prepared for some steep inclines.
5. Try a Thai Cooking Class
Given that Chiang Mai is known for its regional cuisine, taking a cooking class can offer more than just entertainment. These classes often start with a trip to a local market to purchase ingredients, providing a unique experience in itself. It's not just a way to spend an afternoon; you'll also acquire culinary skills that you can use to impress friends and family back home.
6. Visit the Sunday Night Market
Spending a Sunday evening at this market feels like an endless journey through local culture. As we wandered around, it seemed as if the market had no boundaries, stretching from Wat Phan Tao all the way to Tha Pae Gate and spilling into adjacent side streets. It's a varied experience, offering everything from local crafts to street food while providing full immersion into the local atmosphere.
Is Chiang Mai Safe To Visit?
While safety is always a concern for travelers, Chiang Mai puts those worries at ease. The city is one of the more secure spots in Thailand, boasting low rates of violent crime. Petty incidents like pickpocketing do occur but are infrequent, particularly compared to other major cities worldwide. Still, it's prudent to exercise caution and stay alert, especially in busy areas such as marketplaces. In our interactions with locals and fellow travelers, nobody reported any significant issues regarding safety.
However, the main concern in Chiang Mai is the burning season, which poses health risks, especially for those with respiratory conditions. If you're visiting during this time, carrying N95 masks can significantly reduce exposure to harmful air particles like PM10 and PM2.5. We recommend keeping tabs on air quality through apps such as IQAir.
If you plan on renting a scooter, helmet use is essential, and extra caution is advised due to sometimes erratic traffic conditions.
Thailand Digital Nomad Visa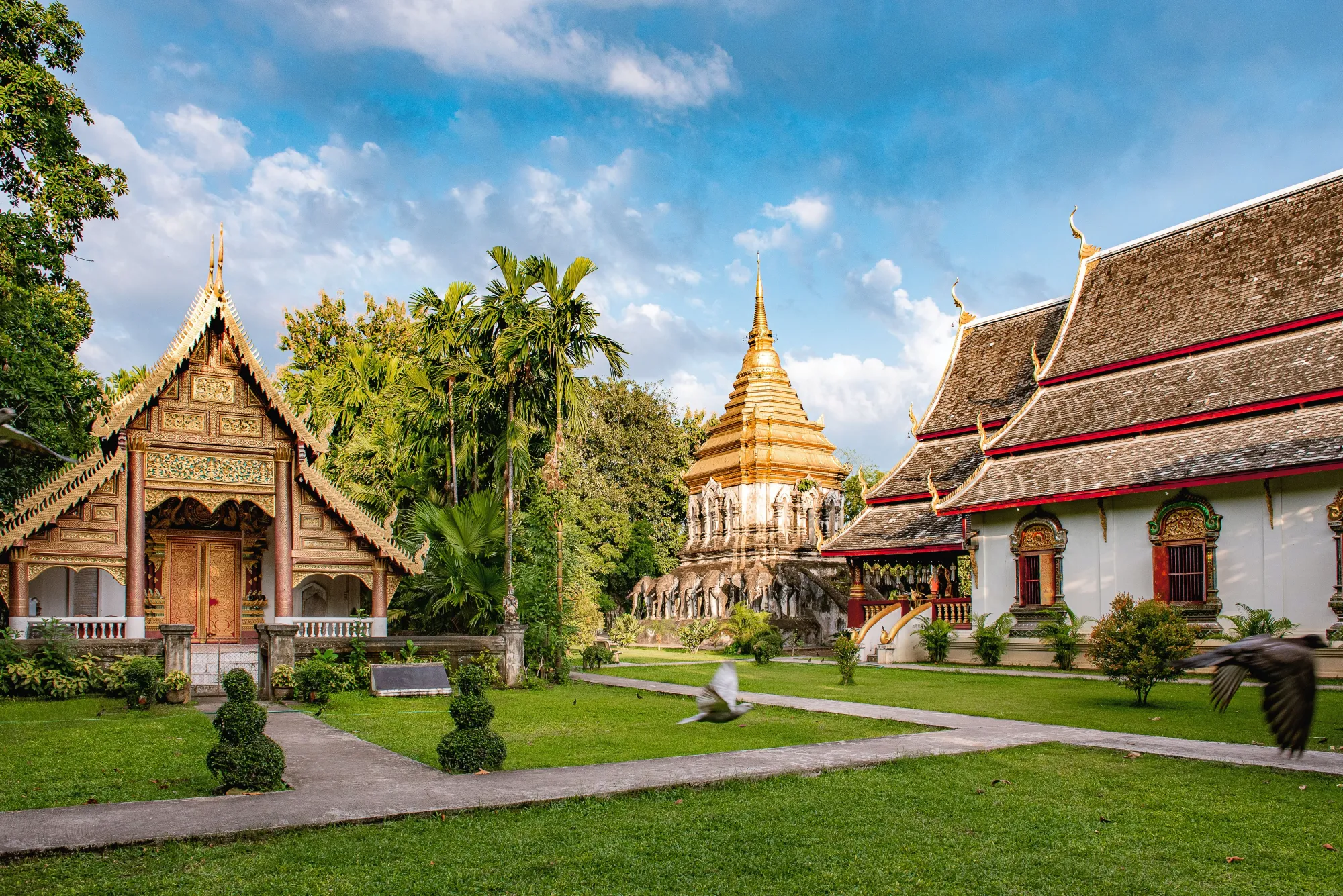 Your eligibility for a digital nomad visa in Thailand hinges on factors like your work sector and income level. If you're in tech and pull in a monthly salary north of ฿200,000 (around $5,800), you might qualify for the Smart S (Startup) Visa. This option requires a bachelor's degree and a valid health insurance policy as additional prerequisites.
If the Smart S Visa doesn't align with your situation, other routes are available for remote work in Thailand:
Tourist Visa: This can be obtained either online as an eVisa or upon arrival. It's valid for up to 60 days, extendable by another 30 days. Note that you'll need to exit the country after this period. While convenient, this visa type doesn't support work or business activities and can be challenging for frequent renewals or re-entry.
Thai Elite Visa: A premium option in terms of benefits but also in cost, the Thai Elite Visa ranges from ฿600,000 to ฿2 million ($17,500 to $58,000). This visa offers multiple entries for up to 20 years. However, it doesn't officially allow for work or business activities in Thailand.
Business Visa: Obtainable only through sponsorship by a Thai company or organization that can also provide a work permit; this visa can be a difficult one to secure, especially for freelancers or those with overseas clients. It allows for a 90-day stay with the possibility of a 1-year extension. Unlike the Tourist and Thai Elite visas, it permits work activities in the country.
About The Author: The Scrapbookers
We're Beatrice and Davide, a freelance designer and a software engineer who took the plunge into the digital nomad lifestyle at the beginning of 2023. We kicked off our adventure in Southeast Asia and are keen on making our travels as sustainable as possible. If you've enjoyed our stories, you can dive deeper by visiting our blog. Alternatively, stay up-to-date with our journeys by following us on Instagram.
Disclosure: Hey, just a heads up that some of the links in this article are affiliate links. This means that, if you buy through our links, we may earn a small commission that helps us create helpful content for the community. We only recommend products if we think they will add value, so thanks for supporting us!